The Lisbeth Joe London is one of my favorite barefoot loafers! They are dressy and stylish, but also foot shaped and zero drop. I don't mess around with my shoes, I want to love what I wear and feel great in it. Check out my review below of the Lisbeth Joe London for all the details on styling, sizing, and fit.
Lisbeth Joe London Review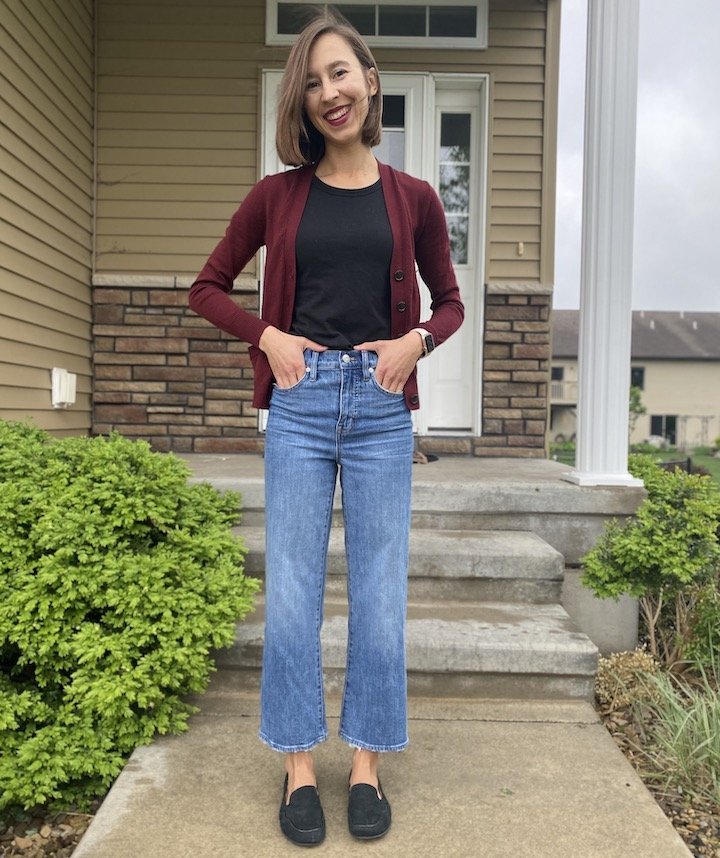 Lisbeth Joe London | $114 after code ANYASREVIEWS | Leather | Sizes US W 5-12/EU 35-44
The Lisbeth Joe London is my favorite barefoot loafer. They have excellent style, are made of durable materials, and have a generous toe box (artfully disguised with piping!).
The shoes are 6mm thick with a slightly padded insole, and the outsole is flexible enough to roll into a ball. There is not much ground feel in this shoe, but I feel comfortable walking in them for long periods of time. Lisbeth Joe also makes a lovely barefoot ballet flat, the Harare, that you can learn more about in my Barefoot Ballet Flats post.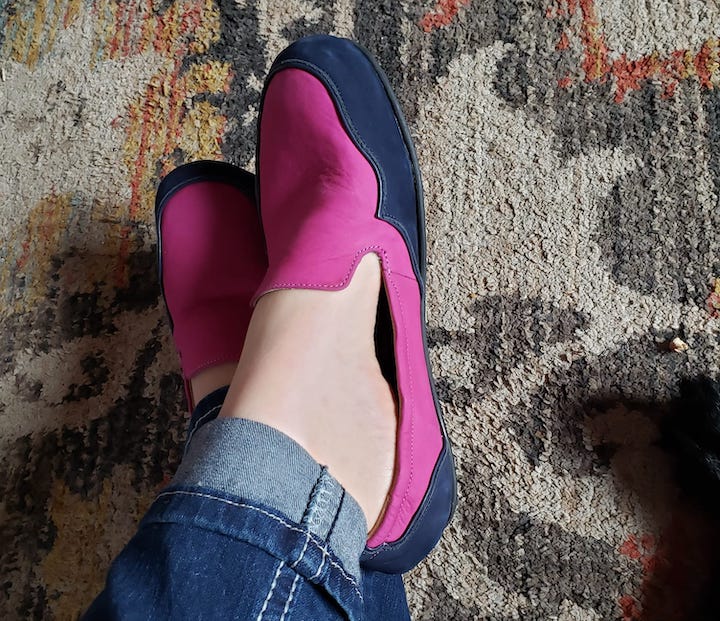 My primary complaint about the Lisbeth Joe London (and the Harare too actually) is that the interior leather lining makes my feet sweat quite a bit. I am not terribly bothered by this and continue to wear them, but you might consider a hidden sock like this one from Injini to help with the sweating.
There are also some important things to know about how the Lisbeth Joe London fits! Being a slip on shoe without straps makes fit extra important, so make sure you check out the sizing and fit advice below.
Lisbeth Joe Sizing & Fit
The London has two versions available. The full grain and leopard print models are true to size and the vamp covers more of the foot. The original suede runs small and has a shorter vamp.
Click here for more on foot volume, shape, and width.
Sizing: Lisbeth Joe's new loafers are true to size. I got a size US Women's 6.5, which is my typical size (though I often do a size 6 in ballet flats because I have thin feet), and they are plenty spacious. The elastic at the heel digs in at first, so I made use of the heel cushion that came in the shoe box with them. After a few wears the elastic softened, but I'm going to keep the heel cushion in the shoe just in case.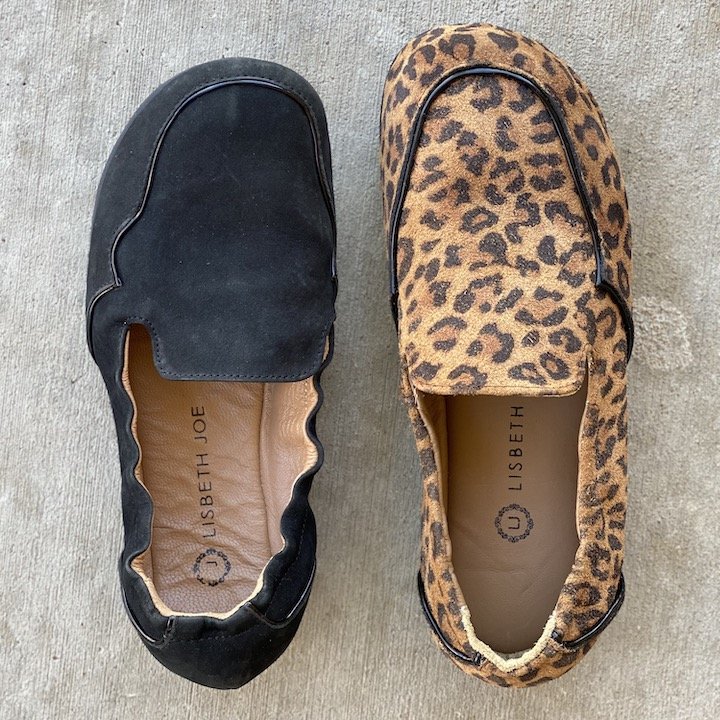 The original suede London's, however, run small. Since they are still available on the website, it's important to make sure you know which one you're looking at. If you're considering the suede like shown above on the left, most people are sizing up one full size but it ranges from a 1/2 a size to 1 1/2 sizes for some people. I first got a size 6.5 in the London loafer and a 7 in the Harare flat (I usually get a size 6 in flats). The size 6.5 works, but are a little short. I still wear them often, and they have stretched over time – mine are 1 1/2 yrs old – but the size 7 is the optimal fit for my feet.
Regardless of which model you choose, consult the size chart which has an insole length so you can choose correctly (check out this post for a guide to measuring your feet).
One thing to keep in mind is that the elastic back can make Lisbeth Joe flats feel even shorter than they are. If your Lisbeth Joe shoes seem scrunched up because of that back elastic you can manually stretch it out and massage it with your hands to release it a little bit.
Volume: The London fits high volume (for tall, full feet) and felt loose on me at first even though they were not too long. Adding in a shoe tongue pad made all the difference for my shallow feet (if you have low volume feet, it's really an essential item to keep on hand!). Some people with narrow heels might want to use a heel grip as well. *This is true for both original and updated London's!*
Shape: Lisbeth Joe shoes are made such that the upper can really take the shape of your foot. The outsole rests underneath the foot, and the leather on top is free to move in all directions. At first, they look sort of tapered at the toes, but that's because the toe box is so high volume when they're brand new. Once you put your foot in, the material flattens down and widens. And overtime, they mold to your particular foot shape. So they fit a wide to extra wide foot if you are willing to let them mold to your feet! In fact, when I first got my Lisbeth Joe shoes I put the toes of them underneath my laundry basket to flatten them a little bit.
Because Lisbeth Joe shoes are both wide and high volume, if you have narrow, low volume feet you will likely have trouble with these shoes. If you have just one or the other foot feature, I think there's a good chance Lisbeth Joe will work for you. I myself have wide, low volume feet and have had good luck with them.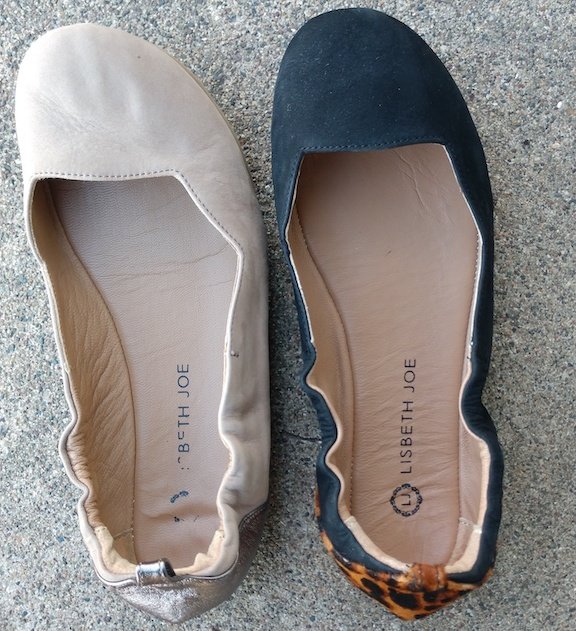 *If you are a US W 5, 5.5, or 6 buy the Junior model for half the price!
Same Shoe, Different Foot
I have wide toes, narrow heels, and low arches. Lisbeth Joe fits my width just fine, but is loose around the sides and I need a tongue pad to keep my feet from sliding. I am one full size up in Lisbeth Joe, any more and my feet would be swimming in them. For reference my feet are 23.3cm long and 9.3 cm wide from a foot tracing. On the left you can see the London on me. They match my foot shape pretty well, and there's some gaping around the sides.
On the right is Marie, with an average width, medium volume foot. She sized up one full size from her usual. They fit her foot type well (she doesn't need a tongue pad or moleskin like I do) but there is a little gaping on her also.
Samantha has extra wide, high volume feet, with medium width ankles. Below you can see Lisbeth Joe fits both of our widths well, but Samantha sizes up a full 1 1/2 sizes from her usual. And her high volume feet fill up the shoes a lot better than mine do. Her feet are 24cm long/10.5cm wide feet (from a foot tracing)
Barefoot Loafers Comparison
I took the 4 barefoot loafer styles I own and measured their outsole length and width. Because each one is constructed similarly with the sole sitting underneath the shoe, this is a useful way to see how they compare to each other. But keep in mind that this is not useful in picking a size (please refer to the sizing & fit section of this post and each brand's sizing chart for that).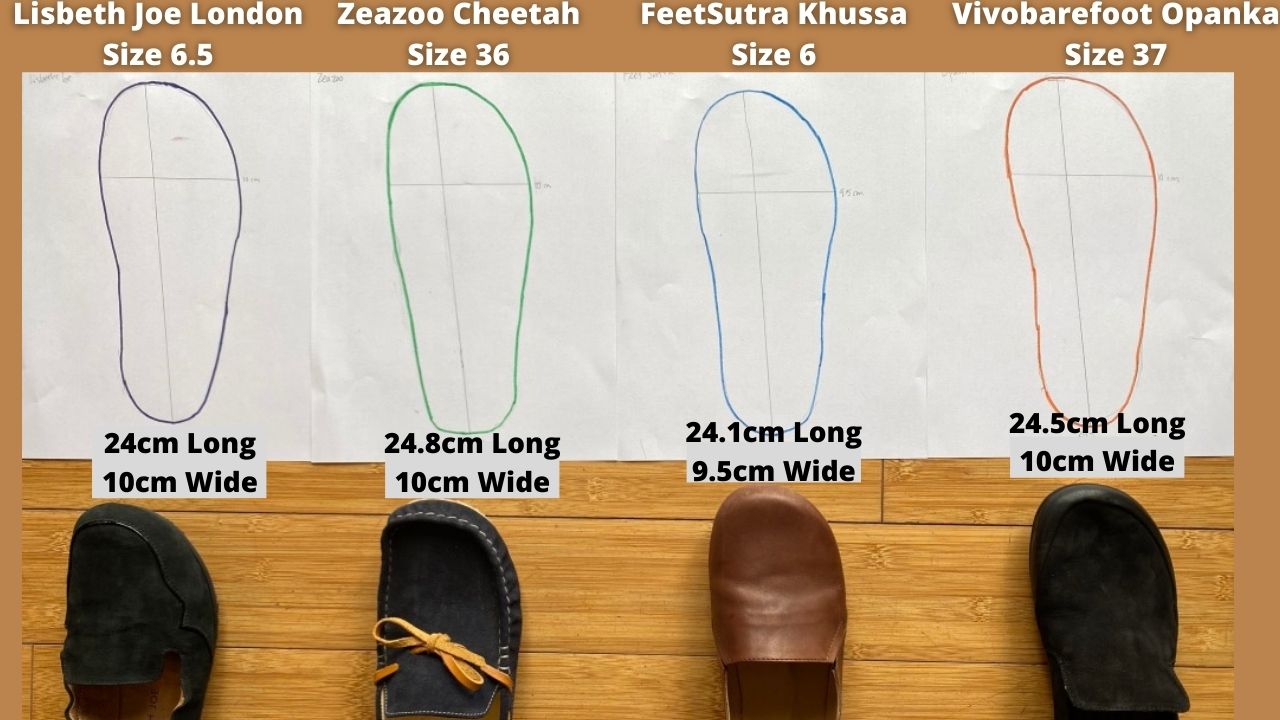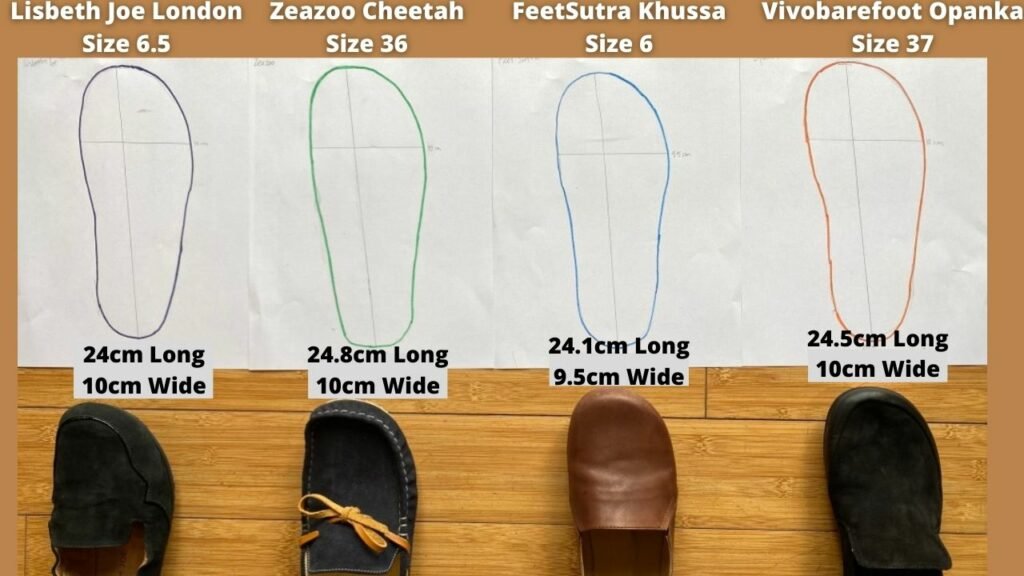 Keep in mind that my optimal length for Lisbeth Joe is 7. You can see from these measurements that all are fairly comparable in width, and that Lisbeth Joe runs short while Zeazoo Kids run long. You can also see that FeetSutra is quite a bit narrower and has less big toe space. All of these barefoot shoe brands fit me well except for FeetSutra, which isn't wide enough for my toes.
Check out my Barefoot Loafers post for a full list of barefoot loafer options!
Ordering
Lisbeth Joe is a US company, started by Lee Ashmore – her brand is named after her mother. Lee's crowd funding campaign started in 2018, so she's a relative newcomer who has been shaking things up with truly stylish options you don't often see in the barefoot shoe world! All items in her e-shop are in stock and ready to ship (remember, restock with new colors is coming soon). Exchanges/Returns are possible on new shoes within 30 days, buyer covers return shipping costs. Don't forget code ANYASREVIEWS gives you 5% off any Lisbeth Joe order.
Lisbeth Joe London Styling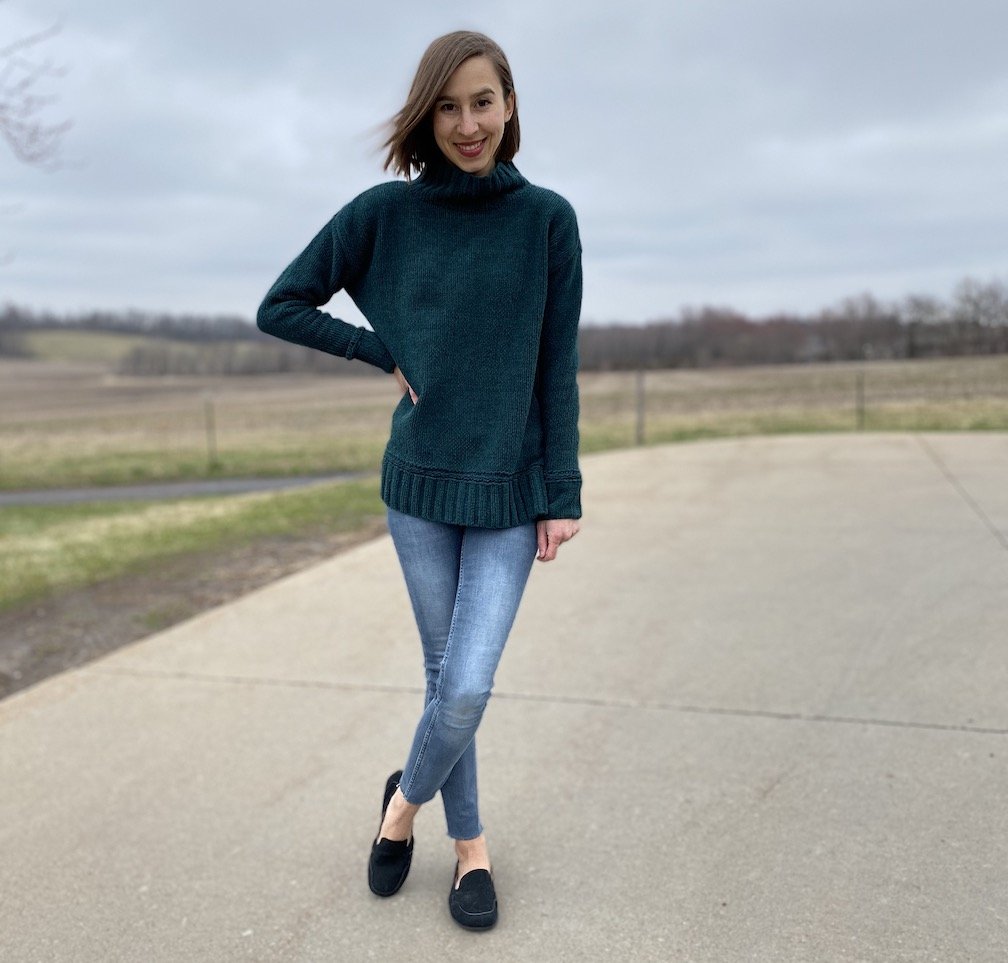 This is always my favorite part. The Lisbeth Joe London looks like a regular loafer! So you can wear it with jeans and a t-shirt, dress pants, skirts, even business attire. Check out some of the looks from Anya's Reviews readers who own Lisbeth Joe Loafers!
Conclusion
Lisbeth Joe is a brand to watch. Lee's got plans to serve up even more truly fashionable barefoot shoes that will keep you feeling great both in body and spirit, and I can't wait to see what she's got coming for us next.