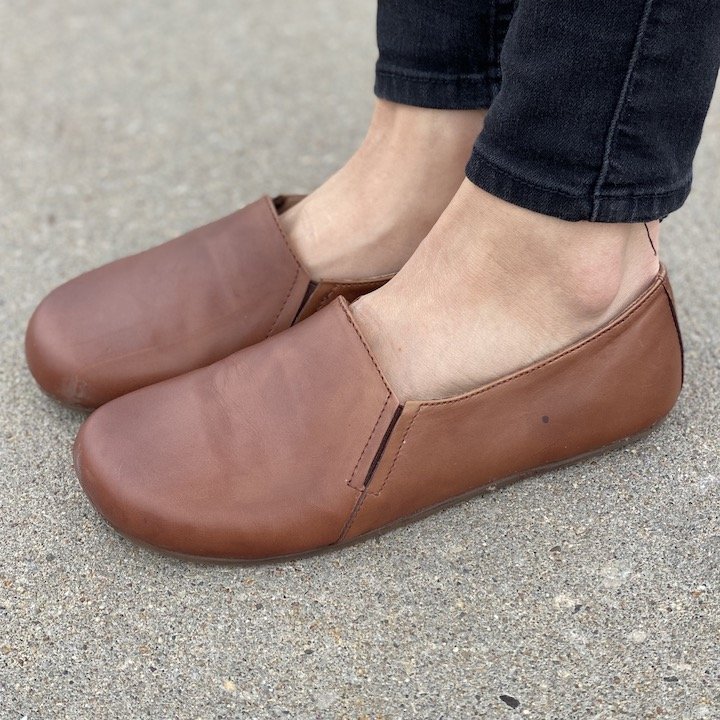 **This model will not be restocked, but FeetSutra is planning to relaunch other models in the future**
The FeetSutra Khussa is a barefoot loafer, made to honor both your feet and your sense of style. I have long been waiting for a barefoot loafer like this to come along, made in a classic style with rich leather. Read my experience with the FeetSutra Khussa below!
FeetSutra Khussa Review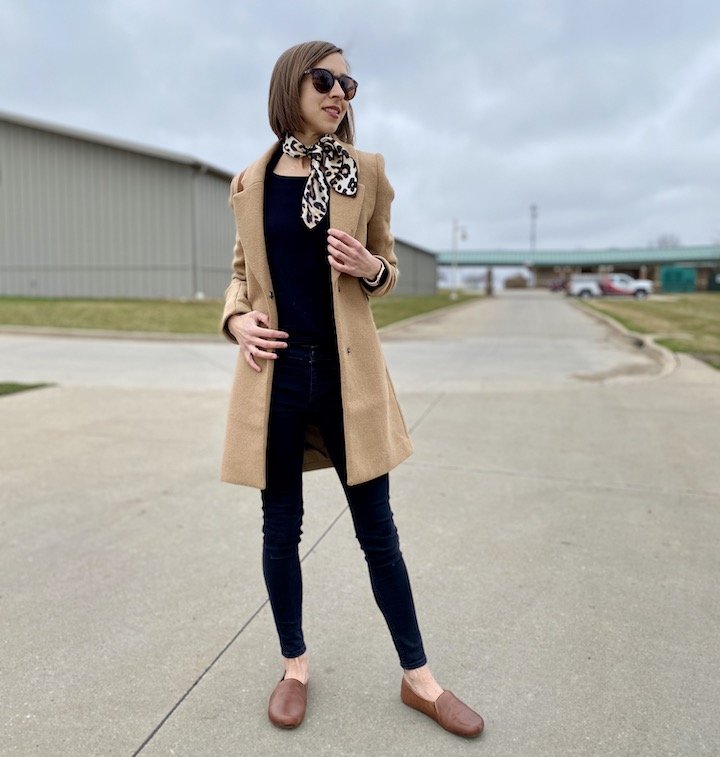 FeetSutra Khussa | $116 after code ANYASREVIEWS | Leather | Sizes US W 6 – M 13/EU 36-47
The FeetSutra Khussa loafer is made of a rich, shiny leather and has a simple sleek design. It comes in black and brown, and in 2 widths (women's and men's). The rubber outsole is 3.5mm thick, with decent ground feel and good flexibility.
I've been waiting for this barefoot loafer for a long time! For some reason not many barefoot shoe brands use shiny brown leather, so I've had my eye out for something with this level of richness to it.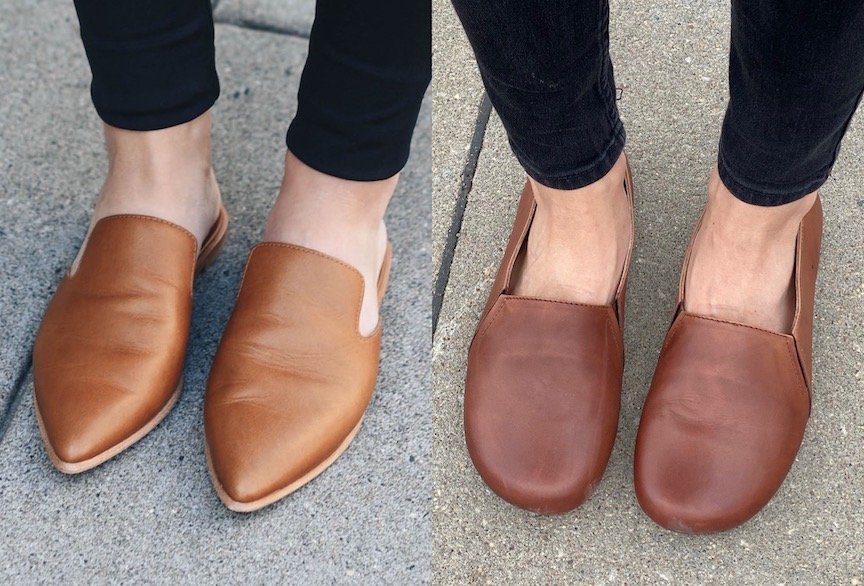 But despite my enthusiasm for their great look, I do have some concerns about their quality and their fit.
Concerns
Besides being VERY high volume (see next section for more info on this) I am a little concerned about how these shoes will hold up. To date, I have logged 7 miles in these, and wear is already evident. The rubber is wearing down, and the leather has been scuffing on the ground. I am not hard on shoes, I have a light step and have worn these only on smooth pavement and grass. But I do suspect that the loose heel has something to do with it (maybe they've been dragging a bit?). Regardless, I'd love to see FeetSutra improve the sole material to be more durable.
I'm also adding that it seems their customer service is very slow to respond, so be aware of that. I'll update this review as needed with more information.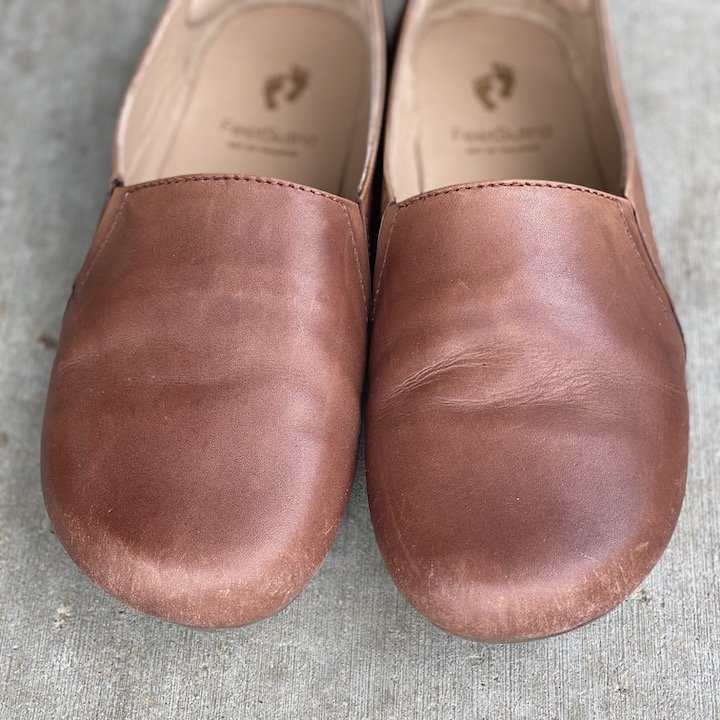 After conditioning the leather some of its luster returned, but there are still scuff marks. My other main issue with them is that they fit a small range of foot types: Average to narrow width, high volume. If you have good luck with barefoot shoe brands like Xero Shoes and PaperKrane, FeetSutra will be a good choice for you. However I think the average barefoot shoe wearer will have some trouble with the fit of FeetSutra.
Psst! If you are still looking for your barefoot shoe brand, make sure you check out the Barefoot Shoe Finder!
Sizing & Fit
Sizing: I got my usual size US women's 6 (too small to buy men's width). The size chart puts that at only 5mm longer than my actual foot length, but it feels bigger than that because of how the sole sits underneath the foot. I definitely could not size up, my feet would be swimming in them. The men's Khussa loafers are 1.2 cm wider than the comparable female size, so if you can I would recommend getting the men's.
Read this post for how to measure your feet.
Volume: The FeetSutra Khussa is a barefoot loafer that fits a high volume foot! They are very spacious above the arch and toes. Those of you with thick ankles, high arches, and upward pointing toenails will appreciate the fit of this shoe. On a low volume foot like mine, I absolutely need an extra insole, a shoe tongue pad, AND a heel grip or I am swimming in the shoe. Even still, you can see the shoe gaping around my foot.
See below the Khussa on me (left) with no insole, vs on Samantha's high volume foot (right). WOW, I have so much extra space, these are seriously high volume shoes.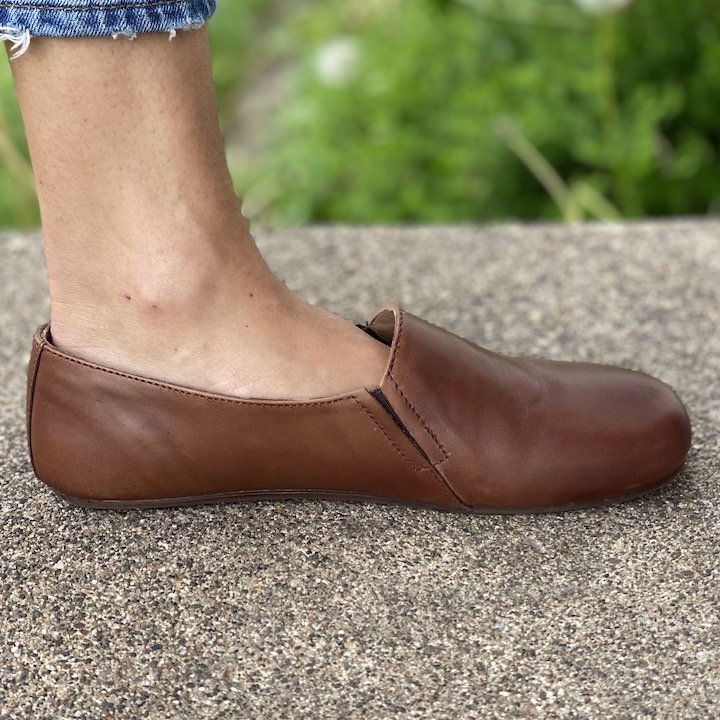 Width: These shoes are average width. I have wide toes, and they are rubbing against the sides of the shoe. I have attempted to break them in, but after multiple days of wear they are still too narrow for me. In fact, my right big toe was sore from being squished. I will reserve these for special occasions when I am mostly sitting or won't be wearing them very long.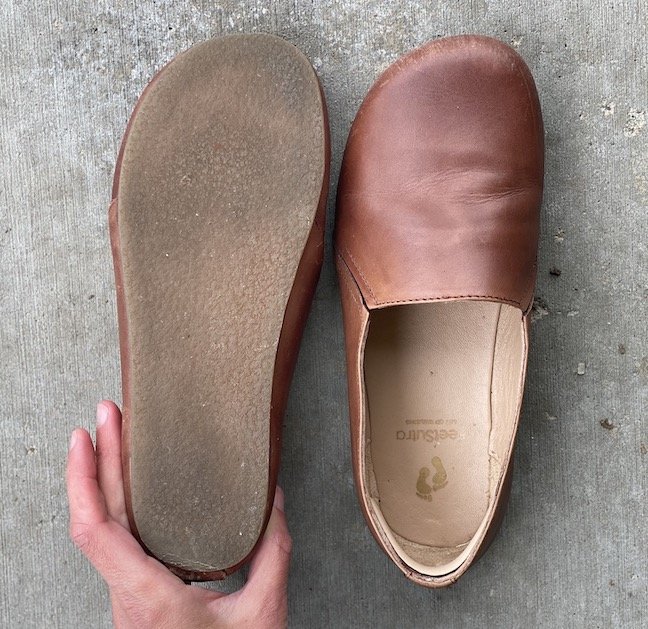 Fit Type: The FeetSutra Khussa loafer has a similar fit type to the Lisbeth Joe London, but not as wide in the toe box. It works for a Mountain shaped foot best. If you have square feet and/or wide toes I would pass on this shoe.
Same Shoe, Different Foot
Let's see how this shoe fits on me (with a medium wide foot) and Samantha (with an extra wide foot).
On me (right), the width looks nearly passable, but not quite wide enough. On the other hand, you can clearly see that the FeetSutra Khussa are far too narrow for Samantha's foot (left), even though the length is right – her big toe indentation is about 1.5cm from the front of the shoe. You can also see Samantha has a little bit of gaping around the sides too.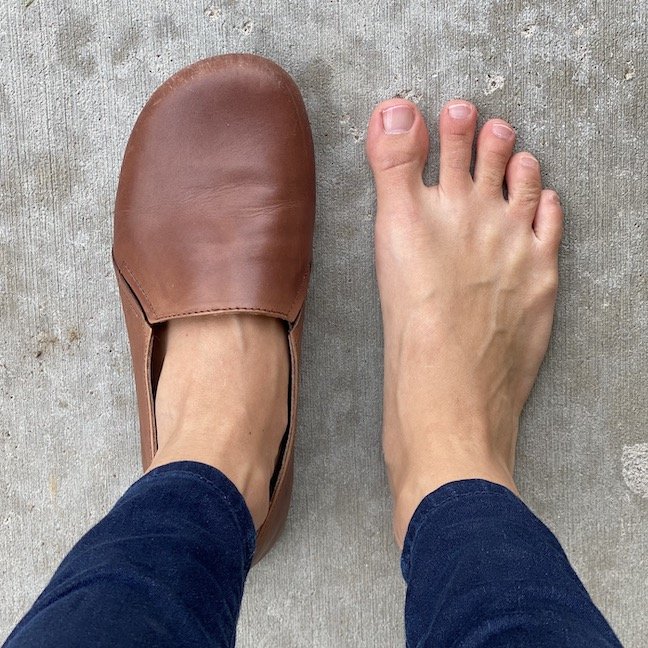 Below you can see the FeetSutra on Sean from @sean.fit4life in men's sizing. He has high volume, thick, muscular feet that fit well in the FeetSutra Khussa! But you can see how open the ankle area is even on him.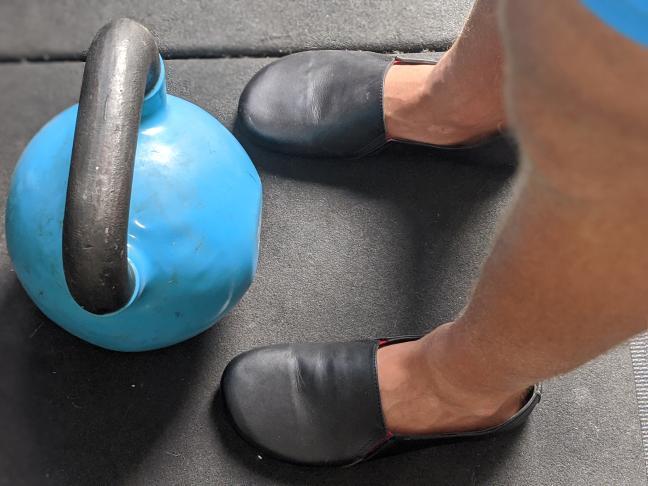 Ryan, of @mensbarefoot, also has a pair of FeetSutra in men's width. Here is what he has to say about them.
"The FeetSutra shoes have an incredible looking design. I love the shape and lines of the shoes. The fit of the shoe is loose. Side to side and even around the heel which causes a bit of "flop" as I walk. Also, there is pretty severe scuffing on the toe where while walking the shoe has made contact with the ground. Would like to see a higher quality leather for long wear."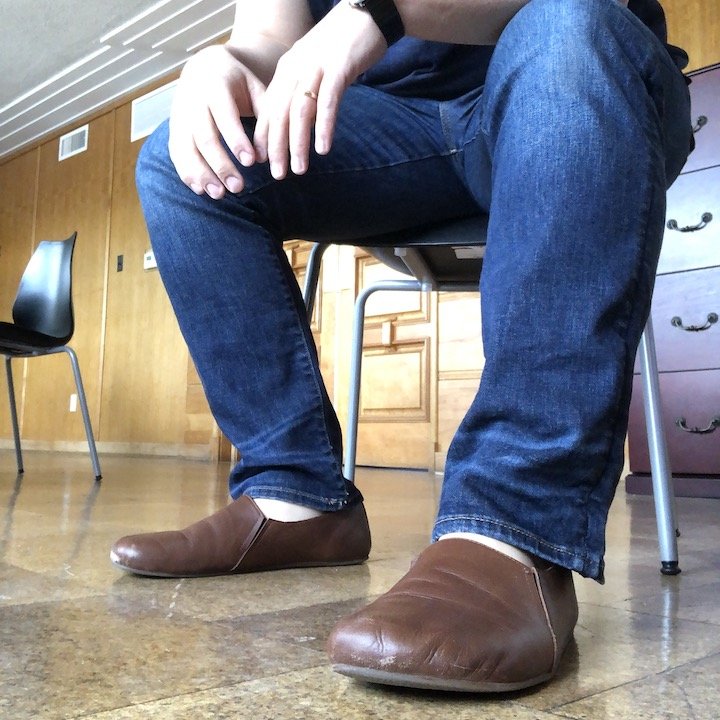 How FeetSutra Compares to Other Barefoot Loafers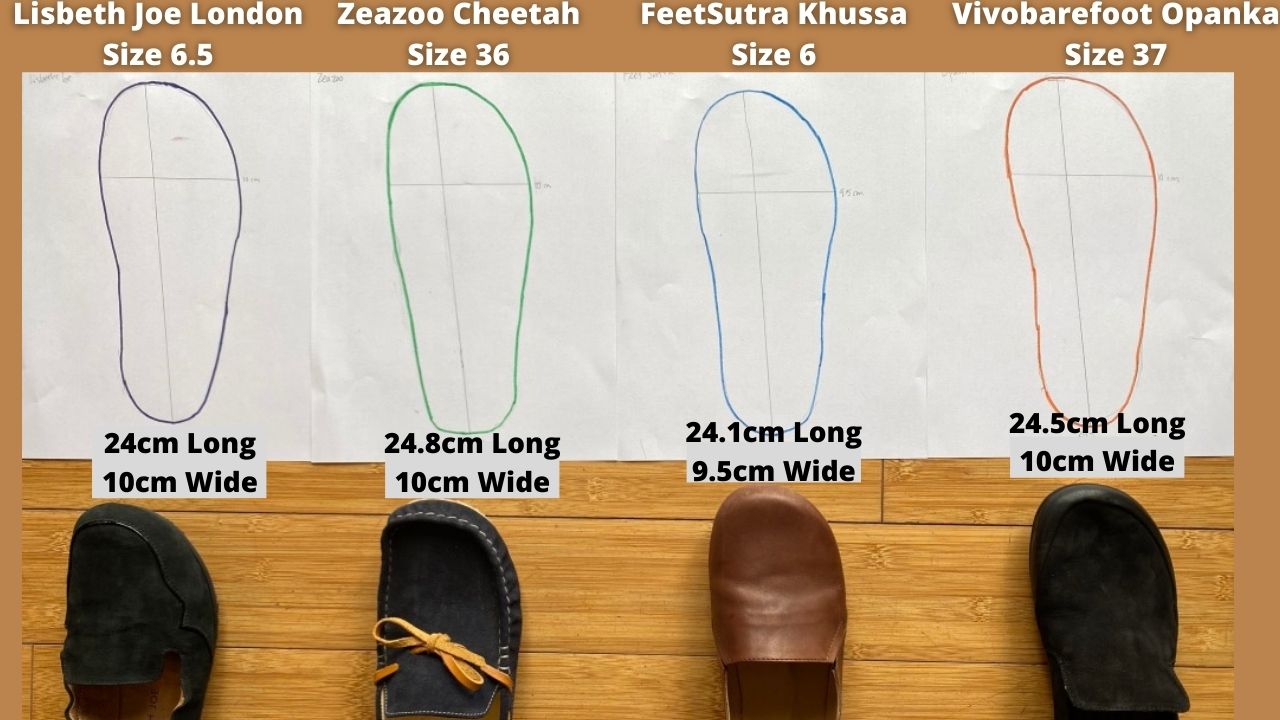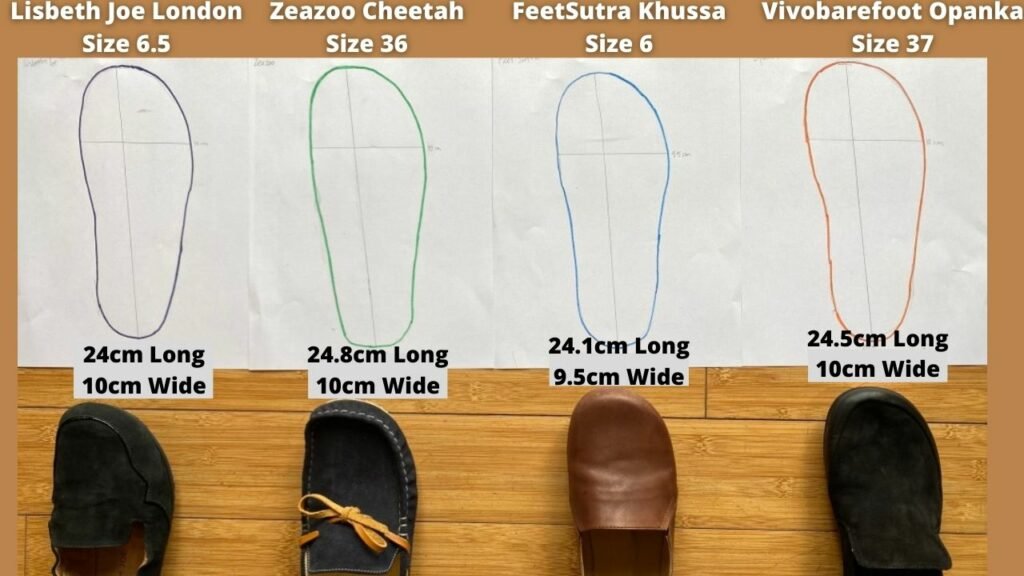 You can see in this photo that FeetSutra in women's sizing is a bit narrower than the other barefoot loafer styles available right now. See my other barefoot loafer reviews below!
And check out this post for a full list of barefoot loafer styles.
Ordering
FeetSutra is a located in the US, and the shoes are made in India. You can use code ANYASREVIEWS for 10% off your FeetSutra purchase. Returns are free on new shoes within 30 days. In order to get a refund, you have to contact them about your return before sending the shoes back.
Conclusion
Gosh, I love the look of the FeetSutra Khussa loafers. But they're just not a great fit for my feet. I'd love to see them widen the toe box and lower the volume a little bit so more people can fit into them (or at least make the heel arrow a little more narrow). But this is a brand new barefoot shoe brand, so I have hopes we'll see more good things from them in the future.