*DaVinci sent me their women's Pickford, Primavera, and men's Lapworth to review, but my opinions are my own.*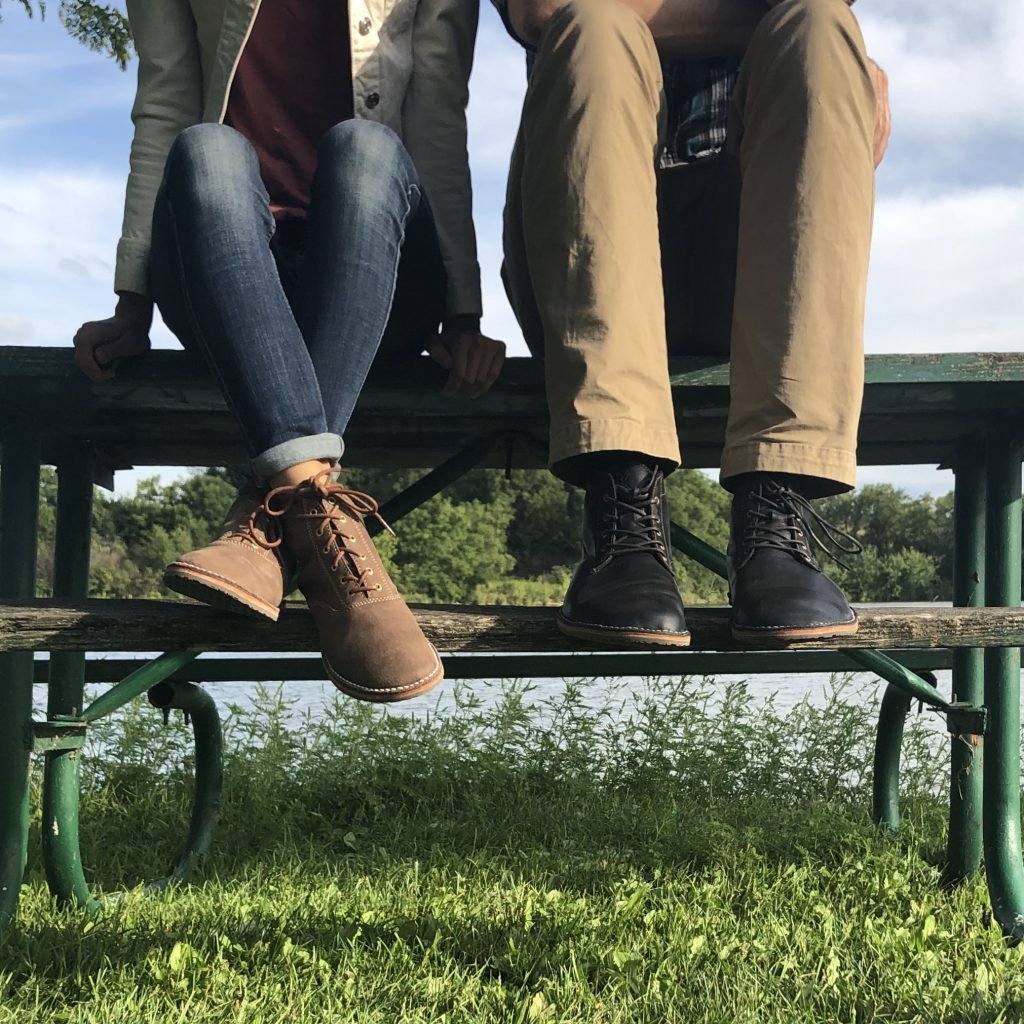 *2/9/20 The code EMAILSPECIAL will give you $60 off your order!*
Table of Contents
Brand Review
DaVinci Footwear has landed with a big splash in the barefoot community. The brand is new, fresh, and coming at the barefoot movement from an entirely different angle than other brands, an angle which seems to be resonating pretty strongly with their newly-minted customer base.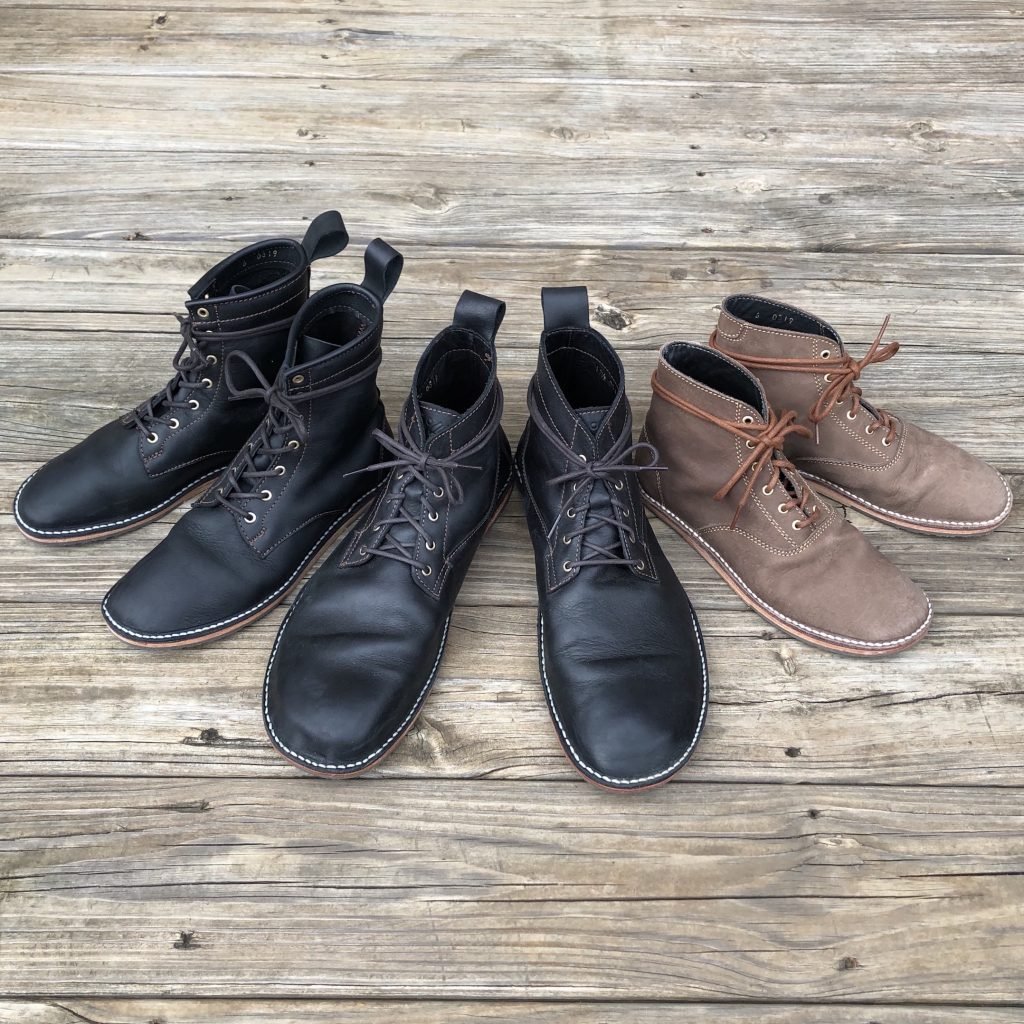 While I am dedicated to healthy minimal footwear, I also have a great love for the craft of shoemaking in general. We have a plethora of wonderful barefoot brands available to us, but few of them come from a traditional shoemaking perspective. Which makes sense, for these brands the primary focus (and marketing strategy) is the barefoot qualities of the shoes. But traditional shoe-making produces something that will LAST, that will feel like a second skin, and that moves and breathes with your foot. It's something completely separate from the checklist of what constitutes a barefoot shoe.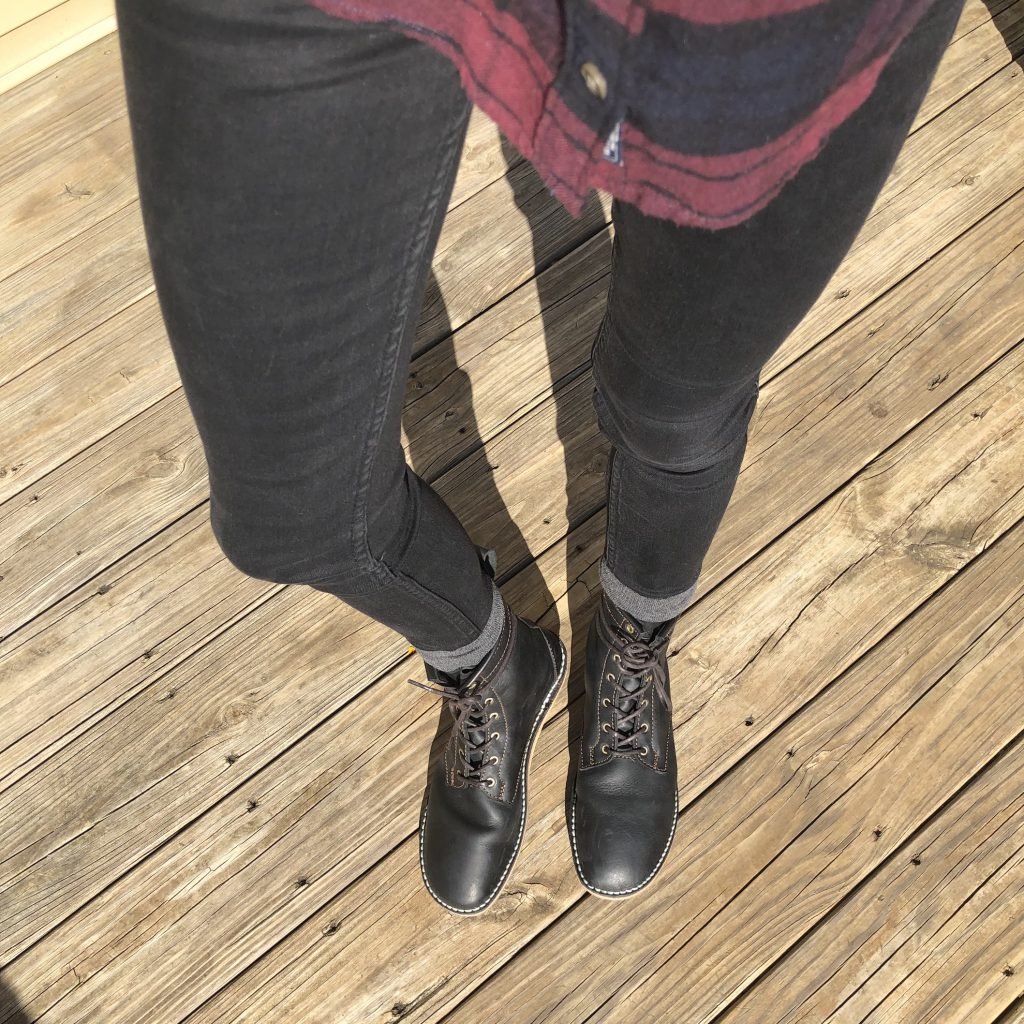 So when I pulled my DaVinci boots out of the box and looked them over, my first thought was "THIS is a shoe." This is a shoe by any standard, and it will last a lifetime. To have a product like this on the market that also ticks the barefoot shoe boxes is certainly new.
DaVinci also manages to capture a modern flair. They are reminiscent of styles we've known and loved for years, but with unique details, separating them from iconic brands. It's clear that the people behind DaVinci boots are true artists.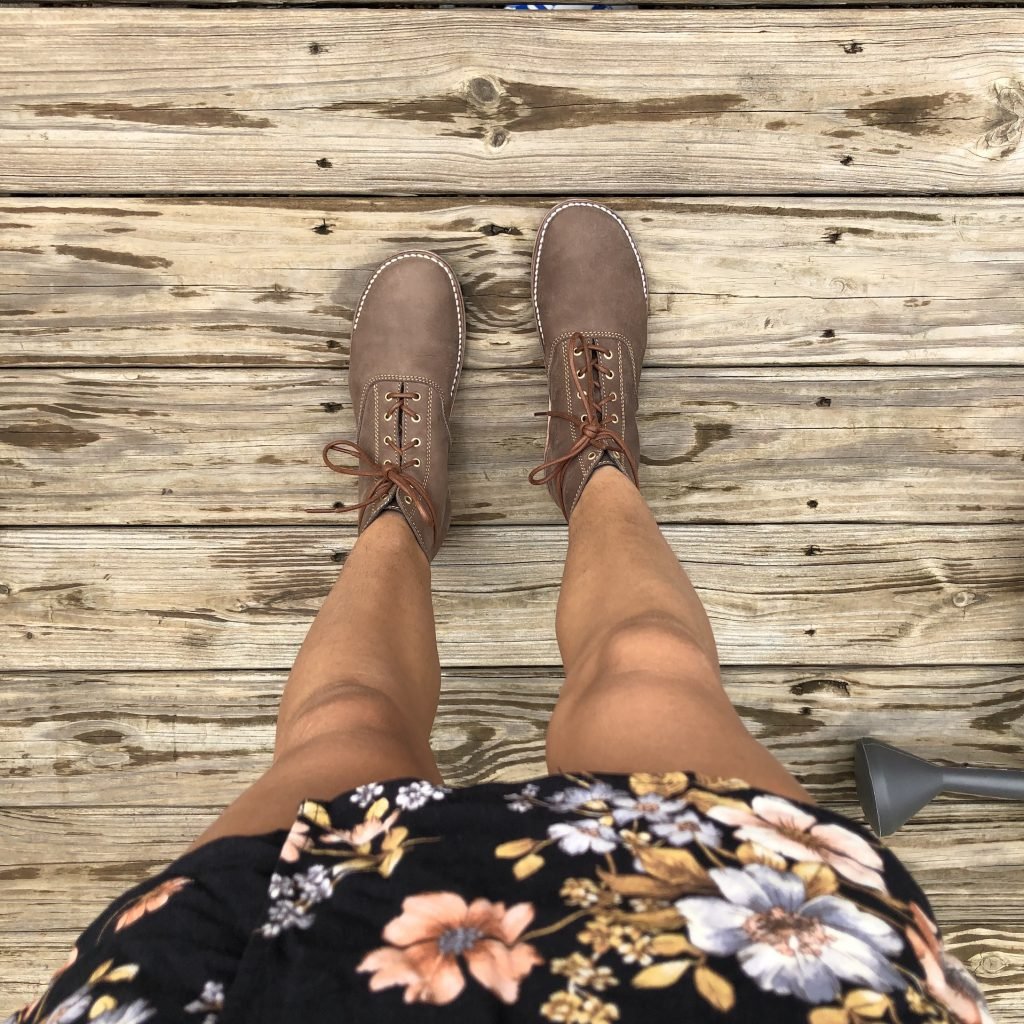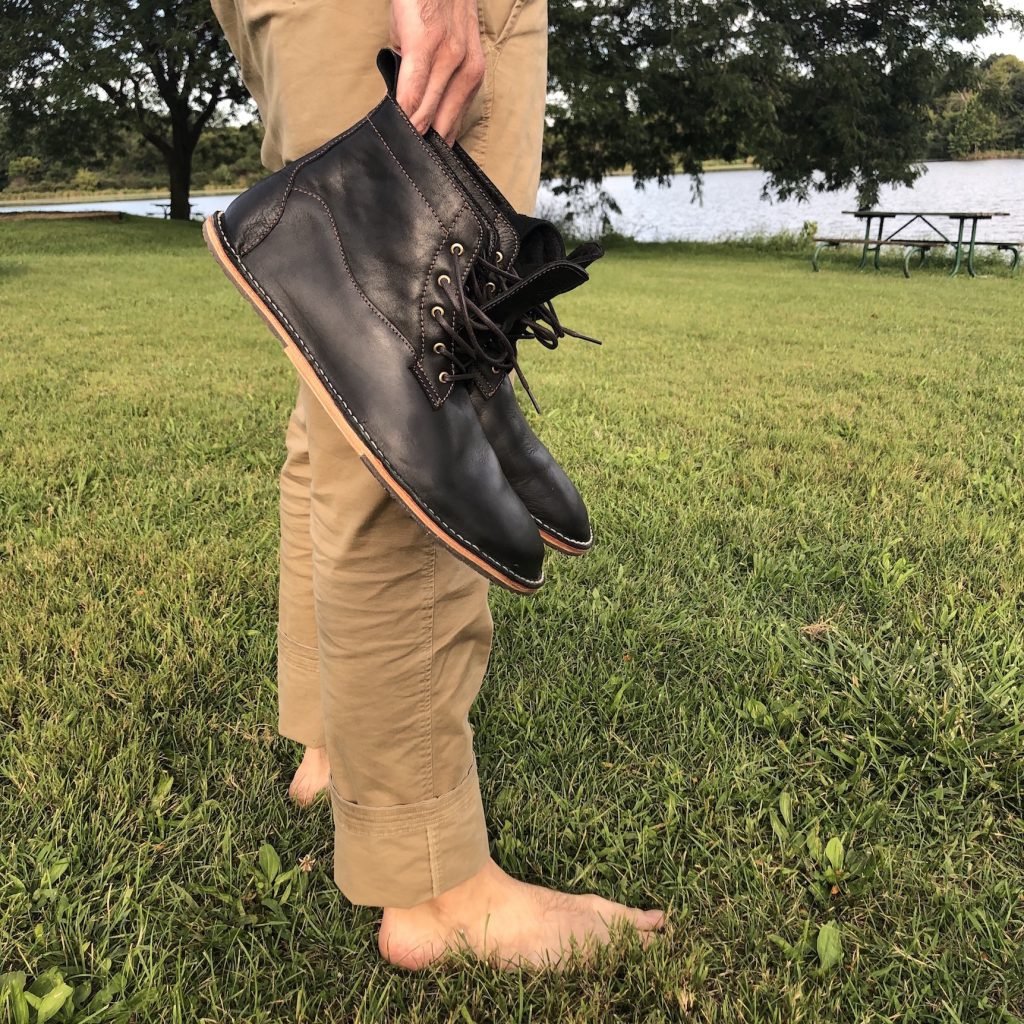 Materials
DaVinci boots are made entirely of responsibly-sourced, high quality leather, with minimal waste (read more about their shoe-making process here).
The insole is leather with a layer of recycled celfit (aka foam) underneath it. The rest of the outsole is leather with a rubber heel and toe piece to give traction and durability. Then the whole thing is stitched together using a top stitching method.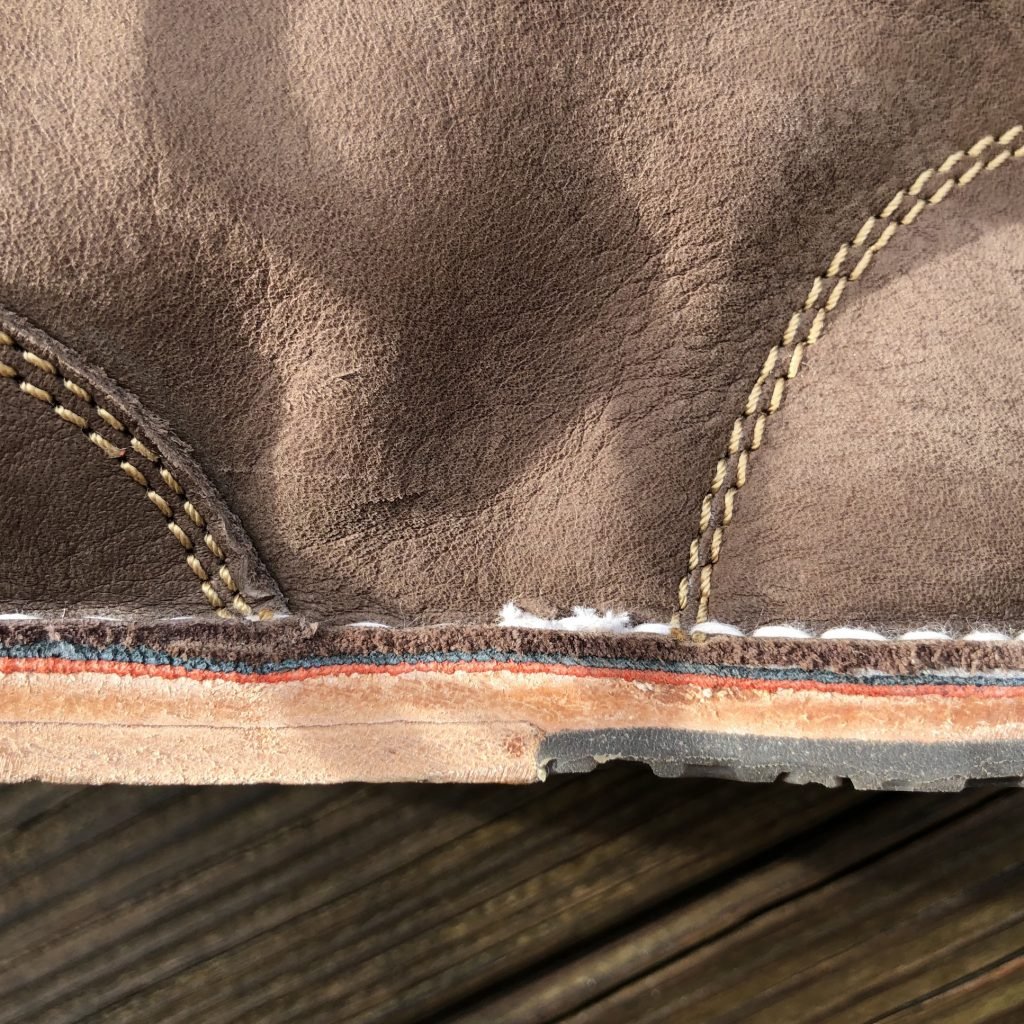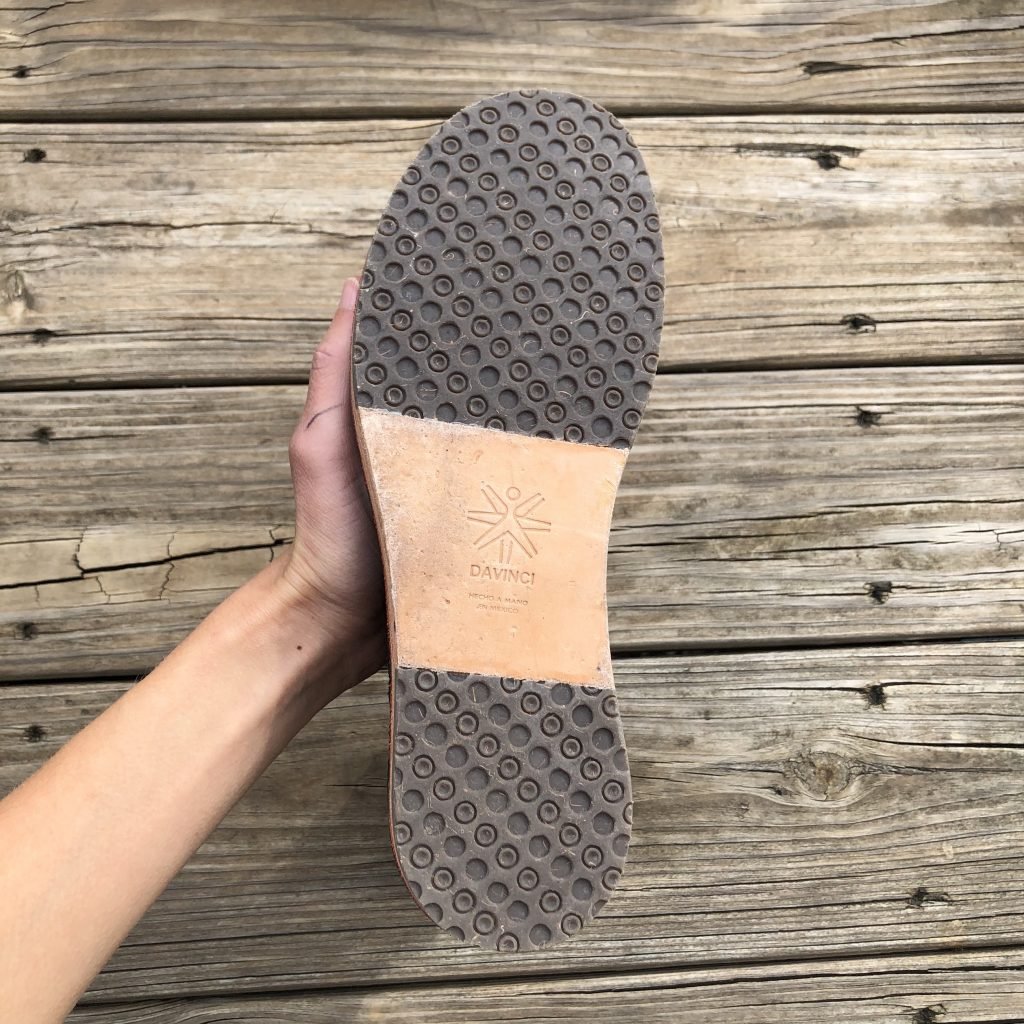 Because the shoe upper and sole are made of good leather these shoes will conform to your feet over time and they feel great barefoot. They also can be resoled if need be, adding to their longevity.
Barefoot Qualities
All DaVinci boots are completely flat, with no arch support. Even though the sole is thick (14mm), it is still quite flexible and should only become more so as the leather breaks in. The ground feel is surprisingly good, and walking in them feels natural. I love a good quality sole that feels comfortable and easy on your feet and isn't just a thin layer of plastic between you and the ground.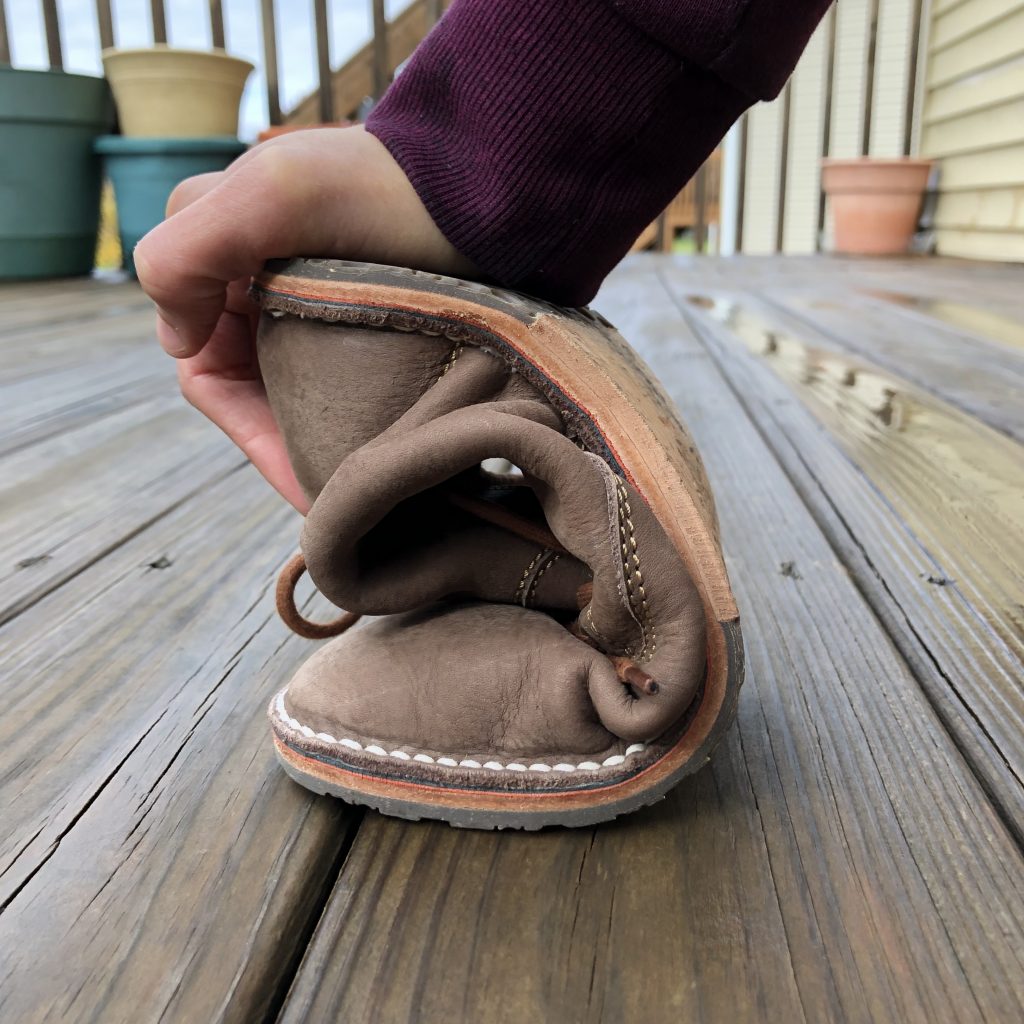 Compared to other barefoot boots on the market, DaVinci boots are heavier, but not to the point that it's bothersome. For me, it's a fair trade off considering that the heaviness is due to the leather sole which makes for a long-lasting, comfortable and warm shoe. One of my pet peeves about barefoot shoes is that they are freezing in winter. Compared to a traditional hiking or snow shoe, DaVinci boots are considerably lighter, but will still keep your feet warmer than they'd be in a 4mm sole.
The main concern I hear over and over about these boots is that they are narrow in the toe box. The women's boots are made narrower than the men's, and I do agree that the women's are narrower than other barefoot brands. The width is more comparable to brands like Zuzii and Raum, which don't give space for a wide splay, but stretch and conform over time.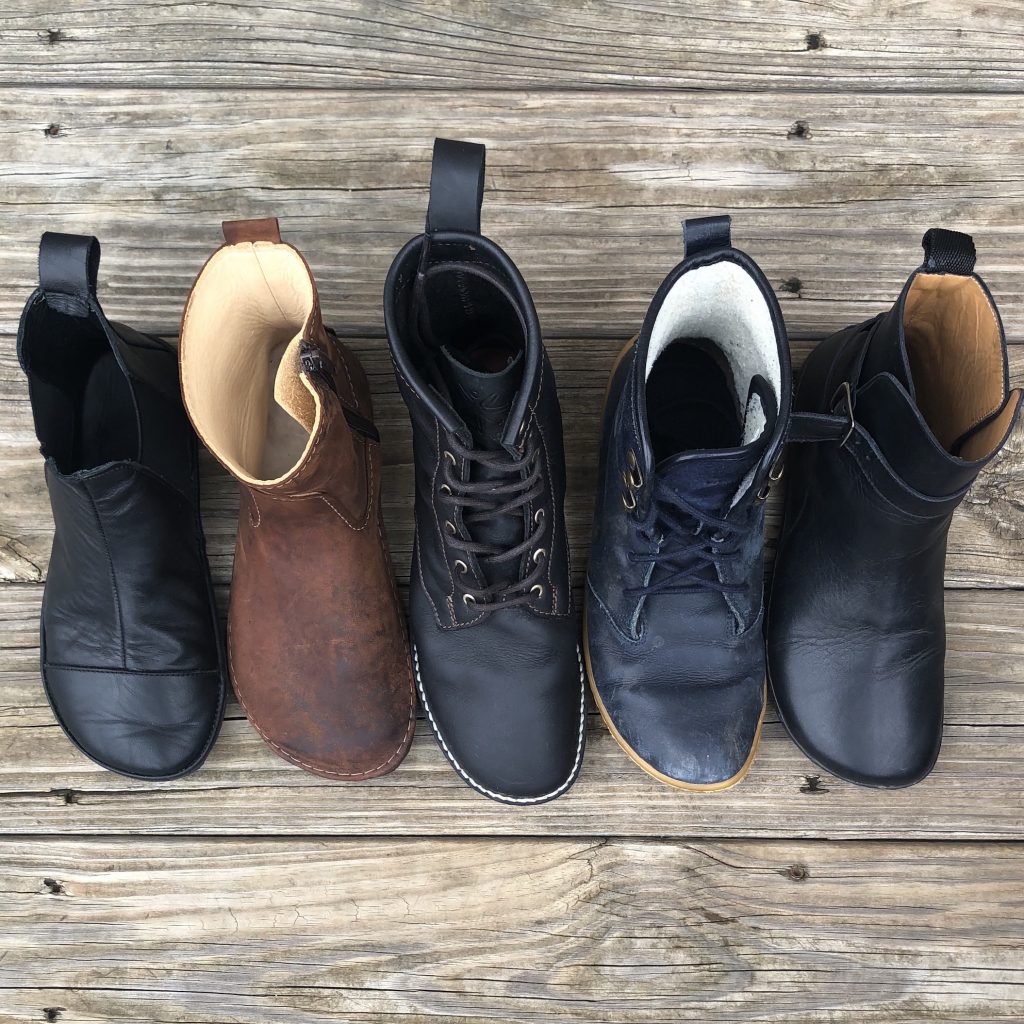 In the weeks that I've been wearing mine, they definitely have stretched and loosened, but I feel like it will take several more months for it to be fully comfortable. With a shoe of this caliber, made entirely of natural materials, I do believe it can become wide enough. But from my experience this really takes time, and it can be hard to put in enough wears to get there if they don't feel good. I believe the women's shoes would benefit from being wider at the toes, and you wouldn't lose style points in the process.
Sizing
These shoes run quite long, especially in the women's. I got my normal size 6 and I have a full inch of length out front. The website recommends sizing down 1/2 size, which would have worked in most of the shoe, but the toe box would have been far too narrow for me in a smaller size. Wearing socks can help fill up the extra length, but my opinion is that if the shoes were wider at the toes then people could comfortably size down. Otherwise, I have a hard time recommending it.
My size 6 next to Zaqq boots size 37

Size 6 next to Vivobarefoot boots size 38
As you can see in the above photos, the length of these boots is more comparable to a size 7 or 7.5. Note that because DaVinci uses a top stitching method, they are narrower than the Zaqq and Vivobarefoot boots pictured above. But Zaqq and Vivobarefoot use a rubber wall around the sole, so though they start out wider, they don't stretch and conform over time.
Now, if you can fit in the men's sizing, you are going to be getting shoes that are more comparable to the width of other barefoot brands. If you have an extra wide foot, you might still find them narrow, but my husband (who has regular width feet) finds his normal size to be perfect.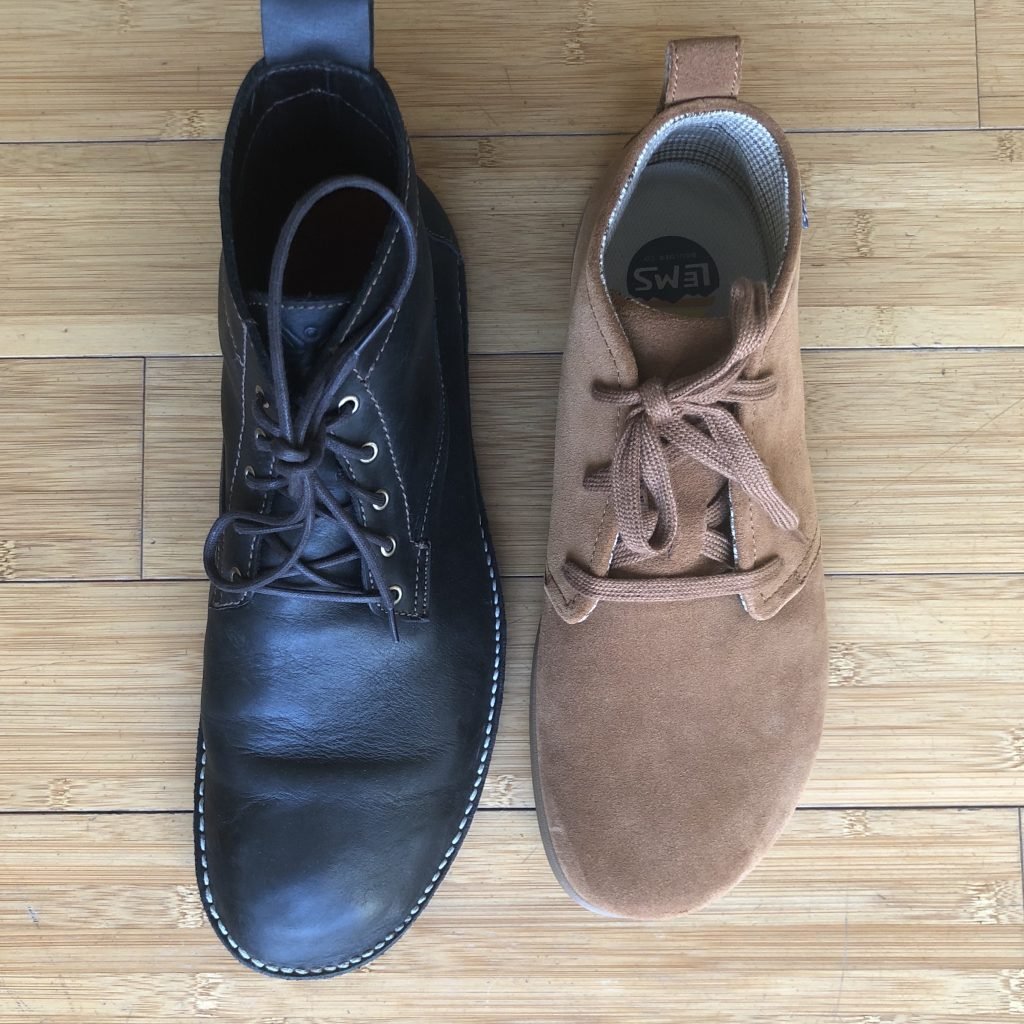 For context, My husband ordered a size 12.5, which is the same size he wears in Vivobarefoot. He wears a 13 in Vans, but he sized up in those in order to get some more toe space. The 12.5 in the DaVinci Lapworth is perfect for him. His toes are not squished and his heel is secure and doesn't slide. He wears cotton socks with his.
DaVinci has a size chart on their website detailing the internal length and width of their shoes, and it's consistent across all their styles.
Other Details
DaVinci boots are pretty pricey. Good quality is worth money, and I do think they are a worthwhile investment. But still, it's a hefty price tag. Fortunately they have new customer coupons and, most importantly, free shipping and free returns on all orders. So if you're on the fence about whether they are worth the money, try them out. If they don't work for you, you can return them at no cost.
*12/6/19 Since my writing of this review DaVinci has lowered their prices by a fair amount, making them now comparable to other brands but still expensive. With their regular coupon codes, you can often get them for $200 or less.*
Conclusion
Oftentimes I take a barefoot shoe and try to incorporate it into the look I'm going for. With DaVinci boots, it's the other way around. They are the look, the style, and the rest of my outfit works around them. While I hope to see some adjustments made to the design of the shoe, the fact that we are getting high-end, fashion-forward shoes for our little barefoot community is an exciting development. Minimalist shoes are going mainstream, and DaVinci wants to help get us there.
Pickford – Natural (women's)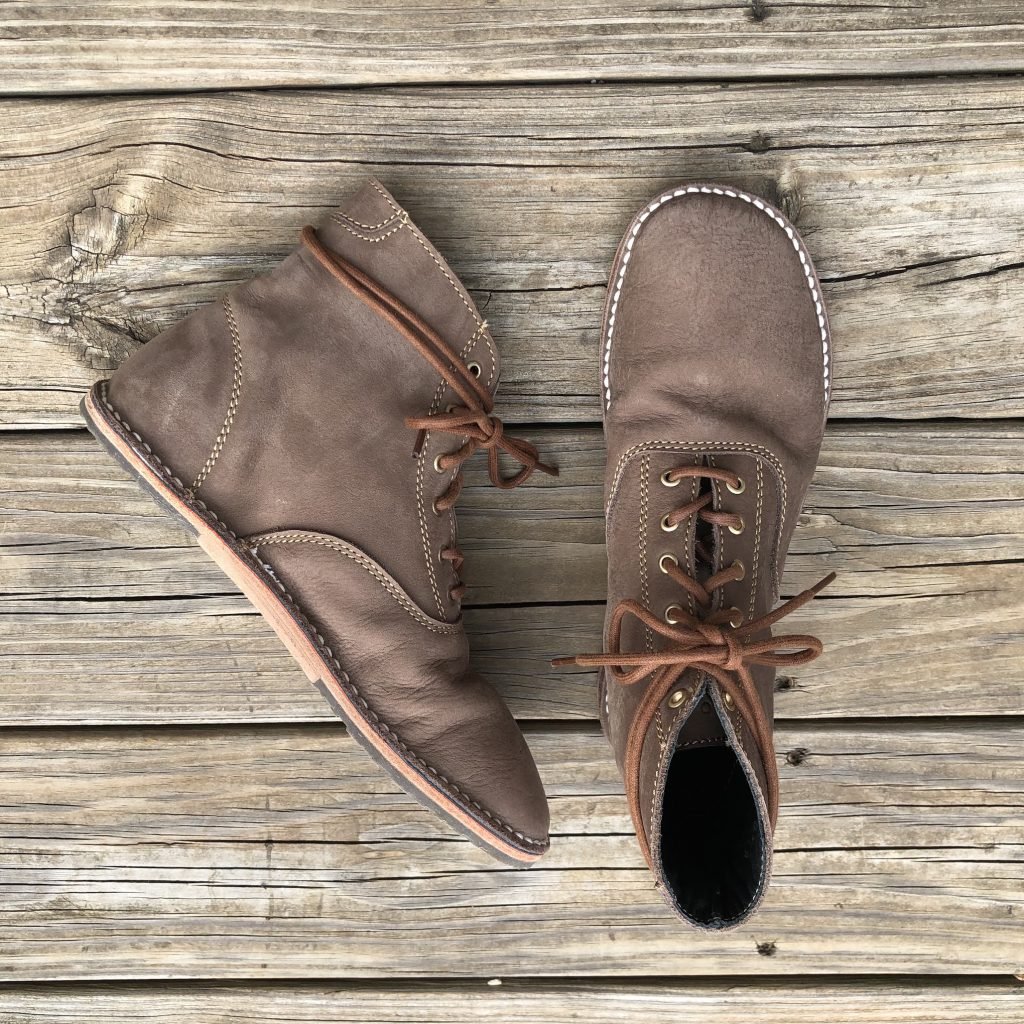 The women's Pickford boot is a 5-inch lace up boot. I chose the natural brown, which is unwaxed and incredibly soft. They've broken in really quickly and feel great to walk in. I do notice my pinky toe is still pressed in a little bit, but as they've broken in there's more and more space and I am able to wear mine for long walks and stay comfortable.
The natural leather seems to be stretching faster than the waxed leather and these Pickford boots are the ones I reach for most often. The interior is fully lined with soft leather and I wear mine barefoot most of the time.
The height of the 5-inch boot is incredibly versatile, it works great with leggings, jeans, visible socks, and skirts/dresses. The design is narrow through the midfoot and heel, so you get a seamless look that can be dressed up or down. It's a classy shoe, but understated, so it easily can move from look to look without stealing the show.
In all my lace-up boots I unlace the top grommet and wrap it around the ankle. This gives my ankle a little wiggle room at the top and keeps the laces from being huge and long.
Because this leather is untreated I used a spray protectant (read more about how I protect my shoes here) to keep it from being damaged by rain/snow.
Pickford Look Book
Primavera – Black (women's)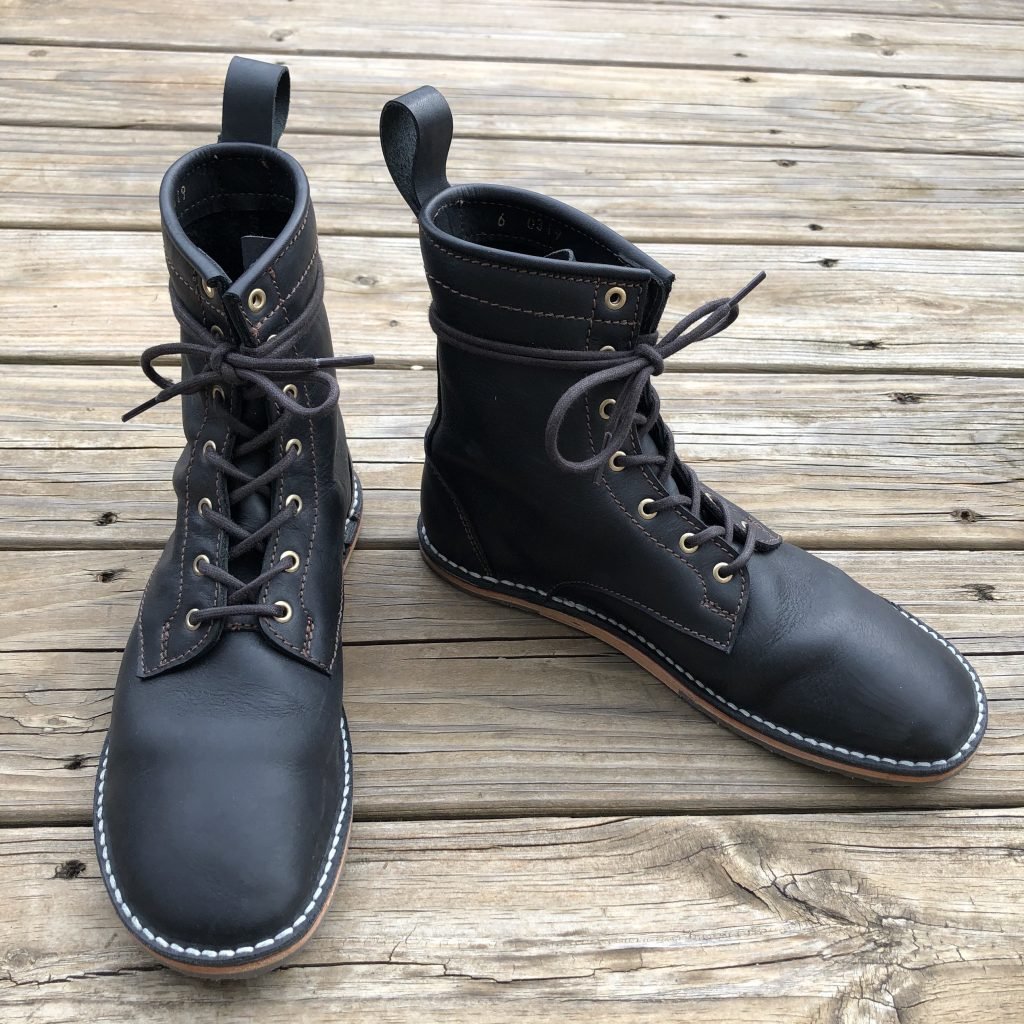 The Primavera is DaVinci's 7-inch boot. This is an edgier, more defined boot. The taller height does limit the styling possibilities a little bit because it can cut off the leg line if you have shorter legs, but I have come to love the rocker look of them.
I treated this waxed leather with a waterproofing agent (the products I use are linked in this post) before wearing mine. The waxed leather seems pretty durable and is already stain/damage resistant, but the extra protection can't hurt.
The waxed leather is gorgeous and smooth, but does take more breaking in than the natural leather. It's taken more wears for these to get comfortable, and they still feel more restrictive than my Pickfords. They're getting there, but whether they widen sufficiently remains to be seen.
I usually end up wearing mine with black pants, leggings, or tights, because the all black look is lengthening. Adding visible socks also helps to prevent that stumpy look. Again, because DaVinci boots are cut close to your ankle, they are seamless and can be dressed up or down easily.
My Primavera's remind me of Doc Marten's, and I have loved mixing up my style with them. It's not often you can stay true to your barefoot ideals and go for such a unique style.
The 7-inch Primavera (women's) and Mohawk (men's, not reviewed here) are not lined in the body of the shoe, only in the toe box. Also, note that the tongue is attached in the Primavera and Mohawk. The other styles are all fully lined throughout the shoe and don't have an attached tongue.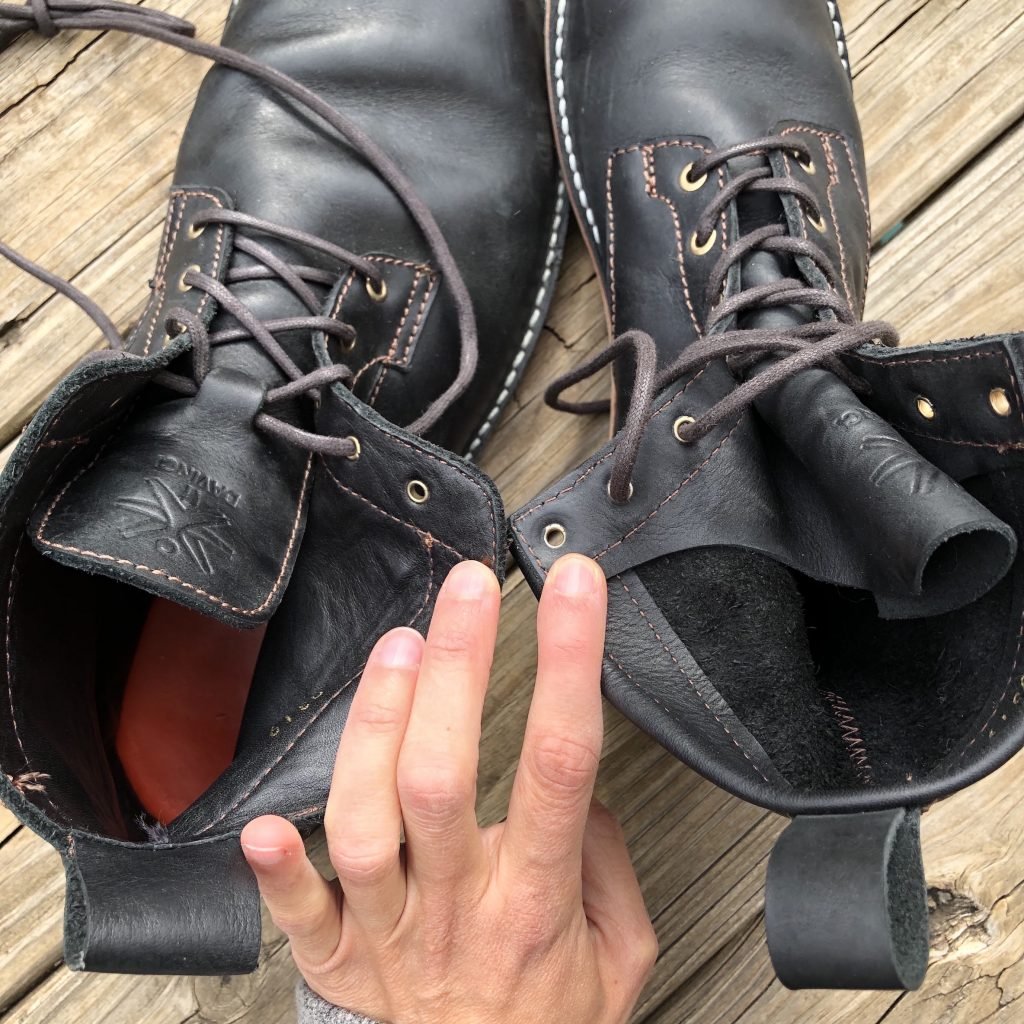 I normally like to wear my shoes barefoot, but I notice the feeling of the raw leather and the stitching where the lining starts in the Primavera. So I actually prefer to wear the Primavera with thin socks.
Primavera Look Book
Lapworth – Black (men's)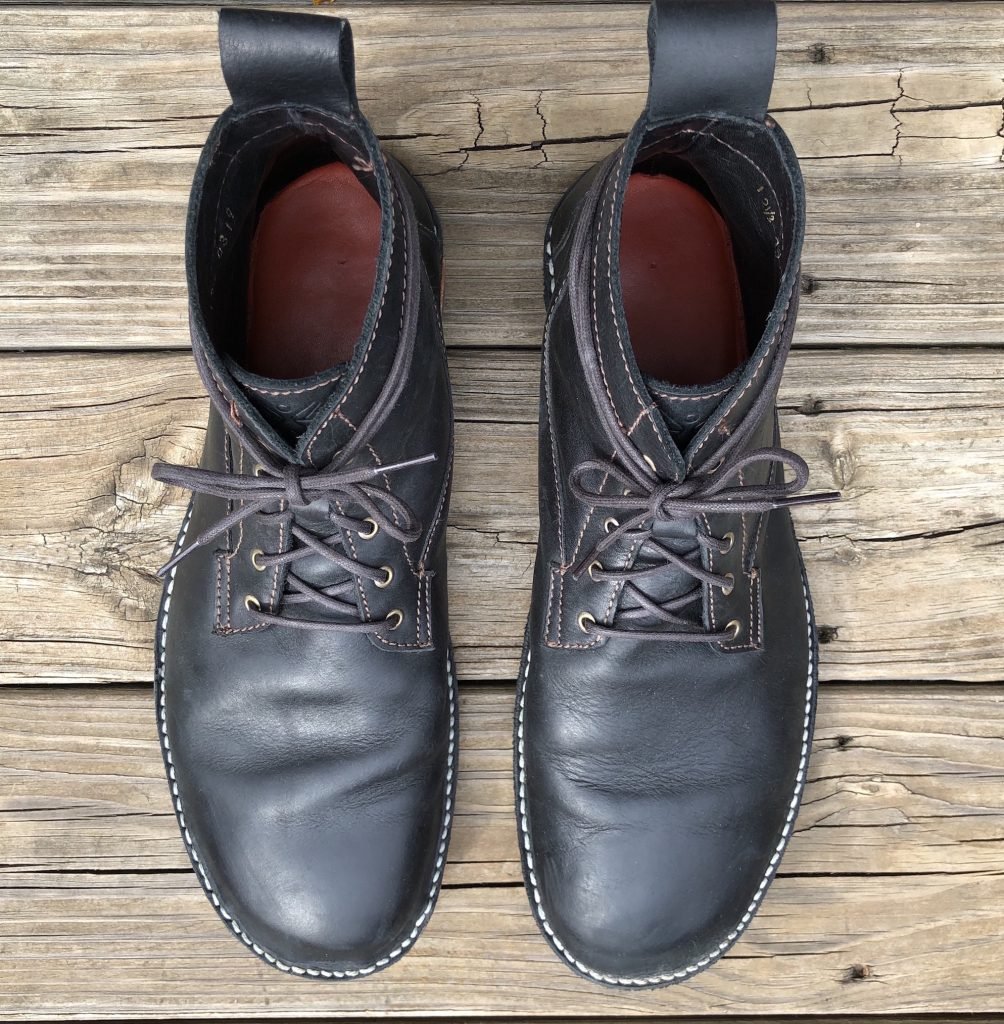 The men's Lapworth is the star of Davinci's lineup. Aesthetically, it's flawless. Simple, with a few perfectly placed details: it's the perfect balance of style and functionality. My husband raves about how comfortable they are and frequently gets compliments on them. I myself am quite envious they don't come in women's sizes, but am still so pleased to see this much-needed addition to men's dress shoe options.
The Lapworth is a 5-inch boot (the men's version of the Pickford) and works well with professional attire, but isn't too fancy for jeans and a tee.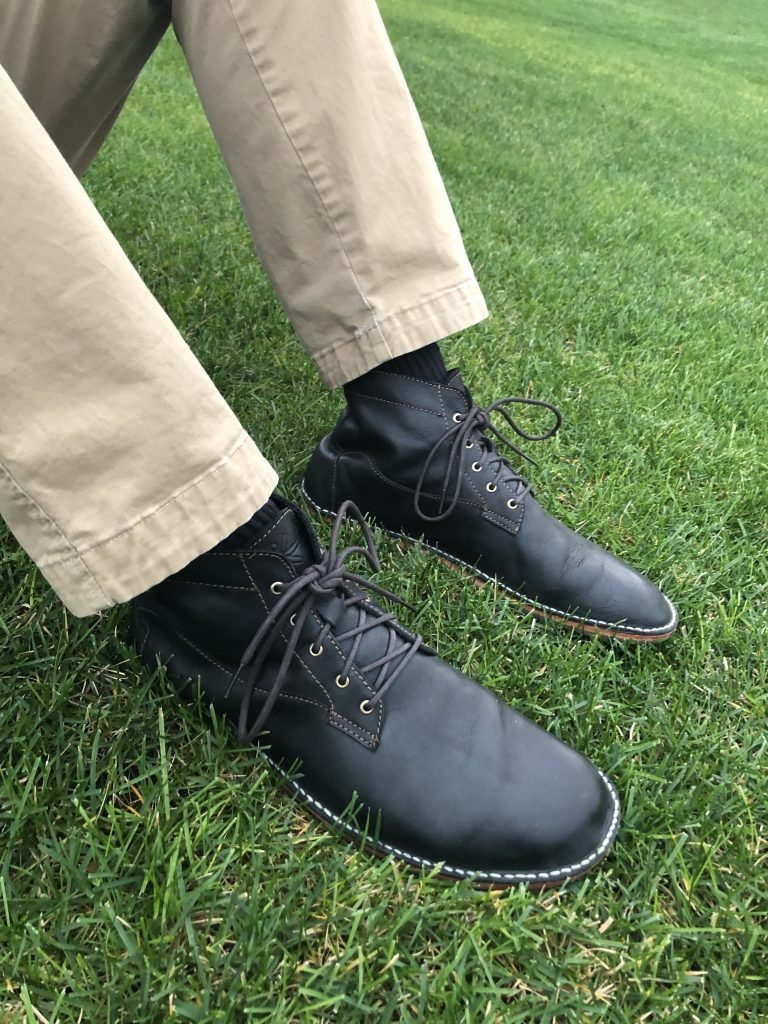 The men's line is wider than the women's, and the shape of the Lapworth is more foot friendly than my women's boots, but they still are close through the midfoot and heel to keep the look sleek.
They look like leather foot gloves on my husband, and whenever he wears them I am constantly surprised at how great they look. I'd love to see the sizing extended on the men's line to include smaller sizes for all the wide-footed ladies out there!
Lapworth Look Book