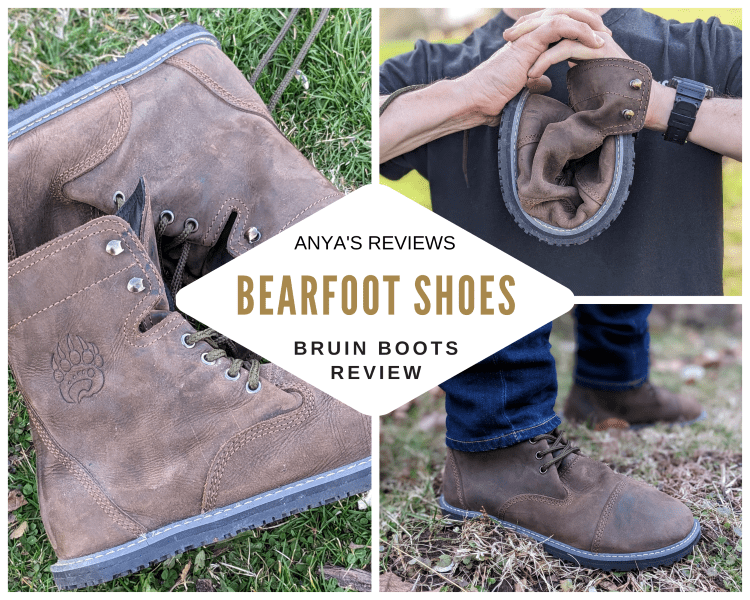 by Robby McFarland
The Bruin boot from Bearfoot Shoes is a classic work boot redesigned with your foot health in mind. These made-to-last boots are exactly what a lot of people have been asking for – zero drop, wide toe box, but practical for actual work conditions. Read on for the low down on the Bruins!
You can use code ANYA10 for 10% off from Bearfoot Shoes!
Meet Bearfoot Shoes
Bearfoot Shoes got their start specializing in barefoot weight lifting shoes. The brand was co-founded by Chris Duffin, a famous health & fitness entrepreneur, whose mission it was to "optimize the human to ground interface" with shoes that support better biomechanics. All their products, including the Bruins, are made in North America. The company is based in Fargo, North Dakota.
I've been testing the Bruins for the last few months. Read how they held up below!
Bearfoot Bruin Review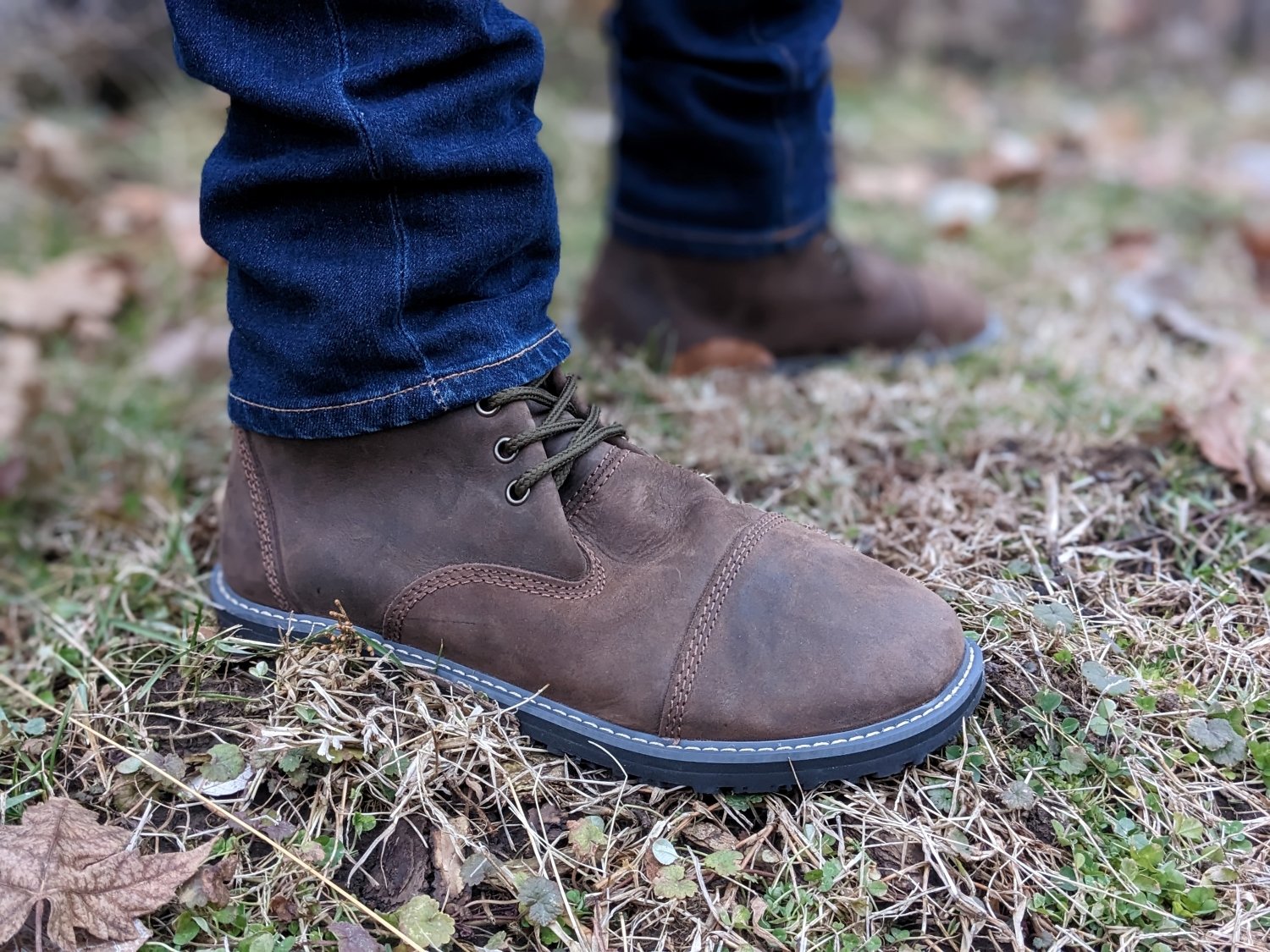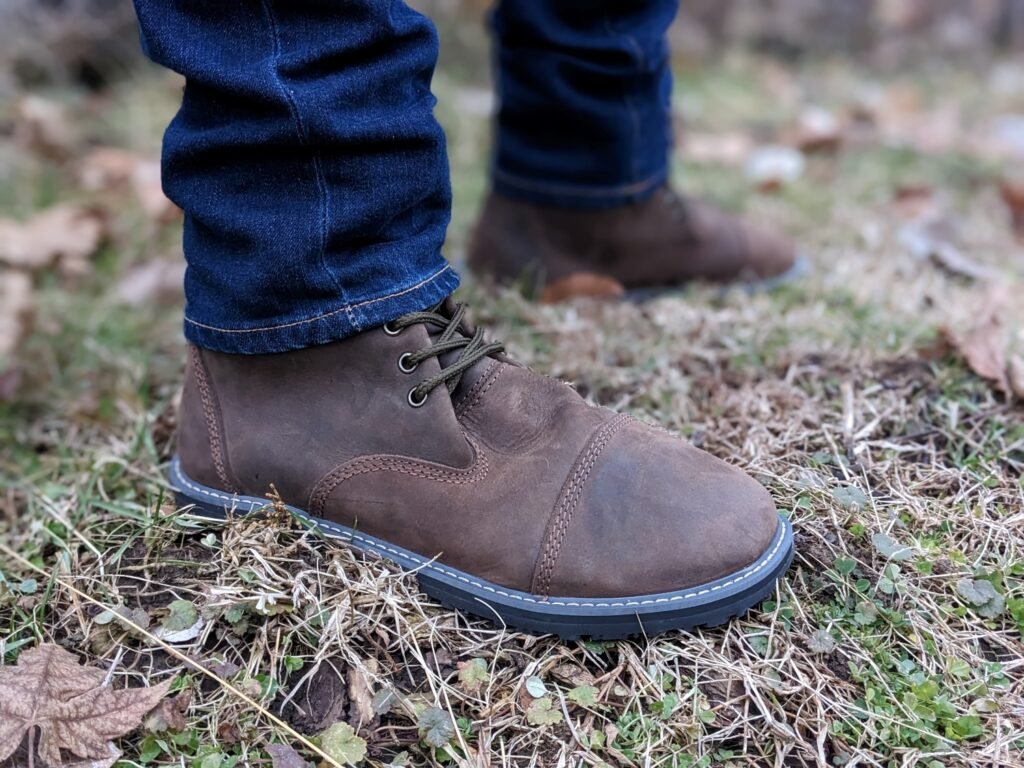 Leather | 15mm Stack Height | Sizes US 5W/6.5M – 16M | Ships from USA
Here is what I love about the Bruin boots:
They're made of Crazyhorse leather that gets better with age.
They're resolable
The tongue is gusseted to keep debris and water out
A leather midsole conform to your foot.
But to be honest with you, these boots were not love at first wear. I have grown to appreciate them over the last several weeks, but the first two times I wore them they were uncomfortable!
The leather is quite thick and the creasing pressed into my foot when new. They also have a really high volume fit, so my low volume feet were sliding around inside. But the good news is I was able to completely fix both issues by breaking in the leather and adding in a tongue pad.
Now, I wear them all day without giving it a second thought. And just in time too, because with spring comes a lot of home and yard improvement jobs!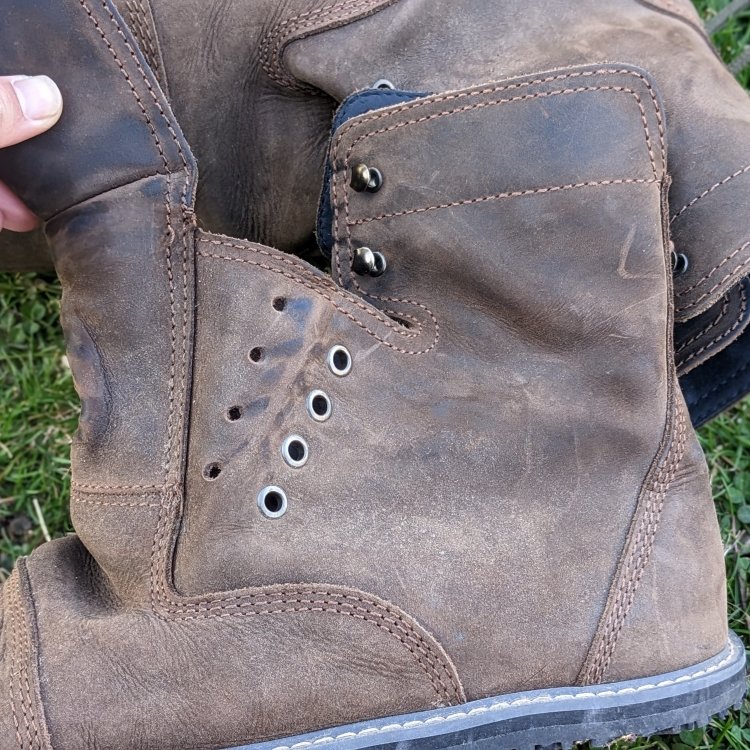 Once I got the fit right and broke in the leather it became apparent how functional they are. I never have to worry about hurting my feet while doing construction-type work. The leather is sturdy (and it smells so good!), the stitching and seam construction is sound, and the sole is hefty!
I've been wearing these boots for construction projects, garden prep work this spring, car repairs, and most recently during the start of our garage renovation. I am grateful this boot exists, as there are few barefoot options for keeping your feet protected from the hazards of tough work. These Bruins will be my companion for years to come, to keep my feet safe and free as I make our house a home.
While I don't worry about accidentally kicking or stepping on something sharp, note that the Bruin is not steel or composite toe. That means in some work environments they will not be protective enough. Check out this foot-friendly steel toe boot if that's what you need.
Are The Bruins Barefoot?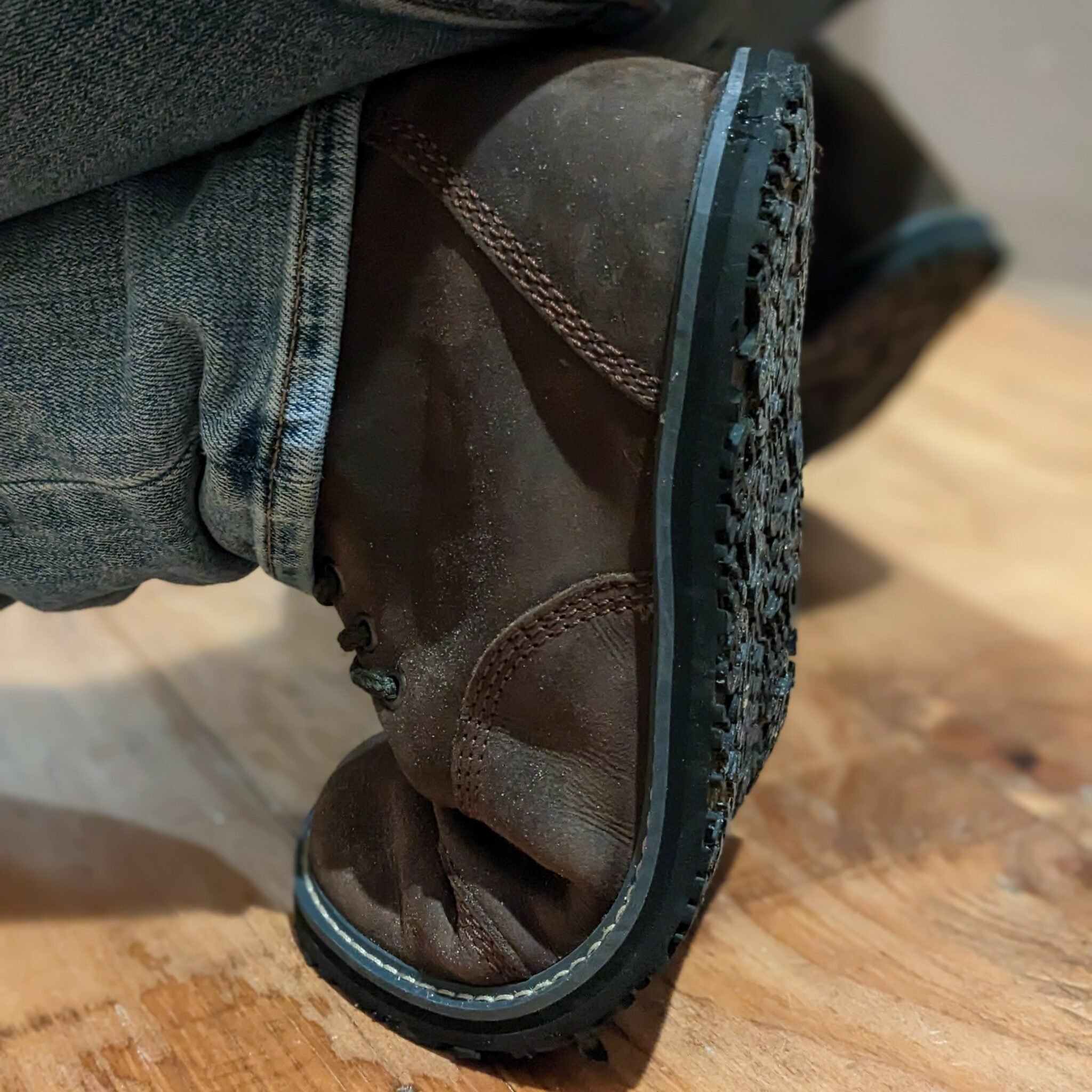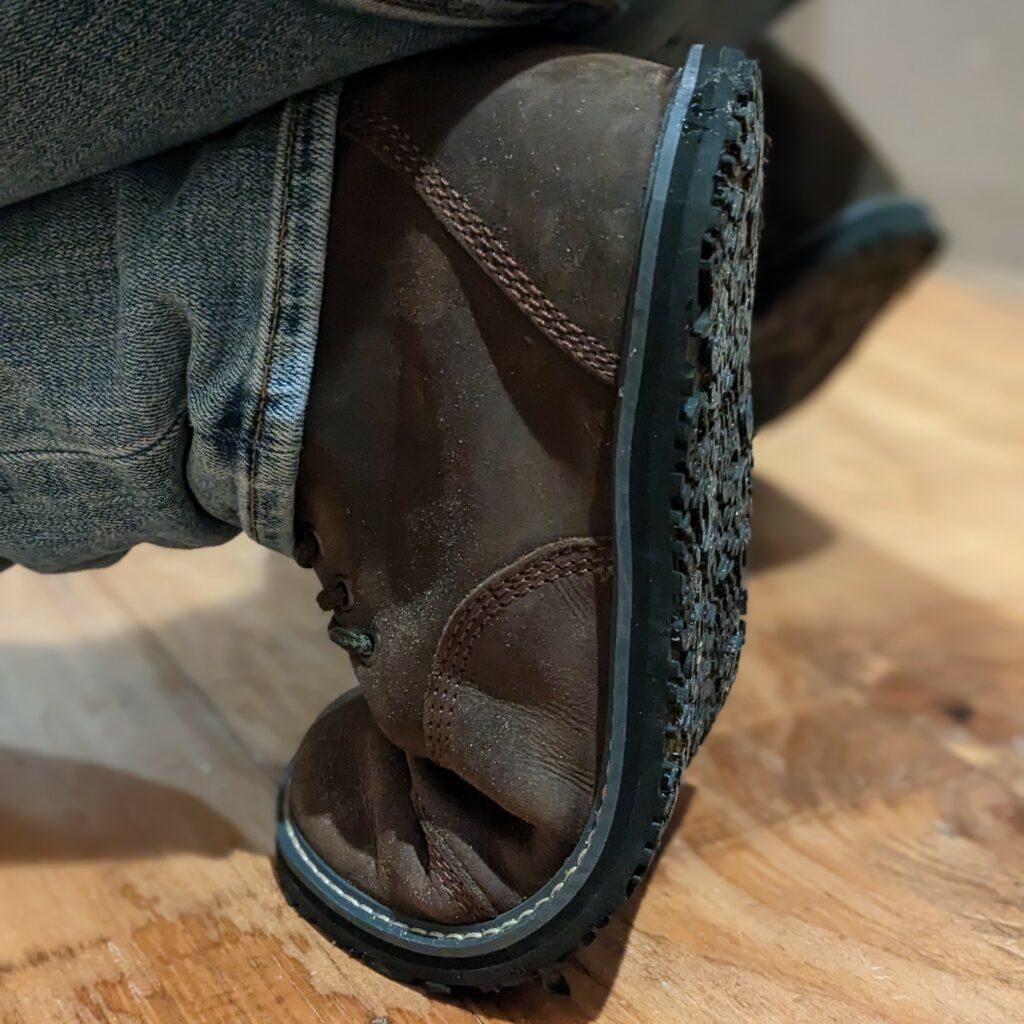 After switching to barefoot shoes two years ago my feet and body have grown accustomed to wearing "light-as-air" footwear, so the first few steps I took in the Bruins were a bit of a shock to my body. But the soles on these boots are thick and heavy for a reason. They're made for work! Being able to feel the earth with your feet is fine and dandy when taking a walk in a park, but when the ground beneath you is littered with nails, screws, metal, and glass from a job site, you don't want to feel those man-made feet impalers.
So I would call these barefoot-friendly. They retain a lot of barefoot qualities like the wide toe box (wider than a lot of barefoot shoes), zero drop outsole, and no artificial support. But they might not feel like the barefoot shoes you're used to.
They are heftier and less flexible than a typical barefoot shoe, and that's on purpose. These are ideal for situations when you don't want a thin sole like using a shovel or in a work shop. I did find that the outsole became just a little more flexible as the shoe broke in.
Sizing and Fit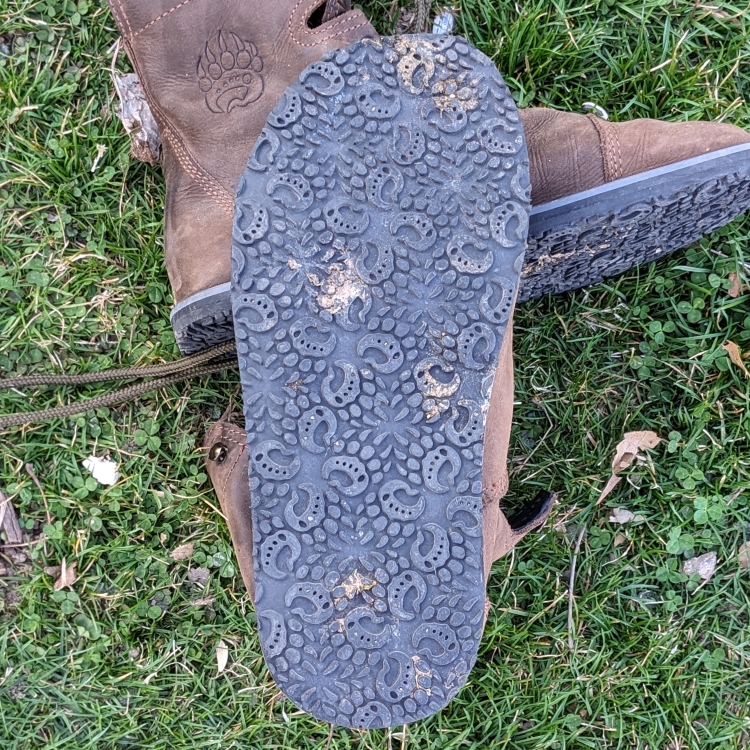 These are made for THICK feet! My low volume feet wanted to slide around quite a bit at first, so I used tongue pads to get a better fit. You can expect the Bruins to fit:
High volume
Extra wide straight fit
Plenty of vertical toe space
They are true to the US size and length listed, but I would not pay attention to the EU sizes on the chart (we found them several sizes off).
Learn more about foot type and shoe fit here!
Ordering
These boots are produced in small batches and have been so popular that they don't stay in stock for long! If your size is out of stock, you can reserve a pair and expect to wait 4-8 weeks for production. Bearfoot Shoes ships worldwide, and offers returns/exchanges within 30 days. If you're outside the US, your return may be subject to a 15% restocking fee.
Conclusion
The barefoot community has been begging for boots like this for years, and I am thrilled Bearfoot Shoes answered the call! Finally, a rugged zero drop boot with a wide toe box designed for hard work. Next, I'd love to see Bearfoot Shoes offer the Bruins with a steel toe.
Don't forget, you can use code ANYA10 for 10% off!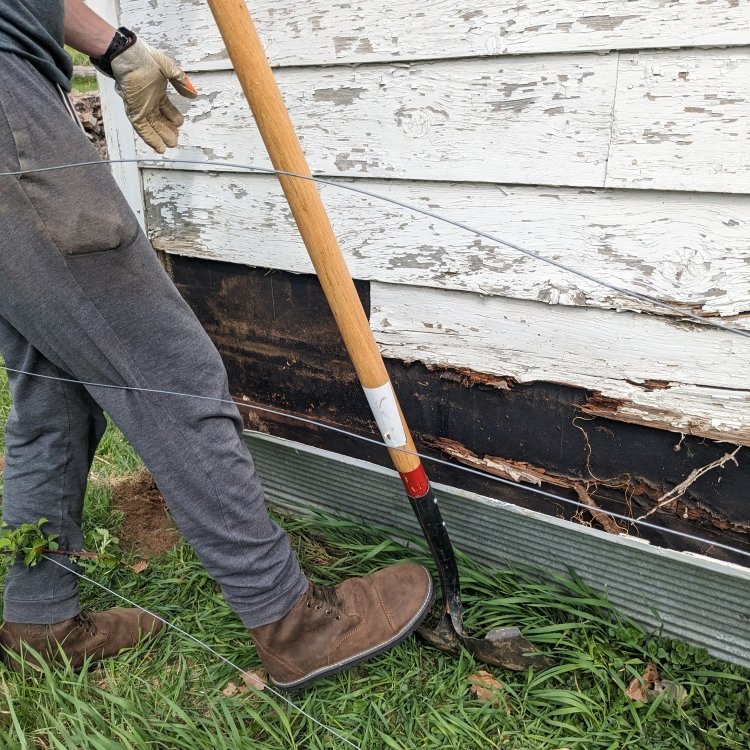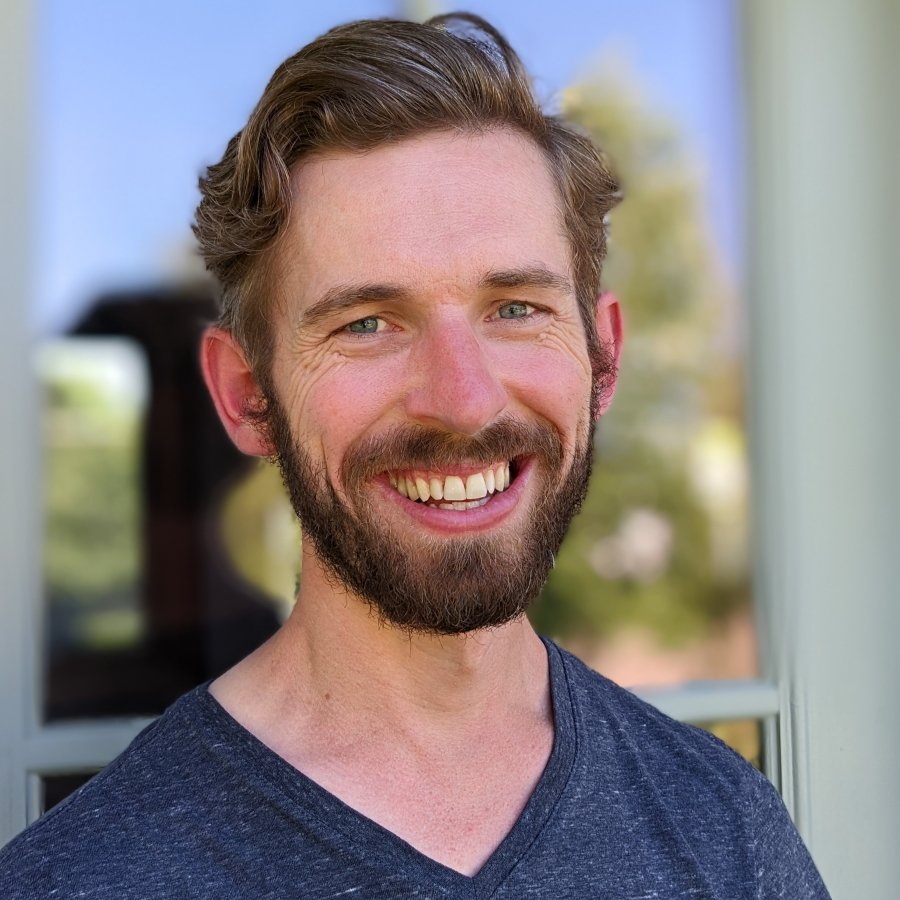 Robby is a full-time ERP Analyst. Most of his free time is spent with his wife, Samantha, and five children. He also enjoys gardening, tennis, guitar, woodworking, and making all his wife's home improvement dreams come true.