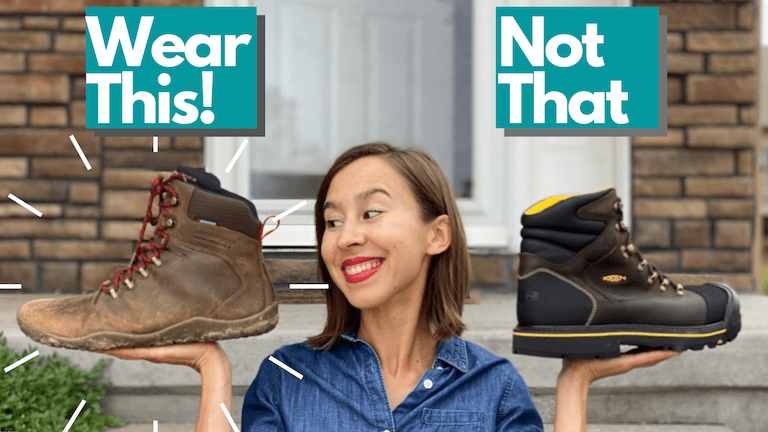 Traditional work boots are extremely stiff, heavy, and heeled. While this may protect you in the short term, it can cause real damage to your feet over time. But if you need protection what choice do you have? A few, it turns out. Let's examine how zero drop barefoot/minimalist work boots offer a better alternative for your feet than the traditional work boot.
Welcome to Episode 2 of Wear This, Not That!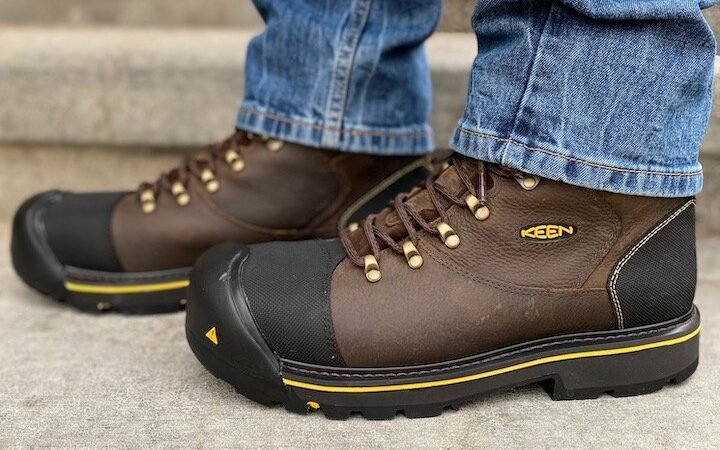 Barefoot Vs. Traditional
But first, what do you even look for in a shoe and how do zero drop work boots compare with traditional ones? Below on the right you'll see an example of an industry standard work boot. Keen is a brand Justin and I wore for years before switching to barefoot shoes. They are extremely durable and very well made (we still have a pair of these Keen watershoes that are 12 years old and completely intact). But we've had to ditch almost all of their models because the thick, stiff soles and huge heels are just not working for our bodies.
Vivobarefoot Tracker Vs. Keen Utility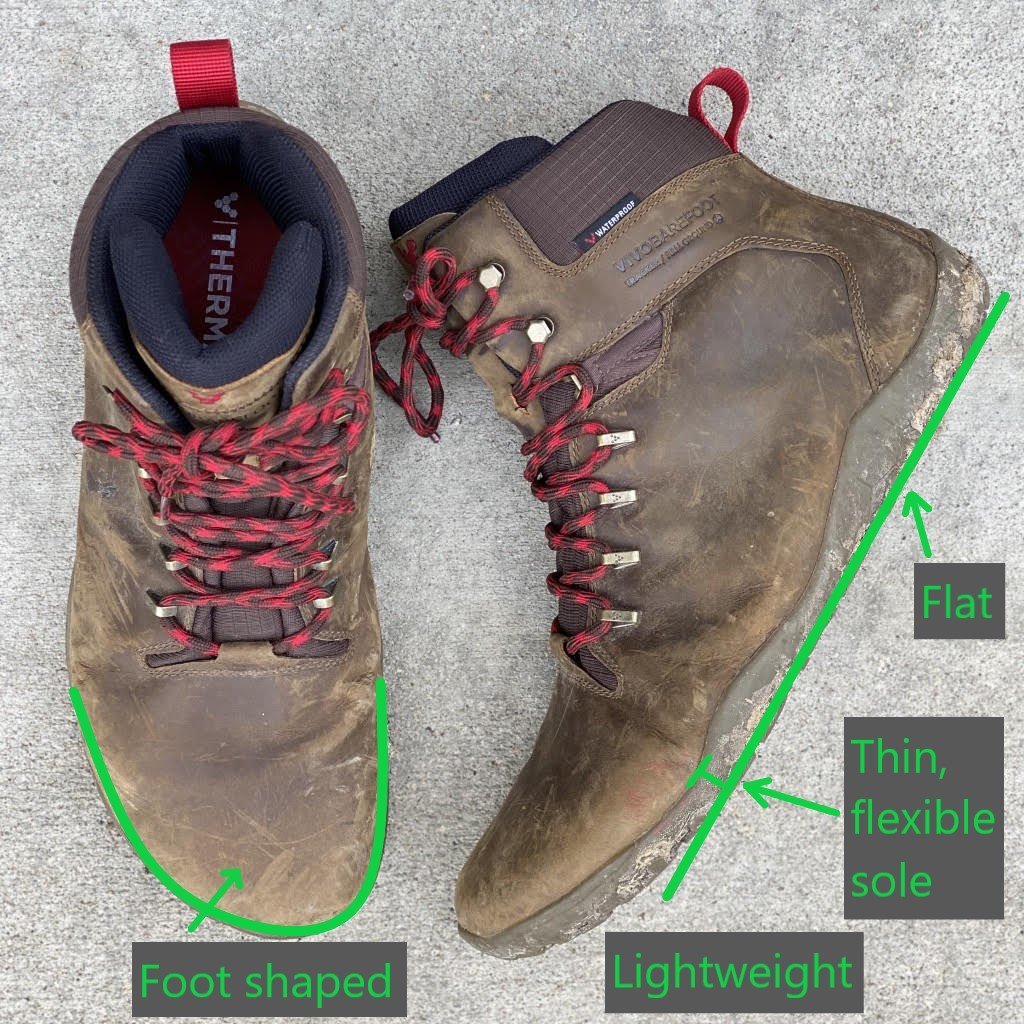 On the left is a "barefoot" or minimalist shoe that lets your feet move the way nature intended. Completely flat, flexible, and spacious in the toes, this shoe contains all the vital features that keep your feet healthy and strong.
A barefoot shoe like the one on the left is the goal. But depending on your work requirements, you many need to make some compromises. Shoe brands have yet to step up to the challenge of truly healthy minimalist work boots that are also safety rated (Want to change that? Vote with your dollars for minimalist footwear and share this message!). In the meantime, I've scoured the web for the best alternatives.
Here we examine 9 different options that come as close to the ideal as possible, so you can choose what's best for you. Let's dig in.
Minimalist Work Boots Comparison Table
Birkenstock QS 700
Bearfoot Bruin
Vivobarefoot Tracker
Gaucho Ninja Carpenter
Caterpillar Brode
Fugu Sa Me
Lem's Waterproof Boulder
Marugo Magic Safety
Belleville Mini Mil
Reebok Soyay
Zero Drop
✅
✅
✅
✅
✅
✅
✅
✅
❌
✅
Wide
✅
✅
✅
✅
❌
❌
✅
✅
✅
✅
Flexible
✅
❌
✅
✅
❌
✅
✅
✅
✅
❌
Reinforced Toe
✅
*Steel
❌
❌
✅
*Fiber
✅
*Steel
✅
*Steel
❌
✅
*Composite
❌
✅
*Steel
Over the ankle
✅
✅
✅
✅
❌
✅
✅
✅
✅
❌
Waterproof
✅
*Water
resistant
✅
❌
❌
*Water
resistant
✅
❌
❌
❌
Vegan
✅
❌
❌
❌
❌
✅
❌
✅
❌
❌
Safety Rated
✅
❌
❌
❌
✅
❌
❌
❌
*Military
approved
✅
Shop
Shop1
Shop
Shop
Shop
Shop
Shop
Shop
Shop
Shop
Shop
*scroll right for more comparisons
1Price varies by location
Birkenstock QS 700
Zero Drop | Wide | Flexible | Steel Toe | Water Resistant | Over the Ankle | Vegan | Safety Rated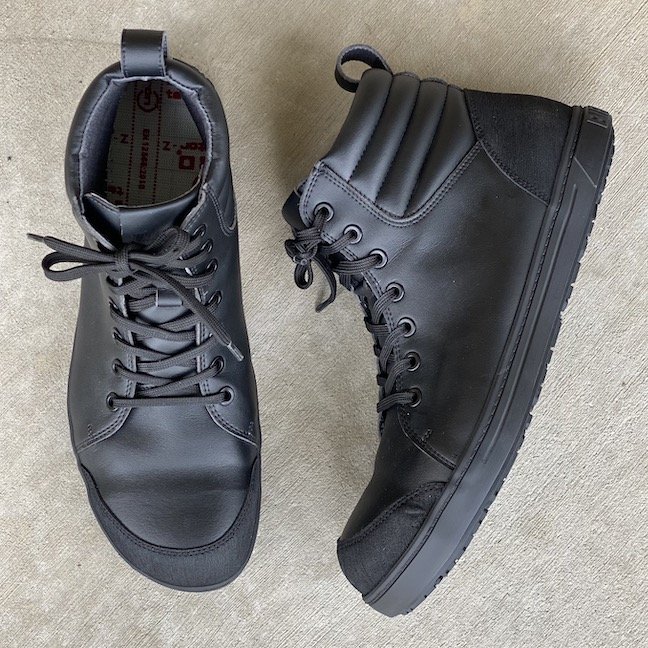 The Birkenstock QS 700 work boots are hands down the best barefoot work boots on the market. They have a steel toe, are slip & electrical hazard resistant, and come up over the ankle. And that's not even to mention the fact that they are zero drop, have a spacious toe box, and can bend and flex. Oh, and vegan options too. The Birk QS 700 is a unicorn in the world of natural footwear! And if you don't need over the ankle, the QS 500 has all the same specs.
Note – these work boots come with a supportive footbed that needs to be removed or replaced to meet barefoot shoe requirements – see a list of barefoot friendly insoles here. Justin swapped them out for NorthSole insoles and is now good to go in his Birkenstock QS 700s.
Safety Specs: steel toe (200 joules) with scratch-resistant toe cap; penetration-resistant, metal-free, nonslip, and oil- and petrol-resistant outsole (P, SRC, FO); energy absorption around heel (E); antistatic protection (A). Safety shoe certified in accordance with EN ISO 20345:2011
Sizing: We ordered Justin one size up for toe space and then he swapped out the arch support for a NorthSole insole. This turned out to be a good idea for him. They feel spacious enough and he has some room to spread out, but they still aren't as wide as his favorite barefoot shoes. Unless you have narrow feet, I would also recommend sizing up for width. But keep in mind that if you remove the insole and have nothing to replace it with they'll be quite roomy.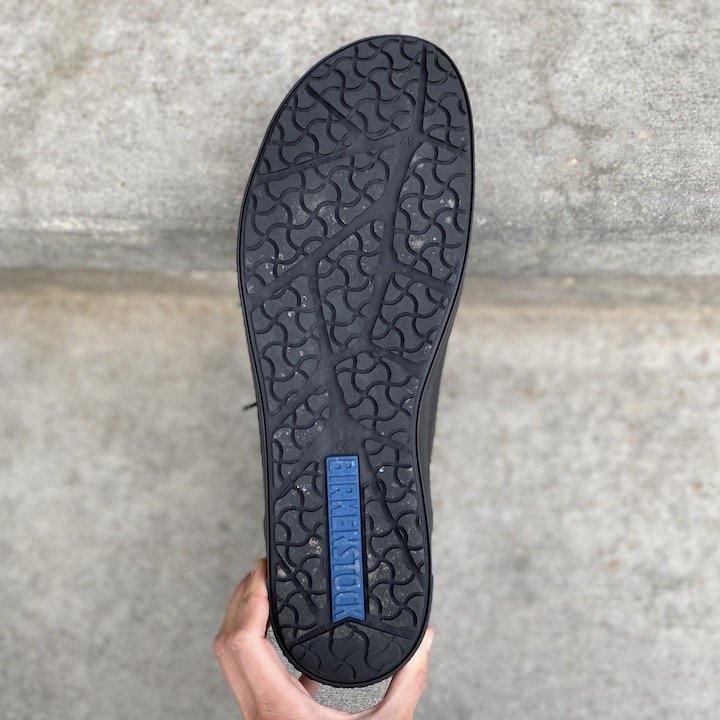 The trickiest thing about these barefoot work boots is that they are not available in all countries. See below a few of the places where they are found.
If you are unable to find them on your local Birkenstock website, Zami (located in Spain) does ship worldwide. They also carry the low top version with and without the safety toe. Zami and Amazon DE are currently the only places I know of that ship worldwide, and the only way to get them in the US!
---
Bearfoot Bruins
Zero Drop | Wide | Flexible | Water resistant| Resoleable | Over the Ankle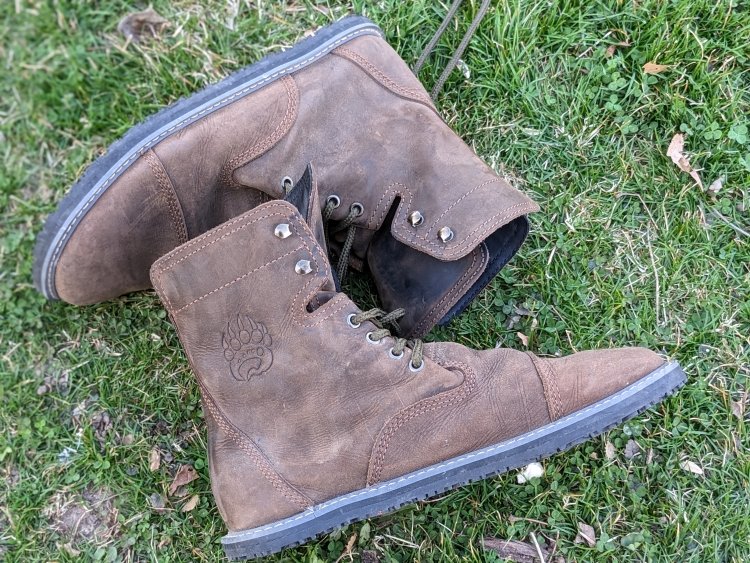 The Bearfoot Bruin is as close as it gets to a true leather barefoot work boot. Made with durable Crazyhorse leather and a gusseted tongue to keep debris out, these shoes can protect your feet for yard work, construction, and in a workshop. The hefty zero drop sole can be replaced by a cobbler if it ever wears out, and is meant to be thick in case of sharp objects under foot.
They don't have a steel or composite toe, so these are best in situations that don't call for that much protection. But we hope that Bearfoot will come out with a steel toed boot next. For all the details, read the full Bearfoot Bruins reviews here.
Sizing advice: Runs true to size according to the US size chart, but fits high volume (our tester added a tongue pad to get a good fit)
Use code ANYA10 for 10% off
---
Vivobarefoot Tracker
Zero Drop | Wide | Flexible | Waterproof | Over the Ankle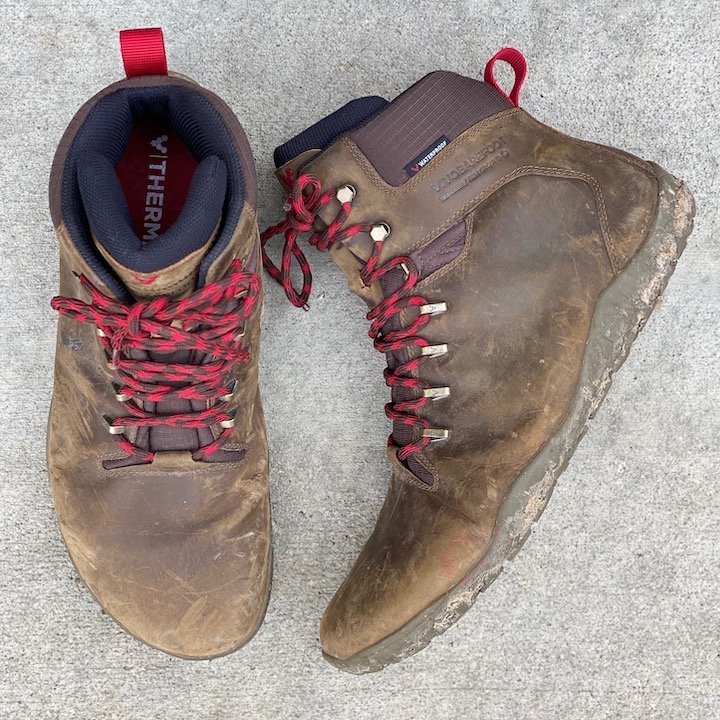 The Vivobarefoot Tracker FG is a sturdy boot with padding around the ankle and a tough leather exterior. It goes up over the ankle, has a puncture resistant outsole, and lugs for traction. This boot also meets all my requirements for healthy footwear and is an excellent choice if you only need a light work boot. It does not have a steel toe and isn't safety rated, so if that's a requirement for you consider other options. Here you can find my full review of the Tracker.
Sizing advice: Runs Small, size up 1 size
Code VBANYA20 gets you 10% off
---
Gaucho Ninja Carpenter
Zero Drop | Wide | Flexible | Steel Toe | Over the Ankle | Safety Rated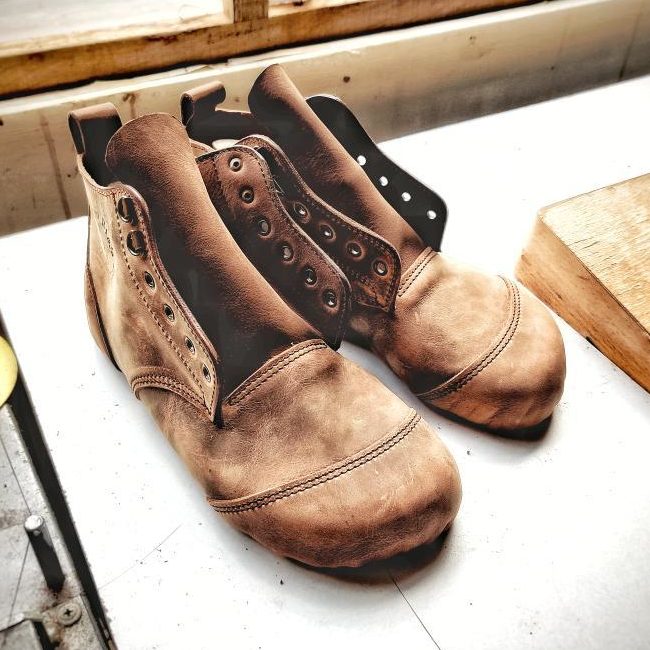 When it comes to quality, Gaucho Ninja are some of the best barefoot shoes around. Lisandro hand makes a fully ISO approved, steel toe safety boot with an antipuncture outsole that is also FULLY BAREFOOT. They are zero drop, wide for toe space, and have a thin sole – and they're highly functional. But the high cost might be a deterrent for some – let's be honest, it's a deterrent for me.
However, it must be said that these are the only boots on this list that can be resoled and repaired at your local cobbler, and they are the most foot friendly option that is safety rated. If you are in work boots all day every day and want healthy feet, investing in something that will not damage you AND can last forever might be worth it. *Note – The images above are of the Gaucho Ninja work boots, used with permission from Lisandro. The boots I tried and reviewed are not reinforced in the toe.*
Sizing advice: True to size
Use code ANYASREVIEWS for 10% your Gaucho Ninja order!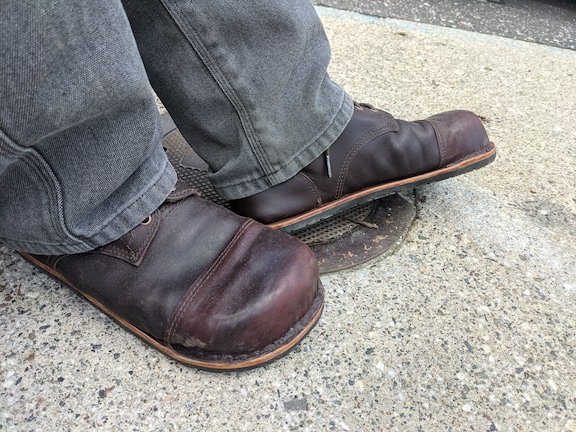 Levi, a reader here, got some of the custom Gaucho Ninja Carpenter boots for work. Here is Levi's feedback on them:
"Well first off they are beautiful boots. Craftsmanship is superb. I never owned custom boots before. They're expensive. Which makes it hard working in them. I'm glad to have them! I wish I would have tried the Birkenstock QS 700 first. I might get them for back up. [Lisandro's] boots work great, they are functional and meet all my work requirements. The fact that the boots can be repaired makes the price easier to digest. I'll get the soles replaced when they wear out. They are the heavy duty tyre 8m. I seem to wear out the soles on most minimal shoes before the rest of the shoe has gone bad."
---
Caterpillar Brode
Zero Drop | Steel Toe | Water Resistant | Safety Rated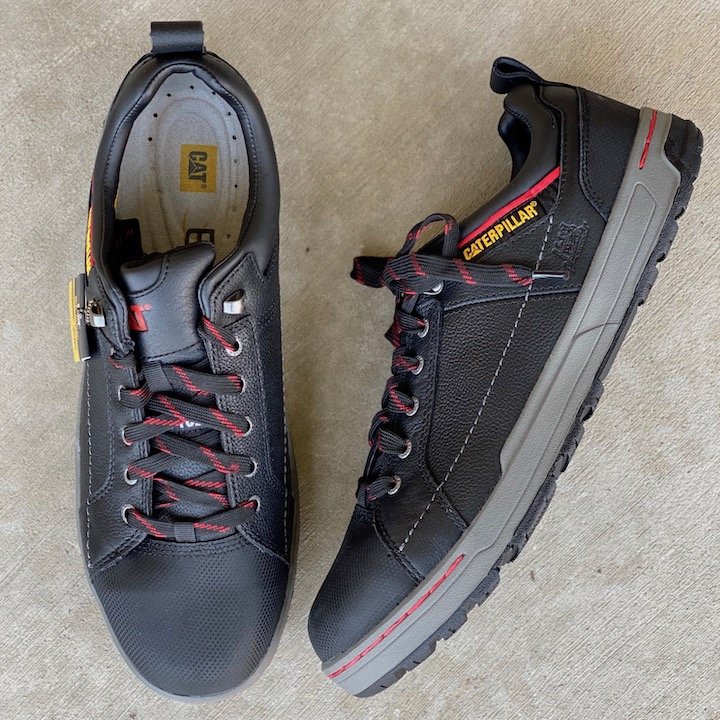 The Caterpillar Brode is the first safety-rated shoe we're looking at. It has a steel toe, anti-slip outsole, and electrical hazard protection. It is completely zero drop (with and without the insole), but the sole is thick and stiffer than is ideal for natural foot function. The toe box is also narrow and feels somewhat restrictive, but if steel toe is what you require it is a good compromise. Unfortunately this model isn't made in the over-the-ankle style anymore.
Sizing Advice: Get Wide and size up for extra toe space
---
Fugu Sa Me
Zero Drop | Flexible | Steel Toe | Over the Ankle | Water Resistant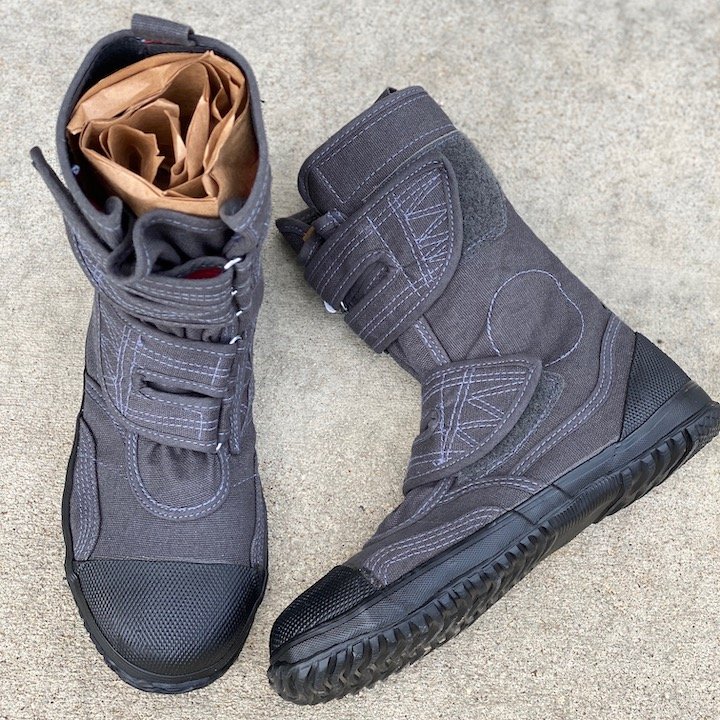 The Fugu Sa-Me has a steel toe, is zero drop, and comes up over the ankle. It is lightweight, flexible, and foot-friendly, but the material is thin around the ankles and not very protective. I wish the toe box was wider, but you could easily size up for more space because the velcro can get you a secure fit. This is one of my top picks for a compromise shoe, but isn't safety rated. Note that sizing is from EU 37-47, so won't fit all men and women.
Sizing Advice: True to Size, but could size up for toe space
Power Ace Safety – $35-85 depending on size These Power Ace boots look almost exactly the same and have the same specs, but they are half the price and look to be about half the quality as well. I think the Fugu boots are much nicer, but for the price the Power Ace might work great for you.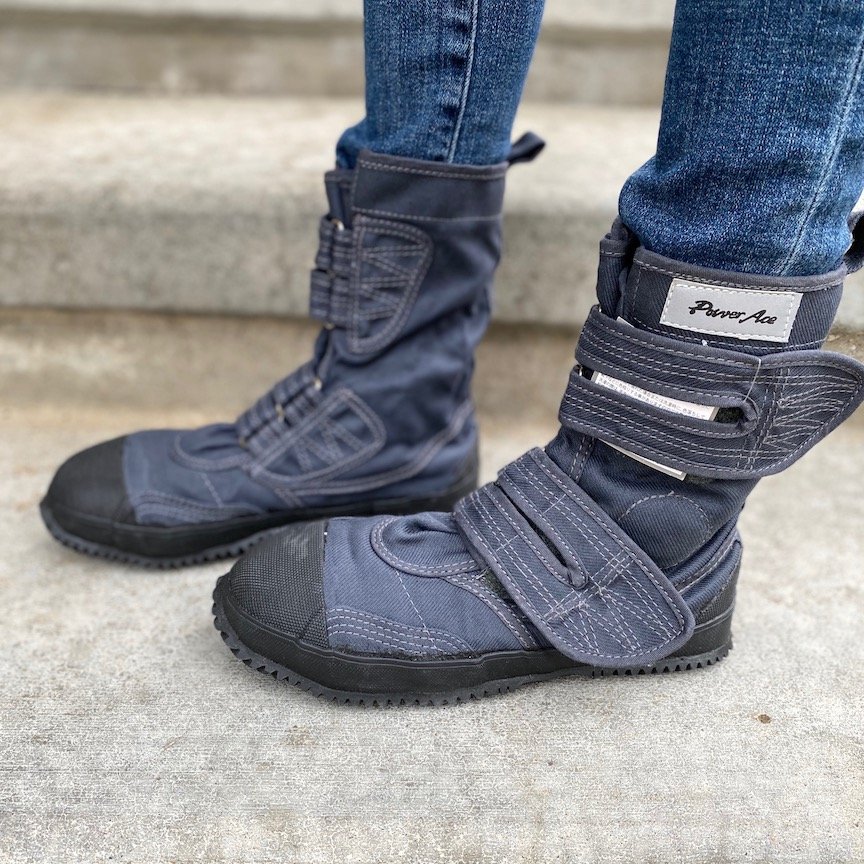 ---
Lem's Waterproof Boulder
Zero Drop | Wide | Flexible | Over the Ankle | Waterproof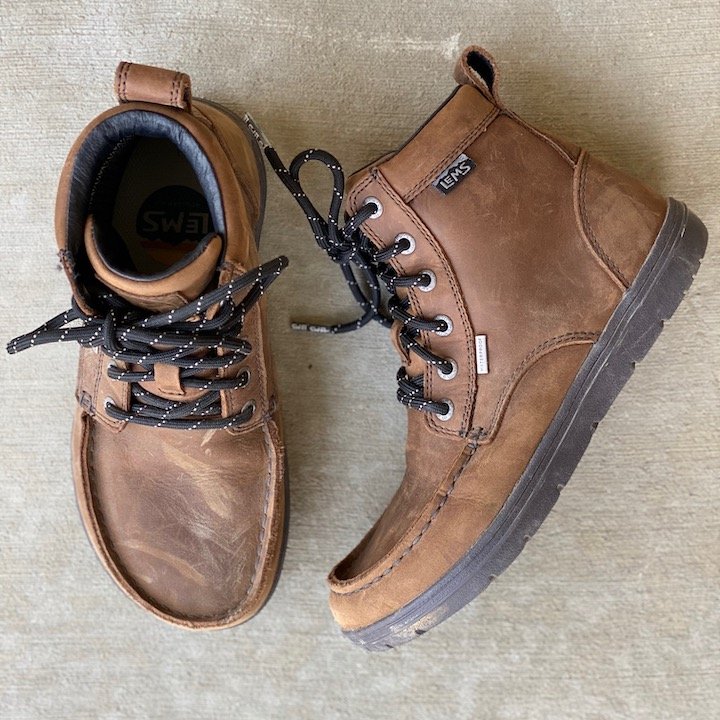 The Lem's Boulder boot is zero drop, spacious in the toes, and flexible. It has a thick sole to protect you from sharp objects and is padded around the ankle. The toe box is not reinforced, and overall the upper is thinner than in the Vivobarefoot Tracker mentioned above. This is a protective shoe, but not super heavy duty. The best part about it is that it is a true minimalist shoe and will be good for your feet. Watch my video review of them on YouTube here. European readers can purchase Lems from Mugavik Barefoot and use code ANYASREVIEWS for 5% off.
Sizing Advice: Runs Small, size up 1/2 size
---
Marugo Magic Safety
Zero Drop | Wide | Flexible | Composite Toe | Over the Ankle | Vegan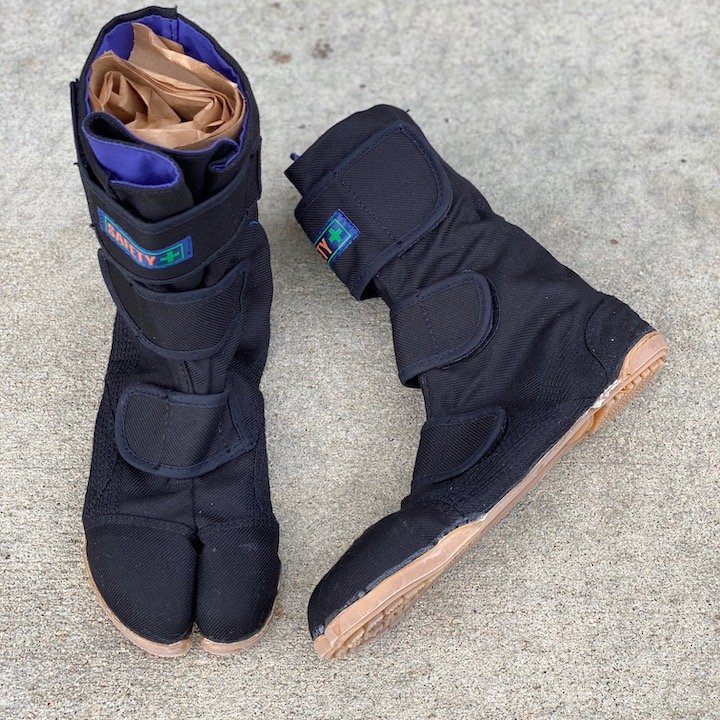 This shoe might look very different from what you're used to seeing in a work zone, but it checks the boxes. Zero drop, thin, flexible, space for your toes AND a composite toe (Note that the Amazon listing states steel toe, but after research I am fairly certain it is a composite and not steel). Not to mention that it is less than $50. The biggest drawback is that the sizing is limited and won't fit all men and women, and that the material is thin and not protective around the ankles. Oh, and you'll need to wear toe or tabi socks.
Sizing Advice: True to Size
---
Belleville Mini Mil
Wide | Flexible | Over the Ankle | Military Approved
The Mini-Mil is a military approved tactical boot that also has a nice wide toe box, flexible sole, and is aaaalmost flat. A 2 mm heel rise makes these not zero drop, but if a tactical boot is what you need these are the best option. They are high above the ankle so would also work for hunting/farming/swampy conditions. Downside: Does not come in women's.
Sizing Advice: True to size, choose Wide for more space.
---
Reebok Soyay
Steel Toe | Safety Rated | Zero Drop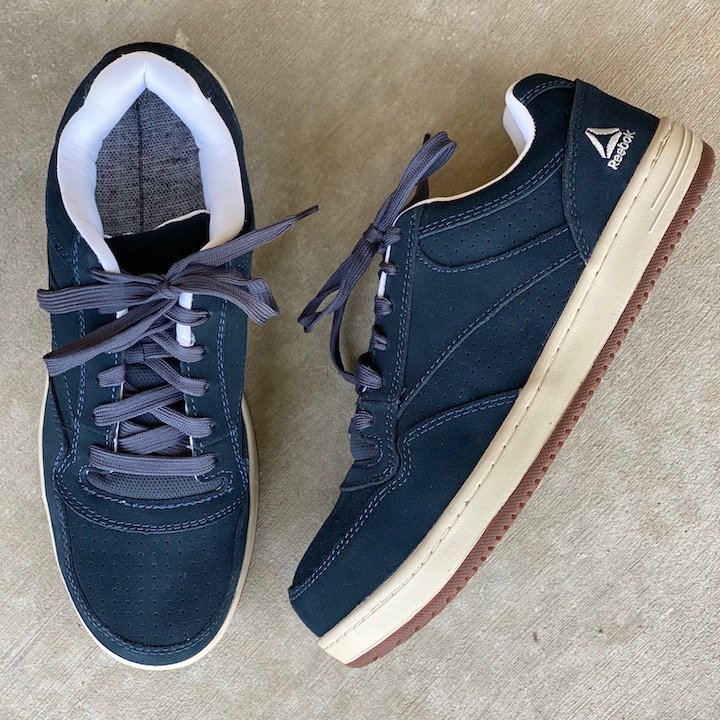 This is my least favorite of the ones I tested. The toe box is very tapered and pointy and the sole is super thick. It does have a safety toe and is zero drop with the insole removed, so might meet the requirements of some people. Sure looks cool for a safety shoe! We tried my husband's normal size in a wide width and he was pretty uncomfortable in them.
Sizing Advice: Choose Wide and size up for toe space
---
A Few More Options
Since first writing this article I have revisited the barefoot work boot market several times to see if there have been any changes. Here is a list of more potential good options you might want to check out:
I haven't tried these ones firsthand myself, so proceed with caution. And let us know how they work out if you try them!
Conclusion
While my searches yielded some viable options (unexpected good finds from Japan) we need more. Shoe brands, it's time to step up and make work shoes with long-term foot health in mind. Safety-rated work boots for the foot-conscious individual are the next step in the barefoot movement. Let's raise our voices and let shoe brands know that we are here, and we are ready to buy better shoes from whomever can deliver!