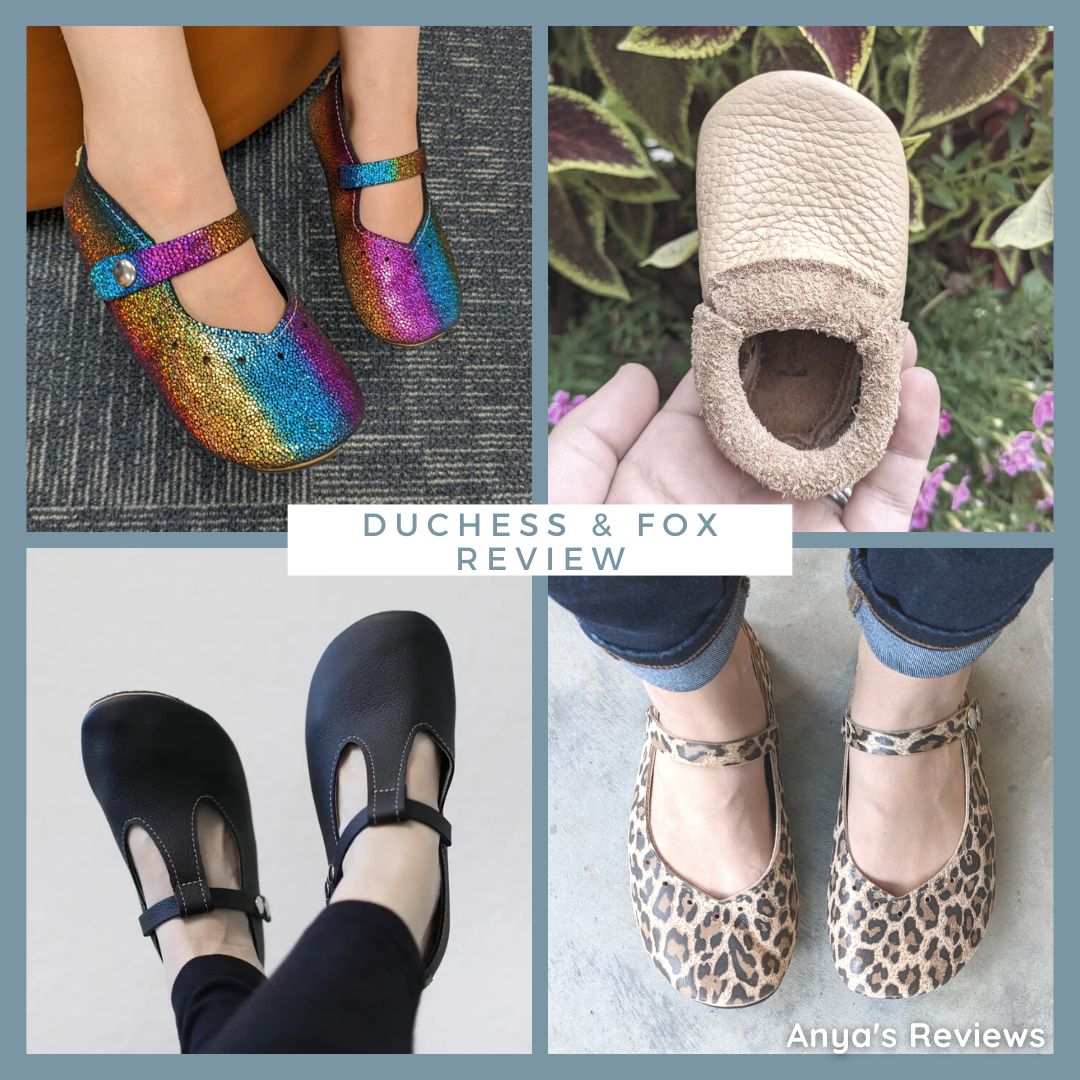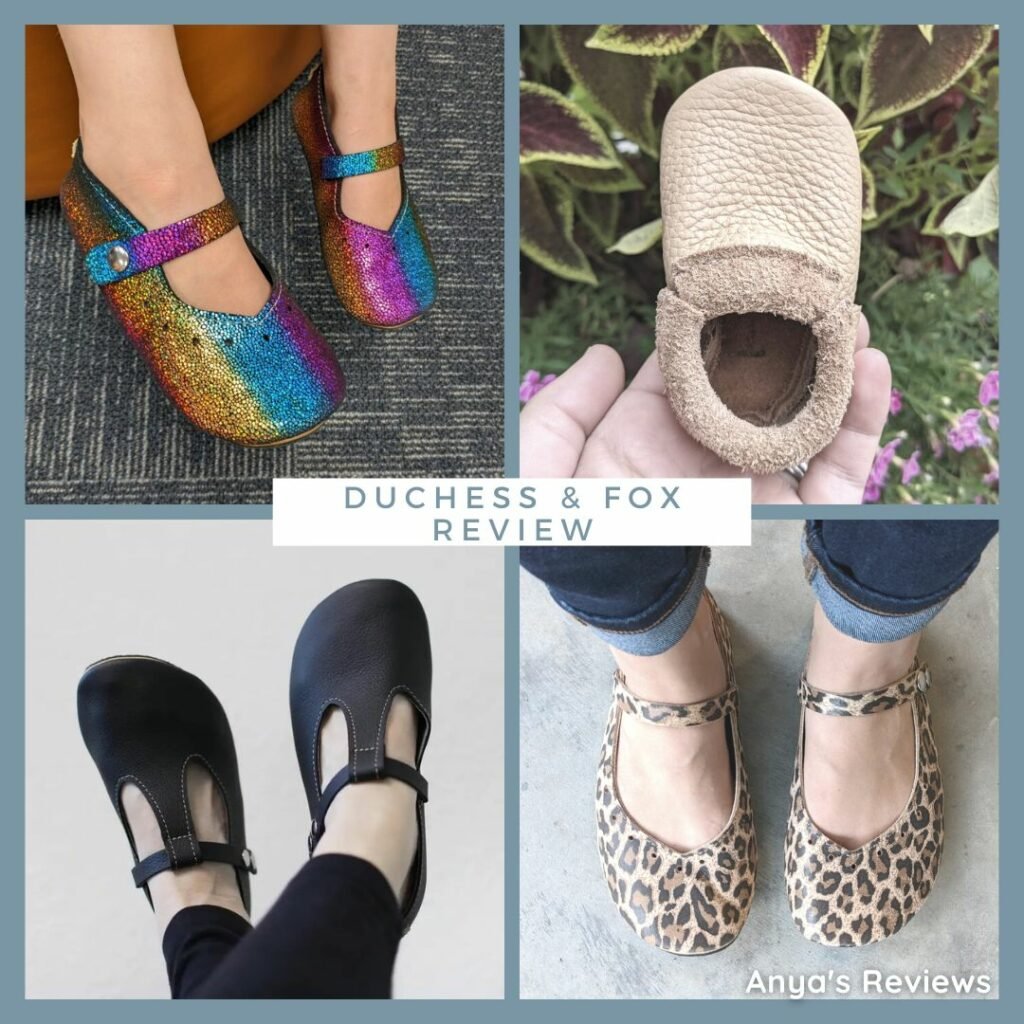 **This shop is closing at the end of November 2023**
Duchess and Fox is a small business in California making quite the impression on the barefoot shoe community. All shoes are handmade from the softest leather in classically stylish designs. This is the brand for fashion conscious kiddos and adults who want colors, sparkle, and print!
We put several of their shoes to the test and are thrilled to share them with you. Read on for our review of Duchess & Fox baby, child, and women's shoes!
Meet Duchess and Fox
The name Duchess & Fox is whimsical, and reminiscent of a fairy tale – just like their shoes! The owner, Michelle, drafts all the patterns herself and offers seasonal leather choices along with limited edition releases and a standard line of options. Like so many small business owners, Michelle has poured her heart into her products and her commitment to D&F shows.
All shoes from Duchess & Fox are zero drop, flexible, and with an anatomical shape, so you can buy any model with confidence.
Ordering
Here's what you need to know about ordering from D&F!
Children's Moccasins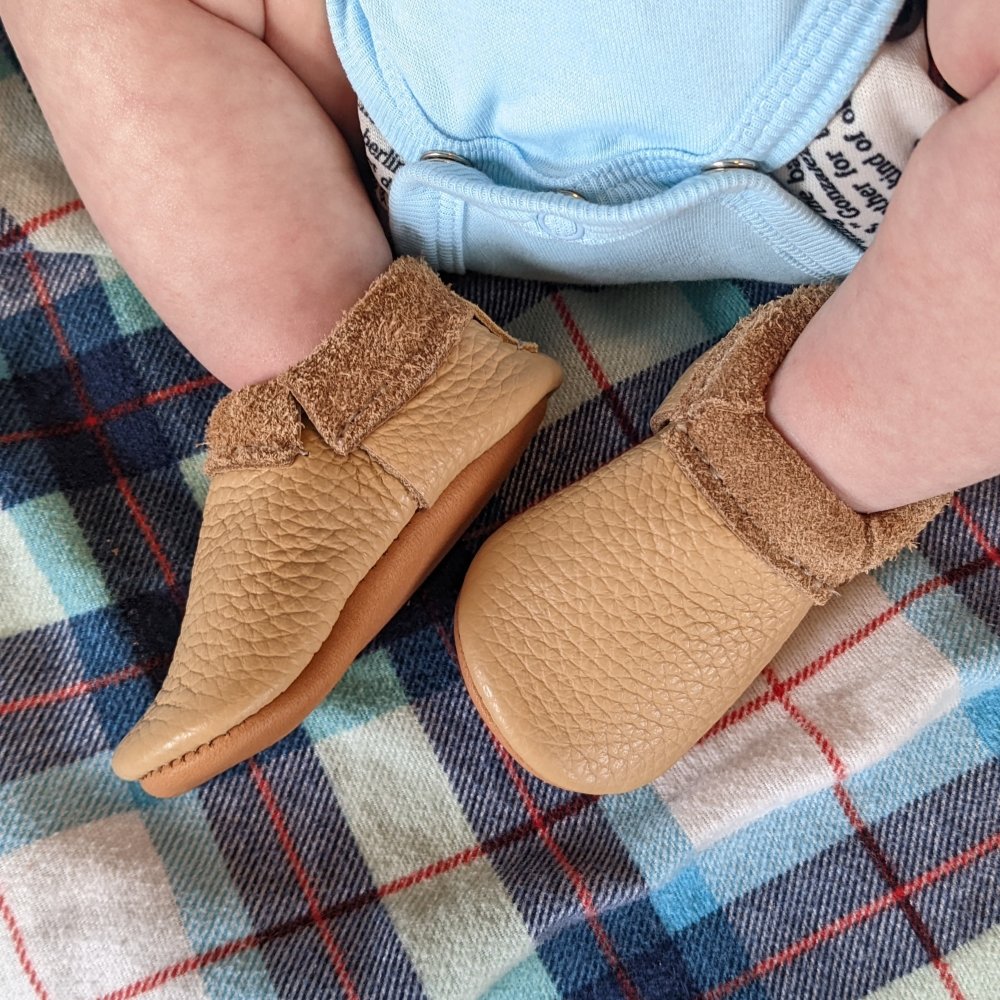 Leather | $49+ | Sizes Infant 1 – Youth 3/4
Buttery soft leather and hidden elastic at the ankle make these a good baby's first shoe. The littlest sizes come with a soft sole like this pair, and the bigger sizes come with a thin rubber sole sewn on (or rubber can be left off upon request). They're simple and precious, and I loved them on my little guy this spring.
We chose plain moccasins, but you can also get them with fringe, cut-out details, and appliques.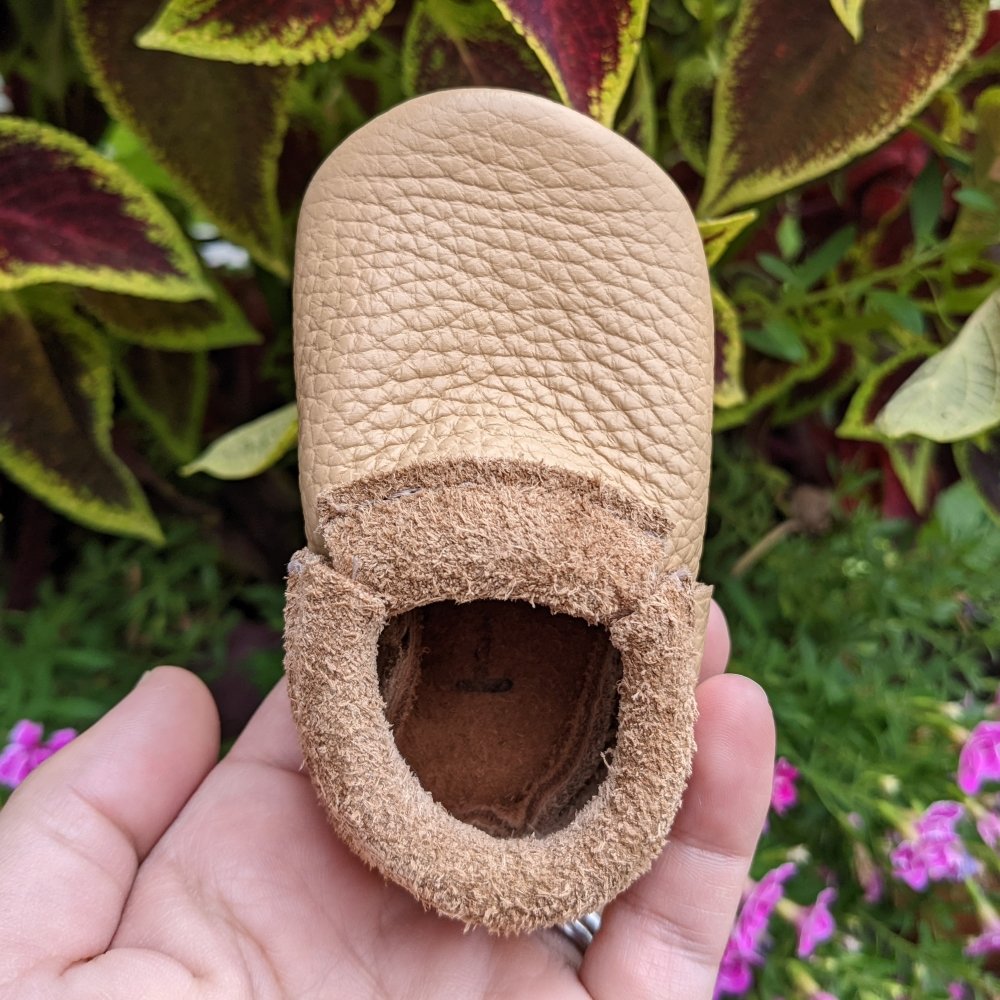 ---
Children's Mary Janes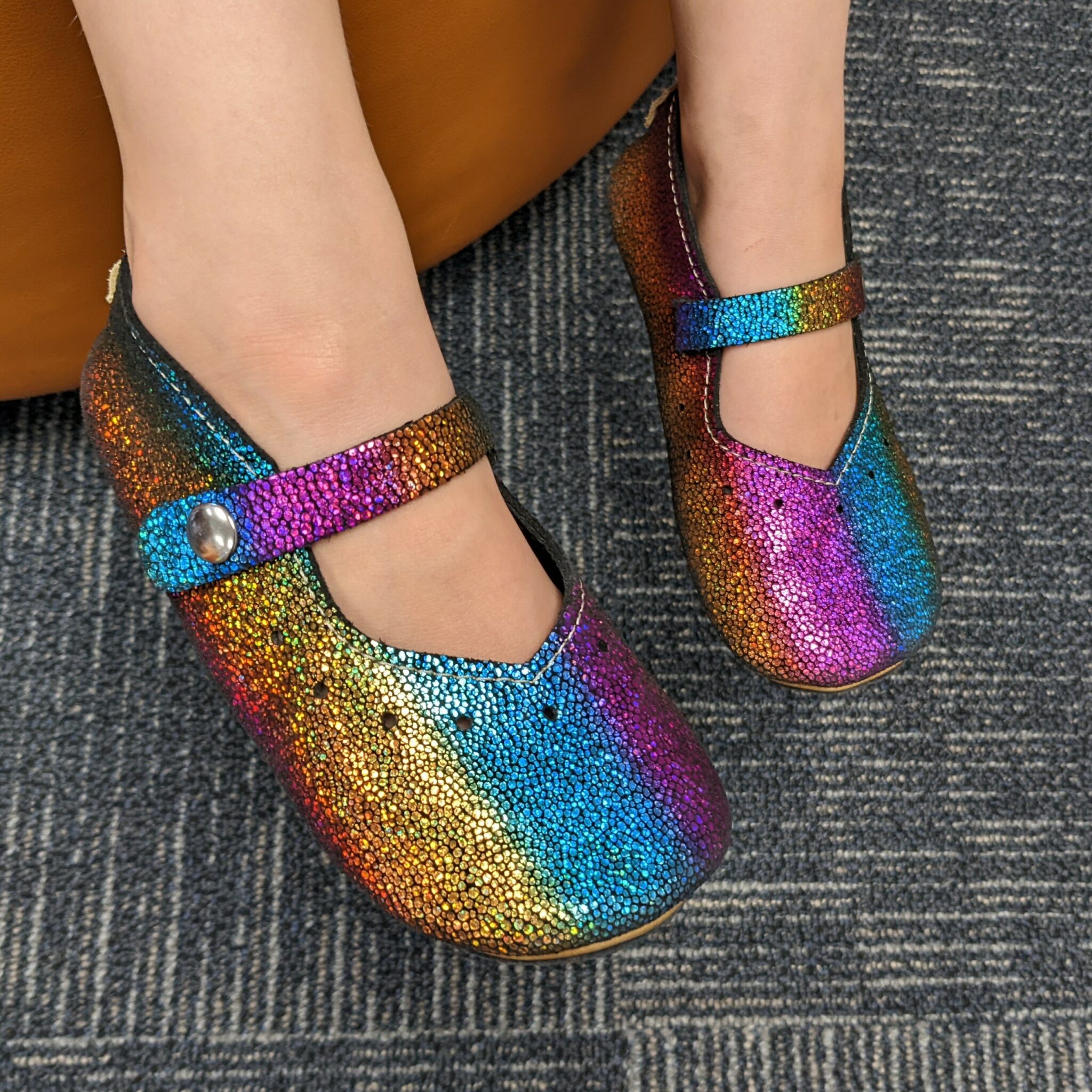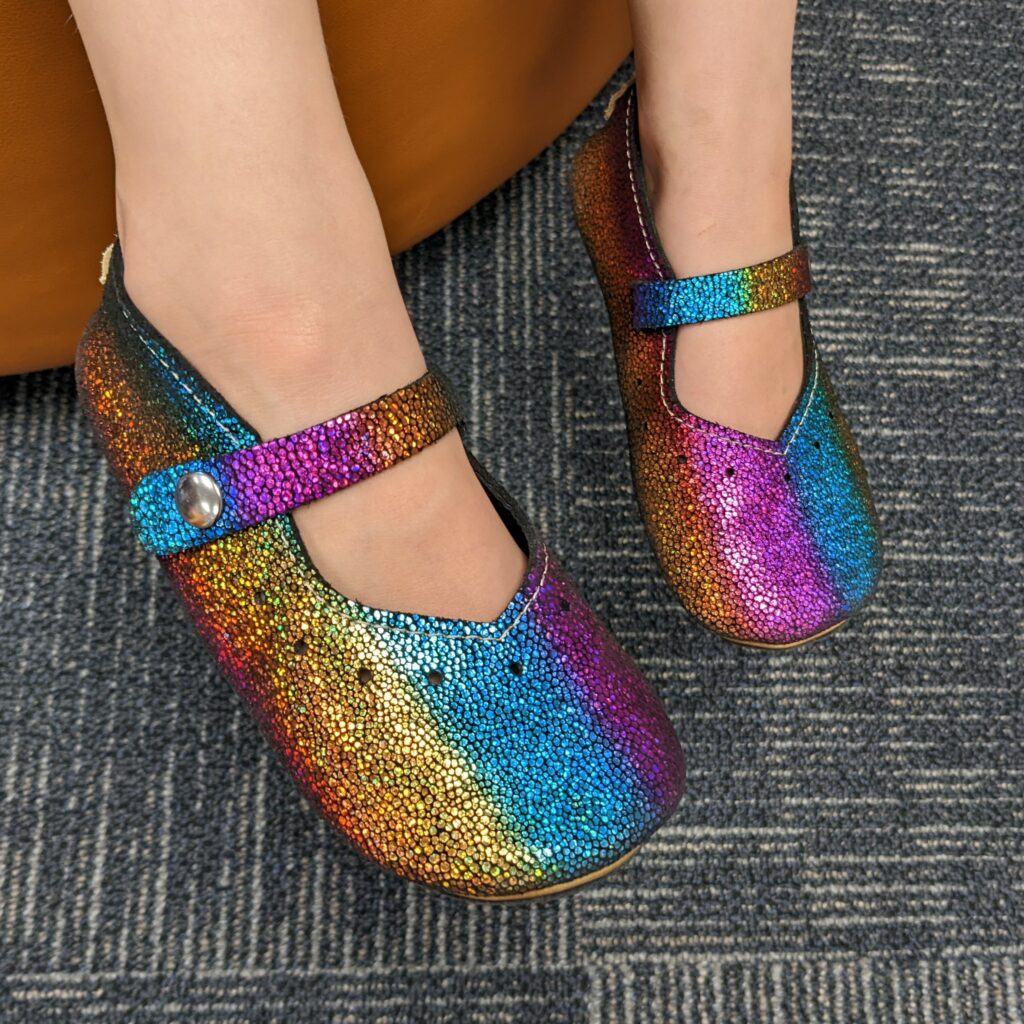 Leather | $55 | Sizes Infant 1 – Youth 3/4
Where else can you find healthy footwear in colors and patterns that glitter-loving kids want to wear? There are few choices, trust me. Duchess & Fox has so many pretty shades year round with periodic limited releases. Some are neutral, and some are bright like neon or the rainbow glitter mary janes on my 5 year old above.
They're comfortable and flexible right away – no break in time required. The strap has a single metal snap over the instep that takes some effort to close so I usually need to help her.
Sizing & Fit: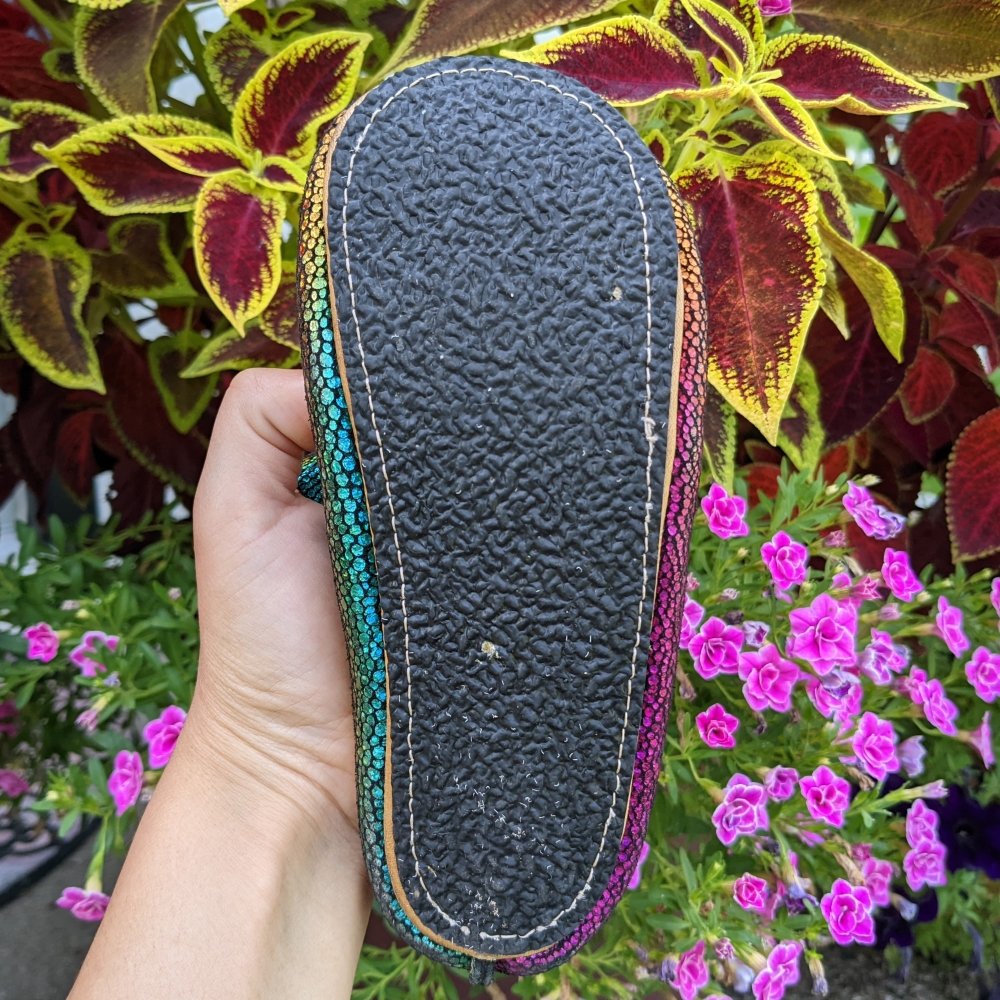 ---
Adult Mary Janes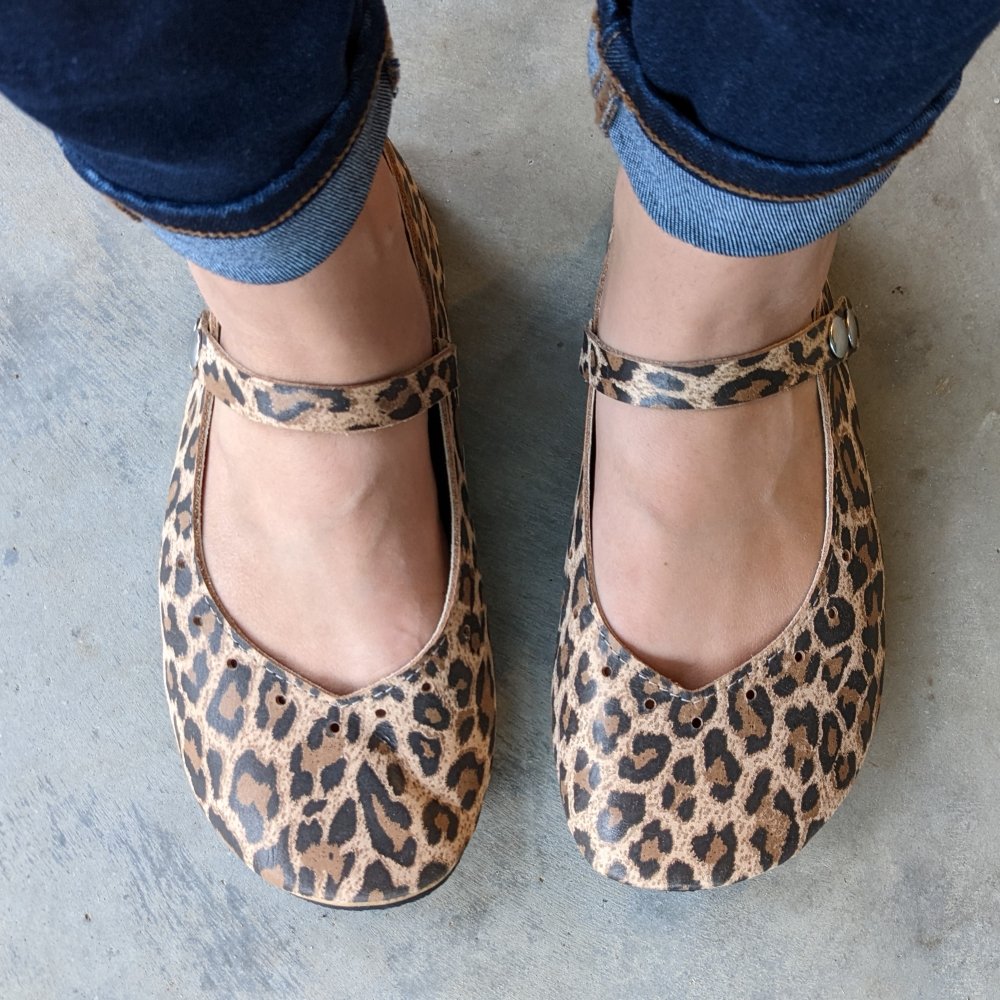 Leather | $109 | Sizes US 5-12
If you've ever been envious of the very minimal qualities of your toddler's leather moccs, you're going to love these as much as I do! They are so soft and flexible that they hardly feel like shoes – exactly what barefoot shoes should be. The outsole is 2mm thick rubber, and the non removable insole is 3mm lightweight foam topped with suede that easily compresses under foot. Great ground feel, great flexibility, AND great style.
I have extra wide, high volume feet, and I sized up one from my usual mary jane size. They fit me wonderfully with the strap on the larger setting. Anya has wide, low volume feet and she also sized up one and is wearing hers on the smaller strap setting.
The toe box height is shallow and I can feel it over my toes, but you can increase the height by stuffing socks in the toe box overnight. They also break in well with wear. At first, the tips of the shoes have a little toe spring but it is not rigid and flattens out easily.
The adult mary janes are available in leopard, and 5 solid colors. They can usually also be made in the limited edition/seasonal colors, but not always depending on the leather qualities so you need to contact D&F first.
Sizing & Fit: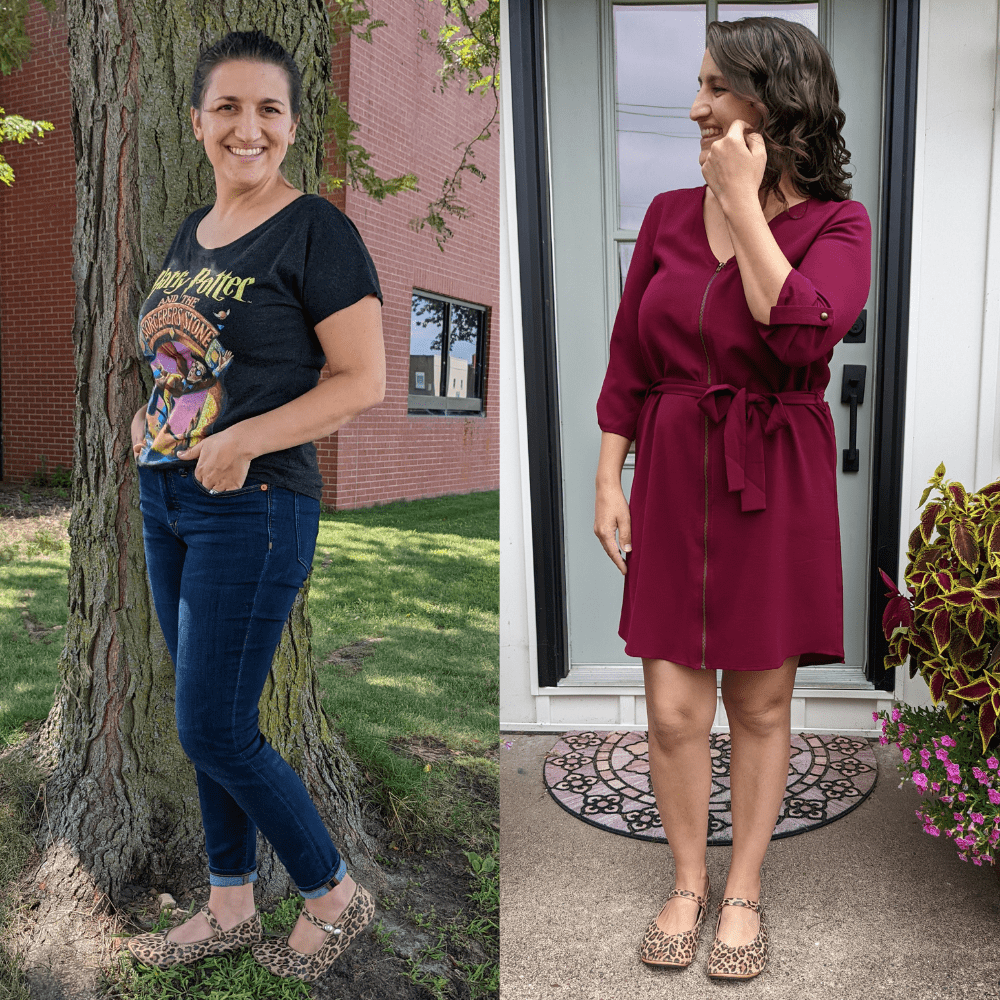 ---
Adult T-Straps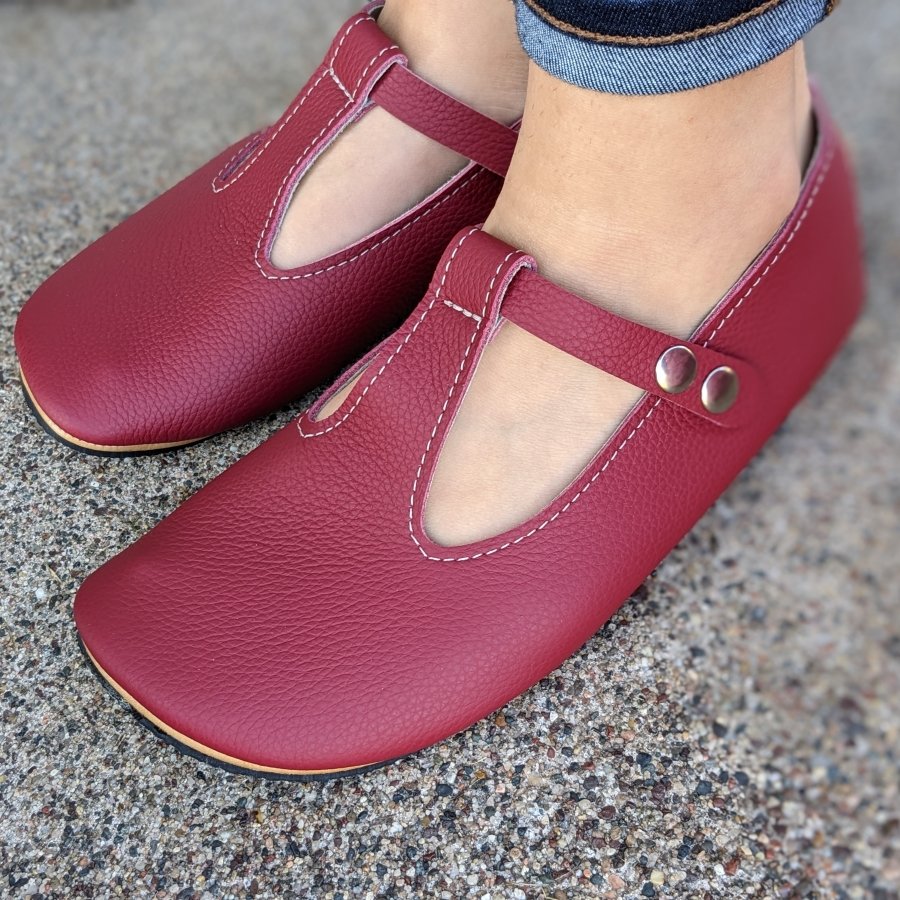 Leather | $109 | Sizes US 5-11
The T-Straps are, as expected, just as lovely and soft as the Mary Janes. They come in a beautiful range of colors (cranberry is pictured above) that will change with the seasons. If you're looking for a flat you can dress up or down and has a little vintage flair – this could be the one for you! I find them to fit identical to the Mary Janes, but since more of the foot is covered, they feel slightly more secure.
Sizing & Fit:
---
Conclusion
Michelle has created something truly special with Duchess and Fox. It's always exciting to see what she plans for each season. We love every pair we've tried so far and are looking forward to many years of wear from our shoes!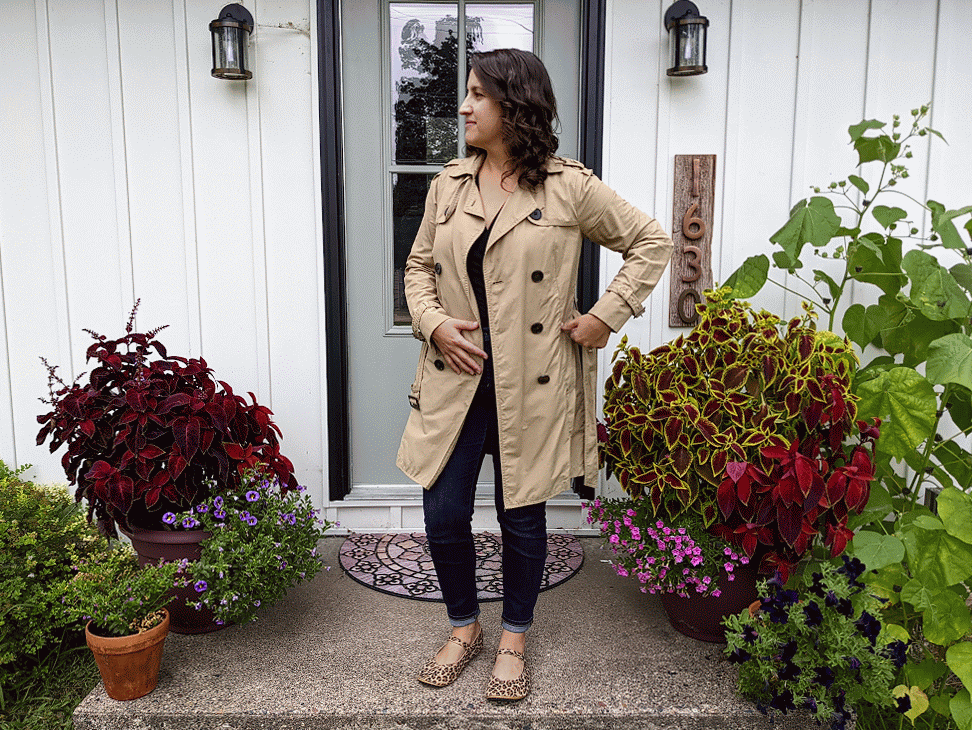 Samantha is a writer/researcher for Anya's Reviews and stay-at-home mom to 5 littles. In addition to shopping online for footwear for her family, she spends her time homeschooling, reading, weaving, and doing home improvement projects with her husband.