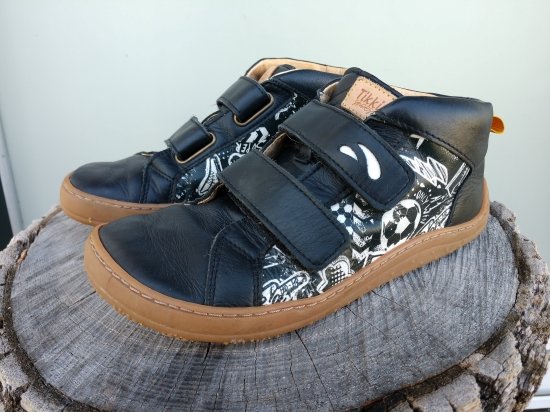 Tikki Shoes is a well-established barefoot shoe brand in Romania. They have a large selection of shoes for kids and some women's sandals. Today we looking at the leather Moon model in Graffiti that was designed to be cool and functional for big kids and teens! They definitely nailed it. Read on for my review of these super-cool leather shoes for kids!
Tikki Moon Review
As soon as my kids saw these Tikki Moon shoes they were fighting over who got to try them on. They thought they were SO COOL! The sleek black leather and graphic white design on the sides really makes these special. You can tell a lot of thought went into designing a shoe that older kids would want to wear, but still meets all the requirements for healthy footwear.
They feature a beautiful waxed nappa leather upper and a soft chrome-free leather lining. The 3mm outsole (5mm with removable insole) is grippy, flexible, and walled around the edges to protect the uppers. The double velcro straps function really nicely. Sometimes straps with this design don't slide freely through the openings, but these are nice and smooth. They are being worn by my 9 year old daughter and one of her reasons for liking them so much is how easy they are to put on and adjust. Another nice touch is the little loop on the tongue that the top strap goes through. This keeps the tongue from getting folded up or twisted to the side.
They are also available in a lace up version with a blue peacock design.
My daughter has used these shoes for a lot of different activities and they've performed amazingly well! Tree climbing, bike riding (velcro = no laces caught in spokes!), chasing the chickens around the backyard – she always seems to grab these shoes. We usually gravitate towards mid-cut sneakers because they are good year-round and when they're outgrown, I know the next kid (I have 4!) will get use out of them no matter the season.
You can even get felted wool insoles specifically for these shoes! If your kids likes to go sockless they might get sweaty in the smooth leather interior. But fortunately the high quality materials make bad odor less likely.
Fit Type & Size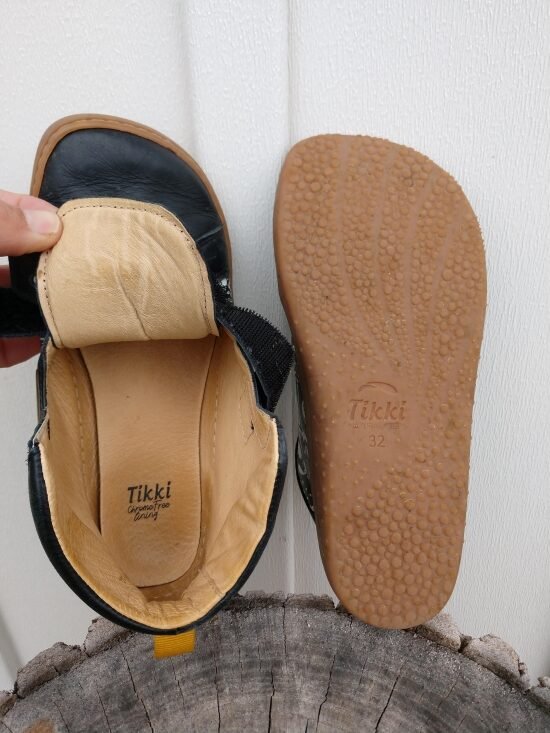 Tikki has a very detailed size guide explaining how to measure and includes the different lengths and widths of their various models. It looks overwhelming at first, but just make sure you're looking at the chart labeled for the product you're interested in and you'll be set. I found the chart accurate in comparison to the actual shoe measurements. The toe box is pretty square shaped which means most foot types should fit without issue. The Moon Graffiti and Moon Feather are available in EU Sizes 30-39.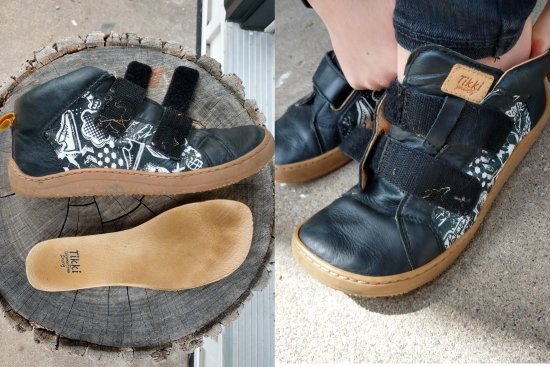 Tikki Moon shoes will fit an average to wide width and low to high volume foot – thanks to full length velcro and removable 2mm foam insoles. My daughter's feet are nearly too big for these already, and are about .5cm wider than the insoles. She removed them and got the extra space she needs!
In terms of comfort, she has no complaints. The collar around the ankle is padded and so is the tongue – making these very nice for everyday wear with no break in time required.
Read this post for a complete guide to understanding your foot type!
Tikki compared to other brands
Compared to other popular barefoot brands, Tikki is similar in shape to Splay, but slightly more sloped than Wildling Shoes (which boasts a square toe box). The widest toe box belongs to Be Lenka.
Click here for the Best Barefoot Shoes for Kids for All Seasons
Cost & Ordering
For Sizes EU 30-35, the cost is €73.81 (about $88) and big kid sizes EU 36-39 cost €80.95 (about $97). Shipping is based on weight and location, but Tikki does offer free shipping over certain thresholds per country (chart here). For the United States, you can enjoy free shipping over €150 which is not a difficult minimum to reach if you're shopping for multiple kids!
You can return new/unworn shoes within 30 days and customers are responsible for shipping costs. It might be more cost effective to try selling them locally, or in the Facebook group Kids Minimalist/Barefoot Shoes BUY/SELL/TRADE.
Check out this list of Affordable Barefoot Shoes for Kids!
Conclusion
My daughter really likes wearing these shoes and her younger brother is anxious for her to outgrow them so he can wear them too. They look cool, are very well made, and an excellent choice for kids of any age. Knowing the time and energy that went into designing such a highly functional and stylish shoe, I am looking forward to other styles joining this collection in the future.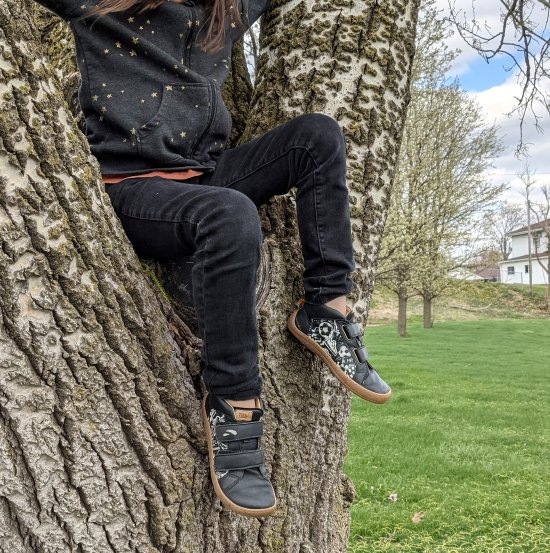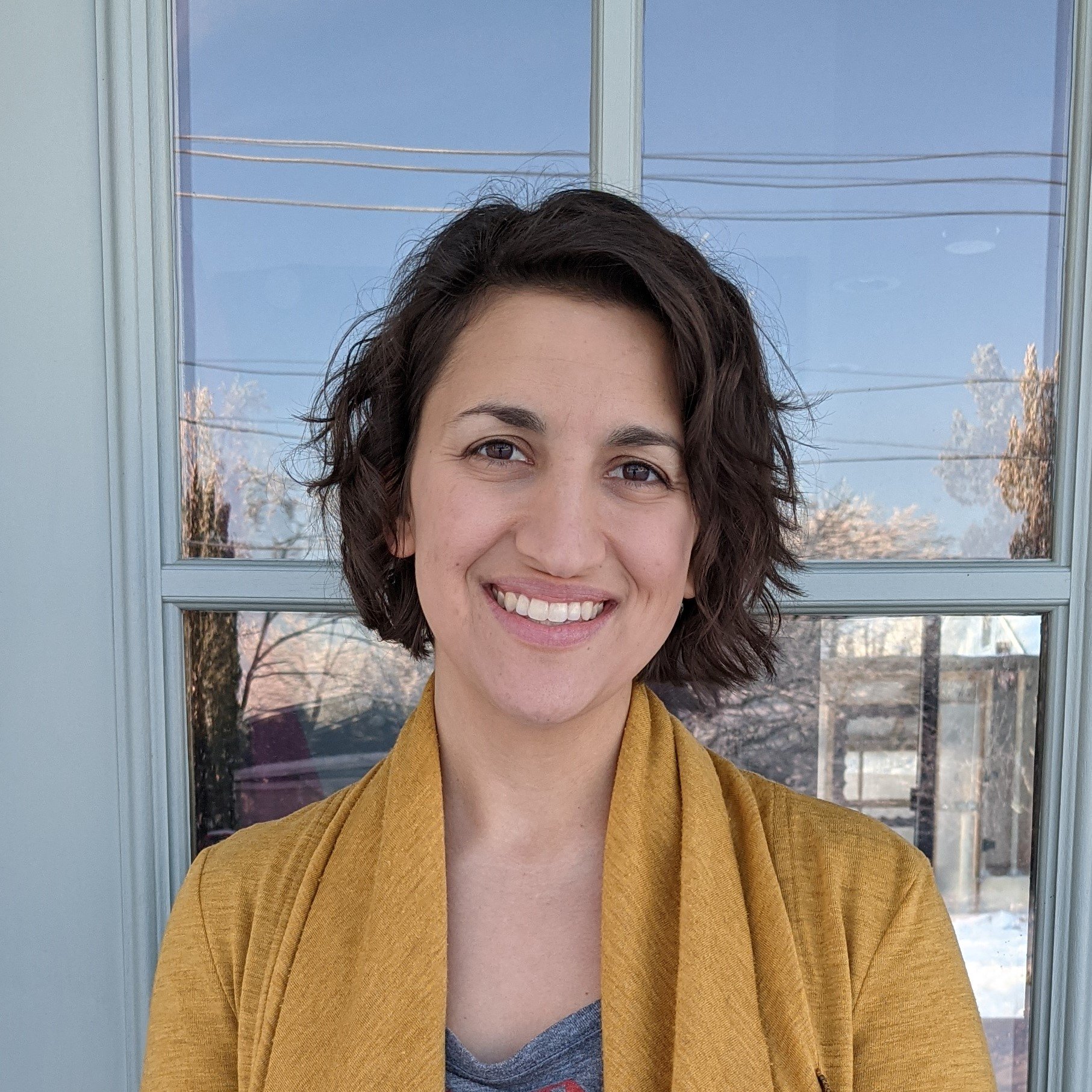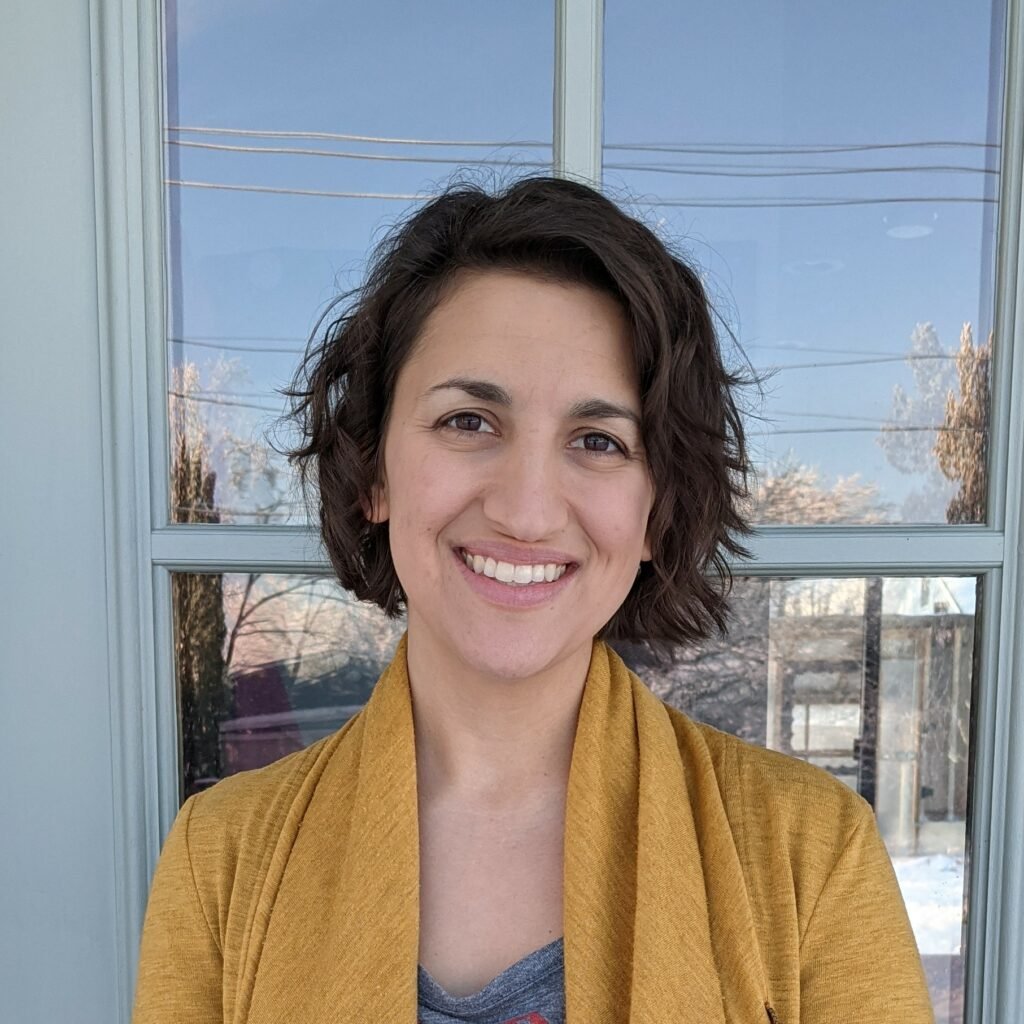 Samantha is a writer/researcher for Anya's Reviews and stay-at-home mom to 4 littles. In addition to shopping online for footwear for her family, she spends her time homeschooling, reading, weaving, and doing home improvement projects with her husband.