by Heidi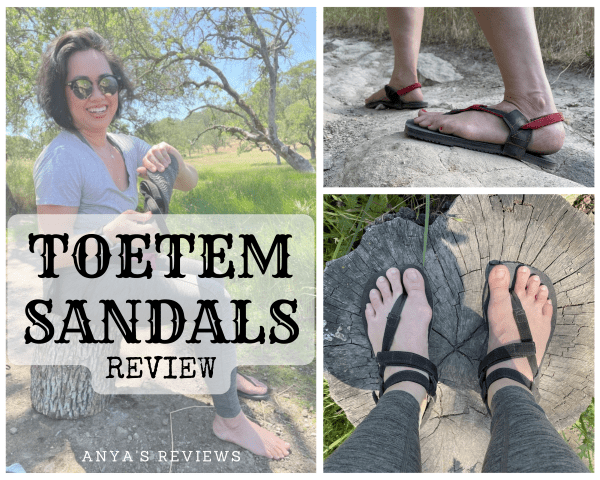 Toetem Sandals are performance sandals that are handmade in the USA. I've been enjoying this brand for hiking and casual use for a few years. Read on to get a full overview of all the Toetem Sandals models to see which works best for you!
Toetem Sandals Overview
Toetem sandals have been working well for me as an all purpose adventure sandal for the last few years. They come in a full range of sizes from Youth 5/Women's 6 up to Men's 13, and there's no difference in shape/width between men's and women's.
Here's what I love about Toetem sandals:
Easily adjustable Velcro straps (no buckles)
Sole options ranging from 8-14mm thick
Sustainably handmade in the USA
1 year warranty
High performance without sacrificing style
We'll dive into a few of their individual models below so you can learn the differences between them and determine which will be best for you! Keep reading for more Toetem sandal reviews.
Sizing & Fit
Toetem Sandals can fit a wide variety of foot types, but in general they fit as follows:
Average to extra wide width
All foot volumes (thanks to the velcro straps and Metastrap option)
Plateau toe box shape
As someone with a mountain shaped toe box and bunions, I really appreciate the width. I can wear my toe spacers with these sandals and not have any toes hanging over the side.
Folks with a more sloped shape toe box will also do fine in these sandals, but be aware you may have a lot of extra footbed above your little toes.  And finally, I do recommend the Metastrap option if you have slim heels/ankles
If you need a refresher on foot type terms, read this article
Ordering
Toetem Sandals ships worldwide from Texas, USA! You can use code ANYASREVIEWS for 7% off your order. Everything is made-to-order so fulfillment time will vary depending on the time of year. Lead time will be displayed at the top of the website so you can plan accordingly. The return policy varies depending on the model, so be sure to read their return policy before ordering.
---
Toetem Sandals Review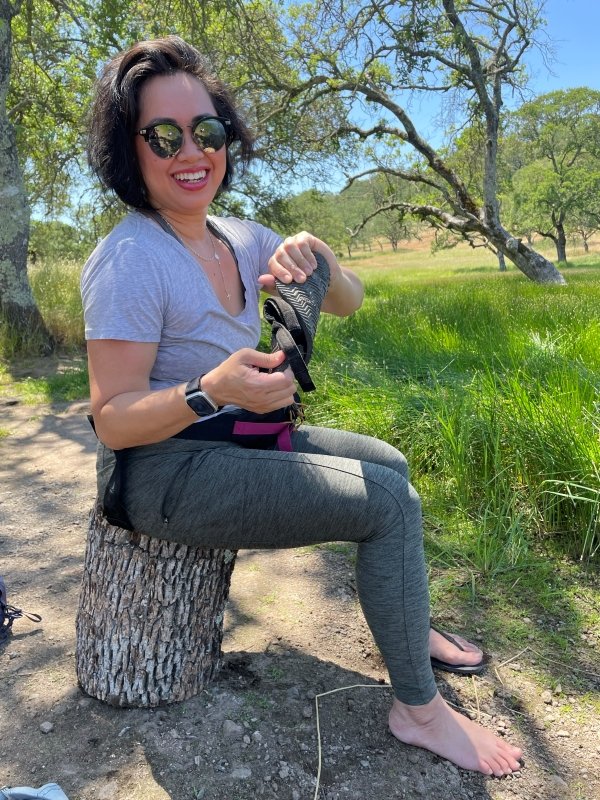 Sizes US Y5 & W6 – M13 | Vegan Options | 8-14mm thick | Handmade in the USA
Use code ANYASREVIEWS for 7% off
I've been following Toetem Sandal's trajectory since they launched their first Kickstarter many moons ago. As a true family business, Rone and Karen are probably one the most responsive small business owners I've ever worked with, and are constantly tweaking their products to make an already fabulous sandal even better with every iteration. They are always innovating, and currently offer 3 different models, each of which are customizable in strap color, footbed material, outsole thickness. Here is my in-depth look at what each models brings to the table.
Blackbear Review
The Blackbear sandals are the newest offering from Toetem Sandals and were designed to handle intense outdoor activities over extreme terrain while remaining comfortable and stylish. I have been wearing the 8mm Barefoot sole with a black hemp footbed, black straps and black metastraps.
The sandal is instantly comfortable without any break-in time due to the soft toe post, strap material, and that there are no plastic buckles pressing into your skin. You can make adjustments to the straps in two locations: one across the top of your foot, the other at the back of the heel – all while keeping your foot in the sandal which is a nice perk. This feature can help you get a perfect first the first time you make your adjustments.
The straps are bulkier than other similar barefoot performance sandals because of the material they are made of – instead of a polyester webbing, the straps are made of a plant-based material. It mimics a microsuede that is soft to the touch and doesn't dig into the skin.
Performance
I chose the hemp footbed with barefoot sole and am glad I did. I went on a pretty rigorous hike up a steep mountain with a lot of loose rocks and dirt. I didn't experience any slipping thanks to the grippy outsole, and I was still able to feel every rock under foot so I could use my feet properly. The hemp footbed kept my sweaty foot in place really well – surprisingly well! I had my foot at a lot of weird angles while trying to scale the mountain and it didn't slip around. I also didn't experience any hot spots even though I did a tough 5 mile loop. At one point I even got my feet wet when I had no choice but to cross a small stream, and the footbed still held my foot in place (no slipping) and then dried fairly quickly.
Fit Tips
For extra security, I added their MetaStraps to my sandal and it helps keep my ankle strap locked in place as well.  Since I have a very straight ankle & heel, straps tend to slip down over time.  I was able to place the Metastraps behind the side posts and fix it across my ankle, and that kept the ankle strap up and in place during the whole excursion.   I highly recommend going with their larger size Metastrap as it gives more flexibility to where you can velcro them.  
For my low volume foot, after adjustments, there was a lot of strap left over. Toetem cleverly added several cutting positions to trim down your straps safely and neatly. I really liked this added touch! You are also able to adjust the anchor point across the top of the foot to be closer to your toes or closer to your ankle, depending on your preference.
I have tried every iteration of sandal model released by Toetem and I must say, this is my favorite style hands down.
---
Jackrabbit Review
All the same characteristics in the Blackbear sandal are also present in the JackRabbit sandal with a key notable difference. The strap system is different in the JackRabbit model with there being no velcro adjustment across the top of the foot (though the anchor point can slide higher or lower depending on what is most secure and comfortable for you). The velcro straps at the heel lay on top of one another rather than being able to loop back and attach it to itself. This makes for a sleeker, less bulky strap system, but also makes it harder to adjust while your foot is in the sandal. Other than that, you have all the same customizable options for your sandal – select between 3 footbeds, select your strap colors, and outsole thickness.
The pair that I have been wearing is on the 13mm All Terrain outsole and the Earth leather footbed. The leather is soft and molds quickly to your foot. It was comfortable and noticeably different from the hemp footbed. My sweaty foot did slip a little, but after wearing them several times it improved (I think the oils from my foot made it more grippy). If you don't see yourself jumping in and out of water or walking in lots of dirt while wearing your Toetem sandals, you can't go wrong with this leather footbed.
The All-Terrain outsole is a 6.5mm midsole + 6.5 utility sole. It did just as well for me as the Barefoot outsole did. The stack height was higher than I'm used to and I didn't feel the rocks beneath my feet, which I don't personally like, as I crave that sensory feedback. But I can see this outsole being really useful for a much more aggressive hiker than myself, and someone who needs more protection and cushion.
---
Coyote Review
The Coyote sandals are a unique option in the barefoot world – the straps convert from a standard flip flop style to a trail sandal with heel strap. This is achieved by un-velcroing the straps from the top of the sandals and reattaching behind the heel. You are able to do this while the sandals are still on your foot, making it an easy fit and transition. Be aware though that by doing this, you expose a lot of the black velcro that is seen on the top of your foot and the colored portion of the strap is mainly in the back heel. I personally don't have an occasion for needing a flip flop handy, but my husband and son were both greatly intrigued by the idea of having one sandal that they could slip on quickly to run outside and then convert to something more secure when the occasion calls for it. My minimalist brain loves the idea of having only one sandal that does it all!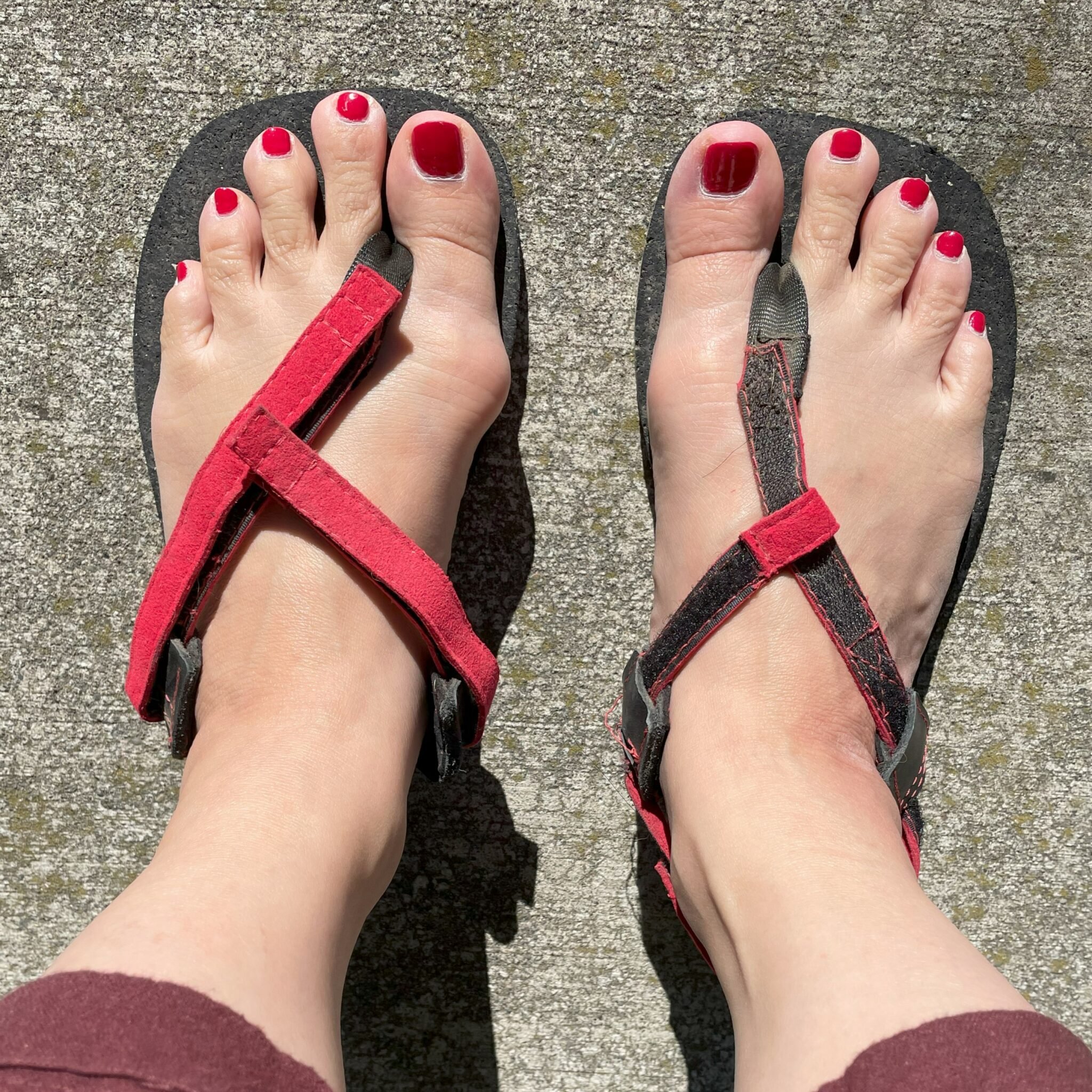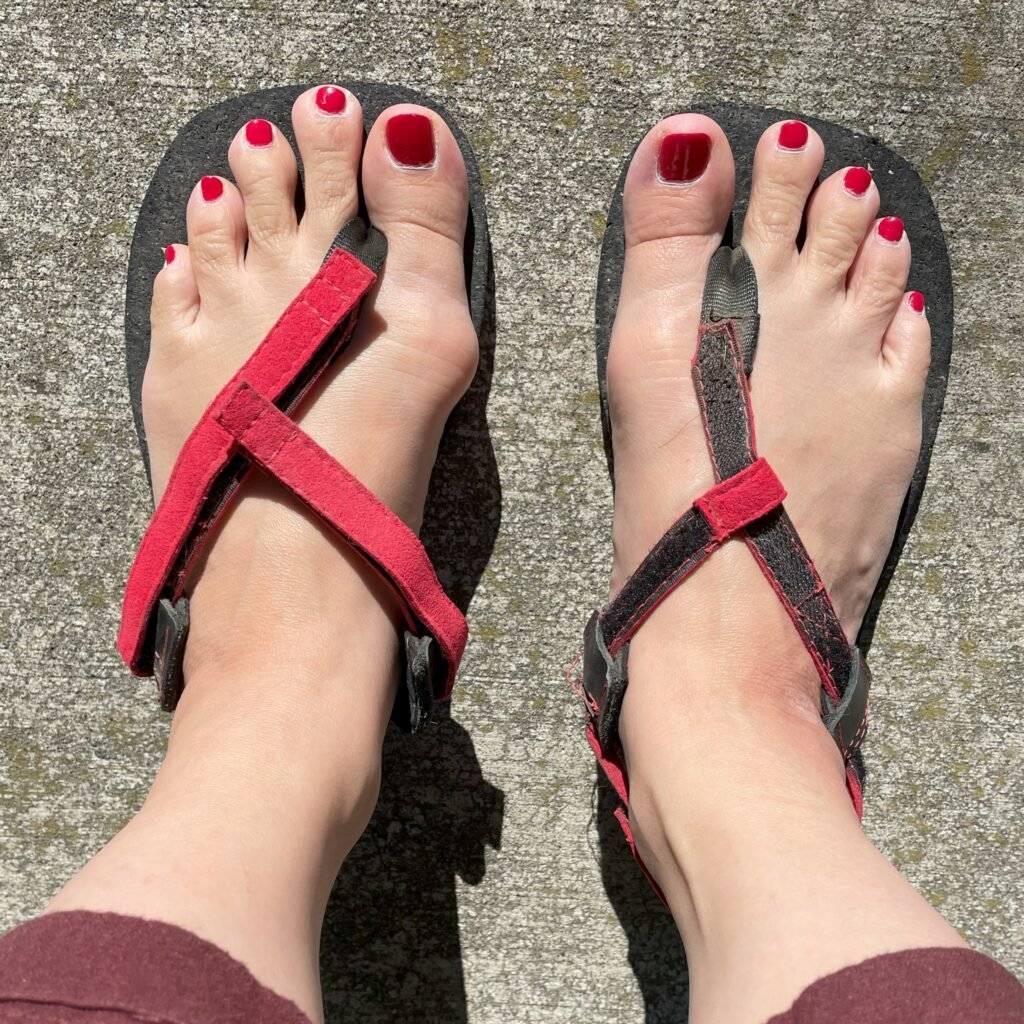 You can trim the straps here as well if you have a lot of excess. The Coyote model still has 3 footbeds and all the straps to choose from, but can only be made with the 8mm Barefoot sole.
---
Conclusion
I appreciate the fast turnaround time, the sustainable materials, and the variety of choices and customization that can be made. The Blackbear model in particular is such a great offering in the barefoot performance sandal world – it's probably the most comfortable and secure performance sandal I own (as long as I use the Metastrap).
I envision it being the only sandal I take with me on a vacation, as it can transition from day, to day hike, to urban environment, to night life, without breaking a sweat. It's truly a gift for the minimalist who wants to have a versatile sandal that does it all.
Use code ANYASREVIEWS for 7% off from Toetem Sandals!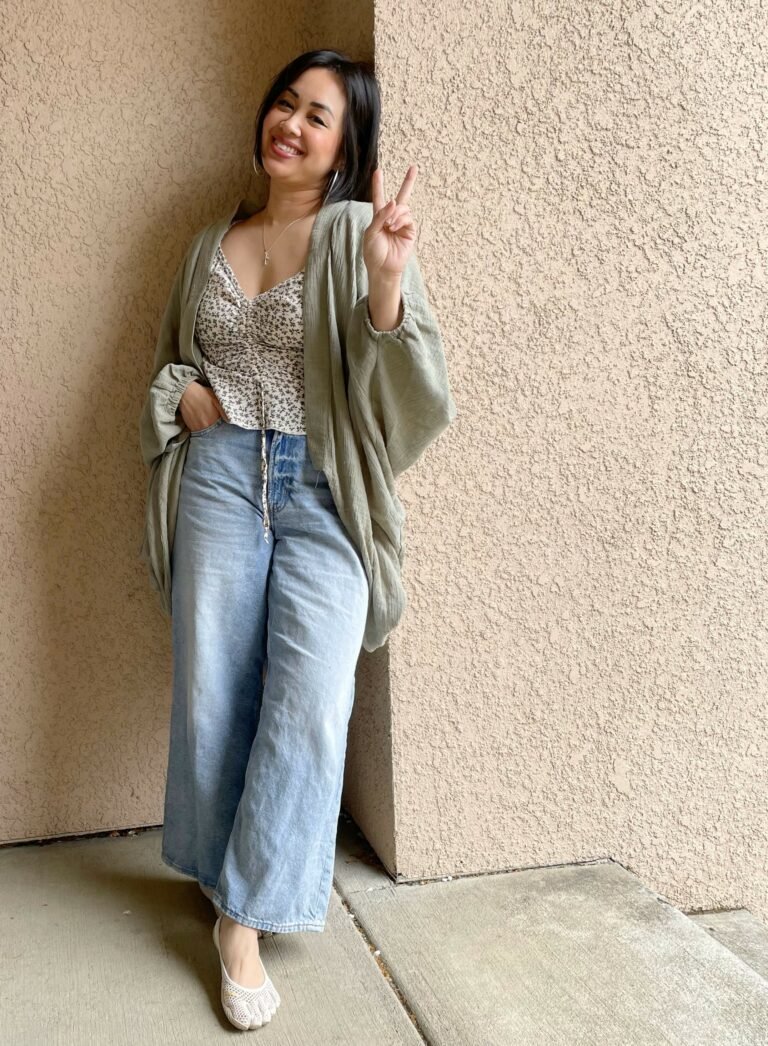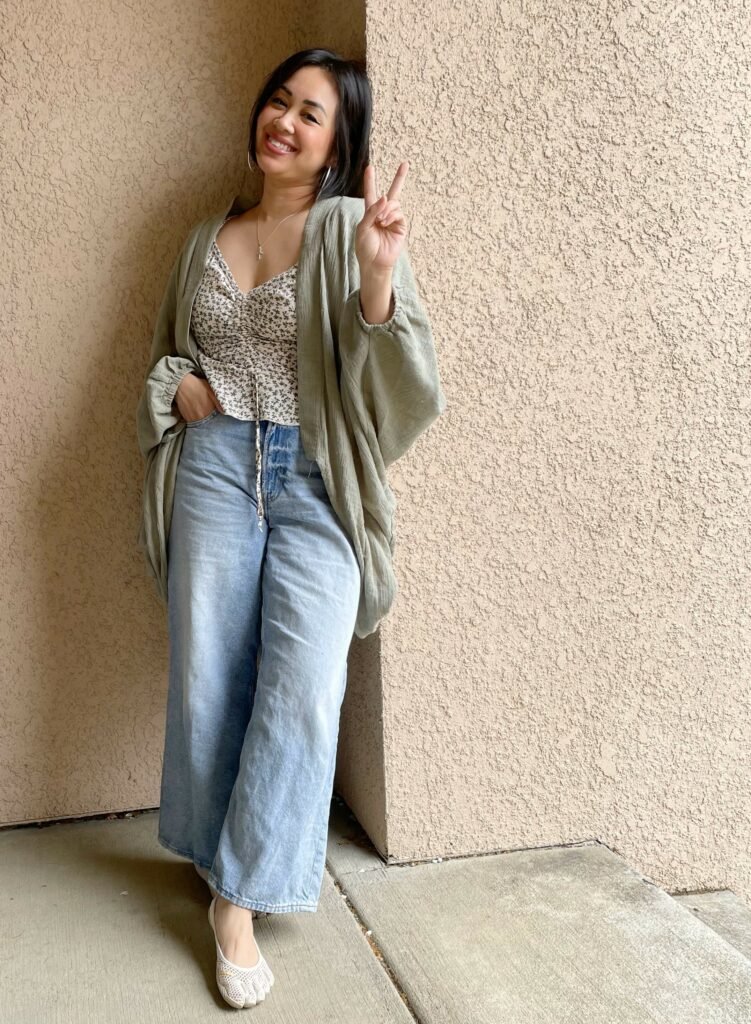 Heidi is an admin for the Barefoot Style Facebook Group and is an Automation Scientist by trade. She discovered the health benefits of barefoot shoes while training in Powerlifting and Functional Fitness. She is a Mom to 2 kids and 2 rescue dogs, and spends her free time dopamine dressing, sewing, and crafting. Follow her at @hellabarefootheidi on Instagram.