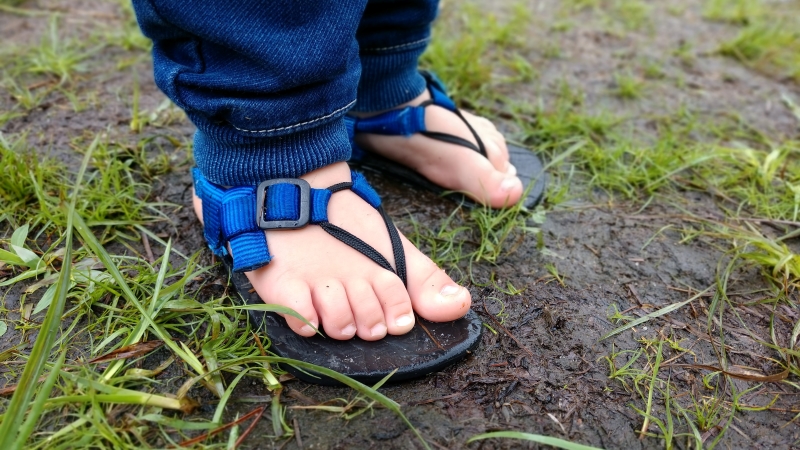 The Unshoes Children's Keota Sandals are simple, affordable, and adjustable. They're a healthy alternative to flip flops and the perfect summer shoes for kids! Read on for my review of the children's Keota sandals from Unshoes.
Use code ANYA for 10% off any Unshoes purchase!
Unshoes Keota Review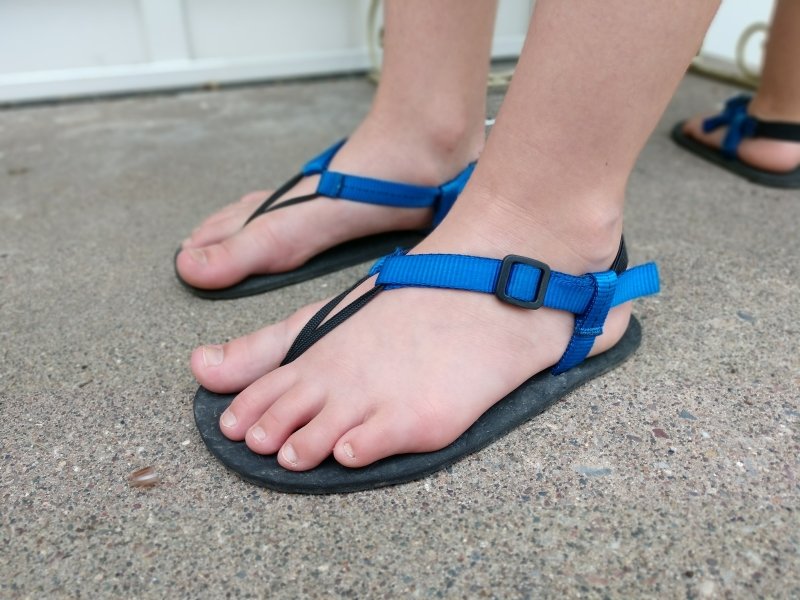 The Unshoes Keota Sandals | $38 after code ANYA | Vegan | EU Sizes 21-35 | Handmade in the USA
Summer is full of water activities for us – backyard sprinkler, fishing, trips to the beach, or even just playing in the rain to name a few. We go barefoot a LOT but footwear is often necessary because of super hot cement, public showers, or a yard full of mean wasps waiting to be stepped on (yep, that happened). My youngest and oldest children are both wearing a pair of the Unshoes Keota sandals this summer and they're getting even more use than I thought they would.
I fully expected the littlest (22mo old) to refuse to wear them but he often pulls them out of his shoe drawer and requests them! Thanks to the elastic at the heel, they're easy enough to put on and the smallest sizes have a very slight upturn at the toes to help prevent tripping (but only at the very tip, so it doesn't cause toe spring).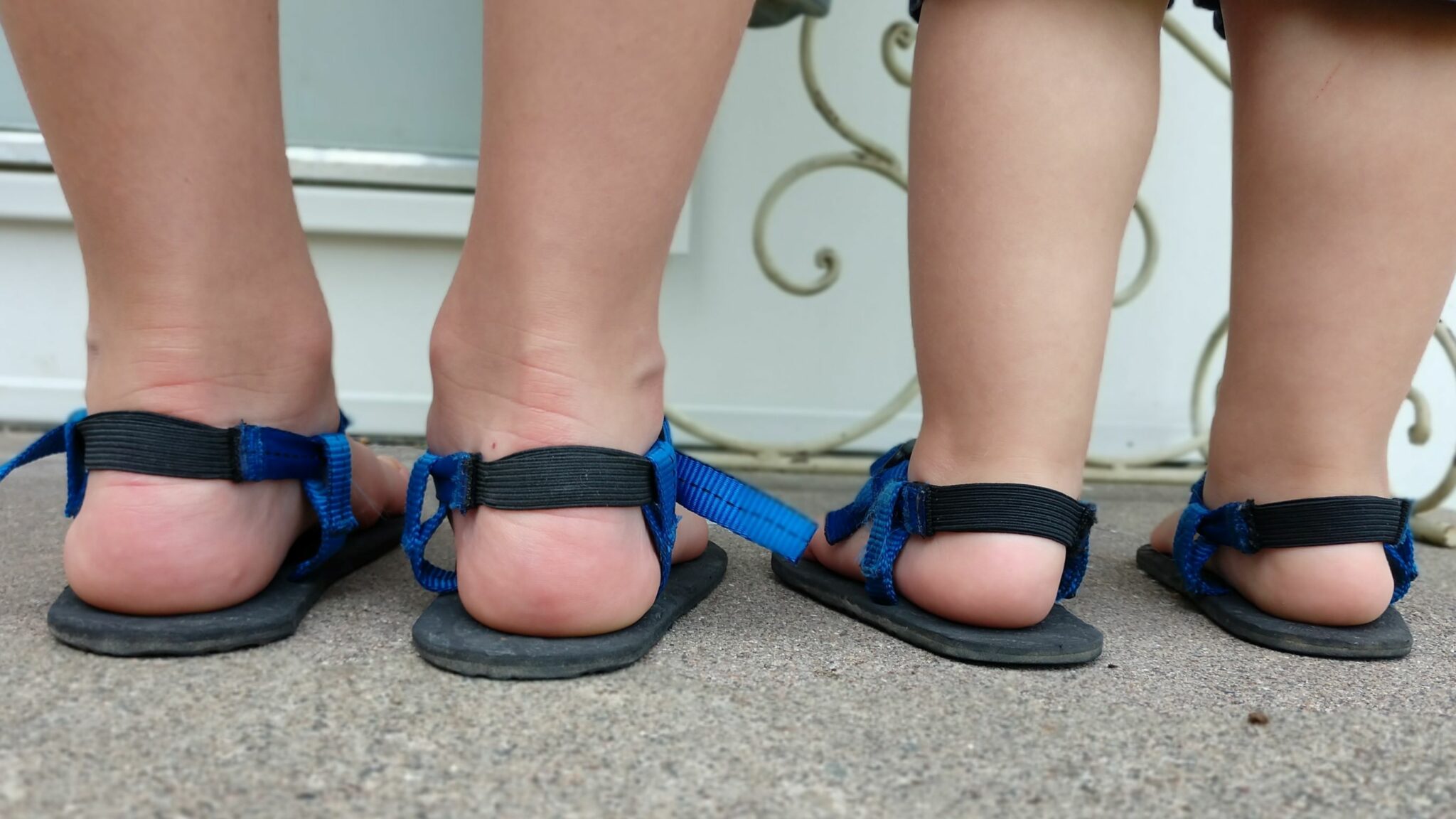 Our back cement patio is incredibly slippery when wet so if there's any moisture out there, I always make sure he's wearing these sandals- he's not old enough to remember to walk carefully on the wet cement. I am happy to report that these stay on his feet very well and he hasn't tripped on them once! Plus, there is just something super adorable about a toddler in strappy sandals.
My oldest attended camp for the first time this summer and flip flops were on her packing list. We avoid flip flops because of the way they cause toe gripping and change your gait – the Keota sandals were the perfect alternative! They are easy on/off, affordable, take up very little space, can get wet, and don't negatively affect a child's natural walking gait like flip flops do. She says they worked great for camp and will happily wear them the rest of the summer.
Unshoes Keota Materials
All Unshoes sports sandals are vegan! The children's Keota sandals are 5mm thick and flexible but not floppy. The original footbeds were made out of EVA foam, but they've just redesigned the footbeds and soles in July 2021 to utilize locally sourced rubber. These changes make the footbeds less slippery when wet, and the soles grippier on all types of terrain.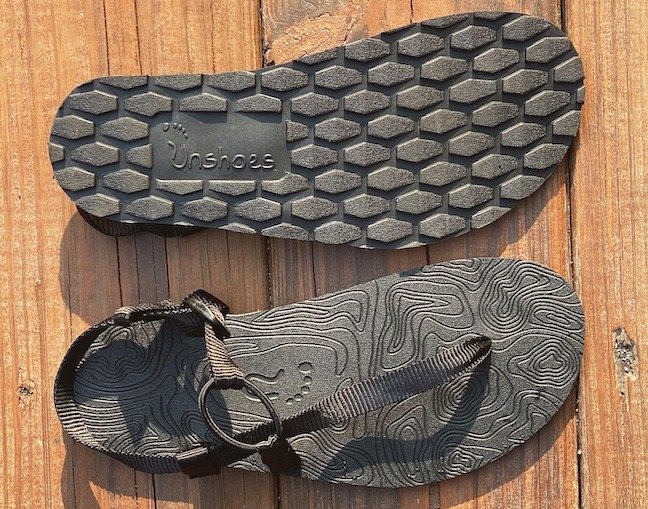 The straps come in 4 different colors (black, blue, red, and pink) and all have an elastic spot near the heel so they can be put on without adjusting. They are nice and smooth without any rough feeling against the skin, but the downside is they tend to loosen after a few wears and need to be re-tightened. If this bothers you, an option would be to swap the slide buckle with a clamp type one like these from Earth Runners.
Unshoes Keota Fit Type & Sizing
The children's Keota sandals come in EU sizes 21-35 (if you need bigger than that, there is an adult version!) and you can find the right size by using these handy printable sizing templates.
The littlest sizes are more square shaped at the toes and they gradually get more rounded as they get bigger. Below, you can see the difference between an EU 33 and 24. My little guy could actually use a size down but these were passed down to us by Anya and since most of the extra space is at his heel, they work just fine!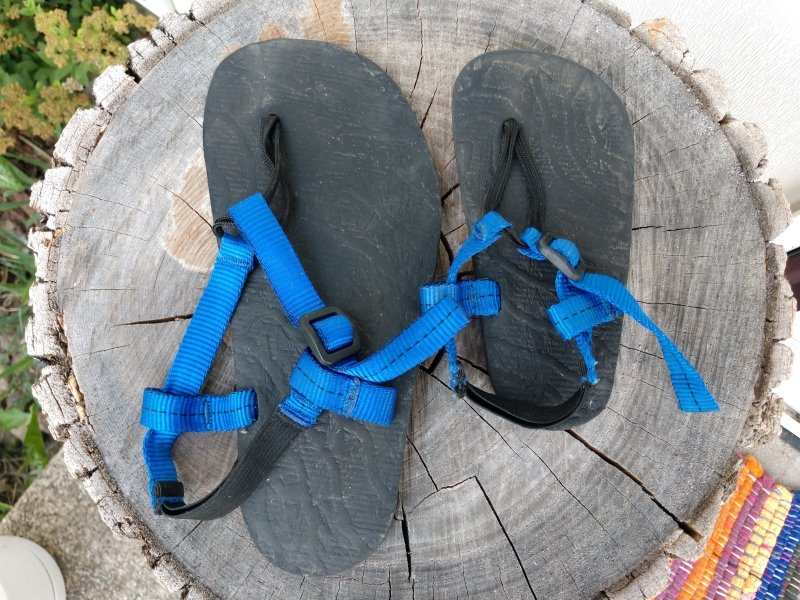 Unshoes Keota Cost & Ordering
Unshoes are all made by hand in Utah! Production time can be a few weeks during their busy months (summer) so plan ahead if you need these by a certain date. They cost just $38 after 10% off with code ANYA and exchanges are free within 15 days. Returns are accepted within 30 days and the customer is responsible for return shipping costs.
These hold their value well and are a popular item on the Buy/Sell/Trade groups on Facebook. If you're looking for a used pair or have a pair to sell, check out these groups:
Unshoes Keota Review Conclusion
The Children's Unshoes Keota sandal is simple, affordable, and functional for all your summer water play needs. And if you're looking for some affordable barefoot summer sandals yourself, they come in adult sizes as well! What more could you want in a casual summer sandal?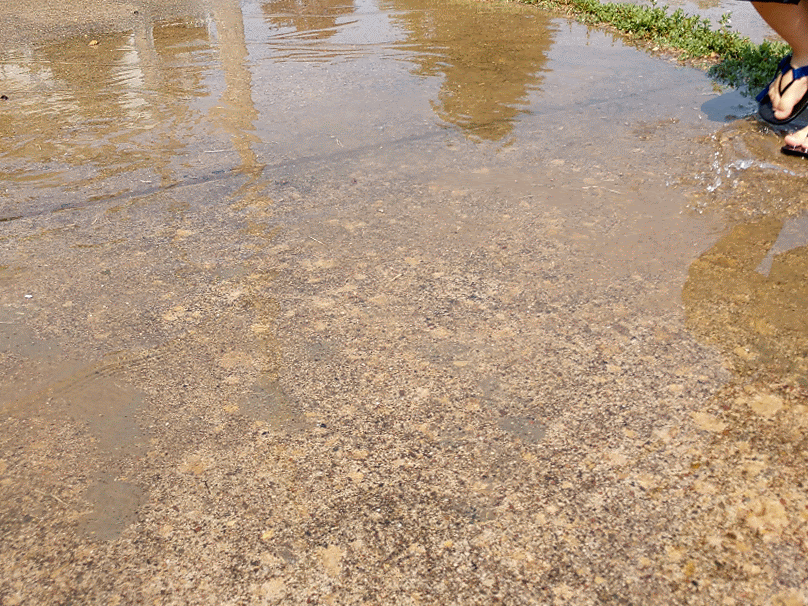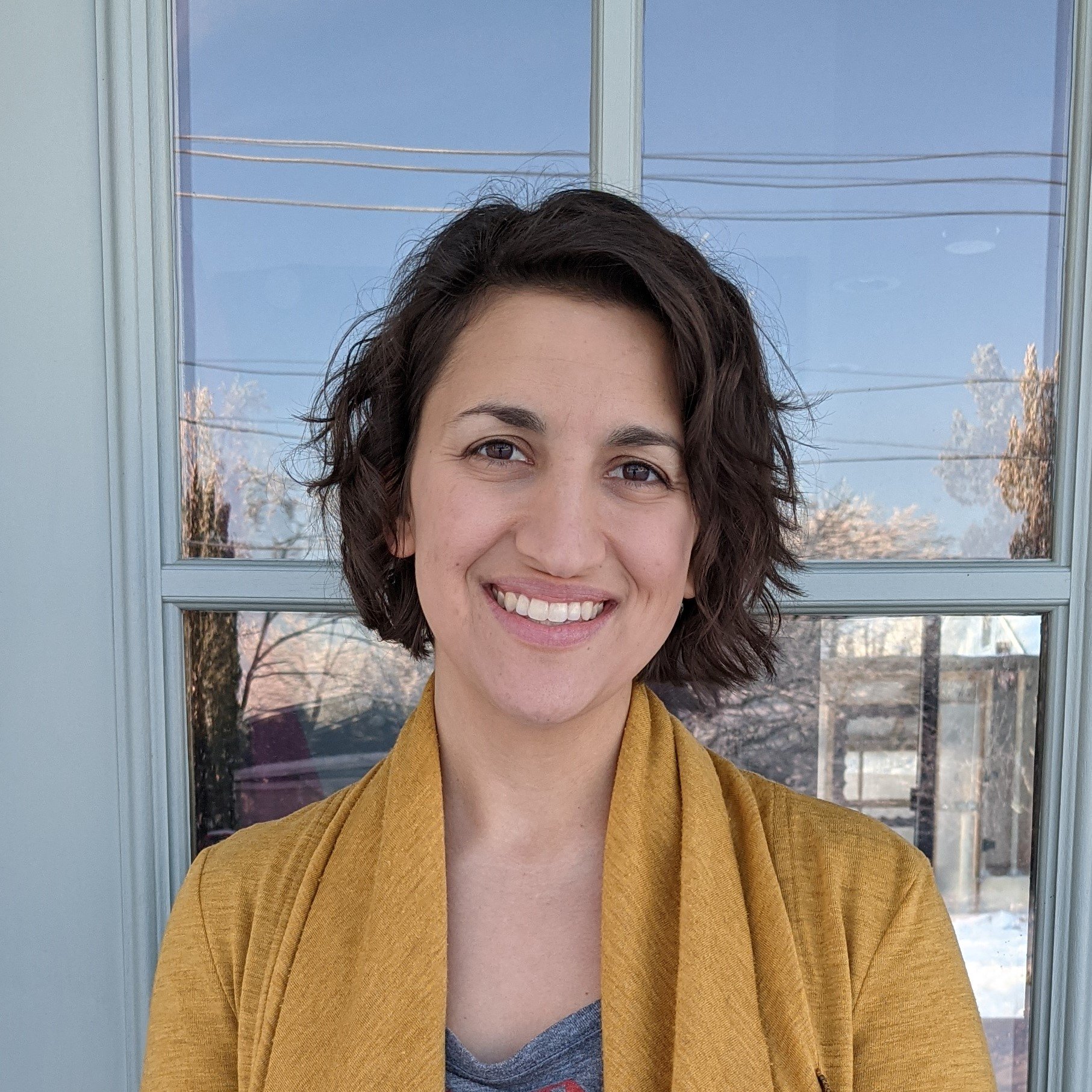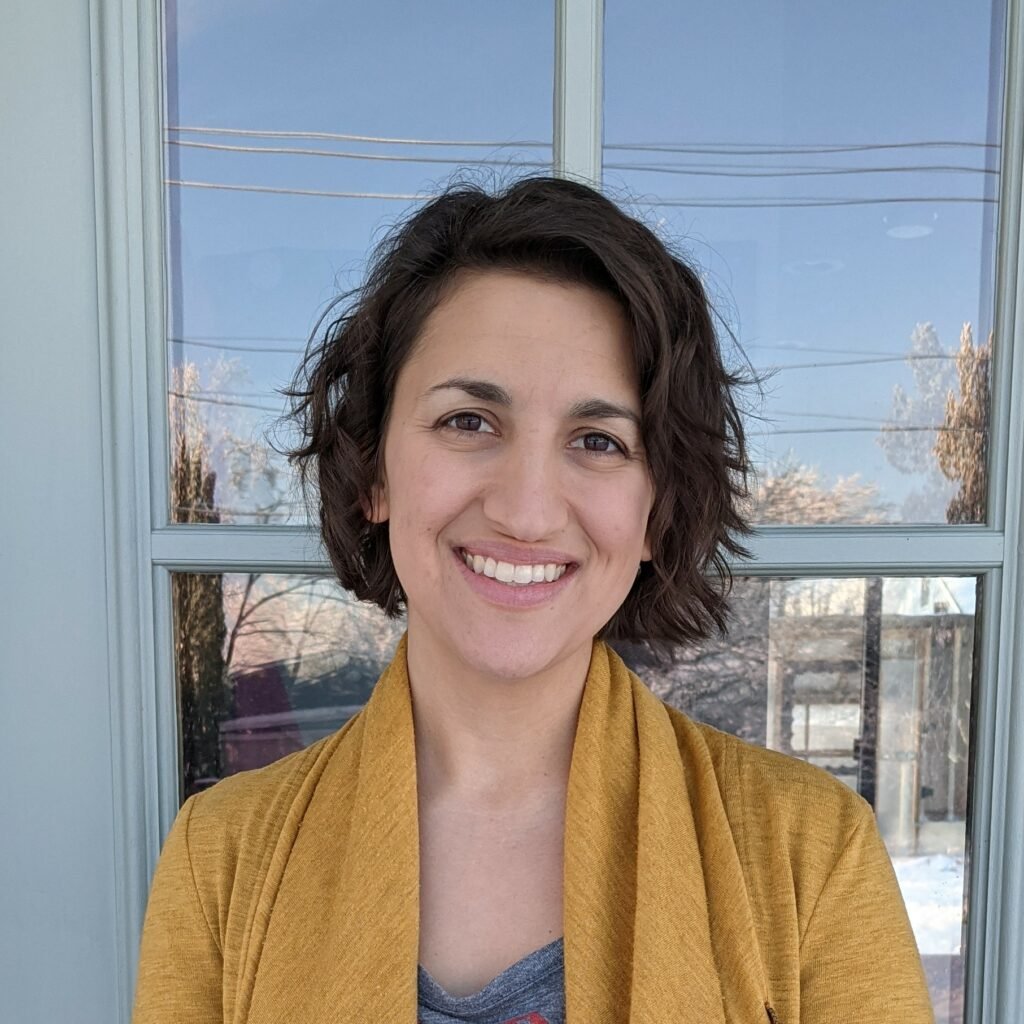 Samantha is a writer/researcher for Anya's Reviews and stay-at-home mom to 4 littles. In addition to shopping online for footwear for her family, she spends her time homeschooling, reading, weaving, and doing home improvement projects with her husband.