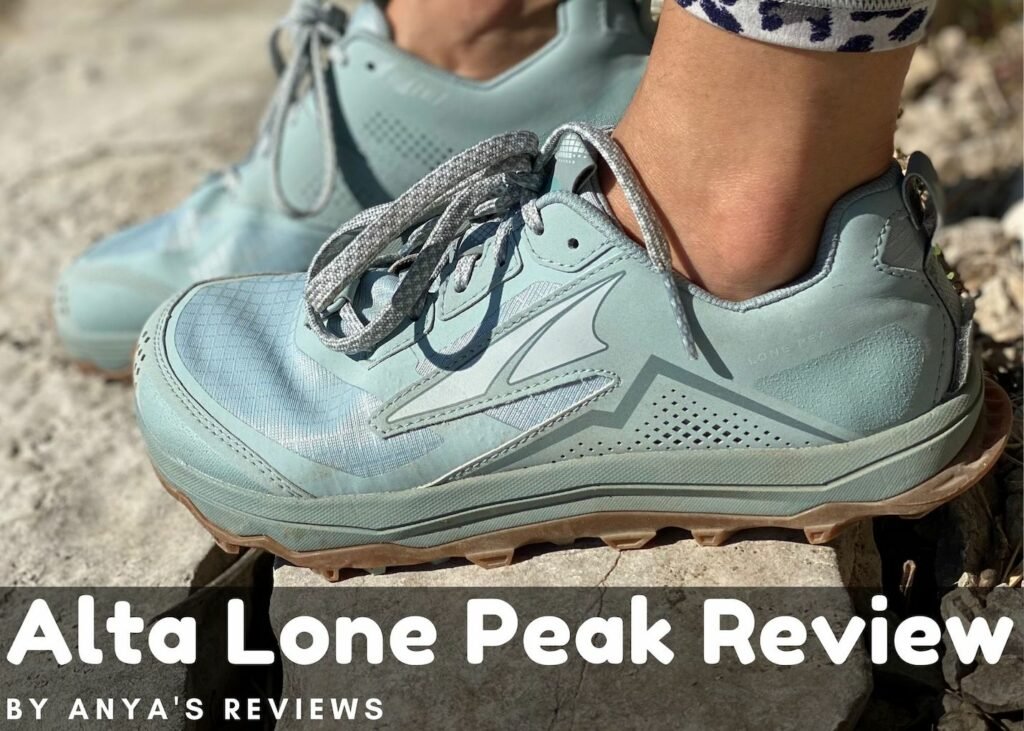 Altra Running Shoes are a great first step into the barefoot shoe world: They have a foot-shaped toe box, zero drop sole, and durable outsole that protects you from the elements. The Lone Peak is Altra's most versatile line that can be used for hiking, trail running, and every day activities. Check out my Altra review below!
My First Taste of Altra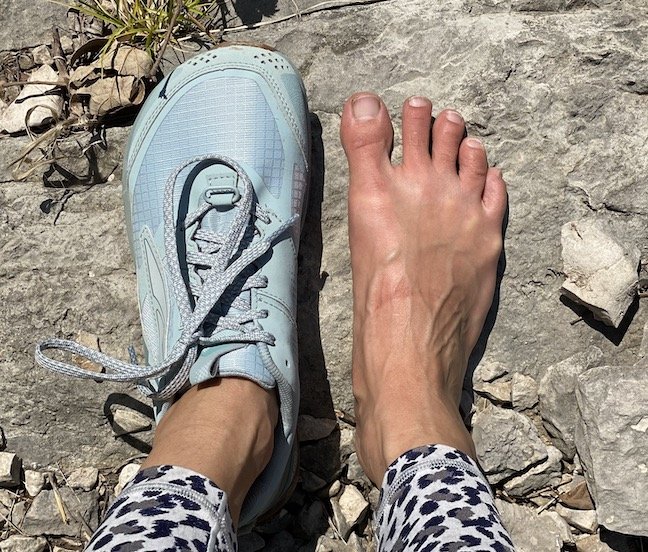 Altra was the very first minimalist shoe brand I discovered, by accident. My podiatrist sent me to a running shoe store where I was supposed to buy stiff shoes that my orthotic could fit into. I bought and returned no less than 5 pairs of fancy shoes because they ALL tapered at the toes and pressed my big toe inward. My big toe is why I was there! I needed something that DIDN'T hurt it! And BTW, I wasn't a runner, in fact I wasn't even active at the time. Don't be fooled into thinking only athletes need to take care of their feet.
Eventually I got a customer service rep that brought out some Altras for me, and when I slipped those puppies on the heavens opened and the angels sang. Now this is what I was looking for! Finally, a shoe that I could put my foot in without deforming my toes. Why in the hell most shoes are pointy at the end (right where toes are widest) is beyond me, but boy was I glad to find something shaped like a natural foot.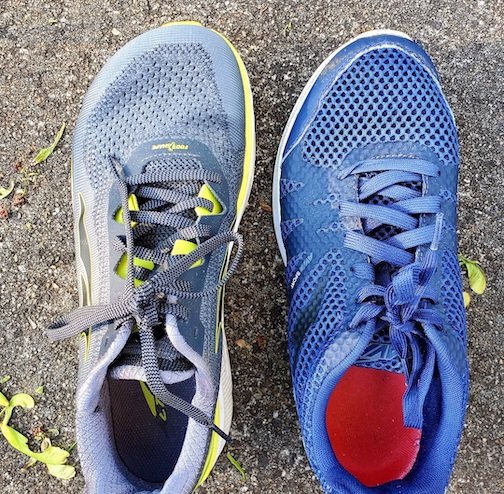 Quick Reference Terms
*Barefoot shoe – A foot covering that doesn't interfere with your foot motion – as little shoe as possible, with a wide toe box and thin sole. You feel barefoot in them.
*Minimalist Shoe – A shoe without the "technology" of arch support, heel stabilizers, and other artificial supports. Sometimes used synonymously with barefoot shoe, but not necessarily as thin and flexible (like Altra).
*Natural Footwear – Another term for minimalist shoe – Footwear that supports the natural motion and strength of the feet.
*Zero Drop – Completely flat sole from toe to heel. If a zero drop shoe is 10mm thick, it is 10mm thick both under the heel and the ball of the foot.
I wore those Altras all day every day for months, with my orthotics at first. Over time I transitioned to thinner soles, and today (4 years later) I spend most of my time fully barefoot or in ultra minimalist shoes. Strong feet for the win!
Read this post for more detail on what makes a healthy shoe.
Altra's Place in the Minimalist Shoe World
Altra Running shoes promote a natural gait because they are zero drop (completely flat), have a foot-shaped toe box, and no arch support. These are critical factors in the shoes we wear. In fact, because of how much it affects the body, I refuse to wear anything but shoes that meet those standards.
I also believe that thin, flexible soles are an important piece of foot health. The sensory stimulation and range of motion you get from thin barefoot shoes is powerful stuff. Altra's soles are 22-30mm thick (depending on the model), versus the 5mm I typically wear. If you are a seasoned barefooter, accustomed to tons of motion and stimulation in your feet, Altras will likely feel too thick. If this is you, check out my Barefoot Running Shoes post for thinner options!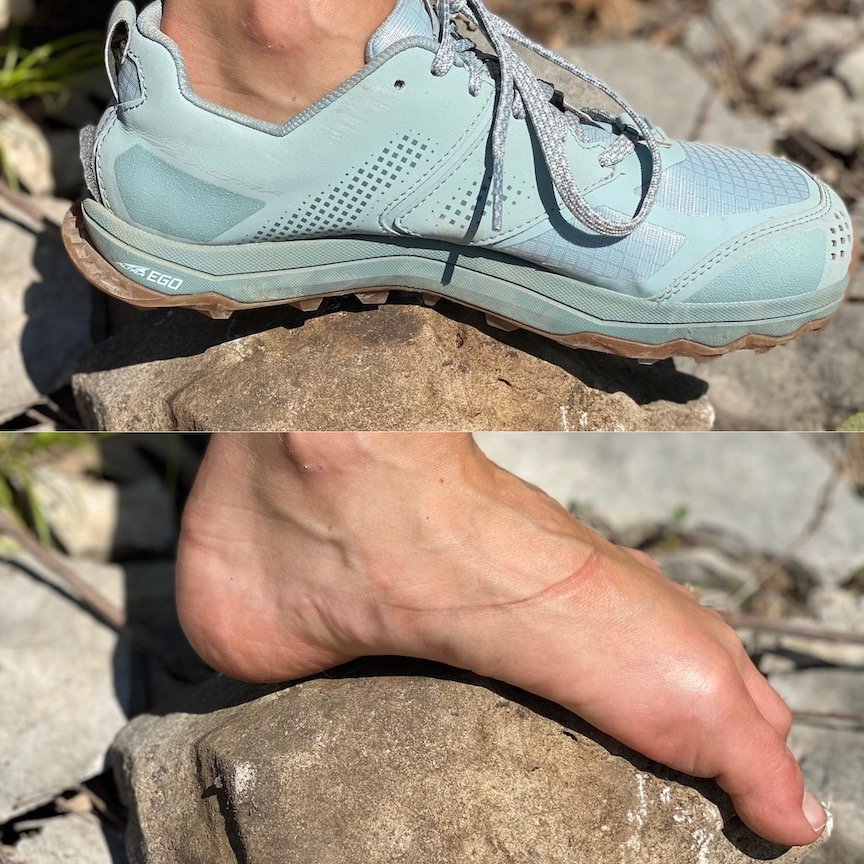 But it can take a long time to get comfortable stepping on rocks barefoot, so natural footwear options like Altra Running are great for people who are new to barefoot shoes. And I use the term "new" loosely. It could be years before you're comfortable running outside barefoot.
Even still, for some people cushioned soles are a life long requirement. Certain health conditions and foot issues can make it painful or even dangerous to go without cushion in their shoes. And long distance runners may also benefit from the extra padding, because unless you have near perfect gait you're going to struggle at long distances barefoot (not to say it's impossible!).
So it's a real gift that you can reap the benefits of toe space and a flat sole with some cushion between you and the ground. Now if Altra could just develop a shoe with a thin sole they'd be unstoppable 😉
Read this post for more of my thoughts on cushioned shoes
Altra Lone Peak 5 Review
Now that we've put Altra Running shoes in context, let's talk Lone Peak!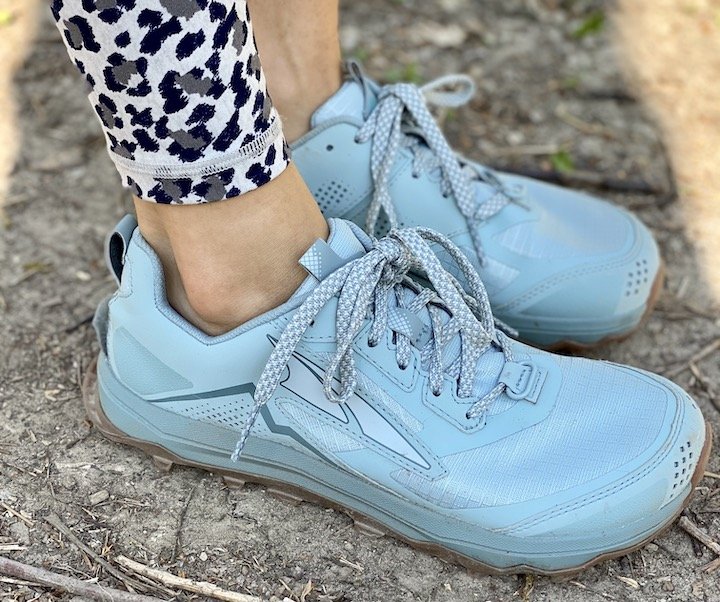 Altra Lone Peak 5 | $130 | 25mm Sole | Lugs
I prefer to exercise outside in nature, so the Altra Lone Peak 5 was an obvious choice. They are $130, have a 25mm thick rugged sole, and come in sizes US women's 5.5 – men's 16. I picked the Ice Flow Blue color, and it is gorgeous. The Lone Peak Family also includes an all weather version (with a waterproof membrane) and a high top hiker.
The Lone Peak 5 can be bought in 3 widths, each approx 1/2 inch wider than the other.
A women's regular (what you see in this review)
A women's wide (Balsam Green color only) OR a men's regular – they are the same width.
A men's wide (Blue/Lime color only)
If you're located in the UK or EU, check out their EU shop!
I immediately removed the insoles the Lone Peaks came with and replaced them with Naboso insoles, because I love the sensory stimulation I get from them (extra important in minimalist shoes I can't feel the ground in). And I also wear my Injinji Hidden socks with them.
The upper material is lightweight but not flimsy, and the soles are moderately flexible.
A few other technical features Lone Peaks have:
A velcro tab at the back where you can attach a gaiter
A rock guard at the back to keep pebbles from flying up at you
Drainage holes in the upper material in case you get soaked.
Durability & Tread
I do a lot of trail hiking and the tread on the Altra Lone Peak has been working great for me. Loose rocks, dirt, and gravel have been no problem at all. I wouldn't think to wear these much in wet conditions, since they're not waterproof, but for kicks I also gave them a spin on pavement during a light rain. I had no issue with slipping, but it seems that some ultra runners have issues with that on slick surfaces (see the Community Feedback section for more). The All Weather version of the Lone Peak is lined with a waterproof bootie, so if you wanted to make full use of that the slipperiness would become an issue.
Regardless, the sole is durable and sturdy and should last a really long time.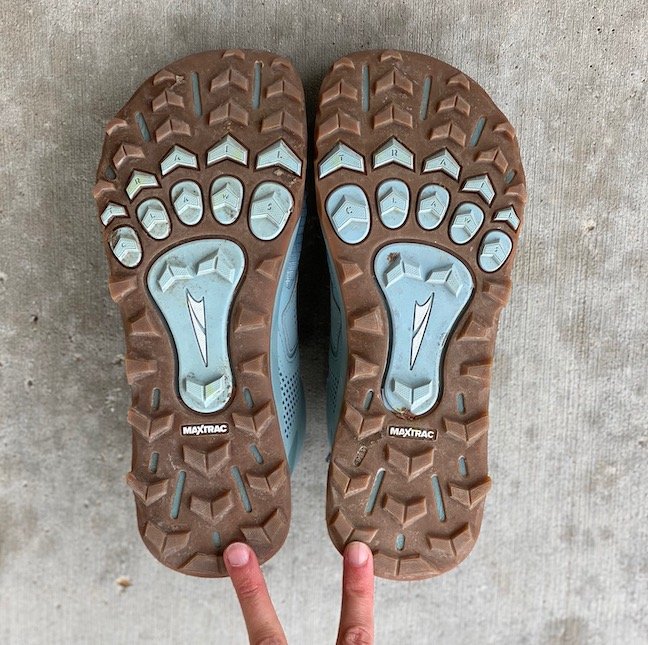 Altra Fit Type
Sizing
I got a size US women's 7, which they convert to an EU 38 (I typically wear a 6.5-7 or an EU 37 in my sneakers). The 7s are very spacious in the toe box, but I am happy with the space and they fit great because the laces can cinch tight over my arch. I could have fit into a 6.5 as well. In my experience, they run true to size.
Foot Shape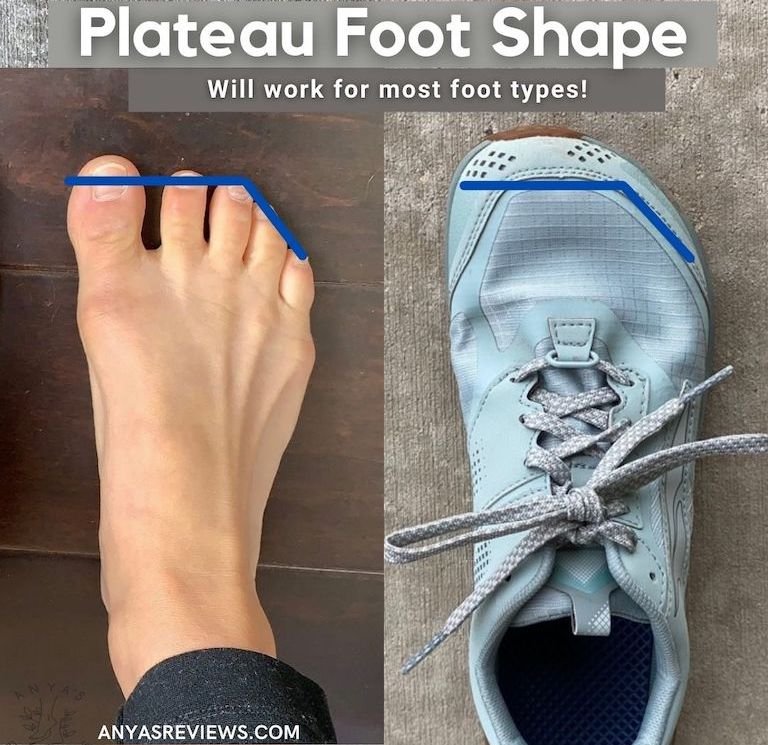 Altras have a generous toe box shape that should fit most foot types because it doesn't slope very much. That means everyone except the most square shaped feet should get a good fit!
Read this post for more on the different foot types.
Volume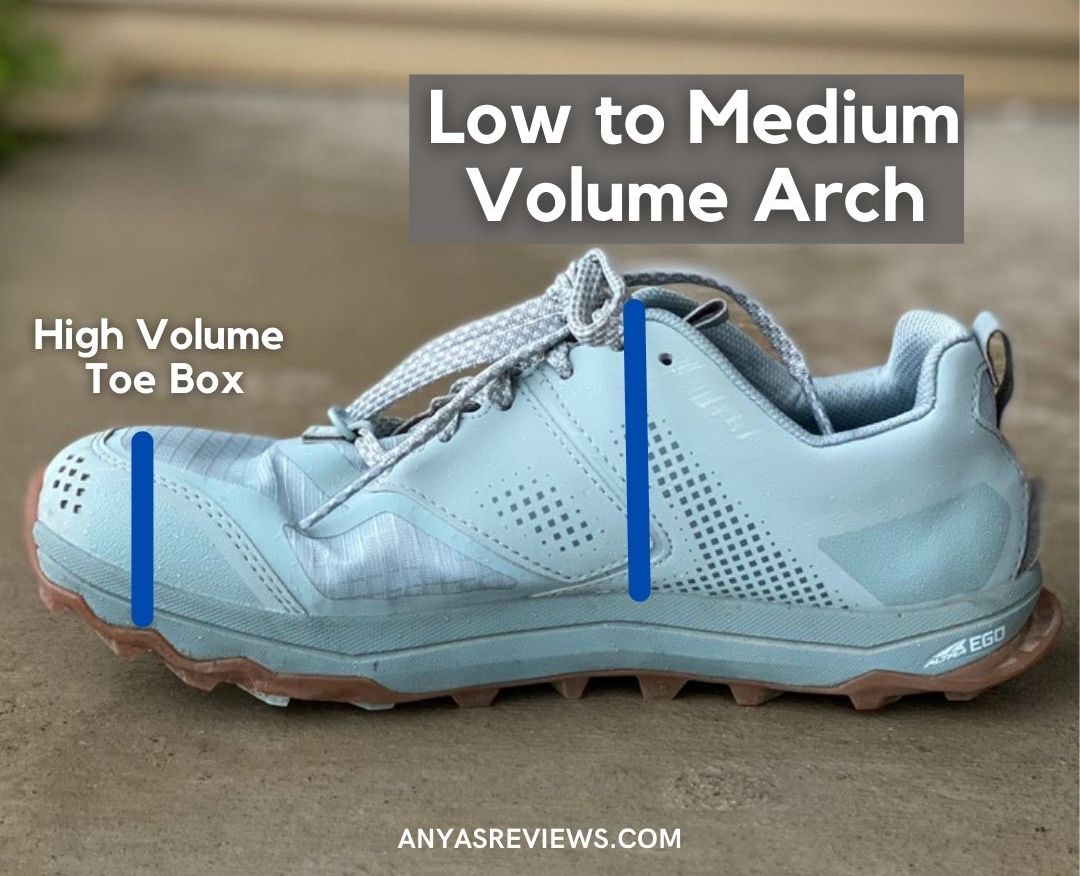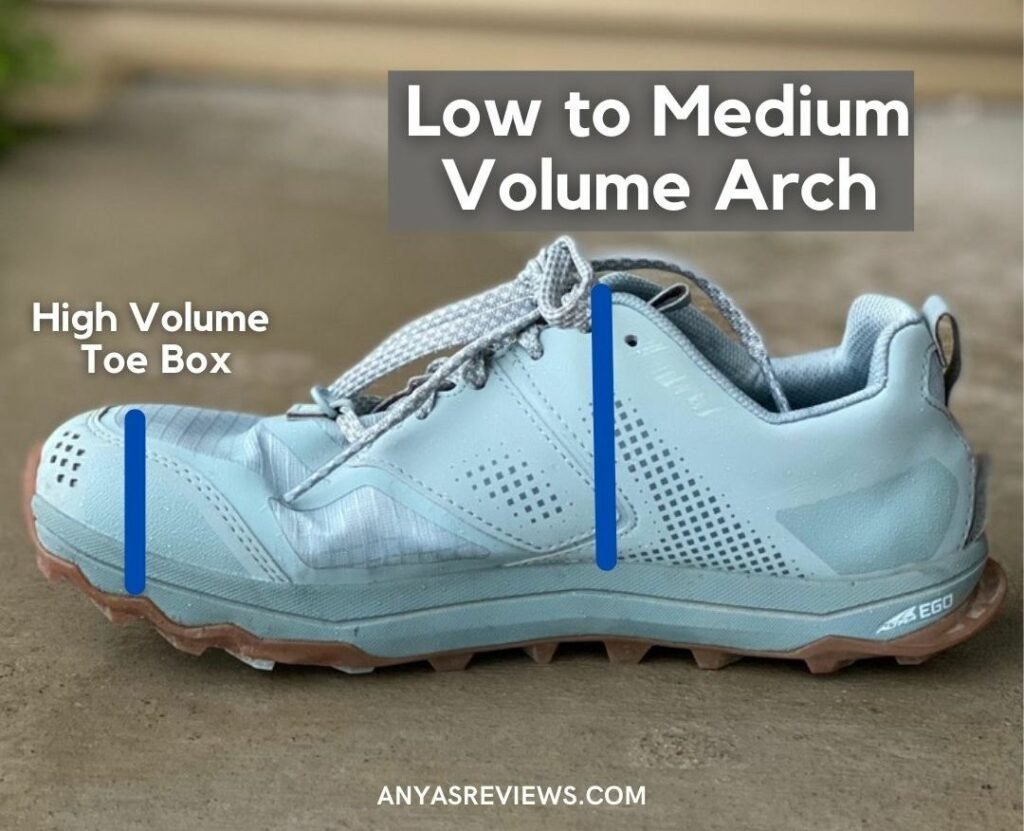 Altras are tall (or high volume) in the toe box, which is great for people who don't like shoes pressing down on their toes. But they are close fitting on the arch and ankle. This gives you maximum security AND maximum toe freedom. Because of the laces those of you with high arched feet should be able to get a good fit as well, but keep in mind that it will be close.
Same Shoe, Different Foot
Check out how the Altra Lone Peak fits on two different feet! On the left we have Becca who has an extra wide, high volume foot. She fills up the toe box and undoes the laces for maximum space. Her feet are wide enough that she is ready to move to a wider width (either by buying men's or the women's wide).
On the right is my narrow heeled, low volume foot that is wide in the toes. You can see that I wear the laces much tighter and there's even some bunching in the toe box. But the ankle opening still fits nice and close like it does on Becca. My toes have plenty of space, I can even wear Correct Toes in them!
Altra VS Other Barefoot Shoe Brands
Altra is in a class of its own: there are no other brands with such thick soles that meet all other barefoot shoe requirements. But here is a comparison of the toe box shape to Vivobarefoot, a major barefoot shoe brand. You can see below that the Altra's provide much more space for the toes (but are 20mm thicker).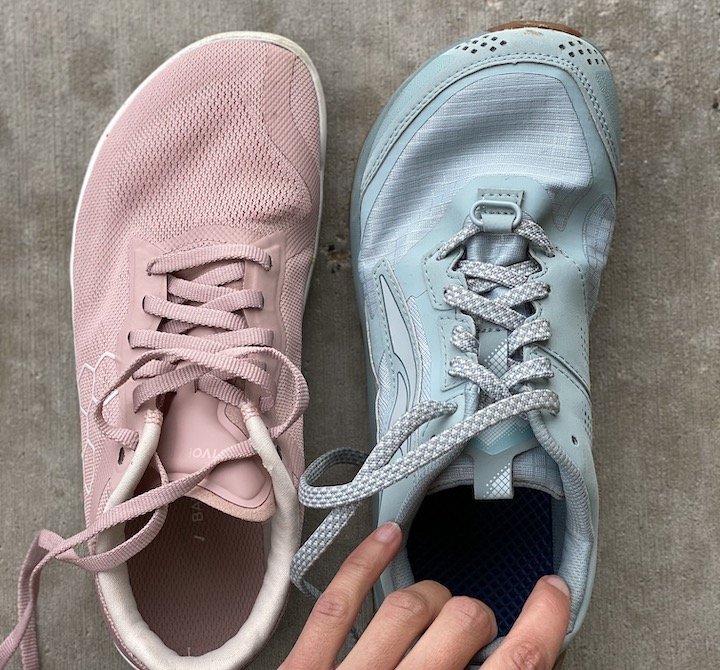 See below a smattering of some other barefoot sneaker brands organized from most narrow to most wide in the toe box. This is only some of the brands I have tried! Check out the Barefoot Shoe Finder for a guide on how they all fit. And then be sure to subscribe for e-mail updates below to stay up to date on reviews.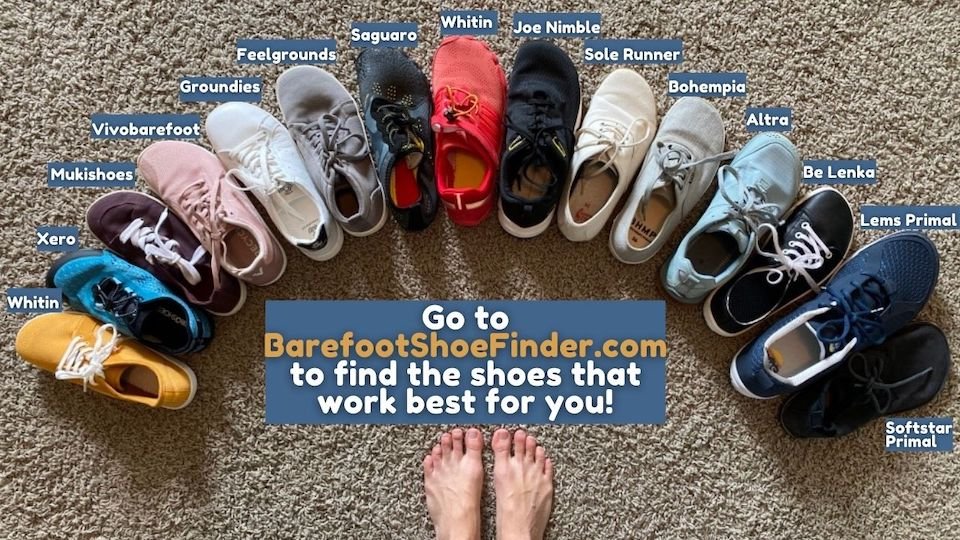 Community Feedback
Altra Lone Peaks seem to have a high satisfaction rate among owners! Out of 32 Lone Peak owners in the community, only 1 person straight up didn't like them. 1 person had fit issues and 3 didn't like the thick soles, but otherwise liked them. All 27 other Lone Peak owners love them.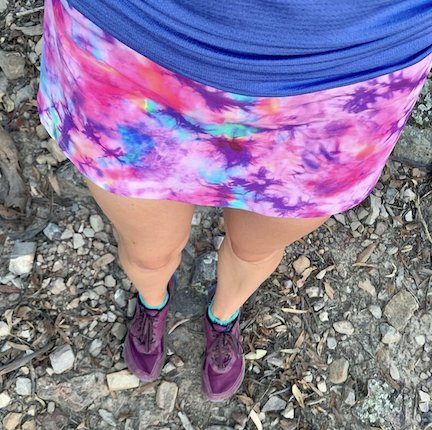 12/32 people recommend sizing up, mainly because of foot swelling during activity. The rest got their normal size.
The majority of people of all shapes and sizes found the regular width to be just right, but 8/31 said they need the Wide version. Only one person with narrow feet said the shoe was overall too wide. The Lone Peak seems to be doing an excellent job of fitting all kinds of different feet.
The most common refrain is that these are excellent shoes for high levels of activity. Altra's are a favorite among Ultra Runners and Serious Hikers! Check out some of the responses I got from Lone Peak owners:
They are true to size, fit my foot shape well, and I love them! I live in the Northeast where trails are EXTREMELY rocky. These have enough of a sole to protect my feet from stone bruises and stubbed toes, but are still flexible and thin enough that I have some ground feel and I can feel my feet flexing and working. The toe box has plenty of room for my toes to splay. I do not have the waterproof version, but the shoes dry quickly and are very ventilated so my feet stay cool in the summer. The tread on mine is finally wearing thin (I've had them for three years), so I'll be getting a new pair of Lone Peaks.
Love them. I have delicate skin due to a genetic defect, so needed more cushioning than the VivoBarefoot tracker for 8 mile + hikes. These are perfect.
I love my altra lone peak. I'm onto my 3rd pair now for long distance trail running, currently training for a marathon. I find them pretty true to size and the fit my foot shape well. I've tried other altra and for whatever reason these are by far my favourite. They have a little extra cushion which I find helpful for rocky trails but compared with other running shoes I can still feel the ground as much as I'd like to without rocks hurting my feet.
I have yet to find a better long-distance backpacking shoe than the Lone Peak! I've been hiking in them for about seven years. For everyday life, I like less stack height, but for trips where I'm carrying 20+ lbs of gear and hiking 20+ miles a day, Altras are excellent. I'm so glad they exist, because otherwise I would have to compromise on zero-drop and/or roomy toe-box when logging trail miles.
I much prefer hiking in my five-fingers because of better fit, toe-splay and ground feel, but have the Lone Peaks for colder weather or for hiking with a pack. It's close but not quite the ideal shape and style for my feet and hiking needs so I'm considering trying a men's version for extra width (but worry about extra heel width) or an alternate brand like Freet.
Conclusion
Altra Running shoes have some excellent features. They are high quality, have ample toe space, and are practical for endurance athletes. If you are unable to be fully barefoot or in super thin shoes for your activities, please consider a brand like Altra instead of the "foot casts" you get from mainstream athletic brands! But make sure you kick them off as often as possible to give your feet freedom to grow stronger.
Like barefoot shoes? Follow my social media channels to get involved!