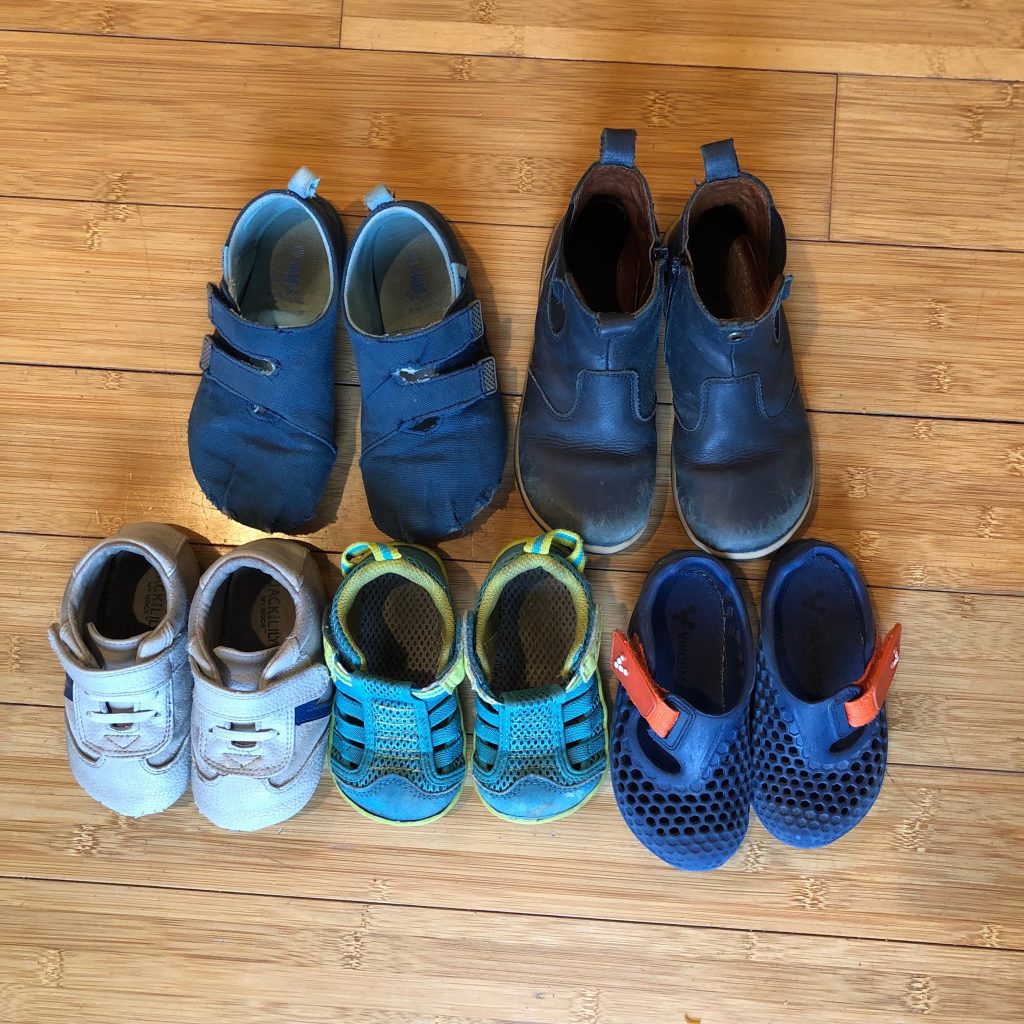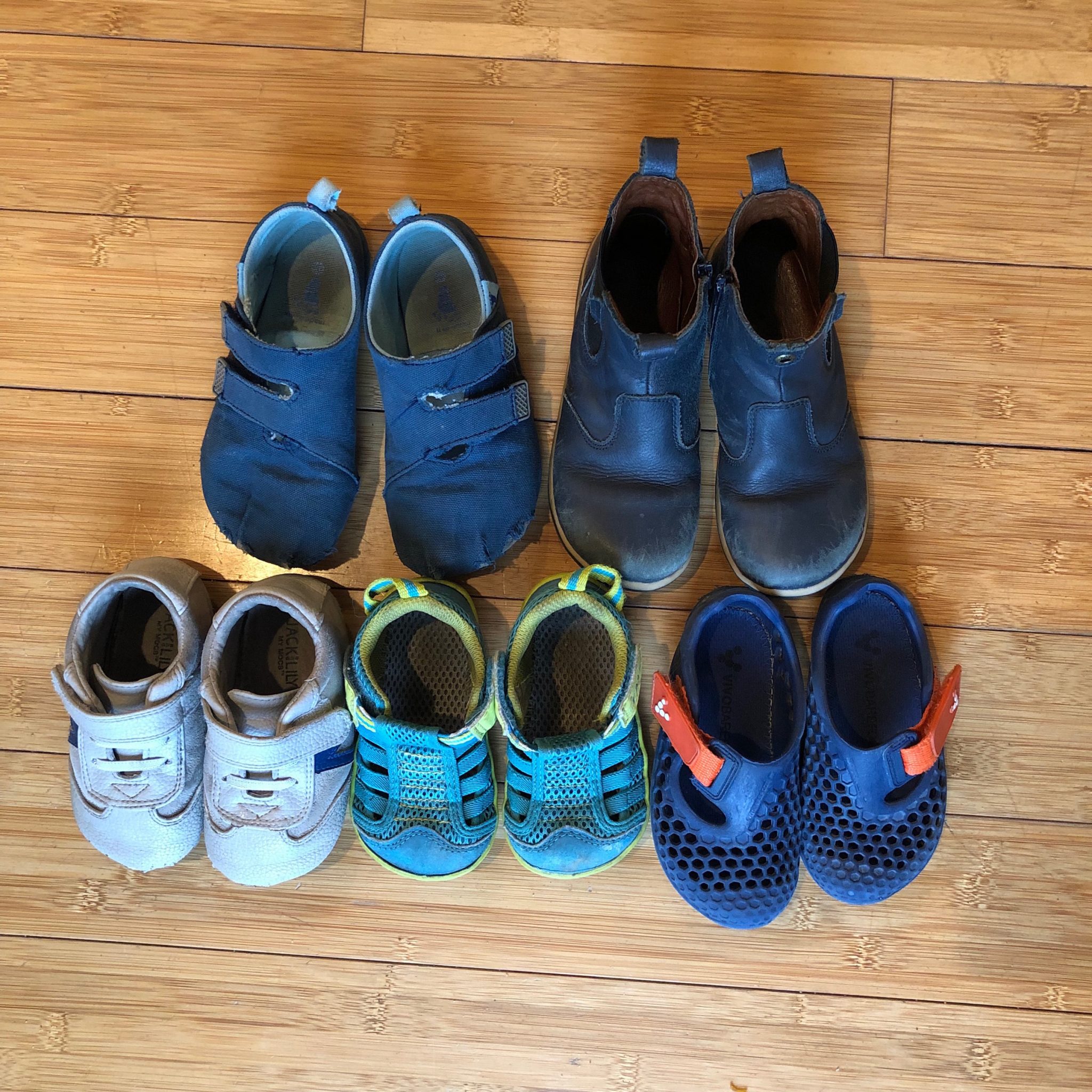 I really don't like spending an arm and a leg on shoes my kids will beat up and grow out of, but I also have a pretty strict set of guidelines my kids' shoes need to follow. After a lot of research and trials, I've narrowed the options down to a select few we'll be coming back to again and again over the years. Below is a list of our top 5 tried and true shoes that fit my kids' active lifestyles and my personal budget.
When buying shoes for kids, I always buy what they need right then in their current size, rather than trying to predict the future. I also highly recommend measuring your kids feet and checking the brand's size guide every time you make a purchase.
These are my favorite shoes for kids! They are Vivobarefoot's most affordable shoe, and they are so easy for them to put on and off themselves. They can be worn in all terrains, get caked in mud, soaked in water, and will wash off and be ready to do it all again. My kids love these shoes and even wear socks with them when it's chilly (yes, it looks terrible, but whatevs). I've found these on sale at Zappos, but usually I buy them from Vivobarefoot directly and use any rewards points I have accrued.
They now have one made partially from algae, available here.
I followed the size chart and I've had no issues with sizing. In this shoe I find they can be worn when they're on the big side without a problem, so I usually go with the larger size if they're in between sizes.
2. IFME $15-$30
These are also a big favorite in our house. Only certain models of IFME shoes are minimalist friendly. We've had particularly good luck with the Playa and the Rey lines. Unfortunately we lost my son's Rey sneakers and haven't been able to find them again online. They sell them every so often on Zulily, usually for $25 or less. The Playa is available on Amazon, but the sizes come in and out of stock. We love the Playa fisherman sandal. They have a fantastically wide toe box and are really flexible. Sometimes you can find these in bigger kids sizes, but most of the availability is in smaller sizes. I purchased mine for about $18. There is a lot of variability in pricing and sizing availability, so check back often.
3. Bobux – $20-$50
Bobux has a lot of great options for warmer weather. They've got boots for rain and muck as well as shoes and sandals. They've recently opened up an Amazon Bobux shop, which is great for people who want to try them first. We buy their boots every year and my kids trash them, and they continue to hold up beautifully! My favorite for spring is the Jodphur boot because it's unlined, so it doesn't get too hot. See a full review of the Bobux Aspen boot here
This brand only goes up to 3 year old sizing, which is a bummer. But they have excellent shoes and they almost always have shoes on sale. They also have some styles available on Amazon. We bought ours for $16 each, + a few dollars shipping. They are real leather and have a rubber sole so they hold up well for outdoor play. They have My Shoes and My Mocs, which are sized differently and have different soles, so be sure to read their size charts closely when ordering. The My Mocs are the most flexible and we have loved them for our toddler. They also have great customer service and shipped right away. I really wish they made bigger sizes!
Splay has also been a great shoe for my son. I did a full review of them here. Unfortunately they are out of many sizes right now, so I'm not sure if I'll be buying them again this spring, but once they restock I almost certainly will. These are a great affordable option for bigger kids.
** I also tried out these Plae water shoes this spring because I found them on Amazon for only $25! They didn't make it into my top 5, but if you'd like to see a video comparison/quick review of the Plae, Vivobarefoot, and IFME water shoes check out my saved stories on Instagram here!**
What other great kids shoes have you found? Please share, as I'm always looking to find more options!