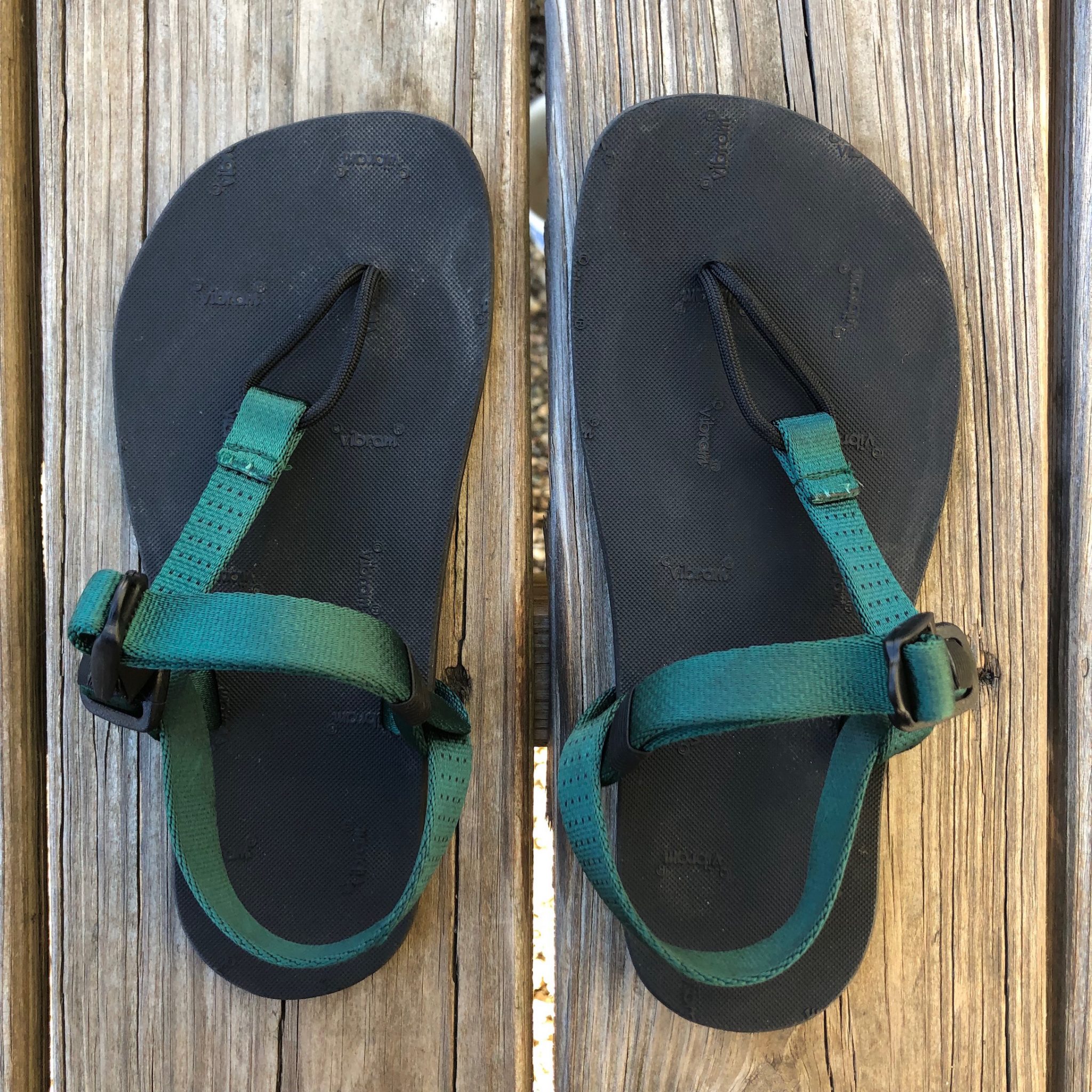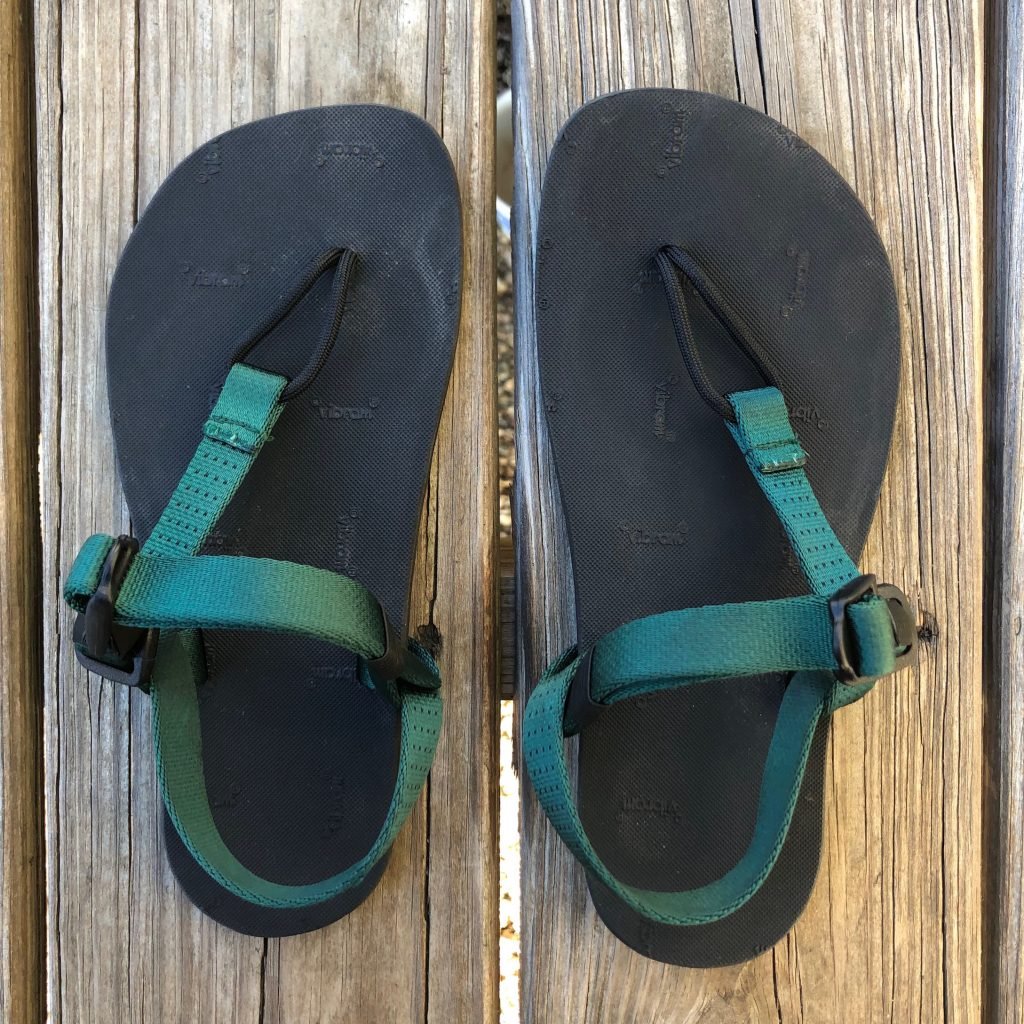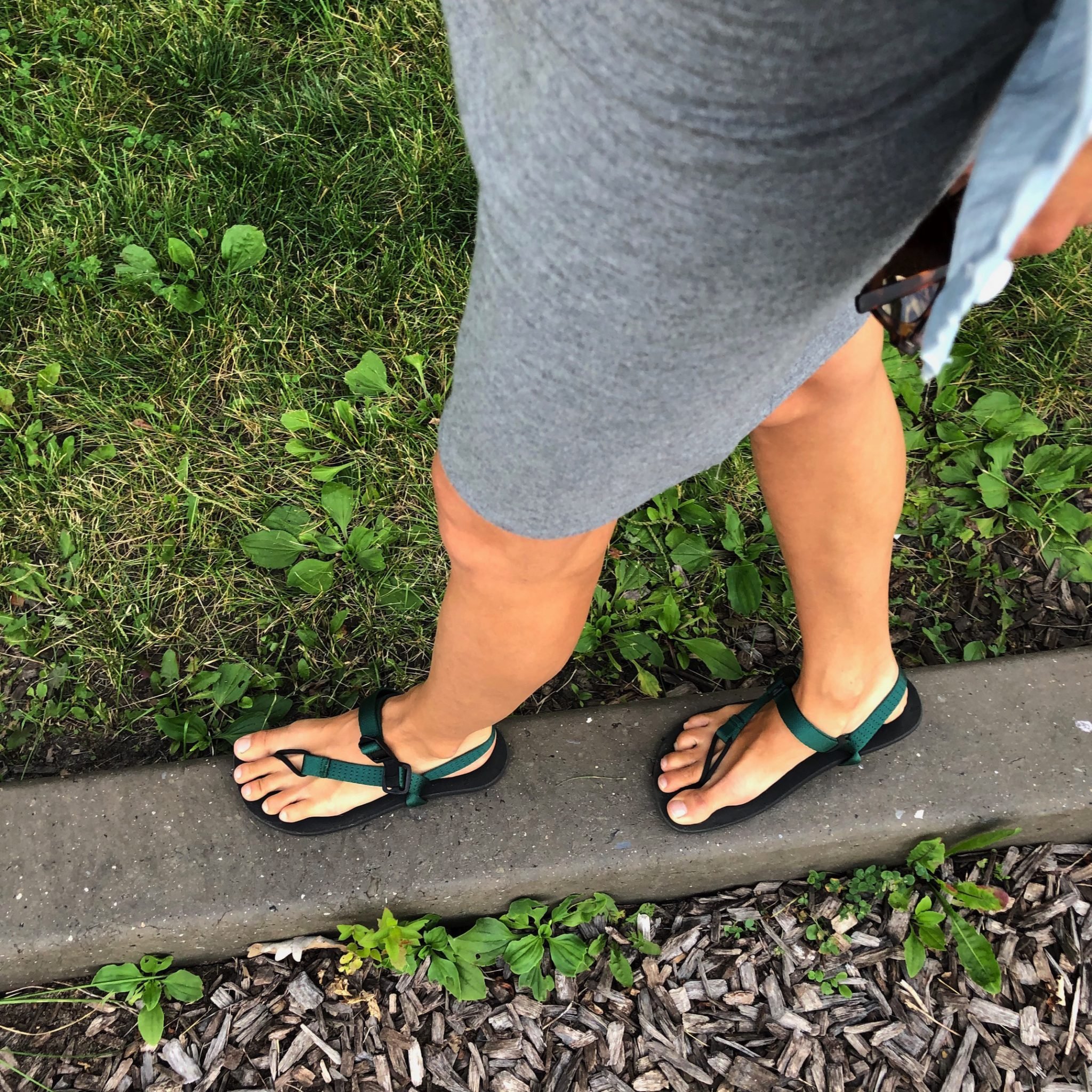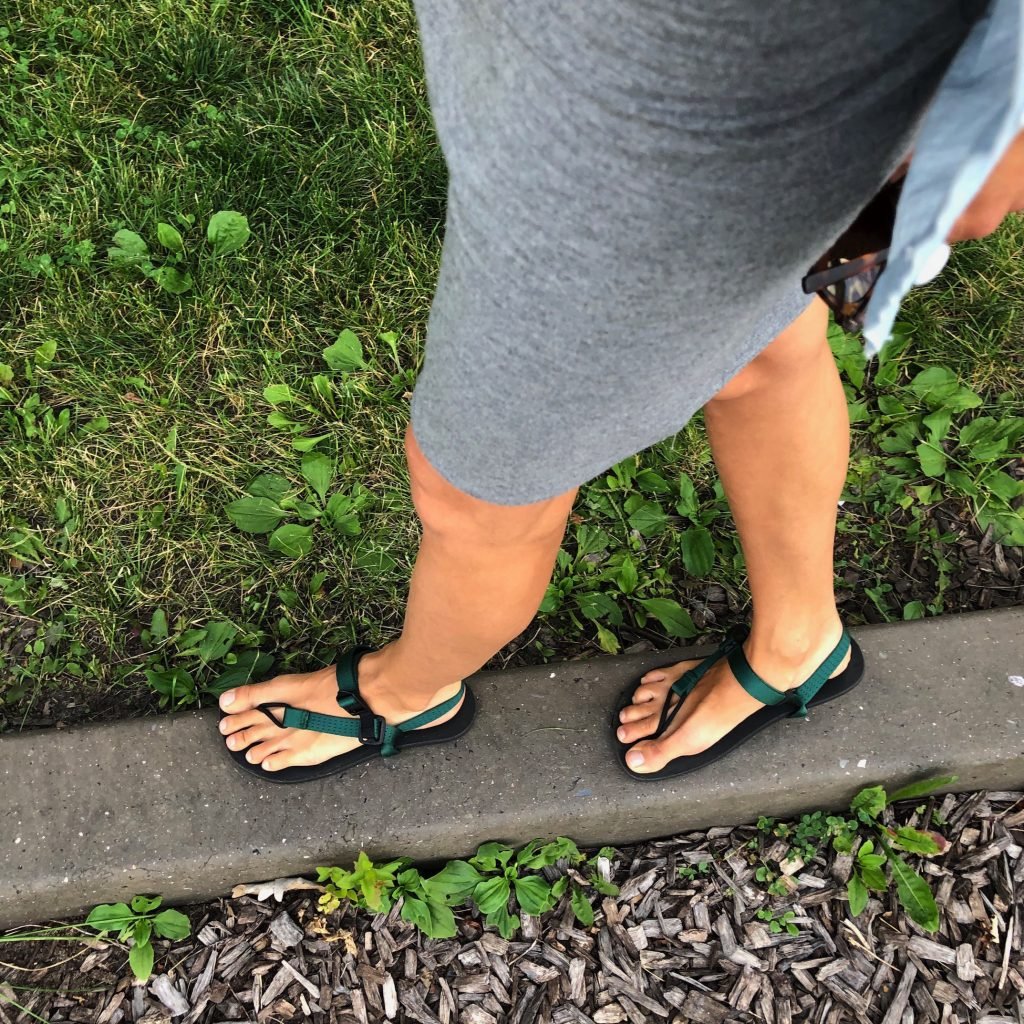 *2/12/20 – The code ANYASREVIEWS will get you 10% off! These sandals now come with an optional sport strap for extra security, and the ordering process has been simplified*
Deliberate Life Designs is a small shop run by Adam of Deliberate Life Adventure (DLA). He runs his custom sandal-making business from his home, which is a converted school bus!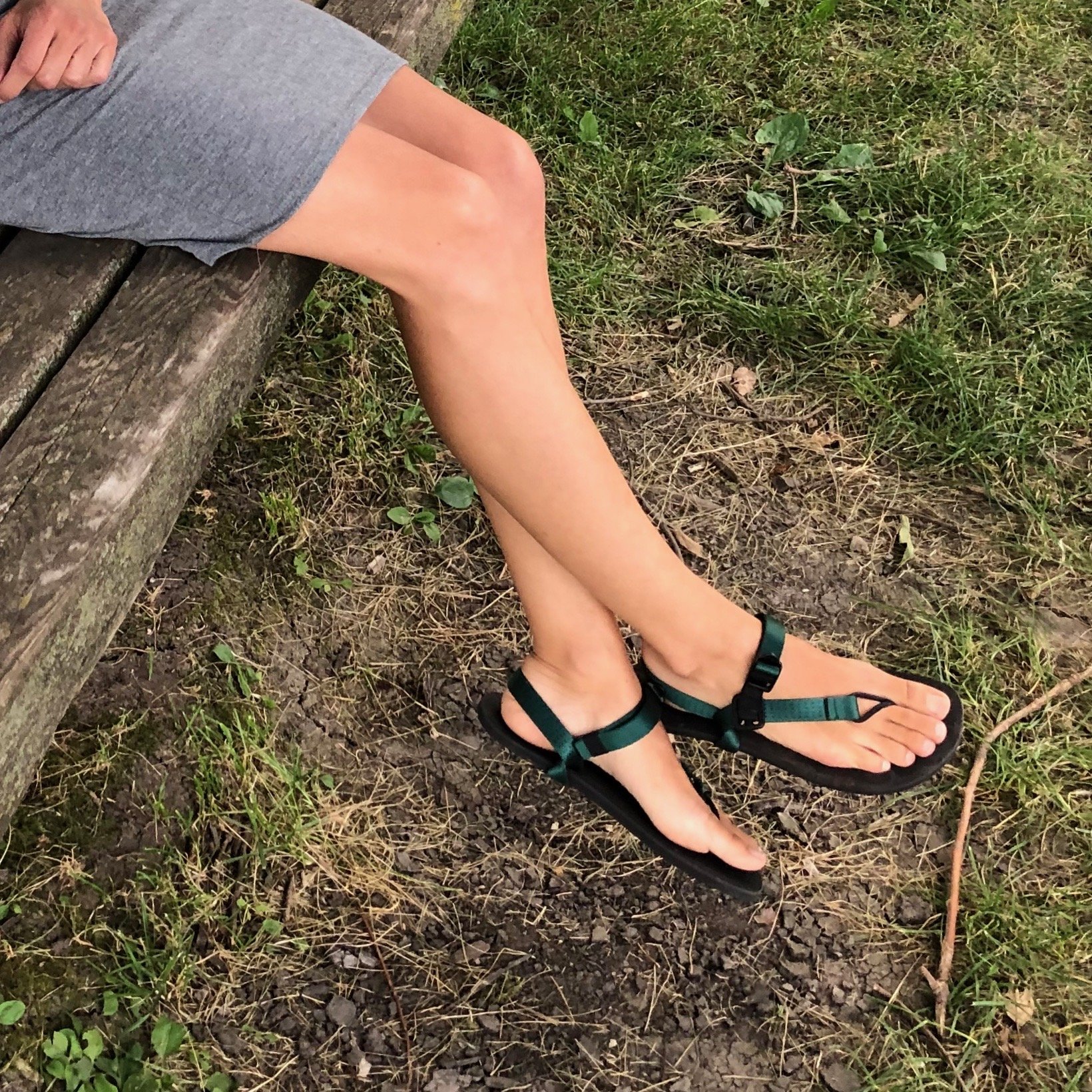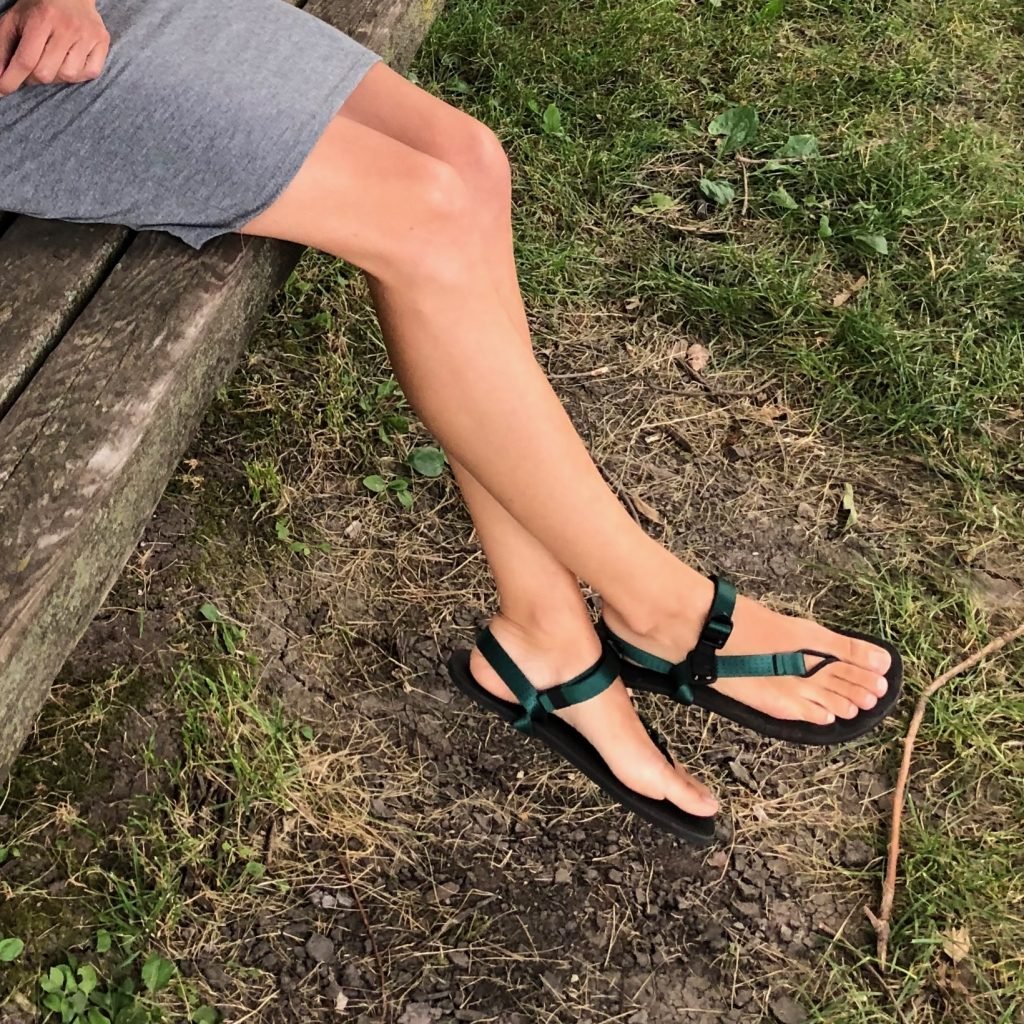 The Sandals
Adam hand makes huarache-style sandals based off his customer's foot tracings. The soles are Vibram rubber and the straps are repurposed climbing slings.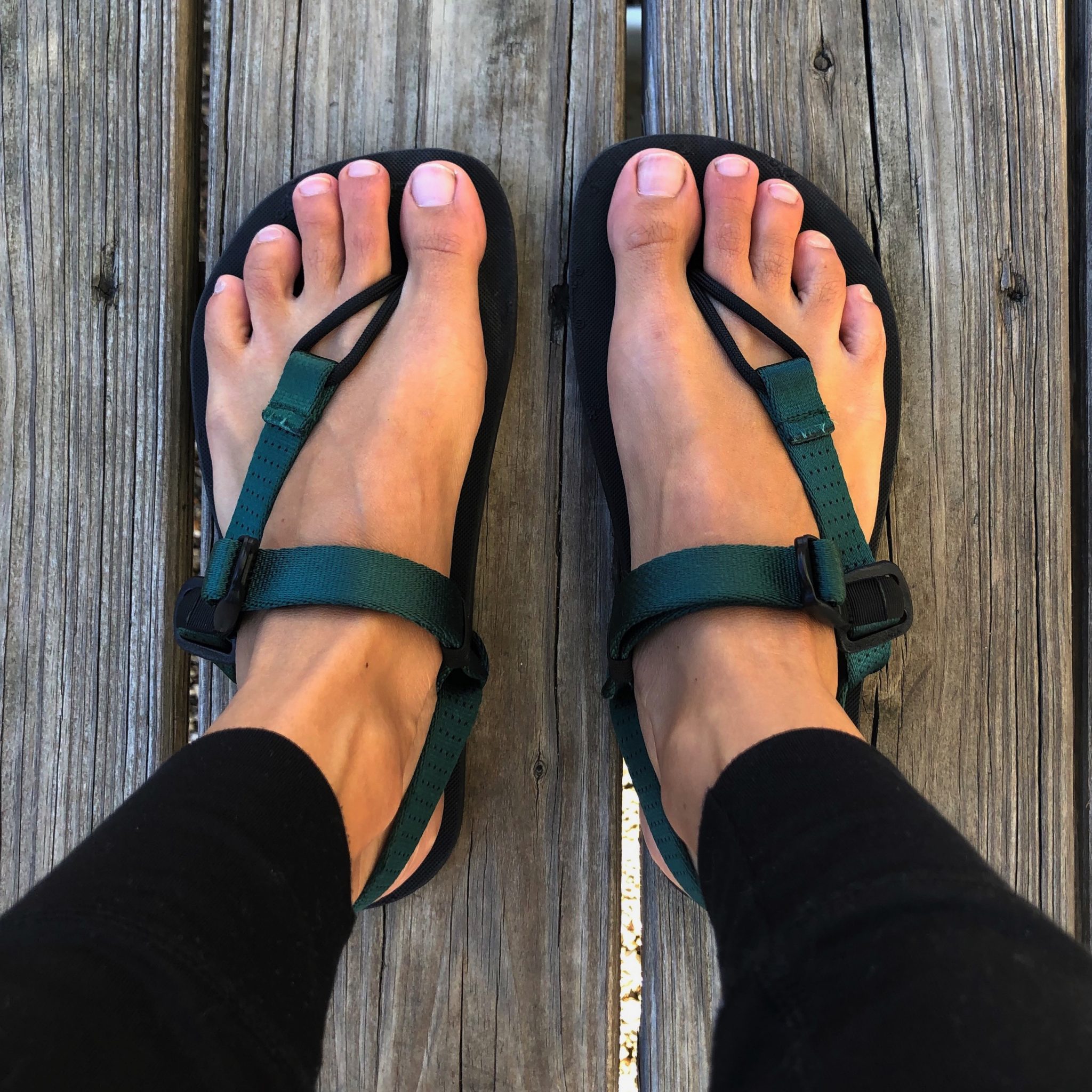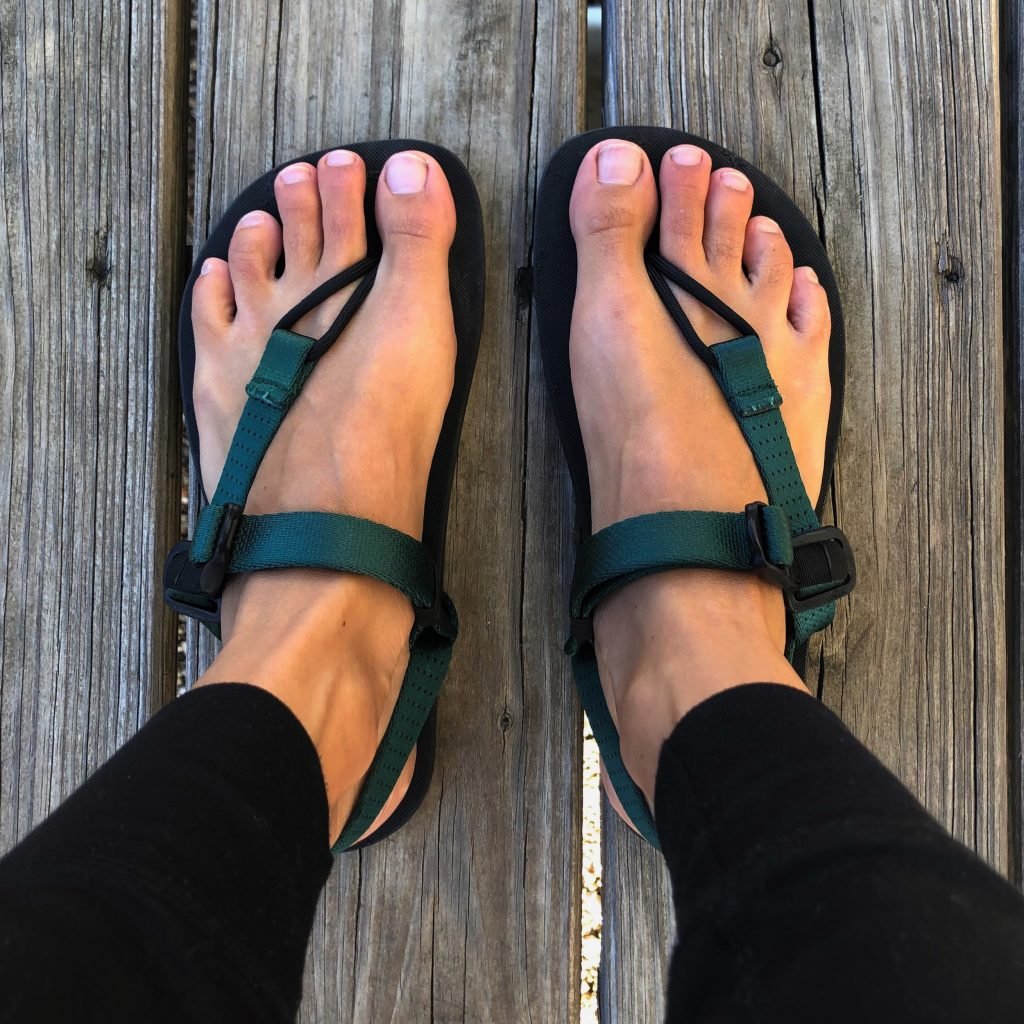 On the website there are 2 strap styles and 2 sole types, as well as a number of color options for both. But Adam advised me he can do even more customizing than what is shown.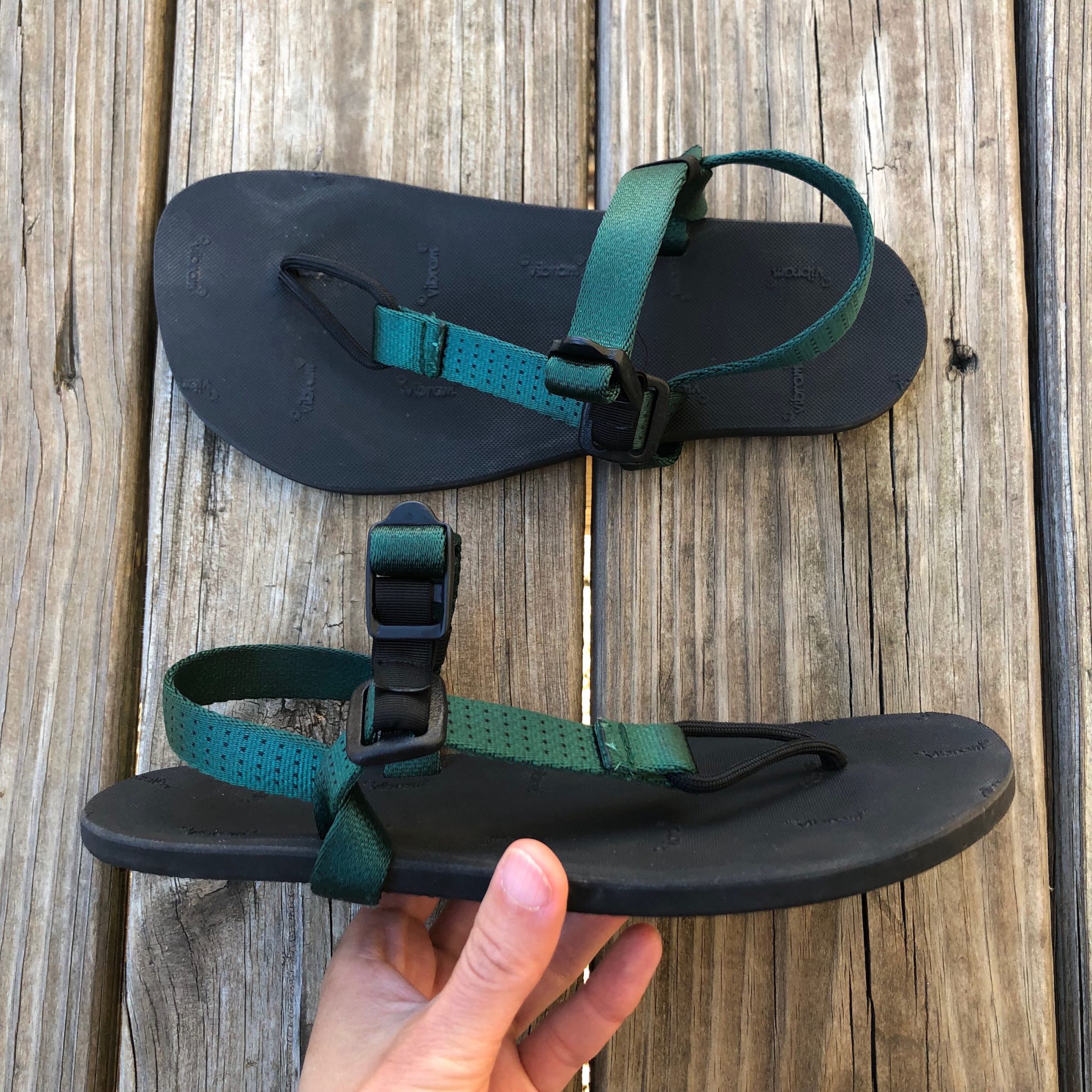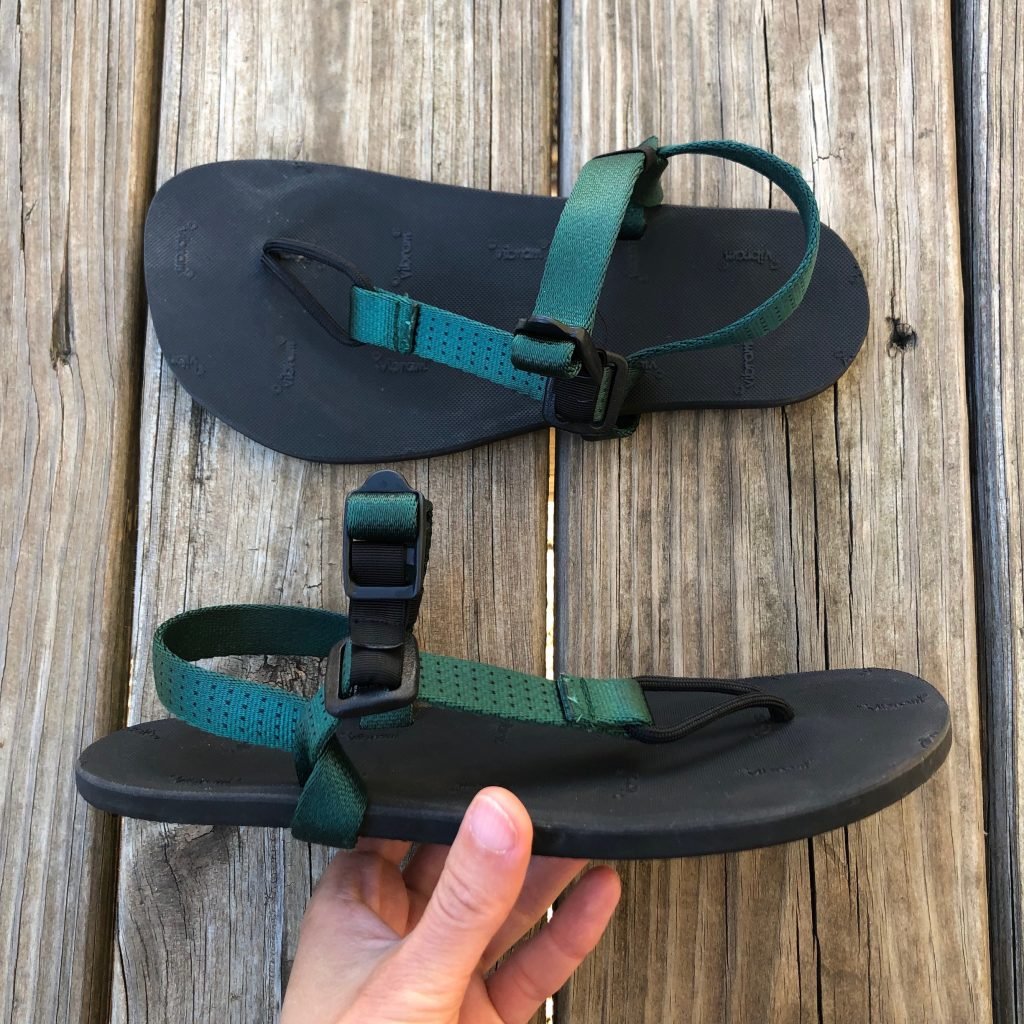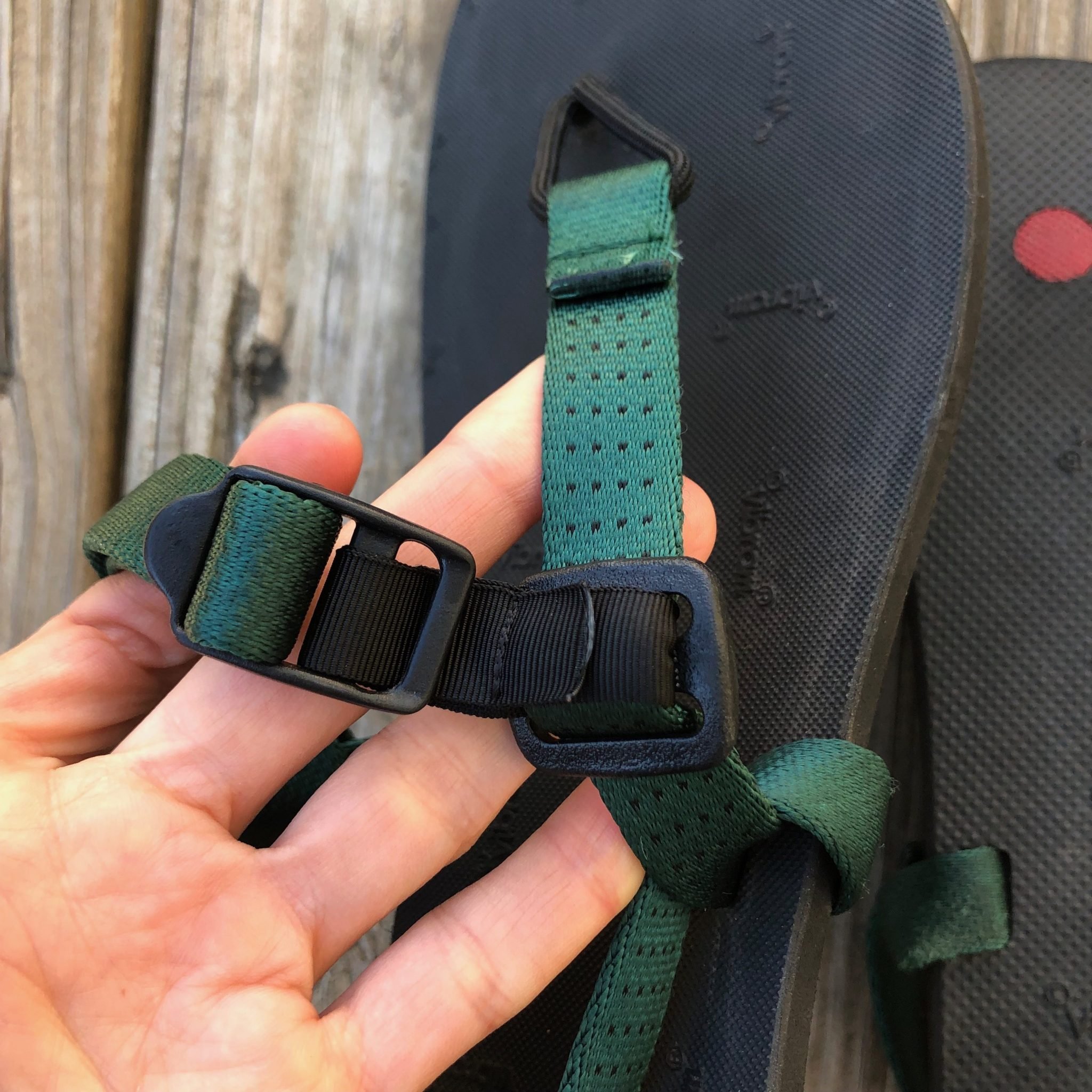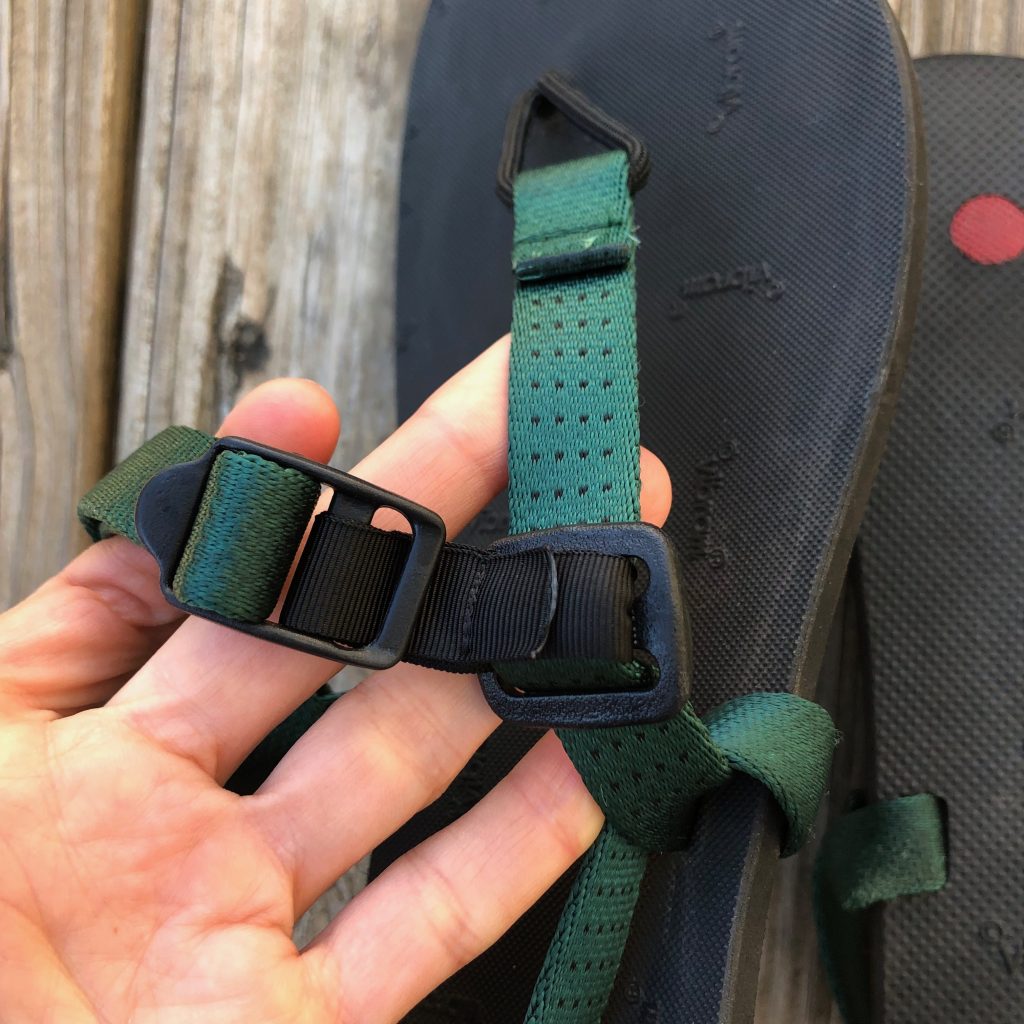 This buckle can be moved anywhere along the toe post strap and will stay put. I was concerned this would press into my foot, but it actually does not. Once I found the right place for it I have not fiddled with it at all.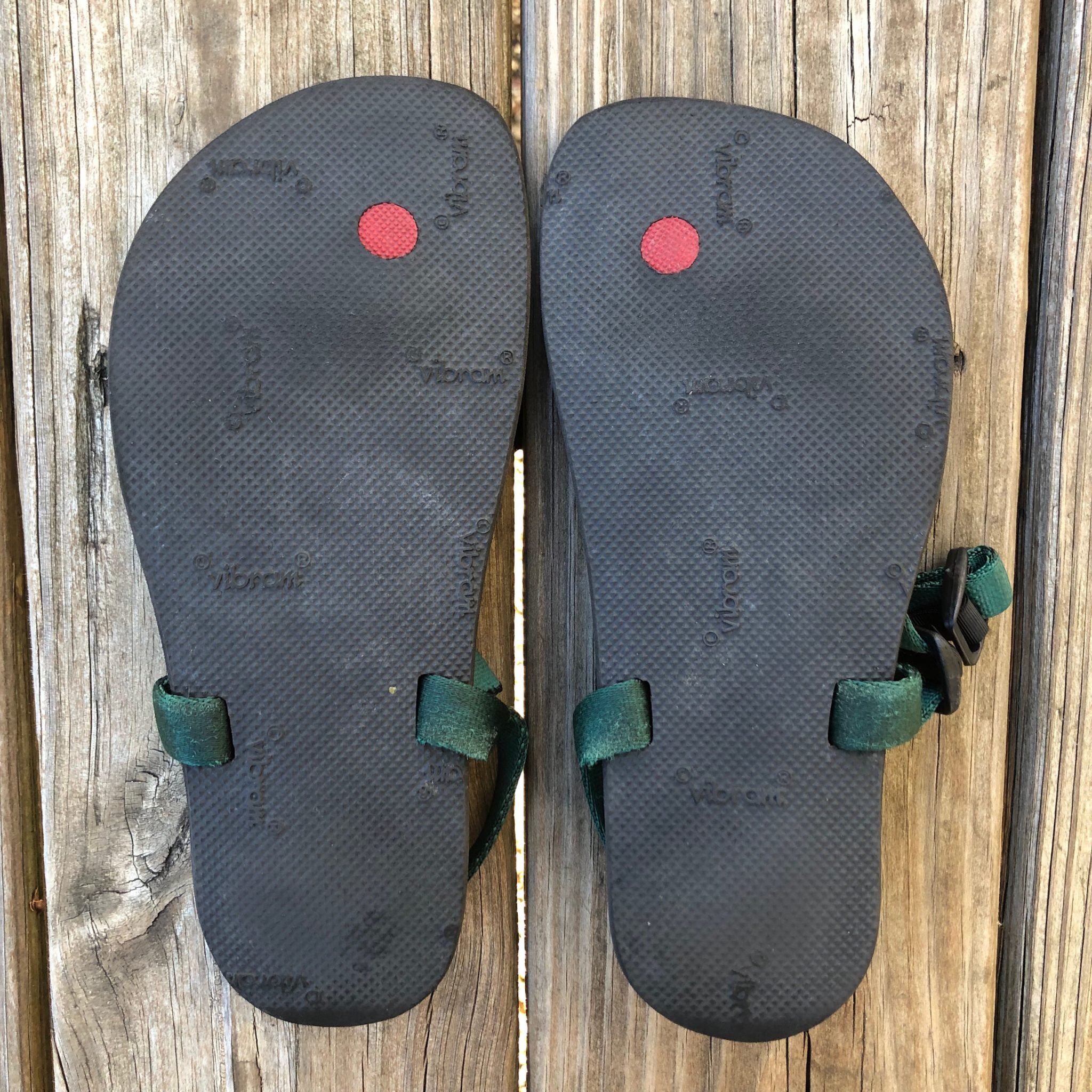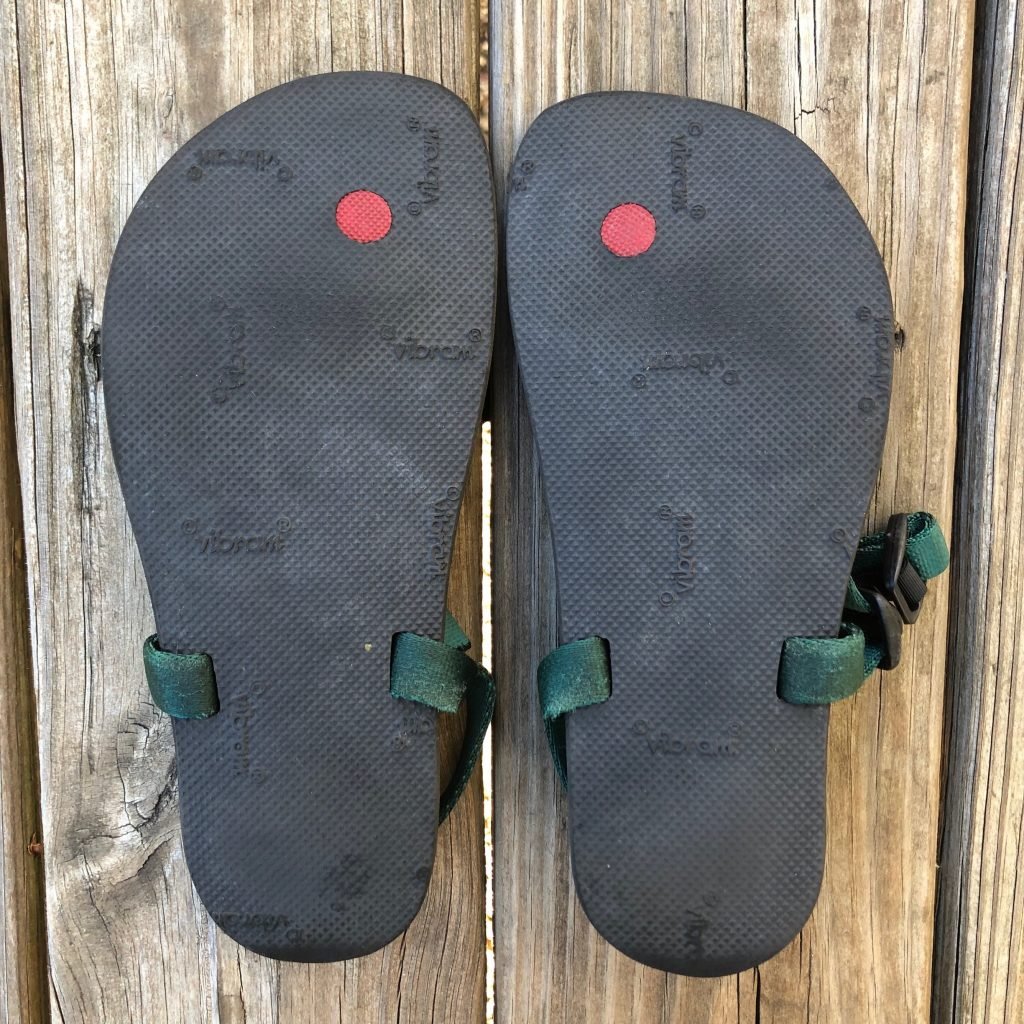 The sandals have an infinite tightening system (it's one long strap looped through the shoe), which can take a while to get right but in theory can fit any foot shape. Here is a guide for how to adjust this type of a system, but basically if you need to tighten, start at the toe post strap and work your way down from there. If they're too tight somewhere you go the opposite direction. It can take some fiddling, especially if you've never worn this type of sandal before, but stick with it. There's a reason a lot of minimalist sandals use this system.
Minimalist Features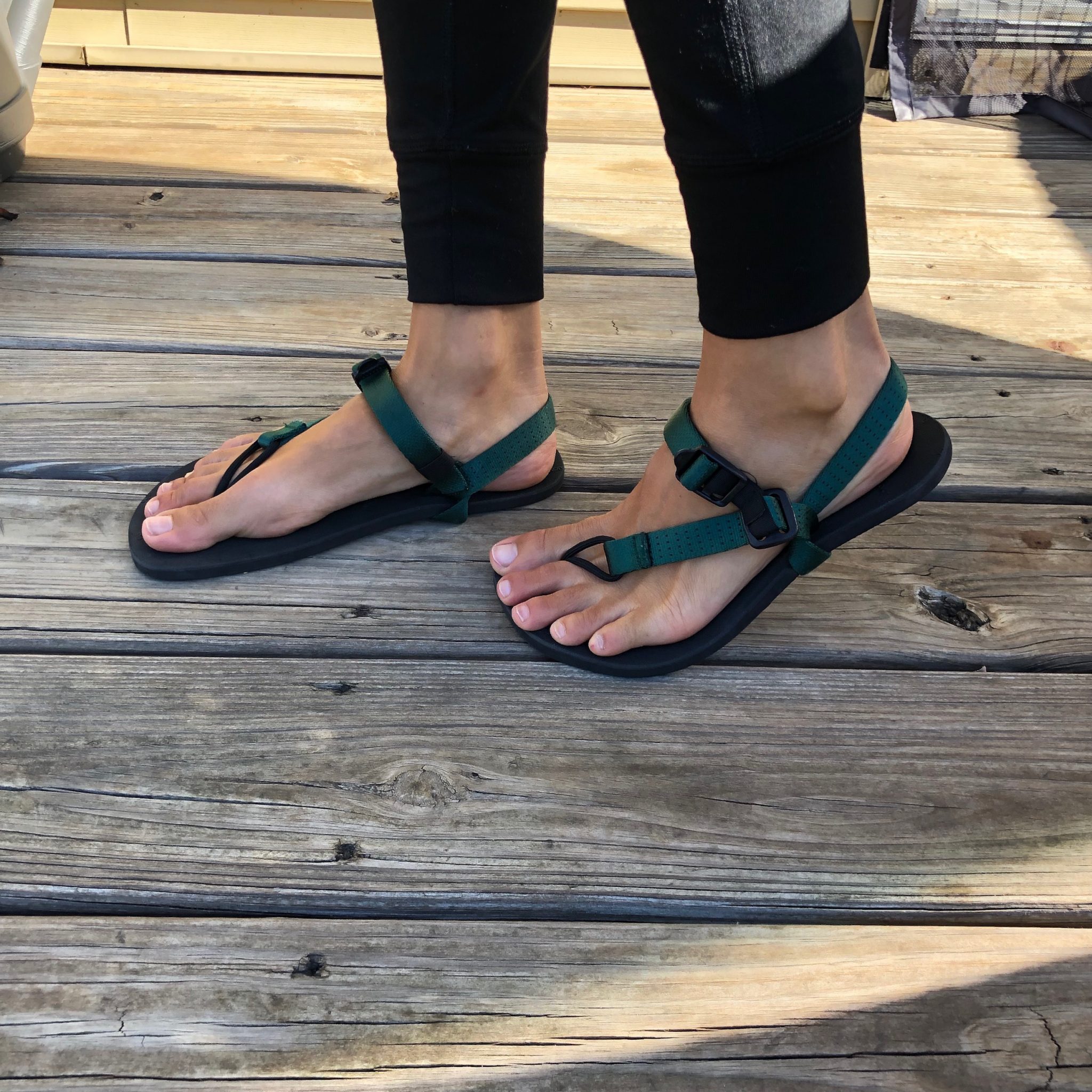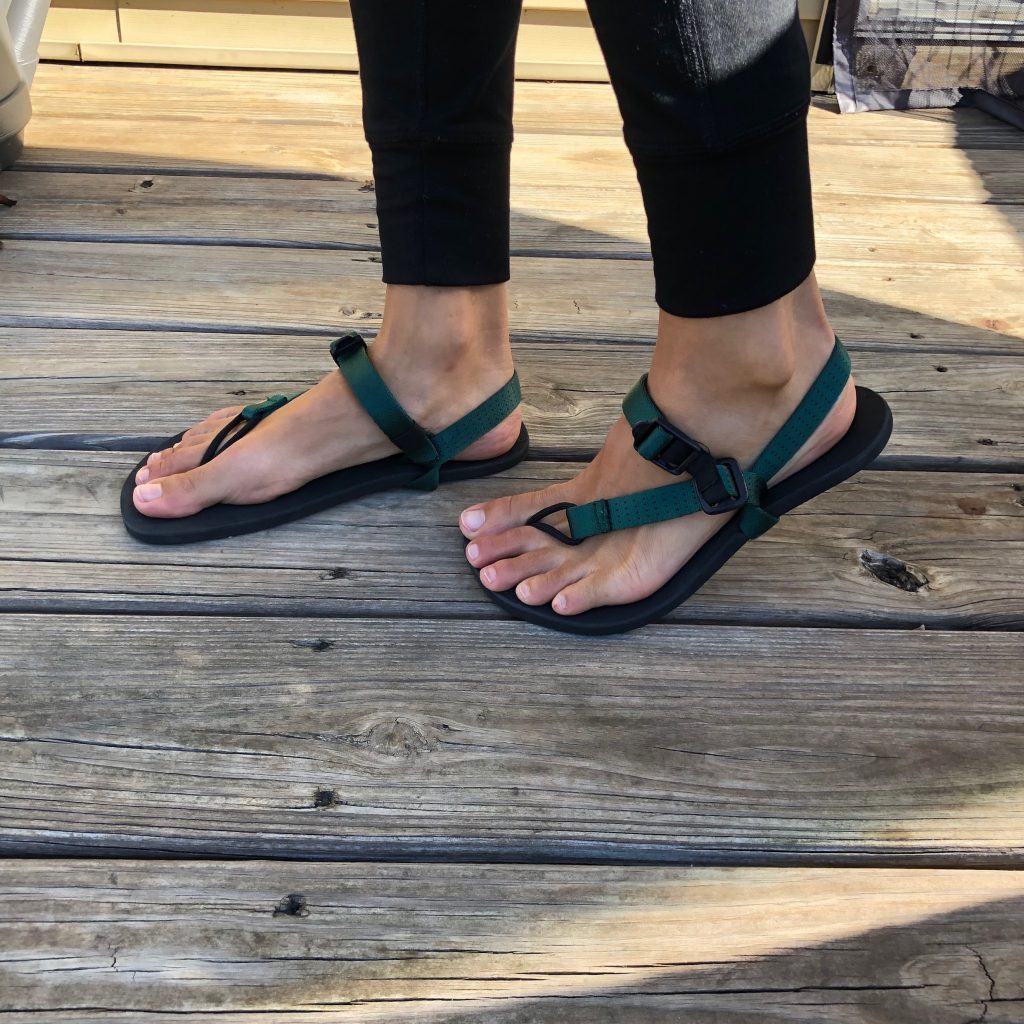 Because of the strapping, there's no pressure on any toes and the custom cut sole is made to fit your particular foot shape, so this is a shoe that can work for any type of feet.
I chose the nylon webbing and road sole option. The straps are sturdy and definitely secure, but don't rub painfully or give blisters. I like that they go on easily and feel smooth against my skin.
I appreciate the thinner toe post (not stretchy), since sometimes a thick post between my toes bothers me. The sole is a firmer Vibram sole (9mm total) without a ton of ground feel, but it feels good to walk in and moves with your foot. If you wanted a particularly thin sole you could work with Adam on something.
In terms of minimalist qualities, these shoes are solid. They will last a long time and are pretty dang comfortable. They can get dirty and wet without a problem, and are a easier to clean than Earth Runners. For that reason alone I've been choosing these DLD sandals for hiking and adventuring over my ERs. Also, the thicker strap between my toes on the ERs sometimes gets to me (love my ERs, just use them at different times).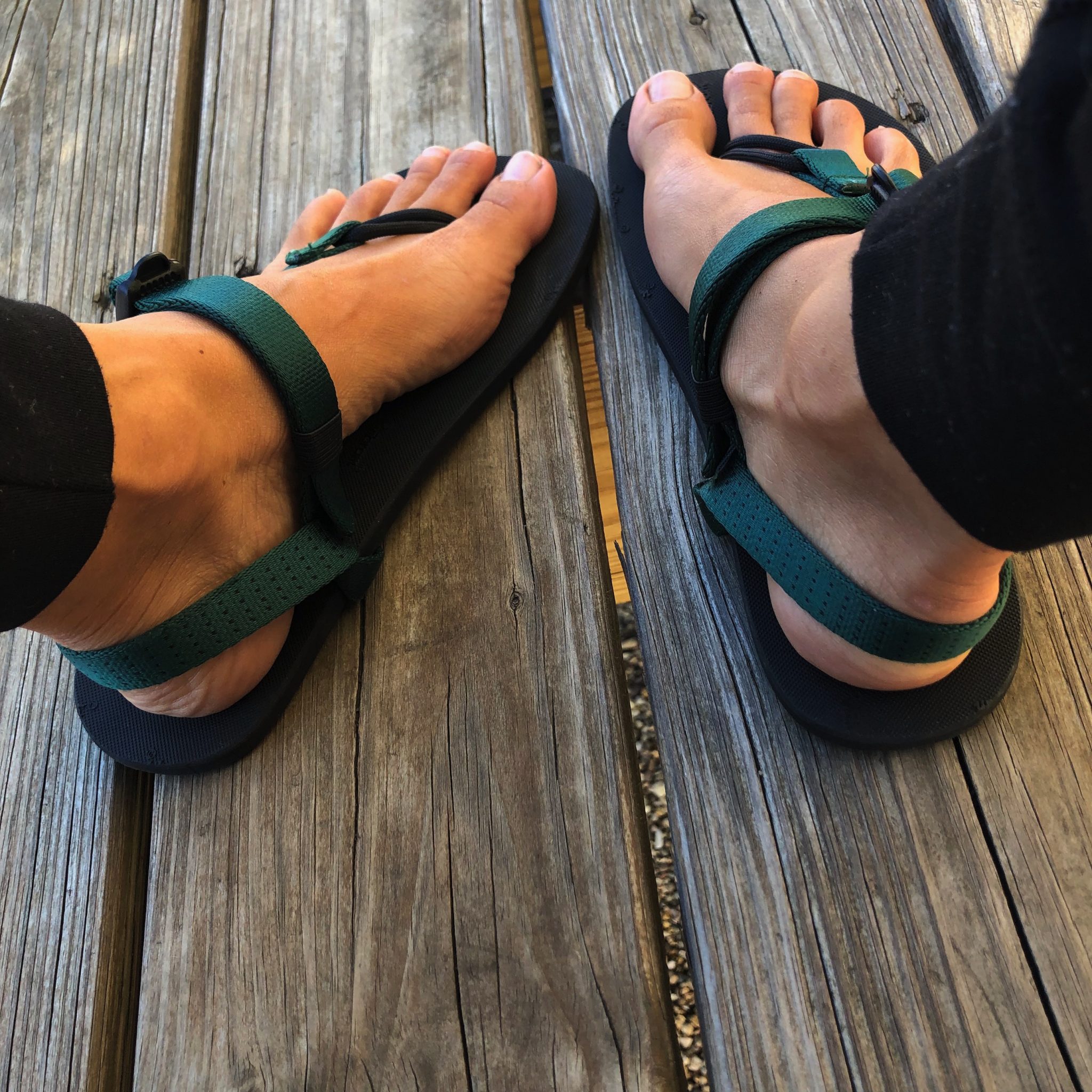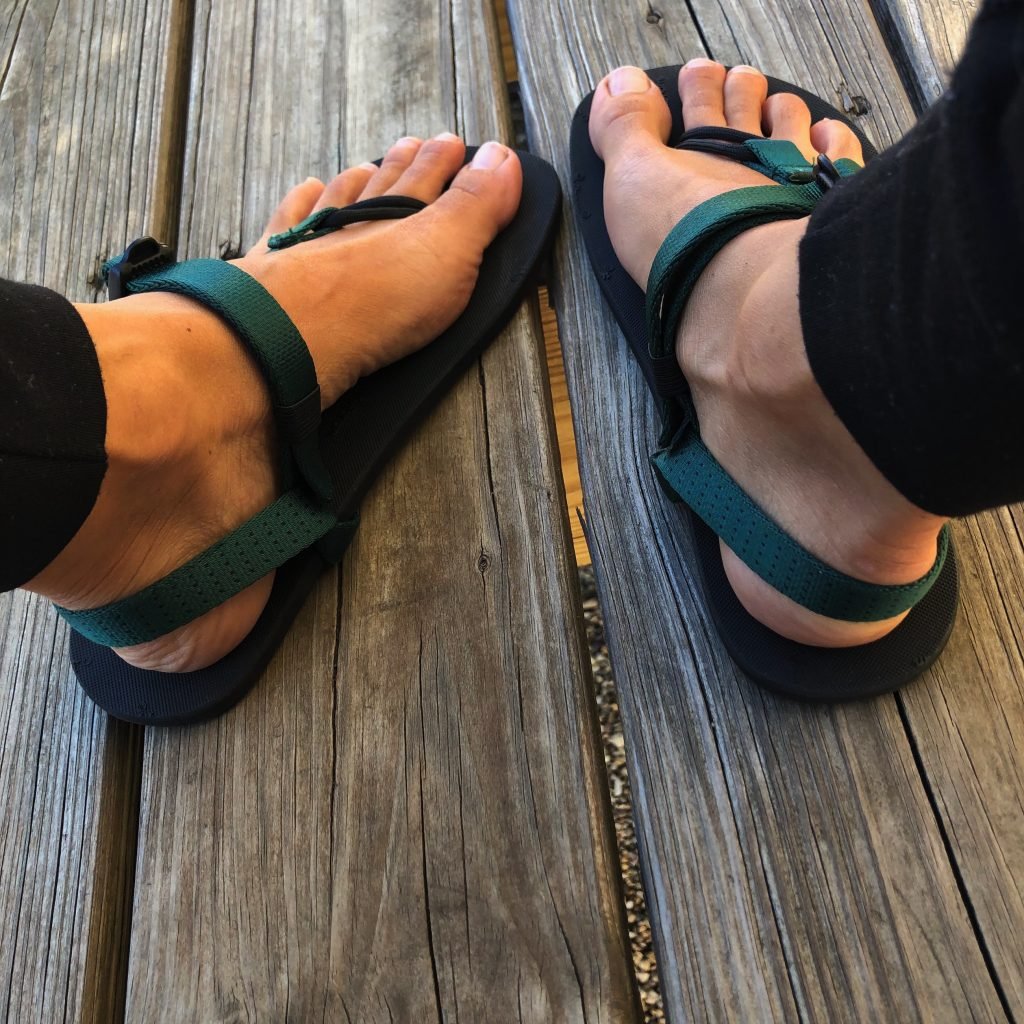 In terms of security, I feel like I have to keep them just a touch loose for my comfort, so my foot slides a bit when I'm off roading. I have really low volume feet, and this seems to happen no matter what sandal I try. I've been loving huarache sandals lately for the toe freedom, but I always seem to slide into the post if I'm bouldering/climbing/etc. This is true across all brands.
I also have noticed a few times that the strap seemed to loosen. This hasn't happened consistently, and might have been part of the breaking in process, but I have had to readjust my sandals several times over the last few months.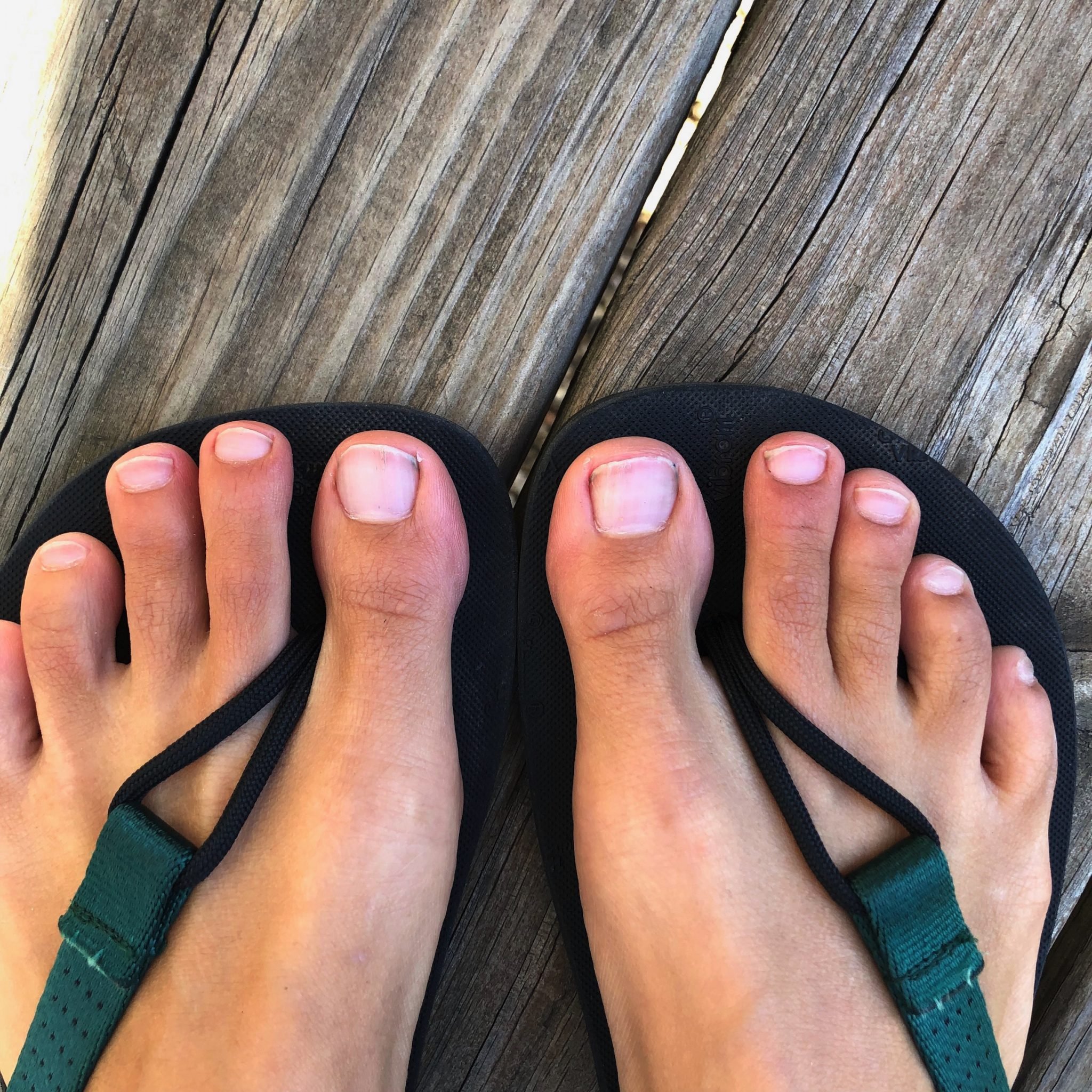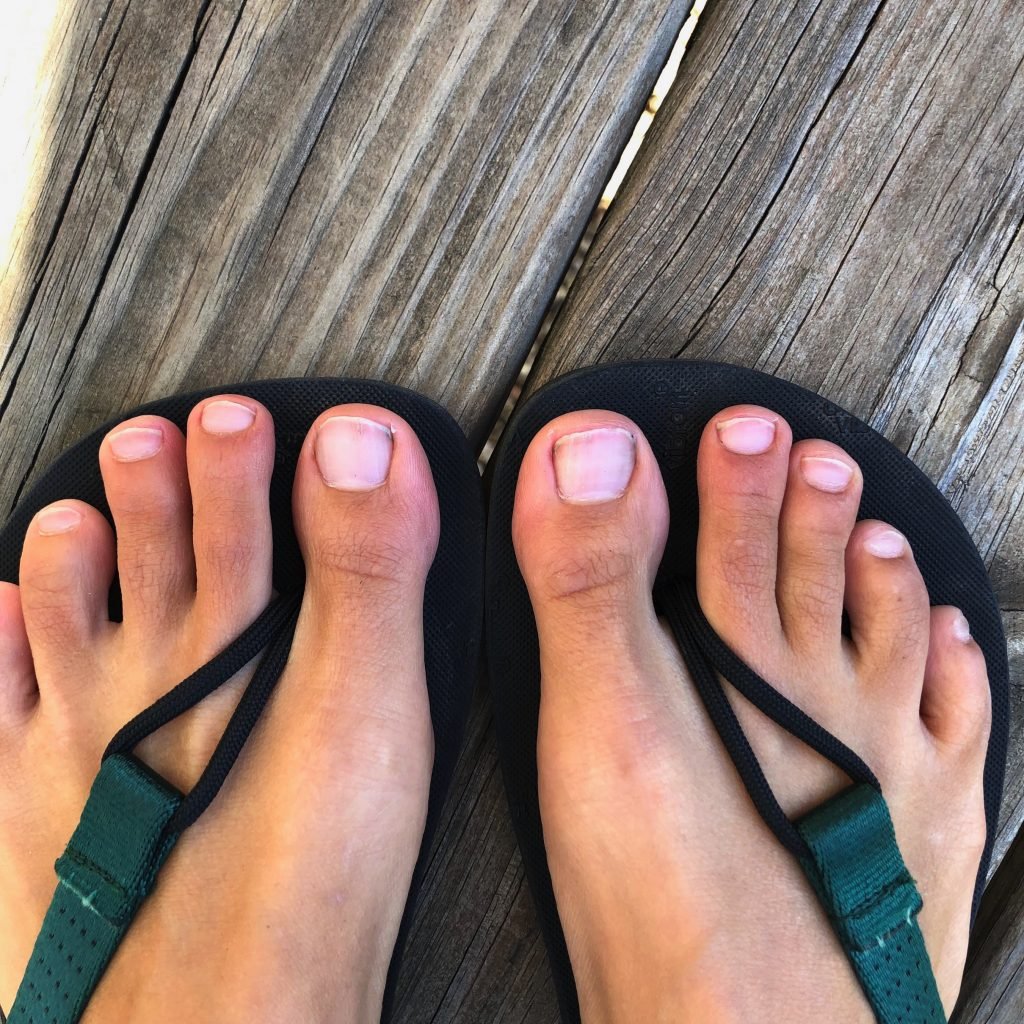 One minor gripe I have about the soles is that you can tell they're not completely even, due to their handmade nature. They are made to fit each foot individually (you send a tracing of each foot) so it's partly a reflection of the differences between my feet. But there seems to be a little more discrepancy than just that. It's minor, and no one but me would notice, but it occasionally catches my eye.
The Ordering Process
I chose the Nylon Webbing/Road Sole option because that one is supposed to be more secure to the foot aaand the color options are more fun. Some of the nylon straps you choose from have been used for climbing and are retired, others were never used for climbing but would have been discarded by the factory. It's not currently specified which is which on the website, so if you have a preference you'll want to reach out to Adam. The color I chose (#15) was never used for climbing, and you can tell by the stiffness of the straps that they are new.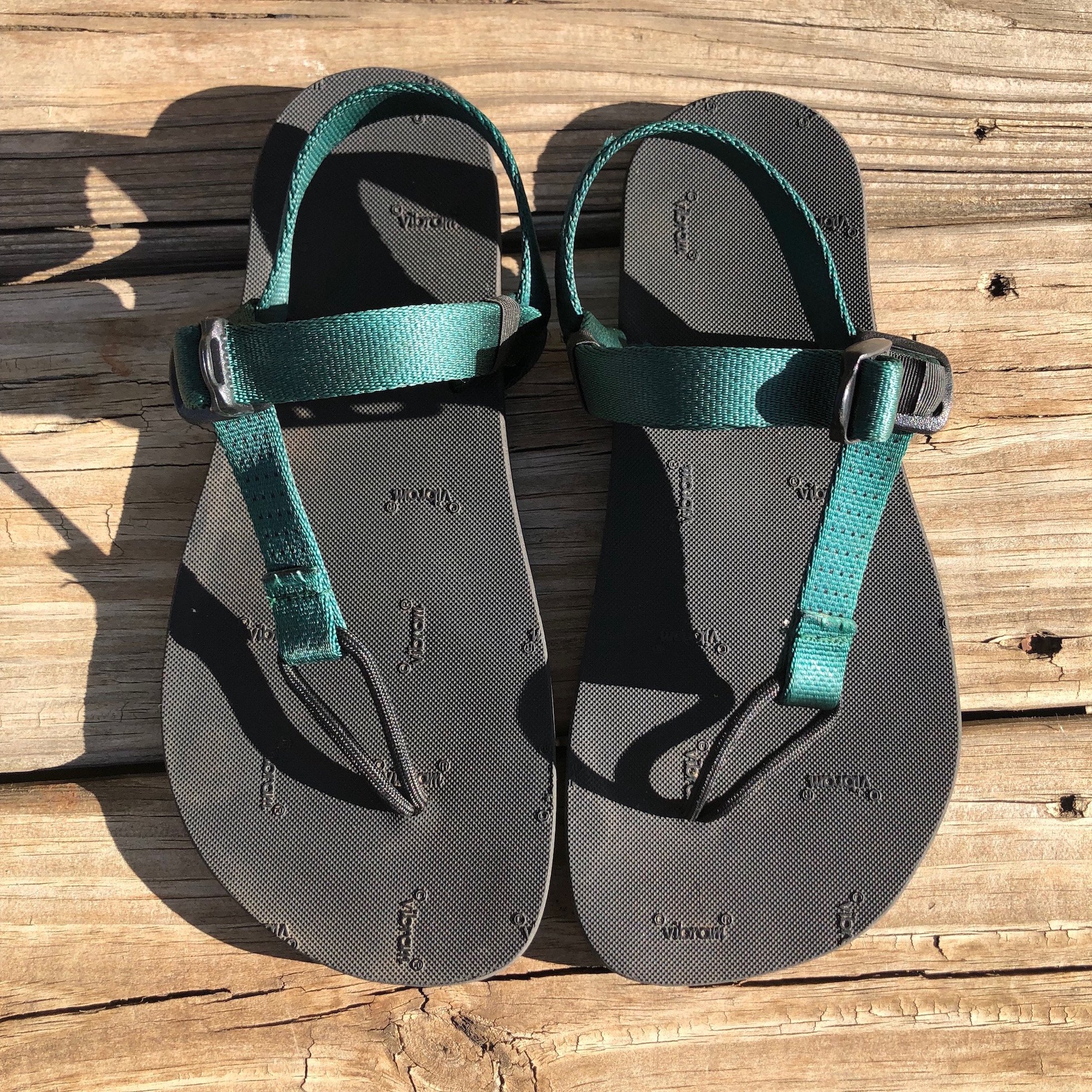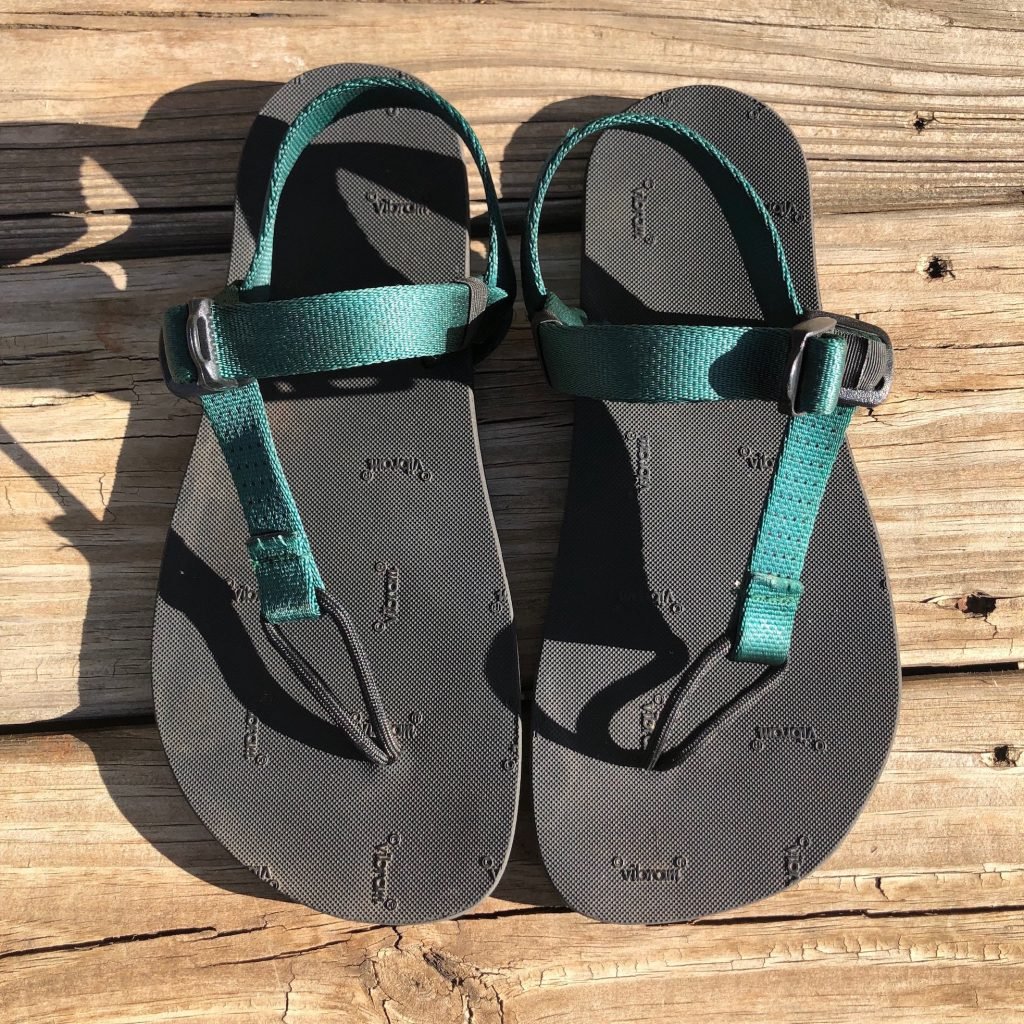 After discussing the two sole options with Adam, I went with the Road Sole. There are a dizzying amount of choices to make as you go through the ordering process (what kind of straps, which color straps, one or two strap colors, road or trail sole, black brown or tan sole , footbed options, etc….). I felt slightly overwhelmed when I went to pick one. If that's you too, I'd recommend picking a strap color first and then a sole type and leaving it at that. If you feel like getting creative with different sole colors or two different strap colors and what not, Adam is there to help with the process.
The Nitty Gritty
Sandals range from $69-$99 + $8 shipping within the US ($20 to Canada, $25 to UK). Because these are custom there are no returns, but there is a 1 year warranty on purchases.
Once you've made those decisions and checkout on the website you will need to send a hard copy of your foot tracings. He has instructions for how to measure and will let you know where to send the tracings. Because he's mobile, that address can change, so be sure to get the current one from him. After that, your part is done! I received mine pretty quickly, but again because he's on the move there will be some variability and I can't say exactly how long it takes him to ship.
Conclusion
For a newbie, this can be an intimidating process. But for people who know what they're looking for, this is an incredible opportunity to get exactly the barefoot sandal you want. For the quality and minimalist features you're getting, Deliberate Life Designs Sandals are 100% on par with the bigger barefoot brands out there. Throw in the customization and you're getting something that's hard to find elsewhere, at a competitive price to boot. I look forward to getting years of use out of mine!