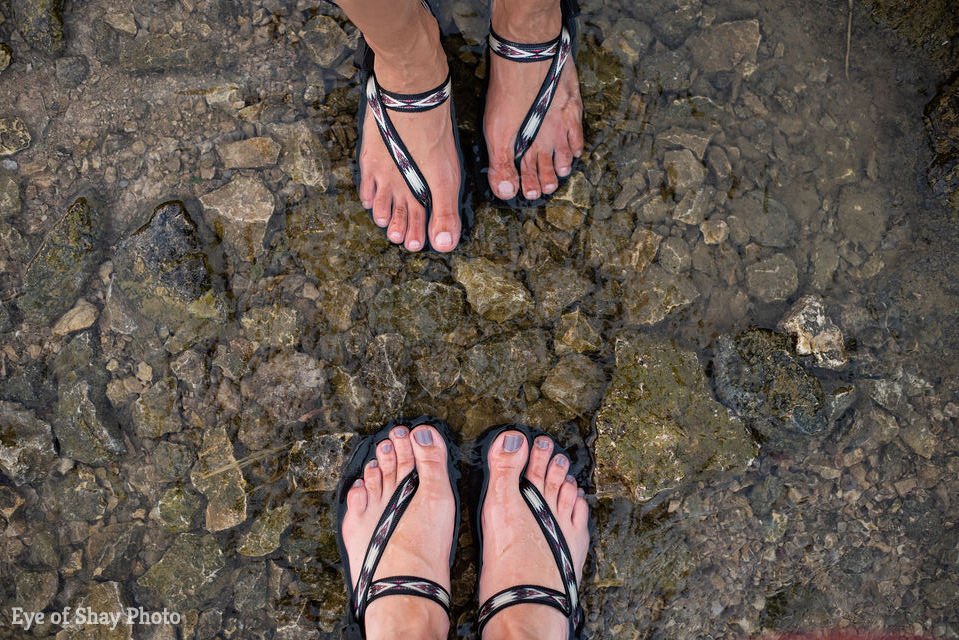 Earth Runners | Vegan | $75 | Made in USA
*Get 10% off any Earth Runners purchase with code ANYA10
Earth Runners makes minimalist sandals out of vegan materials. They are Flexible, Secure, Waterproof, and one of my all time favorite sandals. Read on for my full review of Earth Runners sandals.
Earth Runners
I've tested and reviewed MANY different minimalist sandals over the years, but the ones I reach for over and over are my simple Earth Runners. All Earth Runners sandals are vegan and handmade with one strapping style, but different sole thicknesses and color options. They stand out from the crowd because they look like a cute pair of sandals, but function well enough for hiking, rafting, and traveling.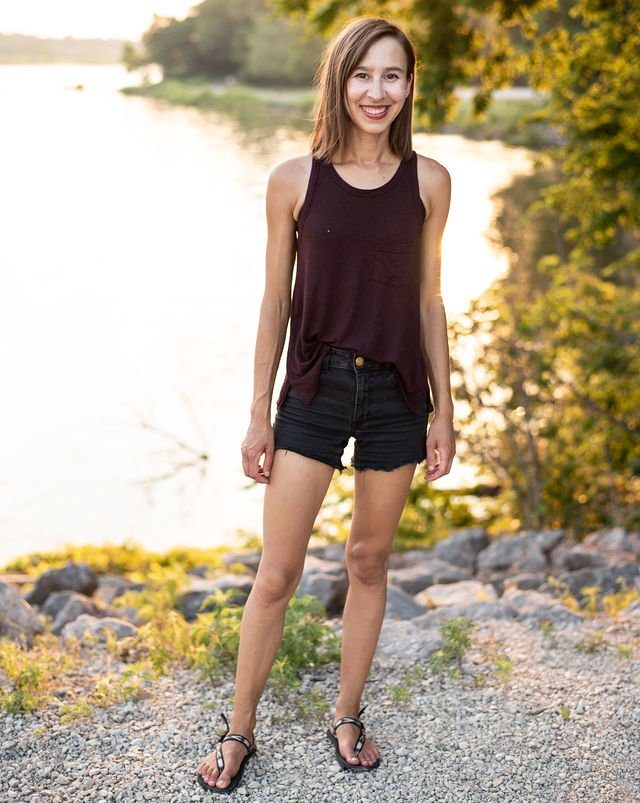 Materials
Sole
All Earth Runners sandals are made with Vibram soles and are fine to get wet and dirty (which I love about them). The Primal Lifestyle sandals (8 mm sole) are ultra flexible and minimal and made with a single layer of Vibram. This makes them very easy to keep clean, but they are slightly more slippery than the other options. They are the best choice if you're looking for a real barefoot feel. I wear my Primal Lifestyles for every day walking and whenever I expect to get dirty.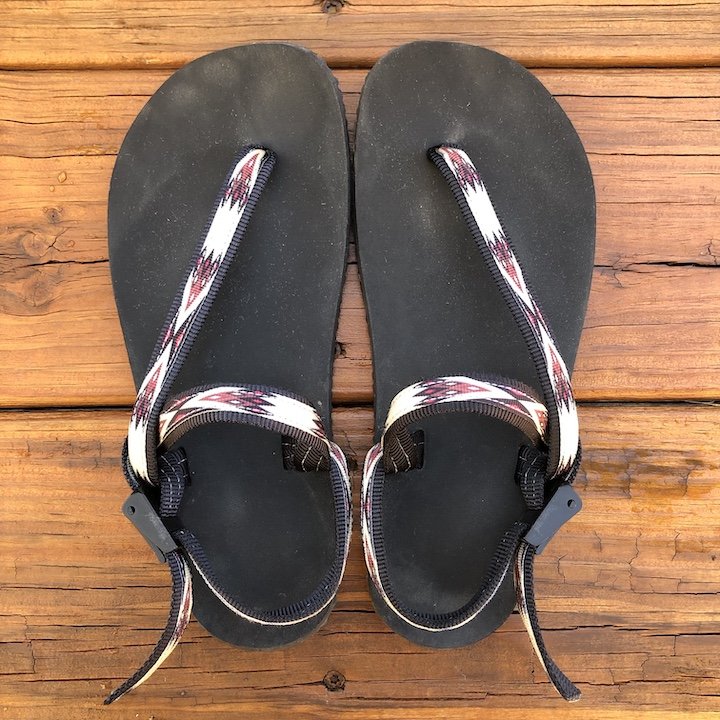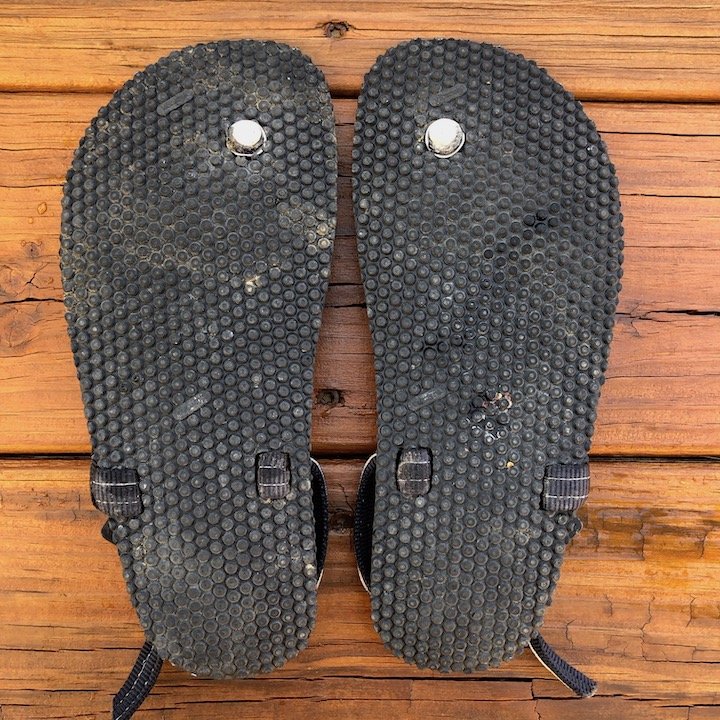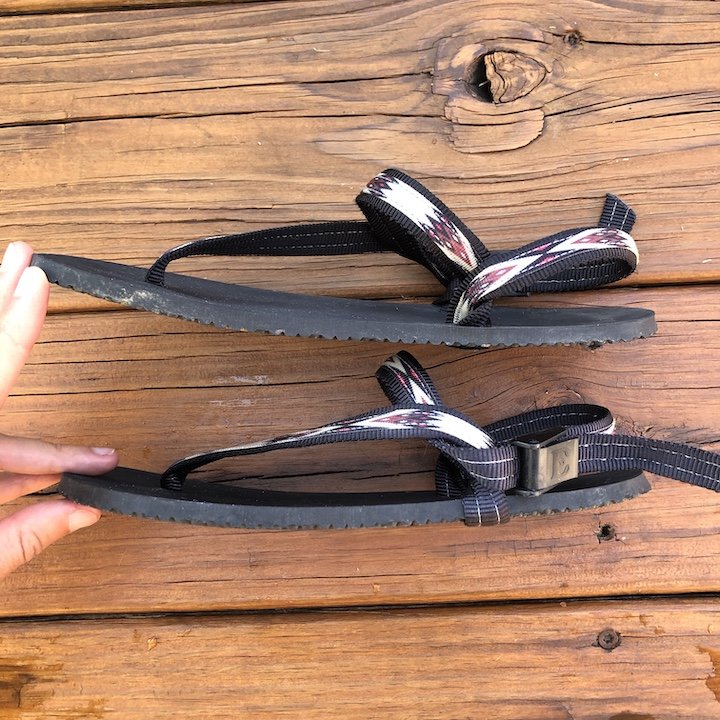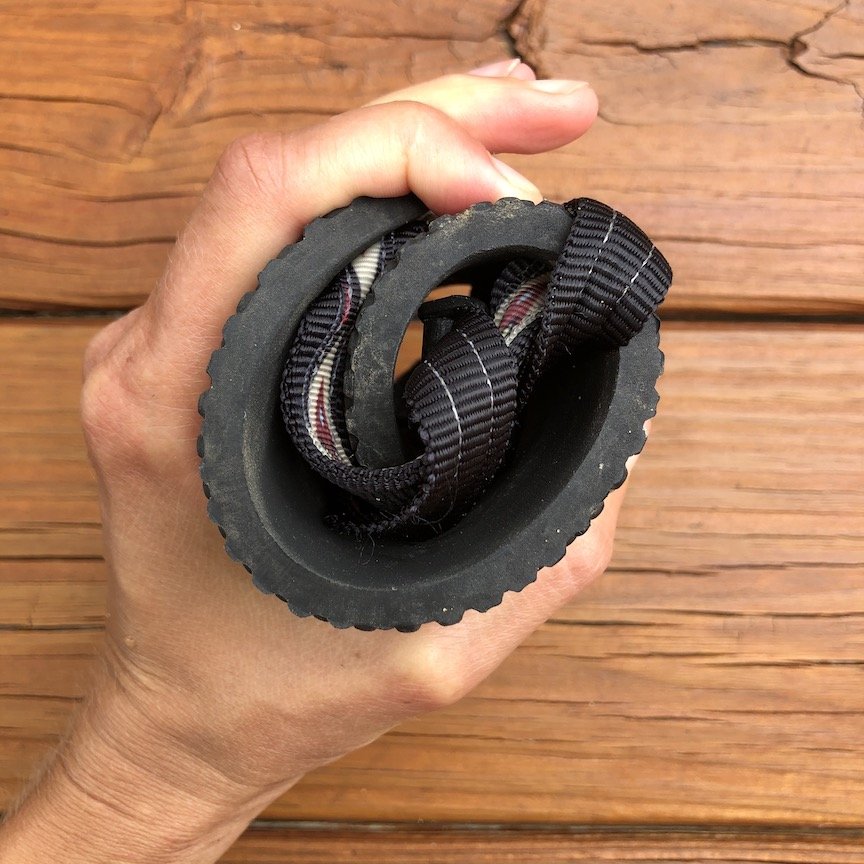 Earth Runners Elemental top view
Earth Runners Primal Lifestyle
Earth Runners Elemental soles bottom view
Earth Runners Elemental side view
Earth Runners Elemental tribal strap rolled up
The Chronos (9 mm) and Alpha (12 mm) are both made with a cotton footbed on top of the Vibram outsole. This makes them very secure with no chance of slipping even in wet conditions. The downside to it is that it's harder to keep clean and they need to air dry. When mine get dirty I have to actually scrub them with a brush (like this one) to freshen them up. Some people also find the texture of the cotton rough on their feet, but I have never had an issue with it.
The thickest sole on the Alpha is great for intense hiking or long walks on hard ground, but it's less flexible than the others. I prefer my Alpha's for an uphill hike in the mountains otherwise I like my Primal Lifestyle sandals better.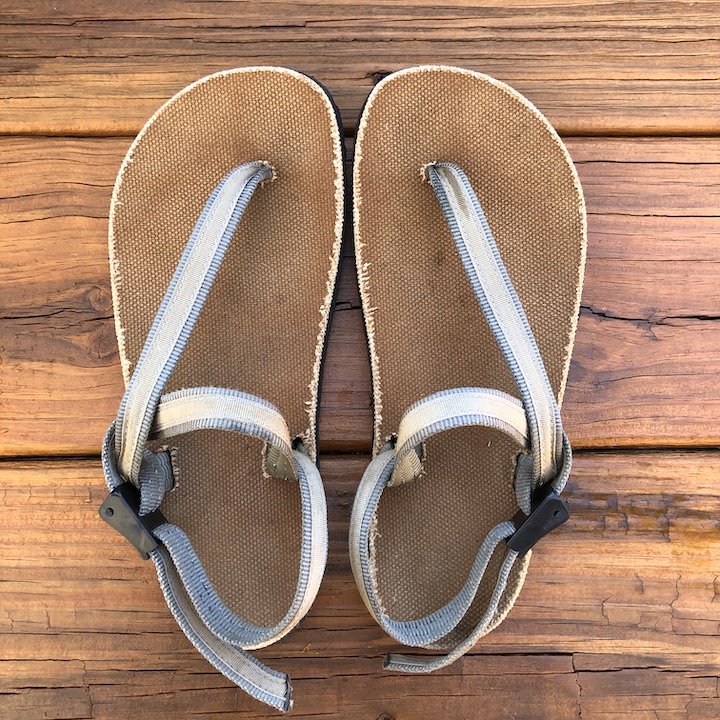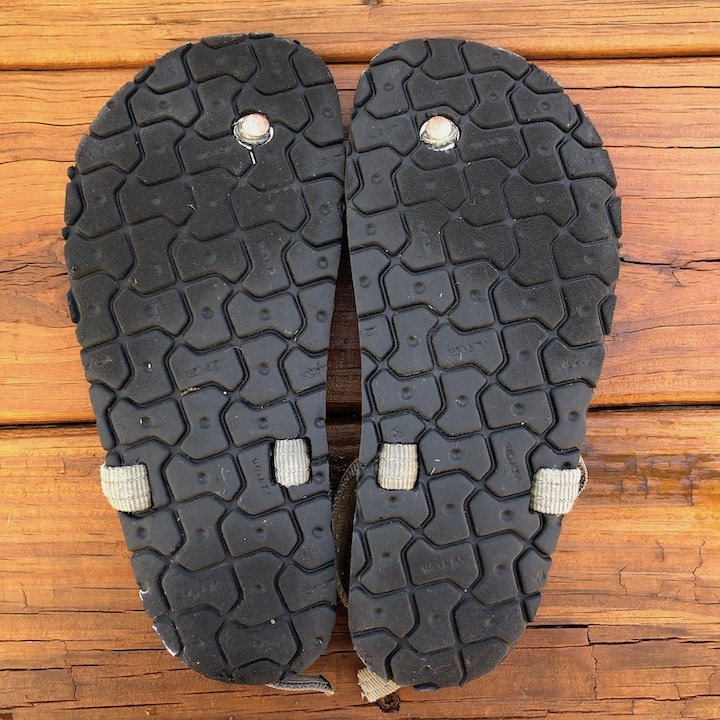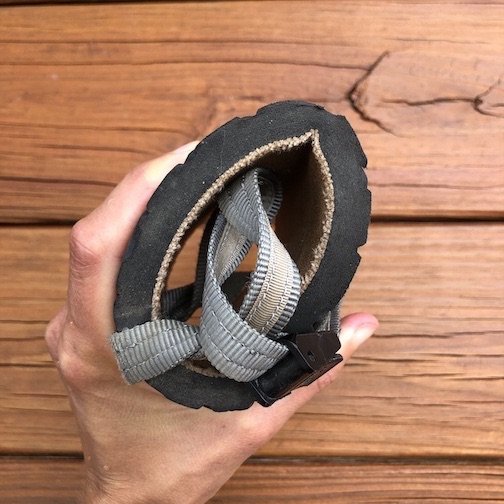 Earth Runners Elemental top view
Earth Runners Elemental soles bottom view
Earth Runners Elemental side view
Earth Runners Elemental tribal strap rolled up
Want to see these Earth Runners in action? See this video at the end of the post.
Strap
You have the option of either a Lifestyle strap or an Adventure strap, with a few different color options for each. They describe the Adventure strap to be a little less comfortable than the Lifestyle but more secure for high adventure activities.
I opted for the regular Lifestyle strap in both of my sandals because I find them to be plenty secure for all my adventures and I really can't imagine enjoying anything less comfortable. In addition to the standard Lifestyle straps, Earth Runners released a new ergonomic lace this summer (2022) that is even softer and stretchier. The ergonomic laces can be found on the Lifestyle sandal listings and are the following colors: Carbon, Cloud, and Canyon Clay.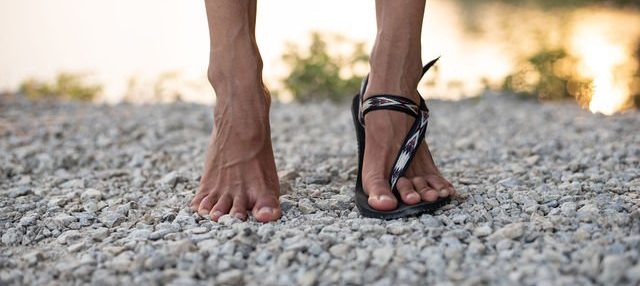 I find the other Lifestyle straps to be rough at the beginning (and this is the most common complaint with Earth Runners). So the new ergonomic option is wonderful for anyone with sensitive skin.
The first time I wore my regular Lifestyle Earth Runners after a long winter I got blisters! But after toughening up my skin and getting the sandals wet a few times my feet do fine. So if you also have sensitive skin I would stay away from the Adventure straps, plan for a break-in period, or choose a color from the ergonomic laces.
Both the Lifestyle and the Adventure straps are conductive so you get a grounding effect while wearing them. For more details on the technology of Earth Runners check out this page!
Durability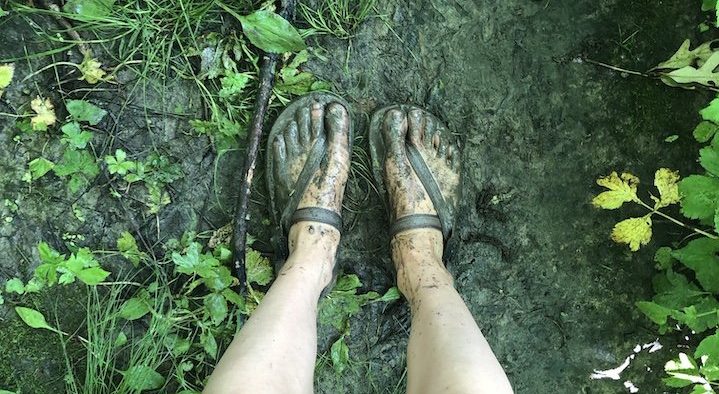 The durability of Earth Runners is another huge selling point. My first pair of Alphas is a year and a half old and you can hardly tell. They have been my sandal of choice for two summers and the straps and sole are still in tip top shape! The cotton footbed does fray a little bit at the edges, but you can see that even after lots of wear (and cleaning sessions in the shower) it looks uniform and in good condition.
I don't often hear about Earth Runners falling apart, but if yours break down prematurely they have a lifetime warranty on straps. If they need to be replaced because of normal wear and tear you can also easily buy new laces and re-lace them yourself.
Here you can see the strap on my Alphas (right) compared to my newer pair (left). They look practically the same! There's a little wear evident on the outsole and the portion of the strap that sits underneath the shoe in the Alpha's.
Fit
The strapping system that Earth Runners uses is infinite, meaning it's one continuous strap that can be adjusted in every direction. This means you get a completely custom fit that can accommodate just about every type of foot, which is rare in sandals.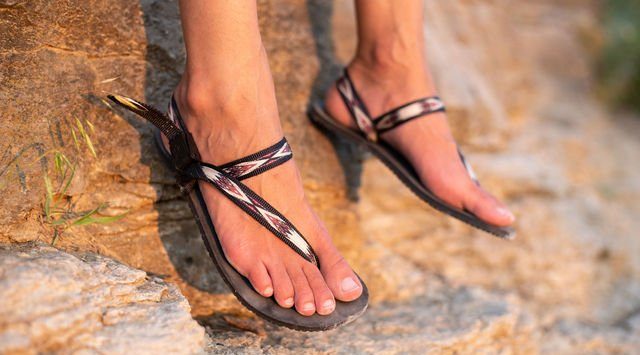 You do have to adjust them off your foot and it can take a lot of fiddling to get it just right. But for me this is 100% worth it. As someone with really skinny, shallow feet it's difficult to get a sandal that doesn't slip, and I am willing to put in a little extra effort to get that. I spent a few weeks toying with my first pair, and then haven't hardly touched the straps since (over a year ago). When I got my second pair I was able to get them right where I wanted almost immediately!
Once the thong and heel strap are in place you can easily use the buckle to make minor adjustments depending on the current size of your feet (because they swell and change throughout the day).
The strapping on Earth Runners really is a unique find. Many brands require a lot of straps and buckles to be secure on a wide variety of feet, but with Earth Runners you have simplicity AND security. Whether you have high arches, low arches, or something in between, odds are good Earth Runners will fit.
For more on adjusting and trimming your straps see this page.
Concerns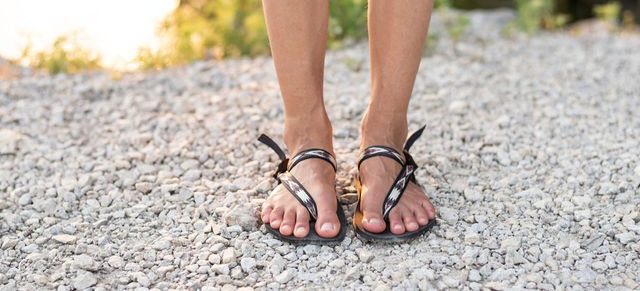 Besides the roughness of the strap, one other concern I hear from readers is that it puts pressure on the second toe joint. This can be really irritating for some people and even painful. I have found that adjusting until you hit the sweet spot is key to the thong strap being comfortable, but you can see that the strap slants over that second toe. I personally have not had an issue with this, but it's something to keep in mind if your joints are sensitive. And again, might want to choose the ergonomic laces if this is a concern for you.
Barefoot Qualities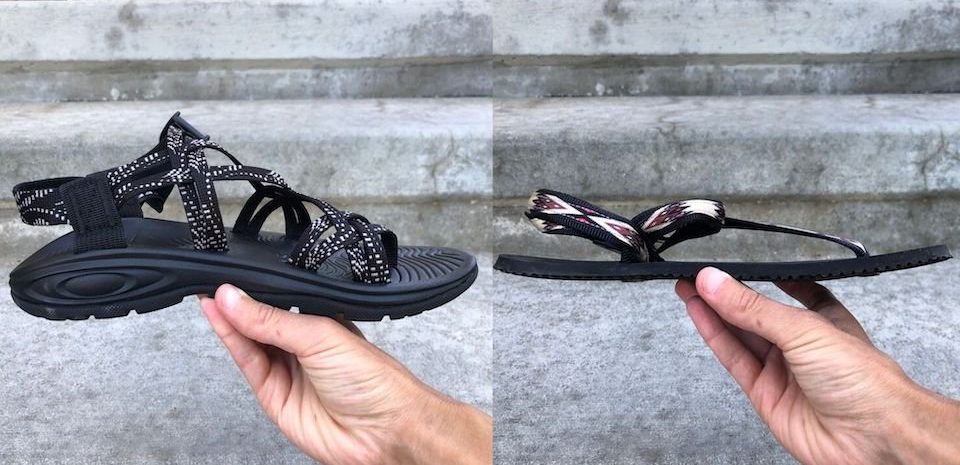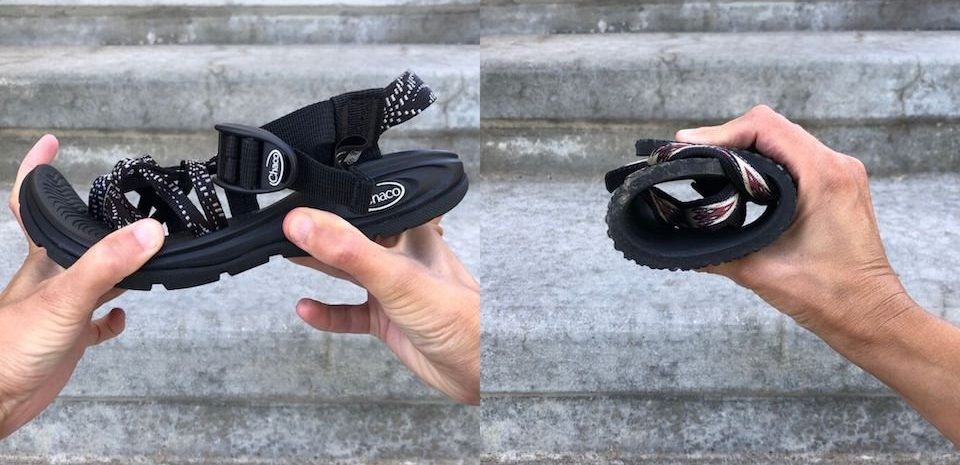 Earth Runners are barefoot sandals, which means that they don't inhibit your foot function at all. Your toes can spread, your feet can bend, and you can move like humans do. Other hiking sandals like Chacos are stiff and restrictive, which may protect you from the ground but hinders your movement. I wear nothing but minimalist shoes so that my feet can stay strong and supple, and Earth Runners meet all my requirements for healthy footwear.
Curious about barefoot shoes? Follow me on Instagram to find out more!
Sizing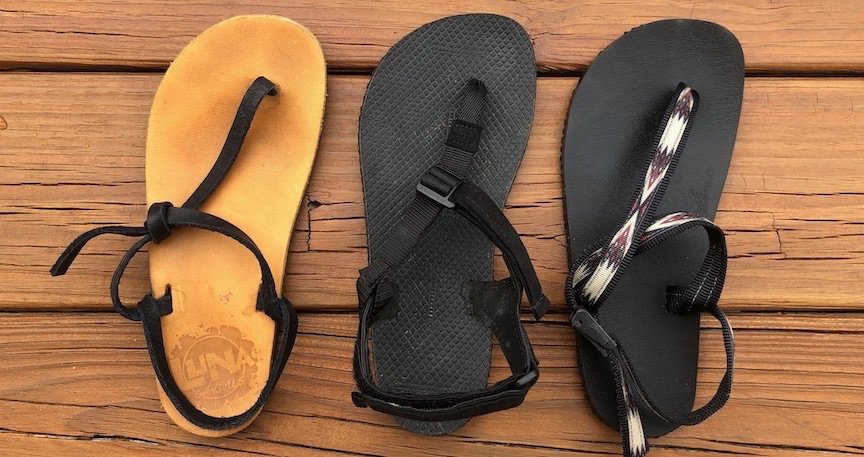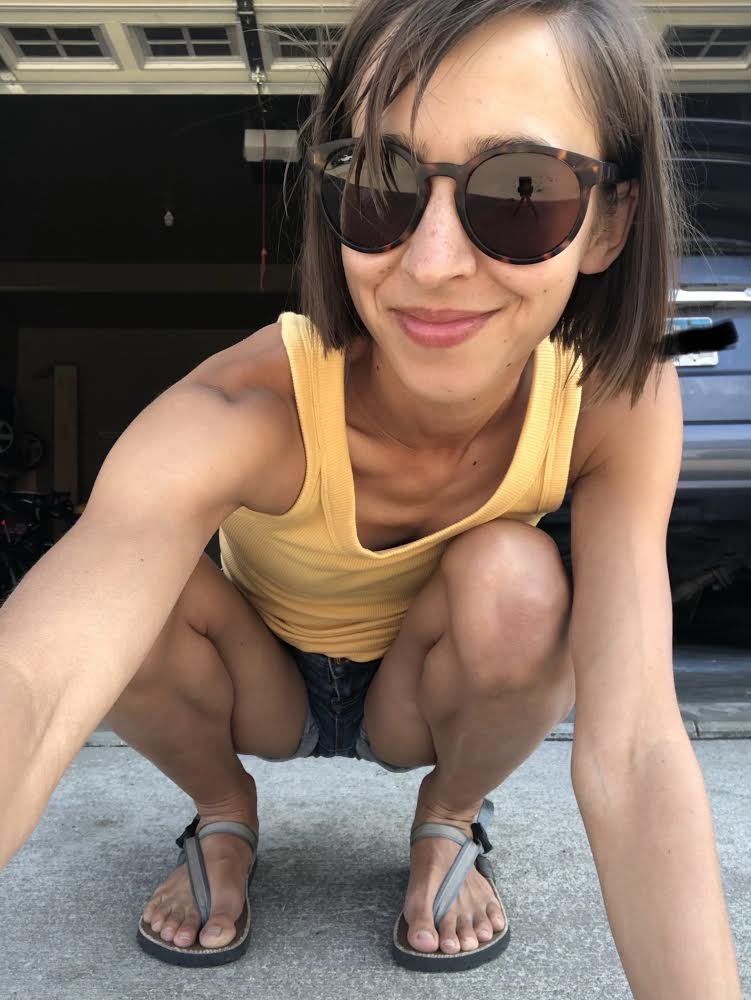 Earth Runners come in sizes for men, women, AND children. I wear my usual sandal size in Earth Runners, a women's 6. This gives me a close fit without a lot of extra space, exactly how I like them. No extra sole means less weight and nothing to drag on the ground. Use their size chart and printable templates to be sure you get a good fit. If you do need to exchange you can within 30 days but need to cover the cost of the shipping.
Style
I LOVE the look of my Earth Runners. They are simple and cute, look good on men and women, and can be dressed up. Nuff said.
Conclusion
Earth Runners are some of the best adventure sandals out there. As someone who wants to look and feel great all the time, I love something I can take hiking, kayaking, on family walks, and then out for date night. Combined with the fact that they are less than $100 (and 10% off with code ANYA10), have a lifetime warranty, and handmade in the USA there's really no way to go wrong.
Subscribe below to read all my new reviews on barefoot shoes!
Video
Special thank you to Eye of Shay Photo for capturing me in my Earth Runners for this post!