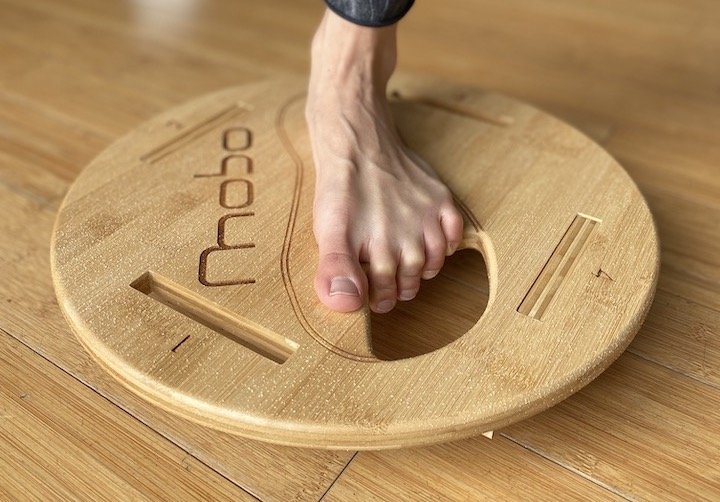 The Mobo board is a balancing device specifically engineered to retrain the foot. Unlike other balance boards, the Mobo board forces you to use the big toe to stabilize and is a powerful tool for rehab and prehab against common injuries. Read on for my experience testing out the Mobo board on my own weak ankle.
Mobo Board Review
Balance is a fundamental skill of human movement. The majority of our physical activity happens on one foot, so if we can't use that foot to balance we're setting ourselves up for future dysfunction. And yet most of us are hobbling around on feet that are essentially asleep, thanks to sedentary lifestyles and poor footwear.
The Mobo board is all about waking up the nerves and muscles in your feet and combining it with whole body movement. Because in order to balance well the brain must be capable of integrating the foot with the rest of the body. It's purpose is to prepare you to go out into the real world with control and stability from the ground up.
Jay Dicharry, inventor of the Mobo board, has dedicated his career to human movement. Through countless research subjects and clients he has seen repeatedly how foot control (or the lack of it) is the downfall for so many people. The Mobo board is his way of helping as many people as possible stay healthy and injury free their entire lives.
How To Use it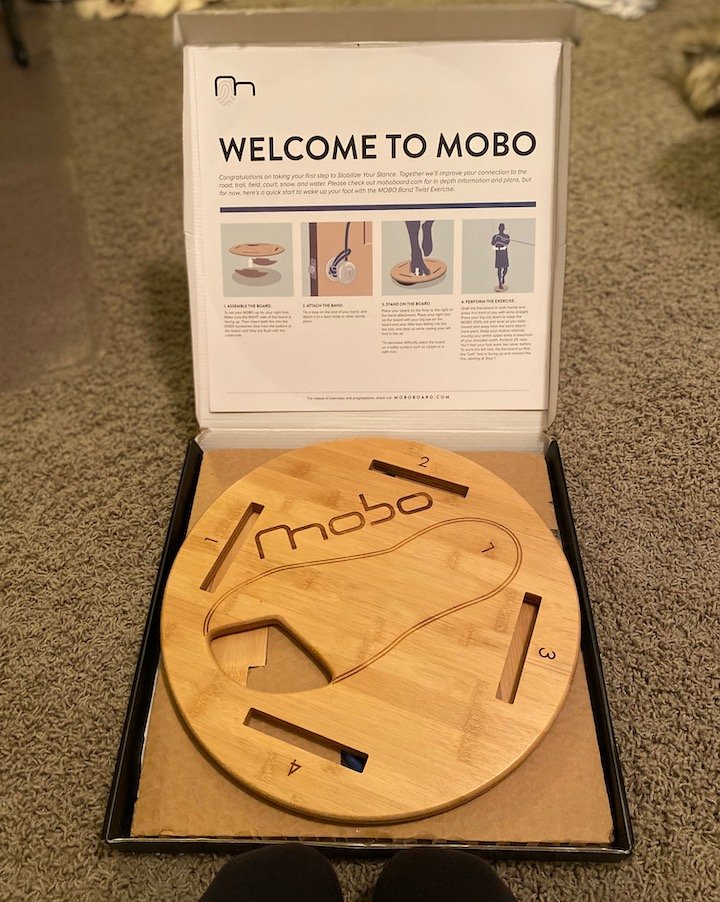 The Mobo board is all about precision control, so using it for 5-10 minutes 3 times a week is all you need. There's no use in overdoing it on the Mobo, it will only lead to sloppy movement.
You can find lots of exercises and variations to do on the Mobo website, the majority of which are quite simple. One I do often is called Foot Rocks where you simply rock the board back and forth. But don't fly through your reps! This is about stability, so being focused and controlled is more important than doing lots.
Why It Works
The Mobo board is hard and grainy so that your feet get plenty of proprioceptive feedback, which in turn allows the nervous system to talk to the tiny muscles in your foot. Soft squishy surfaces are a type of sensory deprivation, making it harder for your brain to reach your foot, and therefore not ideal for training foot control.
The Mobo board also has a hole cut in it right where toes 2-5 go. This hole makes it impossible for your foot to work around the big toe, removing the ability to compensate. In order to keep the Mobo board still you must use the big toe, or you'll be falling off the thing.

The fin placement is also specifically designed to be at the exact axis of pronation and supination in your subtalar joint. In other words, this is how your foot moves in real life. So training on that plane translates to real world motion.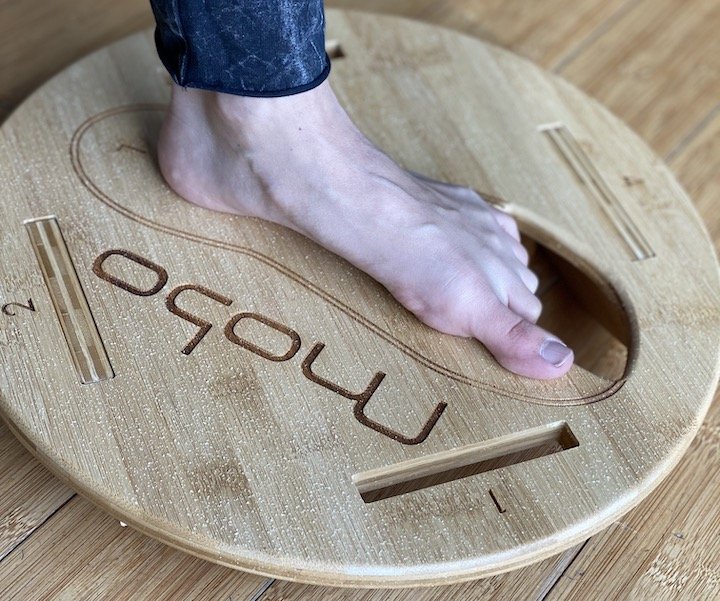 Bulking up is not a replacement for precision control. Large muscle mass does not mean you can control your power! The Mobo board helps train your body to use the feet that everything else rests on (and depends on) for sustainable movement.
My Thoughts
The Mobo board was of particular interest to me because my right ankle has been unstable ever since spraining it almost 20 years ago. Switching to a barefoot lifestyle and focusing on my feet has helped a LOT, but I've still struggled with semi regular ankle pain. My work on the Mobo board the past 3 months brought to my attention that I walk on the outside of my right foot, which makes me more prone to injury.
Since doing the Mobo board regularly I feel more grounded with each step and I am having less ankle pain. It is obvious that I am not walking on the outsides of my feet as much, and that seems to be making it easier for me to stand a lot more each day. *BUT* it's really important to note here that I also exercise my feet daily, wear nothing but barefoot shoes, and try to fill my life with as much movement and as little sitting as possible. Don't expect the Mobo board to solve all your problems if you're unwilling to make other lifestyle changes. Tools and technology are never a replacement for lifestyle, but rather a complement.
The hardest part about the Mobo board is that I need to be mentally engaged while doing it. I live a chaotic life running my own business with kids constantly around me, and carving out the time to focus for even a few minutes takes commitment. But I want results, and as with all things in life, it takes buy-in to get it.
How to Order
The Mobo Board costs $85 with free shipping if within the US. You can also purchase it in Europe, the UK, Australia, and NZ but there are some additional fees and shipping costs. You can return unopened Mobo boards for a full refund, or an opened Mobo minus a 15% restocking fee (customer pays return shipping in both cases).
My Mobo board was gifted (thanks!) but I ended up buying one for my parents for Christmas. They're getting up in years; one has poor balance and the other has chronic ankle sprains, so it seemed like an extremely functional gift! I think they might have preferred chocolates, but I hope they get lots of use out of it. It shipped pretty quickly (Covid notwithstanding) and arrived a few days later.
Conclusion
There are so many ways to spend money on fitness, but products are only one piece of the picture. Tools like the Mobo board can help you access long lost muscles and tissues, but they work best as part of an overall lifestyle shift. One of the things I like about Jay is that he hasn't lost sight of that and continues to educate the world about the importance of foot function. Whether you're a practitioner or a lay person like myself, training your feet will go a long way to keep your body functioning. And the Mobo board just might be the thing that makes it all click.
My Mobo board was a gift from Jay Dicharry. This post is not sponsored or affiliated, and all opinions are my own.