by Samantha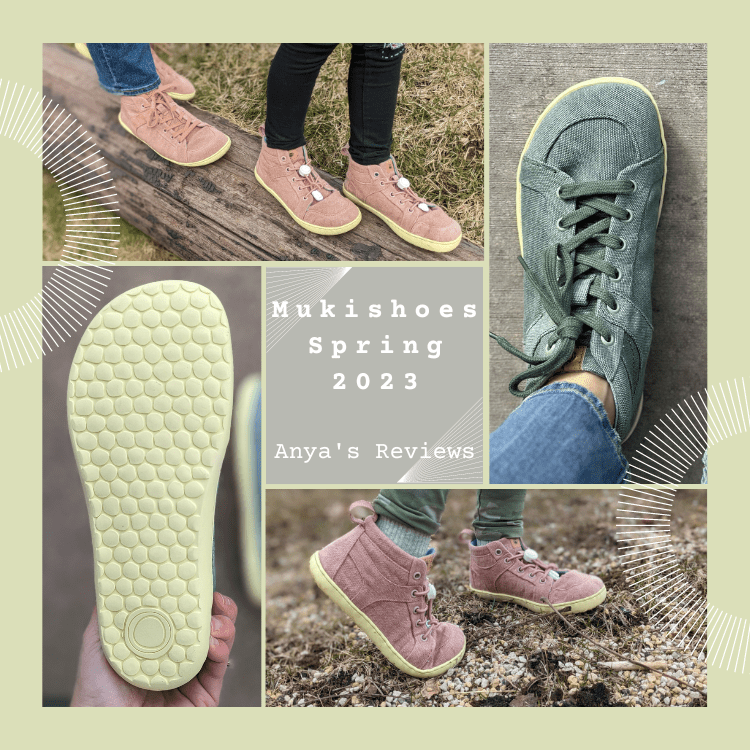 You can always count on Mukishoes for an infusion of color into your barefoot shoe wardrobe. Their production practices in Portugal are commendable and their shoes are a delight to wear. Here's what you need to know about their Spring 2023 line!
Use code ANYAMUKI for 10% off your Mukishoes order
What's Special About Mukishoes?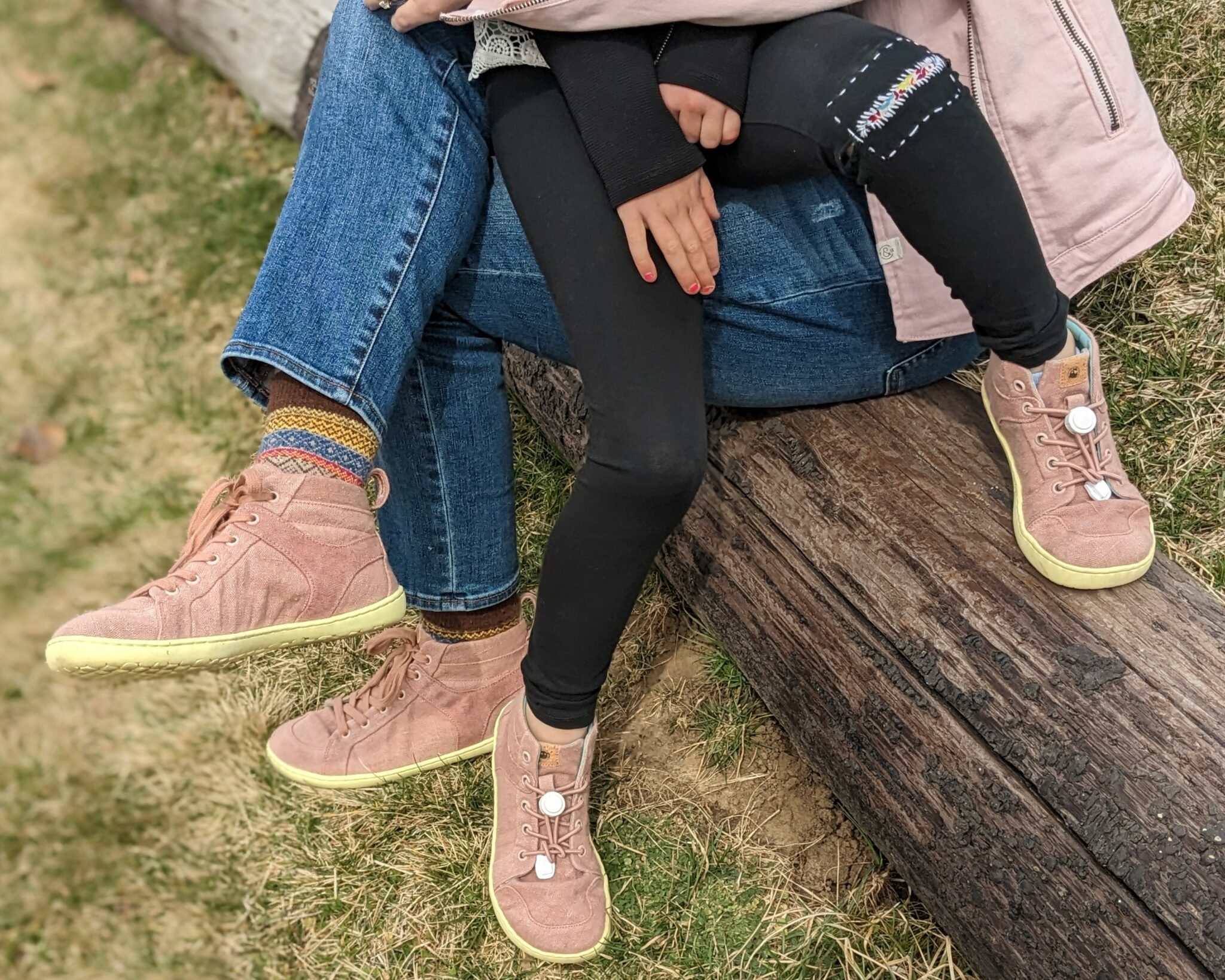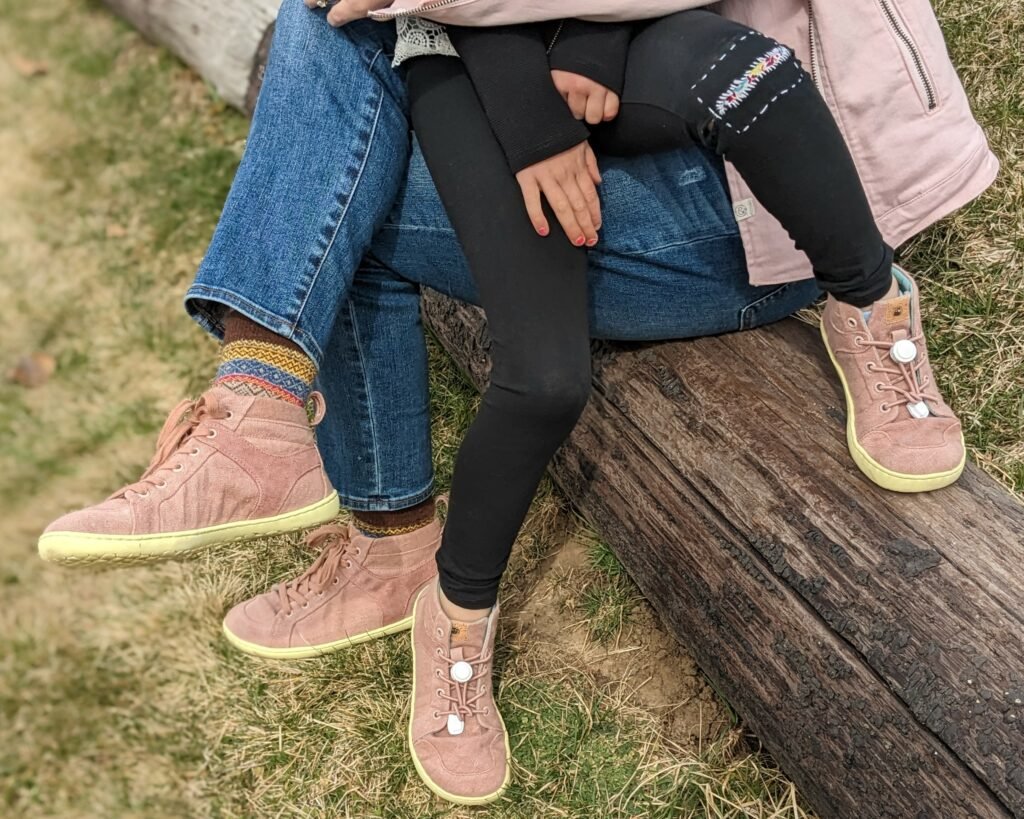 Mukishoes is very transparent about their materials and production practices. You will always find exactly what materials each shoe is made from, and even where the materials were sourced. They partner with local, family-owned businesses which allows them to ensure working conditions are fair and everyone involved earns a living wage.
Their spring and summer barefoot shoes consist primarily of organic cotton, hemp, and linen. There's also year-round models made with leather or cork, and in the winter you can find the addition of wool lined boots. To take things one step further, Mukishoes uses deadstock fabric in the production of their shoes. If you aren't familiar with that term, it means they use offcuts or surplus fabric from the production of other textile goods that would otherwise go to a landfill. To put it simply – Mukishoes cares deeply about what goes into their shoes and the impact producing them has on our planet.
Read all our previous Mukishoes Reviews here!
Sizing & Fit
Mukishoes adults (left) and kids (right) models are made in different shapes, so let's take a look how each line fits so you can decide if they'll be a good match for you. Read this article on the different foot types to learn all about the terms used here!
Mukishoes Kids Fit Type:
Plateau shaped toe box
Wide fan shaped fit good for wide and extra wide width
High volume (but adjustable with laces & velcro)
2.5mm sole
We find the kids' models to have a pretty universal fit, in fact they are one of our top 10 kids barefoot shoe brands! My kiddo has narrow heels and low volume feet, but with laces cinched they stay secure and she has plenty of toe space. Anya's son has thick, high volume feet and he also fits wonderfully in Mukishoes with the laces looser.
Mukishoes Adults Fit Type:
Mountain shaped toe box
Straight fit best for average to slightly wide width
High volume (but adjustable due to laces)
Unisex sizing – there is a general "Grown-ups" range that does not differentiate between Men's and Women's.
3.5mm sole
I have extra wide sloped shaped feet so Mukishoes has never been a perfect match for me. I opted to size up from my usual for extra width, and thanks to the unstructured nature of the sole it expands to fit me comfortably. I still think Mukishoes is better suited to average and wide width feet, but I appreciate that the sole is adaptable to different shapes and widths.
Both models use highly flexible natural rubber outsoles that have excellent ground feel, and both can work for low volume feet with laces tightened or with an additional insole.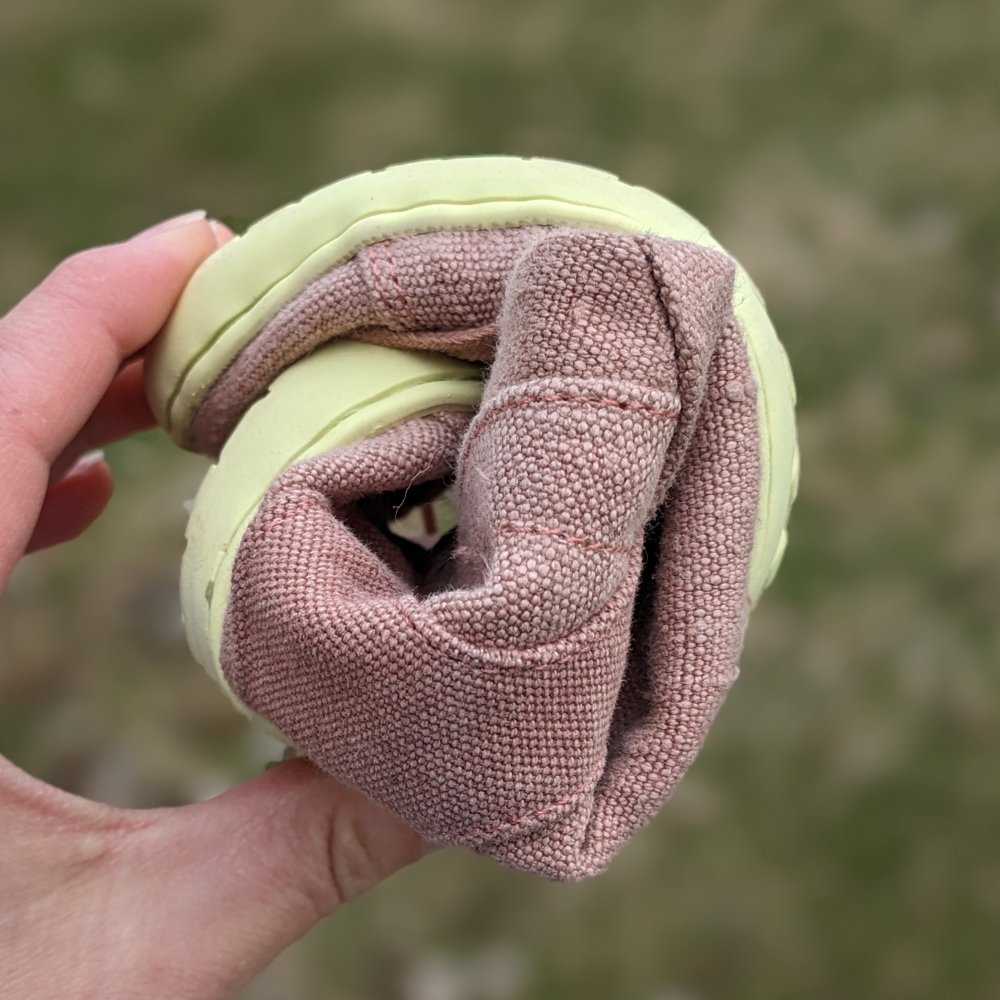 Hope Review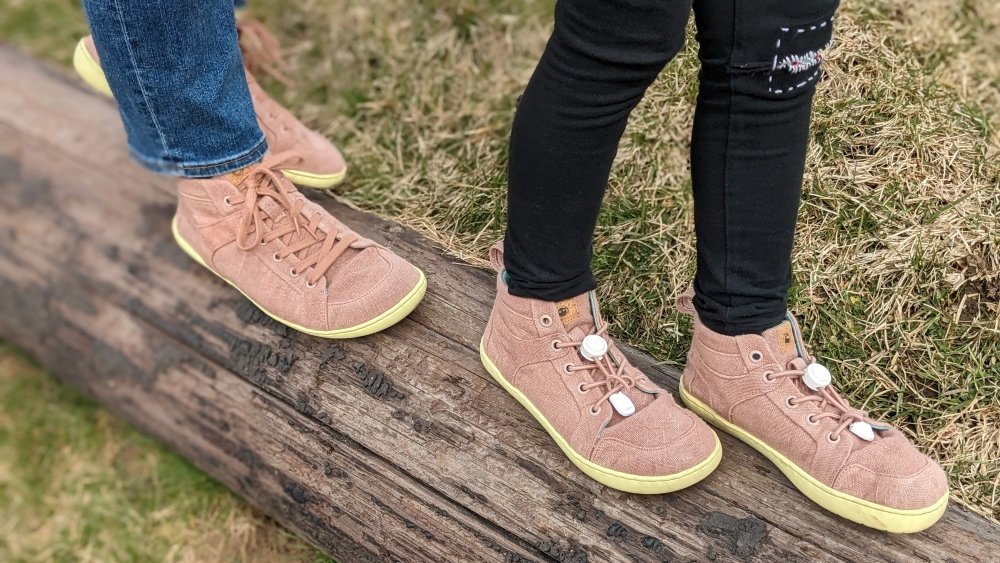 Sizes EU 24-48 | Hemp/Organic Cotton & Natural Rubber | Vegan
Matching pink barefoot high tops with my daughter? Yes, please! The Hope model from Mukishoes has a hemp upper that is naturally dyed using onion skins and the color is lovely. I am a crafty person and really enjoyed reading all about the natural dye process for Hope here. It's paired with a pale yellow natural rubber outsole that has amazing flexibility and ground feel with no break-in period required. The lining is a teal colored organic cotton. We both found these comfortable from the very first walk, and isn't it amazing that they're DYED WITH ONION SKINS??
Challenge Review
Sizes EU 24-48 | Organic Cotton & Natural Rubber | Vegan
Anya and her son are wearing the Challenge model this spring. It fits the same as the Hope model above, but is made with organic cotton in a pretty blue/green hue. The inner lining is also organic cotton in a fun purple color. The upper fabric is denim-like in feel, and is a teensy but stiff out of box but wears in quickly (if it didn't her picky son wouldn't touch them!).
We love that Mukishoes offers a consistent fit and feel, so you pretty much know what to expect when you order. Like everything from Mukishoes, Challenge is lightweight, flexible, and has one of the thinnest outsoles you can find in barefoot sneakers. So much ground feel!
More Spring 2023 Models
In addition to the Hope and Challenge models reviewed above, you can also find these new models for spring:
Ordering
You can use code ANYAMUKI for 10% off your order! Mukishoes ships worldwide but cost and delivery time will vary depending on where you are in the world. The USA & Canada can expect to pay a flat rate of €26 for DHL shipping and it should take 14 business days or less to get to you. Check the shipping specifics for your area here.
If you live in a country that does not require VAT to be paid (like here in the USA), it will be removed at checkout once you enter your location information.
Conclusion
If you love super minimal shoes made sustainably with natural materials – look no further. Mukishoes has you covered in sizes for the whole family!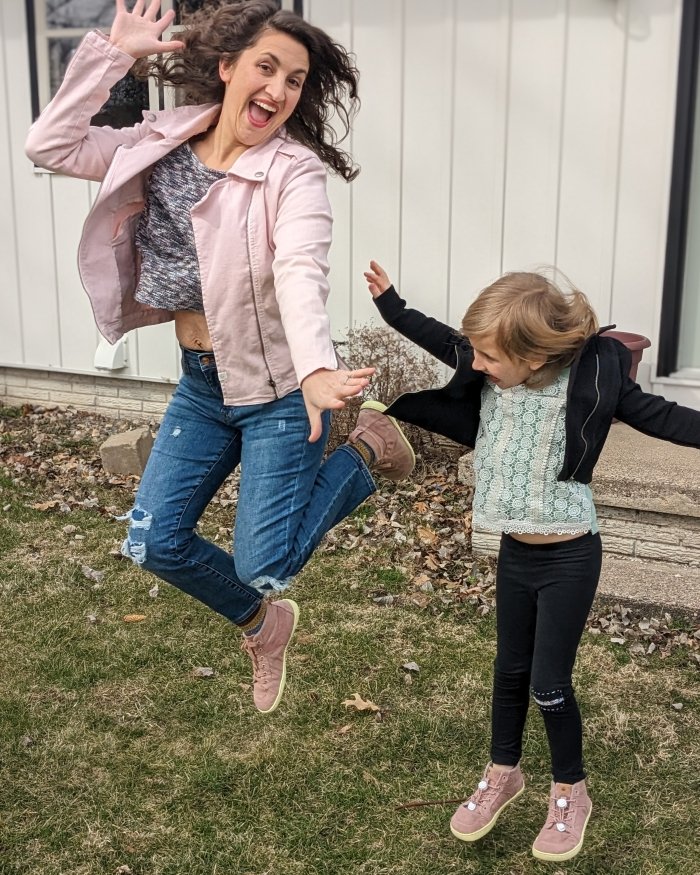 Samantha is a writer, researcher, and executive assistant for Anya's Reviews and stay-at-home mom to 5 littles. In addition to shopping online for footwear for her family, she spends her time homeschooling, reading, weaving, and doing home improvement projects with her husband.