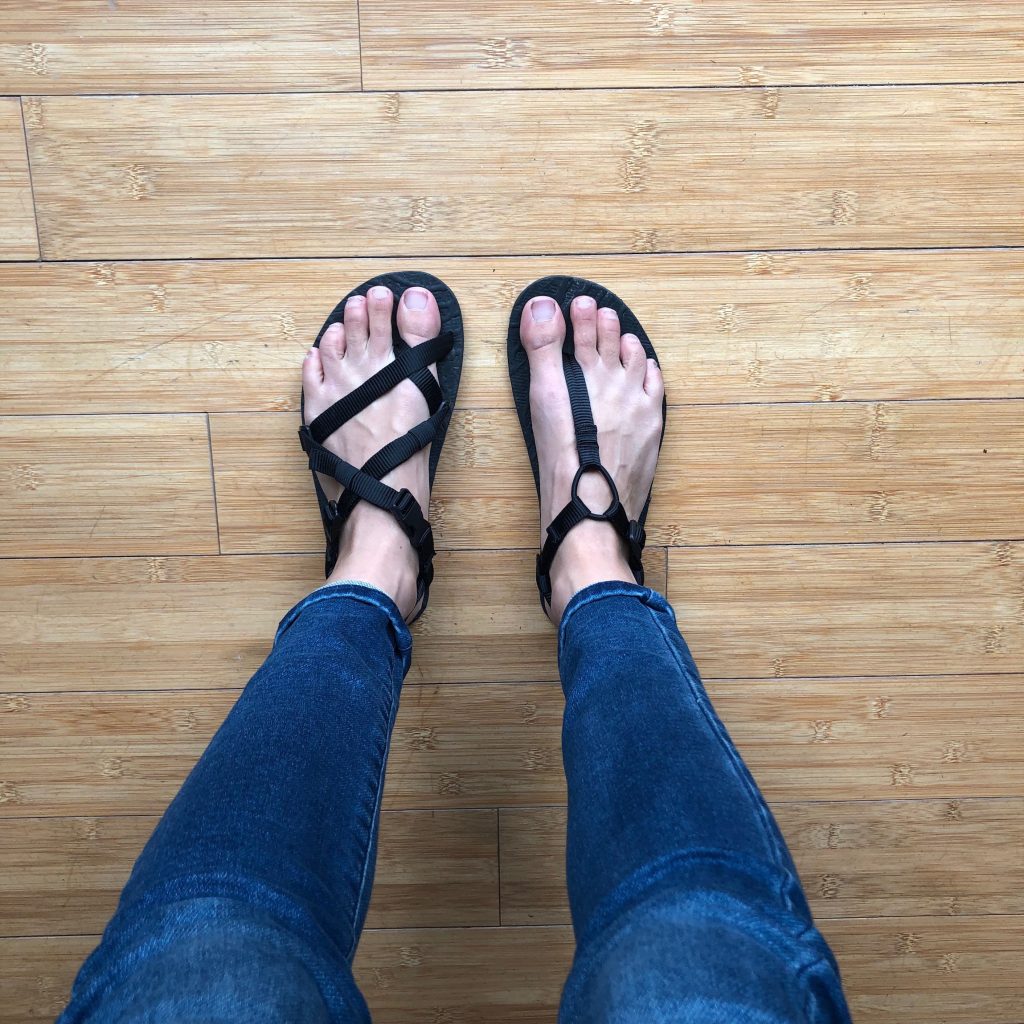 *Get 10% off with code ANYA
Unshoes is a reliable minimalist shoe brand with a good selection of summer sandals available (see my other Unshoes reviews here). Here I am reviewing and comparing the Uinta Sandal ($99) and the Keota Sandal ($55). All of Unshoes sandals are unisex, so these are available for men as well.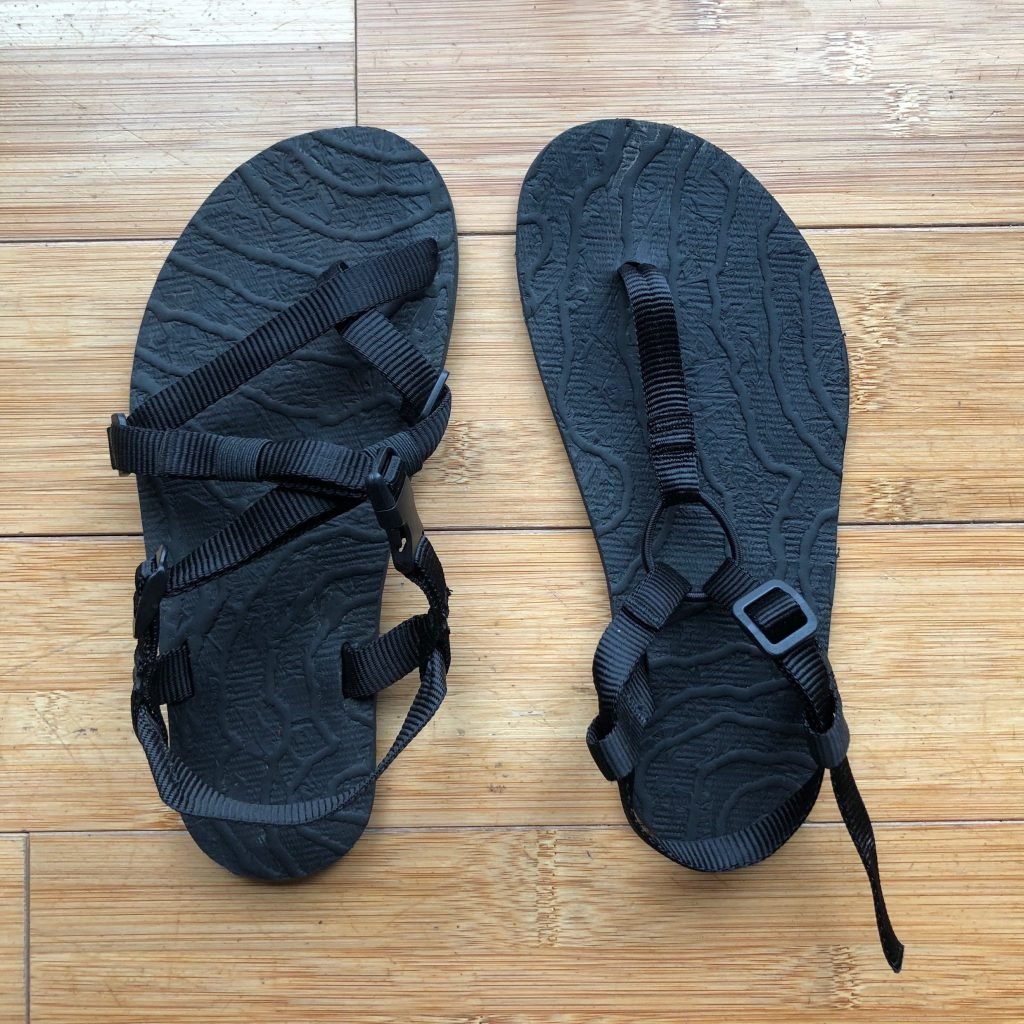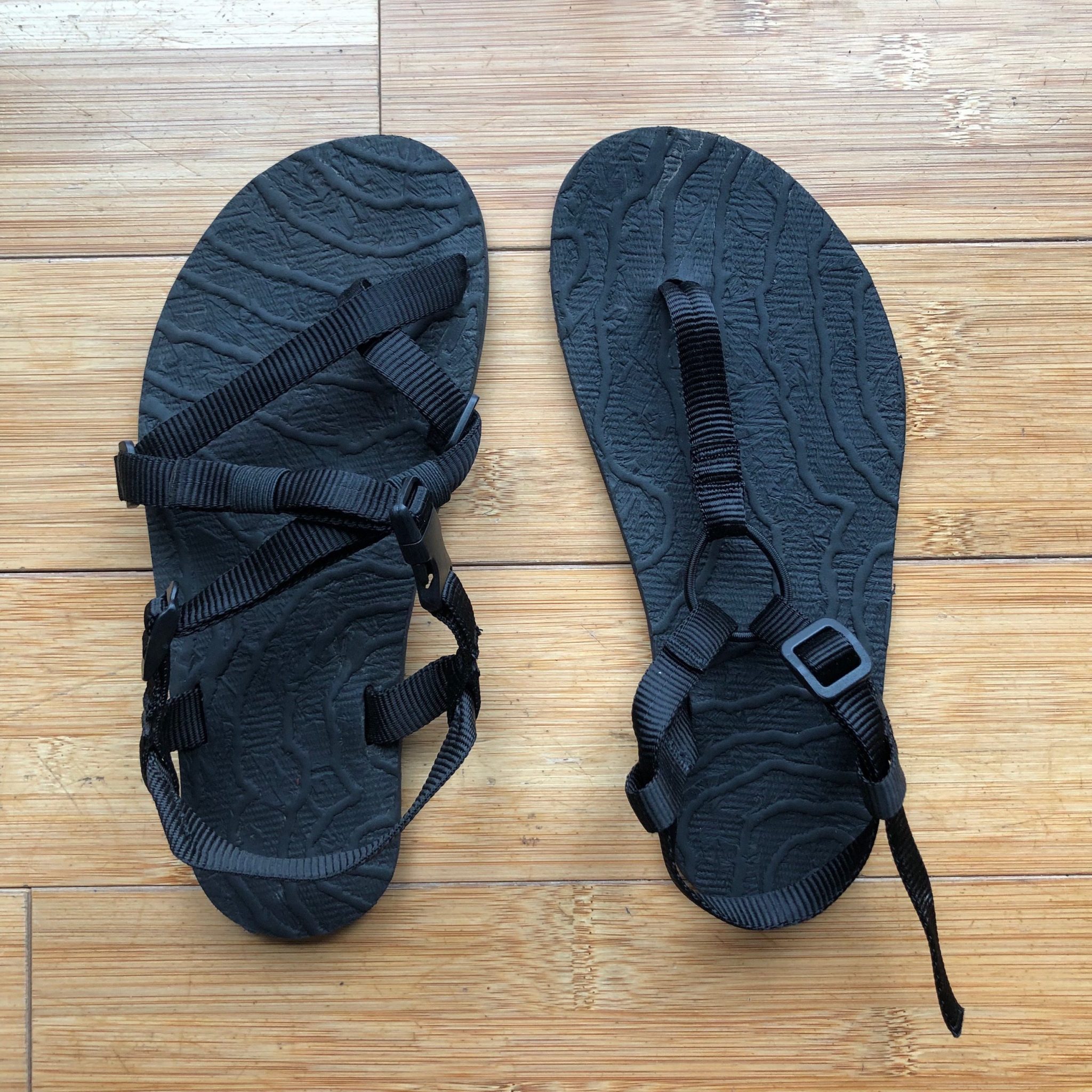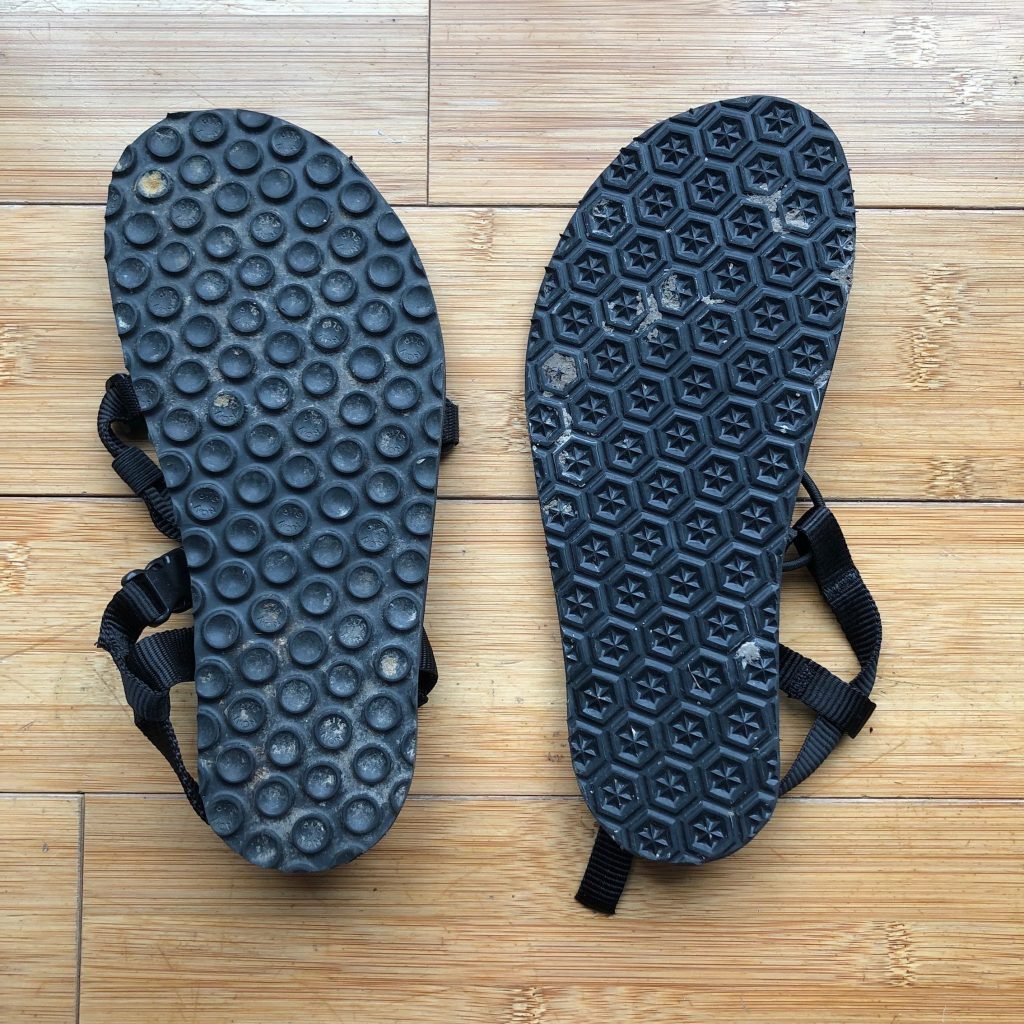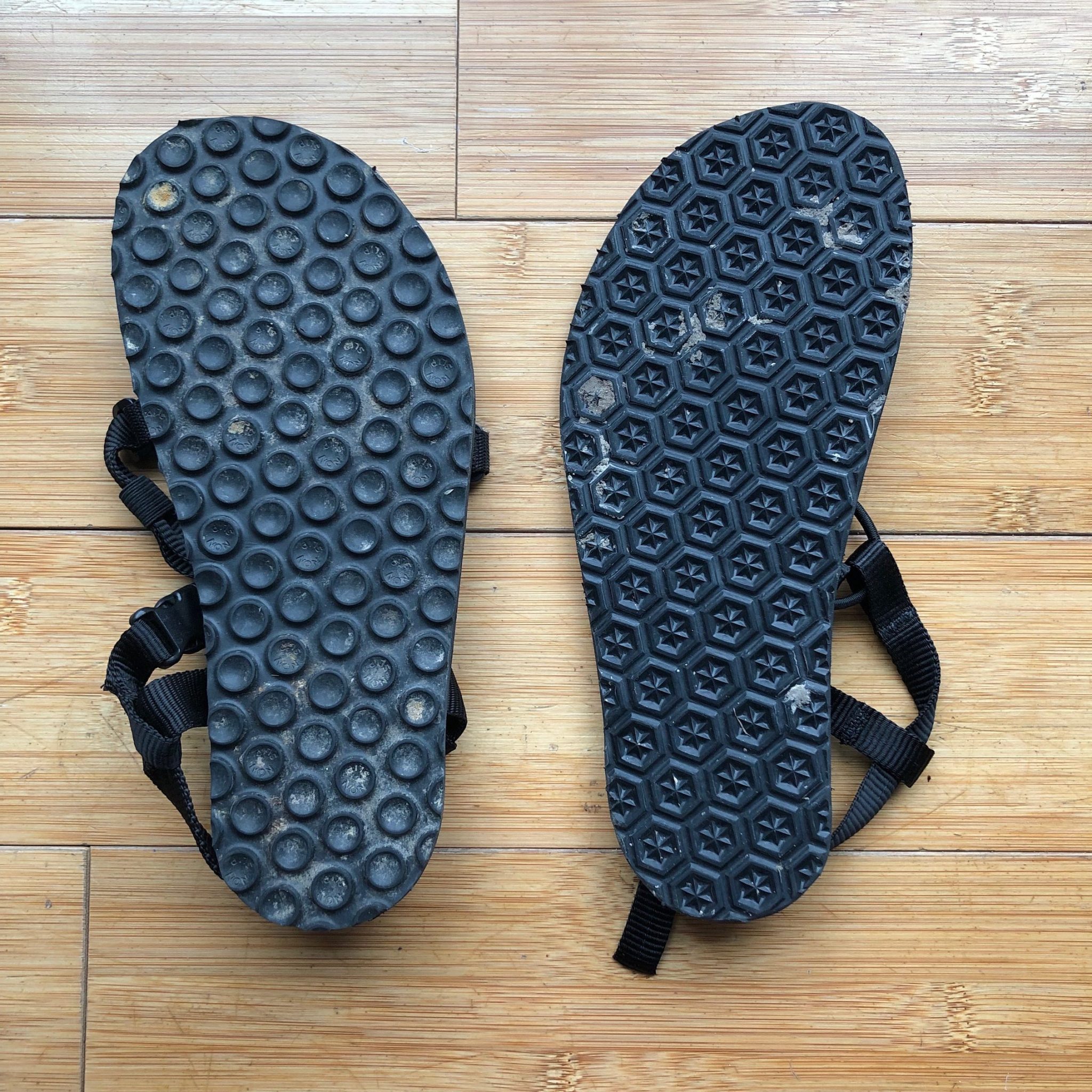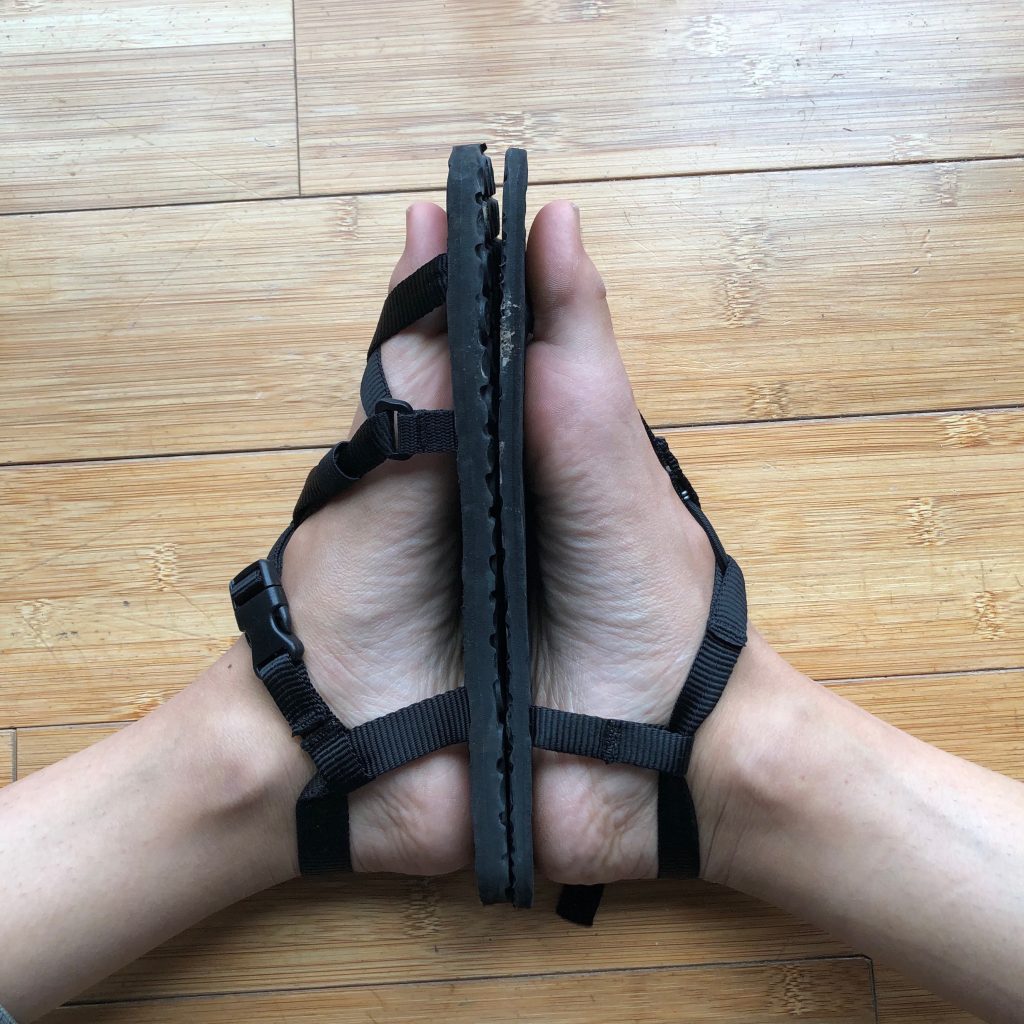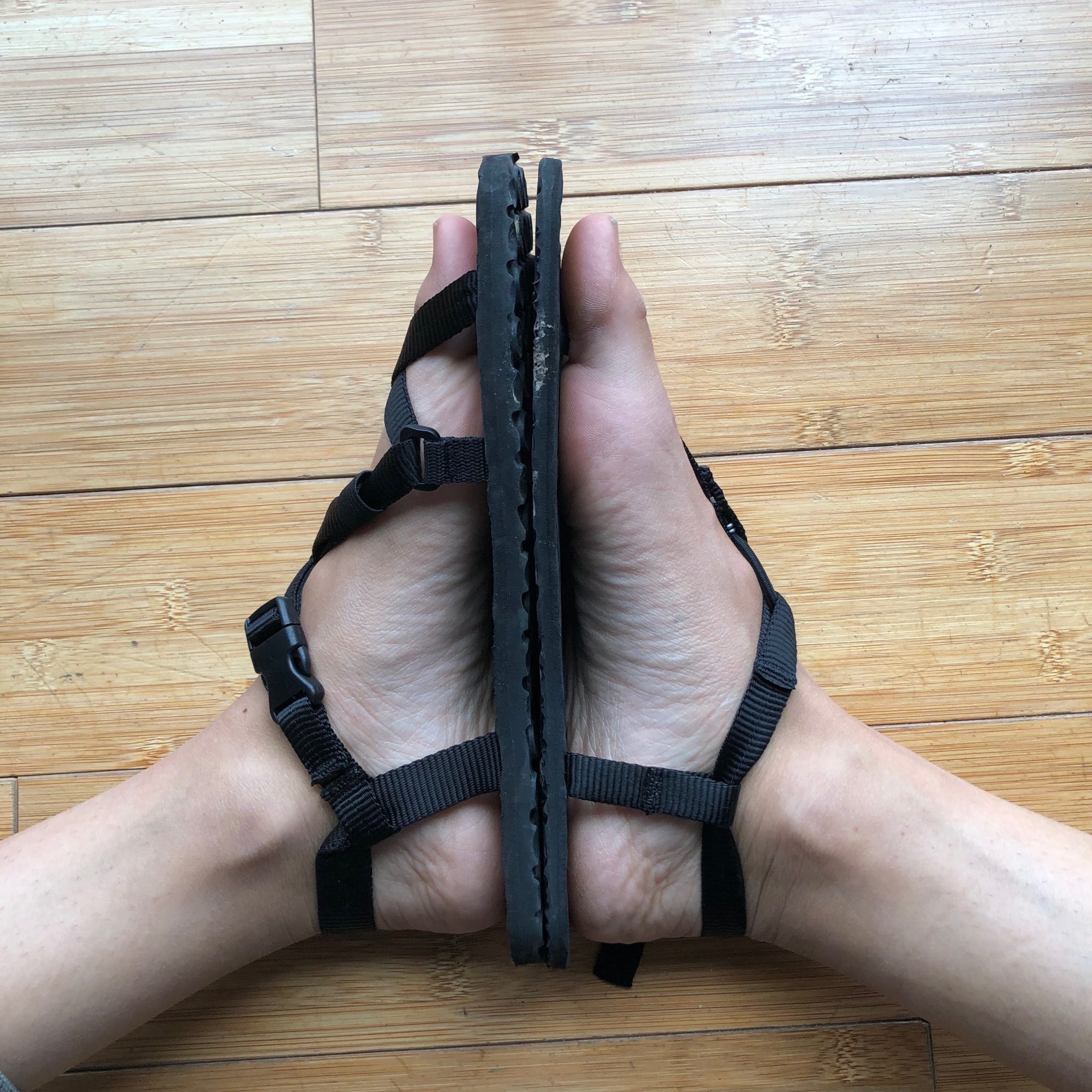 Keota
The Keota sandals have a 5mm thick sole and a strapping system that allows for infinite tightening. They are very minimal, with no straps crossing the toes or restricting movement in any away.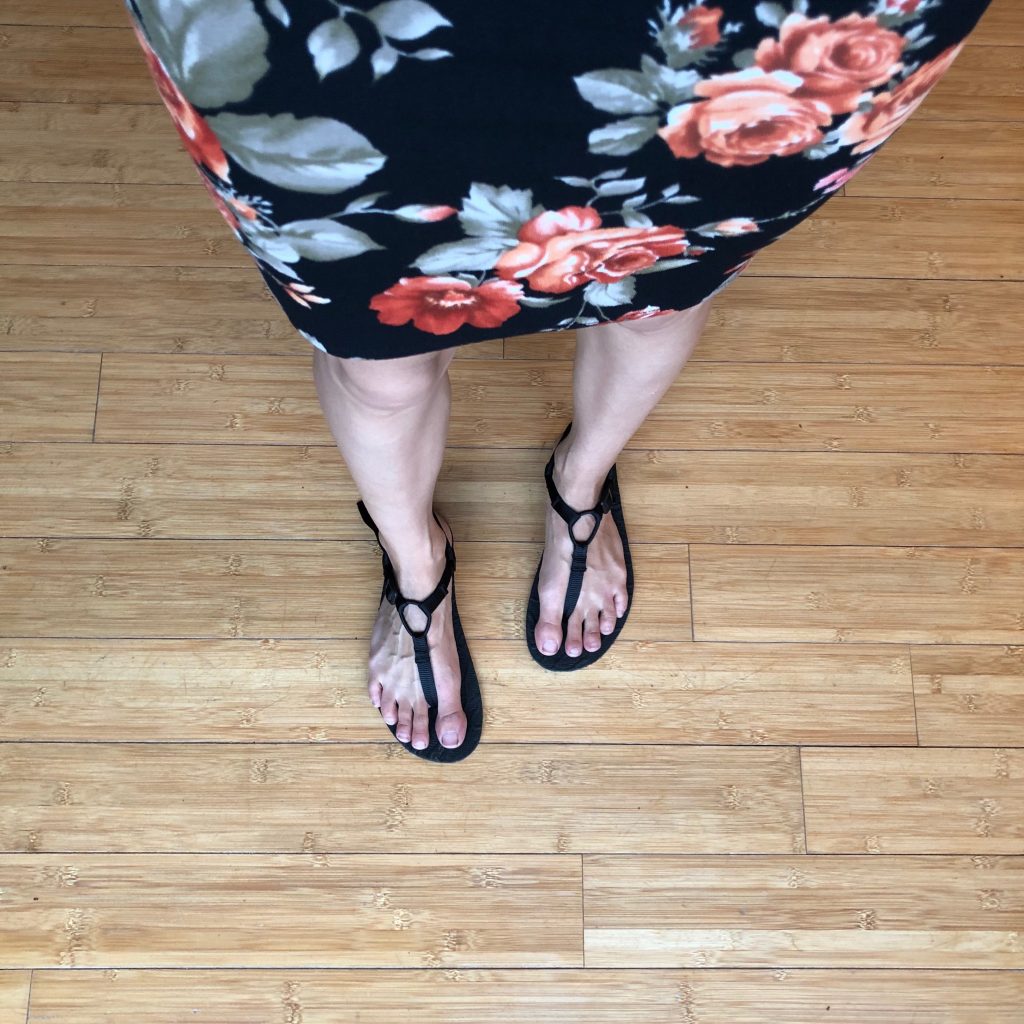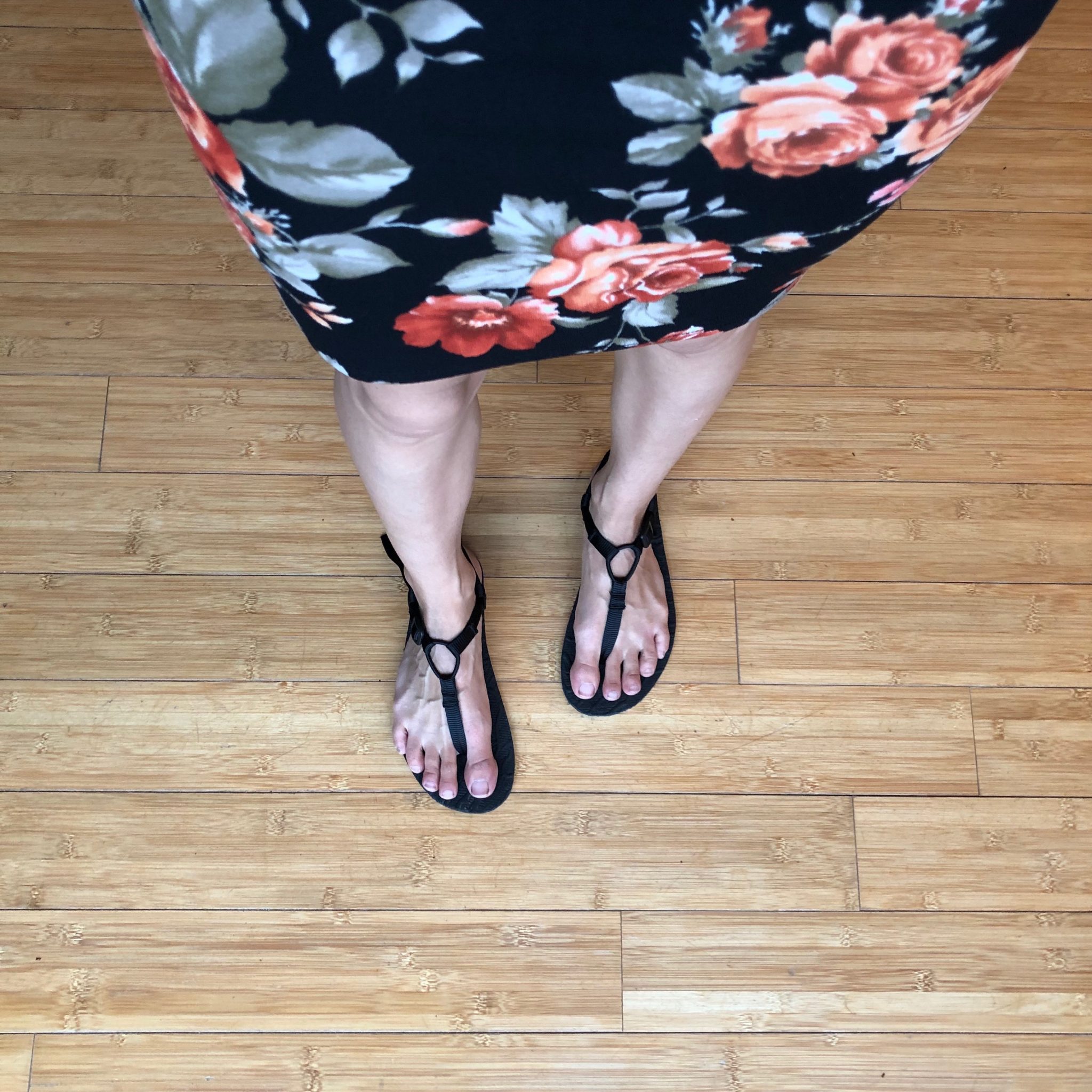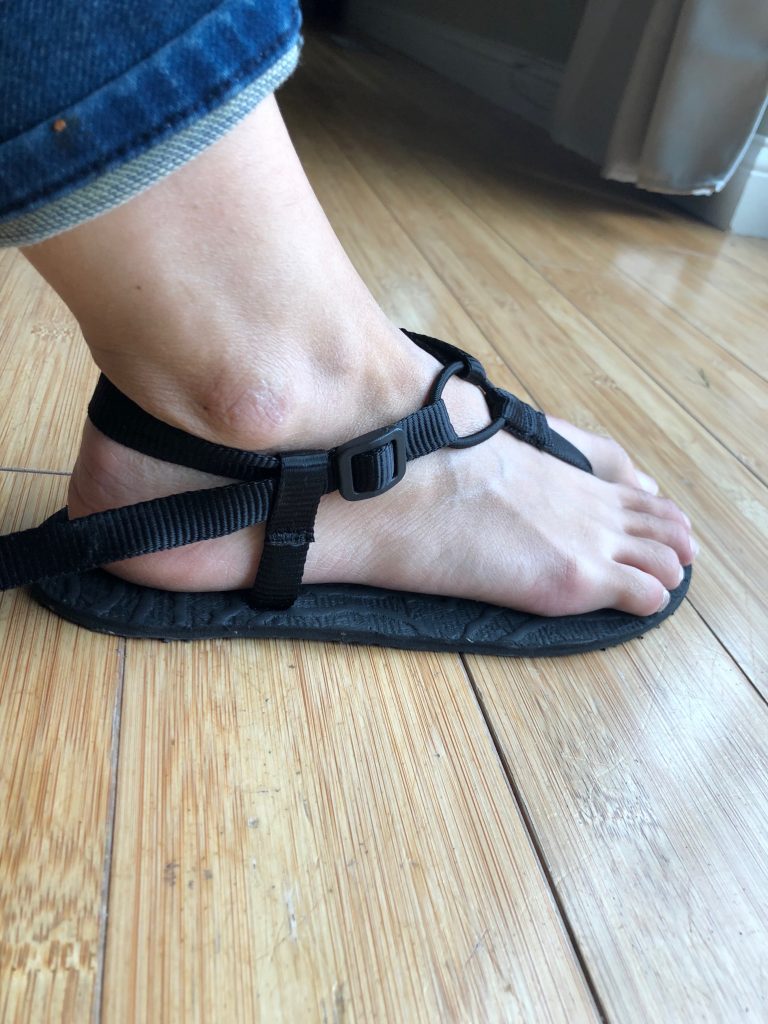 The elastic loop in the center allows you to pull these on with no buckles or velcro. The loop is tight, so I need two hands to put them on. I've been putting my forefoot into the shoe as far as I can and then pulling the heel strap over my foot last.
Unshoes recommends tightening your Keotas so there is enough tension to slightly stretch the elastic loop. They've created an instructional video showing how to tighten the strap, since some people have had trouble.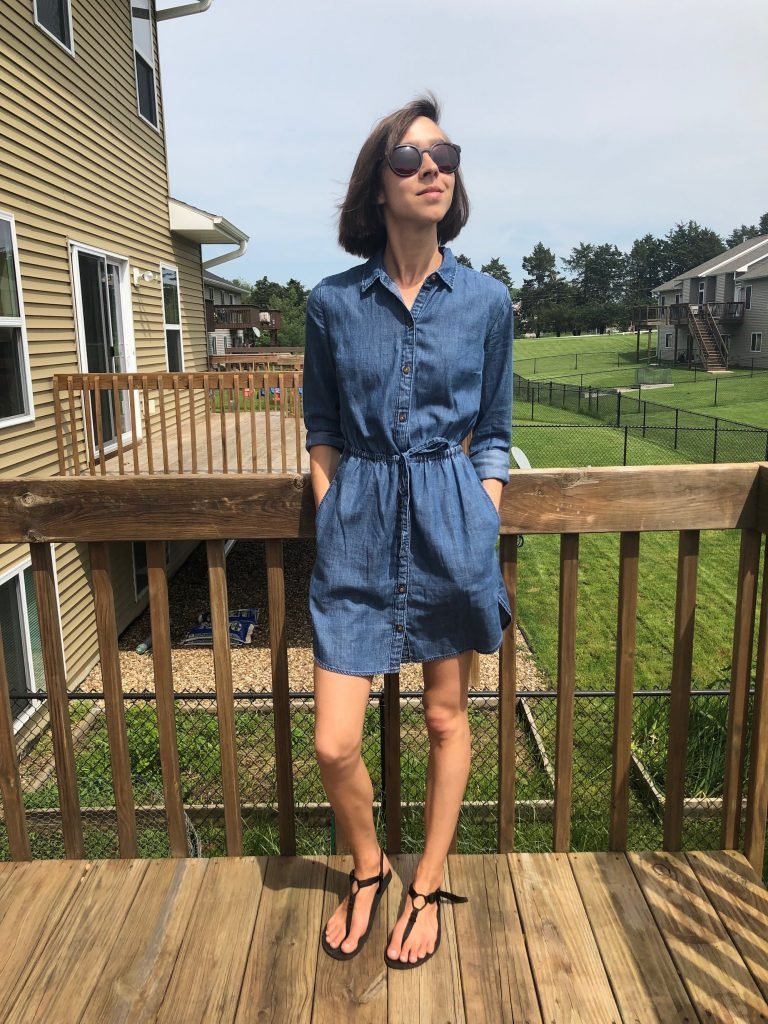 Your foot is held to the sole of the Keota at 3 points: the toe post and on either side of the ankle. Because of this, they feel less secure than the Uinta sandal (or other strappier sandals) and if I wear the strap too loose the sole feels floppy.
If I tighten them too much for extra security the toe post pushes my foot back past the heel of the shoe. There is definitely a sweet spot of tension. At the correct tension the sole stays close to my foot and feels comfortable, but still can be caught on a rock or the ground occasionally. So there is a bit of a trade off with such a minimal shoe: Totally barefoot friendly, a little bit less secure for rugged wear.
I was concerned that my foot would slide forward into the toe post causing discomfort, but the tensile loop and strapping keep my foot in place enough that I don't get discomfort there. Overall, these are really comfortable and easy to wear!

Style
These sandals are simple, non bulky, and neutral, but nicer than a flip flop so can be brought into your everyday wear easily. This is the type of shoe you can wear all summer long!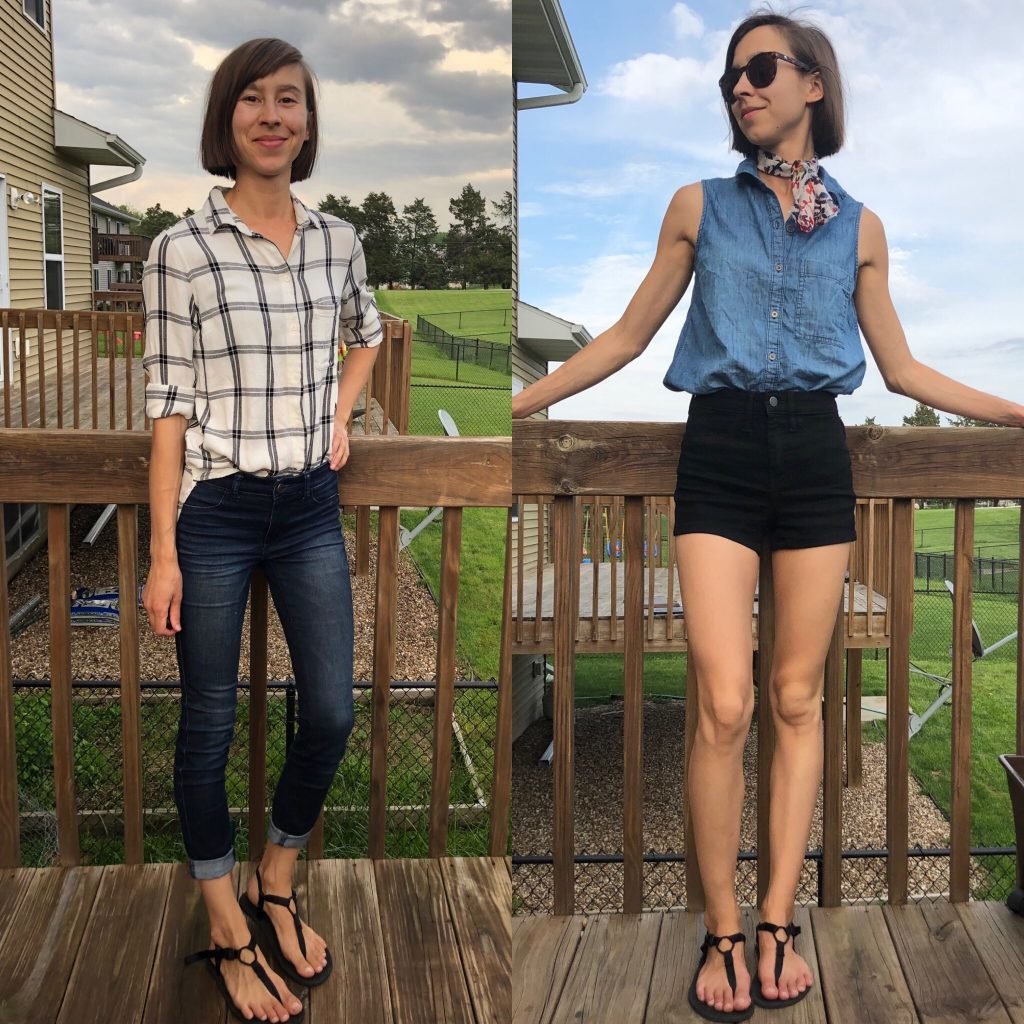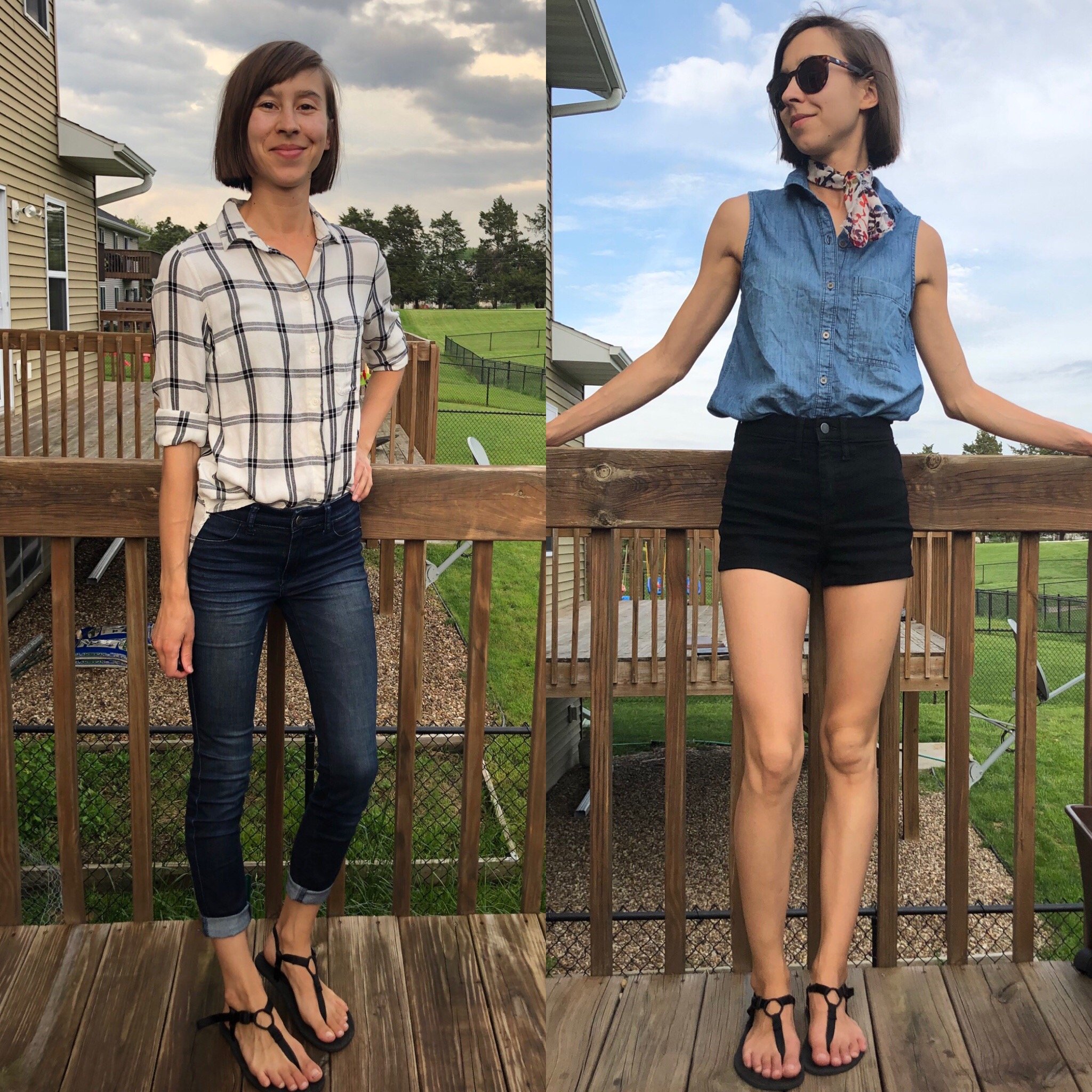 Uinta Sandals
The Uinta sandal ($99) has a 10mm thick sole and a more intricate strap design that is meant to be very secure to the foot for more rugged wear.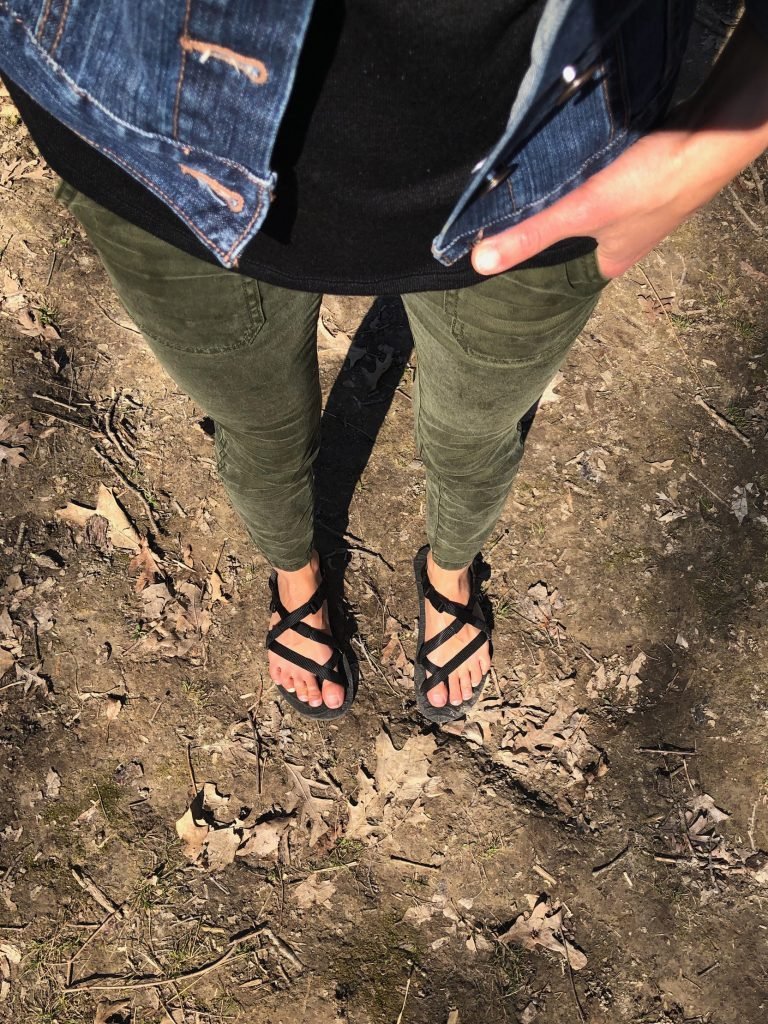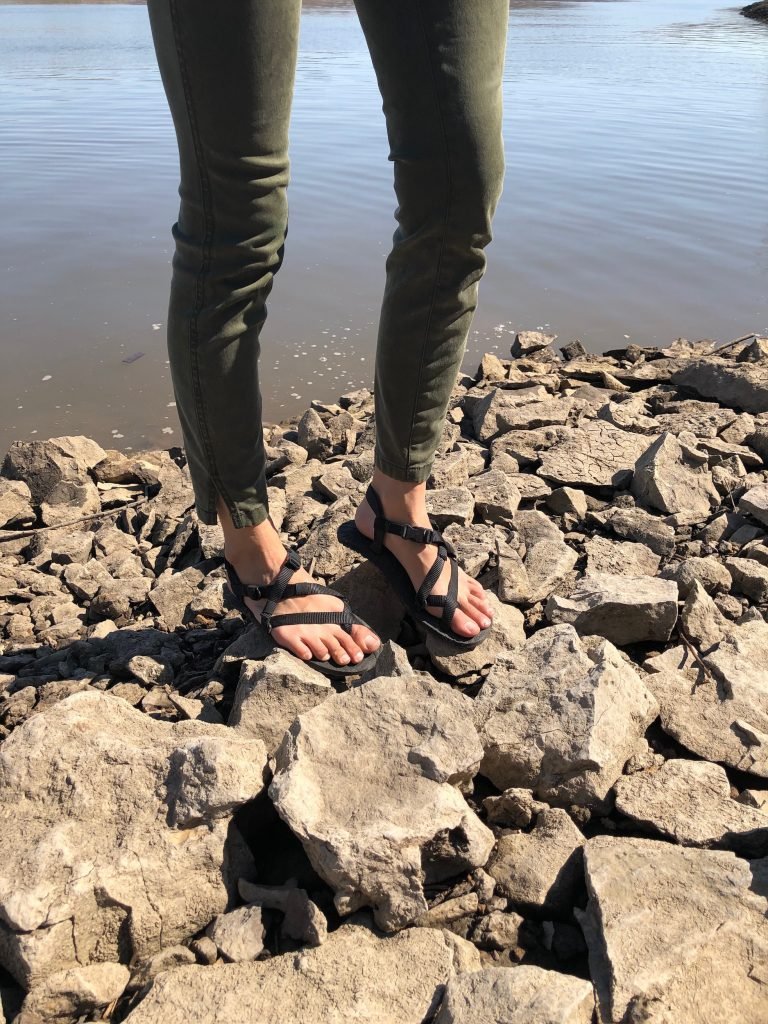 The two straps criss cross over the foot and each can be adjusted and held down with an elastic band. They go on with a buckle strap, which will not wear out like velcro does over time and is very quick and easy to put on.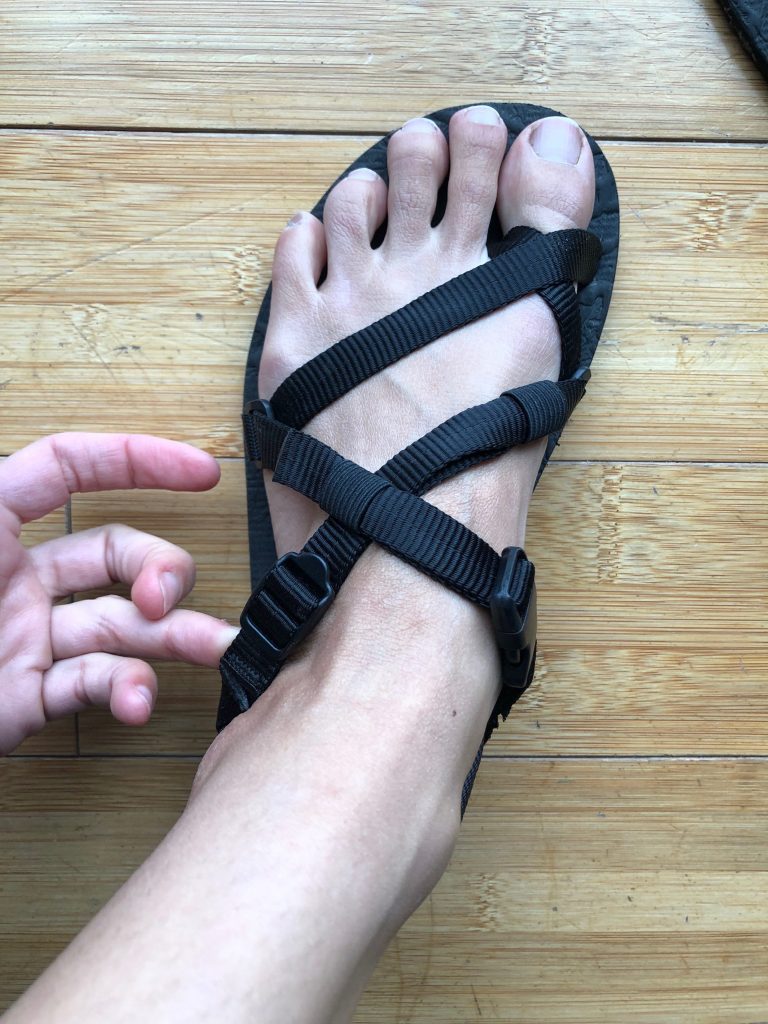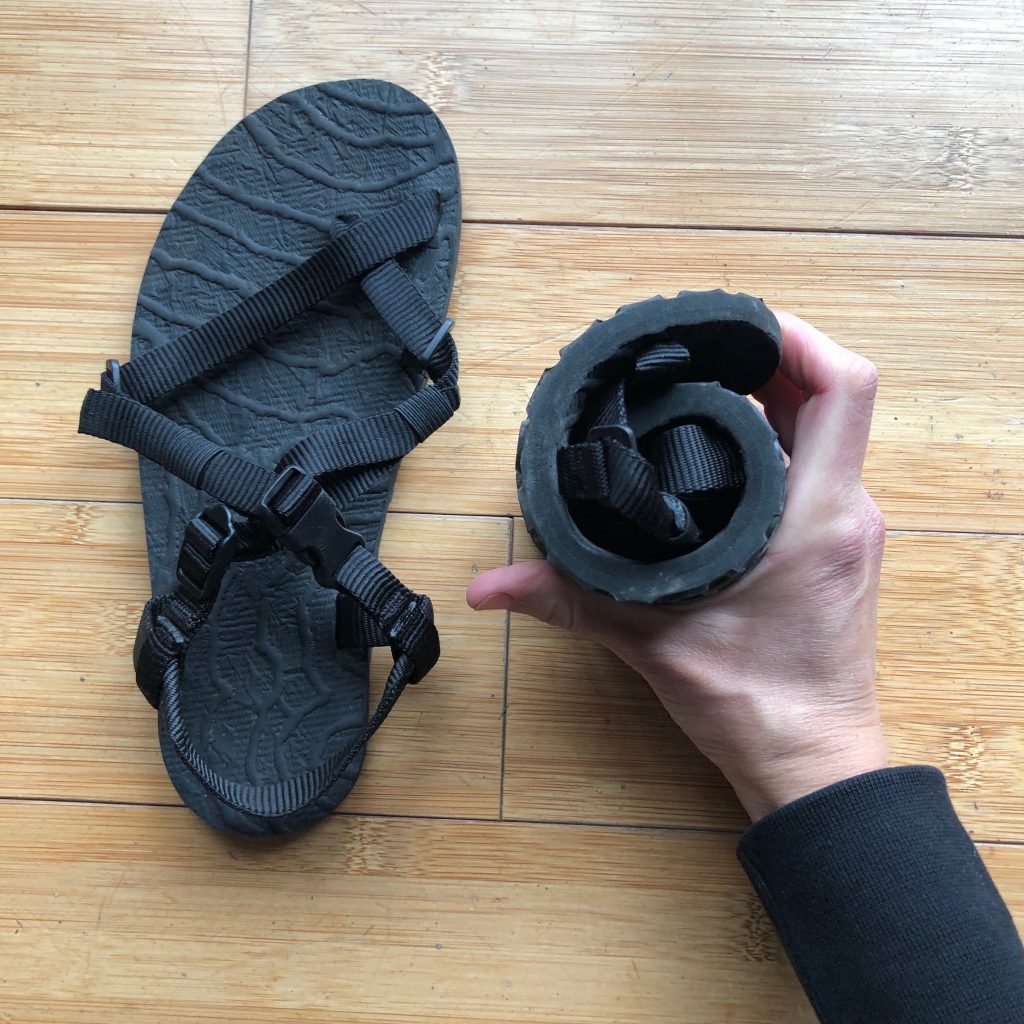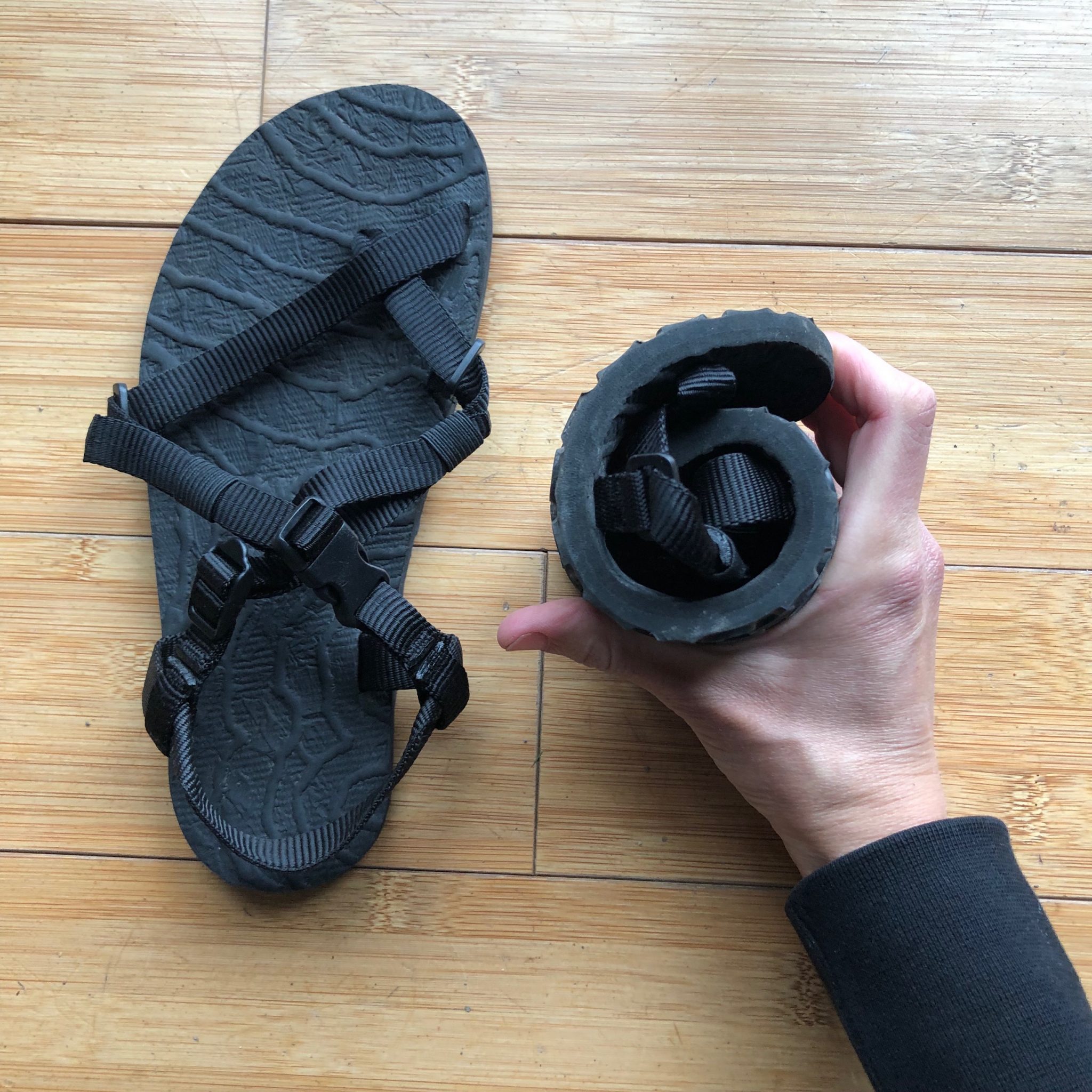 The sandals can be worn with the toe post over the big toe (for more security) or with it underneath the toe to take pressure off.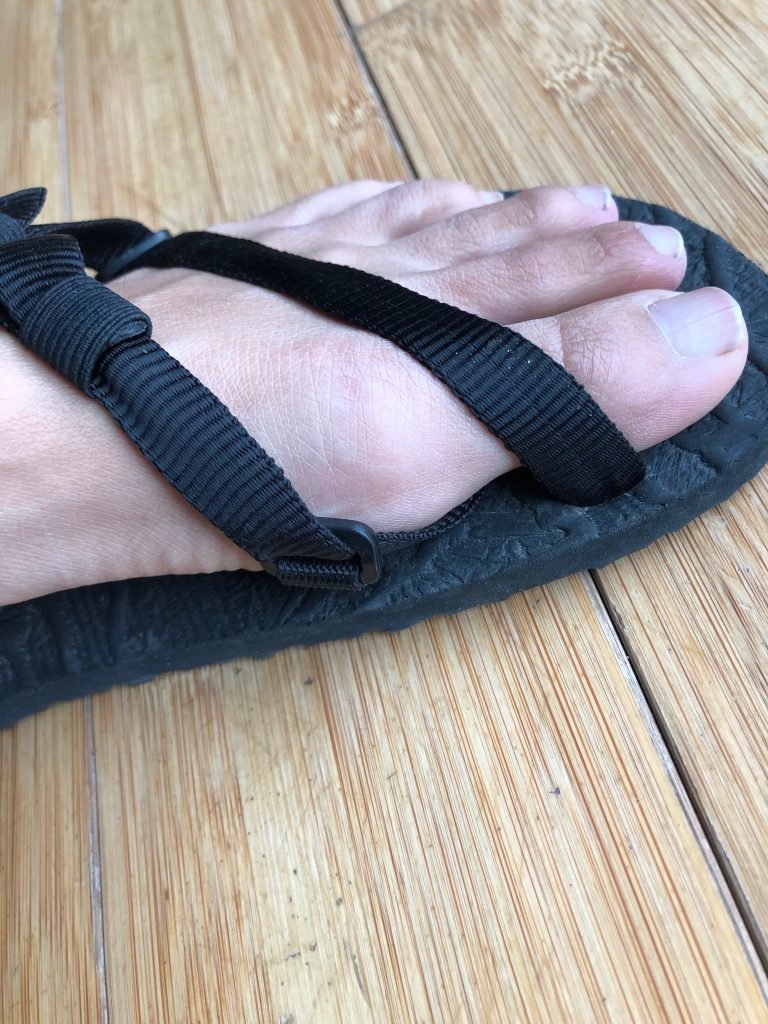 The heel strap is shaped to be secure to the heel, which is a nice feature for those with narrow heels.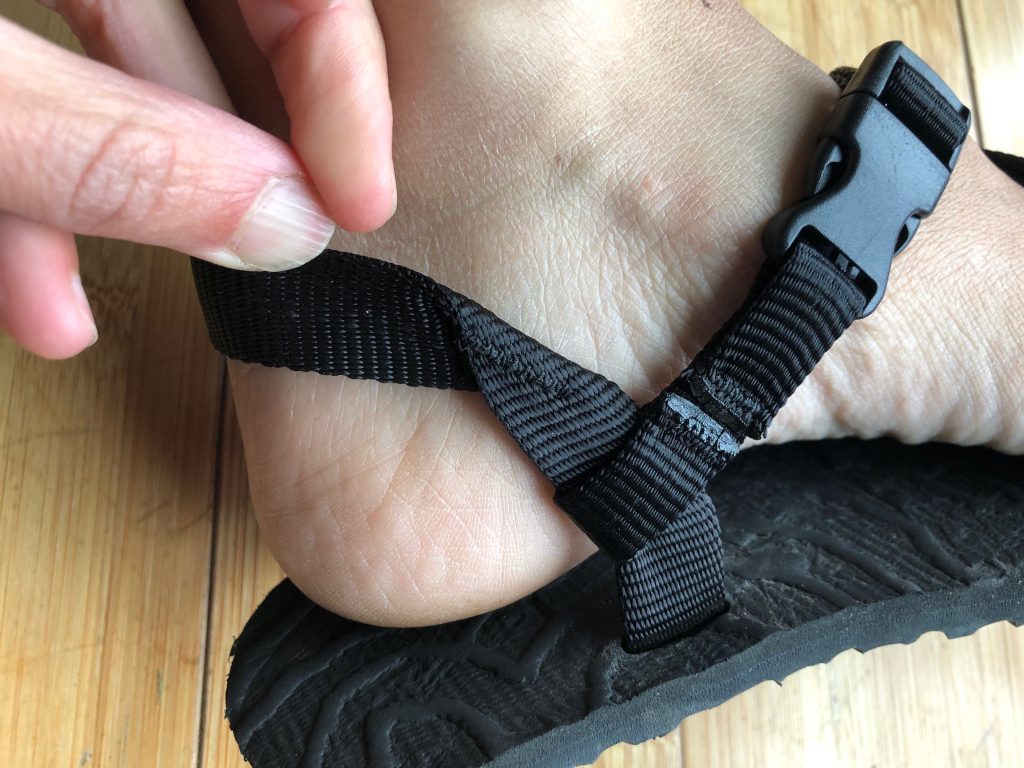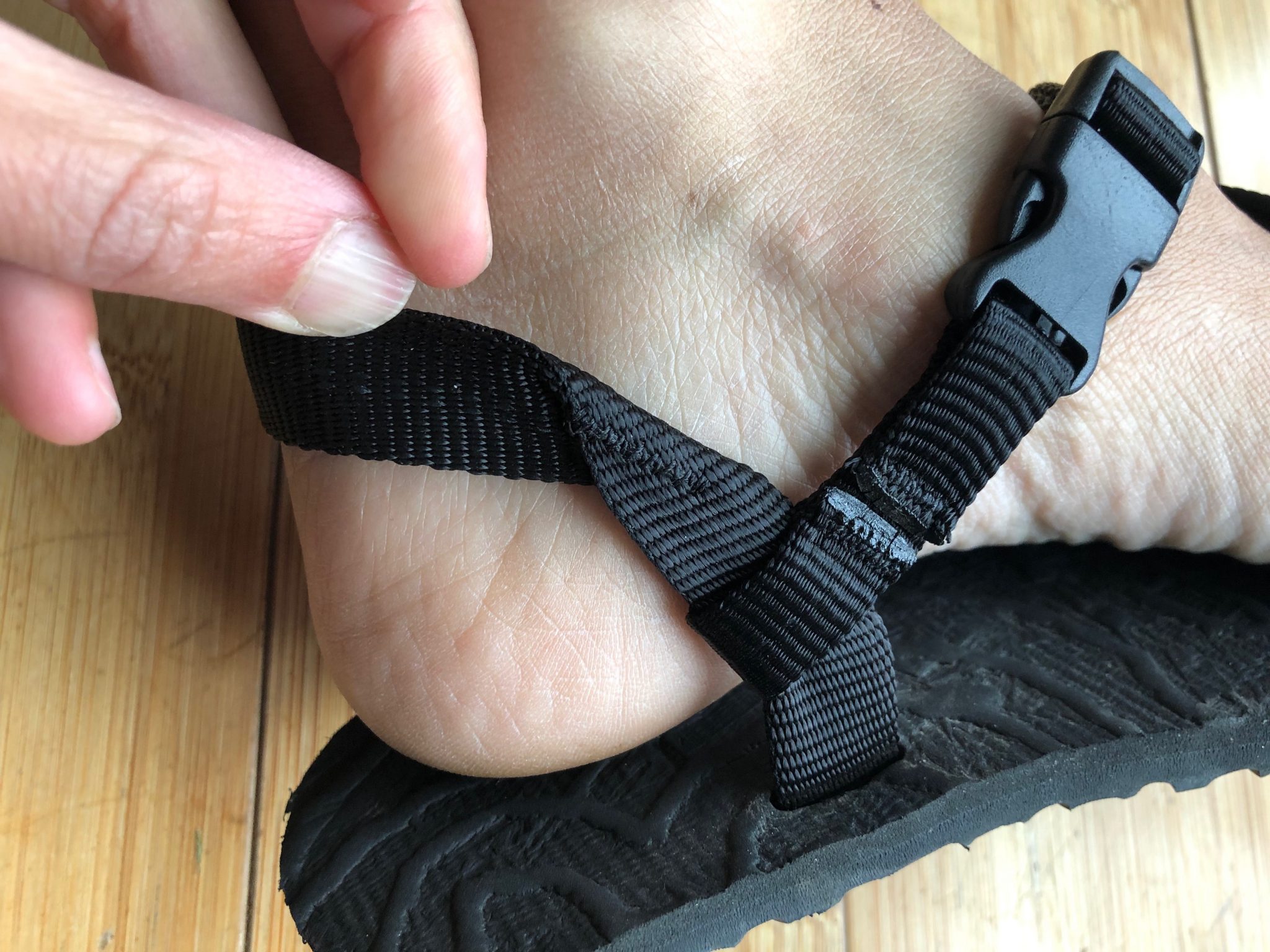 I had high hopes for these, I loved the unique strapping and saw them as being very versatile in my wardrobe. Plus I looked forward to having a really secure sandal with a slightly thicker sole. These are sandals that should be able to work overtime for you. Unfortunately I have some issues with the fit and haven't been able to get much use out of them.
The biggest issue I have is that the straps slowly loosen as I walk in them, so I have to continually tighten them. When hiking on rocky, hilly terrain these come loose in a matter of minutes. I reached out to Unshoes customer service (which is excellent) to get some guidance and see if this was a common problem. I was told that they have heard this from a few customers and it seems to be an issue of strap placement on the ankle. I have very skinny, low volume feet, so that may be the cause.
The second big issue for me was the strapping over the big toe. The strap holders do not keep the straps held in place, they slide through the holders easily. That means that the strap moves with your foot. I found that when my foot flexed the straps tightened and all that pressure went to my big toe (which is where each strap ends). I have a sensitive big toe, so it is only a short time before I feel that pressure as pain. I wish the straps could be isolated like in the Xero Z Treks to keep it at a consistent tension while you're moving. If that was possible, I think I would love these sandals.
I did try wearing them with the toe post underneath my foot, and while that was more comfortable it was not as secure without it (fine for walks, but not hiking). If I tightened them to be more secure I found that the strap holder rubbed against my big toe joint.
Style
Fit issues aside, I love the look of the Uinta sandals. They're reminiscent of a fashion sandal and can be worn with your everyday wear effortlessly. I always go for black because it's versatile and helps to disguise the texture of a sporty strap.
This is a shoe that can be your one and only summer sandal (as long as it fits you!), taking you around town, on lunch dates, and then out hiking easily.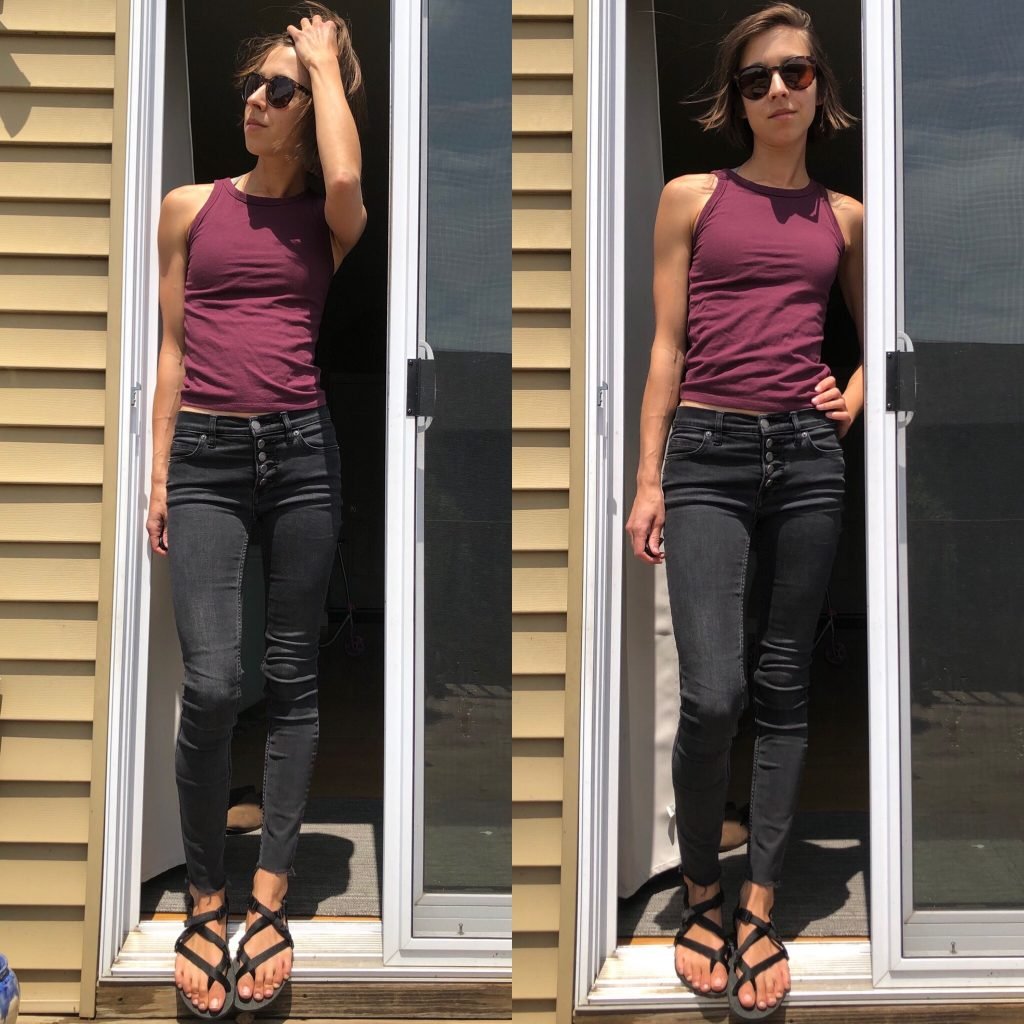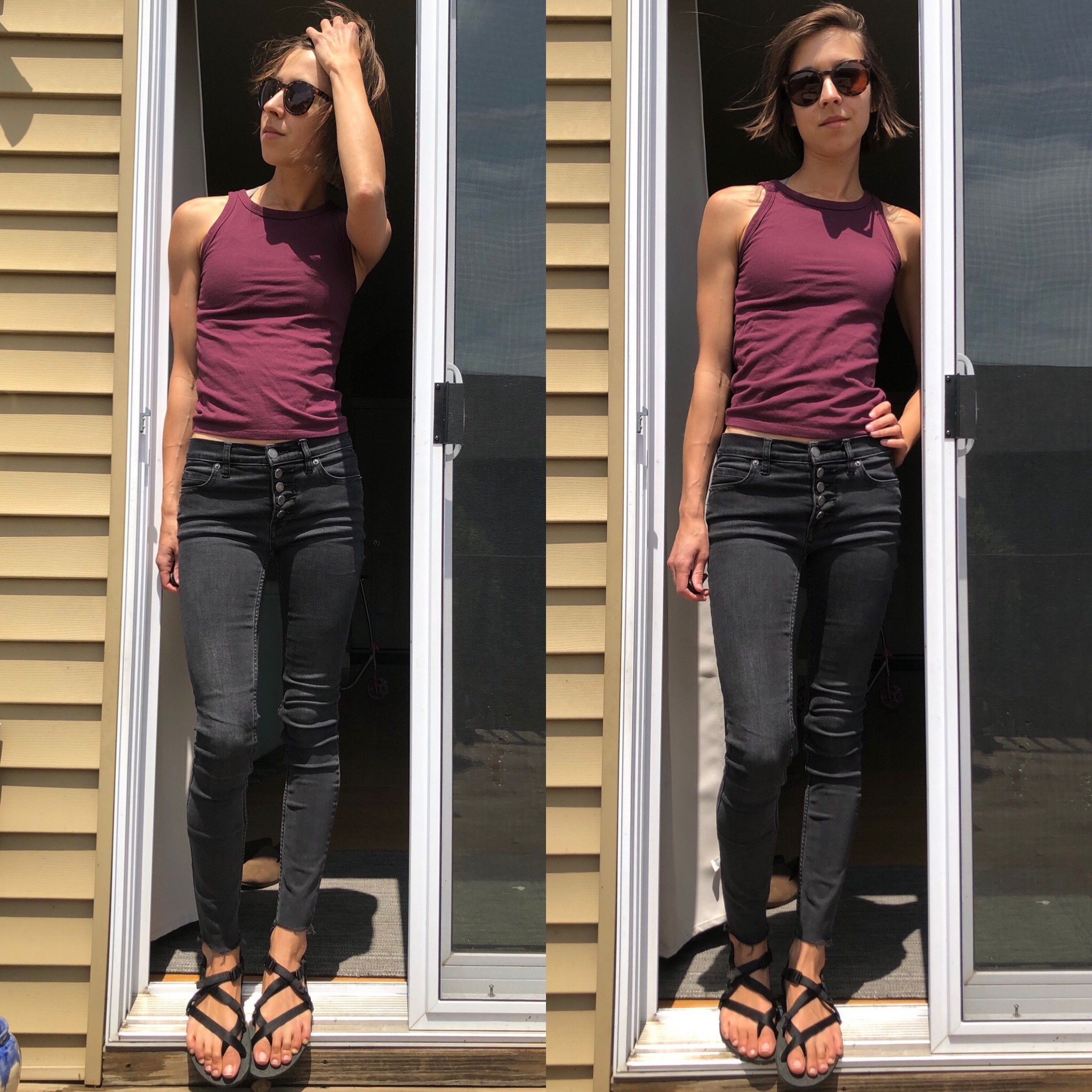 If you are interested in trying these sandals out I would recommend not wearing them outside until you are certain they will work for you. This is a good rule of thumb to live by, but be especially cautious with these in case of issues.
Sizing
Unshoes has consistent sizing across its sandal models (thank you!!). They have a size chart as well as printable templates. I highly recommend using the printable templates and reaching out to customer service if you have any questions. I get my normal size in Unshoes sandals and they're a perfect fit. They do have a free exchange policy if you get it wrong the first time, but you pay return shipping if you don't keep them.

Materials
All Unshoes sandals are vegan! The straps are textile and the sole is a synthetic material. Unshoes sandals come with a textured sole to provide grip for the soles of your feet when wet.
One cool feature about Unshoes sandals is that you can customize them with different sole thicknesses, footbed shapes, and toe post placement. This can be really helpful if you want one strapping system but a different sole thickness than what is offered. I wouldn't recommend customizing the other features unless you know your feet needs really well.
Conclusion
Both the Keota and Uinta sandals are versatile and functional. The Uinta is more expensive and might have fit issues for those of you with thin ankles, but is really nice looking and secure for rugged use. The Keota is one of the most affordable options out there and will fit almost any type of foot universally, but you compromise a bit on security. Given the price and that I can customize the Keotas if I choose, the Keota is the clear winner for me.
Unshoes also makes a sandal with no toe post (the Pah Tempe) and a dressy minimalist sandal (my personal favorite, reviewed here).
Have you tried these sandals? What was your experience? Everyone's feet are different, so please share below to help others interested in these sandals.