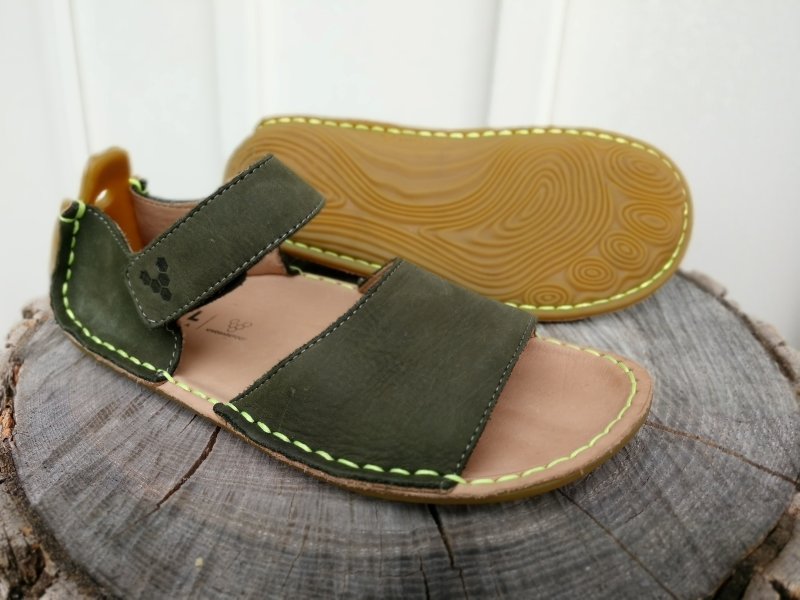 The Vivobarefoot Kids Ababa Sandals are classic leather sandals with a mission. As part of the Soul of Africa range, each pair is handmade in Ethiopia using local materials by local makers. There's a few things to be aware of regarding sizing and fit, so read on for my review of the Kids Ababa Sandals from Vivobarefoot!
Use code VBANYA20 for 10% off any Vivobarefoot purchase!
The Vivobarefoot Ababa Sandals Review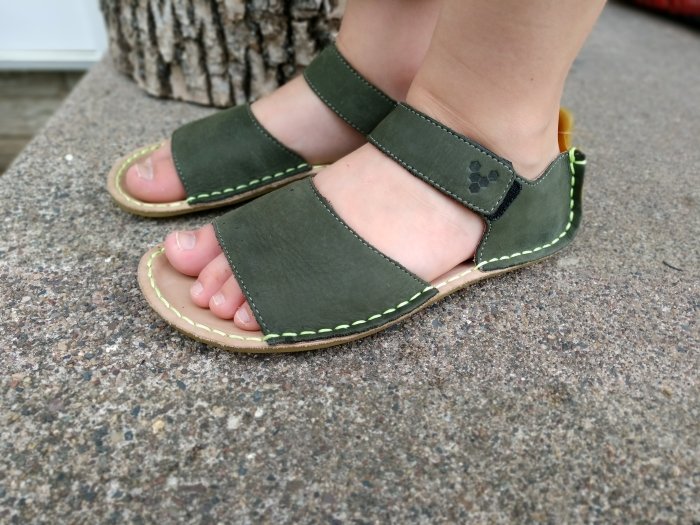 The Vivobarefoot Ababa Sandals | $58 after code VBANYA20 | Leather | US Sizes 9-3 | Handmade in Ethiopia
It's no question that Vivobarefoot is one of the most well-known barefoot shoe brands, offering sustainably made shoes with great style. The Ababa Sandals go a step further than their standard line of shoes, empowering the local communities where they are made. They have a classic look with exposed stitching that both my son and daughter like. Unfortunately, my daughter didn't get more than a little around-the-house use out of these because the front strap on the original Ababa Sandals was just too tight for her to be comfortable. This problem has since been remedied in the Ababa II, the exact same sandal but with an adjustable front strap.
Since my children don't have extra thick feet, I would recommend going with the Ababa II in most cases. Fortunately, everything else about the sandals is the same, so let's get into the details about the Vivobarefoot Ababa leather sandals!
Vivobarefoot Ababa Sandals Materials
The Ababa Sandals are made of durable Wild Hide leather inside and out. This leather is sourced from small scale Ethiopian farmers which helps to provide jobs and support the local community. It's soft to the touch, but sturdy. You can tell they are made to last and I can see these being handed down a few times to younger siblings.
Since the front strap on my pair is not adjustable, I had to work pretty hard to get the strap to stretch enough for my daughter to get her foot in. I stuffed with socks, had her wear them around the house while damp, and manually worked them with my hands. Ultimately I got the biggest difference when I spritzed the strap with water and then put a racquet ball tightly under the strap overnight. It's safe to say – there's no risk of these straps stretching too much!
Again, the recently released Ababa II which has an adjustable front strap fixes this problem completely.

The rocker sole is made from 4mm grippy rubber with a really cool footprint design on the bottom and a little outline of Africa on the back of the heel. It's really flexible without being floppy. The rubber heel and sole are all one piece and it's hand stitched to the upper with a bright green thread. The footbed is cupped around the edges, creating a little nest for the foot while also keeping the heel from rubbing against the ground.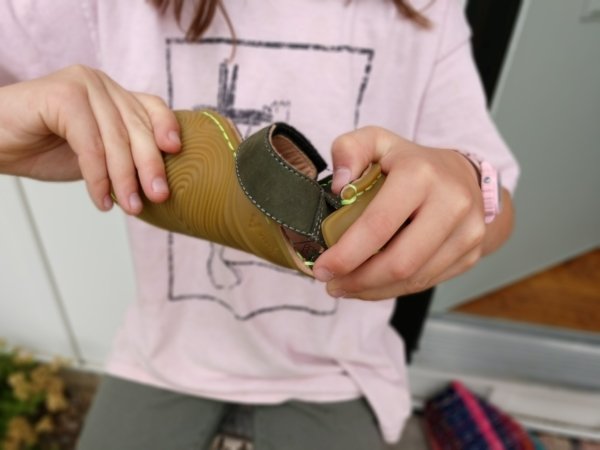 Vivobarefoot Ababa Sandals Fit and Sizing
The sizing on these sandals was a surprise. They are a size EU 31 (US 13) and are identical in length to my daughter's size EU 33 Unshoes Keota sandals! There is a little less usable length on the Ababas because of the stitching on the front, but they definitely run at least a size larger. The Ababa's were originally meant for my son (right photo above) but you can see they are too long even though he is about out of space in his other size 31 Vivos. Essentially, the Vivobarefoot Ababa Sandals run BIG.
The front straps on the original Ababa fit a very low volume foot, even after my efforts stretching. But they do have some give, so if they're only a little snug it's definitely worth doing some work to stretch them. I'm glad Vivo already updated the design to include a velcro front strap on the Ababa II! It's currently only available in a grey mist (which looks almost white) with pink stitching but I am hopeful they will include more colors in the future.
I want to make a special note about the ankle area on these because they will be PERFECT for low volume feet with narrow ankles! Look at how much that ankle strap can adjust without looking strange or dragging on the ground – it's ideal! The heel piece also cups the heel closely and will be great for thin feet. On the left you can see the range of adjustment you get with the ankle strap. On the right my 4 year old with skinny feet is showing how secure that area can be – even on her. She often struggles with the ankle area in shoes being too loose on her. My older daughter also had no trouble with the ankle area for her regular width ankles, as the leather easily moves out the sides to fit. But really wide ankles might have issues.
Vivobarefoot Ababa Sandals Cost and Ordering
Vivobarefoot is available almost everywhere. The Ababa Sandals cost $65, but you can save 10% with code VBANYA20. Shipping in the US costs $5 on orders less than $120, and anything over that qualifies for free shipping! Vivo has one of the best return policies, giving you 100 days to return shoes, even if they're worn. The US and the UK even get free returns. They've taken sustainability a step further with Revivo where returned footwear is given new life and put back on the market instead of the landfill.
Click here to find your nearest Vivobarefoot retailer
Vivobarefoot Ababa Sandals Review Conclusion
The Vivobarefoot Ababa Kids Sandals offers a lot – the elather is lovely, and the Soul of Africa project is doing good things! You can get healthy footwear for your kids while also supporting the local community where the sandals are made – how great is that? Just make sure you plan to size down, and consider the Ababa II for the adjustable front strap.
Check out Anya's other Vivobarefoot Reviews here!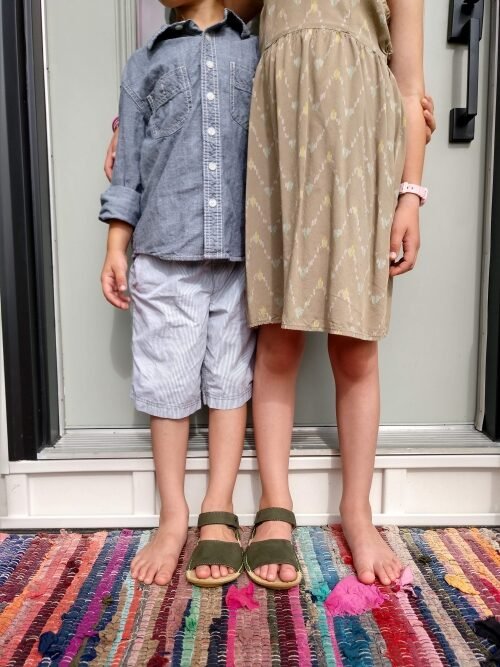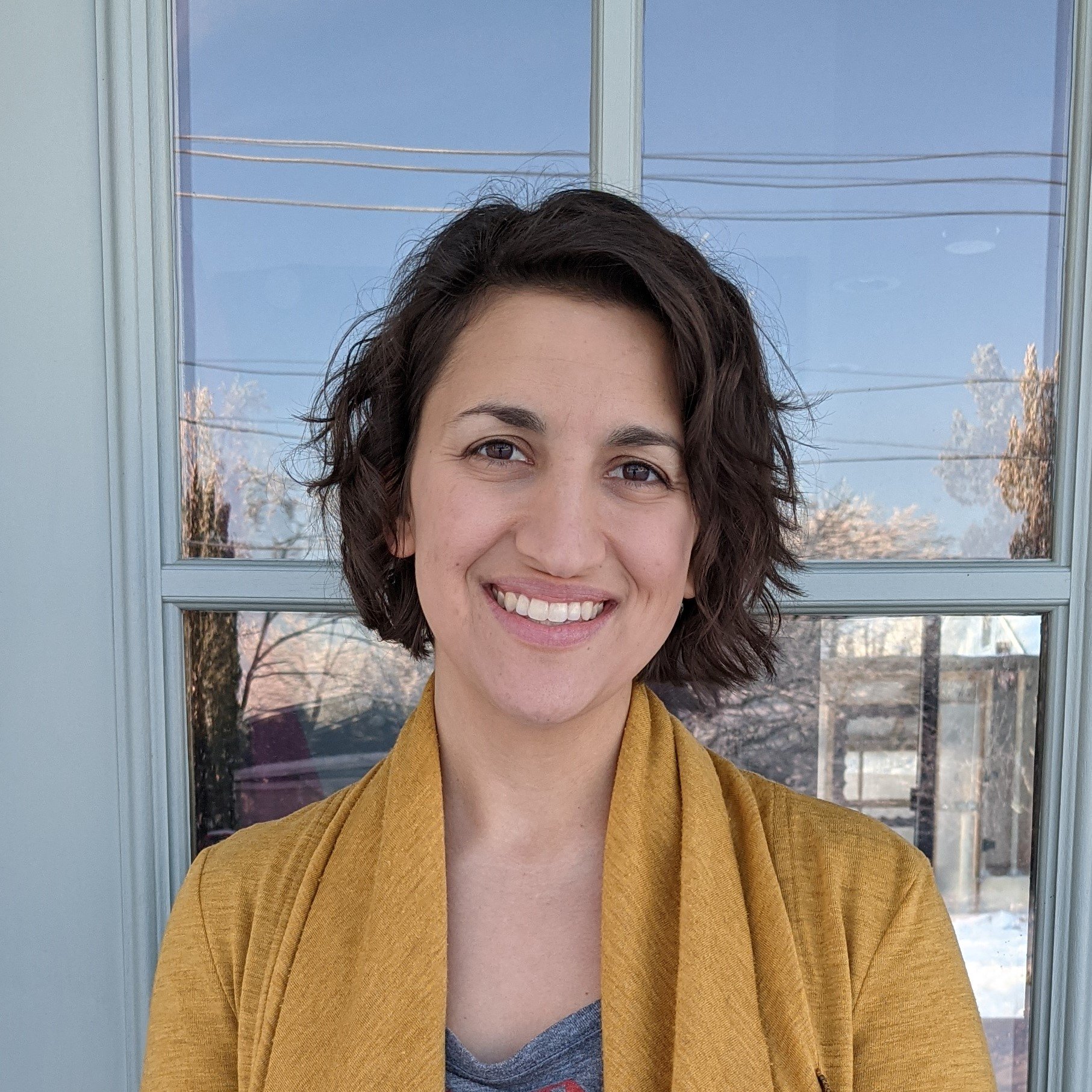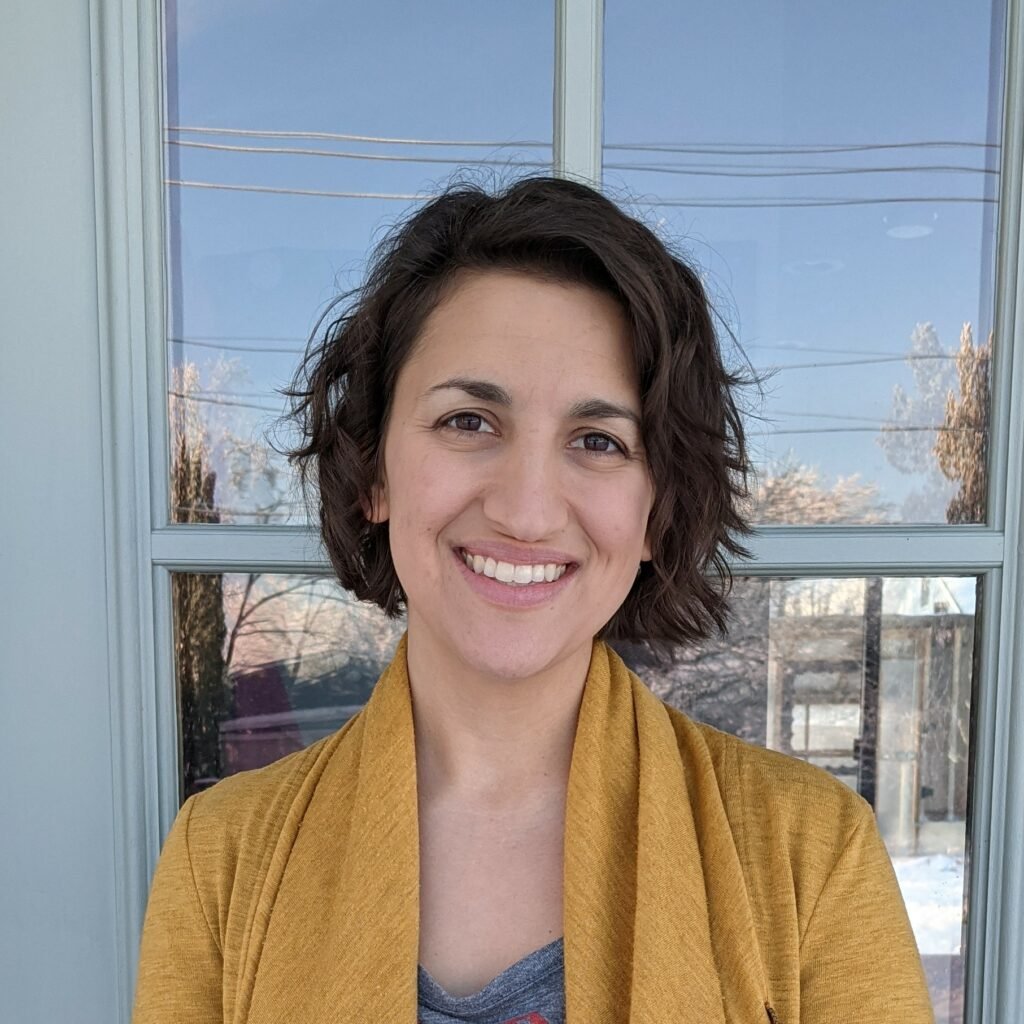 Samantha is a writer/researcher for Anya's Reviews and stay-at-home mom to 5 littles. In addition to shopping online for footwear for her family, she spends her time homeschooling, reading, weaving, and doing home improvement projects with her husband.