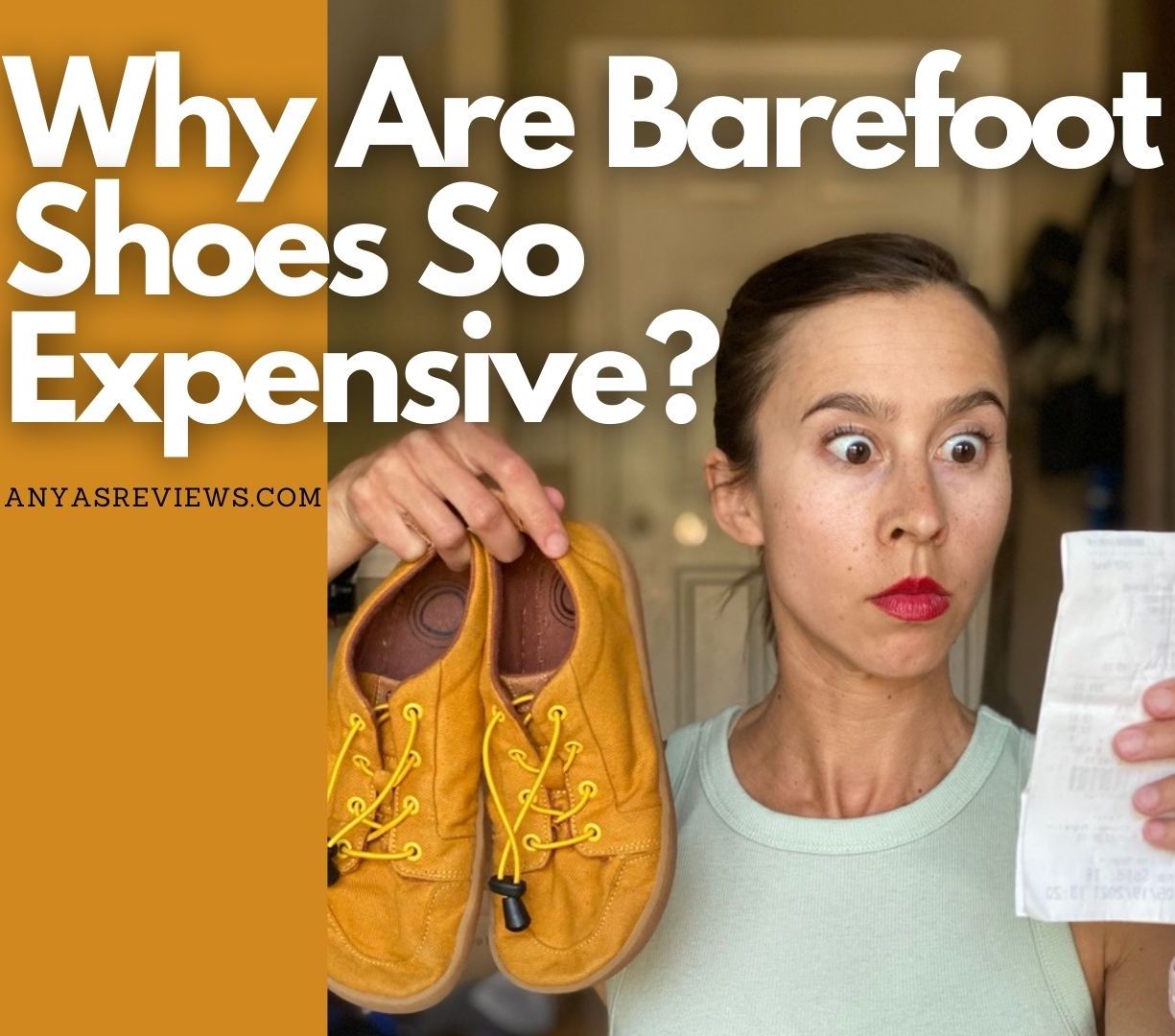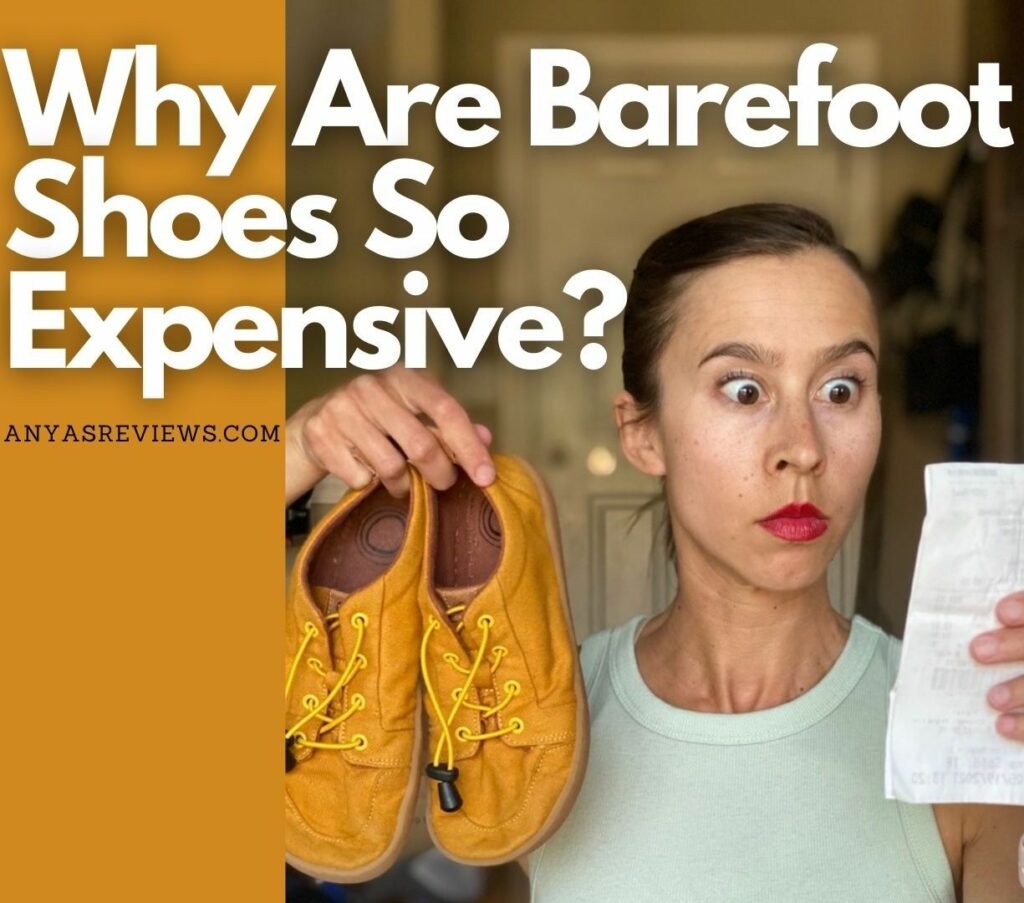 One question I hear ALL the time is why are barefoot shoes so expensive? It's less shoe, right? Shouldn't it be cheaper?? I've put a lot of effort into helping you all find natural footwear (aka barefoot shoes) that meet your particular needs, be it budget, style, size, thickness, whatever. But up until now, I've never directly answered the question of why they often cost more than conventional shoes. It's time to have some real talk about what's going on.
There are a lot of costs that go into manufacturing and marketing a barefoot shoe that most customers are not aware of – from custom lasts and molds, to labor costs for handmade products, and the fact that thin, flexible materials actually cost more to manufacture.
This post takes a deep dive into everything it takes to make and sell barefoot shoes, complete with thoughts from founders of well-known barefoot shoe brands.
Background – Small Fish In A Big Pond
The entire market of barefoot shoe brands is made up of small businesses, often fighting an uphill battle to get their shoes out into a skeptical world. This was especially true for trail blazer brands like Vivobarefoot, Vibram, Altra, and Xero Shoes.
When I entered the scene, the work of those early adopters had paved something of a road for entrepreneurs to start more barefoot shoe brands. And many of those barefoot shoe brands have grown up in this niche alongside me. We were all a bunch of babies, on a mission to take barefoot shoes mainstream. Over the years brand founders have willingly answered my many, MANY questions, accepted my feedback, and given me an inside look at what running a barefoot shoe brand is actually like. After opening up Anya's Shop (a retailer of barefoot shoes) last year, I now have a firsthand taste of some of those challenges. So without further ado, here's the no-nonsense take on why barefoot shoes cost as much as they do.
Why Are Barefoot Shoes So Expensive
A lot of people get hung up on the materials used in barefoot shoes (e.g. "it's just a strip of leather with a rubber sole, how am I paying so much for this?"), without realizing that barefoot shoe brands constantly battle increased costs every step of the way because what they are doing is different from the status quo. Below, I will outline the costs associated with developing and selling barefoot shoes and how they differ from conventional footwear.
1. Business Start up Expenses
New barefoot shoe brands have to invest huge amounts of time and money before they ever open their doors for business. While all new businesses deal with some of these issues, keep in mind that barefoot shoe brands are not able to use many of the tried and true practices that others can. Here are just a few of the things new brands must navigate, often for years, before they sell a single shoe.
General business formation costs

– licensing, legal/regulatory compliance

Setting up a website & developing a business aesthetic

– logo, colors, "brand personality" etc.

Developing a marketing strategy and product launch strategy

– Ads? Crowdfunding? Big Investors are often not interested in barefoot brands

Custom shoe lasts & molds

– in every size and size variant (e.g. multiple widths) the brand plans to offer

Sourcing materials

– have to be flexible and thin

Cost of materials

Labor costs

– are they handmade or factory made?

Setting up logistics and distribution channels

Securing and maintaining warehouse space

Shipping costs

from production facility/factory to the company's distribution warehouse

Packaging materials

for shipping final product to customers
Quick Reference Terms:
Shoe Last = the foot-shaped model placed inside the shoe to help give it shape
Shoe Mold – The molds used to create the rubber outsoles on shoes. Not all styles of shoes require molds, many brands hand cut their own outsoles. But sneakers and boots that have a sole that curves up the sides require them.
Jack, founder of Steadwell Co, is neck deep in all of this this right now as he develops his barefoot shoe line that he hopes to make affordable, vegan & responsibly made. He's been working for years, on his own dime, and isn't even open for business yet. Check out his two cents below regarding the costs of custom molds:
"Making custom outsole molds is where things get really expensive. Molds will run you somewhere between $500-$2500 each. And you need one mold for every size of shoe you intend to sell. If you want to sell unisex shoes sizes US 4-13 with half sizes, then custom outsole molds could cost you nearly fifty thousand dollars!"
Obviously there is a HUGE amount of labor that goes into developing a barefoot line of shoes. Let's dig into product development a little more.
2. Costs of Product Development & Materials Sourcing
Most factories are not making barefoot shoes. Whereas other shoe brands can simply pick out colors and design elements and just let the factories make the types of shoes they are used to making, barefoot brands have to design an entirely new shoe that meets barefoot requirements. This means lasts and molds have to be custom, and there is lots of back and forth with factories in order to "get it right." It's very common for brands to end up with samples that are not at all what they requested (with a heel lift, for example) and then they have to spend more time and money to fix it.
"It's more difficult to find factories and suppliers that are excited to work with you. Larger factories tend to charge less per pair of shoes produced, but they also look to work with established companies or new companies with investor funding. So most upstart barefoot shoe companies are stuck working with higher cost factories, at least at the beginning."
That's not even to mention material sourcing. Barefoot shoes require flexible materials, again something that established shoe factories are not used to working with. That sourcing of thin, lightweight, flexible – but durable! – materials adds another layer of complexity and cost.
"Some people equate weight with price, and think that a shoe with fewer materials and lighter weight should cost less than a bulky, heavy, stiff shoe. It's actually the other way around. High performance, lightweight materials cost more. The unusual manufacturing techniques that it takes to make a minimalist shoe costs more."
Now let's talk a little about the cherries on top. Barefoot shoe brands must meet minimum criteria in order to be called a barefoot shoe. But many go above and beyond that.
3. Quality, Ethics, Sustainability
Barefoot shoe wearers care A LOT more than most people about their footwear. We're picky! Not just about the fit and the quality of the shoes we wear, but also how and where they were made. Most barefoot shoe brands are catering to an audience (us) that inspects their shoes and business practices under a microscope, and they want those customers (us) to be happy with each step of the process. Quality, good ethics, and sustainable manufacturing costs more.
"For us, the biggest costs come from our business model – we control every part of the process, from sourcing and sometimes finishing our raw materials, to having the product manufactured locally in Portugal where we can ensure safe and fair work conditions, to packaging and shipping the shoes.
Our main focus is to provide high quality, long-lasting shoes made using ethical and ecologic materials that are healthier for both people and the planet. That sadly comes at a price."
This is especially true for handmade goods. There is no assembly line, it's just one person attending to every detail of the shoe. What you're really paying for in this case is time.
"If a shoe is made by hand it takes a lot of time to complete. And not only that, you need to make two! A left and a right (hopefully looking similar and nice). To make a shoe by hand I use about 30 different hand tools. Some of the tasks I'm [engaged in] when making your shoes: Pattern making, marking, cutting by hand, bonding layers, working edges, sewing, hammering and shaping, welting by hand, embossing, polishing, dying, and more."
4. Manufacturing Location
Barefoot shoe brands also tend to prefer local manufacturing. While that might lead to cost savings on shipping from a factory to a fulfillment warehouse, in the end it is almost always more expensive because this means paying liveable wages to their employees. That just straight up costs more than using huge, nameless factories without standards for ethics.
"We are aware of the fact that our shoes are not cheap. Especially if you are buying shoes for the whole family, this can be quite an investment. The reason behind this is first and foremost that we produce our shoes in Portugal under European labour conditions. Wildling also uses only high quality materials that are sustainably sourced. Quality, sustainability and fairness come at a reasonable cost and are a necessary investment. I do believe that you can feel the love that goes into making our shoes."
Of course that's not to say that anytime a brand uses a foreign factory they're not paying their workers good wages. Many barefoot shoe brands go abroad in order to save money on materials but have a close relationship with the factory to ensure that everyone is treated fairly and safely. Because they care about that.
"[My] biggest challenge is my own ethics. At Lisbeth Joe we are trying to avoid sweat shops, and we have no desire to drive prices down thereby compromising quality. Or worse, cut my suppliers' living wages pushing health and quality of life down. Another aspect of our ethical approach is to think about the environmental impact. Having researched this we think the environmental impact of real leather, which costs more, is less than vegan leather…"
5. Factory Volume Thresholds
"Manufacturing costs go down as production volume goes up, so even if all the materials and techniques were the same, producing smaller quantities costs more."
Another huge factor in the cost of barefoot shoes is VOLUME. Let's get down to brass tacks here. A lot fewer people are buying barefoot shoes than are buying "regular" shoes. The businesses that are supplying you with your beloved footwear are small, and simply cannot reasonably manufacture huge amounts of shoes. Lots of factories have volume thresholds, with significant discounts at higher volumes. This is sometimes as much as 40% cheaper for high volume orders. So mainstream brands are getting their shoes made for cheaper because they can buy large amounts up front.
"Small brands like mine have limited negotiating power because of our relatively small volume in comparison."
6. Import Costs
Some brands and retail shops like Anya's Shop are importing barefoot shoes or sourcing their raw materials from other countries. At our shop, it has astounded us how expensive it is to bring products to the US from overseas. Depending on the origin country, shipping costs can run in the thousands for a single order of, say, 100 pairs of shoes. You have to negotiate the complexities of international trade regulations and customs brokerage and the different rules for different kinds of shipments (e.g., air freight vs. ocean freight). And then to top it all off there are import duties, which are complicated and expensive and vary by the materials used, the production techniques, and even by the intended use for the shoes. One wholesale order we placed for Anya's Shop ended up being assessed 37% import duties which added $800 to the cost of that order of 50 pairs of shoes.
7. Costs to Market and Sell Barefoot Shoes
All of this only gets you to the point where the shoe is made and it hasn't been sold yet. If it costs you X dollars to make (or in the case of a wholesale retailer, receive) each pair of shoes, you then charge customers X times a certain amount to achieve a reasonable margin. The amount you charge above the amount it costs you to make/get the shoe is called the markup. But it doesn't mean that's how much you will profit, because you still have more costs associated with that pair of shoes. Additionally, barefoot shoe companies face a dual task of marketing their products AND educating a largely skeptical public about the benefits of barefoot shoes.
Here's a breakdown of additional costs after the shoes have been manufactured:
Direct marketing

– social media content (a labor expense) or placing ads online

Affiliate marketing

– shipping free test pairs of shoes, giving affiliates a percentage of each sale, etc.

Maintaining a website

– lots of cool websites are really expensive to maintain

Customer support

– again, a labor expense

Order fulfillment

– labor costs, maintaining warehouse space, shipping materials, etc.

Shipping products to the customer

–

Does a brand offer free shipping? That means the company is factoring this cost into their price, or they are intentionally eating this cost as a means of enticing more customers to grow bigger.

Cost of returns

If free returns are offered, this eats into margins
Time is lost for that product to be sold to someone else (e.g., limited stock, the product sells out and customers look elsewhere, product gets returned and is available again but customers have lost interest)
International returns – some brands' returns are never picked up because it costs them more to chase down the international return than it does to write it off as a loss
Cost if returned product is damaged and cannot be resold (or if company decides to be liberal with return policy or even to allow returning used shoes as a strategic decision to enable real-world experience and reduce barriers to entry for people new to barefoot shoes)
This gets you to the point where you can figure out your profit margin which is the relationship between the price people pay for the shoes compared to what it costs to make and sell the product. Your profit allows you to expand, pay off start-up expenses or debt, develop new products, etc. At Anya's Shop, we have used all profits to pay our customer service rep and order new inventory in order to bring more barefoot shoe brands to the North American market. As of today, Justin and I have not paid ourselves a cent for the hundreds of hours we have invested into the shop.
A couple other things brands deal with:
Collecting and remitting sales tax or VAT where applicable (or paying a subscription fee to a service that helps you do this)
Tax and regulatory compliance for your business, payroll taxes, meeting filing deadlines etc. (If you're a new small business, do you try to do this yourself, or do you hire someone to do this for you?)
Infrastructure costs: website, physical office space, warehouse, etc.
Expanding product offerings, Developing new designs, Changing suppliers or distribution channels if needed, Opening a new warehouse in another country
Recap: What Makes Barefoot Shoes Expensive?
Barefoot shoe brands face unique challenges and costs related to product development and manufacturing that conventional shoemakers do not. These include:
Higher labor costs for local or sustainable production and/or handmade products
Higher cost for thinner, more flexible but durable materials
Low volume for factory orders
Custom lasts and shoe molds
But what about kids barefoot shoes?
Why Are Kids Barefoot Shoes So Expensive?
And now, a word on why barefoot shoes for kids cost what they do. Many think that kids shoes should cost a LOT less than adult shoes because the size is so much smaller. It's less material, so it should be less expensive, right? Here's the truth:
Kids shoes often cost as much to make as adult shoes.
Because the biggest determining factor in manufacturing cost is time spent making the shoe, NOT the amount of materials used. So yes, a kids size shoes uses less material than the same shoe in an adult size, but that doesn't translate to any meaningful cost savings. The smaller sizes are often more challenging to make, as well! So brands that sell kids shoes either have to:
Charge a price that is unpalatable to parents
Have extremely narrow margins, or
Supplement the business income with other products that they can actually make money off of (like adult shoes or other accessories).
If you've wondered why there are fewer barefoot kids shoe options than adults, well, in the words of the late Notorious BIG, "And if you don't know, now you know."
Time, Time, Time
And finally, I want to say a word about time. Time is the entrepreneur's enemy. Endless amounts of it can be consumed by a business venture, and yet it is finite for each and every one of us. There is just SO MUCH to do to run a successful business. When you buy something, you are really compensating the business for all the time they have spent to get that product to you, and I just cannot stress enough that it was probably a lot more time than you can imagine.
As someone who has devoted huge amounts of time and effort into establishing a career in barefoot shoes (as a blogger firstly, and now as a retail shop owner), I tend to be a lot more sympathetic about shoe prices these days. The time of these manufacturers is valuable, and I want them to get what they deserve for what they do. But I also want to challenge all of us to be innovative and resourceful so that we can effectively meet the needs of all people who want to get their feet into barefoot shoes. So let's chat about how you can find barefoot shoes in your budget and positively influence the market.
What You Can Do About It
The best thing to do for the long term is to keep supporting barefoot shoe brands, and spread the word about healthy shoes. Over time the economics will begin to favor small barefoot shoe companies as they leverage higher volume orders (because more people are buying). And then they can either lower their prices or use improved margins to expand. Also, as the market grows and there is more awareness of how shoes affect our lives, "traditional" shoe companies will want to get in on the game by offering natural footwear options too.
The Barefoot Shoe Finder is a great way to get connected with the right barefoot shoe brands for your needs. Use it to find brands local to you to save on shipping costs!
The other thing you can do is to support people and fashion trends that promote healthy footwear in order to normalize it. It is in fact possible to both look and feel good in your barefoot shoes, and I am shouting this from the rooftops daily – Check out my Fashion, But Make it Barefoot series for aaaall the barefoot style inspo!
But in the short term, here are some tips and tricks to help you get your feet in healthy natural footwear without it costing an arm and a leg:
My Sales & Discounts Page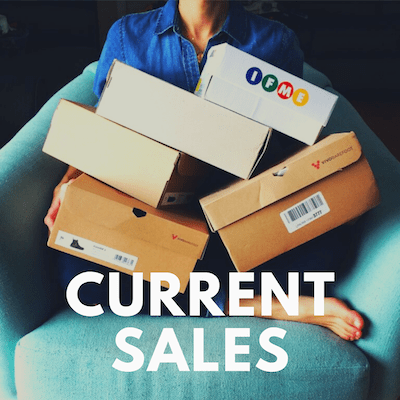 I keep this Current Sales & Discounts Post regularly updated year round. It contains a list of all the live barefoot shoe sales, plus tons of coupon codes. Most brands have some sales each year, so you should check it before every barefoot shoe purchase!
Affordable Barefoot Shoes for Adults
Here is an extensive list of the cheapest available barefoot shoe options in adults sizes, starting at under $25. You can probably find something in your budget to start with, if not new then used! You'll also find tips and tricks for getting used barefoot shoes and reselling ones you've moved on from.
And for a curated list of my 10 top picks, check out this Best Affordable Barefoot Shoes for Adults article
Affordable Barefoot Shoes for Kids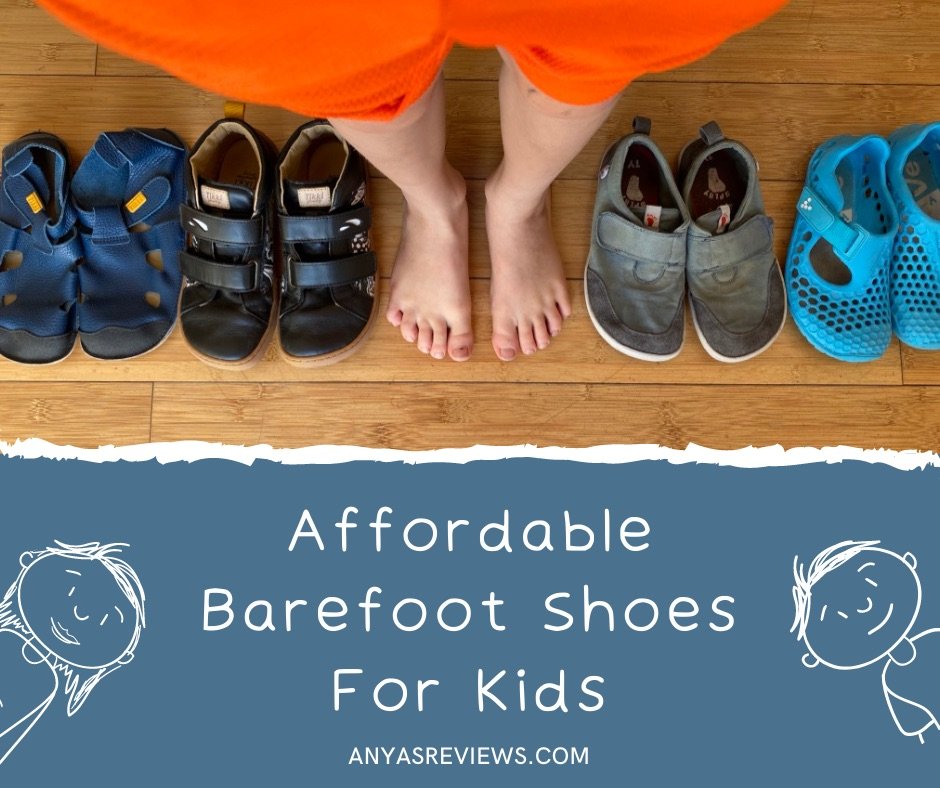 And here is a list of the cheapest kids' barefoot shoe options starting at Under $10. Kids are especially challenging because they grow out of their shoes so fast, and it can be really hard to justify an expensive purchase. That's why I've done the legwork to bring these options to you, because natural footwear is extra important for kids' growing feet. And again, you'll find tips for getting the most bang for your buck out of these shoes with links to resell markets!
Conclusion – Price vs. Value
Before I was a blogger I was a barefoot shoe customer just like you. And believe me, I also feel the sting of the price tag on those shoes we know are better for us. I have budgeted, sold off old shoes, bought used barefoot ones, and scoured the web for cheap alternatives (and thus Anya's Reviews was born!). Barefoot shoes may be expensive and out of reach for some, but over time I hope that the market expands and companies can lower prices for their customers. In the meantime, the resources you find here will help lessen the cost of transitioning your closet to healthier options.
But we are buying more than shoes here. We are supporting a movement that will set us and our posterity up for pain free living. We are contributing to the livelihoods of real people who want to help us live better. And we are even endorsing better business practices that save the earth. Barefoot shoes are better for a thousand and one reasons, and I want my money to go to all that they stand for.
Justin, co-owner of Anya's Reviews LLC and my life partner, co-authored this article with me. He contributed greatly to the technical information presented here, and is an excellent editor of my ramblings. I also need to acknowledge Samantha, a contributing writer at Anya's Reviews, who suggested I tackle this topic in the first place and who always keeps things fresh here with her insight.