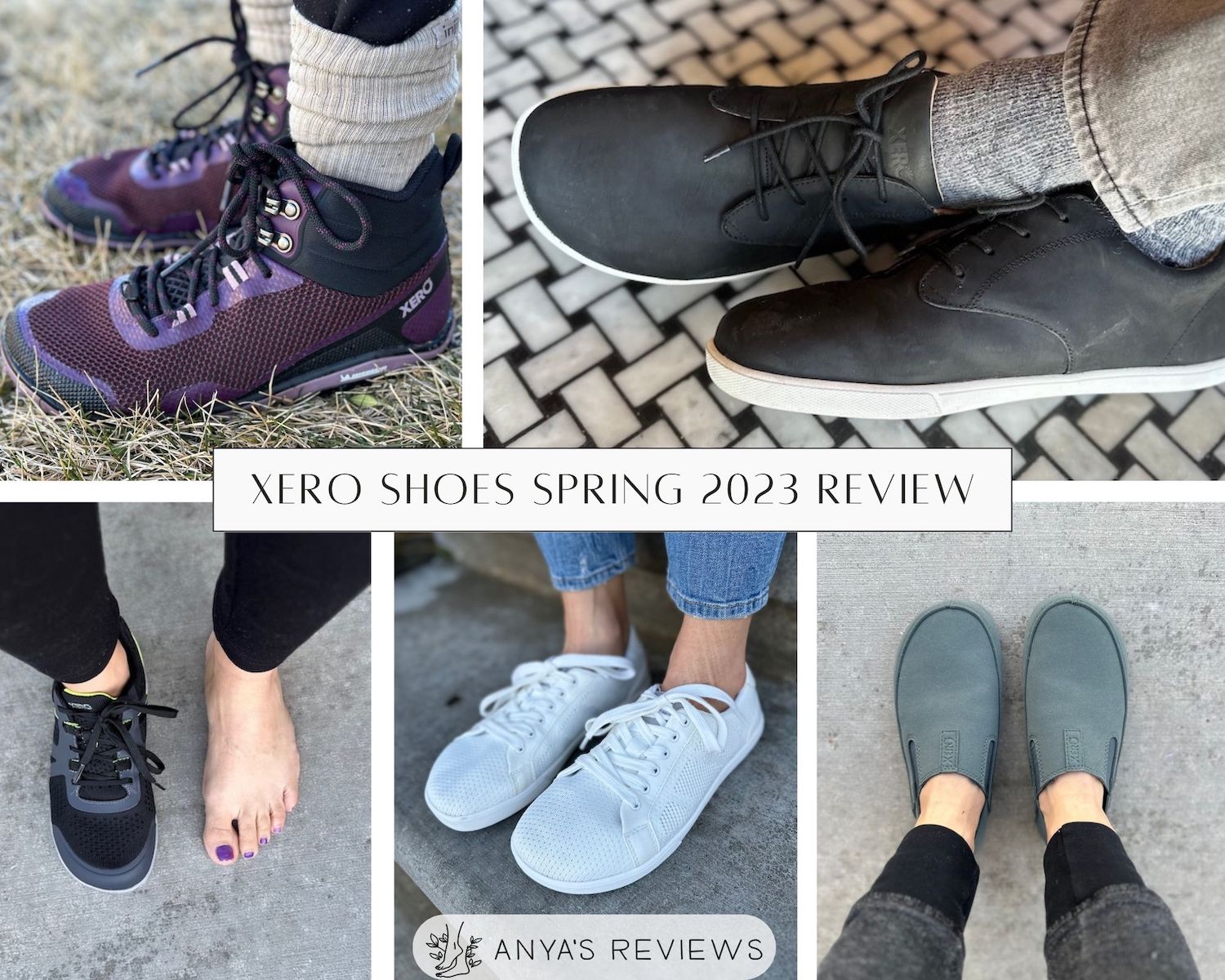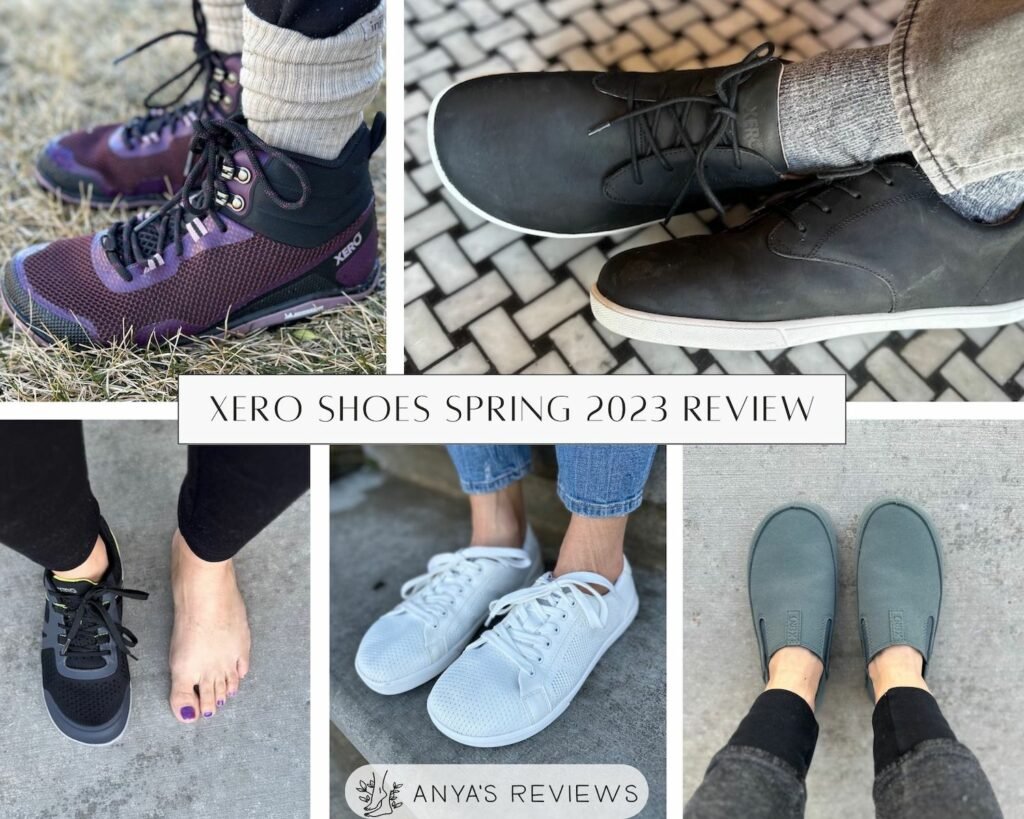 Xero Shoes spring collection has arrived! Check out the 5 new barefoot shoe styles from Xero, that include a fantastic lightweight hiking boot, casual shoes, and an improved gym shoe. You'll even find a dressy barefoot shoe! And for the first two weeks they are all 20% off.
Xero Shoes Spring 2023 Review
Xero Shoes is continually innovating their product line. The highlights for me this season are an overall improvement in fit and more sophisticated/streamlined design. I also appreciate that there are more options for people who are transitioning to barefoot shoes or want a little extra cushion. I had zero break-in issues or discomfort with the 2023 Xero spring collection, and am excited to see where they continue to take these improvements!
Psst, Xero Shoes also has an EU distribution center. Shop the new styles in the EU here.
Xero Shoes Fit Type
Here's what you need to know about how Xero Shoes fit. This is a general guide, with some variation between models.
Tend to fit high volume over the arch (but the extra insole allows for customization).
Great for people who like space above the toes.
Typically fit wide and straight feet best
Men's models are wider than Women's models
They have a 5,000 mile sole warranty
For more detailed info, you can peruse my earlier Xero Shoes reviews.
Now let's dig into reviews of the newest barefoot shoes from Xero! Note that the prices shown are before the 20% discount.
Scrambler Mid
$170 | 9mm stack height + 3.5mm insole | Sizes US Women's 5 – Men's 15 | Vegan
The Scrambler Mid is a lightweight hiking boot, and I have to say it exceeded all expectations. The upper is soft and breathable. The outsole is Michelin made, which provides excellent traction and durability but is still lightweight.
Even though the Scrambler has been treated with a water resistant finish, I recommend them for primarily temperate weather. It's not quite waterproof enough for lots of rain, mud, or snow, and because they are so airy they feel cold in snow anyways. However I was able to make them work for me this winter by layering up the socks (it's just that I prefer my insulated barefoot hiking boots for winter).
I also found they didn't shed mud quite as well as the Vivobarefoot Tracker Decon, but this is being nitpicky because my trails are VERY muddy in spring. Again, a slightly drier, more temperate climate than my own would be perfection for the Scrambler – I'll get lots of use out of them during the warm/dry months of the year.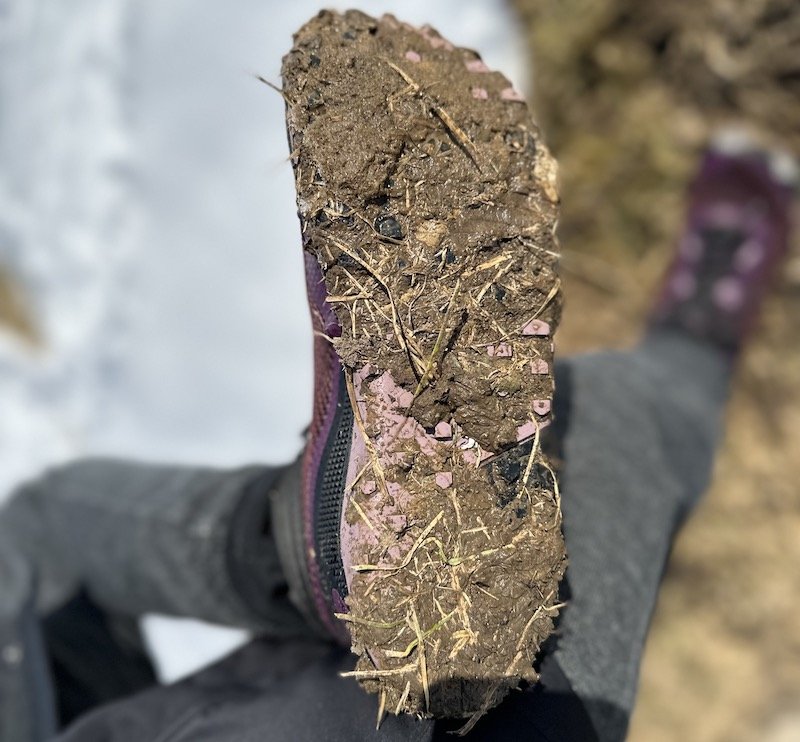 Because the Scrambler has a bit of a thicker sole than many other barefoot shoes, they make for a great middle-of-the-road option. Not as built up as traditional hikers, but they offer good protection while still being flexible. I prefer the Scramber Mid over all other Xero hiking boots and shoes I've tried, they're that good!
Sizing & Fit Type:
The Scrambler fits average and wide feet well and is true to size. They should work for both high and low volume feet, and there is a removable insole for more customization (I wear them with the insole because I have low volume feet). The only foot type I would not recommend these for is extra wide fan shaped.
They felt great from the first wear with no break in time – something not so common in a technical hiking boot. Even barefoot hiking boots usually need some breaking in!
I have sensitive heels and almost always get irritation from new hiking boots (I rectify this by putting moleskin or a pad in the heel cup), so part of why I love the Scrambler so much is because they never bothered me and they function so well.
*I typically recommend sizing up in boots like this because feet often swell while hiking*
Dillon
$100 | 8mm stack height + 2.5mm insole | Sizes US Women's 5 – Men's 15 | Vegan
The Dillon is a casual knit sneaker with a sleeker look than we usually see from Xero. They fit me super well, with good width in the toe box and a close fit in the heel so I'm not sliding around. The knit material is soft and comfortable with a bit of stretch, and I really can wear them all day and forget they're on my feet. I've been wearing them sockless.
These also have a bit of cushion, while still being flexible. This makes them good for people who want just a little more padding, whether it's because they are new to barefoot shoes, on hard surfaces all day, or for whatever reason.
The only thing about these white Dillons is that they can get dirty pretty quickly. I wore them all day in our Anya's Shop warehouse recently and they came home looking a bit rough. I was able to wash them with good success but they are not as bright as they were before. *When I wash shoes in the machine I put them on gentle cycle, cold water, with natural detergent or a bit of Oxiclean (a rough wash, hot water, and certain chemicals can ruin shoes).*
If you're worried about stains, I would choose black or go for a white leather sneaker instead (white leather is much easier to keep clean). In hindsight I wish I had sprayed them with Scotchguard or Carbon Pro first. For me these will be comfy sneakers and I'm not going to worry about them being a little dirty.
Sizing & Fit Type:
The Dillon is true to size and works for average and wide feet best. I expect they might be too wide or too narrow for the extremes of extra slim and extra wide feet. I've had trouble in the past with Xero not having enough toe space for my feet, but these are a great fit. Can work for high or low volume feet thanks to the removable insole. Like the Scrambler, not recommended for people with an extra wide toe splay.
A year ago Xero released the Kelso, which is a casual sneaker that fits super wide and high volume. By comparison, the Dillon has a slimmer fit through the arch and heel. I hope to see more variations of this shoe in the future!
Glenn (Men's)
$130 | 8mm stack height + 2.5mm insole | US 6.5M-15M | Leather
Glenn is a casual/dressy shoe hybrid that comes in men's sizes only. Justin's feet fit really well into Xero shoes, he's got that wide straight foot. So the Glenn fit seamlessly into his business casual work wardrobe and he is a big fan. They feel like wearing sneakers, but look classy and even a little dressy.
I was thrilled to see that Xero went for a classic design and omitted the huarache strap detailing. 👏
Sizing & Fit Type:
The Glenn runs on the small side. Justin normally wears a size 13, but compared to other similar barefoot shoes in the same size the Glenn is shorter. We almost exchanged for a size up, but fortunately they broke in well and now Justin is wearing them comfortably.
These fit medium volume with the insole and high volume without it, and you will get more adjustability with the laces. Good for wide straight feet.
Sunrise
$70 | Microfiber (vegan) | 6.5mm stack height + 2.5mm insole | Sizes US 5W – 15M
The Sunrise is a simple slip on shoe perfect for keeping by the back door or wearing around the campsite after a day of hiking. I wouldn't exactly call them a stylish shoe, but I need at least one slip on in my life for practical reasons. And the Sunrise is soft, flexible (great for packing) and easy to wear. The price is good too, especially during the sale.
Sizing & Fit Type:
The Sunrise fits differently that I'm used to from Xero. They are rather low volume, which almost never happens from Xero shoes, and on the narrower side.
They have a glove like fit, which prevents you from walking right out of the shoe. But they will not be a good choice for people with high volume, extra wide feet. While they fit my low arch well, they're a little snug on my wide toes. If you're able to fit into men's sizes and have a wide foot, it might be better to order the Men's Sunrise.
Prio Neo
Mesh (vegan) | 8mm stack height + 3mm insole | Sizes US 5W – 15M
I had a friend help me test out the Prio Neo, she is a physical therapist and an avid exerciser with a wide, high volume foot. Here is what she has to say.
"The Xero Prio Neo have a great sporty look. Many barefoot shoes have a "water shoe" design but this model has a stylish sporty look while providing all the advantages of barefoot shoes. They are very comfortable and versatile and I wear them for work as well as exercise.
The breathable material on the top of the shoe is I firmer than the Xero Forza Trainer (another great gym shoe) and I feel this makes them more responsive for quick cutting movements. When I go to the gym they perform well with good traction and comfort for all the athletic moves I attempt, whether it be weightlifting, kickboxing, running, or agility drills.
They do have an athletic squeak at times with running up down steps but that doesn't bother me. I have tried several athletic barefoot shoes from Xero and other brands, and these are definitely my favorite so far. "
I (back to Anya now) also tested these out for a few hours and found them very comfortable out of the box. They look a little more sophisticated and high quality than the regular Prio, and will be better for more foot types than the Forza because they have a tongue (instead of a bootie construction). But this model does not have the heel piece that can hook into the rowing machine or a stability strap like the Forza Trainer does.
Sizing & Fit Type:
This sneaker is very versatile and should work for a lot of foot types. True to size. Probably not best for people with an extra wide toe splay.
Prio Suede (Women's)
$110 | Mesh & Suede | Sizes US 5W – 12W
Also new is the Prio Suede in women's. We tested out a pair in men's last fall! Check out our review of the Prio Suede shoe here.
Aptos Spectra Green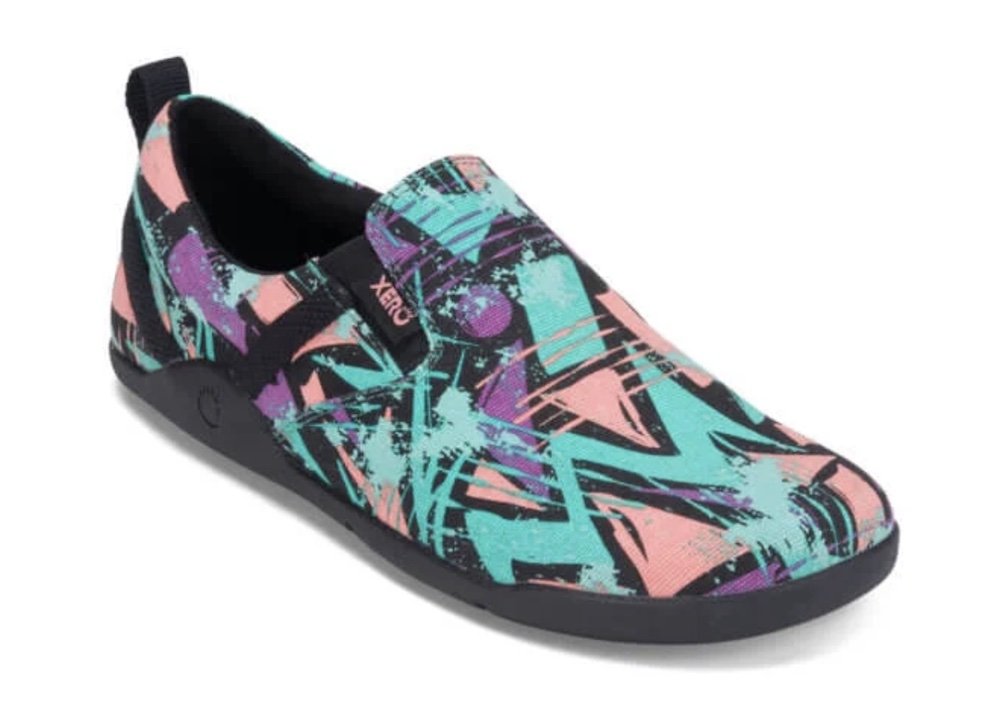 $70 | Canvas | Sizes US 5W-12W
The Aptos is not a new Xero product, but this colorway is. It was just too fun to not mention here. The Aptos fit really high volume and slightly narrow in the toe box, so they're not a great fit for my foot type. But I love this 80's print! Read my Xero Aptos review here.
Conclusion
If you're a Xero fan, I think you'll like where things are headed! Don't forget, if you're in the EU you can shop at XeroShoes.EU!