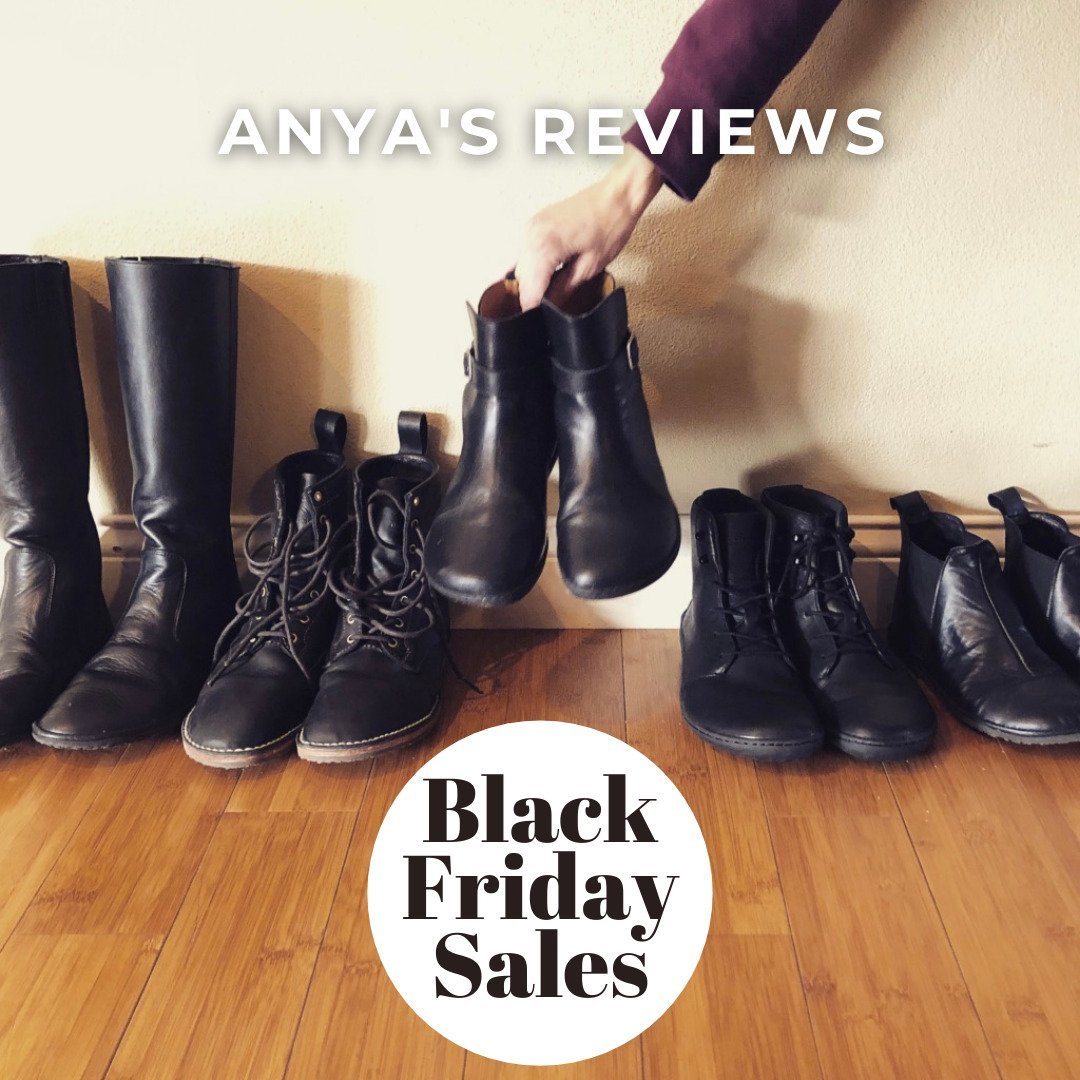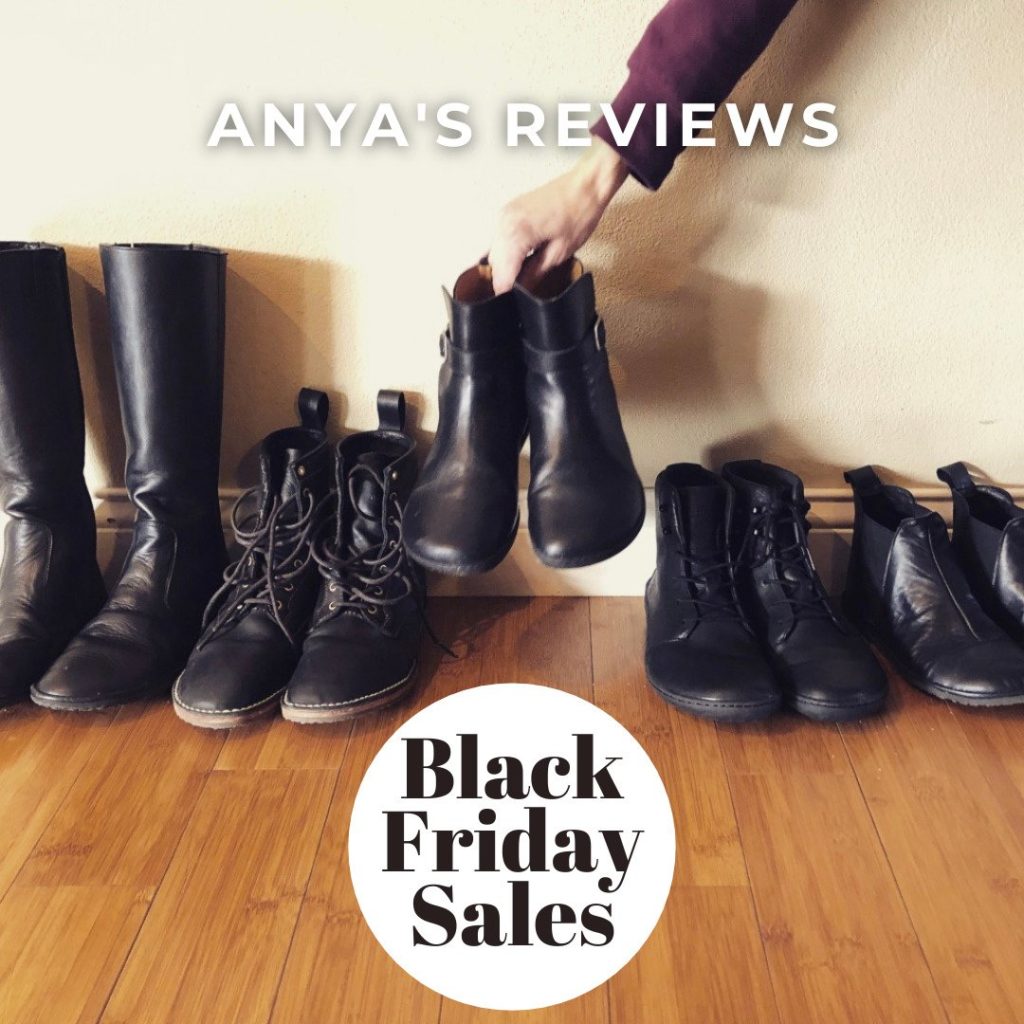 Last Updated: Dec 6, 2021
Welcome to the annual Barefoot Shoe Black Friday/Cyber Monday Sales list! Barefoot shoes aren't exactly known for being cheap. So it's great news that TONS of barefoot shoe brands participate in Black Friday & Cyber Monday sales to make things a little less stressful on your pocket book.
We will make it very easy for you to find the best sales on the shoes and accessories you're looking for! And be sure to hang out a bit here if you have any questions about specific brands. I have 100's of barefoot shoe reviews on this site and have covered almost every brand here. Not all barefoot shoe brands participate in Black Friday but they may have other sales and coupon codes. You can check those out on my Discounts page that is kept current all year!
To see everyone that participated last year, check out 2020's Barefoot Shoe Black Friday List.
*Keep in mind that basically every shop on this list is a small business, often with limited stock. Certain popular styles might be sold out by the time we get to Black Friday. If you absolutely must have something, it might be worth checking with the brand about how much stock they have, or purchasing it ahead of time so you don't miss out.*
The Best Barefoot Shoe Black Friday Sales of 2021 – Highlights
Adult Barefoot Shoe Sales
ENDED Ahinsa:

11/22-11/29

– Up to 30% off
ENDED Anya's Shop:

11/21-11/29

– 5-15% off select styles
ENDED Bohempia USA:

11/25-11/29

– 15% off
ENDED Carets:

11/18-11/29

– $40 off any shoe with code ANYABF40, or $100 off two+ pairs with ANYABF100 (USA/Canada site only)
ENDED Cool East Market (CAD retailer):

11/19-11/30

– Up to 20% off select styles
ENDED Duchess & Fox:

11/29

– Limited use codes: MONDAY50, MONDAY45, MONDAY40, MONDAY35, MONDAY30
ENDED Everleigh Meadow: (womens)

Begins 11/26

– Up to 35% off with limited use codes (published on Everleigh Meadow's Instagram at 11:45pm on 11/25)
ENDED Feelgrounds:

11/22-11/29

– Up to 30% off
ENDED FeetSutra: 11/26-11/29 – 30% off with code FEET30
ENDED Freet:

11/22-11/30

– 15% off with code BlackFridayBarefoot15
ENDED Gaucho Ninja:

11/26-11/30

– 20% off with code THNKSGVNG21ANYA (£500 minimum order – max 8 orders)
ENDED Groundies:

11/23-?

– Up to 70% off select styles
ENDED Groundz:

11/25-11/29

– Buy one get one 40% off with code HOLIDAYS21
ENDED Happy Little Soles:

11/26-11/30

– Up to 30% off select styles

ENDED

High Feels:

11/26-?

– Sandals discounted to EUR 99

ENDED

Joe Nimble Int:

11/22-11/28

– 20-30% off select styles
ENDED Joe Nimble US: 11/26-11/29 – 15% off
ENDED Leguano:

11/19-11/30

– Buy 1 pair of shoes at regular price, get the second pair 30% off
ENDED Lems:

11/22-12/3

– 25% off (excludes Primal Pursuits, Chillum Blackjacks, and non-Lems products)
ENDED Lisbeth Joe:

11/23-11/30

– All shoes $99 + Free toe separators
ENDED Luks Shoes:

11/21-11/28

– 20% off Autumn & Winter models
ENDED Magical Shoes: Up to 30% off.
ENDED Manitobah Mukluks: Up to 50% off
ENDED No(N)s:

11/26-?

– Up to 15% off select in-stock styles
ENDED Oesh:

11/25-11/27

– Discount codes for email subscribers

ENDED Origo Shoes: 11/25-11/29 – 15-25% off site-wide plus extra 5% off with code ANYA5 (discount automatically applied through link)
ENDED PaperKrane:

11/26-11/29

– "Barefoot Friday Sale" 40% off most styles
ENDED PedTerra:

11/26-11/29

– 15% off site-wide
ENDED Peerko:

11/26-?

– 25% off all sneakers
ENDED Posh Panda:

11/26 only

– Buy 1 Get 1 50% off + free gift on orders over $100.
ENDED Raum Goods: Until 11/29 – 20% off everything with code GRATEFUL
ENDED Shapen Barefoot: 11/22-11/29 – Up to 40% off select in stock items
ENDED Skinners:

11/23-12/1

– 20% off + free shipping
ENDED Softstar Shoes:

11/22-11/30

– Up to $25 off select adult shoes (no code needed – excludes clearance) & 15% off gift cards $100+ with code GREATGIFT (gift card deal only available for USA and sent as hard copy)
ENDED Splay Shoes:

11/24-11/29

– Buy one pair get one 40% off with code BOGO40BF + new colors launched!
ENDED Tadeevo:

11/20-11/29

– 10% off with code BLACK
The Storehouse Flats:

$39 mystery scratch & dent

Tikki Shoes: 11/26-12/1 – Up to 20% off select styles
ENDED Vibram:

11/25-11/29

– 20% off when you buy 2+ full-priced products, 50% off FiveFingers Closeouts, Select Furoshiki Boots only $50
ENDED Xero Shoes:

11/9-11/30

– Up to 70% off select styles (EU Sale here)
Zami (EU retailer):

11/26-11/29

– Tons of styles on sale!
100 Barefoot Soles (UK retailer): Up to 30% off select styles and 50% off end of line styles while supplies last. Use code ANYASREVIEWS for an extra 10% off
Sandals Only Brands
Kids Barefoot Shoe Sales
ENDED Anya's Shop:

11/21-11/29

– 5% off Zeazoo Dingo Boots
ENDED Bobux (US & UK only):

11/25-?

– 30% off select styles
ENDED Duchess & Fox:

11/29

– Limited use codes: MONDAY50, MONDAY45, MONDAY40, MONDAY35, MONDAY30
ENDED Everleigh Meadow:

Begins 11/26

– Up to 35% off with limited use codes (BLACK35FRIDAY, BLACK30FRIDAY, BLACK25FRIDAY, BLACK20FRIDAY, BLACK15FRIDAY)
ENDED Freet:

11/22-11/30

– 15% off with code BlackFridayBarefoot15
Gracious May: 50% off select mocc boots
ENDED Happy Little Soles:

11/26-11/30

– Up to 30% off select styles
ENDED Jack & Lily:

11/23-11/29

– 50% off select styles
ENDED Jan & Jul:

11/26-11/29

– 15% off knit shoes (check insole for heel lift) with code ANYAFRIDAY15
ENDED Little Love Bug Company:

11/26-?

– Use code LOVEBUG40 for 40, 30, or 20% off (limited uses for each amount)
ENDED

Nomies:

11/29

– 15% off with code MONDAY
ENDED Origo Shoes:

11/25-11/29

– 15-25% off site-wide plus extra 5% off with code ANYA5 (discount automatically applied through link)
ENDED PaperKrane:

11/26-11/29

– "Barefoot Friday Sale" – 40% off most styles
ENDED PedTerra:

11/26-11/29

– 15% off site-wide
ENDED Posh Panda:

11/26 only

– Buy 1 Get 1 50% off + free gift on orders over $100.
ENDED Shamma Sandals:

11/25-11/30

– 25% off adult sandals, 25% off Little Cruzers, & 10% off all kids
ENDED Shapen Barefoot:

11/22-11/29

– Up to 40% off select in stock items
ENDED Skinners:

11/23-12/1

– 20% off + free shipping
ENDED Splay Shoes:

11/24-11/29

– Buy one pair get one 40% off with code BOGO40BF + new colors launched!
ENDED Stonz:

11/16-11/30

– 25% off select styles (baby/toddler booties)
ENDED Tadeevo:

11/20-11/29

– 10% off with code BLACK
ENDED Ten Little:

11/15-11/30

– 15% off $150+ with code HOORAY15 or 20% off $200+ with code HOORAY20
Tikki Shoes: Begins 11/26

-12/1

– Up to 30% off select styles
ENDED Xero Shoes:

11/9-11/30

– Up to 70% off select styles
Zami (EU retailer):

11/26-11/29

– Tons of styles on sale!
ENDED Zuna Shoes: (USA)

Until 11/30

– 20% off with code ANYA20 (discount automatically applied through link)
ENDED Zutano (baby booties): 15-40% off
100 Barefoot Soles: Up to 30% off select styles and 50% off end of line styles while supplies last. Use code ANYASREVIEWS for an extra 10% off
Region-Specific Barefoot Shoe Sales
The brands on this list don't ship worldwide
Australia
Europe
UK
ENDED Bobuk UK:

11/25-?

– 30% off select styles
USA
ENDED Anya's Shop:

11/21-11/29

– 5-15% off select styles
ENDED Bobux:

11/25-?

– 30% off select styles
ENDED Carets:

11/18-11/29

– $40 off any shoe with code ANYABF40, or $100 off two+ pairs with ANYABF100 (USA/Canada site only)
ENDED Injinji (US/CA only):

11/26-11/29

– 20% off with code ANNUALSALE20
ENDED Joe Nimble US:

11/26-11/29

– 15% off
ENDEDOrigo Shoes:

11/25-11/29

– 15-25% off site-wide plus extra 5% off with code ANYA5 (discount automatically applied through link)
ENDED PedTerra:

11/26

-11/29 – 15% of site-wide
ENDED Ten Little (Kids):

11/15-11/30

– 15% off $150+ with code HOORAY15 or 20% off $200+ with code HOORAY20
ENDED Zuna Shoes (Kids):

Until 11/30

– 20% off with code ANYA20 (discount automatically applied through link)
Barefoot Shoe Accessories
Socks
Insoles/Foot Gear
ENDED Anya's Shop:

11/21-11/29

– 5-15% off select styles
ENDED Naboso: 20-25% off site-wide

ENDED

The Toe Spacer: 11/10 – 11/14 – 15% off all products with code BFS15
Exercise Equipment
ENDED MOBO Board:

11/25-11/30

– 10% off 1 board with code HOLIDAZE1, 15% off 2 boards with code HOLIDAZE2, 20% off 3 with code HOLIDAZE3.
ENDED Yoga Tune Up Fitness:

11/22-11/29

– 25% off site-wide with code GIVEMORE25 (excludes Wholesale, Holiday Exclusives, and Online Courses)
Education
Brands not having a 2021 Black Friday / Cyber Monday sale