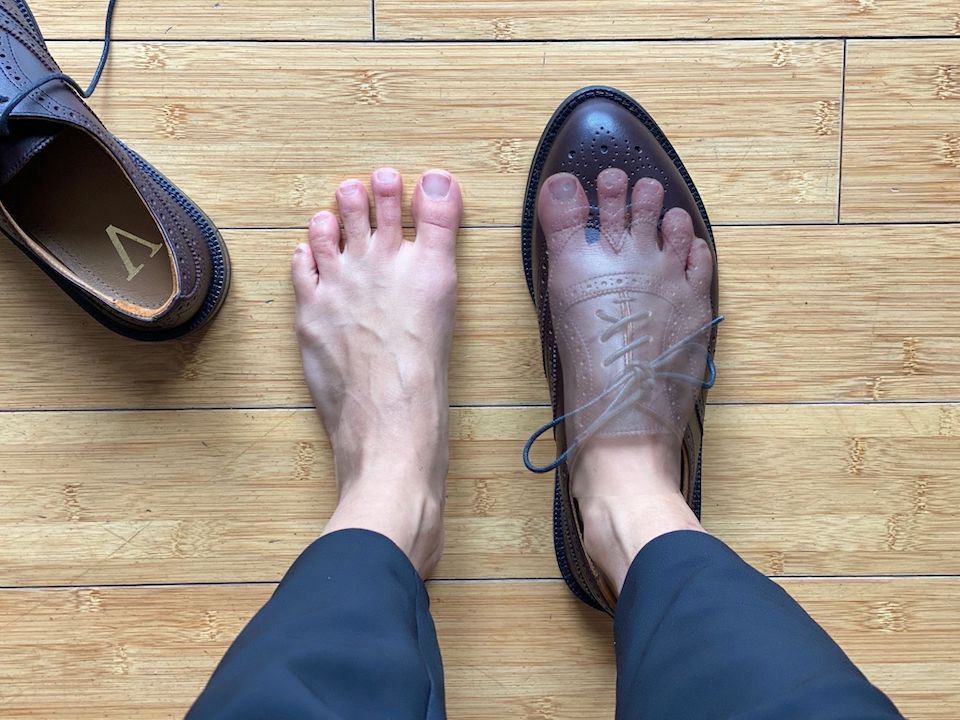 *Production for this model has been paused, please read this blog post from Carets for more information*
Carets is a barefoot shoe brand that befuddles people. They have artfully combined the features of a minimalist shoe – zero drop sole and wide toe box – with a design that looks very much like a traditional shoe. A faux heel and elongated shape disguise barefoot features for people who want the classic look of a wingtip brogue without compromising their foot health.
Previously, Carets has only produced men's shoes. But this year Carets is introducing a women's size range and they are available for preorder now! Today I am reviewing an early pair of the Carets Victoria Wingtip in Oxblood, before they become publicly available.
Carets Victoria Wingtip Review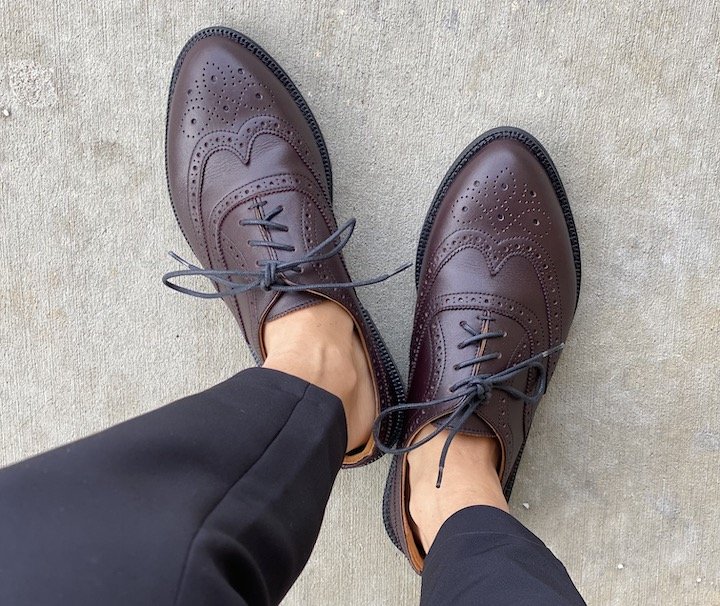 Carets Victoria Wingtip | Leather | $250 | US women's 5-11 | Ships from US
I have reviewed Justin's Carets shoes in the past, so am well versed in how they achieved the look of a pointy, heeled shoe without it actually being so. Even still, my mind was malfunctioning when I took the Victoria Wingtips out of the box. The beauty of the shoe was undeniable – the brogue and wingtip detailing, the rich leather, the faux heel, it's obvious a lot of thought went into every detail of the shoe. But they looked so much like a "regular" dress shoe I couldn't wrap my head around it! And yet when I put the shoes on I couldn't deny I had far more toe space than expected.
Besides having a wide forefoot and zero drop sole, the Victoria Wingtips otherwise feel like a regular dress shoe. They are sturdy and hold their shape – there's none of that flop that many barefoot shoes have – and there is little to no ground feel. The sole does have some flex to it and bends easily in the front (for big toe flexion), but the heel portion is pretty stiff.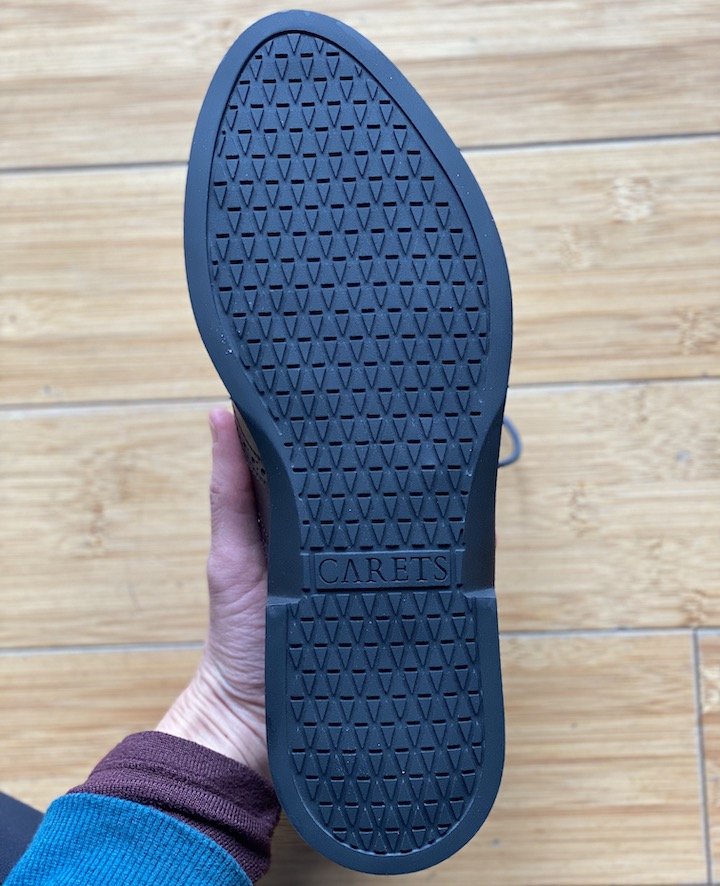 Essentially, these are high end dress shoes for someone who doesn't want to wear pinchy heels anymore, but also isn't willing to compromise on looks. If you're looking for a shoe that actually feels like being barefoot, you'll want to look elsewhere.
*Note that my pair is a pre-production sample. There will be a few improvements between now and final production, for example the Oxblood color will be a little lighter and the laces will quite a bit shorter.
Victoria Sizing & Fit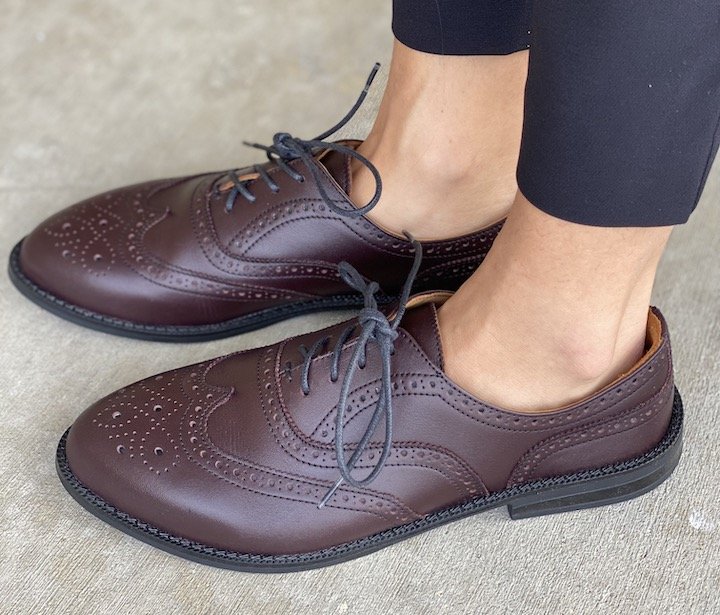 I got my Victoria Wingtips in a size US women's 7, a typical size for me in close toed shoes. From my experience with other barefoot shoes, the fit is true to size. I have shallow arches and skinny ankles, so I have a little bit of extra space that I filled in with a tongue pad. I would describe them as fitting medium to high volume best. Even still, the ankle area doesn't gape so they look classy even on my knobby feet. With the tongue pad added, my Wingtips fit securely without slipping.
I have a wide forefoot and my toes have space to lay flat, but they do brush the sides when splayed. So I wouldn't advise these for extra wide feet or a square toe shape – average to wide toes should have enough space.
To learn what your foot type is and brands that work best for them, read this!
The Victorias come with a removable insole that I immediately took out. Even though I have shallow feet, the insole took up some precious toe space and I wanted the thinnest sole possible (they are 9mm thick without the insole).
Some have asked if these Carets are essentially just wearing a shoe that is a few sizes too big. But if you were to simply size up in a shoe, then it would be bigger in the ankle area as well as in the toe box. And that's likely to result in an insecure fit. By contrast, these Carets put the extra space in the front and keep the back true to standard shoe sizes.
Another common question is if the long toe box gets in the way when you walk. I personally didn't have any issues with tripping over the front of the shoe or snagging it on things myself, and I think that has a lot to do with the secure fit of the shoe. But my father in law, who wears Carets shoes daily to work, has to walk carefully on the stairs or the point of the shoe will run into the next step. There might be some instances when the length can get in the way.
How to Style the Victoria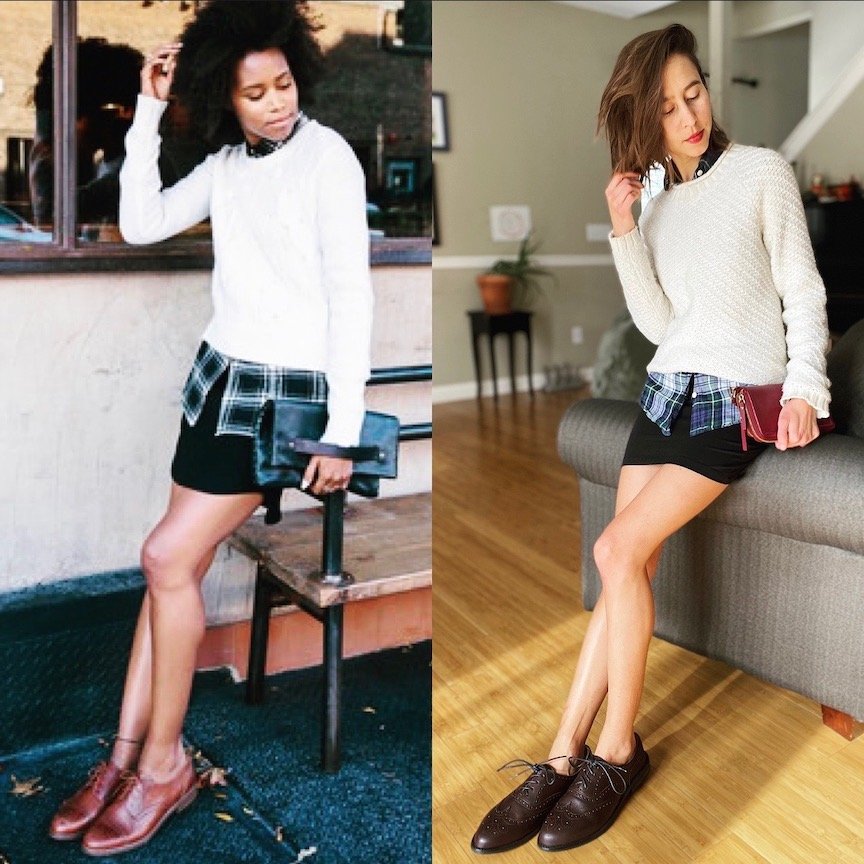 The Carets Victoria Wingtips are a "menswear" style, but in women's sizes. They pair well with dress pants, blazers, and pencil skirts, and are definitely the classiest pair of shoes I own. The elongated toe and wide width contributes to the masculinity a little, so don't expect a dainty pair of oxfords. But if you want that menswear look, the Wingtip is exactly it.
Ordering from Carets
The Victoria Wingtip is available from the main Carets shop. They are on preorder right now at $40 off the retail price, and you can get an additional $40 off with code ANYA-VICTORIA40 until Feb. 10th. After that they'll go up to $250 a pair. This is a lot if you're not used to the cost of luxury dress shoes, but if you are already buying those types of shoes you won't bat an eye. Many luxury shoe brands cost significantly more than this, and are uncomfortable to boot.
Preorders are expected to ship in July. Carets generously accept returns/exchanges even on worn shoes within the first year! You can read their full shipping/return policy here.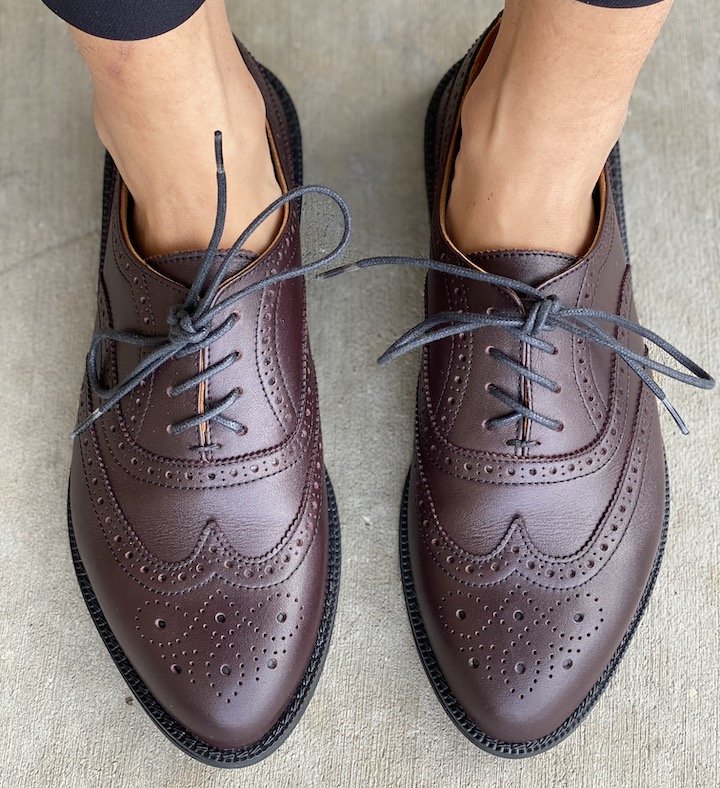 Carets Victoria Wingtip Review Conclusion
Carets Victoria Wingtips fill a very particular space in the natural footwear market. They are a high end dressy shoe that looks more like a traditional wingtip than any other zero drop, wide toe boxed shoe on the market. There really is nothing else like it available. If you want something truly fancy that doesn't look at all like your typical barefoot shoe, Carets is where it's at.