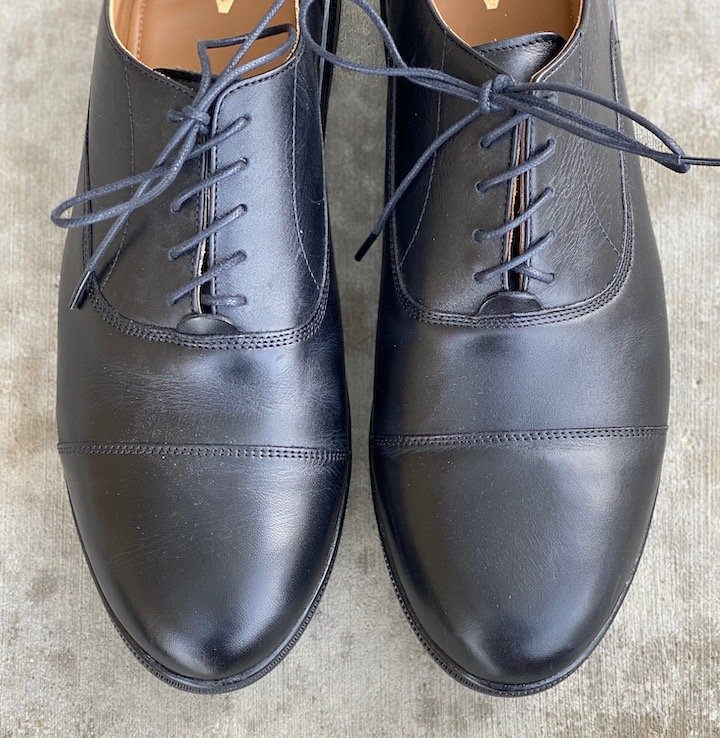 Carets Barefoot Dress Shoes are zero drop, wide, and dressy enough for professional work environments and black tie events. If you want the benefits of barefoot shoes without compromising on style, you need to check these puppies out! Read on for my full review of Carets barefoot shoes, including detailed sizing and fit recommendations.
Carets Shoes Review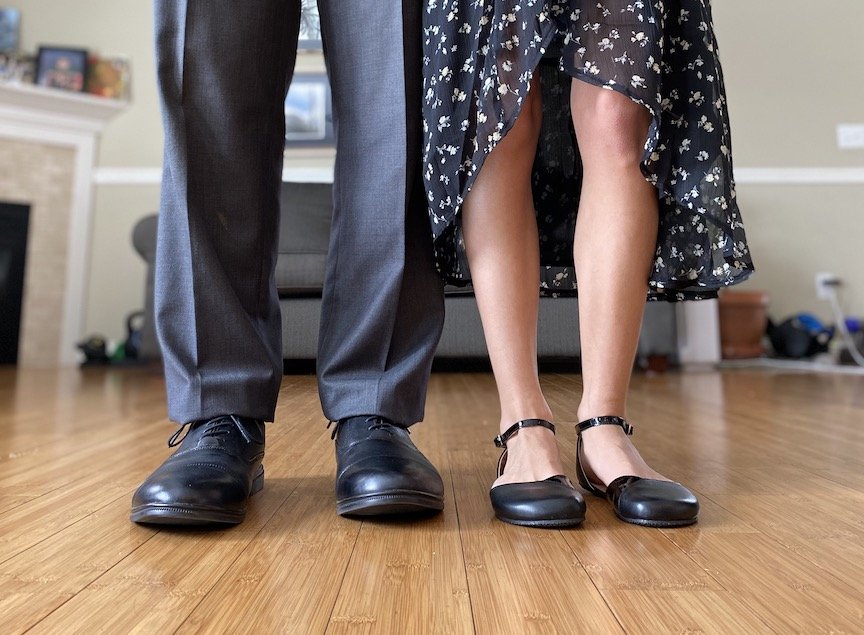 There is a disconnect in our culture between function and form. When we need to look professional and sophisticated we just take it for granted that we can't also be comfortable. The best looking shoes hurt, right? If you've been around, you know we're debunking that myth slowly but surely here at Anya's Reviews. And the next shoe we're taking a look at is Carets.
Carets is a small business begun by Mountain Chang, a barefoot runner and enthusiast. He, like many of you, was supremely frustrated by his uncomfortable work shoes. Once you get used to flat, flexible shoes with plenty of space for your toes, it's just so hard to keep cramming your feet into restrictive shoes! But he had to wear something professional every single day of the week. So, why not make his own barefoot friendly work shoes?
Mountain designed Carets shoes to look as dressy as a traditional men's dress shoe, but meet the requirements for barefoot shoes. My husband, Justin, was the tester of these shoes.
But Are They Actually Barefoot?
Carets shoes have a faux heel, but are in fact zero drop. The shoe is 9 mm thick and can be rolled up into a ball (my husband protested when I did this, but I had to show you they could roll!).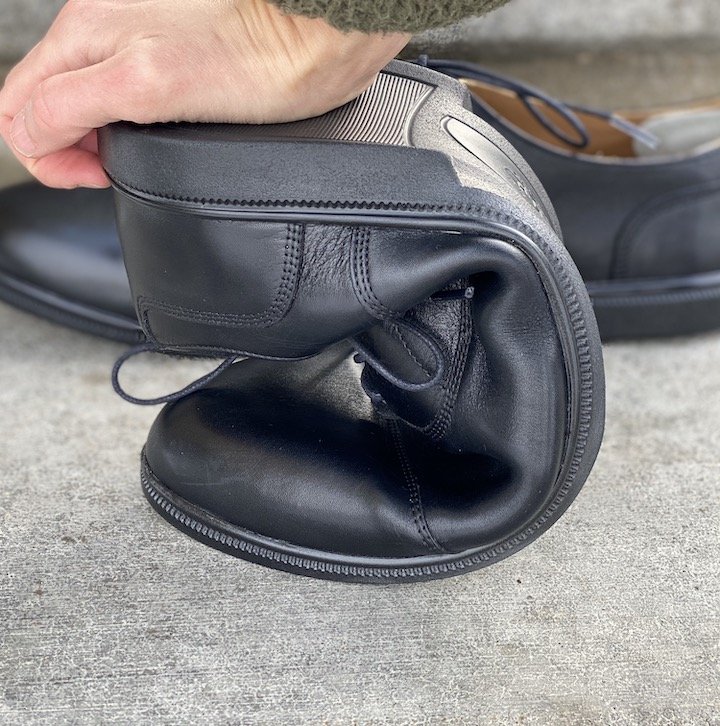 But what about the toe box?
Whenever I post about Carets I get responses that they look too narrow. But when I post pictures of ultra wide foot-shaped shoes I hear complaints that they are ugly. Carets intentionally makes their shoes extra long so that they can taper after your toes end. This means they look like a normal shoe, but fit a natural foot shape. This also means that you have to deal with more shoe than you would in other barefoot shoes, a fact that might bother some people. But for those who really need something that looks dressy, or who simply want a mainstream look, there isn't anything else comparable to Carets on the market currently. So are Carets shoes barefoot? Not as barefoot as some, but they meet my requirements for healthy footwear.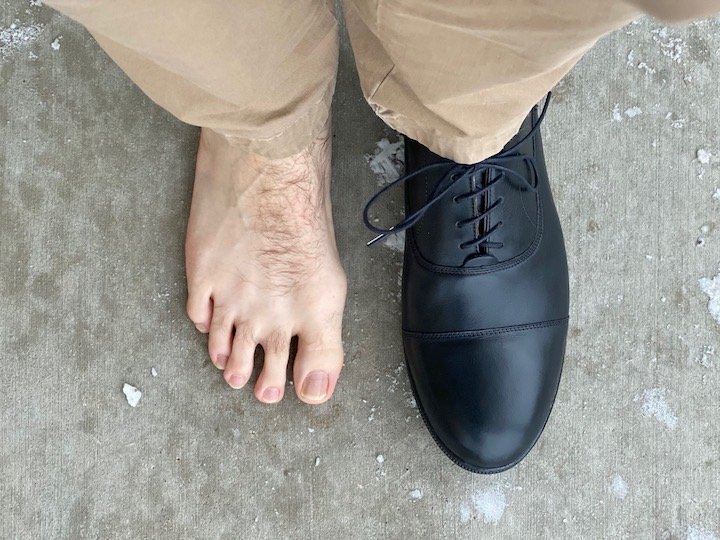 Materials & Care
Carets shoes are made entirely of calfskin leather with a polyurethane outsole. The leather is thick, sturdy, and feels somewhat stiff when they are brand new. They look just the way a true dress shoe looks, not baggy and unstructured like barefoot shoes often are. Justin could feel the edges of the shoe around his ankle and it definitely needed breaking in. This is par for the course with leather dress shoes, and after a few wears they softened and felt fine for him. Calfskin leather should keep for ages.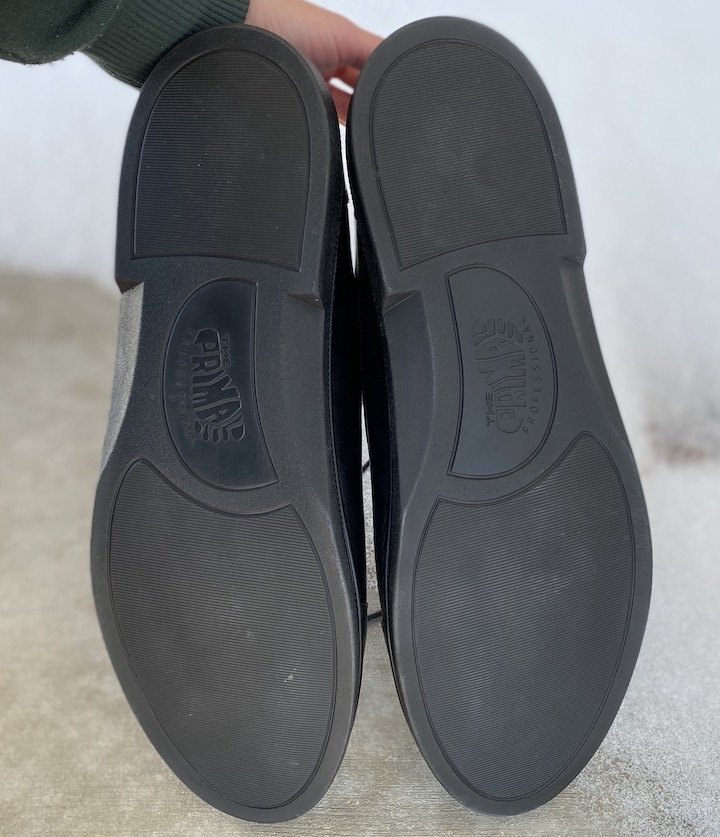 The shoes come with elastic laces, but you can also get cotton ones. We tried both, and while the elastic was really convenient, it caused some problems for my husband's low volume feet. So he switched to the cotton.
Mountain has done a thorough job answering questions about how to best care for your shoes. He recommends a shoe tree so they can keep their shape, and he has product recommendations for conditioning and polishing your shoes. It's clear he knows men's dress shoes and fully appreciates a beautiful shoe in all its glory.
Carets Sizing & Fit
This section is based on my husband's experience, as well as the experience of 10 other Carets owners from the barefoot community.
Click here to understand how we talk about foot type and fit in this space!
Sizing
Carets dress shoes run big for most people. There is a size chart on the Carets website, and you can e-mail in for help (which is never a bad idea!). My husband typically wears a size US 13 in men's shoes, but Mountain advised he get the 12 based on his foot length. Even still they are quite roomy with plenty of space for all his toes and too much space around his ankle. We considered sizing down to an 11, but decided it would likely be too narrow in the toe box. That leads us to the next section; volume.
Volume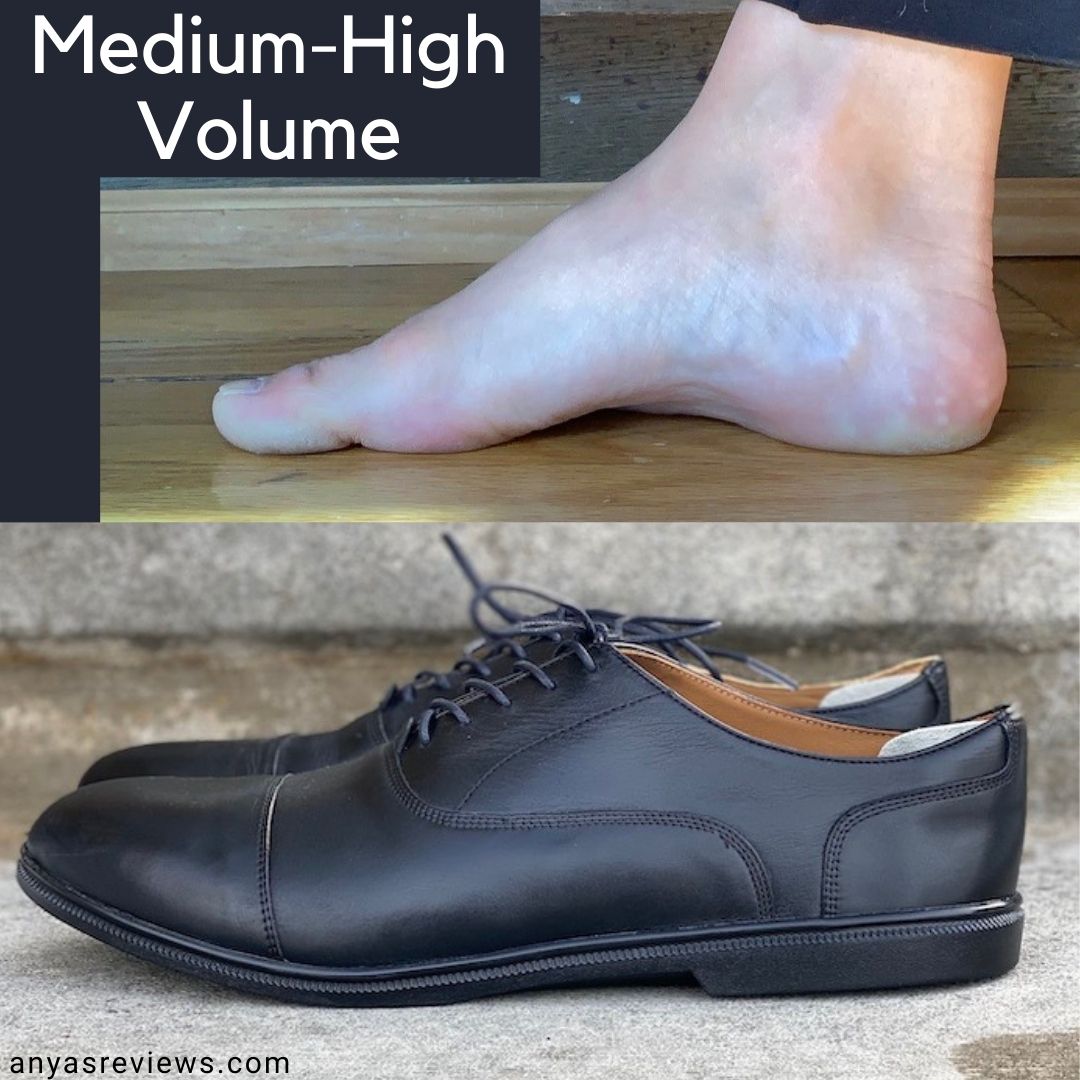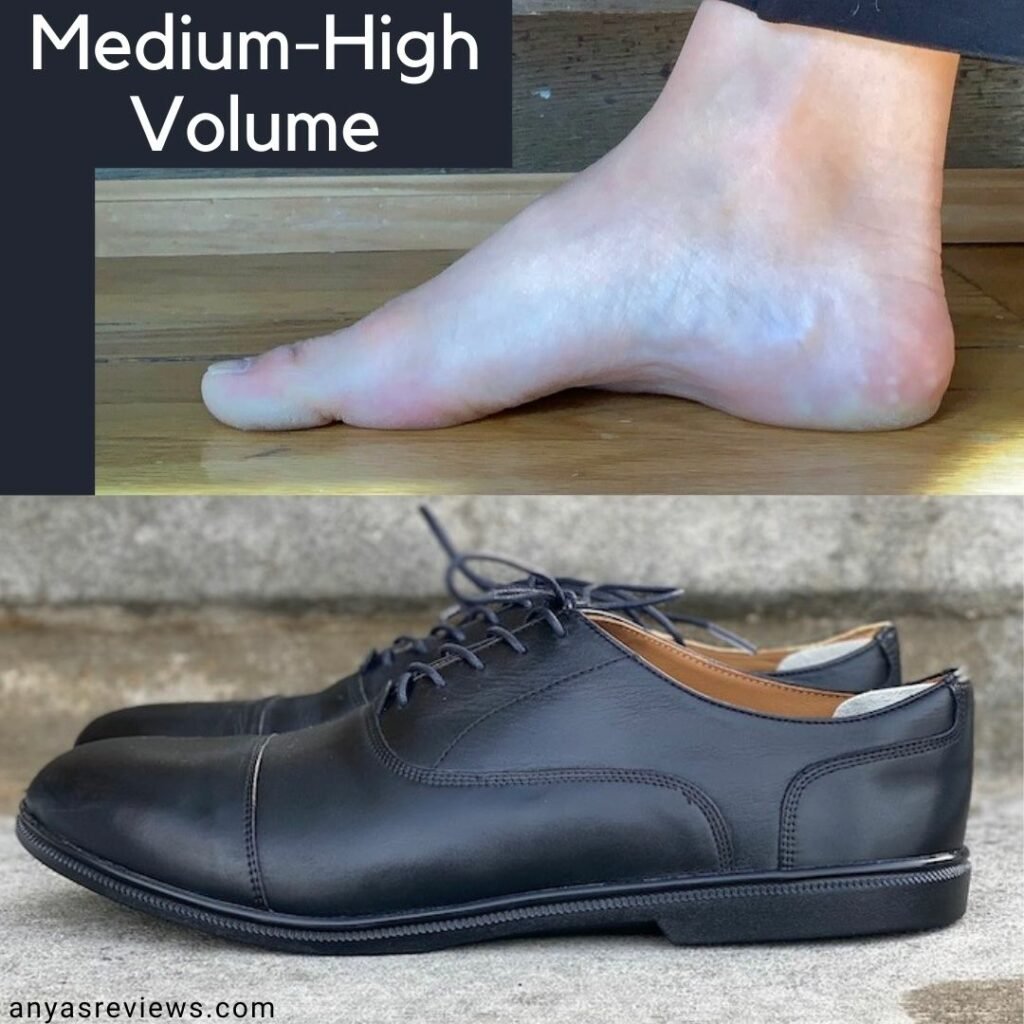 Carets are best for medium to high volume feet. My husband has low volume feet and skinny ankles (his foot not pictured above!), and it was clear immediately that these shoes were built for someone with fuller feet (like the example). To deal with this, we swapped out the elastic laces for cotton, so they didn't stretch when he walked, and put in a heel grip and shoe tongue pad. These are tricks I use all the time for low volume feet, and you can get all those items from Carets online shop. They did the job, but you can see in the image below that the ankle opening is just too big for Justin's low volume ankles.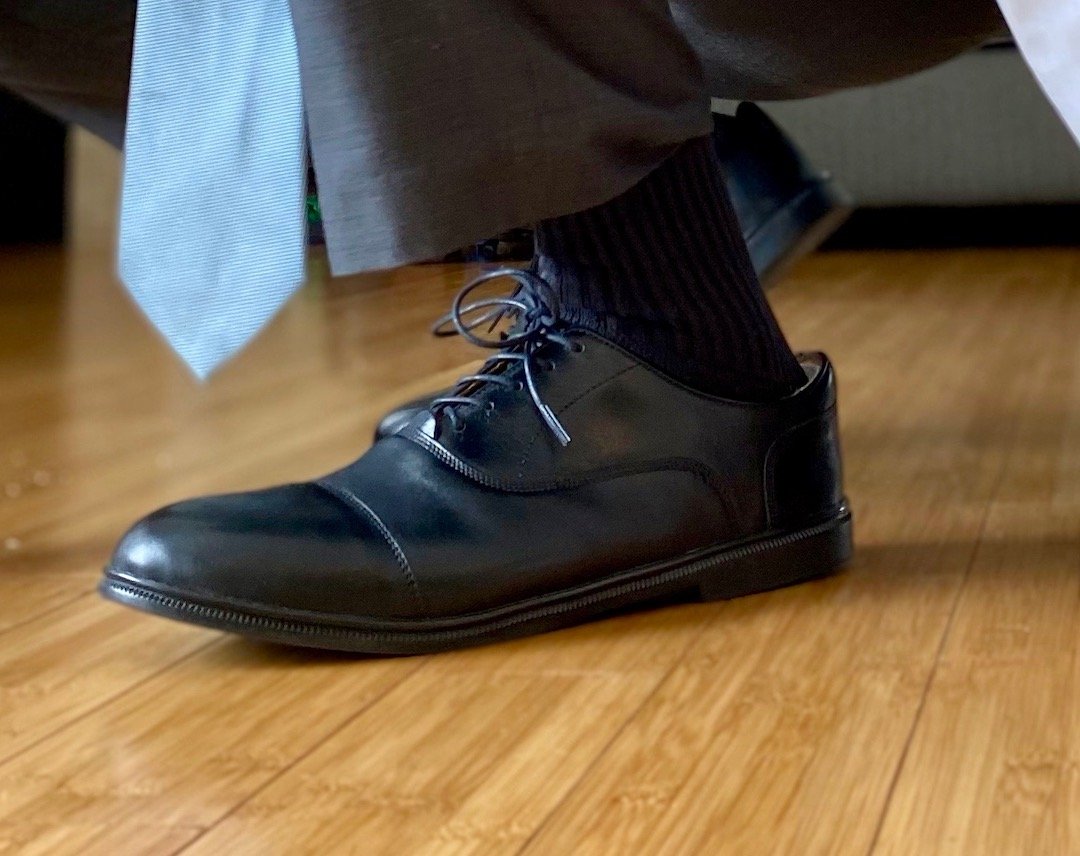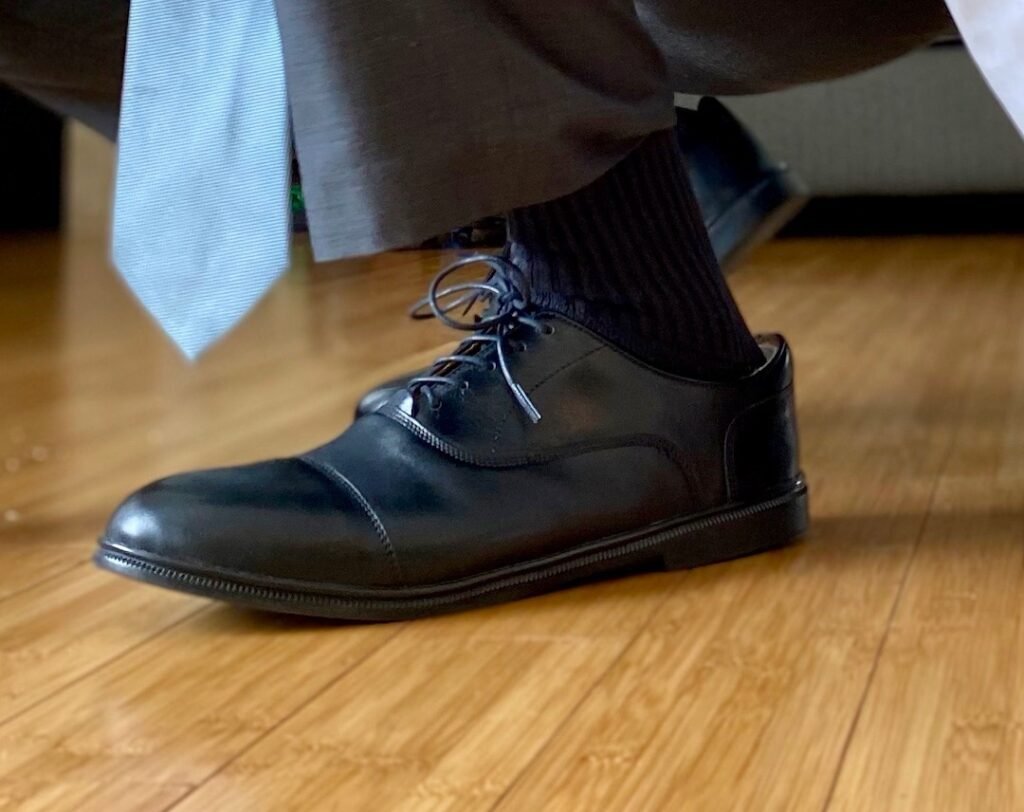 Foot Type
Carets seem to work for all foot shapes except for Extra Wide and Square. Because Carets have an elongated toe, most foot shapes will be fine in this shoe. But if you have extra wide and/or square shaped feet you will likely find your toes running into the edges of the shoe. Despite their tapered look, Carets are quite wide and should fit most widths.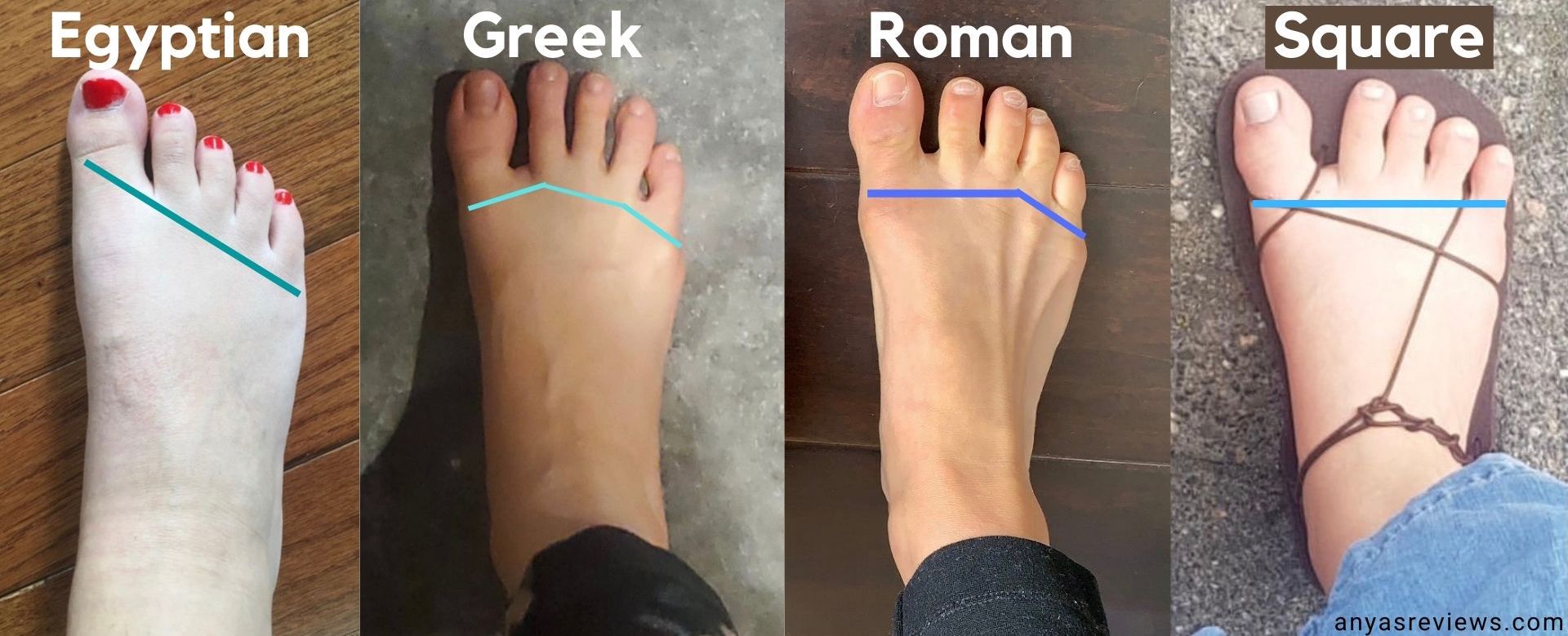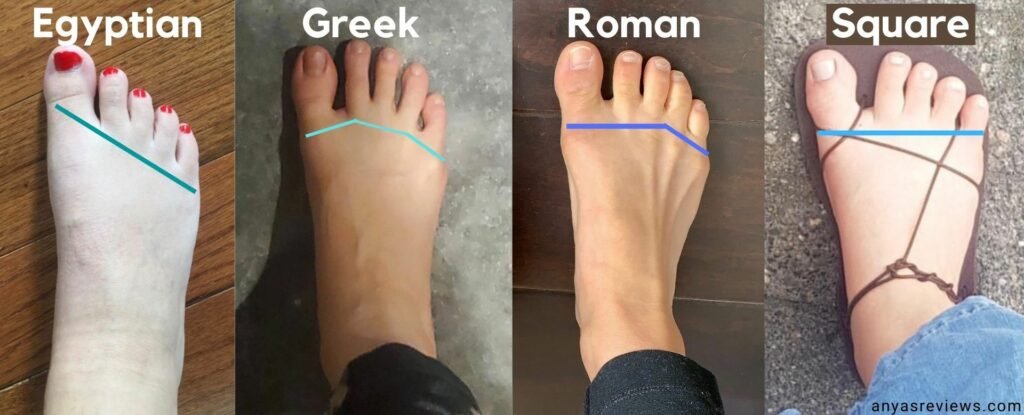 Carets Style
There isn't really anything like Carets out there. You've got cap-toe, wingtip, rich brown, so many looks that are impossible to find zero drop and wide anywhere else. And they style exactly the way you would traditional men's dress shoes. Whether that's to a black tie event, a high stakes meeting, or a fancy date.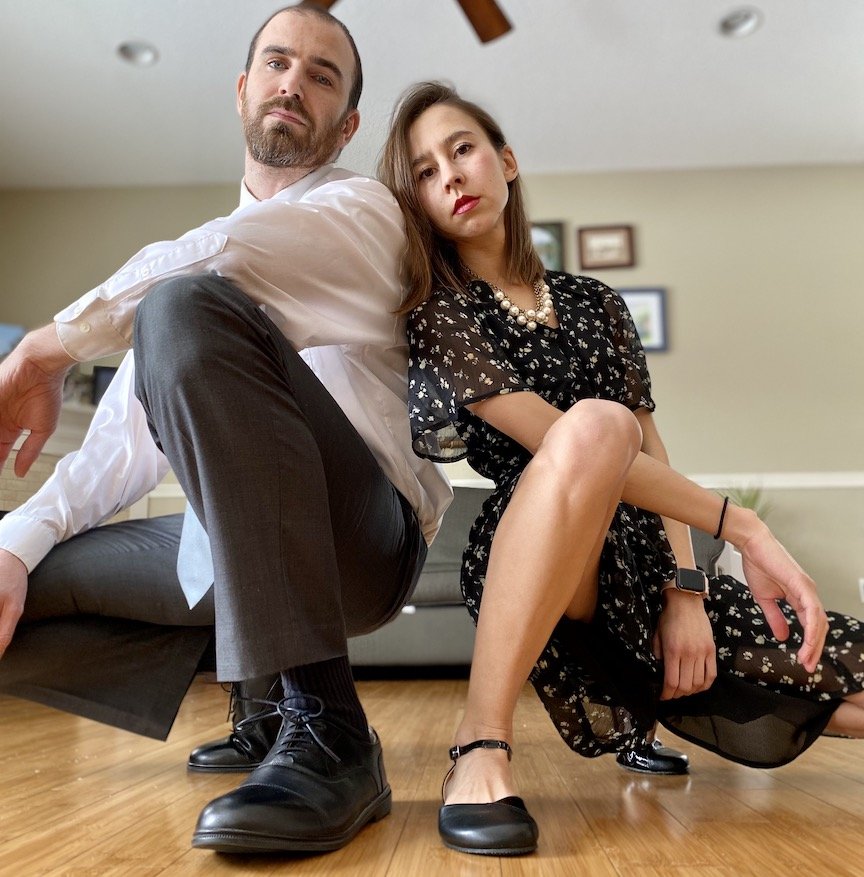 Ordering from Carets
Carets is a US brand, with free shipping and returns within the US. The retail price for a pair of dress shoes from Carets is $250. They also have an outlet store with returned shoes at a discounted price. Currently all items are in-stock and ship right away via regular post. They can be purchased internationally with a shipping cost of $27.
Returns are accepted within 1 year (!!) of ordering, even if worn outside. There is a restocking fee if there is damage to the shoes, but you can wear them out to see if they're the right shoe for you.
European customers can purchase from the Carets EU shop and UK customers can buy from the Carets UK shop!
Complaints
*Carets has addressed this concern – their updated models have significantly less toe spring now!*
Justin and I have one primary concern about Carets. They have toe spring. Toe spring is when the front tip of the shoe curves upward and it doesn't flatten out when you're standing on it. Now, the majority of the toe spring in Carets happens after your toes end inside the shoe, but there is still a little curve.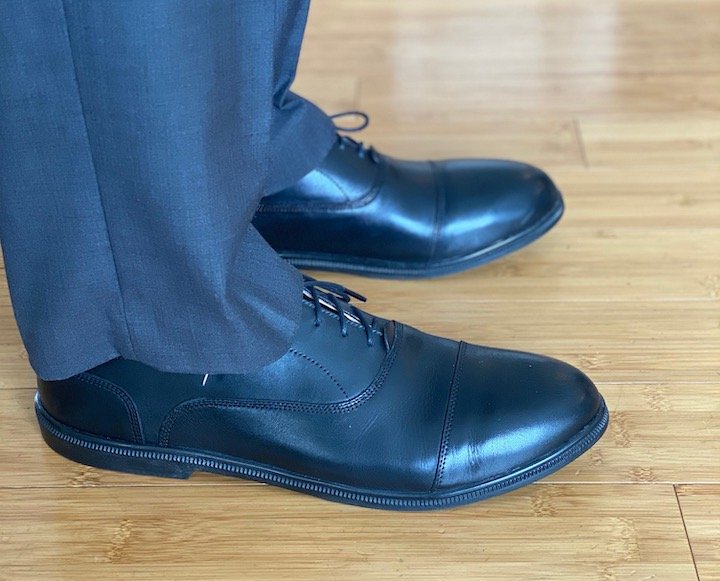 This matters because when your shoes are forcing your toes to lift up all day that does two things. It stretches out your arch beyond it's natural capacity, limiting it's ability to absorb shock during the gait cycle. And it also promotes extensor dominance, which is when the muscles on the top of your feet are constantly pulling upward. In other words, toe spring puts extra pressure on the bottom of your feet. I have some shoes with toe spring, and I don't find it bothers me. That's likely because it flattens out when I'm in the shoes, and I am usually only wearing them for a few hours at a time. Toe spring is not a top level concern for me in barefoot shoes, but it becomes an issue when it's all day every day.

Carets has a toe spring so the shoe doesn't clomp when you wear it, but Mountain let me know that they are significantly reducing the angle so it's just enough to not clomp but won't affect your toes. This will be in the next generation of Carets! For now, getting a shoe tree can prevent the toe spring from becoming more pronounced with wear, because it pushes the toe back down when you're not wearing them.
Community Feedback
See Carets shoes on other foot and body types! I checked in with you lovely people to see how you're styling Carets and what your experience with them was. Out of 10 participants, 8 have had a great experience with them and have been wearing them daily for years. 1 returned their Carets because they were too high volume for their foot and they didn't like the stiffness of the leather. 1 other found that the extra length in front of the shoe was awkward and they were prone to tripping on it. 9/10 expressed that if you are looking for stylish barefoot dress shoes for men, there is nothing else that approaches the chic look of Carets.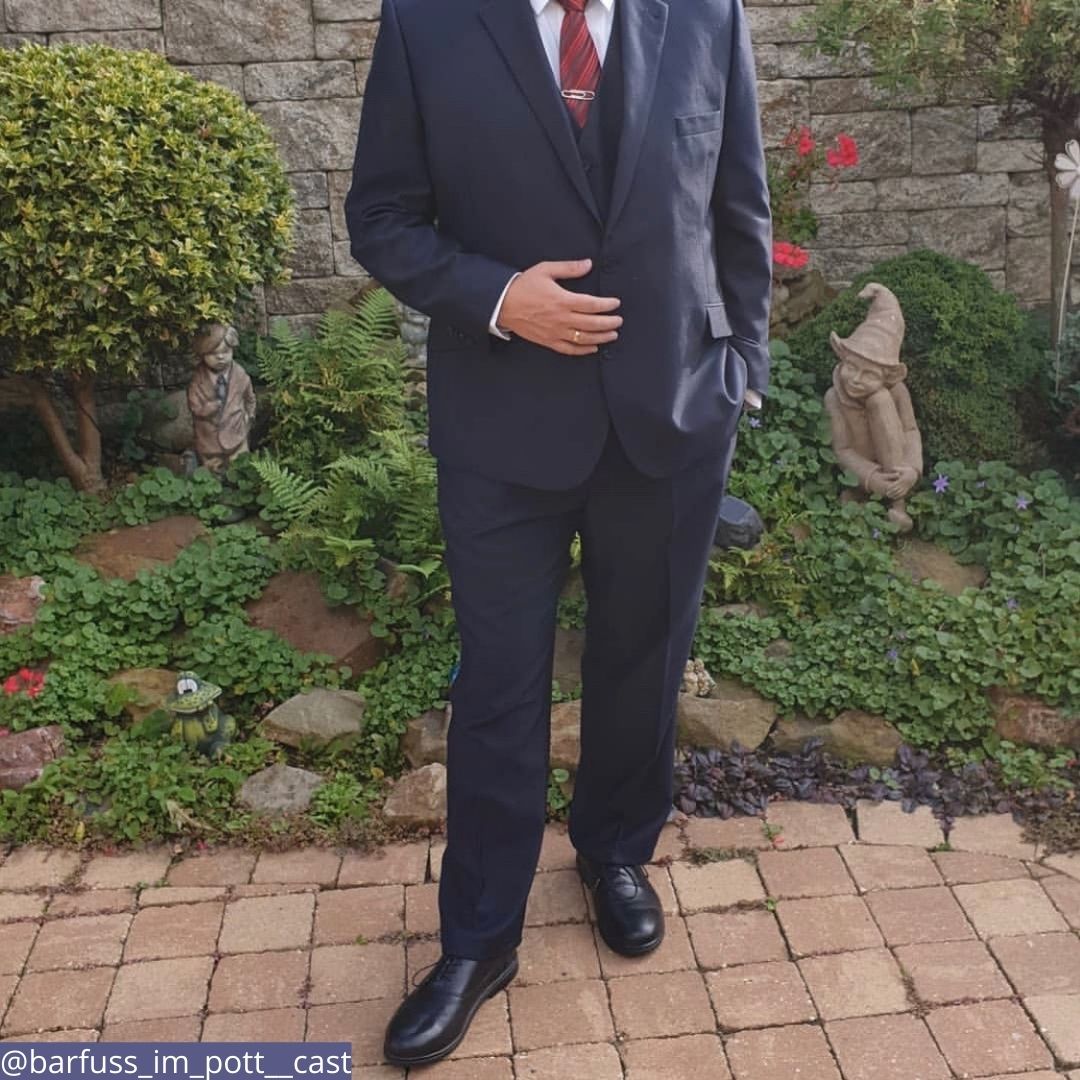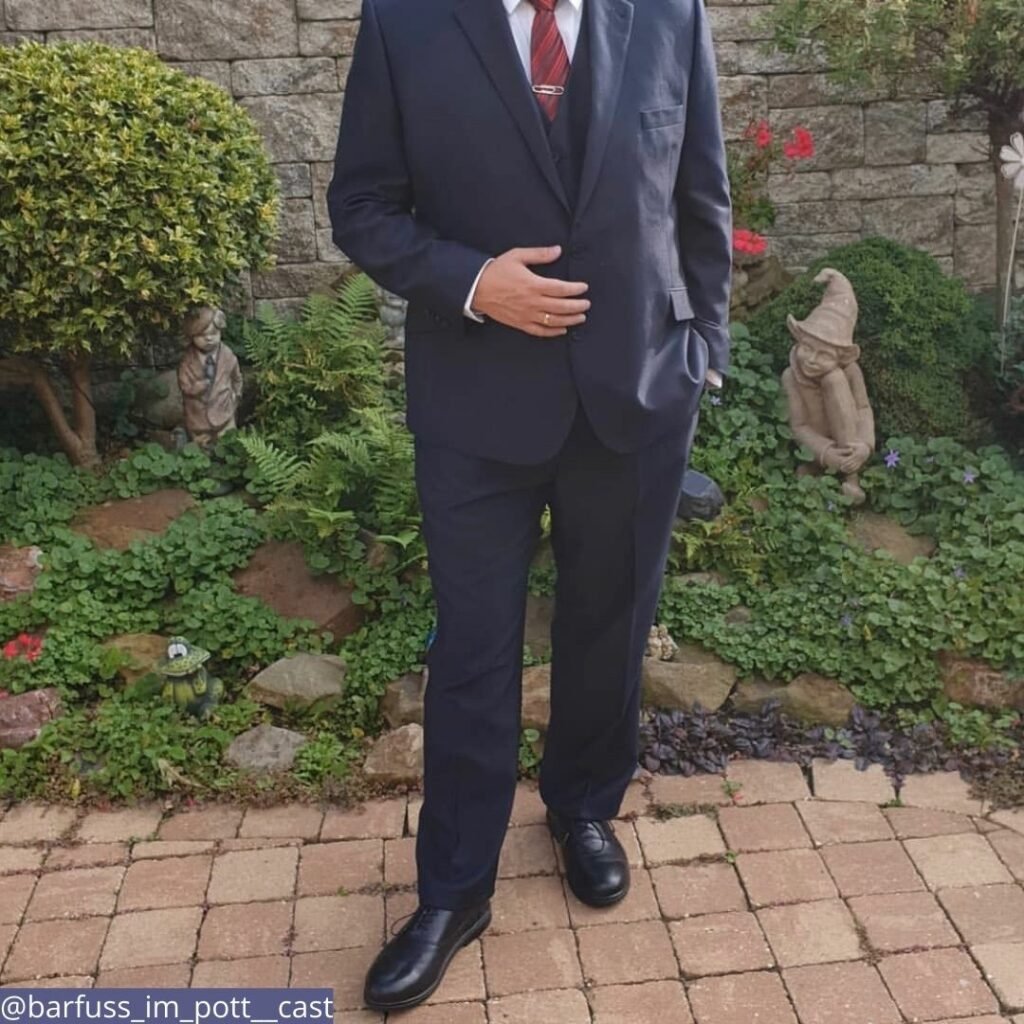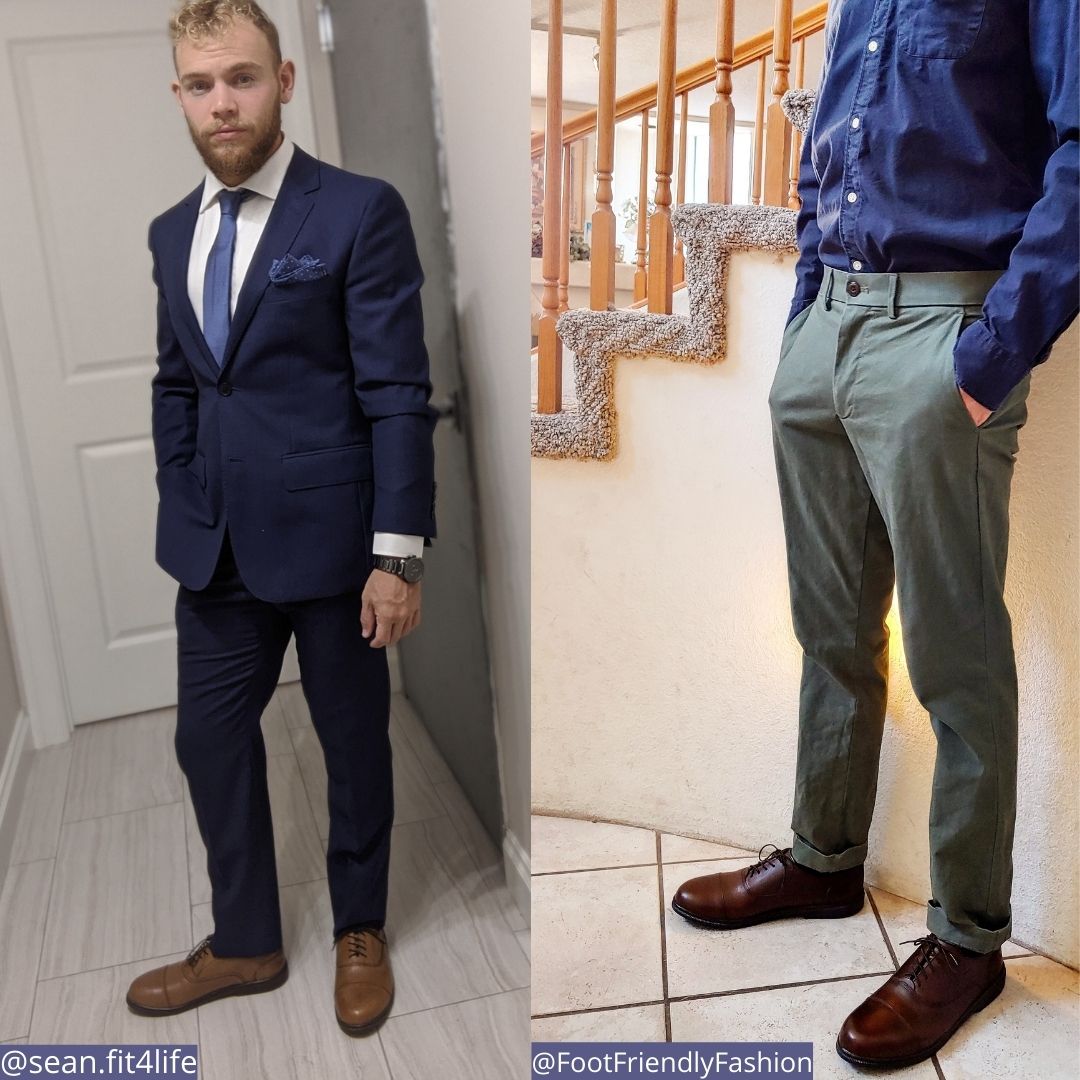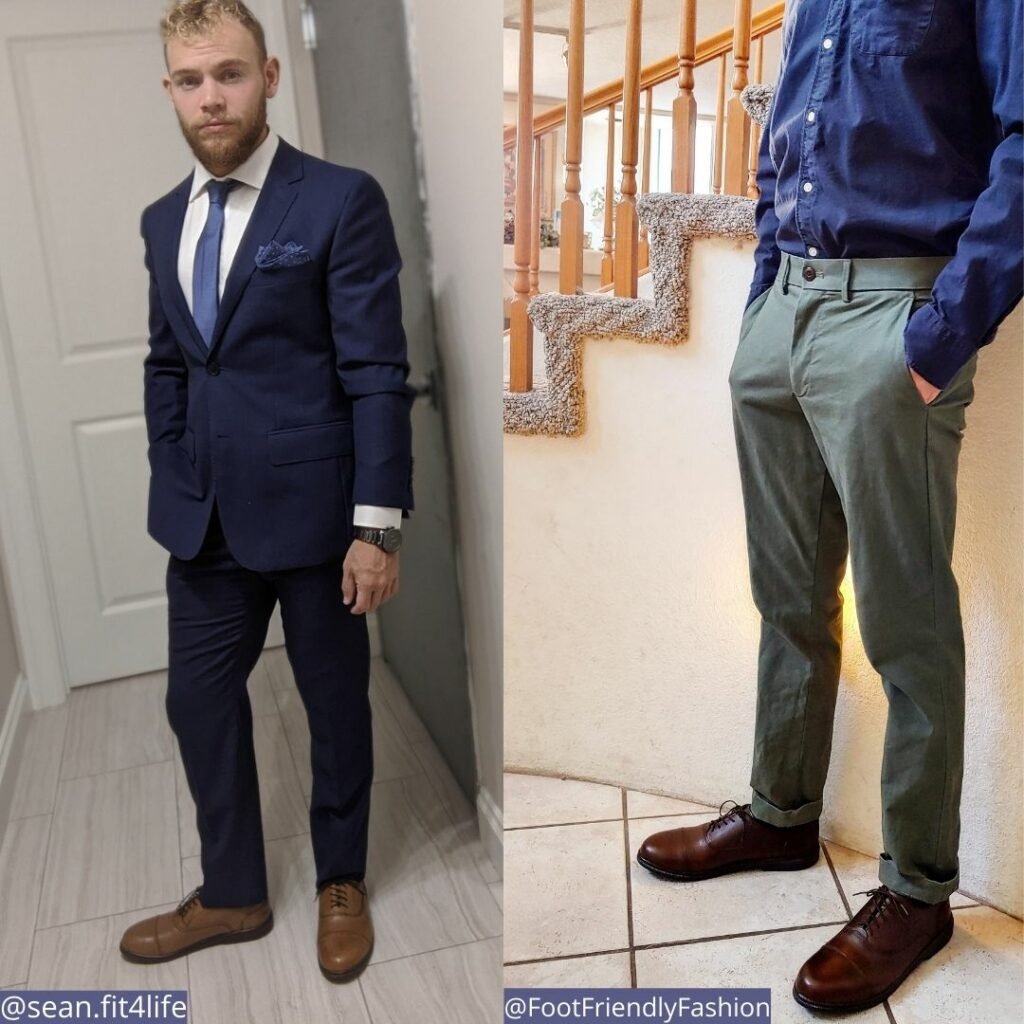 Special thank you to Sean from @sean.fit4life, Zack from @footfriendlyfashion, and @barfuss_im_pott__cast for sharing their photos with us!
Conclusion
My husband is very comfortable in his Carets, even for a long day at work. The fact that a shoe can be that comfortable and still meet barefoot shoe requirements is a unicorn! While the high volume and extra length of the shoe makes them not perfect for everyone, Mountain has converged on something truly unique in the world of barefoot shoes.
Check out my full list of Men's Barefoot Dress Shoes for more options!
Want to participate in future barefoot shoe reviews? The community is strong here! Subscribe to e-mails below for a weekly newsletter and the opportunity to share your experiences.