Chala Barefoot Sandals are the perfect foot-friendly alternative to the flip flop. In fact, my switch to barefoot shoes began when I was tirelessly searching for a simple pair of sandals (but not flip flops!) that I could slip on and wear with almost anything. It took me over a year, but I found them. Check out our review of two Chala sandals – Chala Classic and Chala Antique sandals!
Meet Chala
Chala is a barefoot shoe brand with admirable values and attention to detail. Committed to sustainability, they source all their materials as locally as possible and make everything exclusively by hand in their shop in Germany. They primarily make a variety of super thin and flexible barefoot sandals for adults and kids (vegan or leather options), but also developed the Ùnico, a custom barefoot sports shoe.
Chala Antique Review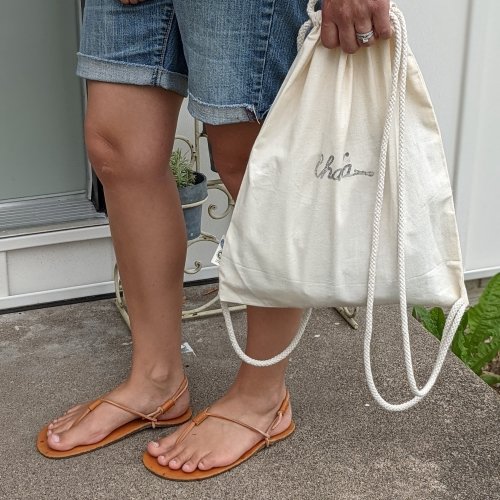 Chala Antique | Leather | €90 after code 93D5B5E9 | EU Sizes 36-49 | Handmade in Germany
I was looking for a lot in my perfect pair of leather sandals. They needed to be simple, but not boring. Easy to put on, but secure enough to chase a toddler. Stylish enough to wear with dresses, but casual enough for jeans and a t-shirt. Oh, and they needed to fit my extra wide feet! I had no idea what my foot type was a year ago and I was disappointed over and over again with every pair of conventional sandals I tried because my foot hung off the side and the straps were so tight!
The Chala Antique sandals check off every single item on my wish list. I have tried a few other sandals with a huarache style strap and they were OK, but I wanted something with more "character". The little sliding leather tabs on the Chala Antique add just the right amount of detail AND function that I had been looking for! You can position the top one wherever you find most comfortable and it really stays put – I haven't had any trouble with it sliding down or loosening as I walk. The two at the heel tighten or loosen like an old school friendship bracelet and I just love how they look! They are also made of really high quality leather that is soft and sturdy.
The Vibram ECO Crepe sole is made of recycled rubber that is really flexible, has good ground feel, and is wonderfully grippy. The total stack height of the sole is 6.2mm (the leather is about 3mm) with a slightly bouncy feeling. At first, I was concerned about the leather straps rubbing on the ground where they go through the sole, but once the sandal is on and tightened that part of the sole pulls up off the ground.
For a full list of barefoot sandals, click here!
Chala Classics Review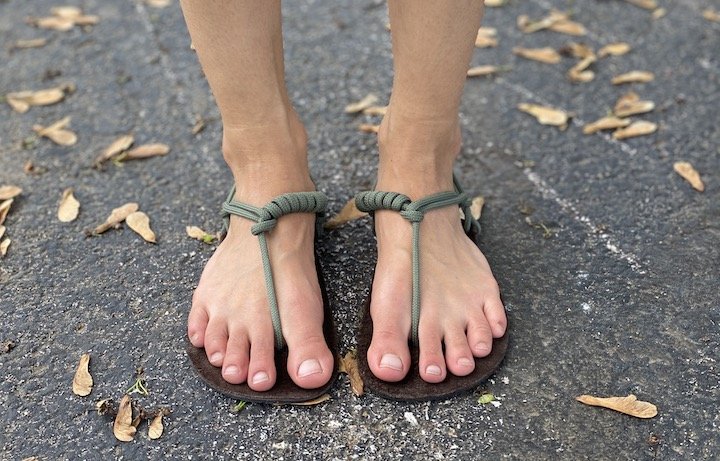 Chala Classic | Leather + Nylon | €57 after code 93D5B5E9 | EU Sizes 36-49 | Handmade in Germany
Anya here, jumping in to share my experience with the Chala Classics. The Chala Classic is a simple huarache sandal with a super thin and flexible sole. You can choose from several different options ranging in thickness from 3.3mm-5.5mm thick and lots of colorful straps. They also have a custom sole option in case you need a special size, two different sizes, or have hard to fit feet.
I chose the Chocolate Thick soles (5.5mm thick) and Olive green straps. The strap was really long at first. After tying them the first time I realized I needed to cut and re-knot it. So I followed these instructions exactly to get my straps the right length (shorter, but still with some excess in reserve in case they ever break in the future). I also used those videos to learn how to tie them.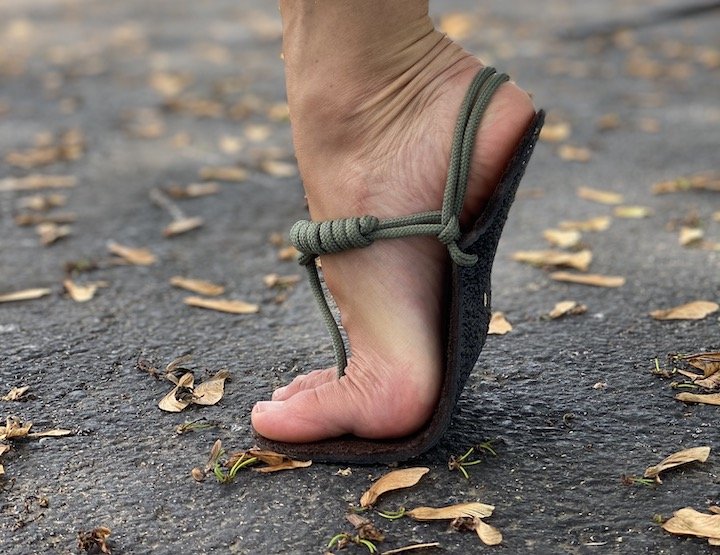 They are delightfully flexible, and I love that once you set the straps you can slip the sandals on and off without having to do the laces anymore. The Chocolate insole is suede and was super soft when they first arrived, but the first time I wore them I got caught in a downpour and my sandals were soaked. They weren't as soft after that, and now have more of a texture. I don't mind it, but I might have gone with a smooth leather insole if I had known.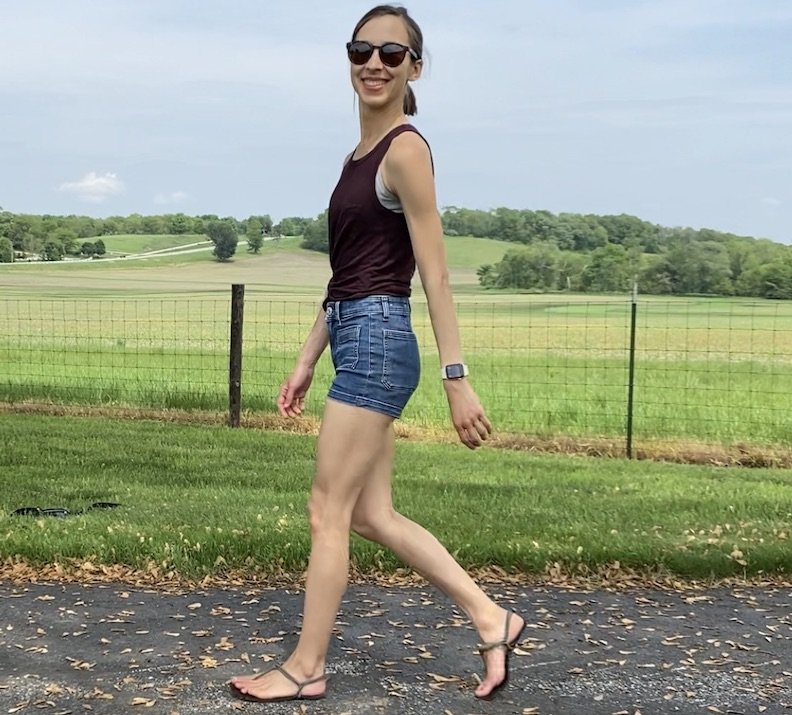 My only complaint is that the thin strap rubs in between my toes a little bit. I noticed it after a a few hours of wearing them, and I think it would bother me even more if I was hiking in them. Usually toe posts bother me more at the beginning of the warm season and then my skin toughens, so I anticipate by the end of the summer they'll feel fine.
Check out below how they flow with my feet and allow me full and complete range of motion!
And back to Samantha!
Sizing & Fit
Chala sandals come in standard sizes EU 36-49 for adults, and EU 22-35 for kids. Not a standard size/shape? They also do custom orders from a foot tracing! Choose your sandal components and let Chala build them for you, or order a sandal kit to make your own. Both sandals in this review are their standard options. I got a size 38 after consulting their size chart, but that was mainly for width. I have extra wide feet and a size 37 would have been too narrow. Anya got a size 36, which fits her wide feet and is just long enough.
Thanks to the adjustable straps, any foot volume can be accommodated!
Same Shoe, Different Foot
See how the Chala Antique easily fits two different foot types! Simply toggle the leather sliders to get a secure fit.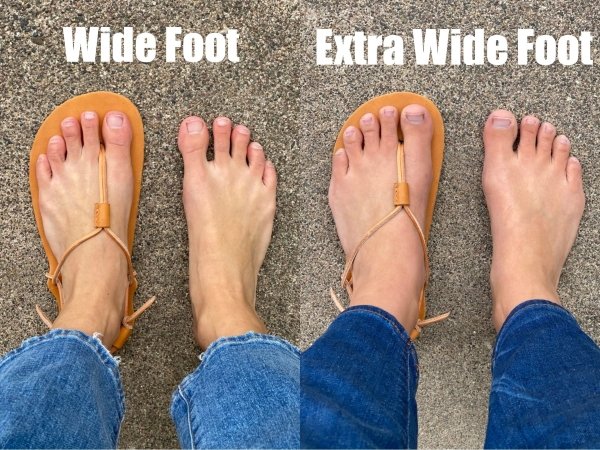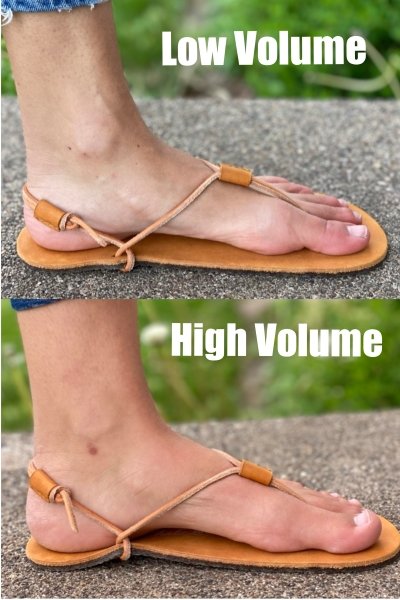 Care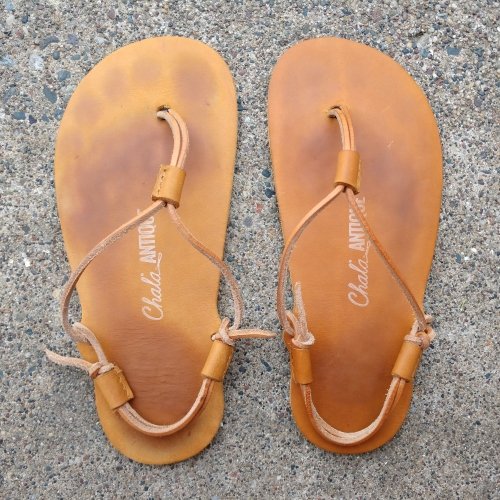 After a few weeks of wear my foot imprints were pretty visible, so I used a leather conditioner on them which deepened the color a little and evened out the footbed tone. You can see the before (left) and after (right) in this photo. The type of leather on the Antique sandals will develop a lovely patina over time.
Ordering
Chala ships worldwide! Standard shipping within Germany is 4.95 euros, within the EU and Switzerland is 15.90, and outside the EU costs 25.90 euros (about $32 USD). This makes them not quite as affordable for North American customers, but still more affordable than a lot of other options. Except orders to North America to take about 8-14 days to arrive.
Returns are accepted (on non-custom sizes only) within 28 days and buyers pays return shipping cost (customers within Germany can have a return label provided by Chala for 5 euros). Use code 93D5B5E9 for 5% off your order!
Style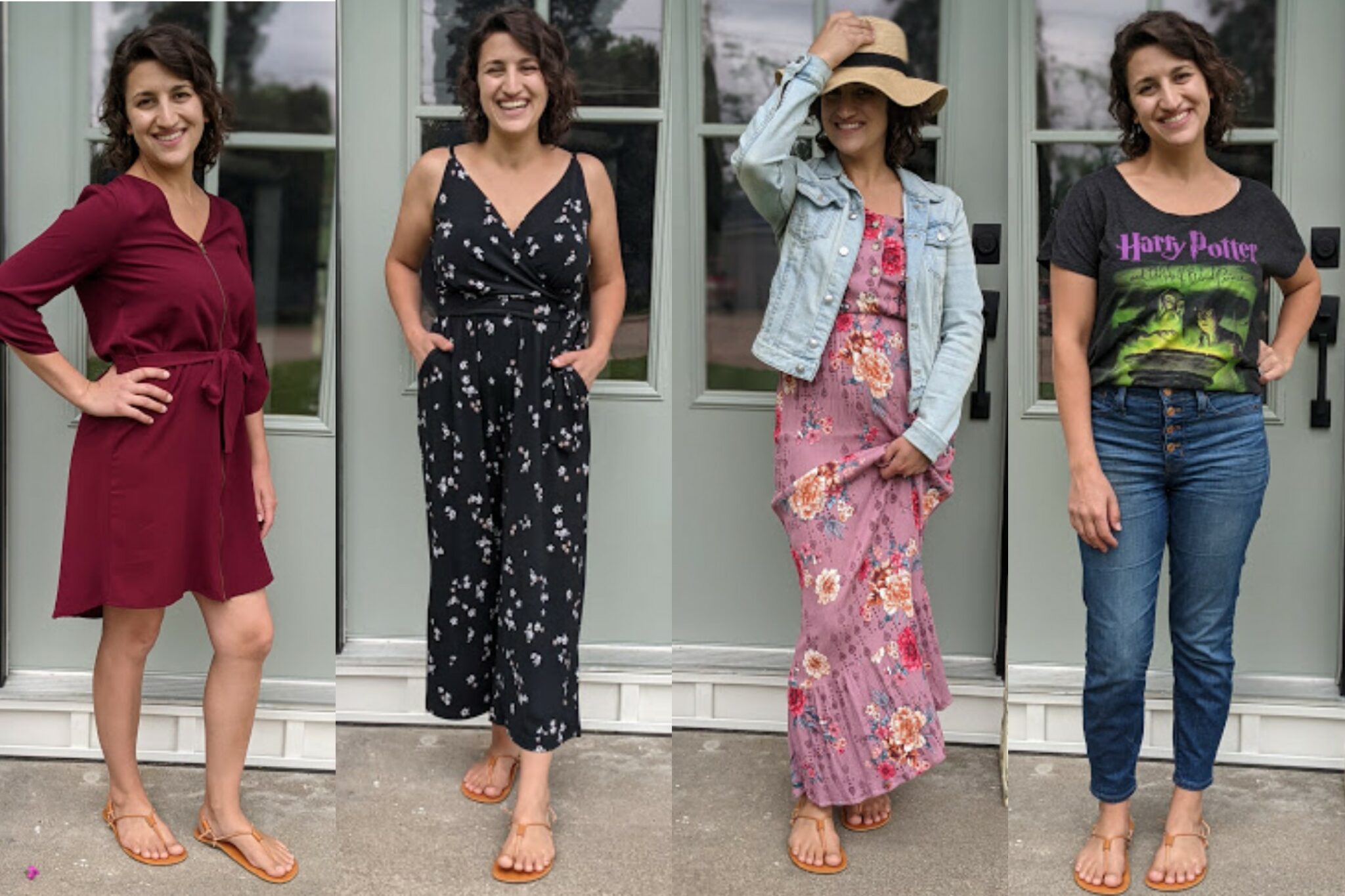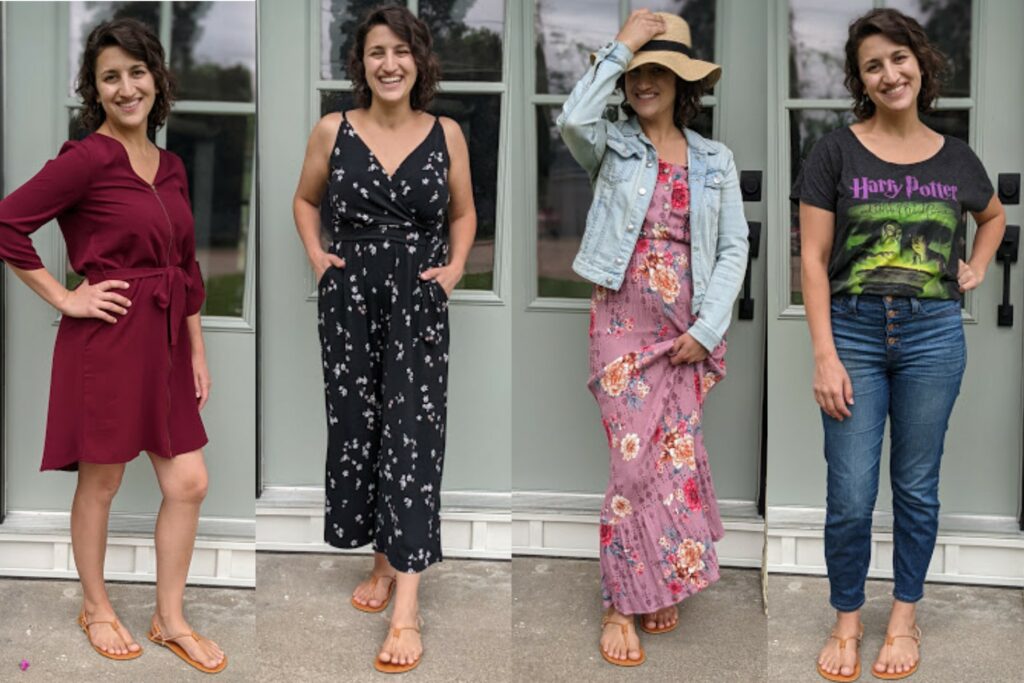 I wear these with nearly everything! Dresses, jumpsuits, jeans, and lounge wear. I'll spare you photos of me wearing these with my entire wardrobe, but as a recovered flip flop lover – I am thrilled to have such a cute alternative that also doesn't hinder my foot function. Major win.
Check out this post for more on why flip flops aren't good for your feet.
Conclusion
Quality materials, loads of custom options, and company ethics you can applaud – Chala is doing things right in the barefoot shoe world!
Still looking for your perfect barefoot shoe? Check out the Barefoot Shoe Finder!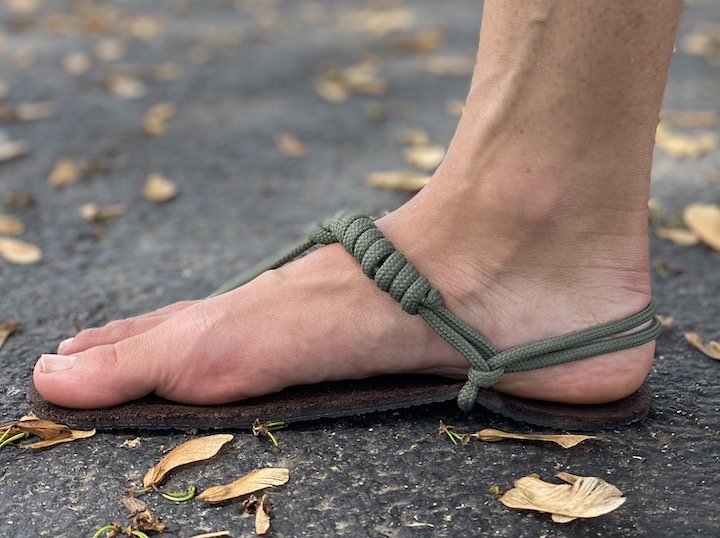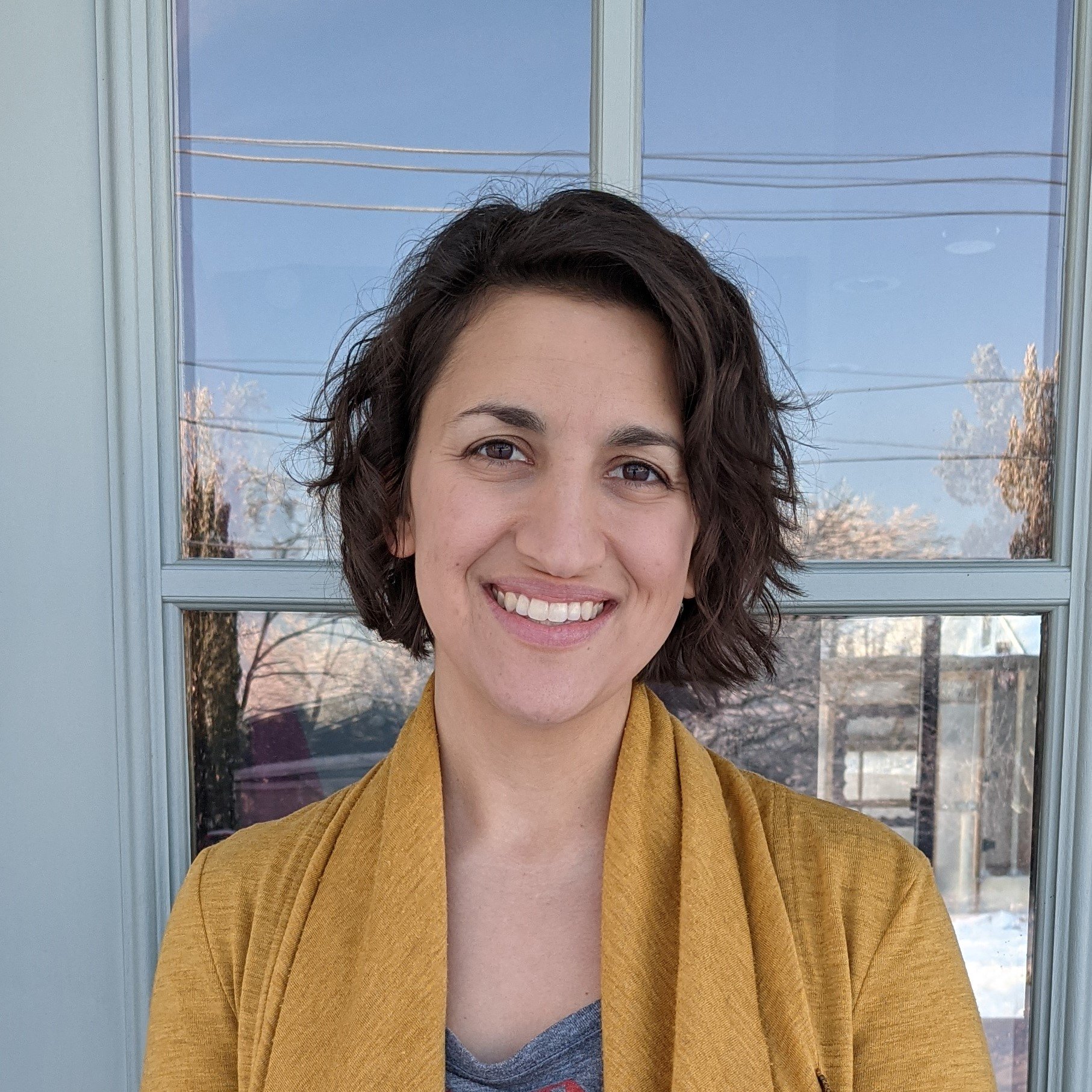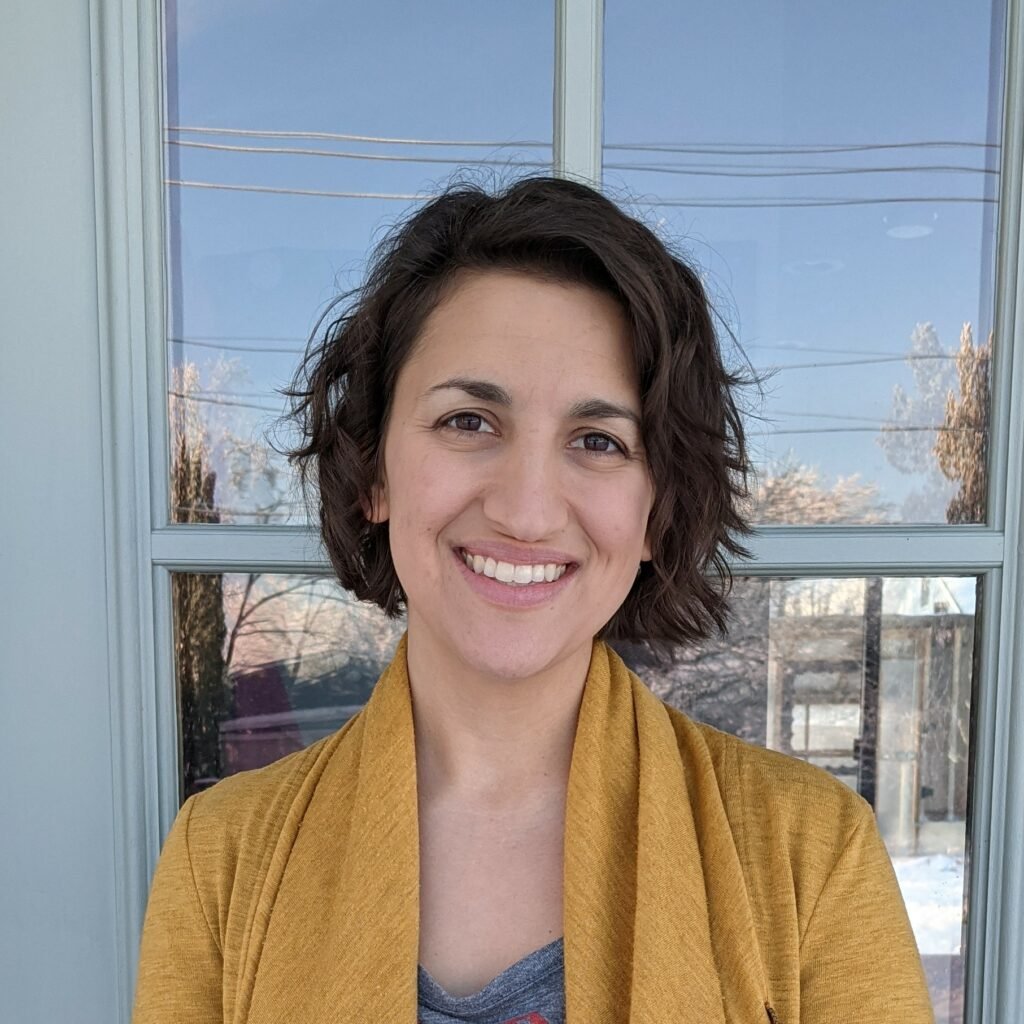 Samantha is a writer/researcher for Anya's Reviews and stay-at-home mom to 4 littles. In addition to shopping online for footwear for her family, she spends her time homeschooling, reading, weaving, and doing home improvement projects with her husband.