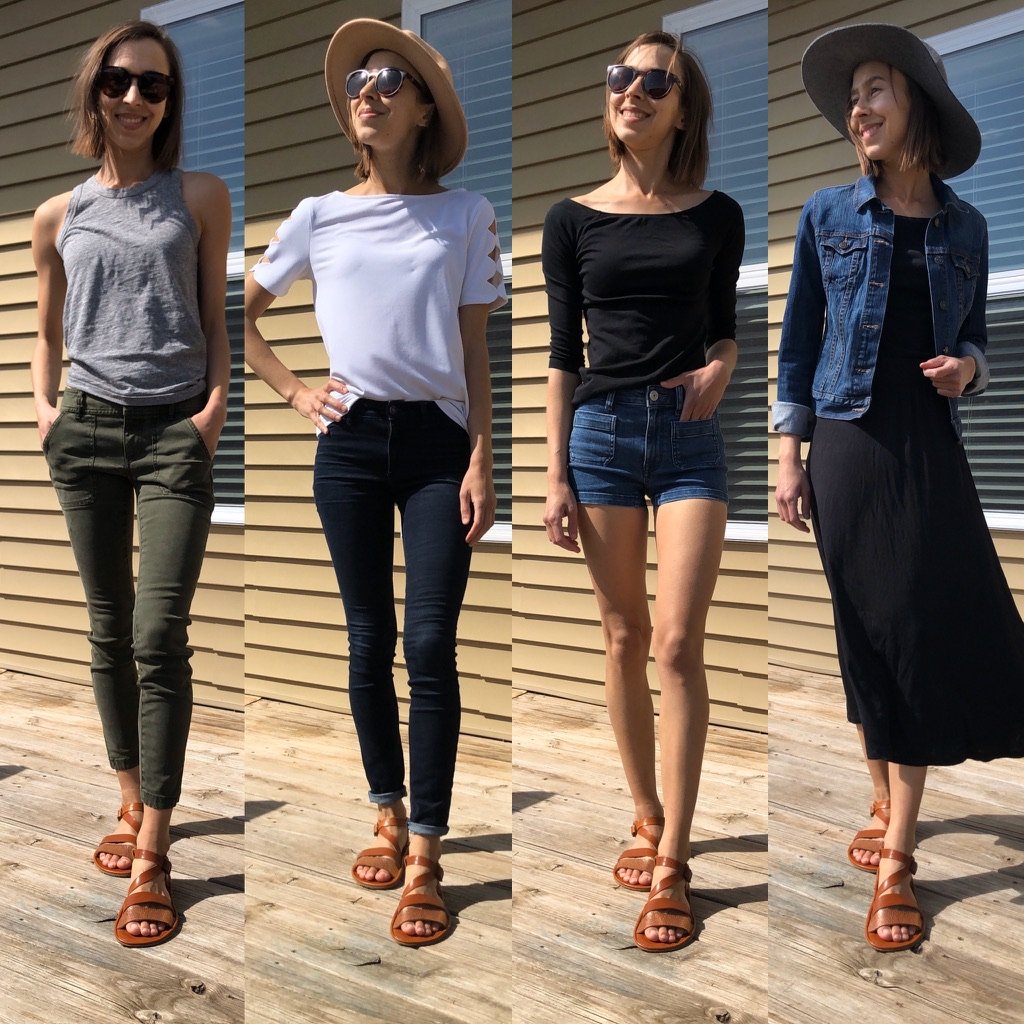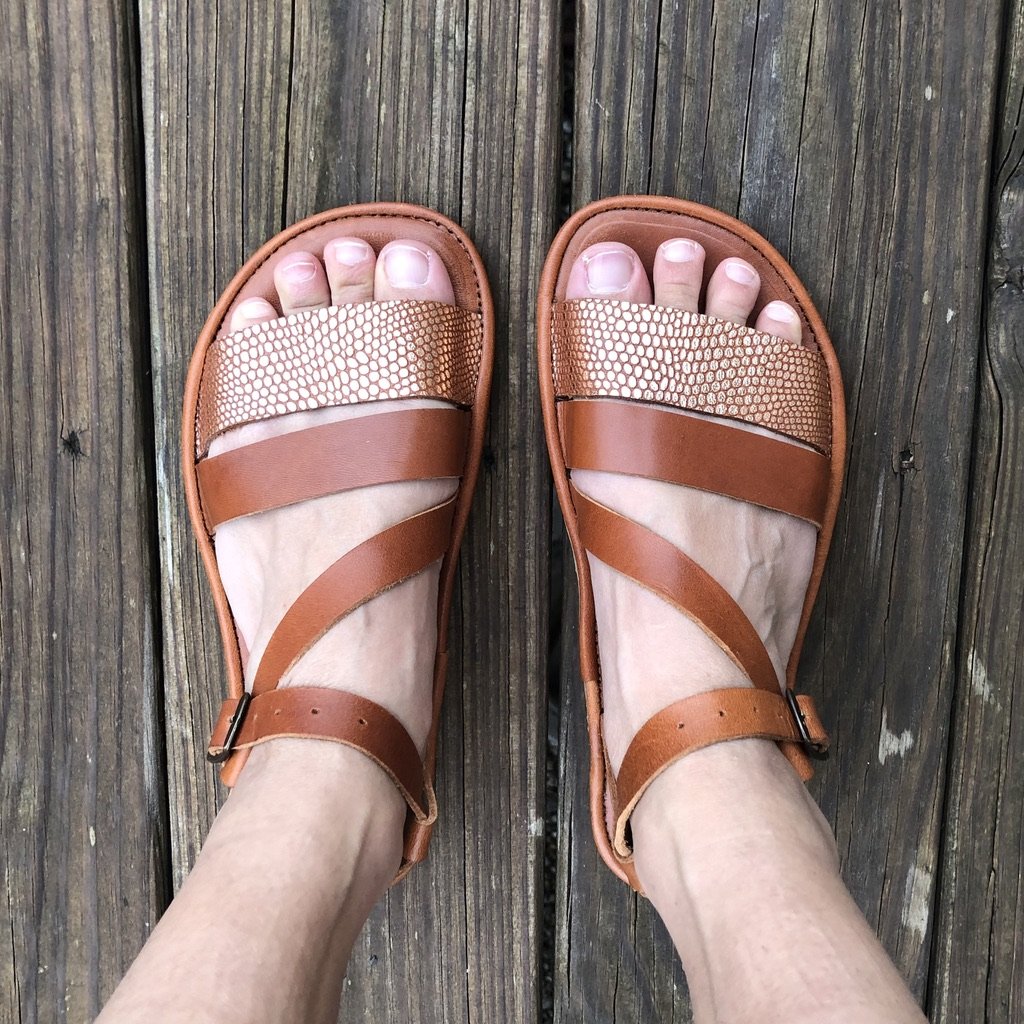 If you've been following my work, you probably know I am a big fan of The Drifter Leather. Their shoes are custom made and they have an extensive style selection, which means that you can get just about any style you need in whatever shape you need. Basically the perfect combo for a foot AND style lover (eg ME).
The Drifter Leather (DL) released a few new styles for spring and let me pick one to review. These sandals were gifted to me by the Drifter Leather, but as always my opinions are my own.
The Safita
The Safita is a strappy sandal (4mm thick) that you can customize with 7 different colors and the option of bronze snakeskin or silver for the front straps. I loved the original design of tobacco brown with a single bronze strap (can't say no to SNAKESKIN), but you can get creative!
DL sandals are made with Vachetta leather for durability and have Vibram outsoles. They are very lightweight, flexible and good quality. It feels like a lot to spend $150 on sandals, but I can attest that they will last a long time.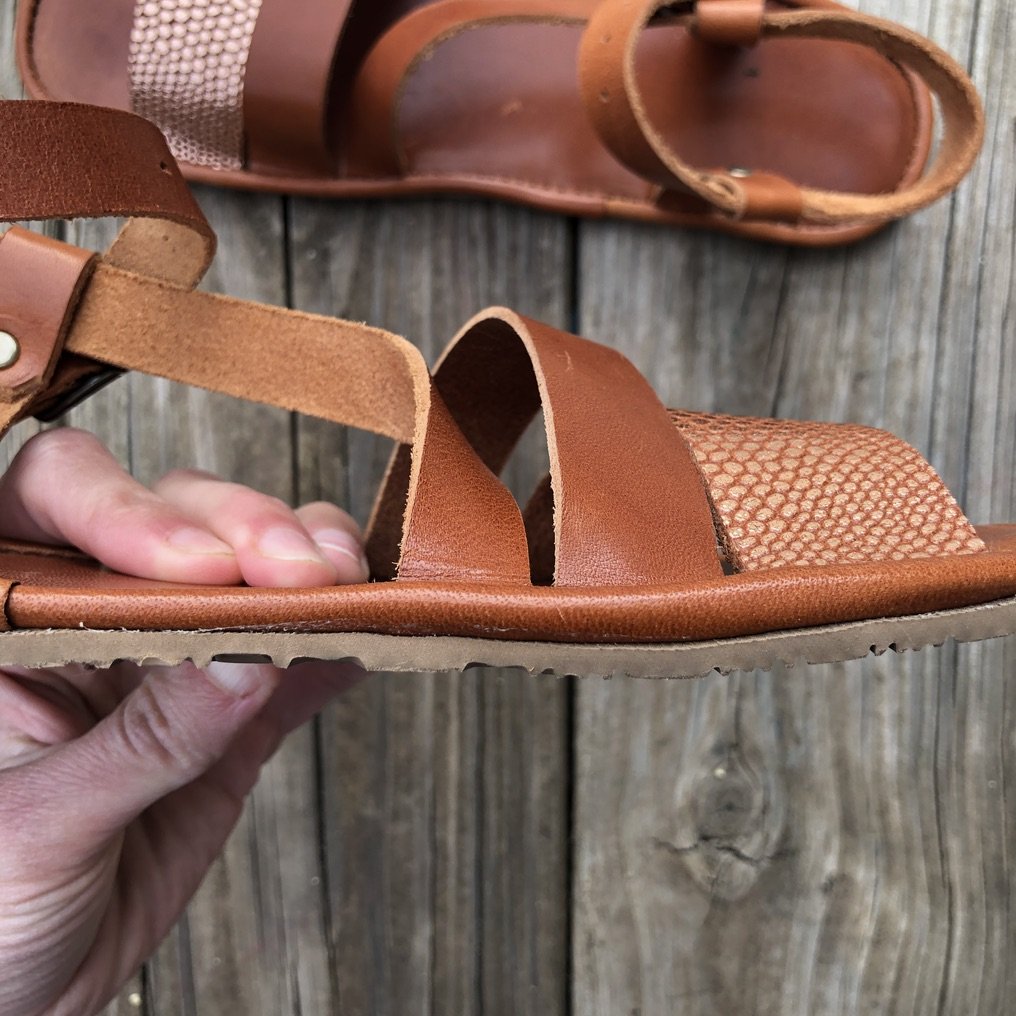 Ordering
*For a much more detailed post about ordering see here.*
All DL shoes are custom made using your foot tracing and measurements. They open for orders every 4-6 weeks and then are fulfilling them the rest of the time. If you place an order the usual way through their website they will reach out to you via e-mail with whatever measurements they need and once you respond with your answers and a scanned image of your foot tracing they make your shoes.
After your first order the information is saved in a customer profile that can be referred to for future orders. Because I have placed numerous orders, DL has a lot of info about my feet including templates for the different styles I've purchased. They had a few questions for me to see if any changes needed to be made and then got right to work crafting the sandals.
The Drifter Leather team has worked hard to educate themselves about minimalist shoes, even attending a Move Your DNA conference in 2018. They've added more info about natural footwear to their website and created this cool graphic that comes with their shoes. So they are pretty conscientious about making your shoes match your foot tracing, and not the other way around.
Fit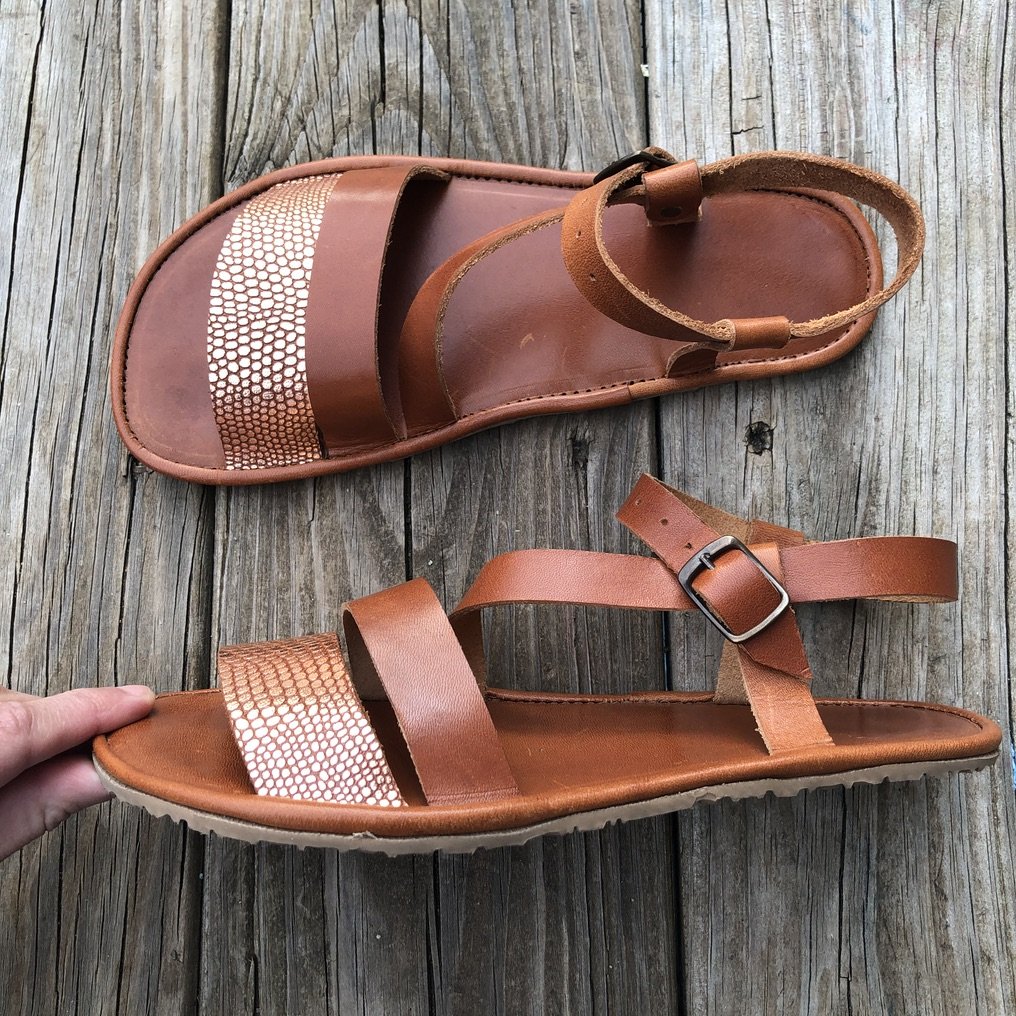 My very first pair of sandals from the Drifter were these Cut Here sandals. They are some of my favorites to this day and still in excellent condition, but they have stretched out quite a bit over the years. So for my Safita sandals I wanted them to start out smaller, assuming that they will also stretch a lot.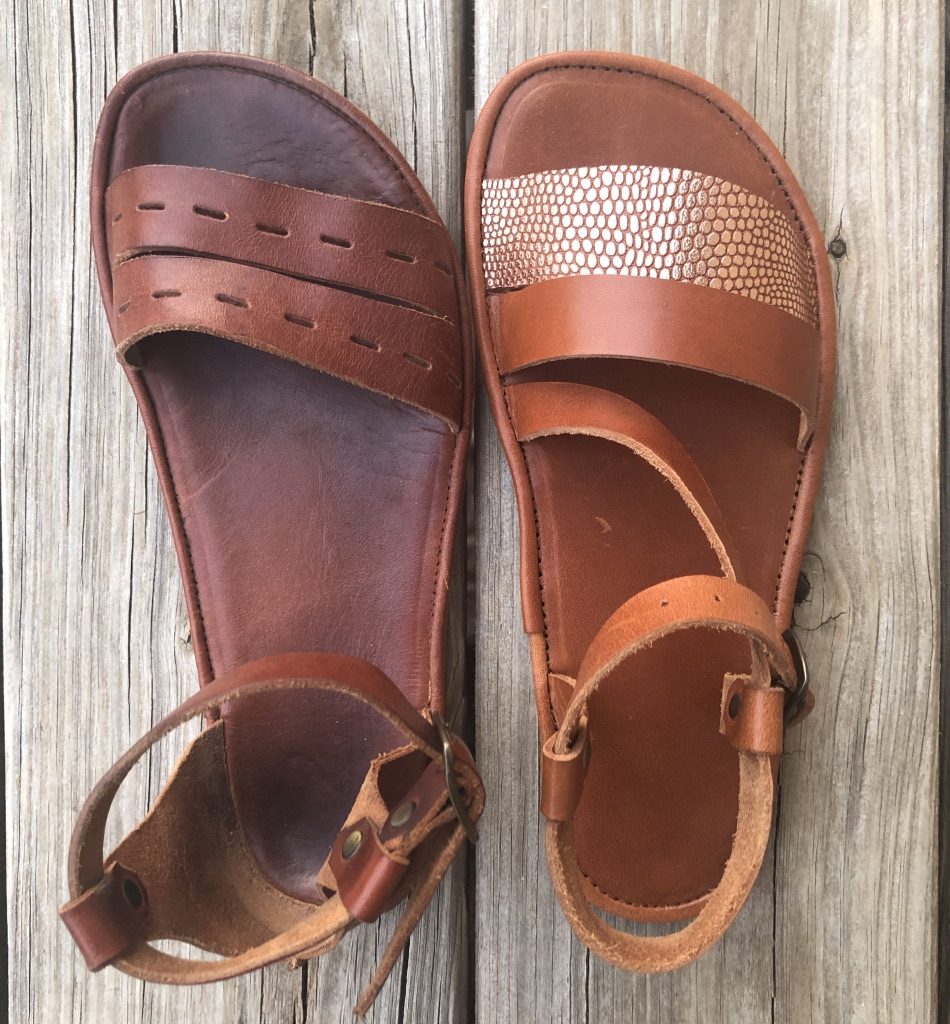 When I first got my Safita sandals they were quite tight, in fact I was worried I wouldn't be able to get them on! The buckle strap barely fit and I had to squeeeeze my foot into them. If these had been the first pair I had ever received I would have thought they were too small for sure. But I've learned that Drifters do quite a lot of stretching (my beloved buckle boots that everyone asks me about started out too short for my feet and have since stretched to a perfect fit). So I wore them around the house for about 20 minutes at a time. After they had loosened enough to not be painful I wore them on a short walk. A few walks later and they are perfect!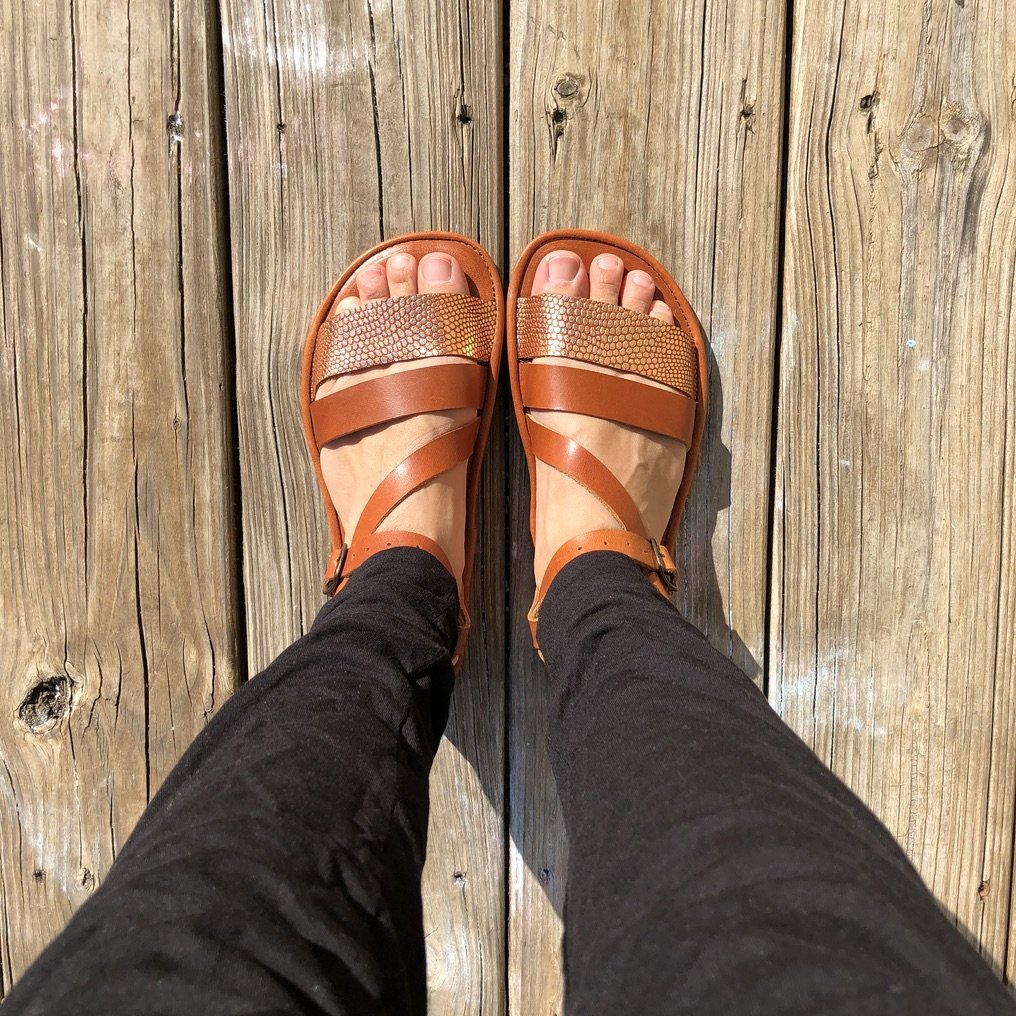 Sandals should be very secure to your foot and lightweight so you are able to walk as if barefoot in them. That is what I love about Drifter sandals, they don't inhibit my normal foot function at all. With sandals that cross over the ball of the foot, this is hard to get unless you go custom.
The Deets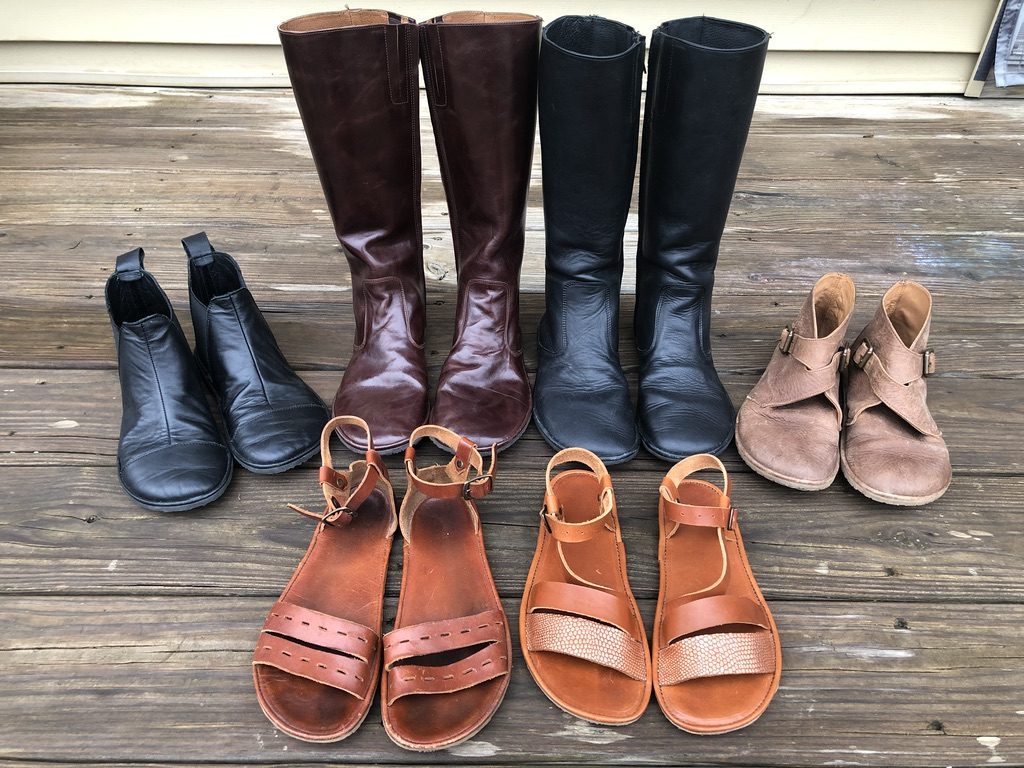 I now own 6 pairs of DL shoes (All but the Safita sandals I purchased myself). I LOVE the boot styles from the Drifter Leather: As someone with thin, low volume feet it can be tough to find barefoot boots that don't look huge and clunky on me. I reviewed the Vera riding boot in full here (still probably the best shoes I own), and have another post all about the ordering process. If you're looking to place an order for the first time, those posts are must reads!
When Things Go Wrong
There are some variations across all my DL shoes, and sometimes from one shoe to the other within a pair. Occasionally my OCD resurfaces when I notice those discrepancies, but none of them compromise the fit of the shoe. I've learned over the years that when you get custom handmade shoes this is normal.
Only once has my order from DL been completely off. I ordered these Chelsea boots and was surprised when they arrived and fit about 2 sizes too large. Considering that I already had 3 other Drifter shoes that all fit great, this was out of left field. But ya know, it happens.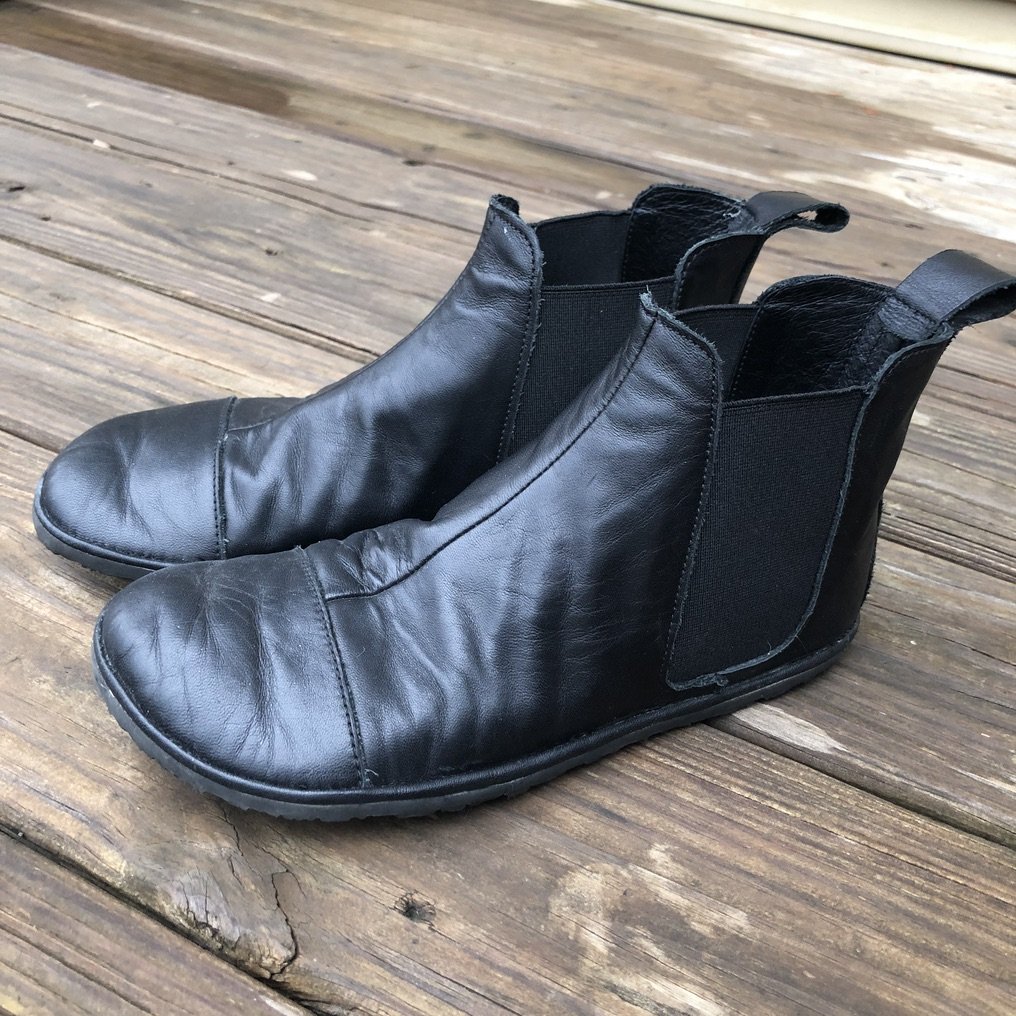 In order to be sure it didn't happen again, I sent the shoes back with a hard copy of an outline of my other DL shoes that fit the best and instructions to cut the outsole in exactly that shape. Because I was using other DL shoes as reference, it worked to just outline the whole shoe. The replacements came several weeks later and were perfect! It added quite a bit more time to the process, but no extra cost to me (Again, be sure to read this post for all the details on their remake policy).
Customers outside the US will want to investigate how much return shipping would cost for them if they need it. Going into it prepared makes all the difference!
Wear and Care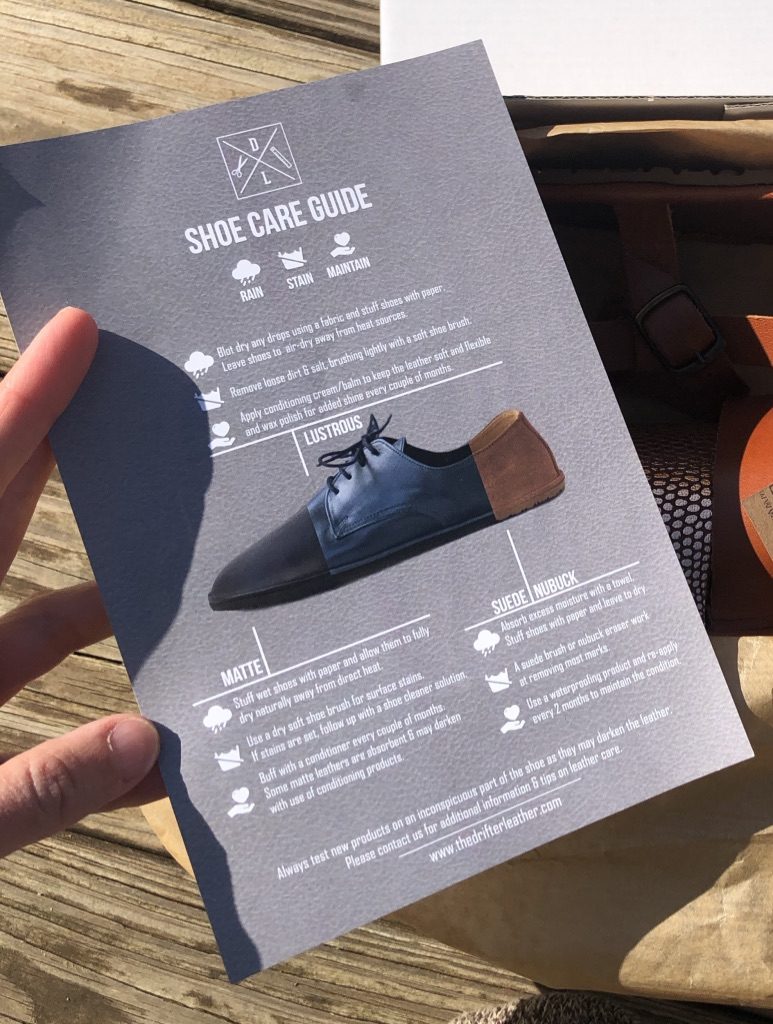 DL shoes come with a leaflet of instructions for how to care for your shoes. My personal favorite leather care product is Chamberlain's and I use it regularly on my DL shoes. For waterproofing, I use this and this, but I also generally try to keep mine out of water and snow so that they stay looking nice for years.
One of the coolest things about DLs is that they can be resoled. This is great news, because the soles are likely the first thing to wear through. Drifter has personally worked with several cobblers that will replace Vibram soles with good results and accept mailed-in shoes:
Vibram Academy (Athens, Greece)
Vibram Academy (London, U.K.)
Dave Page Cobbler (Seattle, WA U.S.A)
Arcadia Shoe Repair (Victoria, Canada)
Conclusion
Though there is always a lengthy wait time and the possibility of something going awry, getting a perfect fit in a shoe is worth a little extra time and money. Because they have styles and customization options that include men, women, and just about every occasion you can think of, the Drifter Leather is a great place to go for something specific that you're having a hard time finding elsewhere. I expect to be wearing my Drifter shoes for years to come and consider them to be my best looking barefoot shoes!
Drifter Leather Lookbook
My Drifter Leather shoes make a regular appearance in my #barefootstyle outfits on Instagram. Here is a roundup of some of the ways I've worn them!