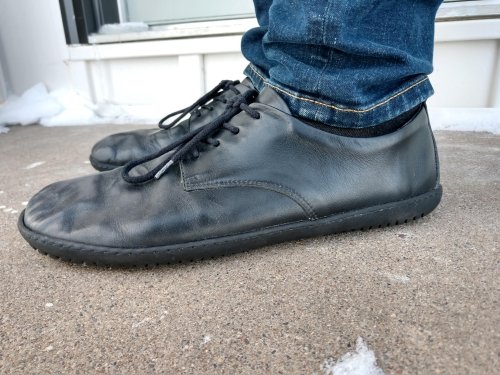 Groundies Urban Barefootwear has some of the best styles available for men and women in the barefoot shoe world. They offer an impressive number of styles across multiple categories; including vegan options. This German brand knows how to make a stylish barefoot shoe! Read on for my full review of the Groundies Palermo leather lace-up.
Groundies Palermo Review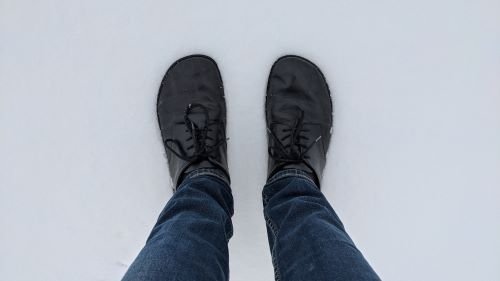 My husband, Robby, has been wearing his pair of Groundies Palermo at least 3 times a week for the last 7 months. I asked him to sum up his thoughts and he said, "They are simple, classic, durable, and very comfortable." When he got them in the mail, he was in awe of the quality. He kept turning the shoes over and over, admiring them. They were buttery soft right away – zero break in required! We bought them for a wedding we were attending and planned for him to only wear them sparingly as dress shoes, but they quickly became his favorite footwear and he wanted to wear nothing else.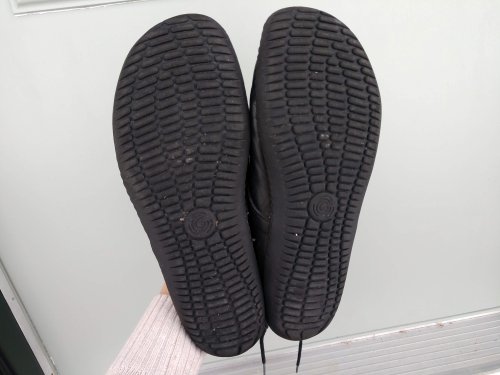 These shoes have held up better than any other shoes he's owned. He walks a few miles a day on an outdoor concrete path at work during his breaks, so these shoes have seen plenty of use. Usually by this point his conventional shoes were falling apart at the seams. There is hardly any visible wear on the sole or seams of the shoes. The leather has definitely wrinkled and creased over time, but it's obvious these shoes will last. The sole even comes with a 3 year warranty!
Materials and Care
The Palermo is crafted with a soft cowhide leather outer, and an equally soft goatskin lining. The non-removable insole is smooth microfiber, and there are no rough or irritating seams on the inside. They are extremely flexible and comfortable to wear. Groundies has thermal insoles available to make these a little warmer in the winter, but we have not tried them. Since he wears them mostly indoors, Robby finds thicker socks sufficient.
Because Robby kept wearing these shoes daily, despite the frigid temperatures in the Midwest, I treated them with Sno Seal to protect the leather. Any dirt or grime wipes off the smooth leather very easily with a damp cloth. Thanks to the high quality leather, these are a very low maintenance shoe.
For more tips on how to care for your barefoot shoes, read this post!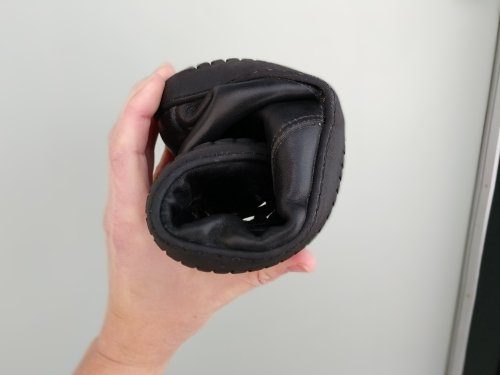 Sizing and Fit
Groundies has a huge variety of unisex styles in EU sizes 36-48. Men's styles come in EU 40-48, while the women's are offered in EU36-43. Don't get caught up on the Men/Women label, because unlike some barefoot shoe companies, the width does not vary between the men's and women's even in the exact same style. That means smaller footed men or larger footed women should have no problem finding a style in their size!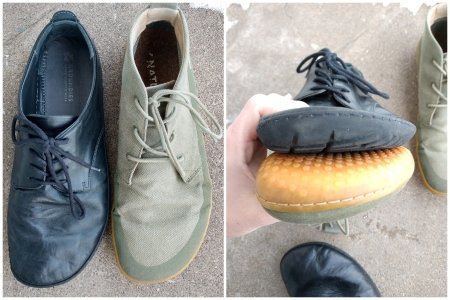 Like most Groundies shoes, the Palermo fits an average width Mountain (Greek) shaped foot. They run true to size and as you can see here, they're pretty similar in shape and width to these Vivobarefoot Gobi II boots. Robby usually wears a US 11/EU 44 and that is the size he wears in Groundies, Vivobarefoot, and Wildling.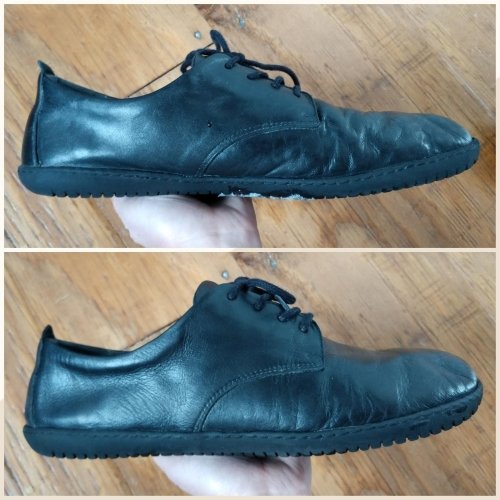 Depending on the style, they can accommodate a range of foot volumes. The top shoe is how Robby has them tightened for his lower volume foot. The bottom shoe I've loosened the laces and stuffed it with socks so you can see how much more foot volume they could fit.
Not sure what kind of feet you have? Check out this post for a Guide to Understanding Foot Type!
Style
Like I said before, Robby wears these with everything! I even caught him leaving the house one night to get ice cream in his Palermos and sweatpants! Not a fashion choice I would recommend. They are such a simple, classy style and wear effortlessly with most outfits (but please, no sweatpants!). The dress code at his job is casual, but closed toed shoes are required. Most days, you'll find my husband in jeans and a hoodie or casual button down. He feels a little more put together with the addition of these sleek leather shoes.
When they were brand new, the leather on the toe box was smooth and they looked more formal. This is my only minor complaint. In the future, I'd like to see Groundies dress shoe styles to be lightly reinforced in the toe box to keep them looking fancier. For what Robby uses them for, the crinkled look of the leather is not bothersome and really – no one is looking at your shoes that closely … unless they write barefoot shoe reviews of course.
Looking for more men's barefoot dress shoes? Check out this full list!
Ordering
Groundies offers free global shipping, but beware that it could be slow. They ship from Germany and delivery time within the EU is 3-6 days, but customers in the US have been experiencing a wait time of many months. Fortunately, some Groundies styles are available for US customers on Amazon with free prime shipping and returns! It is worth noting that the sizes on Amazon are the US equivalent of the EU sizes Groundies offers and all say "wide" after them which just means they are wider than normal shoes. So check the Groundies size chart before ordering.
If your shoes don't work out for you, returns are accepted within 60 days. Returns from within the US are hassle free to the US address! You can also find a selection of Groundies styles available at Anya's Shop!
The Palermo leather lace-up was $130 when we purchased it in August 2020, and is now on sale for around $100. That is an incredible value for a high-quality leather shoe that will last and is so versatile.
Conclusion
Groundies Urban Barefootwear is a company that knows what they're doing! Sustainably produced with high quality materials, shoes from Groundies are comfortable, stylish, and good for your feet. The Palermo leather lace up will be a staple in your wardrobe for years to come.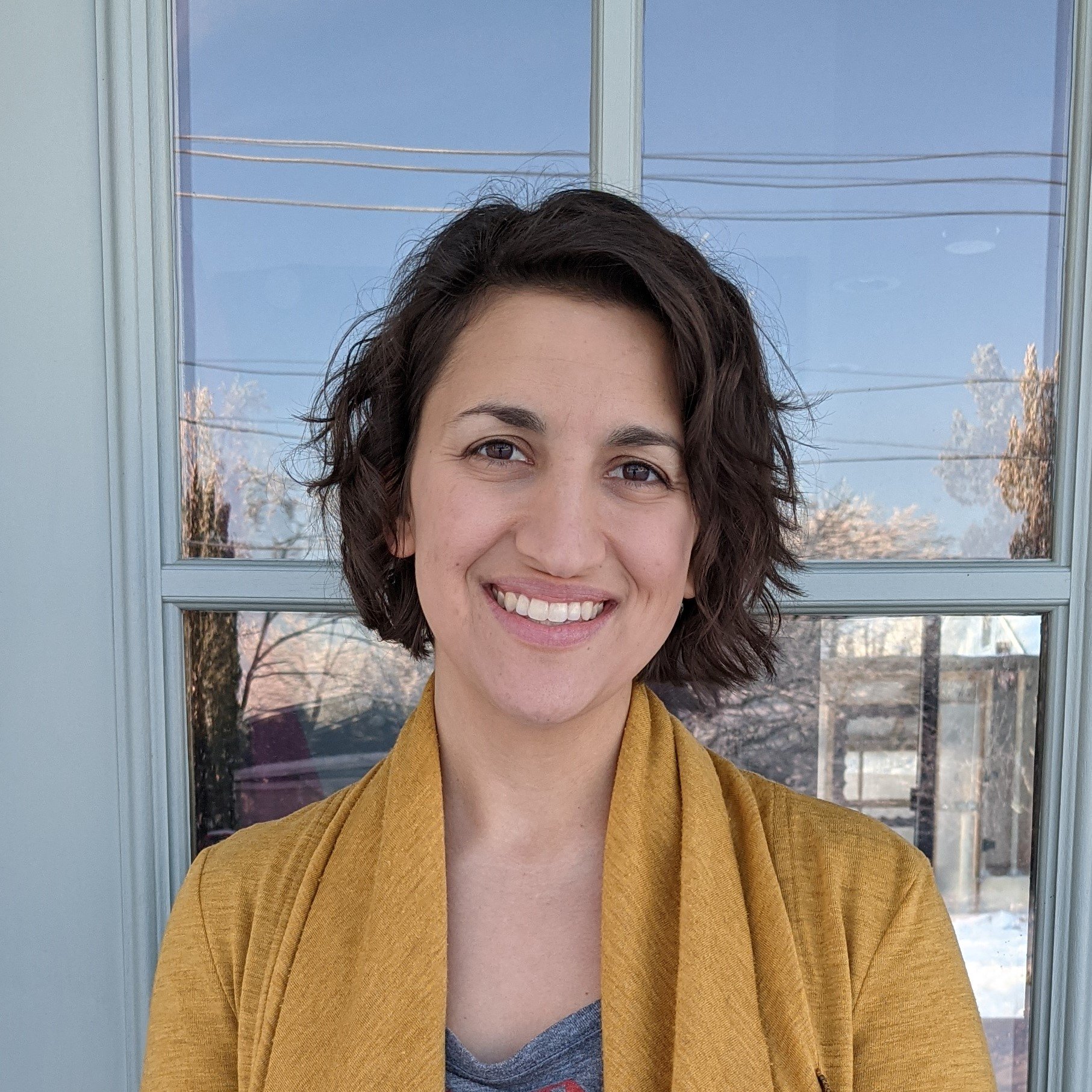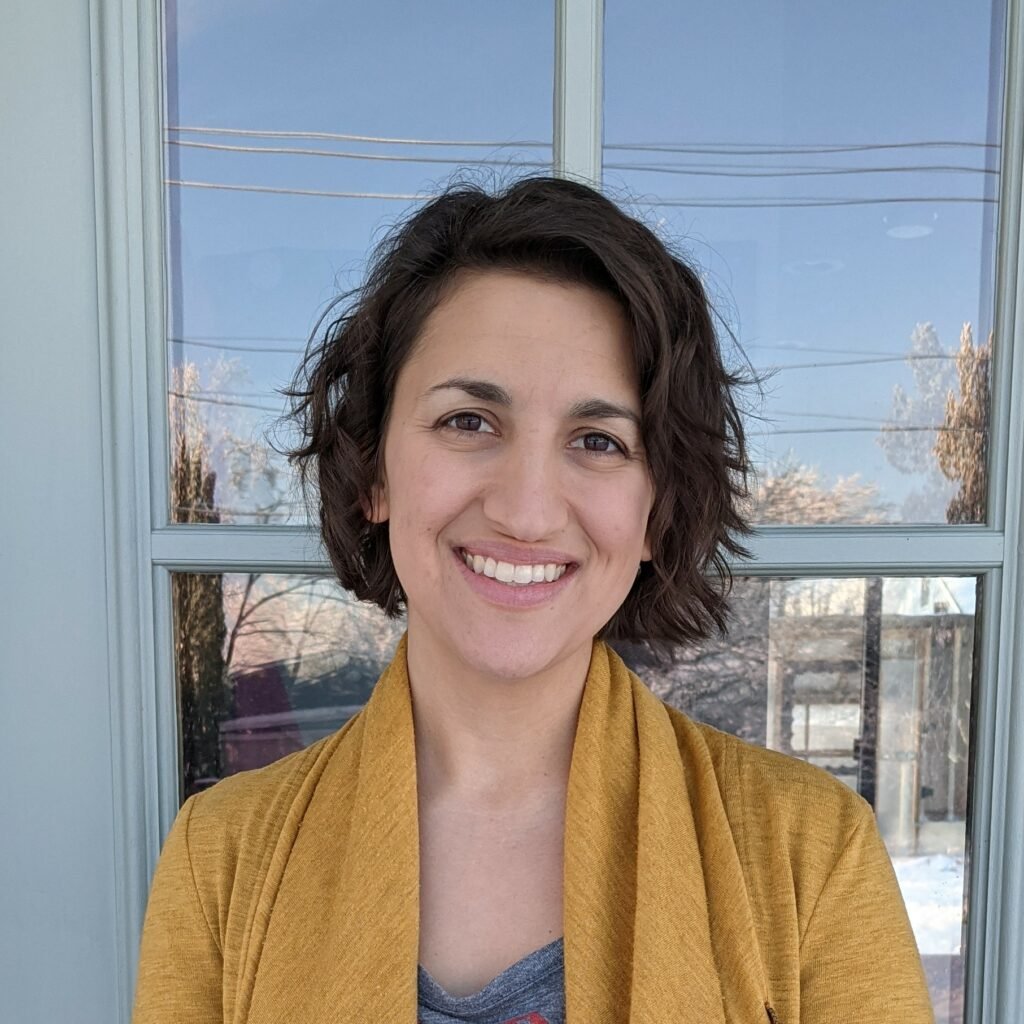 Samantha is a writer/researcher for Anya's Reviews and stay-at-home mom to 4 littles. In addition to shopping online for footwear for her family, she spends her time homeschooling, reading, weaving, and doing home improvement projects with her husband.