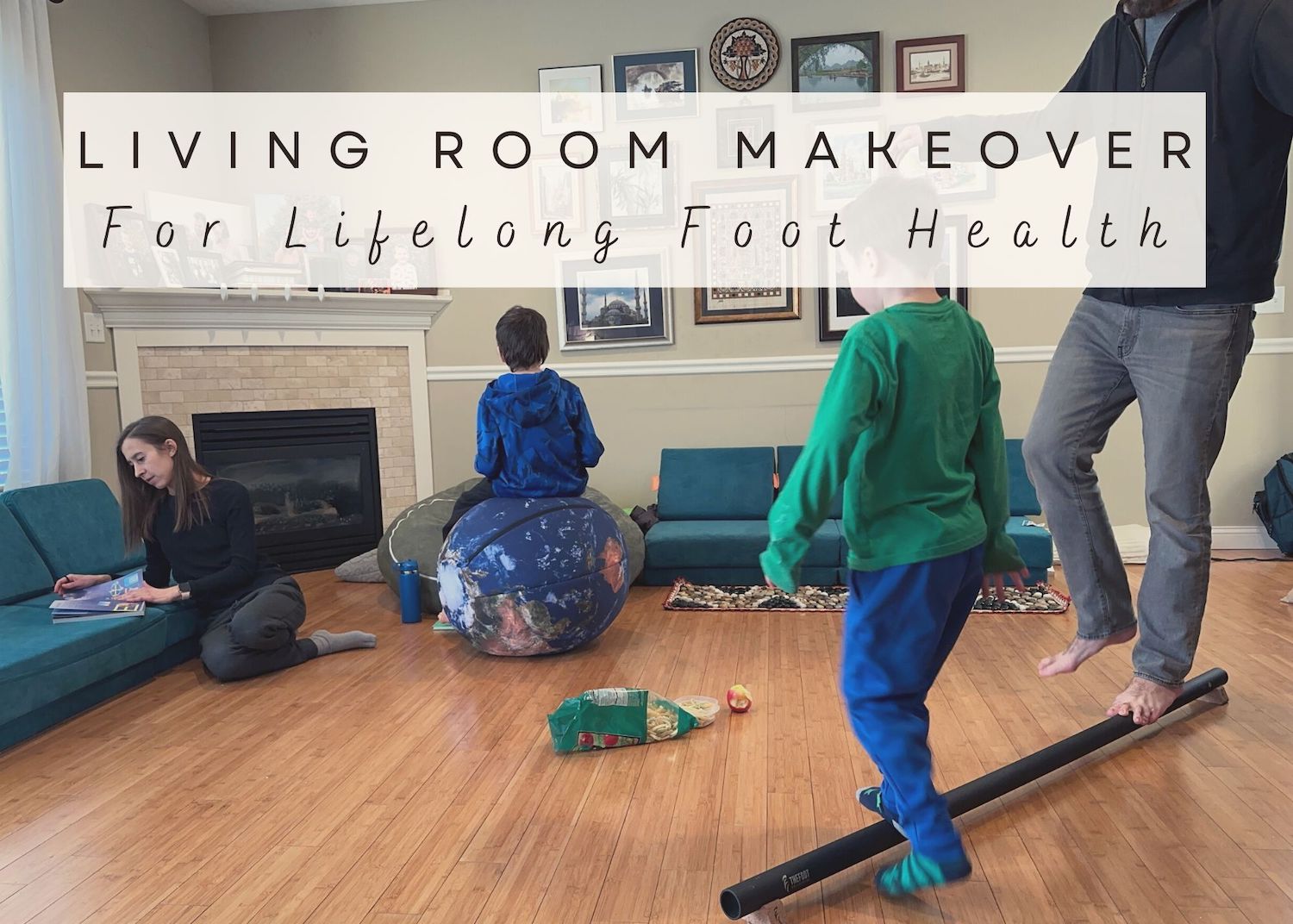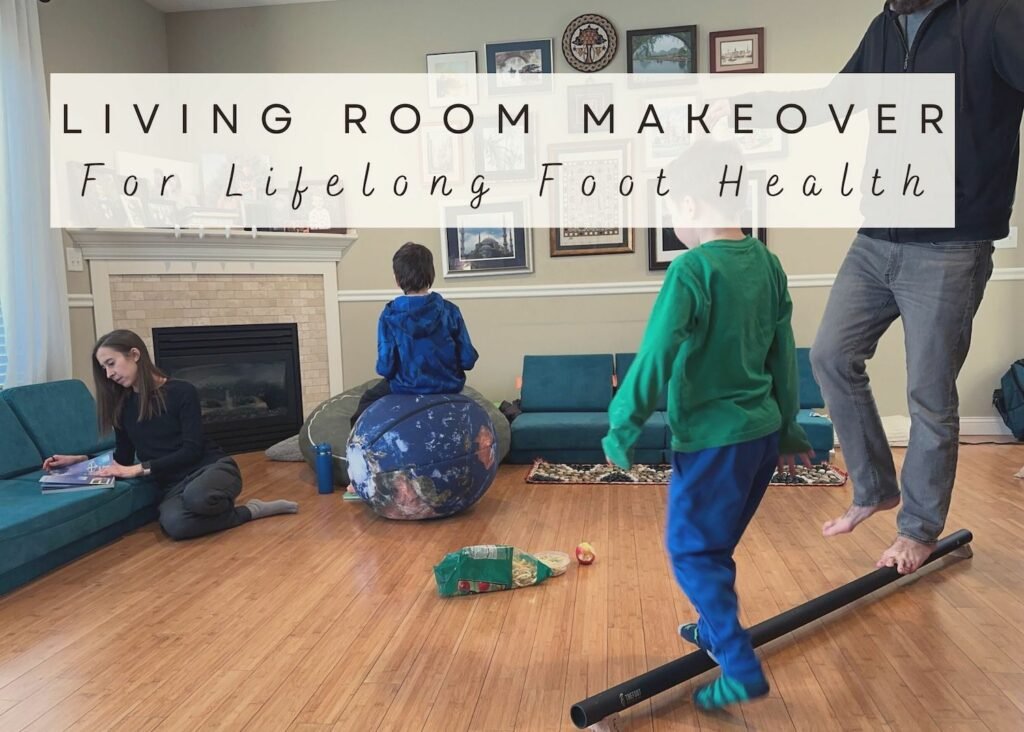 Ever since I discovered barefoot shoes and the world of natural foot care, I have dreamed of turning my living space into a movement friendly utopia. Because when it comes to the body, everything is connected.
This is how we transformed our living room to support our overall foot and body health without sacrificing on comfort OR going overboard on cost.
Why We Needed a Change
Your spine and hip mobility all impact what you can do with your feet, and that means your lifestyle has a tremendous impact on your foot health. The lowest hanging fruit here is how you sit.
Sitting in chairs all day every day for years is not a good way to keep your spine and hips healthy. When you don't have traditional furniture you change position often, moving SO many more parts in your body than you would in a chair. This keeps things limber and strong, from your head to your toes.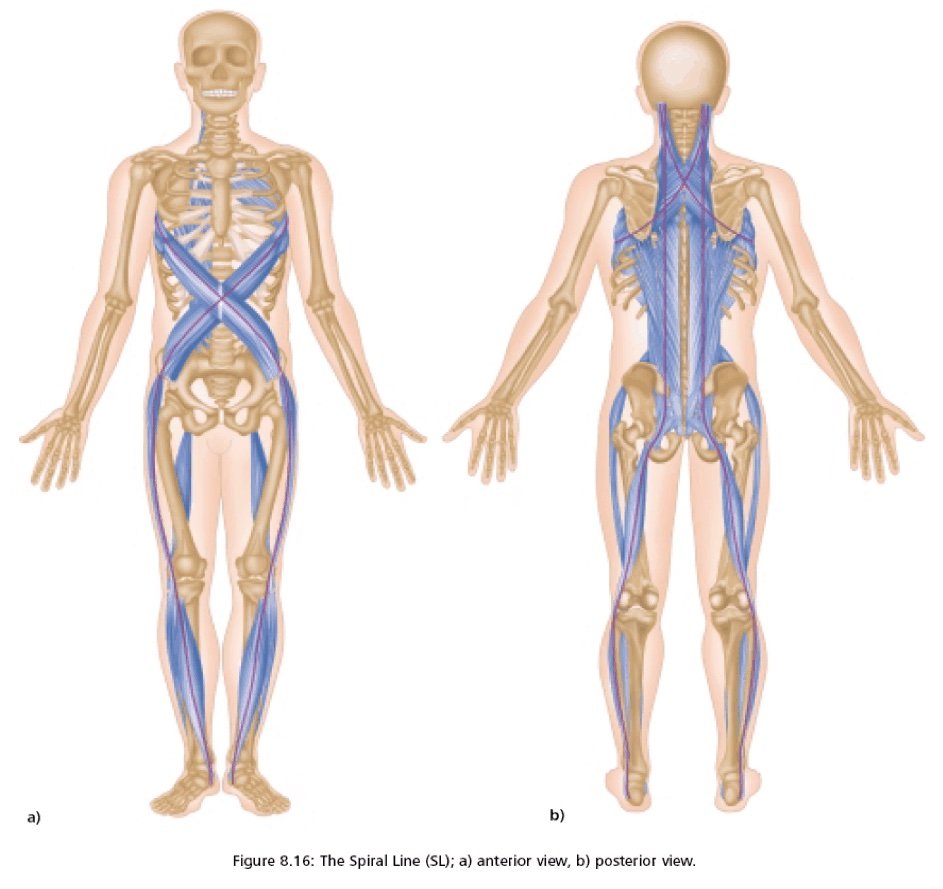 But as a society we are very attached to chairs and couches. And my family thought not having those things would mean being uncomfortable at home. No one wants that!
So here is how we took a measured approach to reducing the traditional furniture in our house while still keeping it cozy. And now, 6 years later, we primarily sit on the floor (or stand, run, jump, and roll around)!
How to Prepare Your Body for Chair-less Living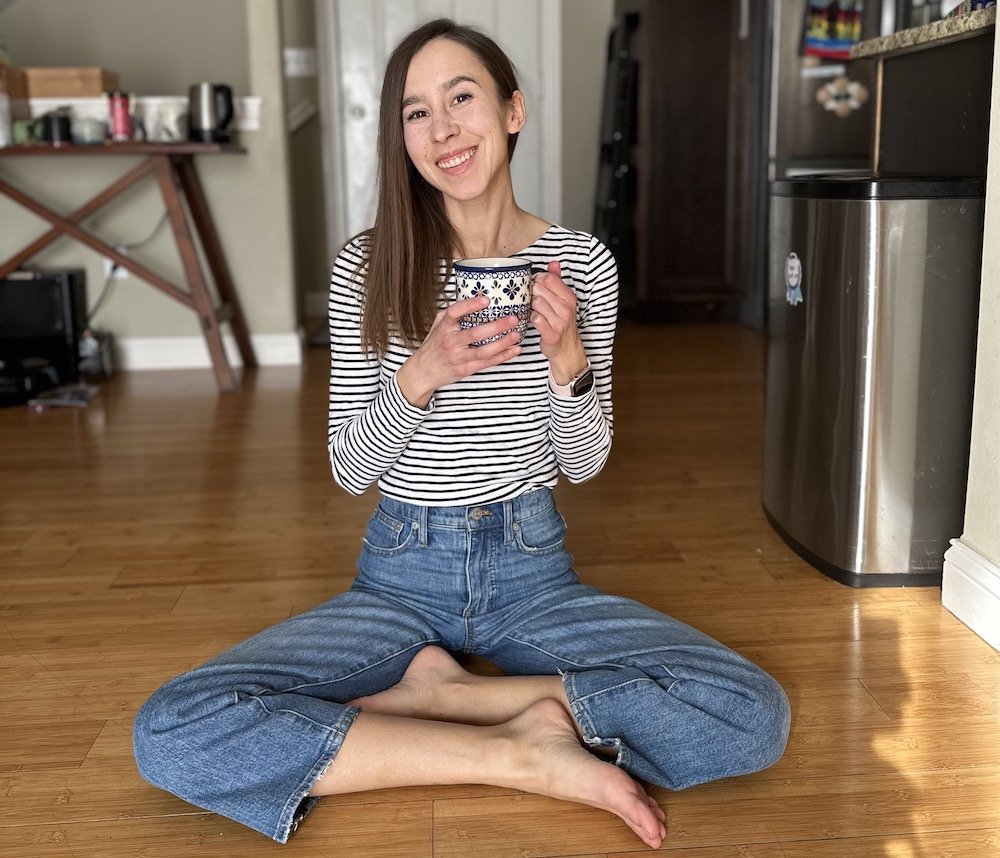 Because floor sitting requires more strength and mobility than sitting in chairs, it can take time to adjust. One way you can drastically increase your comfort on the floor is by learning how to bolster with pillows or other household items. This was a game changer for us.
And if you feel extra stiff and creaky you might want to try Petra Fisher's Joints For Life program. Besides being a great tool for lifelong joint health, it can also speed up your transition to floor living (and is a low-cost, easy to use program).
We also eased into it by making our space more dynamic by adding options before we got rid of any furniture. Because you don't have to make a huge change in order to start benefiting from floor sitting.
Alternative Seating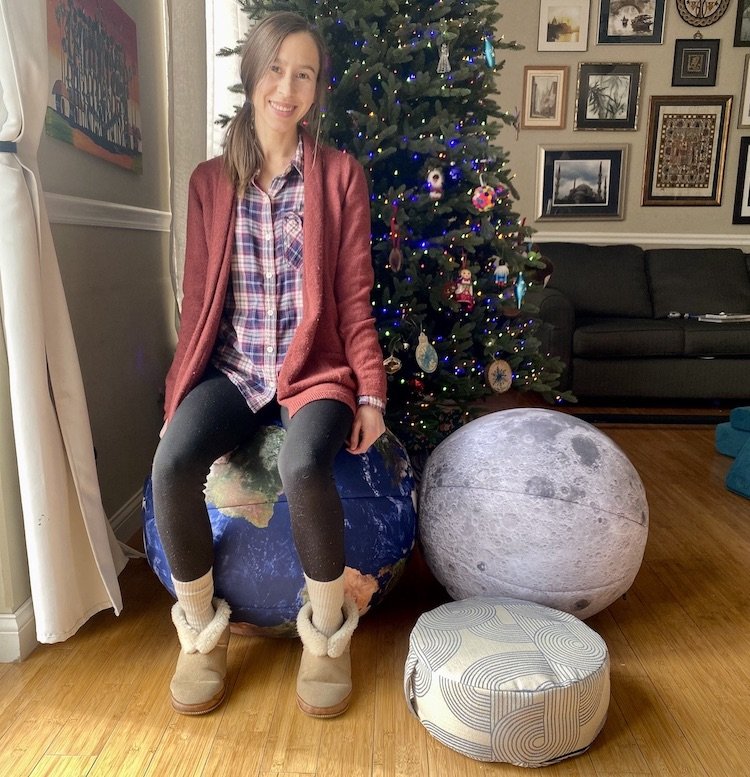 Before chucking the couches out the window, we started by adding floor seating options to our living room. Here is a list of the exact items we added before we swapped the bigger furniture.
Things did get a little crowded after a while 😅 but it started a change both in our bodies and our mental attitudes toward floor sitting.
We learned that having multiple low seating options was important, because Justin's hips and hamstrings weren't ready for being all the way on the ground. So we kept an eye out for low seats that fit the bill (see the Kitchen Table section for what we settled on).
It also was fun! And felt good! The kids seemed to enjoy the bodily freedom and we all began exploring the endless movement possibilities available.
Floor texture
In addition to this, I also have a lot of floor texture devices in my house. These are great for foot health, and also incentivize moving more – you want to walk over them because the sensory stimulation feels good! You can find these foot health tools in our living room:
Sensory Floor Puzzle – Link automatically applies 10% off.
Balance Beam – link automatically applies 10% off at checkout. I have the longest 6′ beam, so we tuck it behind cushions or push it against the wall when not in use.
While I LOVED the movement possibilities all this new stuff opened up, the reality is human beings will opt for the energy saving solution wherever possible. If there's a chair, we will sit in it. So we decided it was time to remove all chairs from the living room space – the most frequented room in our house.
Here is exactly how we did that without making our home uncomfortable.
Kitchen Table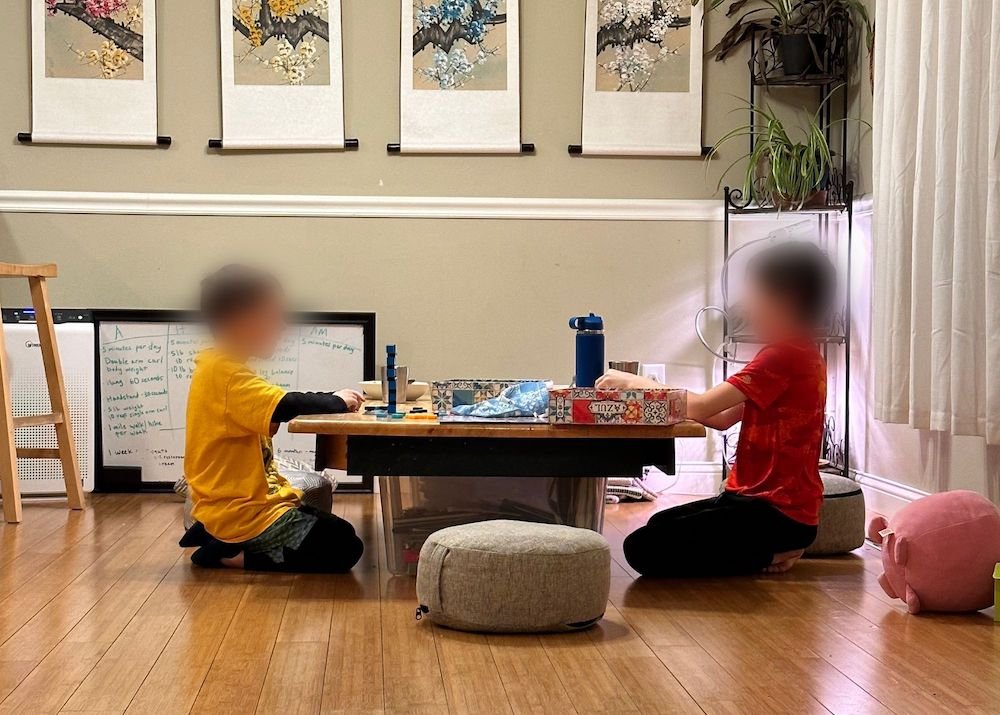 Our living room includes our kitchen table, which we use both for eating and as a work desk. This was the easiest and cheapest change of them all! We simply unscrewed the legs from the kitchen table and put plastic storage bins underneath so it was the right height. Voila! A low table without spending a dime. And considering that our kitchen table was $25 from the thrift store over a decade ago, I am feeling like we got some serious bang for our buck.
Long term, we would like to get a custom table made to our preferred dimensions and height. But for now, this jerry-rigged low table is perfect.
Low Seats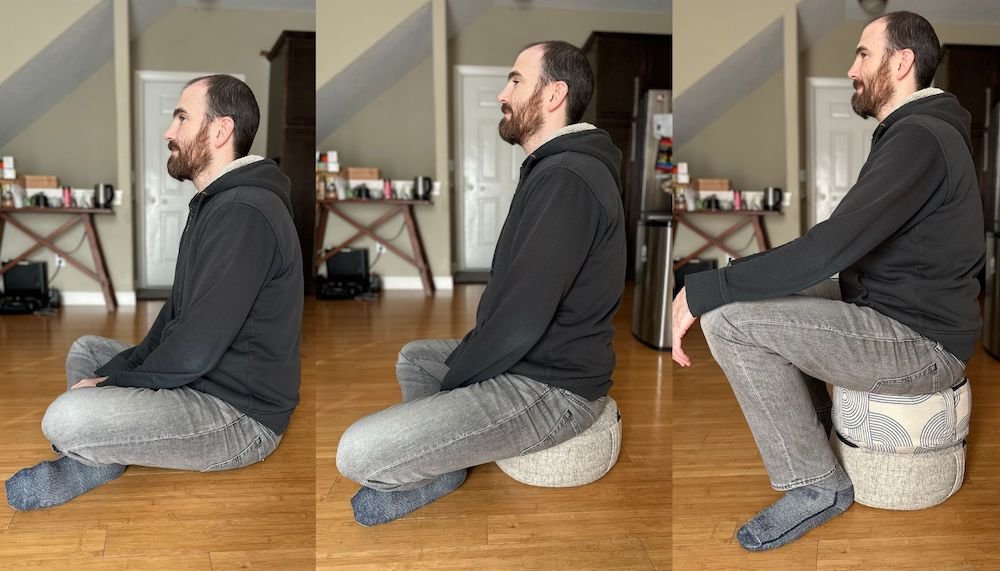 We were able to use our collection of rag rugs as mats around the table (easy to throw in the wash) but we also wanted some higher cushions for people who aren't mobile enough to be comfortable fully on the floor.
This is where our biggest expense came in: Venn Designs floor cushions. We tried one cushion last year and were completely sold on it, so we decided to invest in a full set for the dining room. Each side has a different firmness, and they hold their shape. You can even stack two on top of each other for something in between traditional chair height and low. We keep them around the table so people can choose what to sit on, and then we can easily stack them and push them out of the way.
Couches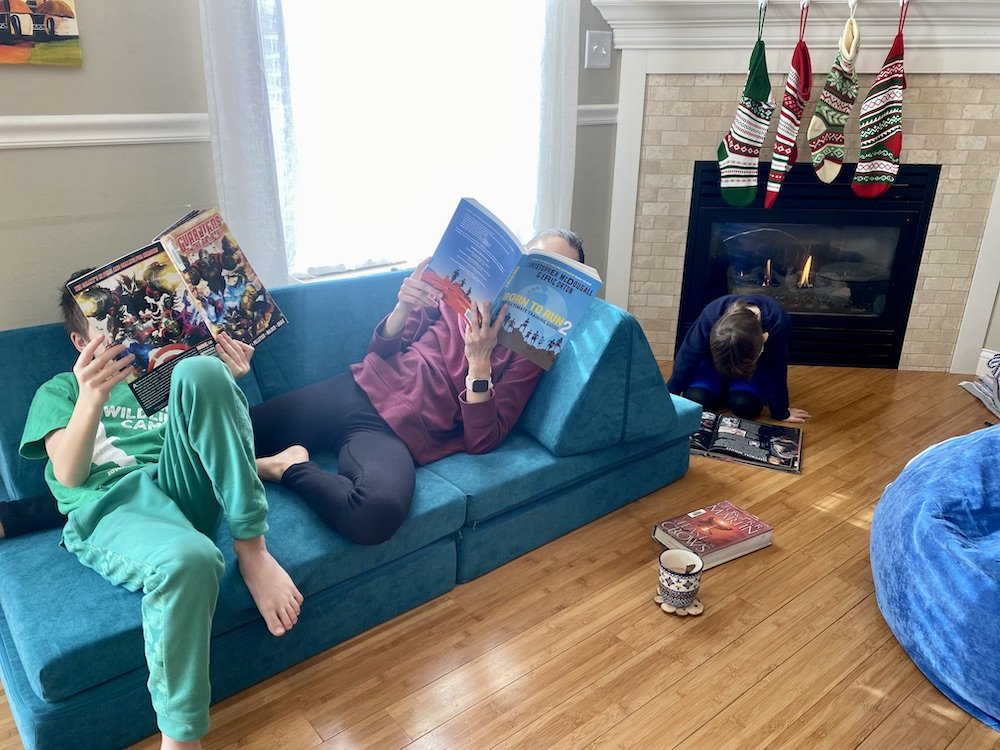 Oh how my family resisted getting rid of our couches! After we had plenty of bean bags and floor cushions, I convinced them to try one play couch from Nugget as a trial run. Well, they loved it. It's comfy and firm, folds up easily, and the kids have a blast playing with it (but I would buy it even if we didn't have kids).
After that test run, they were ready to get rid of the second couch, which we replaced with another low couch from Nugget. To cover the cost of the new Nuggets, which cost a lot less than a traditional couch from a furniture store, we sold our original couches.
I prefer these play couches to traditional chair-height couches for these reasons:
They provide comfy seating, but are still low to the ground (so you don't get stuck in that 90-degree chair position).
You can use them with both layers or just one to be even lower.
They fold up and can be stored or aired out
The cloth upper can be removed and washed.
The pieces are not attached to each other , so it promotes a lot of shifting and adjusting (aka movement).
While I wish they made one designed to be sofa length (theirs are just a little short for a tall person to lay out on) we are overall very happy with them and don't even miss our old "regular" couches.
Home jungle gym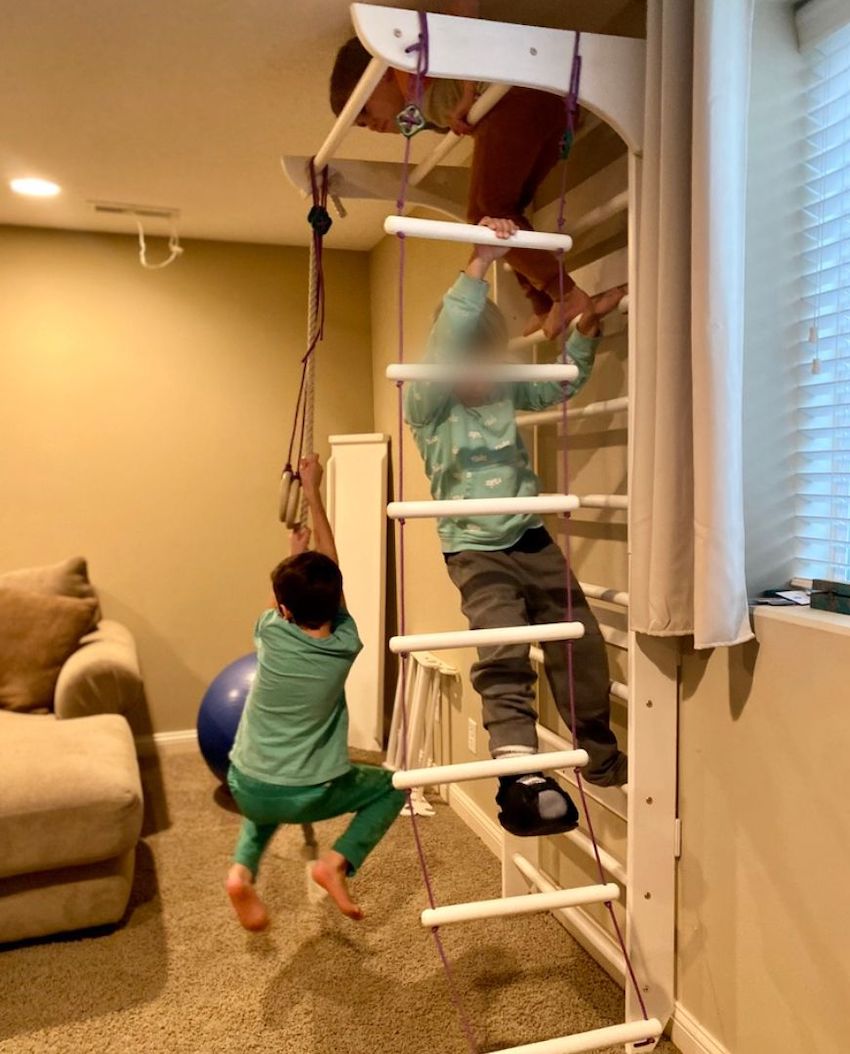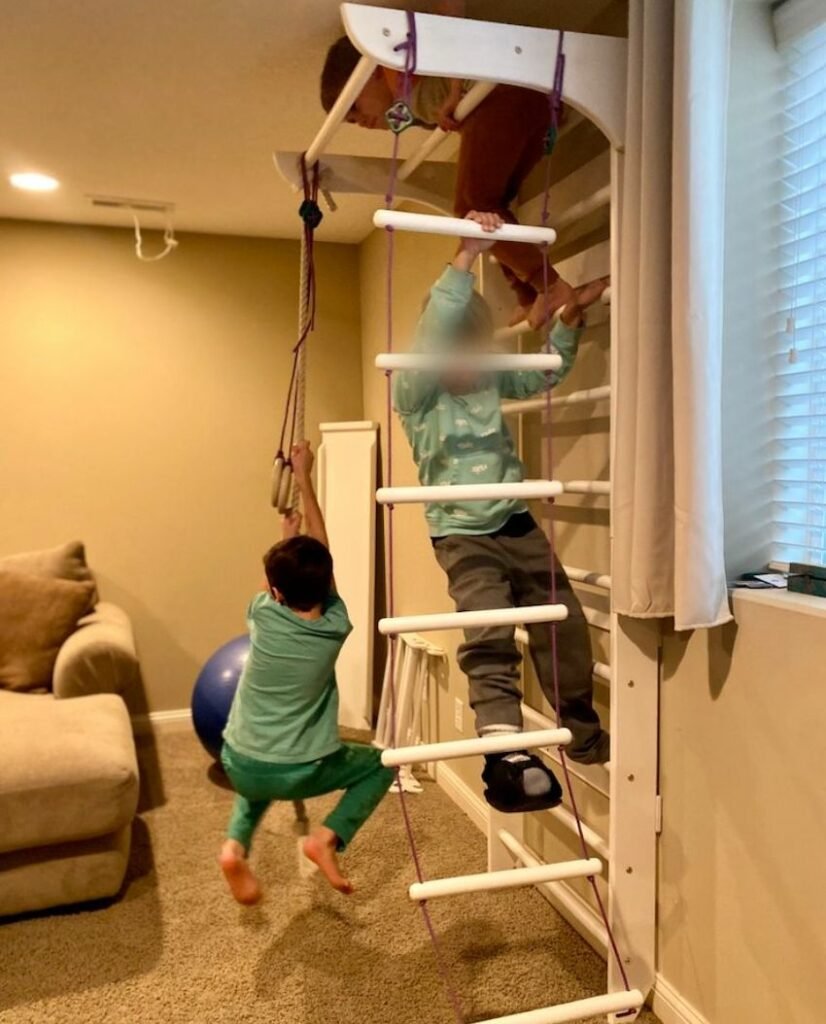 This one is not in our living room, but I had to mention it. We put this Swedish Jungle Gym (again, Black Friday deal) in our basement over a year ago and I just love it. It's another one of those things that you use because it's there, so just having it means more movement and strengthening.
Keeping The Floor Clean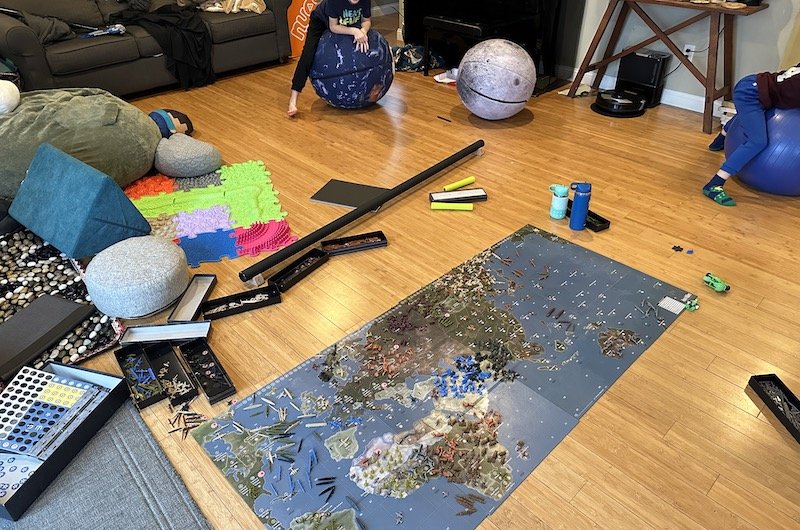 I will say that having all this lightweight, moveable furniture on the ground does mean the room can look like a tornado came through in approximately 2 minutes. But the flip side is that all the elements are easily stacked and cleaned up! We actually feel like we have more space now, and aren't afraid to spread out and make a mess.
I also feel like I need to mop the floor more regularly. We have a "no shoes in the house" rule but inevitably the kids run in without taking them off. I don't want to be on the floor after that! So I diiiiiid get a robotic vacuum/mop combo on major discount for Black Friday. Don't tell Katy Bowman, but I kind of love it.
Yes I know I could add even more movement to my life if I did it by hand, but what's more likely is the floor just won't get cleaned. So it was worth it to me. Putting a little white vinegar into the mop makes me feel much better about being directly on the floor.
Conclusion
This step-wise approach to a movement-friendly home worked for us. The slow pace of the transition reduced the strain on our finances and on our bodies – and ensured that every member of the family would be happy with the change.
And now we have a living space that we love, that feels good, and that still is cozy. We also don't have to make the tiring decision over and over to get out of the chair, because there are no chairs in reach!
We do have a couch in the basement, bar stools, and a folding table and chairs if guests need them. But they occupy less-used spaces and aren't immediately in our way on a daily basis. I hope to continue replacing items for movement-friendly alternatives over time. Next up, a climbing wall!
If you're here to learn how better shoes and small lifestyle changes can make your feet feel a whole lot better, get started here.