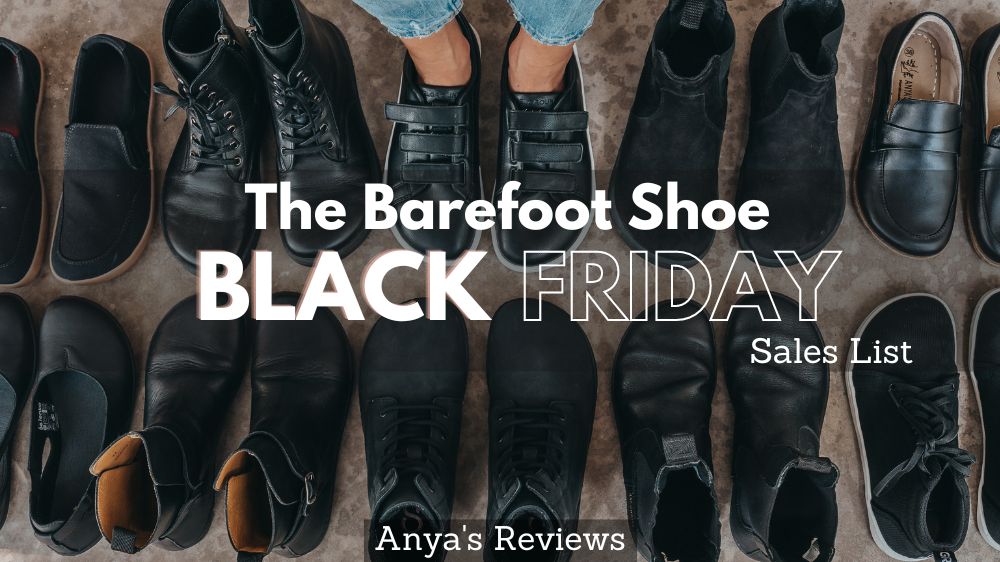 That's a wrap on Black Friday for 2023! For all current sales and coupon codes please head to my Discounts Page that is kept updated year-round!
Welcome to the 5th annual Barefoot Shoe Black Friday/Cyber Monday Sales list. Find here the most comprehensive sale and discounts list for barefoot shoes on Black Friday 2023 – we pour our heart and soul into creating this resource for you!
You'll even find discounts for Anya's Reviews readers only! So if you're doing any barefoot shoes shopping this Black Friday & Cyber Monday season, you're in the right place.
We're also your one-stop-shop for everything barefoot shoes. Got questions? Not sure if a brand is right for you? What size to get? Start browsing my homepage for all the resources you need.
Before we get to the 2023 barefoot shoe Black Friday Sales, a couple details:
Don't forget that most barefoot shoe brands are small businesses with limited inventory, so some popular models will be sold out for the season by the time Black Friday shopping season arrives. While Black Friday is a great time to get a deal on barefoot shoes, if you have a specific shoe in mind it's not always a good idea to wait.
Understanding this list: Dates and details are displayed next to each brand so you know what sales are coming. Sales that are currently live will be highlighted, and then updated again once they are over so you can always see what's happening and don't have to check a million sites!

If there is no information next to a brand, that means the sale details are not yet public. Brands that are not participating in Black Friday are listed at the end, along with any discount codes I have.
For year round deals, you can check out all the current sales and coupon codes I have on my Barefoot Shoe Discounts page that is constantly updated – and to get that news delivered straight to your email inbox each week be sure to subscribe to the Barefoot Shoe Digest!
Otherwise, happy shopping!
The Best Barefoot Shoe Black Friday Sales of 2023 – Highlights
Find here a curated selection of the best live barefoot shoe sales during Black Friday.

Adult Barefoot Shoe Sales
ENDED Ahinsa (vegan brand): Up to 30% off
ENDED Aintap Feel Barefoot: 10/1-12/31 – 40% off with exclusive code ANYA40
ENDED Altra Running: 11/24-12/3 – Up to 50% off. I recommend Lone Peak, Solstice, Superior & Escalante.
ENDED Anya's Shop: 11/17-11/27 – 5-30% off sitewide
ENDED Astral: 11/17 -12/4 – 25% off (5% of sales donated to non-profit organizations)
ENDED Barefoot Pals: Up to 60% off
ENDED Barebarics: 11/8-11/30 – Up to 40% off
ENDED Be Lenka: 11/8-11/30 – Up to 40% off bestselling boots + clearance
ENDED Bearfoot Shoes: 11/13-11/27 – 15% off with code BLACKFRIDAY
ENDED Birchbury: 11/24-11/28 – Up to 25% off select shoes
ENDED Bohempia – Ends 11/27 (at midnight CEST) – Use code GREENFRIDAY for 20% off everything. You can shop Bohempia at Anya's Shop
ENDED Carets: 11/20-11/27 (begins/ends at midnight) – 15% off with code 2023BF15 or 20% off orders $200+ with code 2023BF20
ENDED Earthing Moccasins (DIY shoes): 50% off tutorials when ordering a starter kit
ENDED Everleigh Meadow (women's): 11/3 – 11/5
ENDED Feelgrounds: 11/24 -11/28 – 20% off everything
ENDED Feelmax: 11/23-11/26 – 30% off with code 23FRIDAY30
ENDED Flux Footwear: BOGO 50% off with code BFCM23
ENDED Freet: Up to 50% off select styles
ENDED Gaucho Ninja: 11/24-12/1 – 20% off with code exclusive BLACKFRIDAY23
ENDED Groundies: 11/13-11/27 – Up to 50% off plus Bundle Deal on non-discounted items
ENDED Groundz: 11/23-11/26 – 15% off all black and cinnamon shoes
ENDED High Feels: 11/24–11/28 – Final pairs 20% off
ENDED Joe Nimble: Up to 35% off (with the exception of NimbleToes these are transition barefoot shoes)
ENDED Leguano: BOGO 60% off clearance
ENDED Lems: Ends 12/1 – Up to 25% off sitewide
ENDED Lisbeth Joe: 11/13-11/30 – Up to 60% off
ENDED Luks Shoes: 15% off everything
ENDED Magical Shoes: 15% off shoes, 20% off training tools
ENDED Manitobah Mukluks: 11/29-12/3 – Daily deals (not all are barefoot friendly)
ENDED Merrell: 30-40% off several barefoot and minimalist styles
ENDED Mukishoes: 11/24-11/27 Get 30% off two or more pairs of the new model Juniper with code JUNIPERFAMILY. Use code ANYAMUKI for 10% off everything else.
ENDED Oesh: 11/22-12/17 – $20.23 off with exclusive code ANYA2023
ENDED Origo Shoes: 11/17-11/28 – 15-25% off Origo styles, 15% off Huaraches
ENDED PaperKrane: 11/24-11/30 – Up to 40% off select styles
ENDED Peerko: 11/24-11/26 – 15% off for non-EU customers with exclusive code PEERKOFRIDAY (returns not accepted)
ENDED Posh Panda: 11/20-11/27 – BOGO 50% off
ENDED Raum Goods: 11/22-11/27 – 20% off + free shipping with code BEGRATEFUL
ENDED Realfoot: 11/20-12/7 – 10-30% off site-wide
ENDED Ruby Workshop: 30% off
ENDED Saguaro: 11/15-11/27 – Up to 58% off
ENDED Saltic: 20% off with code BLACKFRIDAY
ENDED Shapen Barefoot: 11/20-11/27 – Up to 40% off, Extra 15% off sale prices with code BF2023-15
ENDED Skinners: Ends 11/30 – 20% off select models and colors
ENDED Softstar Shoes: 11/17-11/28 – Up to $40 off several styles and 15% off gift cards $100+
ENDED SOM: 11/24-11/27 – BOGO 50% off with code BLACKFRIDAY2023 (Buy 1 pair at regular price, get 50% off a second pair or gift card. Limit first 100 customers) + 10% donated to local charity
ENDED Splay Shoes: 11/22-11/28 – BOGO 40% off sitewide + launch of 4 new colorways
ENDED Tadeevo: 11/20-11/27 – Black week discounts with code BLACK
ENDED Tikki Shoes: 11/10-11/26 – Up to 40% off
ENDED Tolos: 25% off Archetype 1.0 plus an extra 10% off with code ANYA10
ENDED Unshoes Footwear: 11/24-11/27 – Up to 45% off – discount automatically appears in cart
ENDED Vibram: 11/22-11/27 – 50% off select FiveFingers and Furoshiki models.
ENDED Whitin – 15% off select sneakers
ENDED Wildling Shoes: 11/23-11/26 – 30% off many models, including new models
ENDED Wyde Footwear: 11/15-11/26 – 20% off site-wide with code BFCM
ENDED Xero Shoes: 11/7-11/28 – Up to 70% off
Barefoot Sandal Sales
Kids Barefoot Shoe Sales
ENDED Anya's Shop: 11/17-11/27 – 5-30% off sitewide
ENDED Be Lenka: 11/8-11/30 – Up to 30% off kids winter & play shoes
ENDED Earth Runners: 11/24-12/3 – Up to 30% off
ENDED Earthing Moccasins: 50% off tutorials when ordering a starter kit
ENDED Everleigh Meadow: 11/3 – 11/5
ENDED Feelmax: 11/23-11/26 – 30% off with code 23FRIDAY30
ENDED Foot Buddy: 11/17-11/30 – 10-15% off. Use code ANYAS15 for an additional 10% off.
ENDED Freet: Up to 50% off select styles
ENDED Jan & Jul: 11/24-11/27 – 20% off site-wide (see which styles are barefoot friendly here)
ENDED Lex Barefoot: 11/23-11/27 – 30% off (discount appears in cart)
ENDED Little Love Bug Company: Ends 11/27 – 35% off site wide (excludes The Holiday Collection)
ENDED Magical Shoes: 11/20-11/27 – 15% off shoes, 20% off training tools for email subscribers
ENDED Merrell: 30-40% off several barefoot and minimalist styles
ENDED Mukishoes: 11/24-11/27 Get 30% off two or more pairs of the new model Juniper with code JUNIPERFAMILY. Use code ANYAMUKI for 10% off everything else.
ENDED Origo Shoes: 11/17-11/28 – 15-25% off
ENDED PaperKrane: 11/24-11/30 – Up to 40% off select styles
ENDED Posh Panda: 11/20-11/27 – BOGO 50% off
ENDED Reima: 11/27 – 30% off + free shipping
ENDED Saguaro: 11/15-11/27 – Up to 58% off
ENDED Shamma Sandals: Up to 25% off all sandals (excludes Numa and and boots)
ENDED Shapen Barefoot: 11/20-11/27 – Up to 40% off + Extra 15% off sale prices with code BF2023-15
ENDED Skinners: Ends 11/30 – 20% off select models and colors
ENDED Softstar Shoes: 11/17-11/28 – Up to $40 off several styles and 15% off gift cards $100+
ENDED Splay Shoes: 11/22-11/28 – BOGO 40% off sitewide + launch of 4 new colorways
ENDED Starry Knight Design: 11/17-11/28 – 20% off all orders with code BFCM2023, orders over $150 get 25% off with code BFCM25
ENDED Stonz: 25-40% off (not all are barefoot friendly, so look for the flat soles)
ENDED Tadeevo: 11/20-11/27 – Black week discounts with code BLACK
ENDED Ten Little: 11/2-11/30

10% off $100 with code JOY10
15% off $150 with code JOY15
25% off $250 with code JOY25

ENDED Tikki Shoes: 11/10-11/26 – Up to 40% off
ENDED Unshoes Footwear: 11/24-11/27 – Up to 35% off
ENDED Wildling Shoes: 11/23-11/26 – 30% off many models, including new models
ENDED Xero Shoes: 11/7-11/28 – Up to 70% off
ENDED Zeazoo: 11/17-11/24 – 25% off everything with code BF2023
ENDED Zuna Shoes: Now-12/1 – Blog exclusive – Get 20% off automatically applied at this link or use code ANYA20
ENDED Zutano (baby shoes): 30-50% off select styles
Region-Specific Barefoot Shoe Sales
Australia
ENDED Barefoot Inc: Clearance Sale
ENDED Barefoot Shoes AU: 11/24-11/27 – Variety of sales and discounts changing daily – Blog exclusive extra $10 off with code ANYA10
ENDED Bprimal: 11/9-11/28 – Up to 40% off storewide
ENDED ShoesVB: Ends 11/28 – 20-60% off
ENDED Sole Mechanics AU: 20-50% off
ENDED Xero Shoes AU: Ends 11/26 – 20% off with everything with code XEROSHOESBF2023
Europe
UK
USA
ENDED Anya's Shop: 11/17-11/27 – 5-30% off sitewide
ENDED Groundwork: 11/20-11/27 – Up to 40% off all shoes
ENDED Injinji Socks: Ends 11/27 Up to 60% off select styles
ENDED Origo Shoes (Kids + Adults): 11/17-11/28 – 15-25% off Origo styles, 15% off Huaraches
ENDED PedTerra: Ends 11/27 – 15% off (discount appears in cart)
ENDED Ten Little (Kids): 11/2-11/30

10% off $100 with code JOY10
15% off $150 with code JOY15
25% off $250 with code JOY25

ENDED Tolos: 25% off Archetype 1.0 plus an extra 10% off with code ANYA10
ENDED Zuna Shoes (kids): Ends 12/1 – Blog exclusive – Get 20% off automatically applied with this link or use code ANYA20
Canada
South America
Barefoot Shoe Accessories
Socks
ENDED Injinji (US/CA only): Ends 11/27 Up to 60% off select styles
ENDED Anya's Shop: 11/17-11/27 – 5-30% off sitewide
ENDED Creepers Socks: 11/23-11/27 – Limited edition sock release! Buy 5, get 5th free. Free shipping. Use code ANYASREVIEWS for 10% off orders under 5 pairs.
ENDED Earth Runners: 11/24-12/3 – Up to 30% off
ENDED Knitido DE: 11/24-11/27 – Up to 70% off select styles while supplies last
ENDED Knitido+ USA: 25% off 5+ pairs
ENDED Luna Sandals Socks: 11/24-11/27 – 25% off everything
ENDED Sera Sox: 11/23-11/27 – 20% off site-wide
ENDED ToeToe Socks: 11/11-? – Up to 40% off orders 35+ EUR
ENDED Verloop (slippers): 30% off with code HOLIDAY
ENDED XOSkin socks: 25% off
Slippers
Foot Gear/Insoles
ENDED Anya's Shop: (Correct Toes, floor mats, massage balls) 11/17-11/27 – 5-30% off sitewide
ENDED Naboso Technology (Insoles, foot health kits): Up to 30% off + free shipping for USA, CA, & AU and new products launching!
ENDED The Toe Spacer (foot health tools): 11/27 – 25% off site-wide
ENDED Barefoot Kids (Textured floor mats!): 20% off with code ANYASFRIDAY20
ENDED Pranamat ECO (acupressure mats): Up to 30% off on sets with code ANYASREVIEWS
ENDED Correct Toes: 22% off Happy Feet Iconic Duo – Lems Primal Zen + Correct Toes, use code BESTDUO for free U.S. shipping
Exercise Equipment
ENDED MOBO Board: 11/23-11/28 – 15% off with code HOLIDAZE1, 20% off orders over $160 with code HOLIDAZE2, 25% off orders over $255 with code HOLIDAZE3
ENDEDP.R. Gear: 50-85% off a FloatRun Harness with the purchase of any other item. Stack code GIVETHANKS for additional discount.
ENDED Yoga Tune Up Fitness: 3 for $25 Stocking Stuffers
Laces/Miscellaneous
ENDED Anya's Shop : 11/17-11/27 – 5-30% off sitewide
ENDED Loop King Laces: 11/24-11/27 – 25% off on purchases $50-100 with code: LACES25, 30% off on purchases $101-150 with code: LACES30, 35% off on purchases $151-200+ with code: LACES35
ENDED Kiva Tribe: 11/24-11/26 – 20% off barefoot themed t-shirts
Education
Barefoot Shoes Brands Not Having a Black Friday / Cyber Monday sale