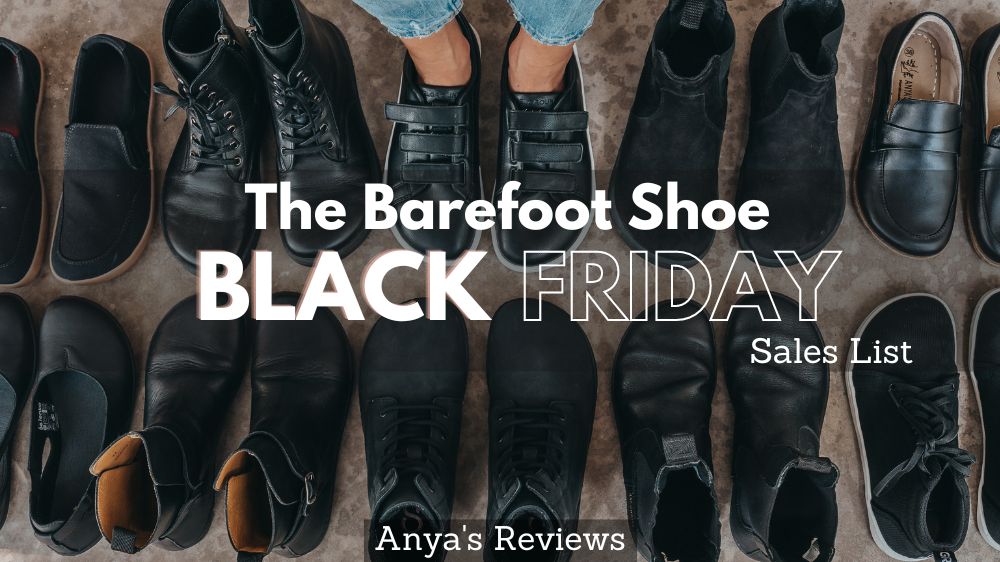 Welcome to the 5th annual Barefoot Shoe Black Friday/Cyber Monday Sales list. Find here the most comprehensive sale and discounts list for barefoot shoes on Black Friday 2023 – it's basically a full-time job to get you this info!
You'll even find discounts for Anya's Reviews readers only! So if you're doing any barefoot shoes shopping this Black Friday & Cyber Monday season, you're in the right place.
We're also your one-stop-shop for any info related to barefoot shoes. Got questions? Not sure if a brand is right for you? Get started on my homepage for all the resources you need.
Before we get to the 2023 barefoot shoe Black Friday Sales, a couple details:
Don't forget that most barefoot shoe brands are small businesses with limited inventory, so some popular models will be sold out for the season by the time Black Friday shopping season arrives. While Black Friday is a great time to get a deal on barefoot shoes, if you a specific shoe in mind it's not always a good idea to wait.
Understanding this list: Currently you can find listed all the brands that ran a Black Friday sale last year. We will be communicating with each barefoot shoe brand about their discount plans and will fill in the dates/details of each sale as the info becomes available (we start early!). Sales that are currently live will be highlighted, and then updated again once they are over so you don't have to check a million sites to see what's happening. You can check out our previous Black Friday Barefoot Shoe Sale lists for reference!
If there is no information next to a brand, that means the sale details are not yet public. Brands that are not participating in Black Friday are listed at the end, along with any discount codes I might have for them. You can check out all the permanent barefoot shoe coupon codes I have on my Barefoot Shoe Discounts page that is kept current all year.
Otherwise, happy shopping!
The Best Barefoot Shoe Black Friday Sales of 2023 – Highlights
You will find here a selection of the best barefoot shoe sales currently live during Black Friday.
Adult Barefoot Shoe Sales
Barefoot Sandal Sales
Kids Barefoot Shoe Sales
Stonz: (baby/toddler booties and West boots are barefoot friendly)
Region-Specific Barefoot Shoe Sales
Australia
Europe
UK
USA
Canada
South America
Barefoot Shoe Accessories
Socks/Slippers
Insoles/Foot Gear/Misc.
Barefoot Kids (UK Retailer of Muffik Mats shipping to UK, US, AU):
Exercise Equipment
Education
Barefoot Shoes Brands Not Having a Black Friday / Cyber Monday sale