Vivobarefoot Addis Sneaker in brown
Vivobarefoot is a pioneer of barefoot shoes, one of the very first shoe brands that believed "less is more" in shoes. Since then, it has paved the way for what is now a thriving market of healthy footwear.
My family and I have tried many different Vivos over the years and we continue to be impressed by their quality and good style. But while Vivobarefoot shoes work for many people, most follow a particular shape with a prominent big toe (or an Egyptian shaped foot). For some people with long 2nd and 3rd toes this presents problems. So when I saw photos of the Vivobarefoot Addis I knew I needed to test them.
Get 10% off with code VBANYA20
Table of Contents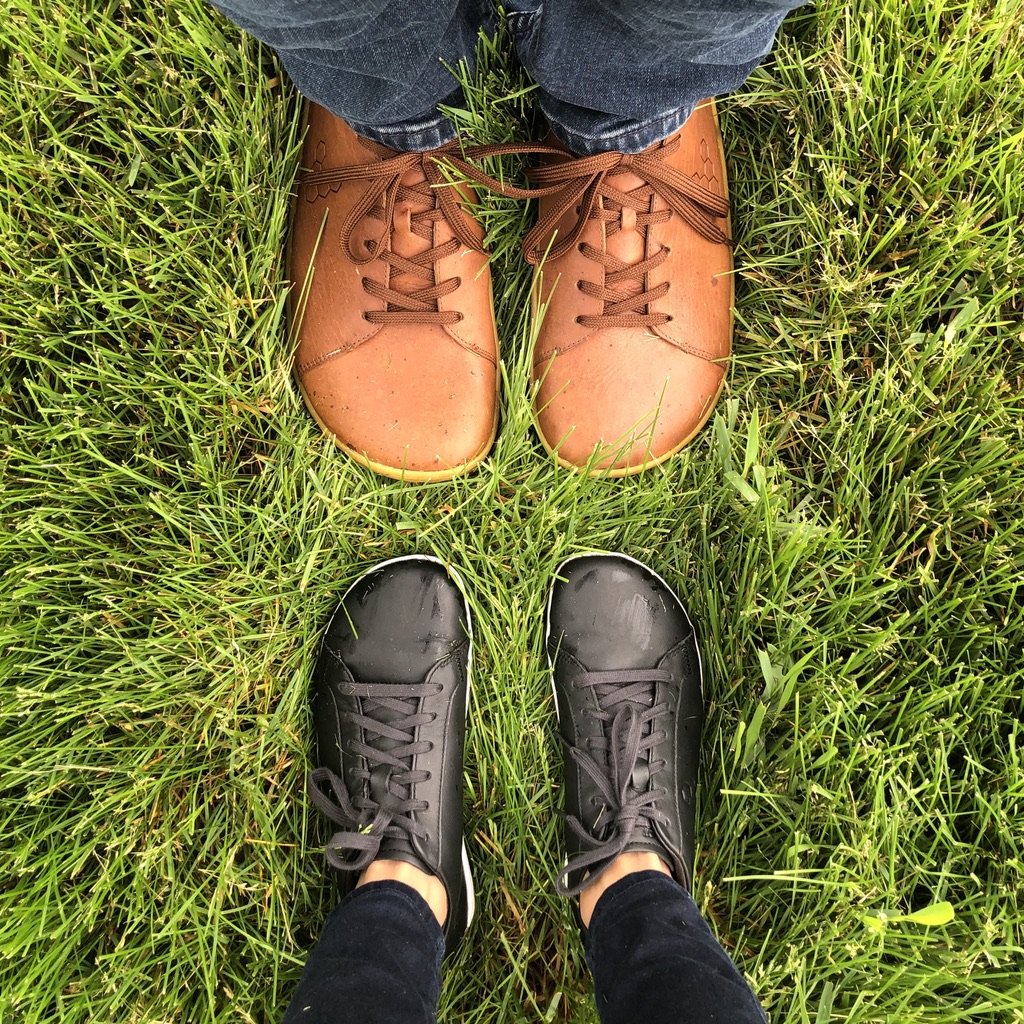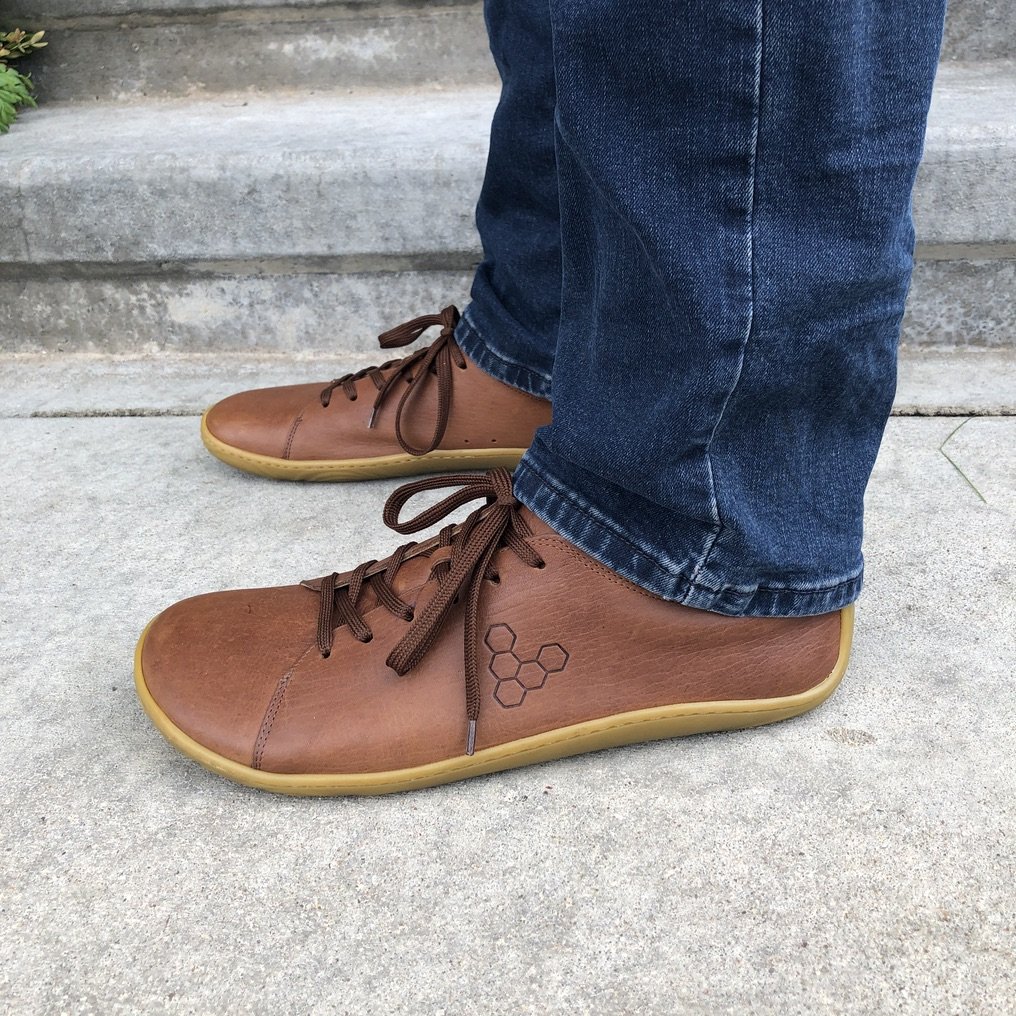 1. The Addis
The Addis is a leather sneaker, casual enough for every day wear and dressy enough for business casual outfits. It comes in black and brown, and is available in men's, women's, and kids sizes. But the thing that drew me to them was the shape of the toe box. The Addis is made on a wider mold and has a more rounded toe box than Vivo's other styles.
My husband has tried a few different Vivo styles and often has a problem with his 3rd toe running into the sloped edge (he has Roman feet). In some shoes, the Trackers for example, he got around this problem by sizing up. But that can leave you with a shoe that's just too big, and he wears insoles and socks in his Trackers to keep them fitting well. The Addis, by contrast, fits his foot perfectly with no toe rubbage and no need to size up.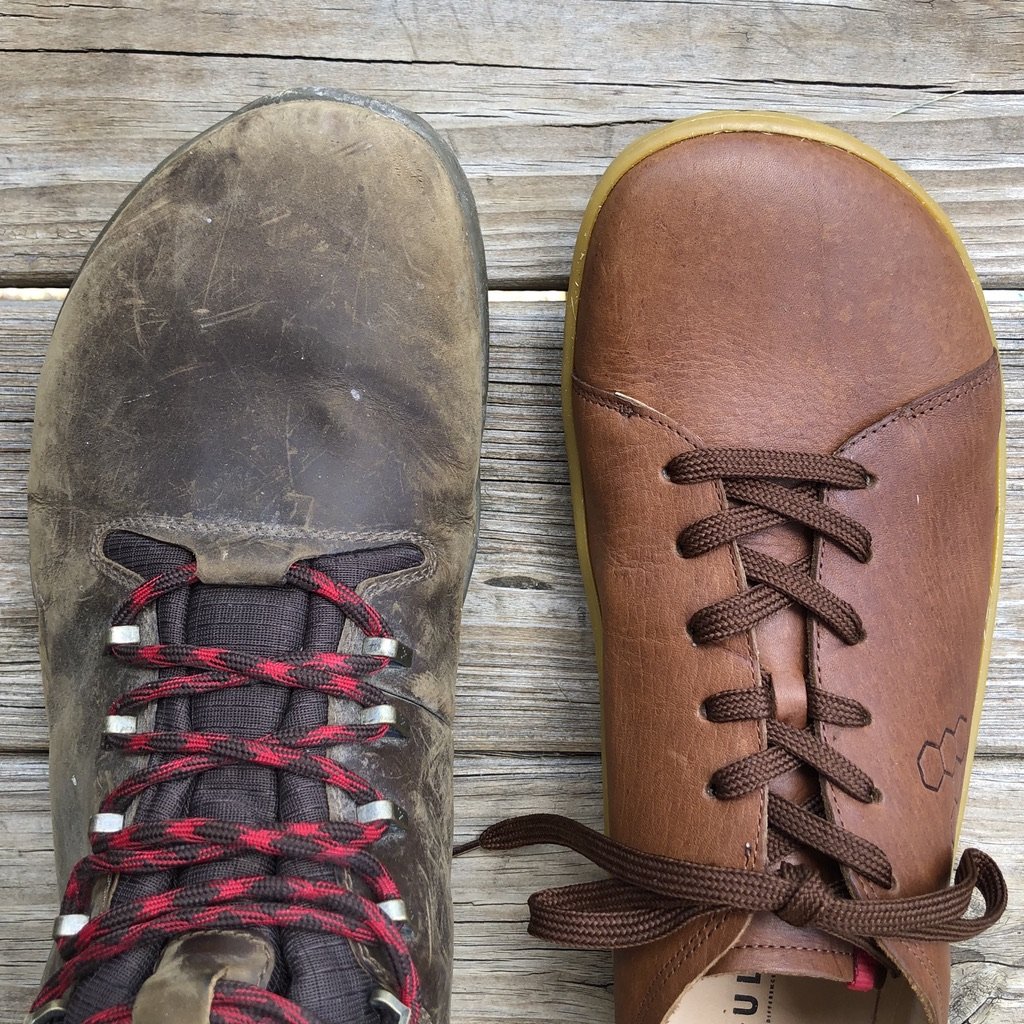 2. Materials
Besides a great fit, the Addis is classy and smooth looking. Made of a high quality leather inside and out, they are soft and breathable. The wild hide leather from Pittard's that Vivo uses always looks beautiful even after lots of use, thanks to it's natural scarring.
The natural rubber outsole is flexible and thin, so you get a great barefoot feel. The rubber walled sides and reinforced heel will help to prevent scuffs, which keeps them looking clean and helps them last a long time. The leather insole is stitched in (not removable) and the collar is padded for a secure fit on the heel.
These shoes are very well made, in my opinion some of the best I've seen from Vivobarefoot yet. Sometimes simplicity is ultimate sophistication.
3. Made in Ethiopia
The Addis is part of the Made in Ethiopia range, all of which are wider and more rounded in the toe box than other Vivobarefoot shoes. This is huge news if you've tried Vivo in the past and they didn't work for you. Currently, there are two styles in the Vivobarefoot Made in Ethiopia range, the Ababa and the Addis (both names of the city where they are made). But I certainly hope that more will be added in the future.
Even more fascinating than their shape is the story behind them. The Made in Ethiopia line is a collaboration project where shoes are handmade by community members using local supplies. The leather is also locally sourced and naturally tanned. The venture supports the local economy and a portion of each sale goes to the Soul of Africa trust, which gives back to the community even more. Shopping sustainable and ethical brands is an increasingly important choice to make, and I am glad to see Vivo rising to the occasion.
Made in Ethiopia shoes stand out from other Vivobarefoot shoes with this unique foot imprinted outsole, homage to the main purpose of barefoot shoes (letting our feet be free).
4. Sizing
My husband wears a size 13 usually, and that is what he got in the Addis. They fit him well with plenty of room for his toes and enough space to wear socks. In his Vivobarefoot Trackers he wears a size 14 but always uses thick socks and an insole to keep them secure to his foot. We used the sizing guide on the product page to double check his size, and it was spot on.
5. Barefoot Features
All Vivobarefoot shoes are completely flat, thin, and flexible. These shoes meet all my requirements for healthy footwear. See them in action in the video below!
6. Price
The Addis sneaker is $115, which is cheaper than most Vivobarefoot shoes. The Court sneaker, for example is $150. Vivobarefoot isn't known for having cheap shoes, but the Addis is actually one of the more affordable barefoot options out there, especially considering that they can be dressed up (men's dress shoes tend to be expensive). You can also get an extra 10% off with my code VBANYA20, and they have free shipping and returns.
7. Court vs. Addis
Another new sneaker style from Vivobarefoot is the Geo Court. I have a couple pairs (reviewed here) that I wear frequently and I am a huge fan of them. For me the style of the Court wins out over the Addis, but when it comes to craftsmanship and foot shape the Addis is the clear winner. Besides having a wider toe box, the Addis is made of thinner, more flexible, and more breathable materials. The Court is more padded, close around the ankles, and makes my feet sweat . In addition, they had a break in period before they were comfortable.
The Addis also look dressier to me. I don't think you could get away with the Court underneath a pair of slacks. If you've tried a style like the Court sneakers and found them to be too narrow or stiff, the Addis is a great alternative.
In the end, the hubs and I are both happy. He has the classy Addis that fits his foot, and I have the chic Court that fits mine.
8. Conclusion
Feet come in all shapes and sizes. While I personally have no fit issues with Vivobarefoot shoes, I am thrilled that they are introducing such a great shoe with a more inclusive shape. I can't wait to see what comes off the Soul of Africa production line next!
What do you think of this new toe box shape from the Addis? Is it a style you would wear?