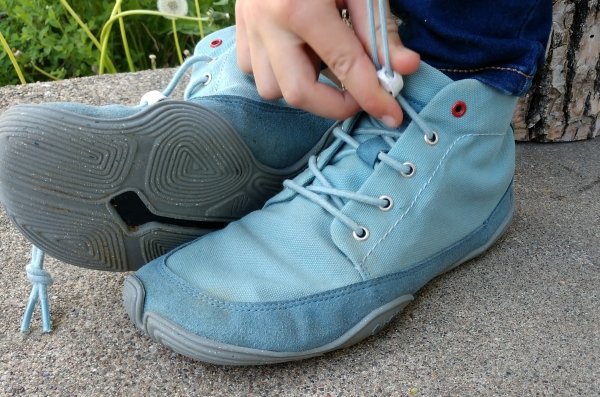 Wildling Shoes are a favorite in our house. They have a lot going for them; a unique look, dedication to sustainability, good company ethics. Not to mention their light-as-air feeling! My 9 year old tested out these colorful, water-repellent shoes for us this spring. Read on for our review of the Wildling Pegasus!
Wildling Pegasus Review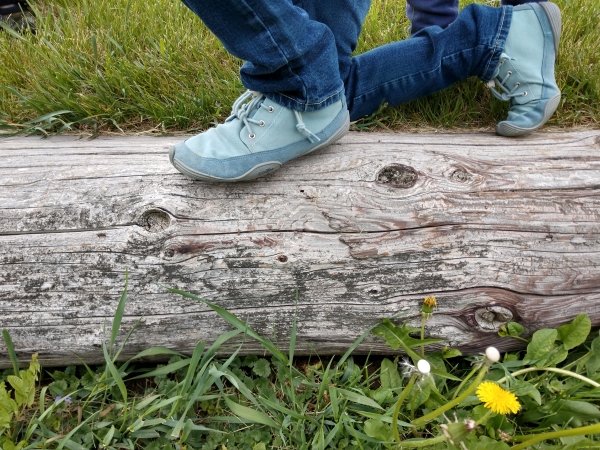 Wildling Pegasus | $71-$123 | Vegan | Water Resistant | Sizes EU 18-48
Practical and in a stunning blue fabric, the Pegasus can by worn the whole family. It's available in EU sizes 18 (the baby style is called Pony) all the way up to EU 48. The mid-cut height is a style that can be worn almost year-round!
Waterproof?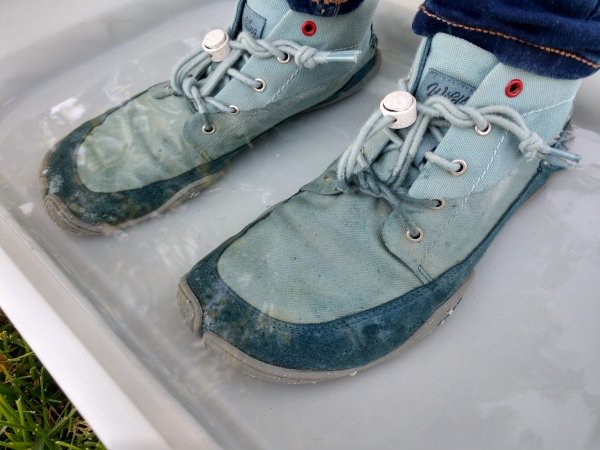 It's possible the Wildling Pegasus are the lightest water-resistant shoes out there. They aren't waterproof, so they are not a replacement for rubber boots, but they have an integrated membrane between the outer and inner fabrics that is really effective! The construction also features "water flaps" which means the tongue is sewn to the sides near the eyelets.
My daughter has worn them in wet grass, on rainy days, and recently we gave them a real test in a bin of water several inches deep just to see how they'd do. Dry feet! It's freeing to be able to say, "Yes! You can wear those shoes in the rain!" and know they'll hold up.
Read this post for more waterproof options!
Barefoot Qualities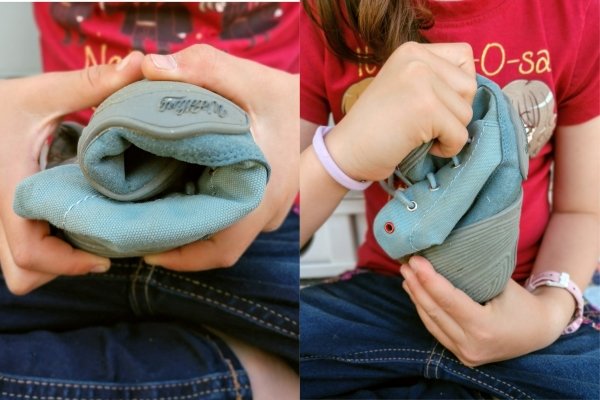 The outsole is only 2.5mm and insole is even thinner giving these a total stack height of around 4mm. They are incredibly lightweight, can easily roll up and twist every direction, and also have great ground feel. They're the total package! My daughter reports she can feel every little pebble and twig she comes across. She loves how easy they are to balance in when walking on curbs, fallen branches, and everything else kids find to walk on. If you want to experience varied terrains – just follow a kid around!
Check out Anya's YouTube review to see these on video!
Materials & Care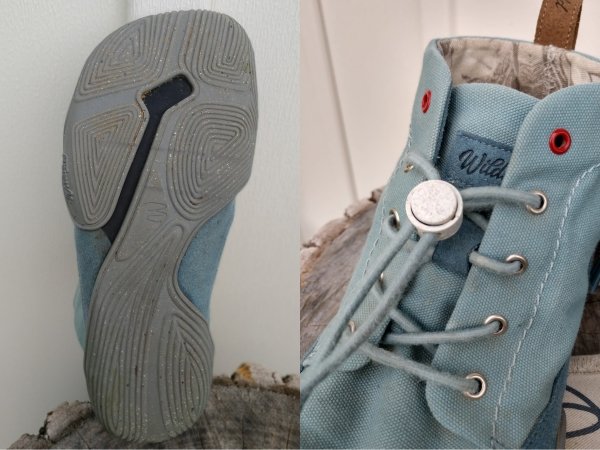 I really admire a company that is totally transparent about what materials are used in their footwear and where that material comes from! They are fully dedicated to sustainability and protecting the environment. The Pegasus model is vegan and the beautiful sky blue canvas outer is made of recycled cotton with a blue microfiber edge and gray outsole. The whole shoe has a real monochrome cloudy sky look to it that's perfect for spring and summer. They came with matching elastic laces, but if your child prefers another color or regular tie laces, Wildling carries a whole rainbow of colors to choose from here.
Before wearing, we treated them with Wildling's waterproofing spray and since she's been wearing them for a few months, they're due for another treatment. Whenever any dirt or mud gets on them we let it dry and then brush it away, like Wildling recommends. And they still look great!
Inside the shoe you'll find a gray and cream patterned lining (I love a print inside a shoe!!) made from organically grown cotton. The insole is removeable but to fully enjoy the water-repellent properties, the shoe should be worn with the insole. My daughter wears her shoes barefoot most of the time and is always taking her shoes on and off outside depending on what she's doing. Needless to say, the insoles get pretty dirty. I keep a stick of Buncha Farmers in the bathroom and an old toothbrush to scrub dirty shoes or stained clothes and it worked great on the insoles. The cute half fox logo on each insole also helps kids get their shoes on the right feet!
Fit Type & Sizing
Wildling Shoes are available in 3 size categories; Cubs (EU 18-22), Wildling (EU23-35), and Rewild (36-48). To find the right size you can print the Fitkit templates, or if you don't have a printer, measure and use the size chart. If a particular model fits differently, it will say so right on the product page (so a good idea to read each one).
The Pegasus model runs large and the shoes in this review are a size 33. They can fit an average to wide width foot, and are medium volume (will be tight on thick feet). The water flap sewn tongue has some room to adjust, but it won't be quite as accommodating as models without that feature.
Don't know your type? Read this Guide to Understanding Your Foot Type!
Most Wildling shoes run narrower than the Pegasus and fit an average width foot. Below you can see the Nessie model next to it in the same size.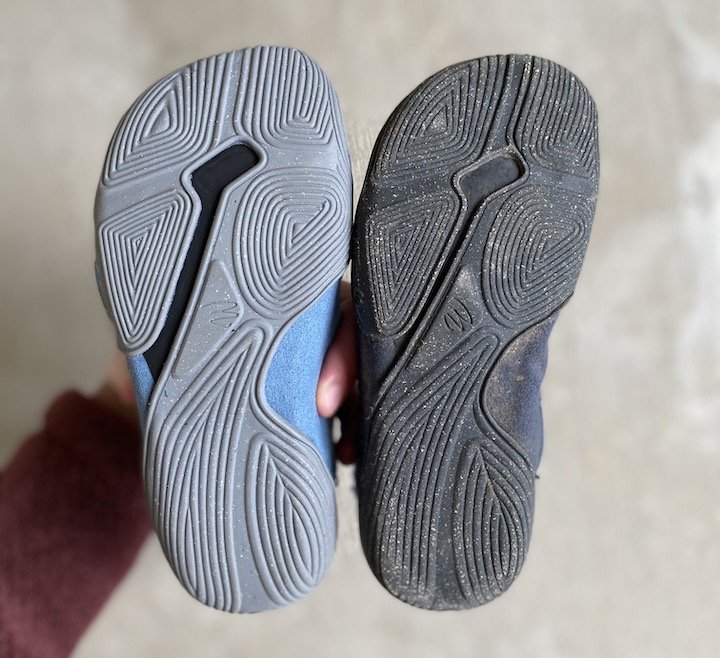 Check out my other Wildling Shoes Reviews for more on their different models!
Wildling compared to other brands
In comparison to other popular barefoot shoe brands, Wildling caters to those with Plateau shaped feet. They also work well for Slope and Mountain shapes because of the squared toe box.
Try out the Barefoot Shoe Finder to discover your perfect pair!
Cost & Ordering
The Pegasus in the Wildling size category costs $102, and its mini version in Cub sizes (called Pony) is $71. This charming blue model is also available for adults – you can find the Rewild sizes of Pegasus here. Wildling is based in Germany. Shipping to the US is very quick via DHL, and costs about $10. You can get free shipping if you spend over €200 (the threshold is always calculated in Euros, so it varies slightly in USD depending on the exchange rate). Your first return is free!
Critiques
There are a couple things my daughter has critiqued about these shoes. First, they are not super easy for her to put on. Yes the elastic laces mean she doesn't have to spend time tying, but they aren't stretchy enough to leave them tightened and slip your feet in. This is in part because they're a high top style so the opening is smaller than a low top and because the new cotton elastic laces are firmer than Wildling's original ones. If you tried the original elastic laces and found them too stretchy, you'll find the cotton ones to be a lot sturdier. To put them on, she needs to loosen them quite a bit and then wrap the extra lace length around to keep it secure. She uses a lot of the excess length when loosening them, so we wanted to retain all of it. If you have low volume feet and don't need as much, you can cut them, knot the ends, and add the toggle that's included. You can also see the eyelets have left little black marks on the fabric (it's on the laces too) which is unfortunate.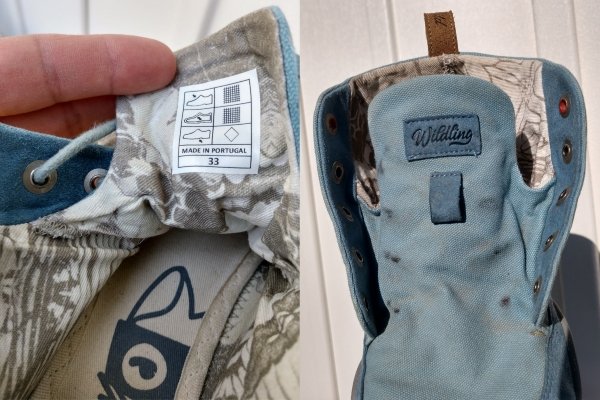 Next, she finds the water flaps a little uncomfortable on the top of her foot. You can see in the photos above, the tongue doesn't really lay flat and she can feel the folds/wrinkled fabric which is noticeable when she first puts them on, but says she gets used to it quickly. Lastly, because of the water-repellent polyester membrane, they are not very breathable. This isn't a surprise or a deal breaker as most water-repellent shoes sacrifice some air flow in order to keep the water out.
Conclusion
I asked my daughter to sum up of her thoughts about what it's like to wear the Pegasus and she said, "They're almost like wearing nothing. I always forget I have them on!" and I wholeheartedly agree. Aside from the few minor complaints, these are a great shoe for wet or dry conditions that can take you from spring to fall with ease.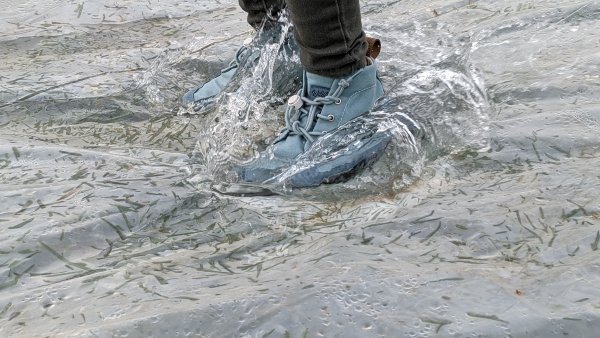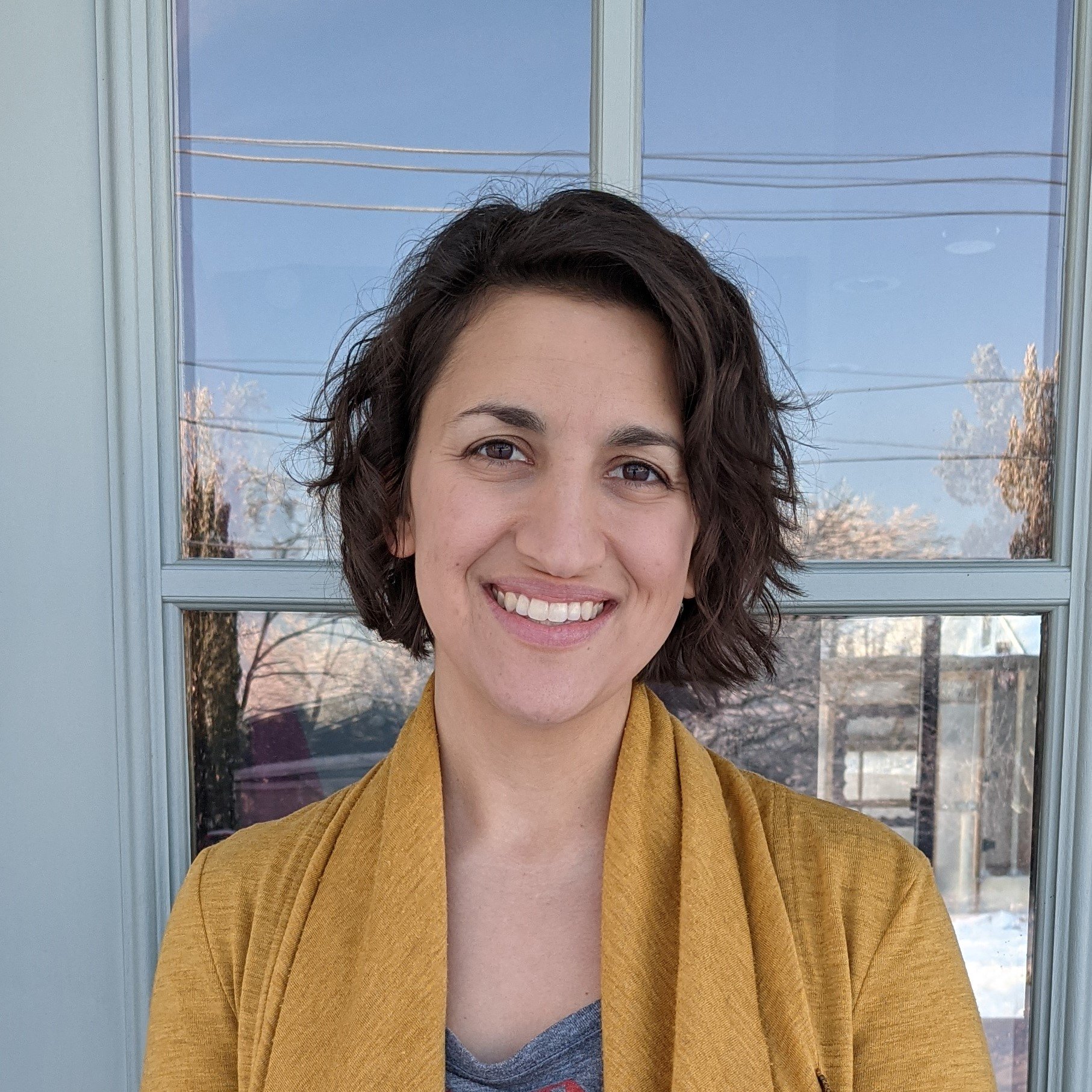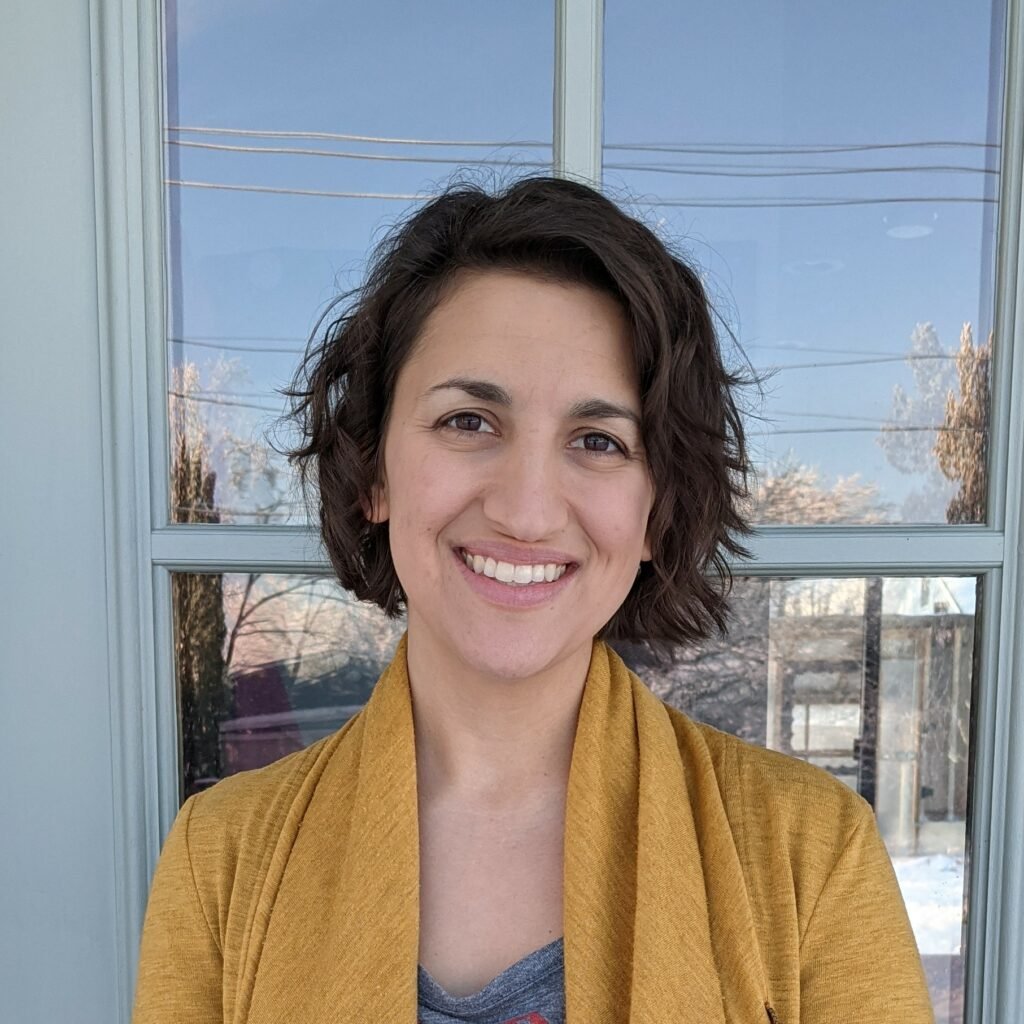 Samantha is a writer/researcher for Anya's Reviews and stay-at-home mom to 4 littles. In addition to shopping online for footwear for her family, she spends her time homeschooling, reading, weaving, and doing home improvement projects with her husband.