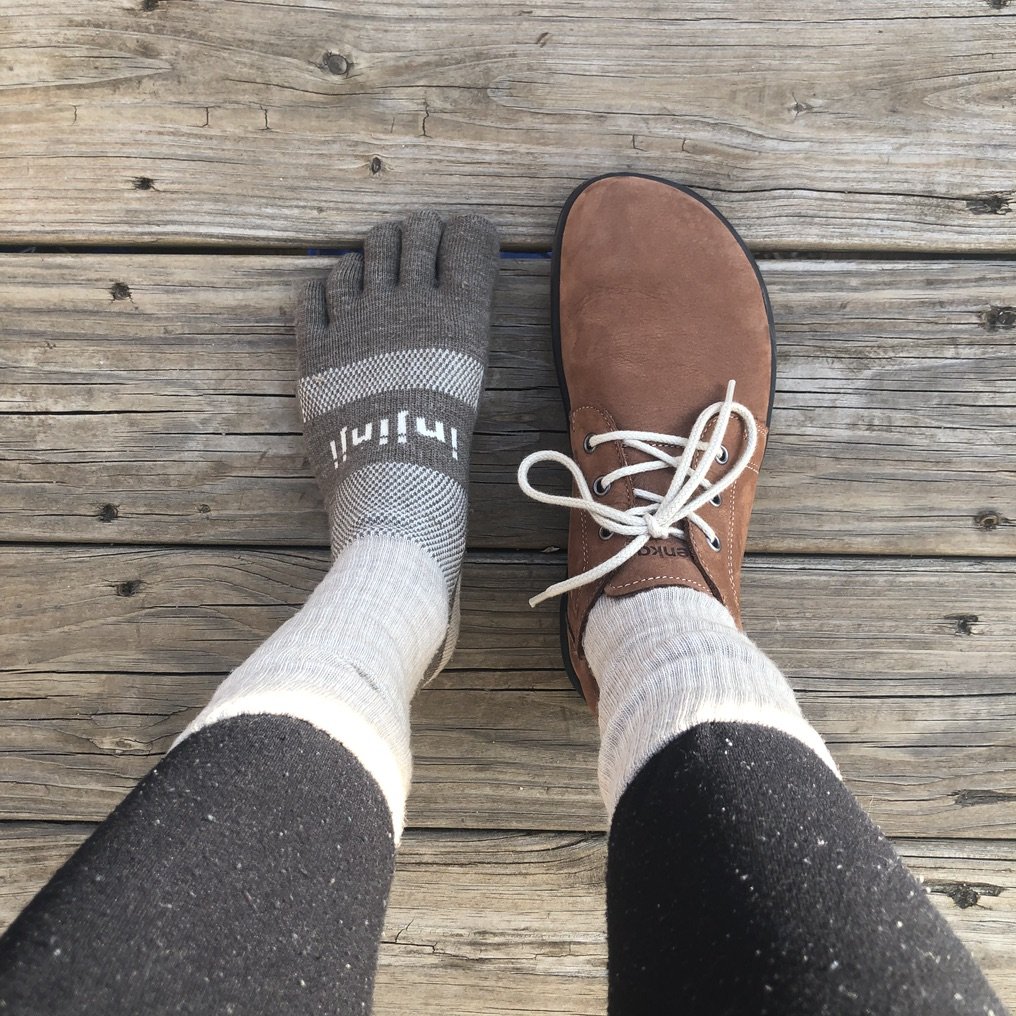 *Get 5% off your order with my code ANYASREVIEWS from Be Lenka (returns are only accepted from within the EU and USA). US customers can now order several Be Lenka styles from Anya's Shop in the US. Worldwide shipping also available.
Be Lenka, a brand known for uncompromising barefoot qualities, has a lot up its sleeve for us. The Be Lenka team has been regularly releasing barefoot shoe styles that keep up with current trends, but still meet all the requirements of natural footwear. Read on for my full review of their flagship model, the Icon!
Table of Contents
1. The Icon
The Icon All Year is a simple everyday barefoot shoe for men and women. The classic chukka design made with high quality leather lends itself to being dressed up, making this an excellent choice for someone wanting to wear barefoot shoes to the office. The new Icon has a rubber wall sole (same as in their winter boots) and a higher quality leather. Some other new features include thicker laces, metal eyelets, a padded collar, and a pull-tab at the back.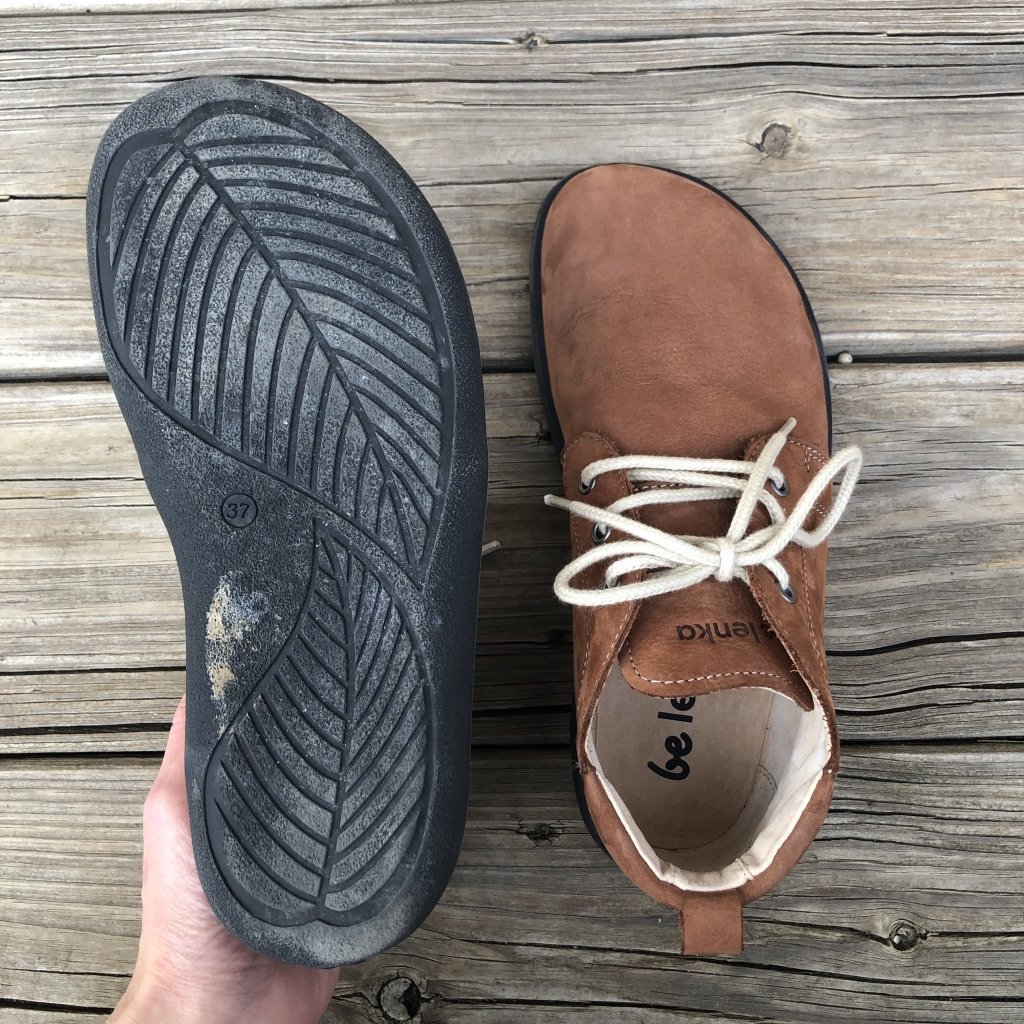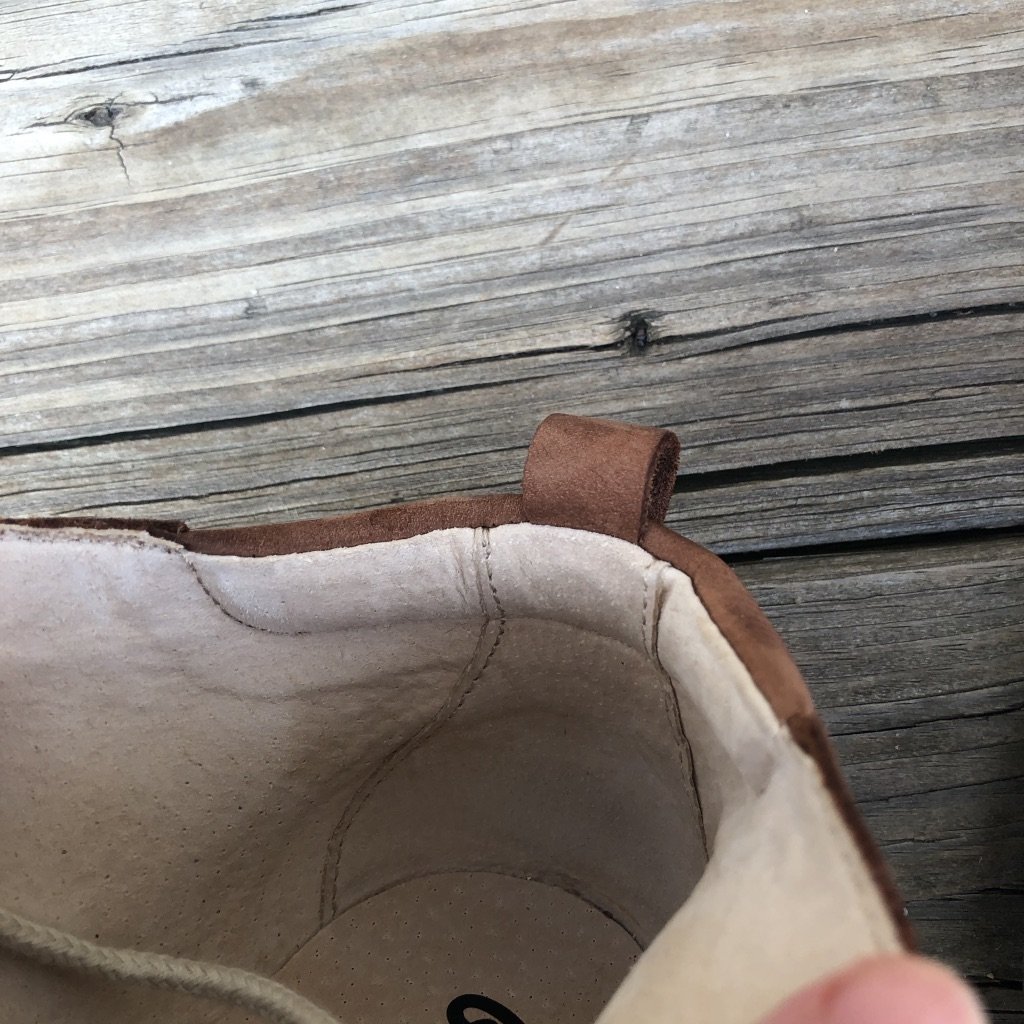 Most of the Icon shoes come in a smooth nubuck leather, but there is also a shiny black leather and 2 canvas options (black and brown). Besides those external changes, the new Belenka shoes fit exactly the same as the original Belenka shoes, so if you've been a fan you should expect the same fit.
2. Materials
My cognac & mustard Icon shoes are made of brushed nubuck, and it is very soft and sturdy. On the leather versions the interior is lined with a natural leather, making these great shoes to wear barefoot. The shoe feels thick without being stiff and I anticipate it will hold its shape well as opposed to stretching out.
The outsole is a rubber/plastic blend that was adopted for its durability. I never tried their original line of shoes, so I can't compare it to the old sole. But from my experience using the Be Lenka winter boots, I know this new one is very durable. Walled soles (where the outsole wraps up around the shoe) are great for preventing damage from scuffs or puddles and keep the shoe looking nice a long time.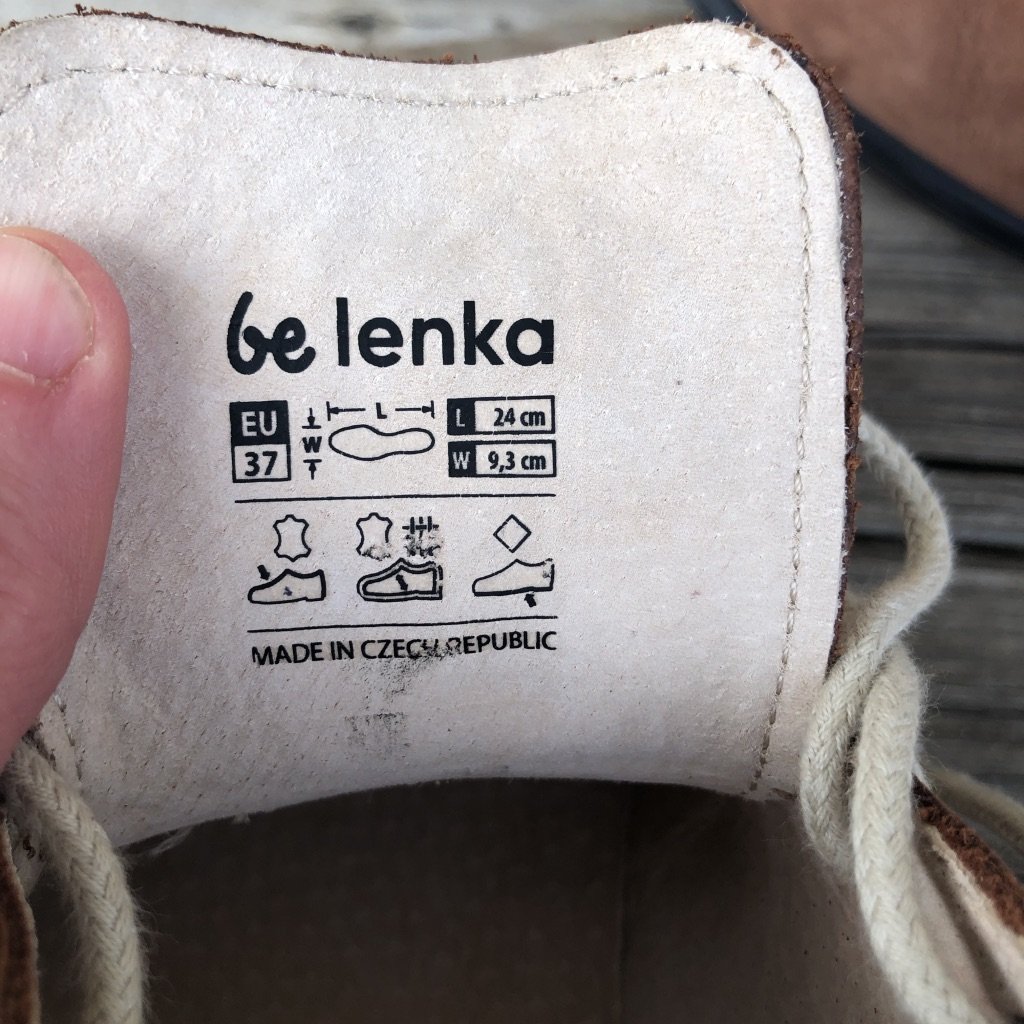 The laces are cotton and can be handled easily, making for easy on and off. It's a minor detail, but if you've ever had a lace up shoe with bad laces you know why it's important. You want something you can grip easily and that slides through the grommets without effort.
Be Lenka shoes are handmade in house, and a lot of care goes into each one. All the stitching looks uniform and every detail is professional. They put a lot of energy into crafting great shoes, and it shows in the final product.
3. Barefoot Qualities
Be Lenka is a barefoot brand, so every shoe they make is completely flat, flexible, and thin.
The total stack height of the Icon is 4mm and the new soles are very bendy. I've tried a lot of different barefoot brands and am somewhat of a connoisseur (if you will) of sole material, so the following description is very nuanced (otherwise known as obsessive-compulsive).
Some outsoles are squishy and conform to every object they come in contact with. Others are firmer, and while they might be very flexible and rolly don't take the exact shape of everything they're pressed against. The new Belenka soles are in the latter category. Typically, the firmer soles are not the best ground feel you can possibly get, but they protect you from the elements and last longer. The soles that let you feel everything tend to wear out faster. Some people also prefer firmness to squish because it improves your proprioception.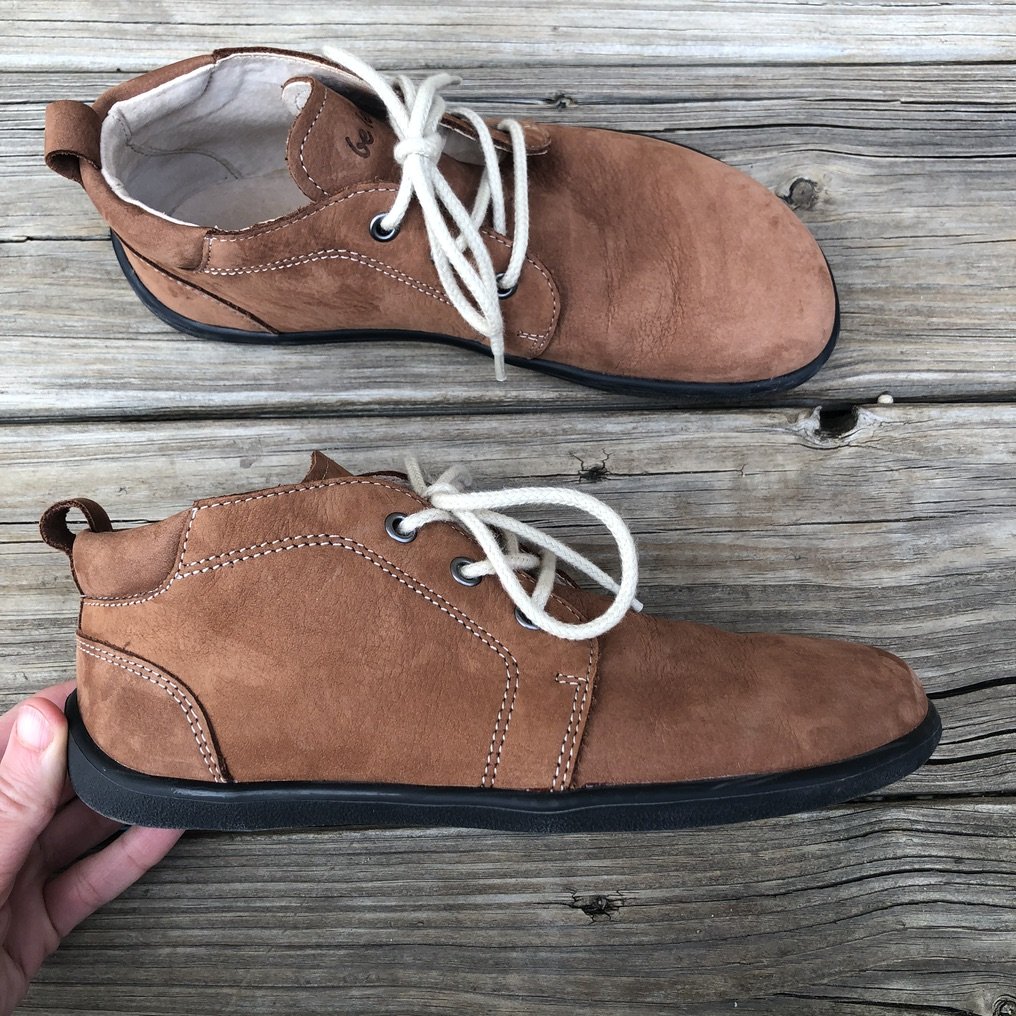 There is always a balancing act going on between durability and ground feel. If you're new to barefoot shoes these subtleties will be nothing compared the newfound freedom and foot stimulation you're experiencing. But if you've really honed your foot preferences (or if you're a complete nerd like I am), these are details that can inform your purchases.
If I had to compare these outsoles to another brand's, they are similar in feel to Vivobarefoot's outsoles.
I think these Be Lenka soles do a good job of finding the balance, so you get to feel the ground underneath you and won't wear through your shoes in 6 months.
4. Sizing
Be Lenka shoes are unisex with sizes going from 36-46. In the winter boots I was comfortable in a size 37, so I chose the same size in the Icon. I was surprised that it was quite a bit roomier and I needed to use an insole to keep my foot from sliding around. The shoes themselves are the exact same size, but because the winter boots are lined with wool they feel a lot shallower.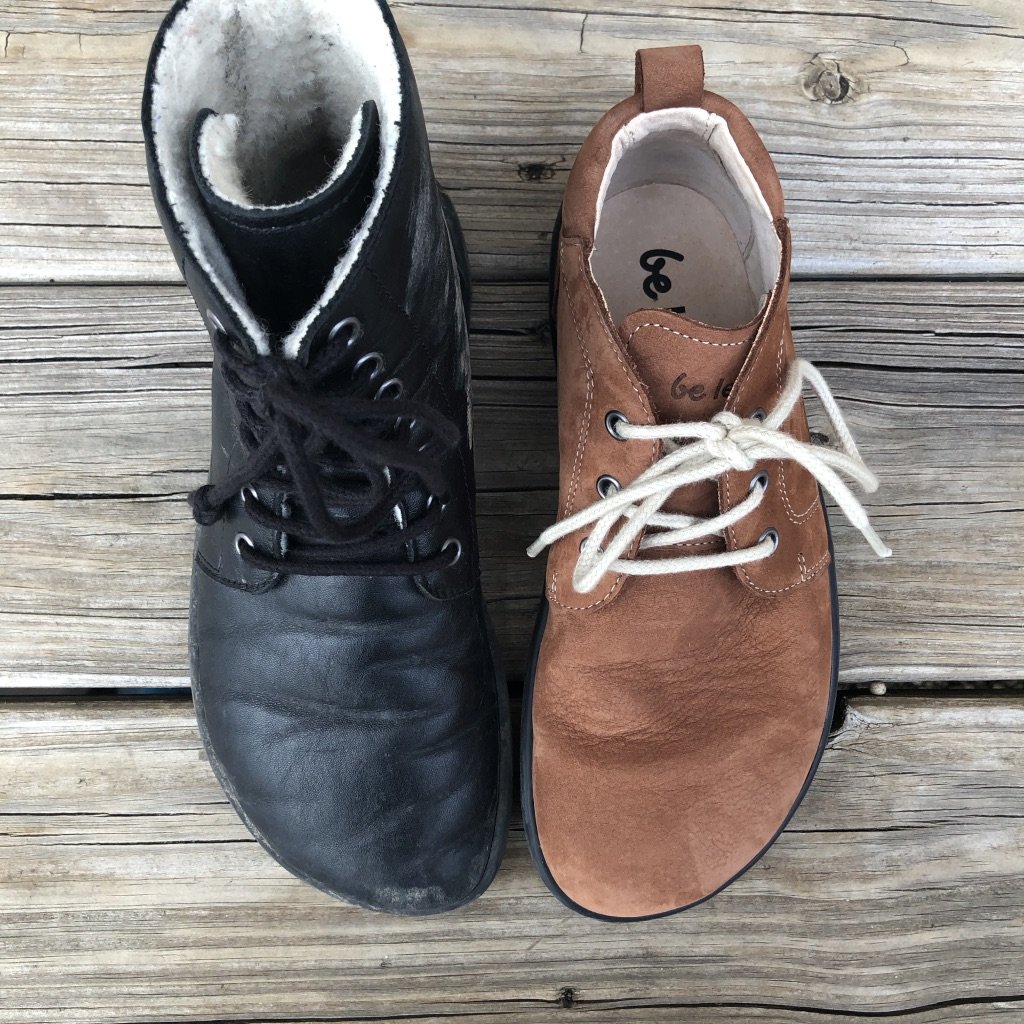 The winter boots were the first closed toed Belenkas I had tried, so I didn't realize quite how much space the wool was taking up. I now have a better grasp for how roomy the unlined Belenka shoes are. These 37s still work fine for me and I wouldn't want to size down, but if I wear them without an insole or felt sticky my foot is not secure and runs into the side when I walk.
I live by my insoles (these and these) and felt stickies because I have low volume feet. They make so many of my shoes fit better.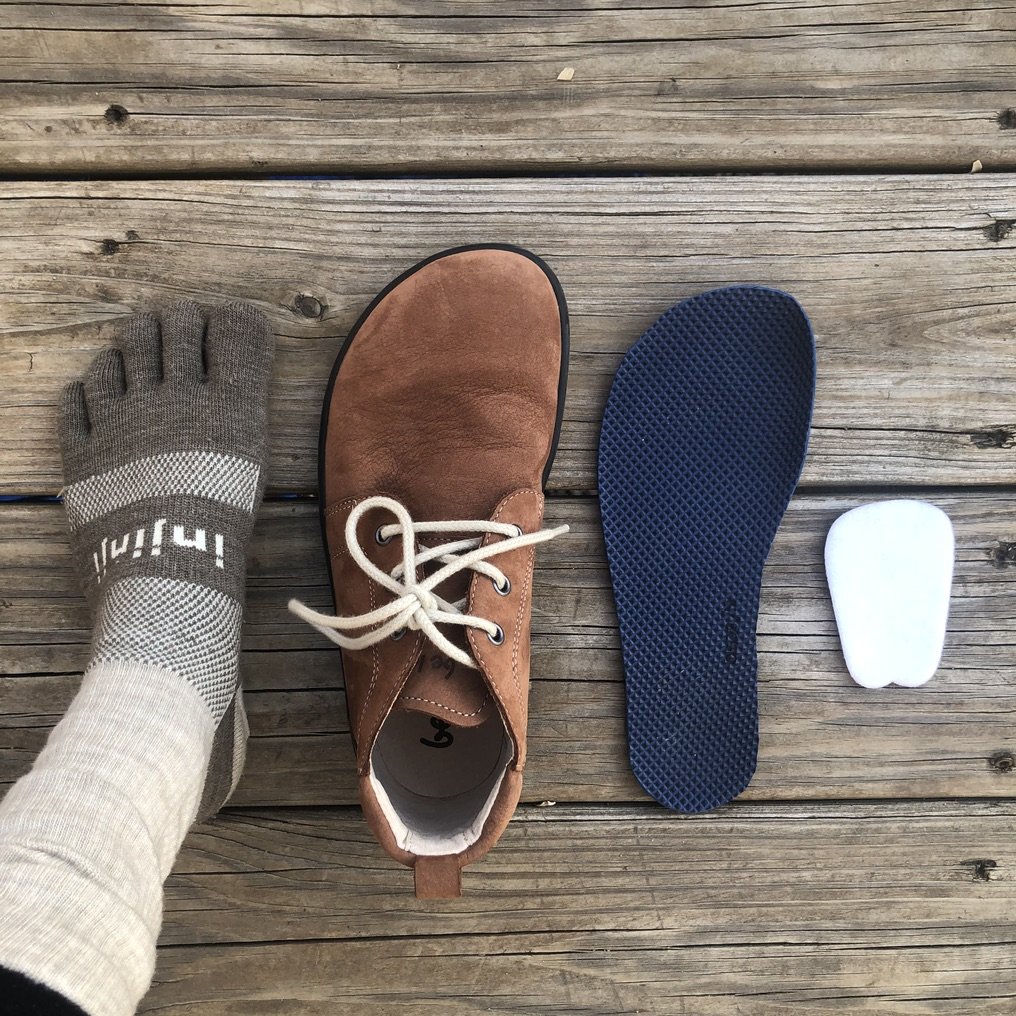 There is a size chart on each Be Lenka product page that shows the measurement of the last used to mold the shoe. I wear a size 37 in Vivobarefoot, Zaqq, Feelgrounds (and have reviewed them all) and most lace-up shoes and boots. But I wear a size 36 in most dress shoes, and in the brand Luks I wear a size 35.
5. Comparisons
The following shoe comparisons are all in a size 37
Compared to the above brands, Be Lenka is roughly the same length but a little wider than all of them. Not significantly wider, but a few millimeter can make a big difference in fit. So if you've tried some of the above brands and found them too narrow for you, consider Be Lenkas.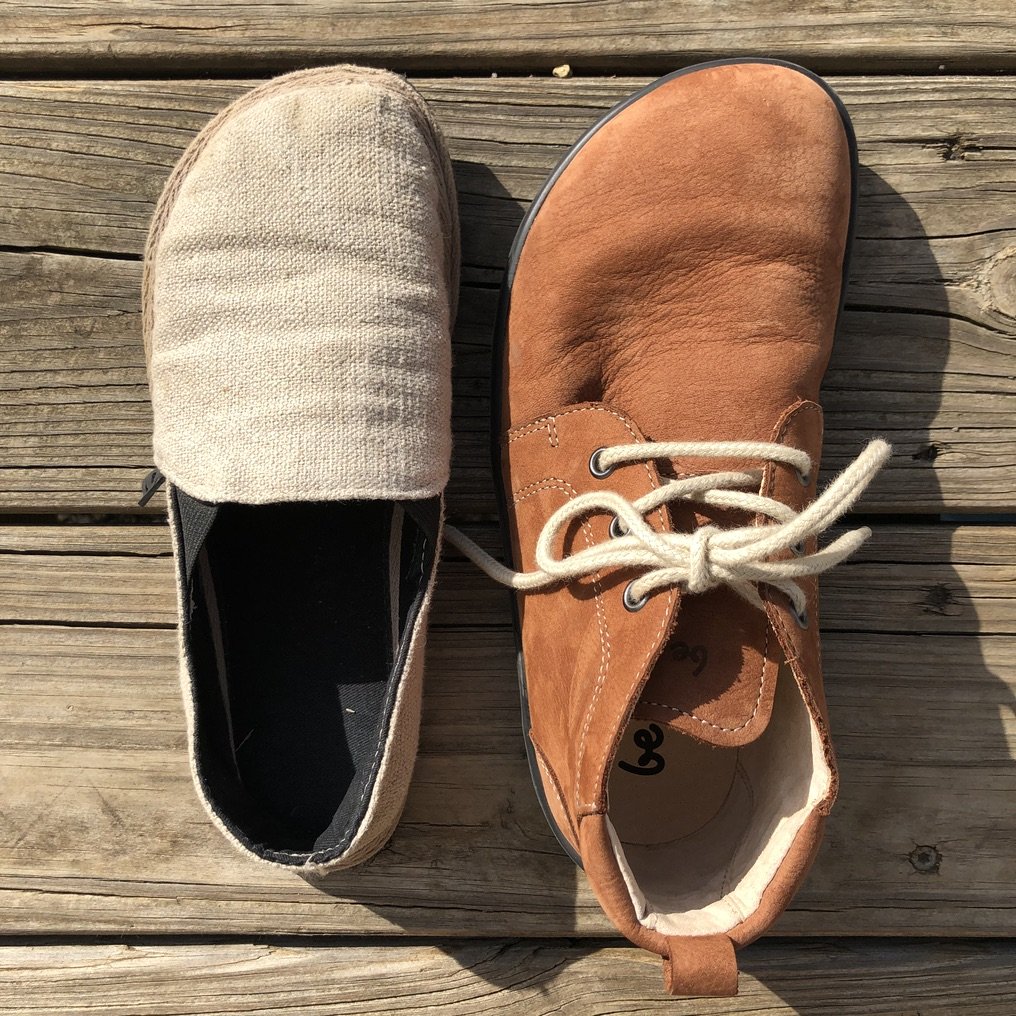 The only other shoes I have that match Be Lenka for foot shape are Luks shoes and Softstar Primals. Of those three, the Primals are the widest.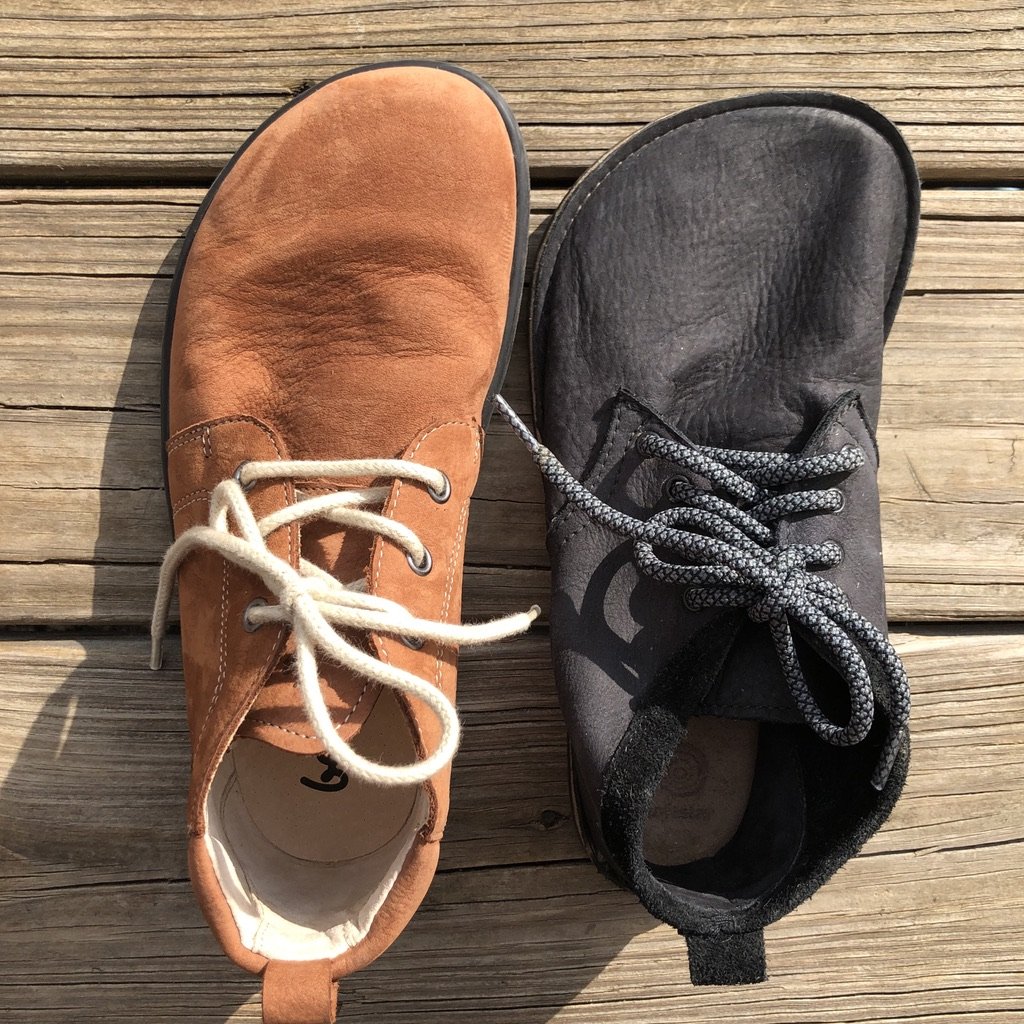 6. Sustainability & Ethics
Be Lenka sources local materials and hand makes all their shoes, so they are involved in every step of the process. In their own words, the Be Lenka team is "committed to making this world a better place by being a low waste company, having a low carbon footprint and making environmentally safe products." They choose non-toxic materials and treat all their employees fairly. 95% of the materials used in Be Lenka shoes and in packaging is recyclable.
7. Ordering
Be Lenka Icon shoes are $131 + $16 shipping with DHL (you check out in Euros and it gets converted by your bank/Paypal). They arrive lightning fast with DHL, which is always appreciated. But the most important thing you need to know is that returns are only accepted from within the EU and USA. Be Lenka shoes do resell well, but it is a risk. US customers can now order several Be Lenka styles from Anya's Shop!
8. Style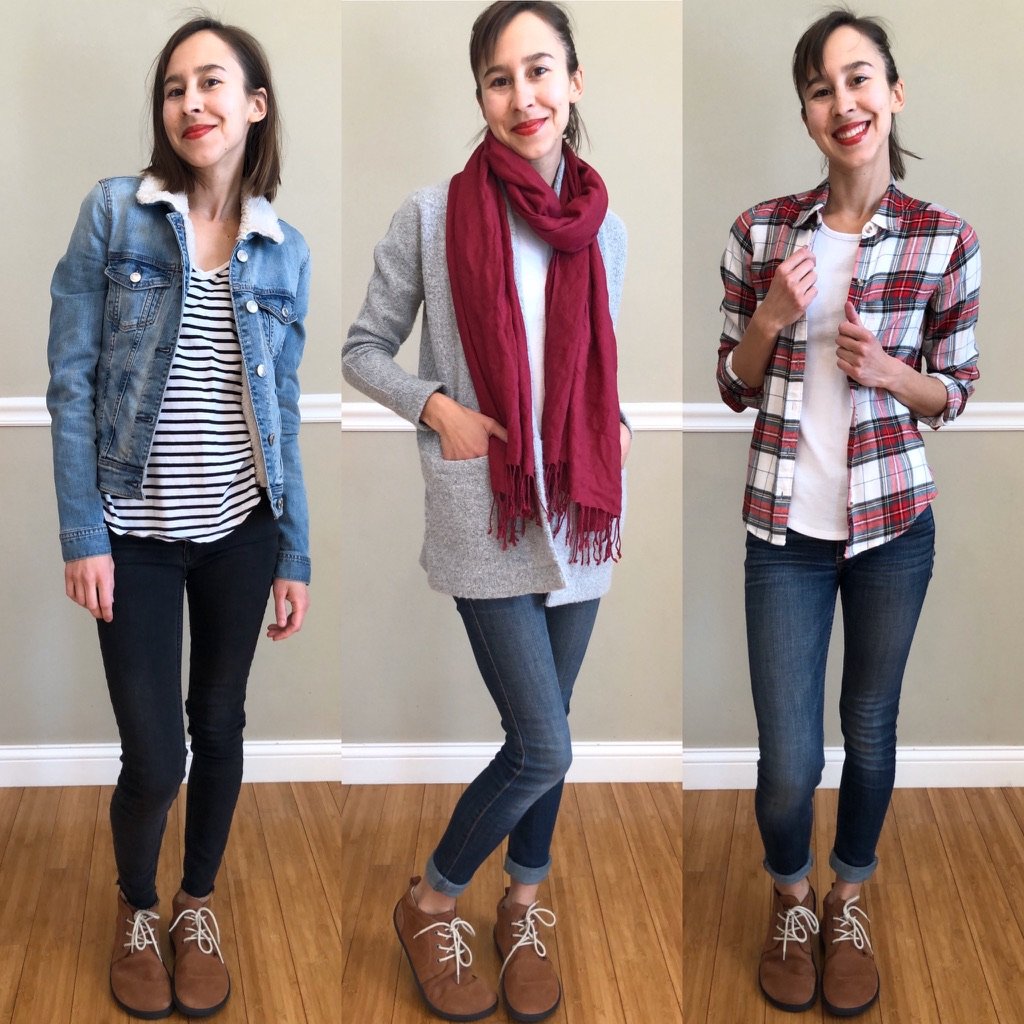 I was instantly drawn to the cognac color in the Icon because it reminded me of a classic chukka boot. I love neutral shoes that can be dressed up or down and go with most things, especially in a shoe as wide as Be Lenkas. Neutral understated tones also understate bulk and keep you looking balanced from head to toe.
If you've been following my content you know I'm all about balance. Anything can work, any body shape or size can "pull it off," it's just a matter of finding the right balance for you. In shoes like these I balance out the bulk of the shoe with a looser fitting top. Jackets, scarves, or an open button-down shirt all do a great job of it.
If you're a woman looking to wear these to work, styling them like an oxford with skirts or dress pants would be a good move, but they are a little casual for women's professional attire. For men, these are a great dress shoe. I especially like these cognac ones for men and of course the shiny black is very work appropriate.
You can also get the Icon in a pretty pink, bright mustard, or flaming red, and if that's what you love, then by all means GO FOR IT. And then share on Instagram so we can see you rock them!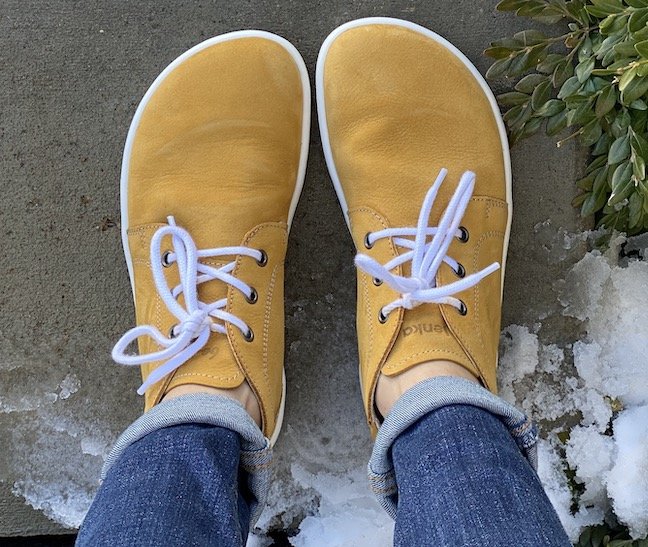 9. Video
10. Conclusion
BeLenka is at the top of its barefoot game. For those with extra wide feet there are few options that look this nice. And even if you don't have trouble fitting in to other barefoot brands, there's no doubt your feet will feel great in the new BeLenka Icon.