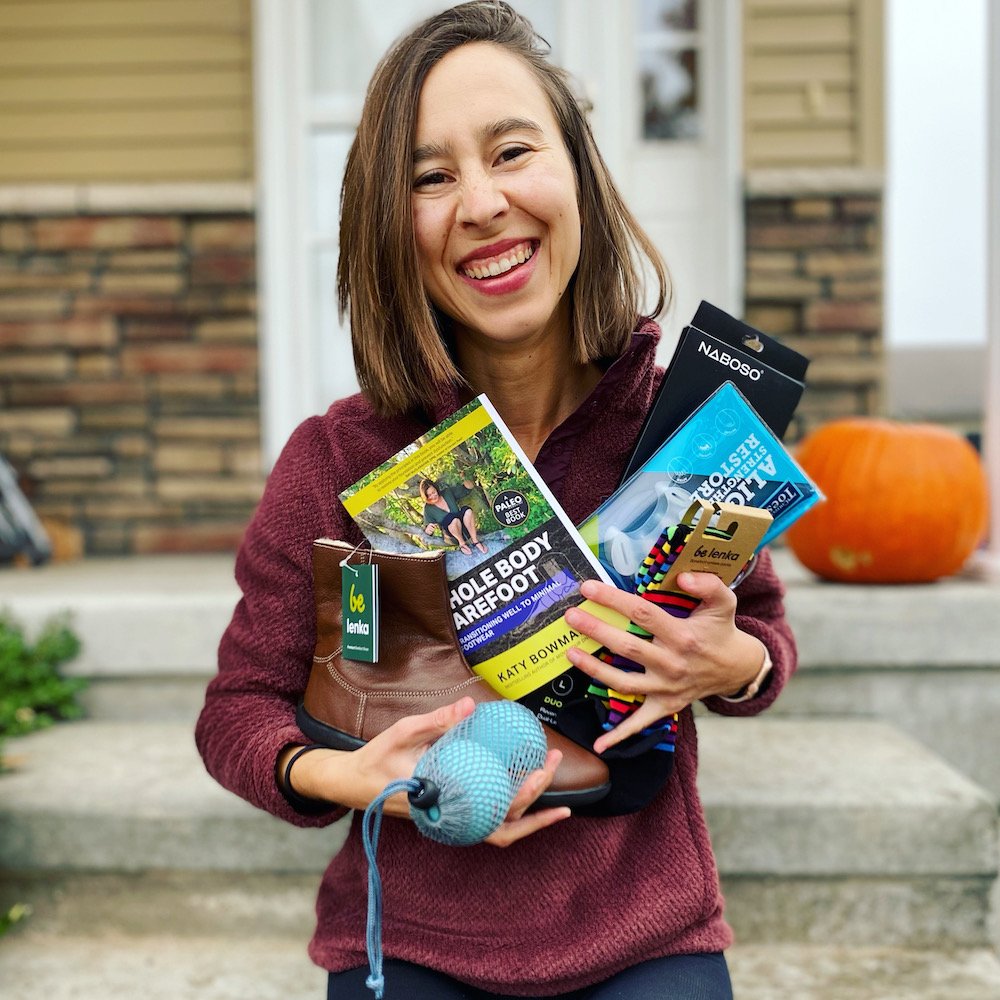 Looking for the perfect gift for your favorite foot nerd? Here are the gadgets I love to support foot health that also make wonderful gifts.
I don't know about you, but this nerd gets REALLY excited about anything that makes it easier to take care of my feet – it has a direct impact on my quality of life, so give me aaaall the foot health tools! Whether you are looking for something simple and affordable or a big ticket item, you'll find something for your loved one (or maybe for yourself!).
Everything on this list I personally own and use – they are included here because they have benefited my life. If there is something I've left off that you are loving, comment and let me know!
Gifts For People Who Care About Their Feet
Barefoot shoes might be the most exciting gift of all, I don't recommend buying them as a gift for someone else unless you know exactly the shoe, color, & size they want (and they can be returned just in case). You can also get gift cards to barefoot shoe brands you know where they'll be shopping. Otherwise, stay away from gifting shoes because shoe fit is extra important to foot nerds.
But that doesn't mean you can't delight your loved ones with related tools and gadgets.
Foot Health Tools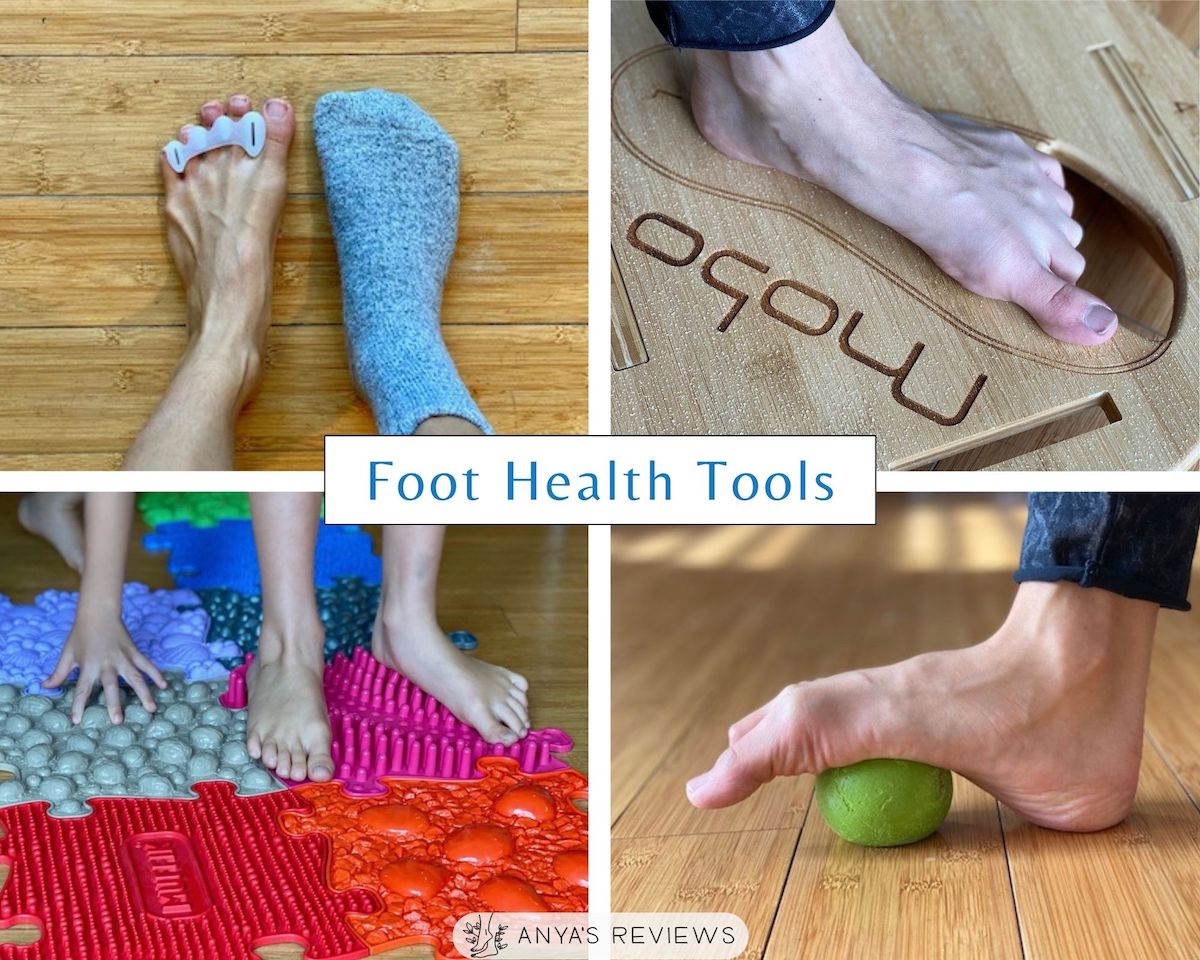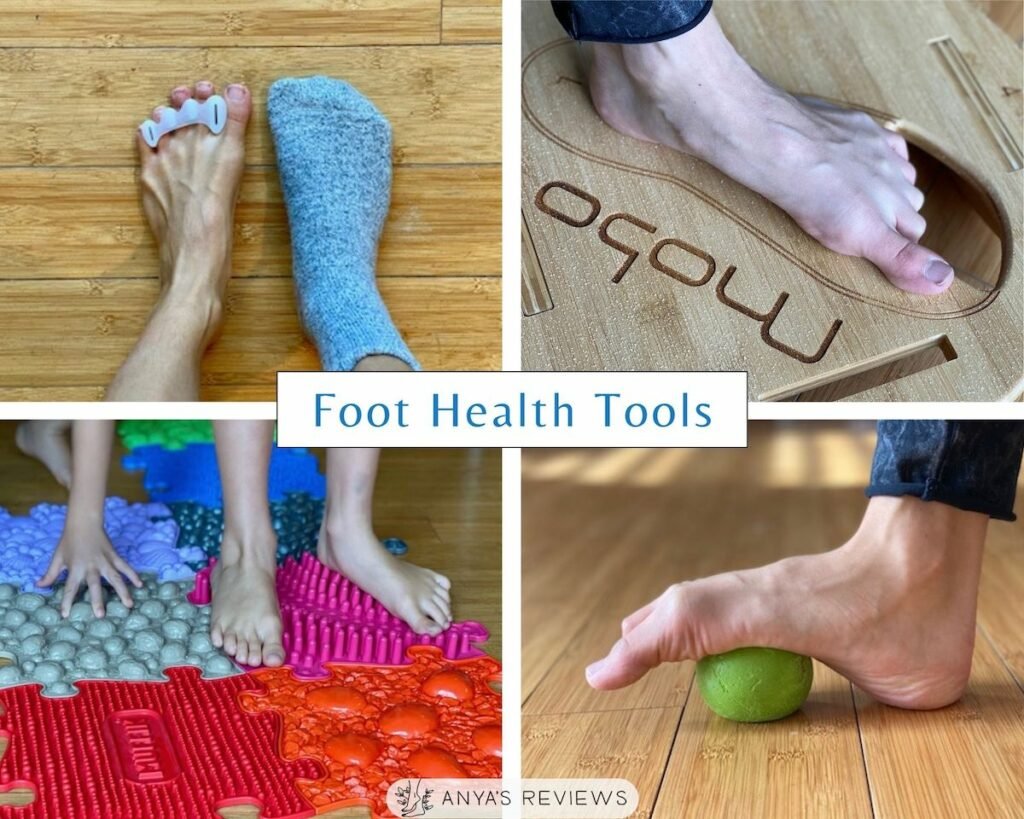 The items in this list are my favorite tools for upping your foot health game.
Correct Toes – I like these spacers best of all, especially if you have any foot pain or diagnosed issues.
The Toe Spacer – These are worth looking at because they work well and are cheaper, but can be a bit aggressive on smaller feet or those with foot pain. Use code ANYA10 for 10% off
Yoga Balls – I've been using these for years, they are perfect for soft tissue release anywhere on the body (but especially feet).
Naboso Technology – Anything from this shop is great for nerve stimulation and foot health, I love all of it. Code ANYAREVIEWS10 gets you 10% off.
Textured Floor Mats – Another household item we love for stimulating our feet. Code ANYASREVIEWS gets you 10% off. Find more floor texture options here.
Gifts For The Serious Barefooter:
Whole Body Barefoot (book) – This is what that started it all for me, and I recommend it to anyone wanting to learn how and why feet matter.
Mobo Board – These is a good gift for someone who is recovering from an injury or wants to improve their performance. Read my Mobo Board review here.
Blackboard Trainer – A great all-around foot rehab tool. It does take some intention to learn the exercises.
---
Socks & Slippers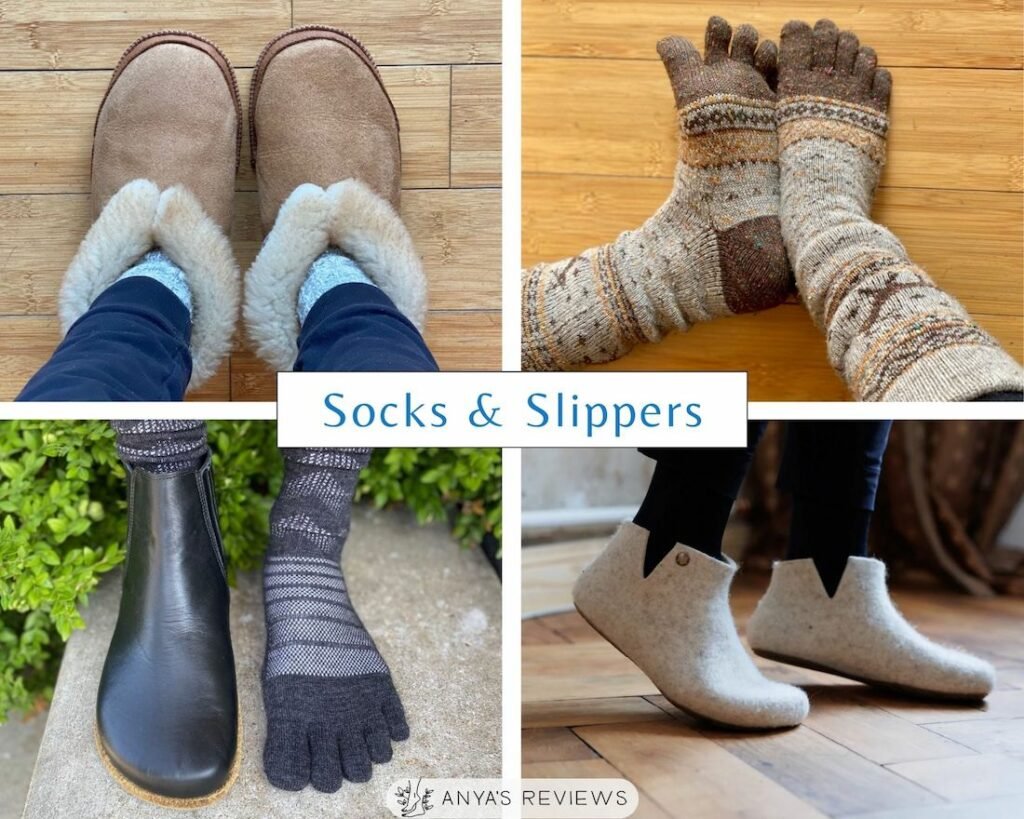 There are lots of great slipper and sock options that are kinder to your feet than what you usually find in stores. And especially during winter time, who doesn't love a cozy gift? Here are a few of my personal favorites.
Slippers:
Softstar Fireside Slippers – Heaven on your feet. Seriously, I adore mine. Work for even extra wide feet.
Wildling Lotus Slippers – These beautiful felted wool slippers have been on my feet almost constantly since they arrived. They're on the high volume side, so I added a wool insole to make them more secure around the instep and ankle. Medium to wide toe box width.
Lems Drifter Fur – Justin has been waiting for years for a barefoot shoe brand to make slippers like these! They are cozy but can also be worn outside (women's sizes here). The entire upper is lined but the insole is not, so I also got these wool insoles to replace them with. Medium to wide toe box width.
Socks:
Injinji Merino Wool collection – I have been wearing Injinji's wool toe socks for years now and I love them. Lightweight but still warm, they are perfect for wearing around the house and inside barefoot boots.
Knitido + Toe Socks – These are my favorite socks for around the house, thick & high quality. Code ANYA20 gets you 20% off. The ones with grippers are on the bottom
Leg Warmers – Another long time favorite for keeping me warmer during the cold season and making my boots fit better.
You can find even more slipper and sock options at the links below!
---
Shoe Care & Accessories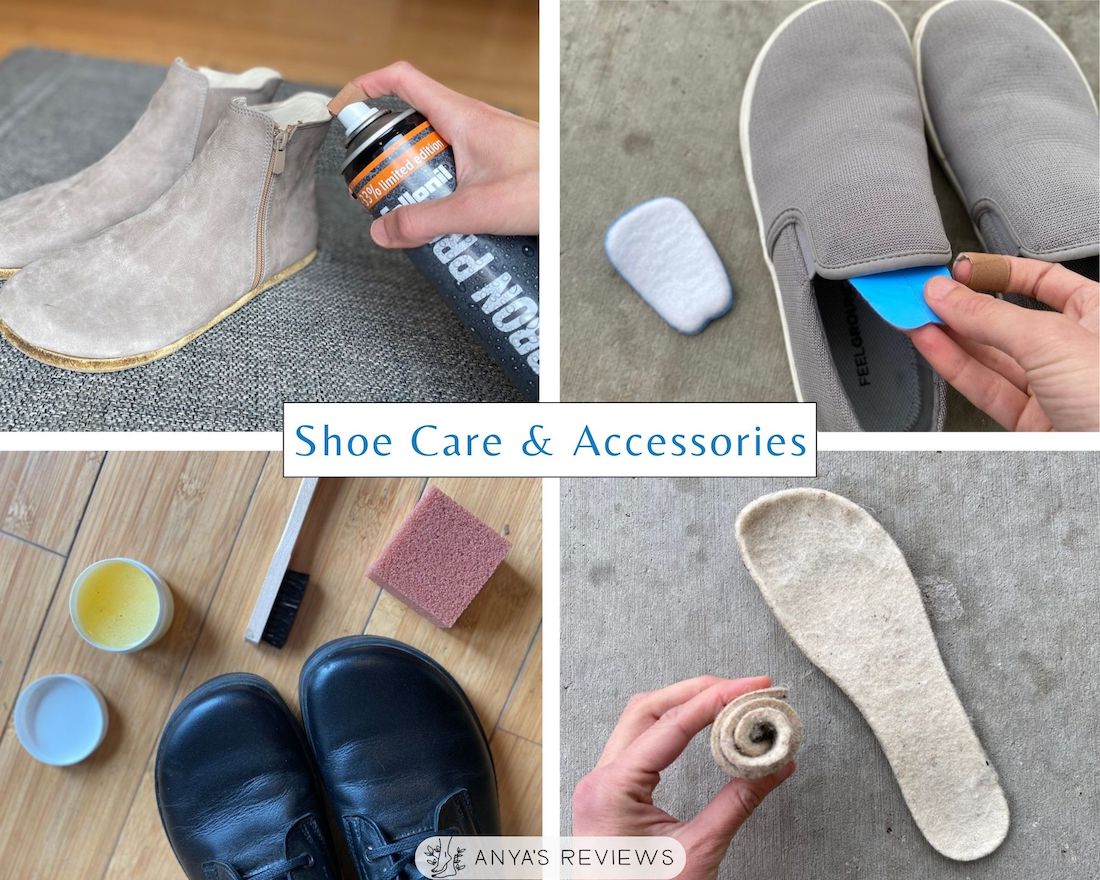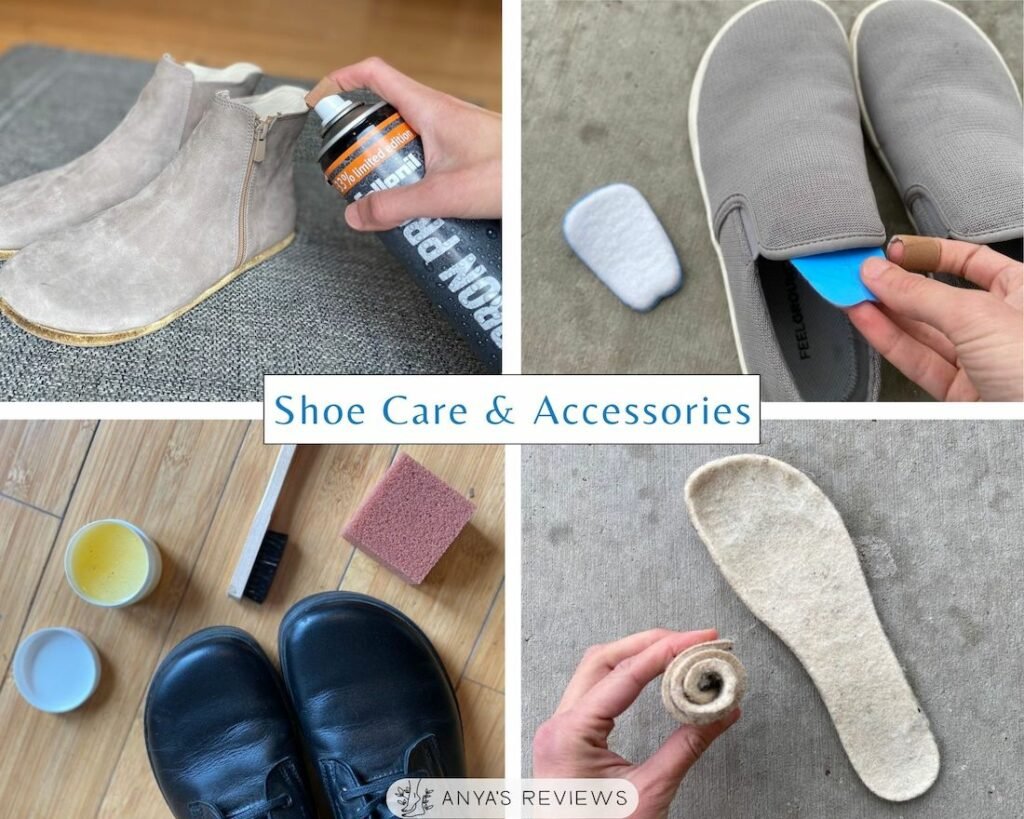 Shoe Care Products
If you love barefoot shoes, you probably want to keep them looking nice as long as possible. The following products I use to clean, care for, and protect my barefoot shoes.
Fit Hack Tools
These little gadgets can be really useful in making your shoes fit better. I like to keep them on hand to use as needed.
Tongue Pads – these are a game changer for low volume feet, I keep a pile of them around.
Heel Grips – Another great tool to keep around for when your heel slips in your shoes
Moleskin – I love this product because you can cut it to whatever shape you need and stick in your shoes. Good for any uncomfortable spots or even to fill in a little extra space.
Insoles
These insoles can make a huge difference if you are feeling cold in your barefoot shoes.
Wool Insoles – these are my favorite for making your barefoot shoes warmer without adding a lot of bulk
Sheepskin insoles – The best I've ever tried, but have a high pile so make sure your shoes have enough space for them
---
Movement Lifestyle Tools
Natural foot health is a whole body endeavor, so I love having dynamic seating and movement tools sprinkled around my home to make moving easier. Things like floor sitting might seem unrelated to foot health, but they're really not!
Movement Furniture
The following items attach to your home or replace furniture. We've slowly been accumulating them to make our home more movement friendly.
Pull Up Bar – We have this in our closet doorway for easy hanging throughout the day
Home Jungle Gym – We got this last Christmas and I absolutely love it. So great for adding movement to inside time.
Convertible Standing Desk – This device can be used on the ground for floor sitting, or on top of a table as a standing desk (this is not the exact one I own, mine is no longer available).
Conclusion
I love to gift items that make healthy living easier and more fun! This holiday gift guide has lots of options for anyone who loves foot health, barefoot shoes, and natural movement. And if you do want to buy some barefoot shoes, make sure you check out all my barefoot shoe resources!