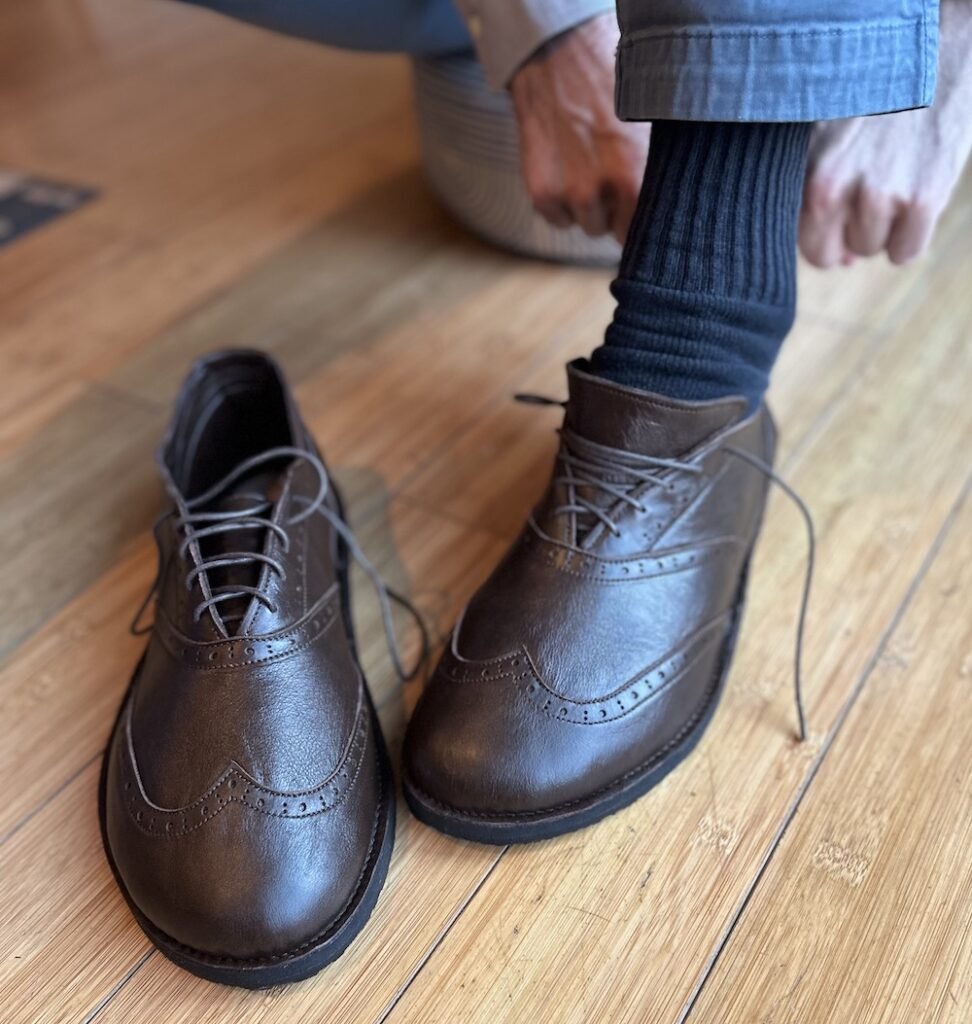 Softstar Shoes has just released a new dressy oxford that comes in two widths! One variation is the Taylor, with brogue detail, and the other is the Hamilton, which is all black with a toe cap.
I got to test out some early prototypes several months ago, and it was fun to see the shoe evolve! The final versions shown here are the result of a long design process. I personally love the Taylor most, the brogue wingtip is spot on and the metallic Orion details are so unique. If you're a Softstar fan but have needed something extra dressy, you'll be excited about this new drop.
The Specs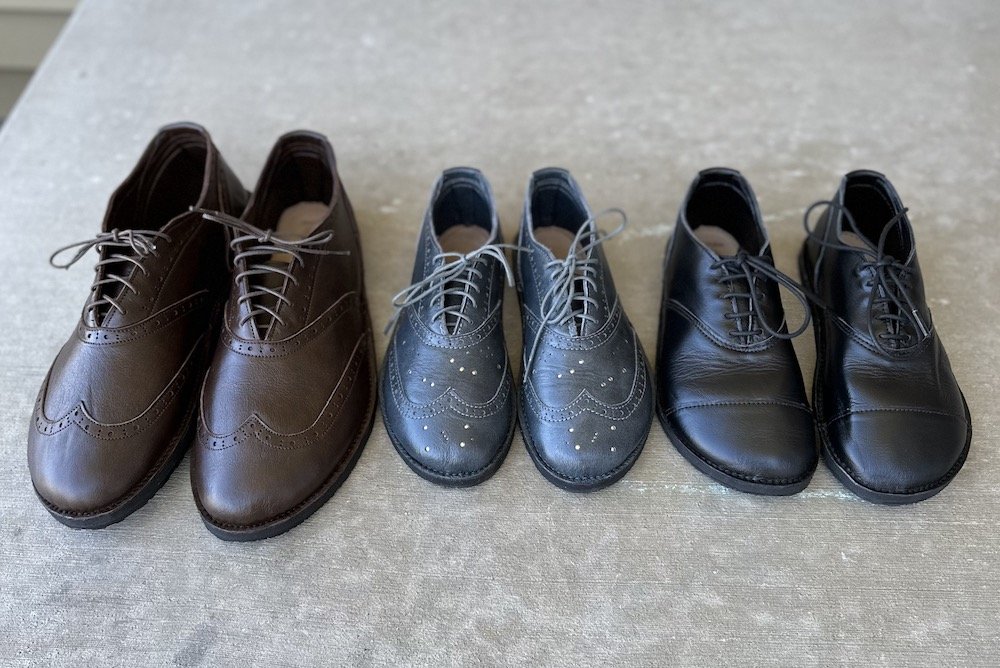 These Oxford shoes are all handmade in Oregon, and they can be resoled and repaired as needed! The outsole is a thick Vibram, for a little bit of cushion and extra durability. The upper is Austrian leather and the insole is a soft suede.
Sizing is unisex and they come in a US women's 5 – US men's 15. At $190, they are not the cheapest dress shoes, but the fact that you can replace the outsole if it wears out means that you should be able to get your money's worth out of these.
I prefer to wear my shoes barefoot, so I appreciate the high quality non-toxic leather used on the Oxfords. But if you do like to wear socks, check out this guide to foot-friendly socks for options!
Should I Get Regular or Wide?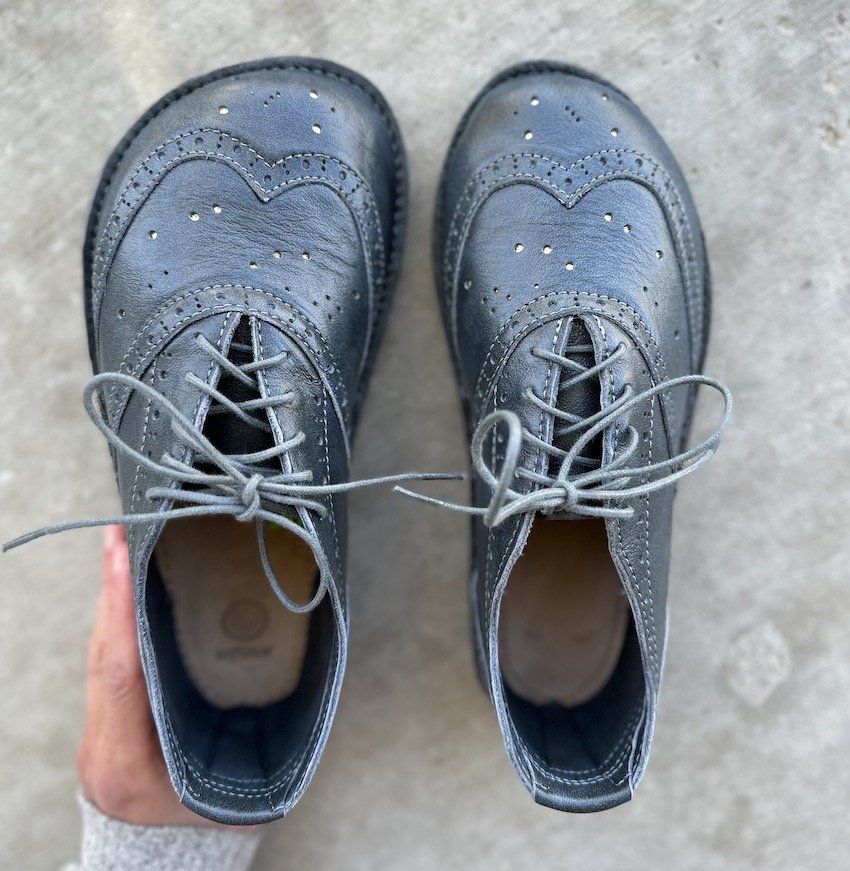 Softstar Oxfords come in two widths: Regular and Wide.
Regular width is quite a bit wider than your standard shoe, but has a little taper at the toes
Wide (aka Primal Friendly) is very wide at the toes and accommodated extra wide feet and toe spacers.
Both fit high volume, but the wide fits extra high volume. That means that if you have a low volume foot you'll want to check out these Low Volume Fit Hacks for ways to make them fit well.
Not sure what foot volume means? Learn here.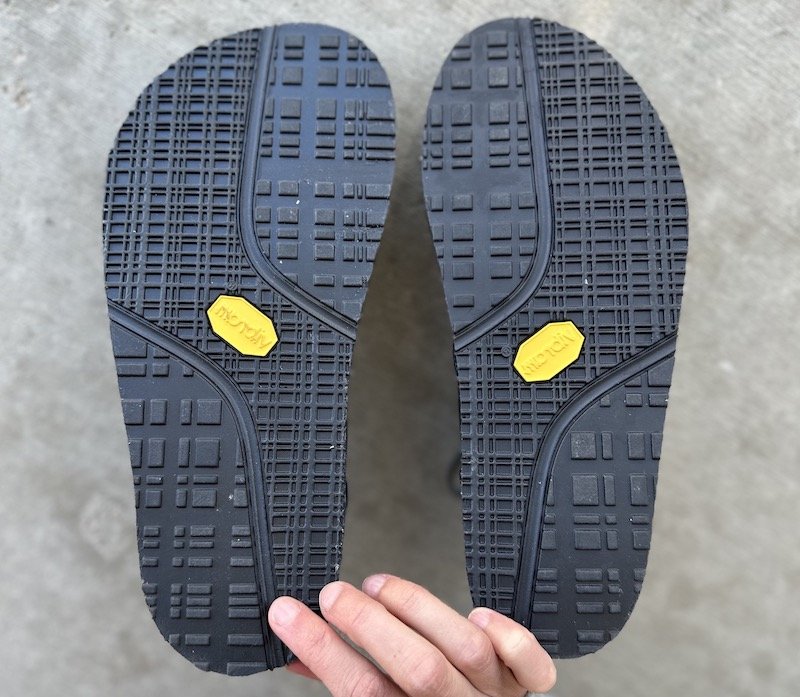 Justin fits well into Regular width, which makes sense since he does very well in shoes with a similar Wide Straight cut (wide through the middle of the foot, but not super wide at the toes).
I am sort of in between the two widths – when I first tried on Regular they felt too narrow on my toes. But Wide was more than enough space, and the extra volume made them feel too big. So I went back to the regular and stretched out the big toe area a little bit to get more space there. Fortunately, being a handmade leather shoe, I was able to get just enough extra space that I've been most comfortable in Regular width too.
I suggest Wide for extra wide and high volume feet, and Regular for everyone else.
Sizing
We found sizing to be mostly true. I have all pairs in a 6U (a women's 7) and they fit as expected. But Justin first got a size 13, which is his usual size, and needed to exchange for a 14. He doesn't often need a size 14, but we think that the taper in the Regular width contributed to them feeling small.
Based off this experience, I would guess that in the larger size range they fit on the smaller size but are true to size in the smaller end of the size range.
In any case, the Elves at Softstar Shoes are very helpful and can guide you if you have any questions.
Ordering from Softstar Shoes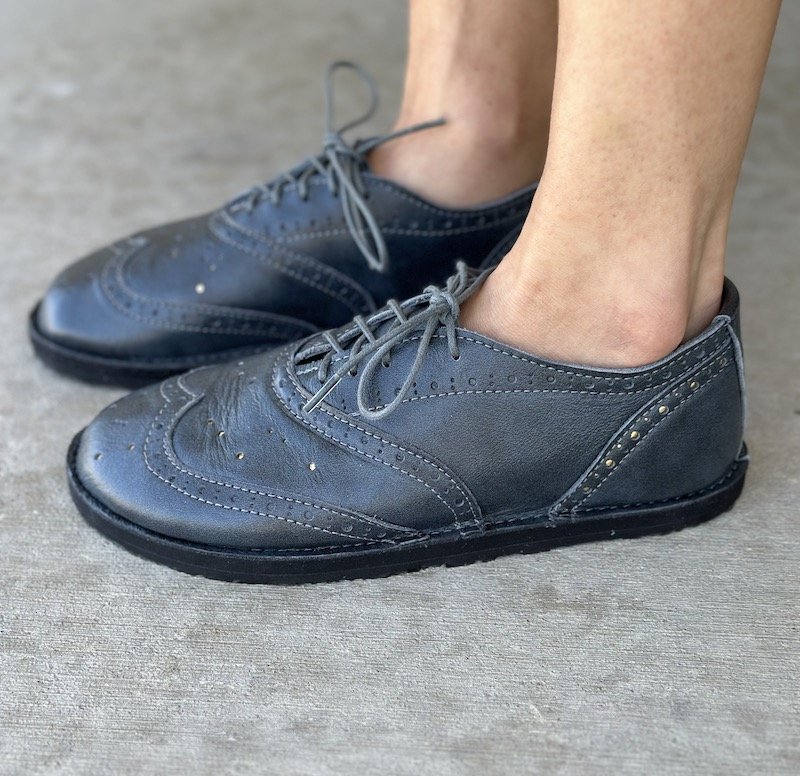 Softstar has a free worldwide shipping policy! Returns on unworn shoes are easy with a prepaid shipping label, but they do charge $9 in the US and approximately $20 for international returns.
Conclusion
These shoes are beautifully made! I think that for some slim feet they will be too high volume and open around the ankle, so keep that in mind if you are considering these. My only other point of feedback is that I don't love the bright yellow piece on the bottom of the outsole – for a dressy shoe it seems out of place, since the bottom will be visible sometimes when walking or sitting.
If you want to see more barefoot dress shoes, check out these articles:
Softstar makes a lot of fun barefoot shoes for the whole family! Check out my earlier Softstar Shoe reviews for more details!
And if you want to see these puppies in action, check out my short YouTube video of the Softstar Oxfords.