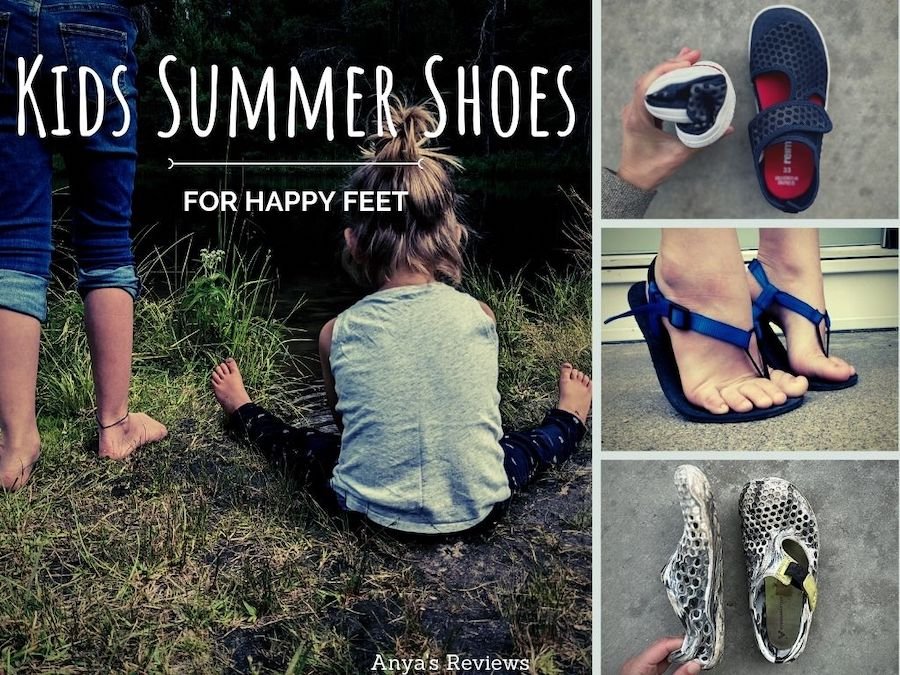 In the summer we go barefoot as much as possible, because kids (and adults) benefit from being barefoot outside. But shoes are often required for protection! So I make sure to choose kids summer shoes that are still good for little feet and promote healthy development – because not all the options out there do that.
Here are the summer shoes I avoid and what I put on my kids instead.
The Best Kids Summer Shoes Are Barefoot Shoes
I am such a stickler about my kids' shoes because shoes can really get in the way of their development. Considering the rate of foot issues among adults, I see children's shoes as an opportunity to prevent issues down the road. That's why we only recommend shoes that meet the following criteria:
Have a natural shape (wide toe box)
Are totally flat (zero drop)
Are thin & flexible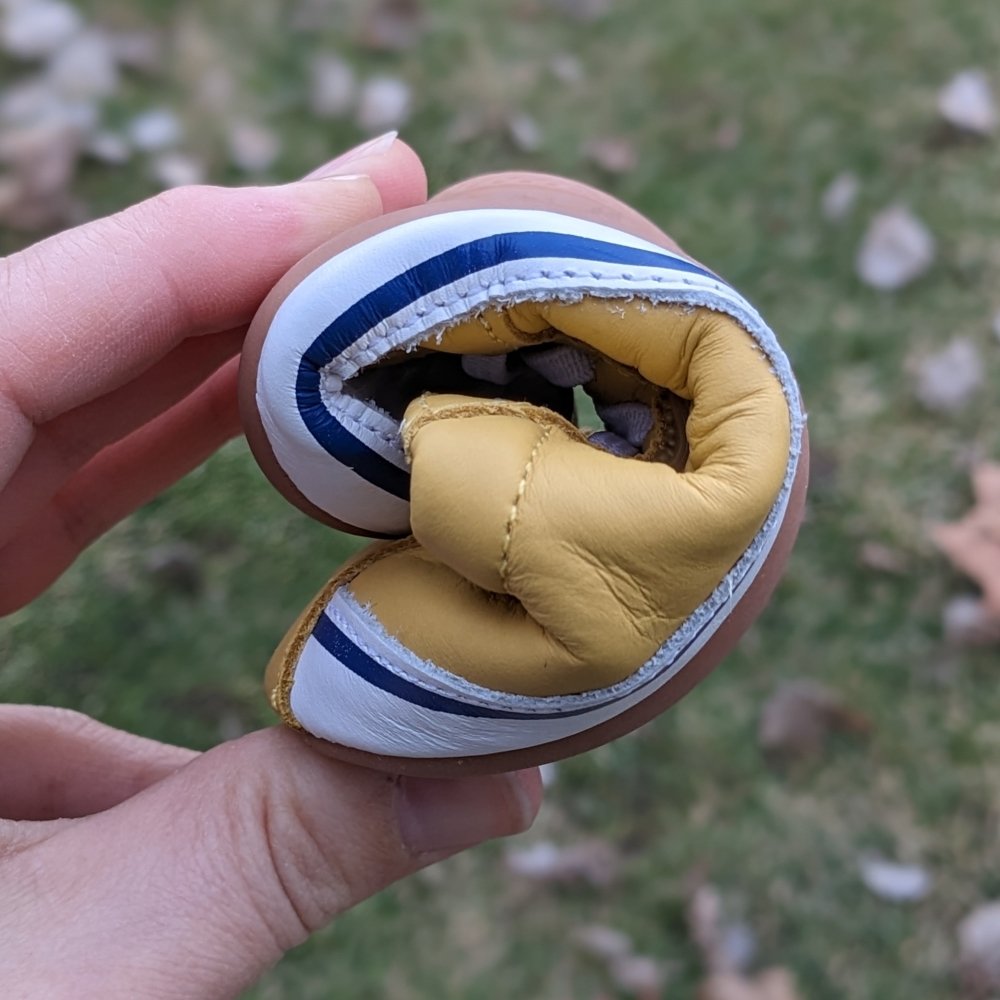 You can learn more about this idea below!
Now let's look at some of the most common kids summer shoes and replace them with options I think are even better!
Barefoot Alternatives for Popular Kids Summer Shoes
Because a lot of the big names in kids shoes don't meet my criteria for healthy shoes, I've had to do a bit of searching to find good alternatives. Here are a few of my favorite swaps for popular kids shoes, so my two boys can participate in all the summer activities without risking any damage to their tootsies.
Swap Crocs for Reima Sandals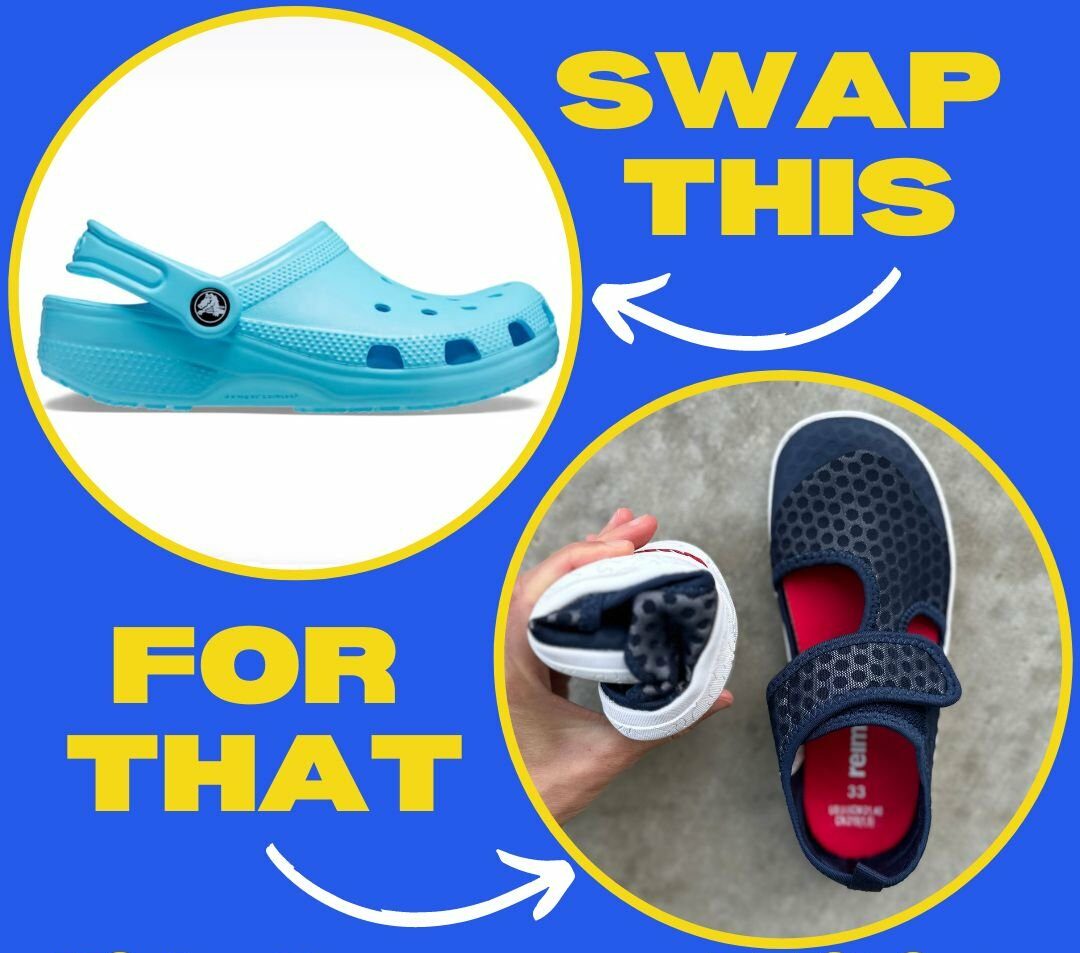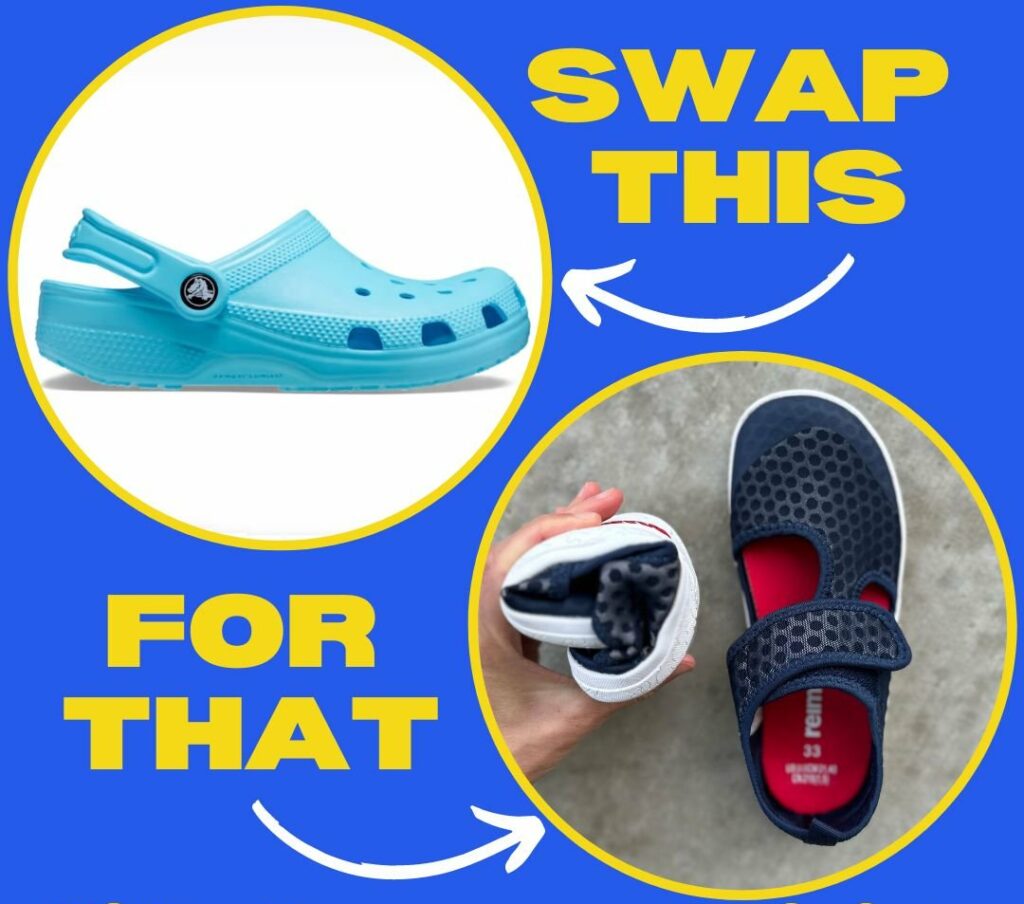 $40 | Textile | Sizes US 13-6.5
Crocs are just ok. They have a wide toe toe box, which is great, but the thick cushioned sole interferes with proprioception (your sense of what your body is doing). I much prefer these thin barefoot sandals from Reima that are also wide but have a flexible sole that will move with your child's foot.
Crocs are also less secure on the foot than the Reima sandals. If you are using Crocs because of their accessibility, then by all means please continue. But if your child is able to do a velcro strap, the Reima sandals can be adjusted to fit snugly without flopping around.
Sizing Note: We find Reima to run a little bit big and the first size we ordered was too large. But we are extremely happy with this comfy kids summer shoe!
---
Swap Keens for Cior Water Shoes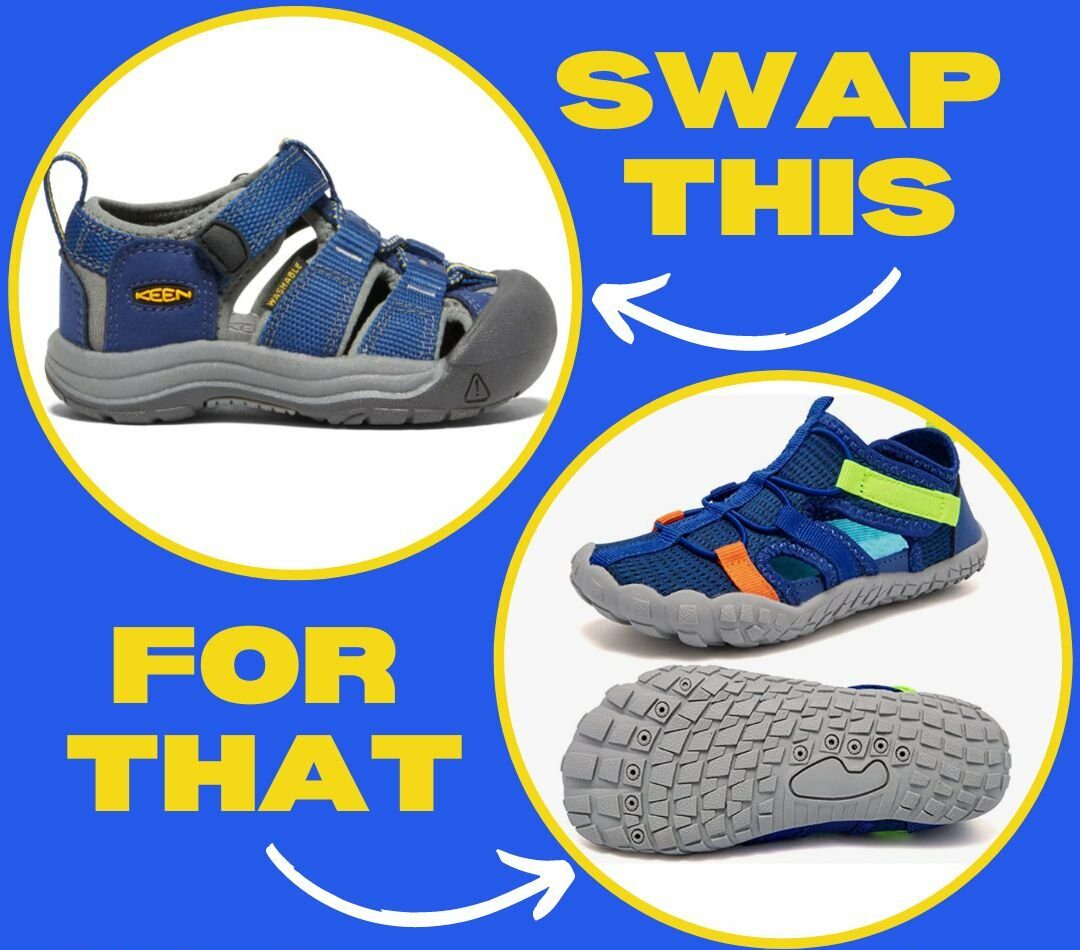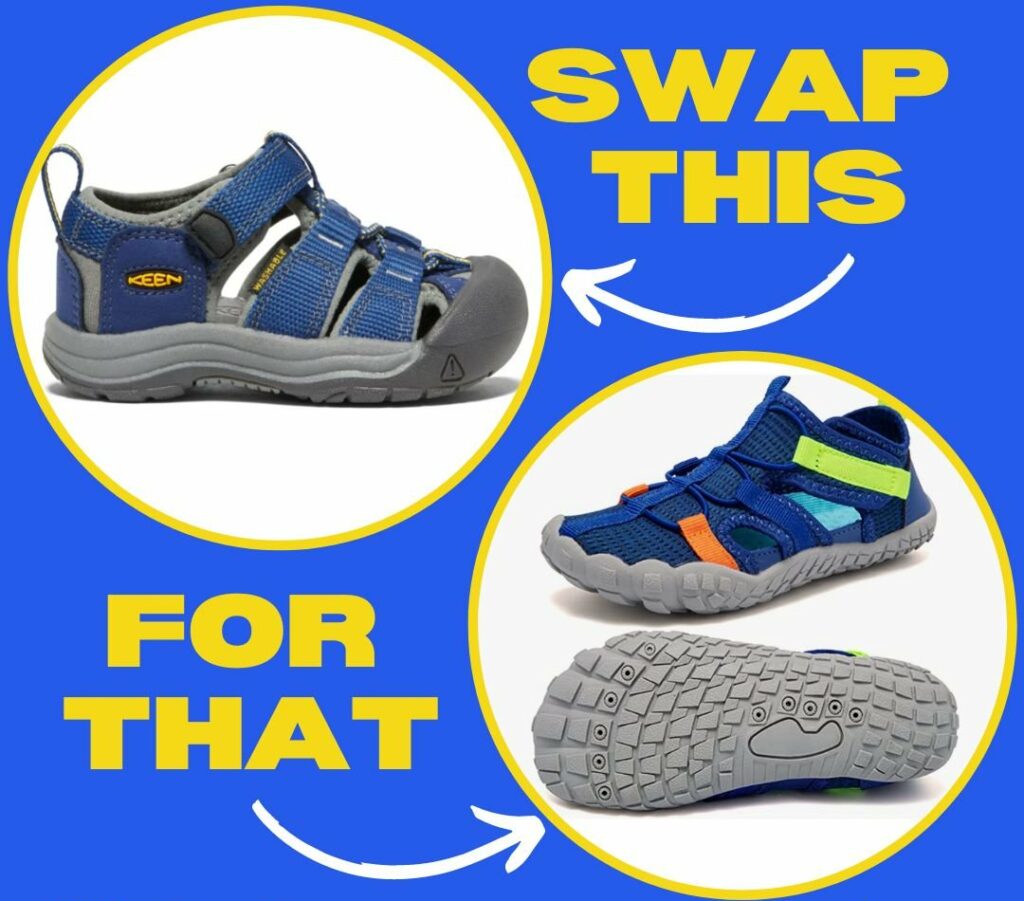 $20 | Mesh | Sizes US 9C-6Y
While Keens are very durable, I question the need for such a thick sole on a kid's shoe. Unless there's real danger of crushed toes or sharp objects coming through, a shoe like the Keens Newport sandal is overkill for developing feet.
The Cior water shoes are only $20, are significantly softer and more flexible, but still protect little feet from everyday encounters.
---
Swap Natives for Vivobarefoot Ultra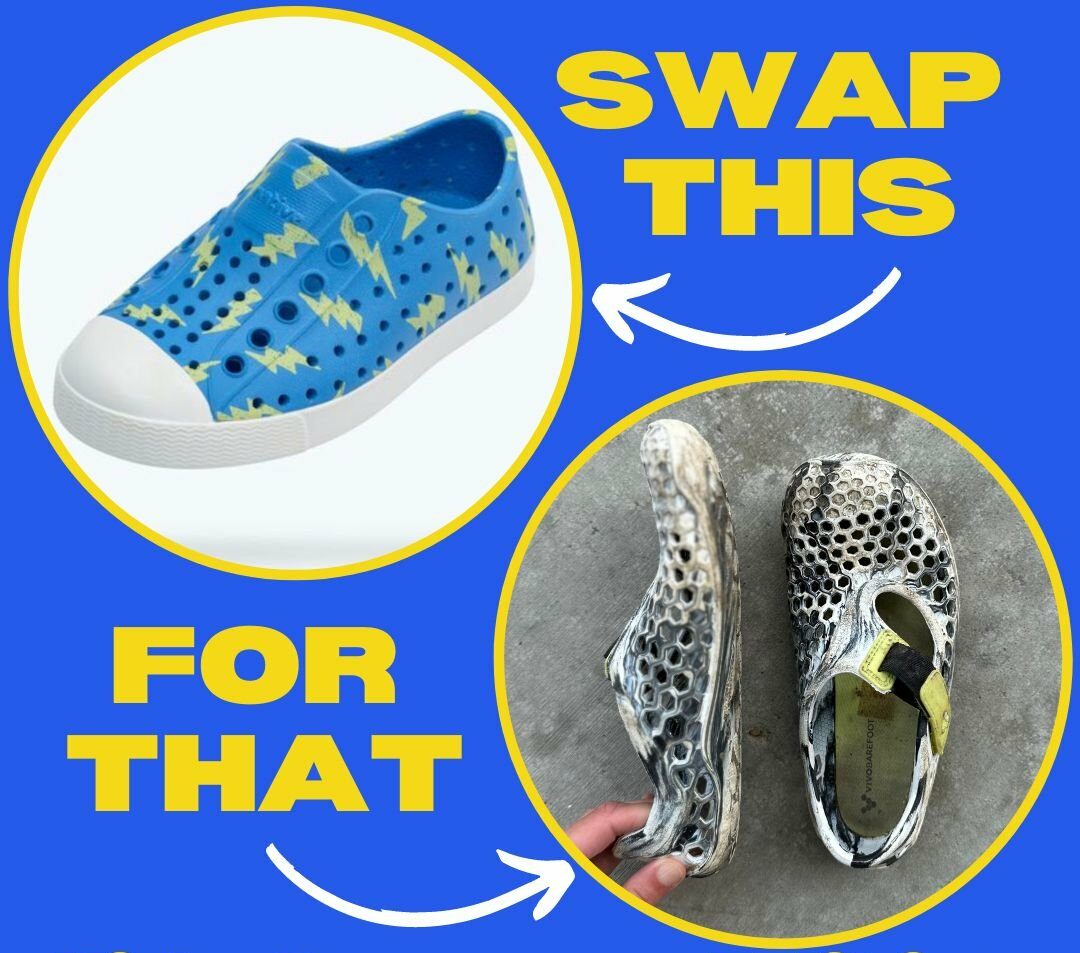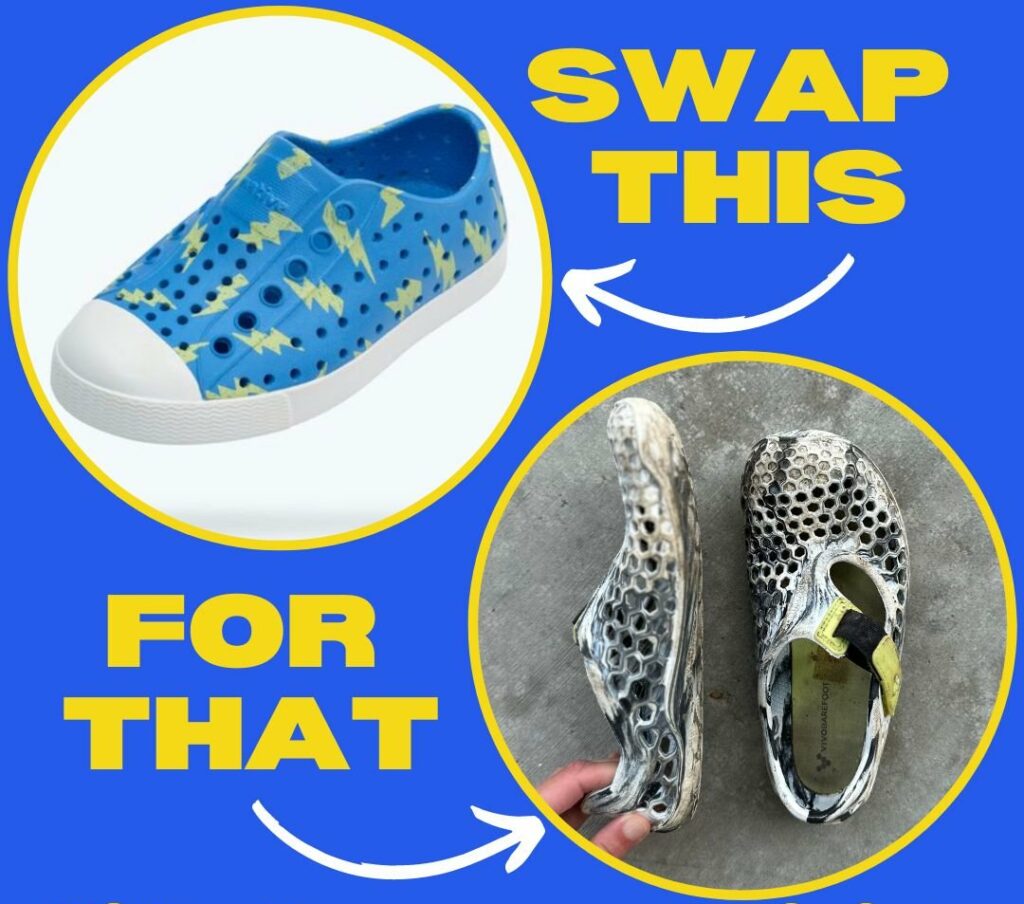 $68-$80 | Vegan | Sizes US 9C – 6Y
Use code VBANYA10 for 10% off
We've been wearing Vivobarefoot Ultras as a Natives replacement for years now – they function the same but the Vivobarefoot sandals have a naturally shaped toe box (it looks like a foot!) and a more flexible sole. Win win! The velcro adjustment also means you can get them secure on little feet, which is important for natural movement.
They've been perfect as a do-it-all outdoor summer shoe and are durable enough to last through multiple kids. We find the Ultra Bloom to also run a little bit big!
---
Swap Flip Flops for Unshoes Keota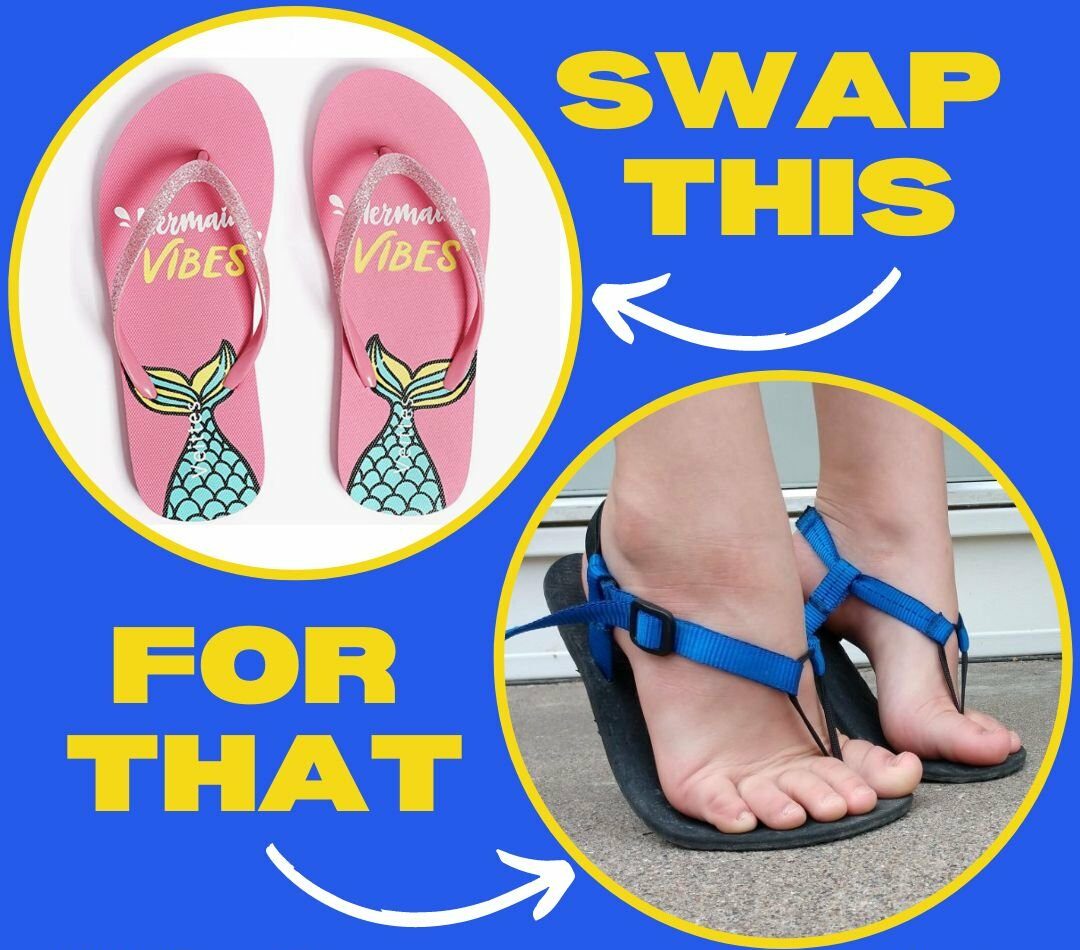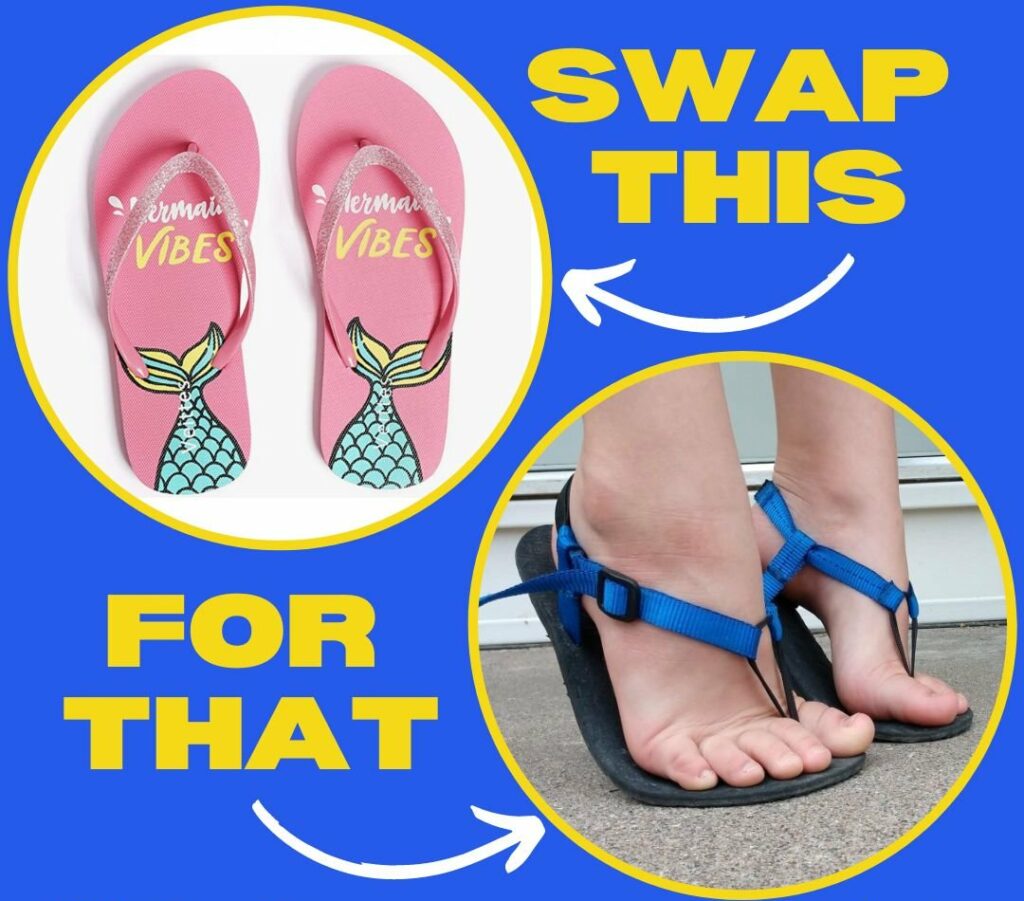 $45 | Sizes EU 21-35 | Made in the USA
Use code ANYA for 10% off
Flip flops, the quintessential summer shoe! My problem with flip flops is that they are not secure and they flip flop on your feet. This can cause kids to grip their toes and change the way they walk to keep the shoes on.
Adding a back strap solves that problem, you can even add your own elastic back strap to kids' flip flops! But if you don't want to DIY one, the Unshoes Keota is a sport sandal with an elastic back for easy pull on. They fit more securely than flip flops and are perfect for summer adventures.
Read our full Unshoes Keota Review here.
---
Swap Fisherman Sandals for Zeazoo Kids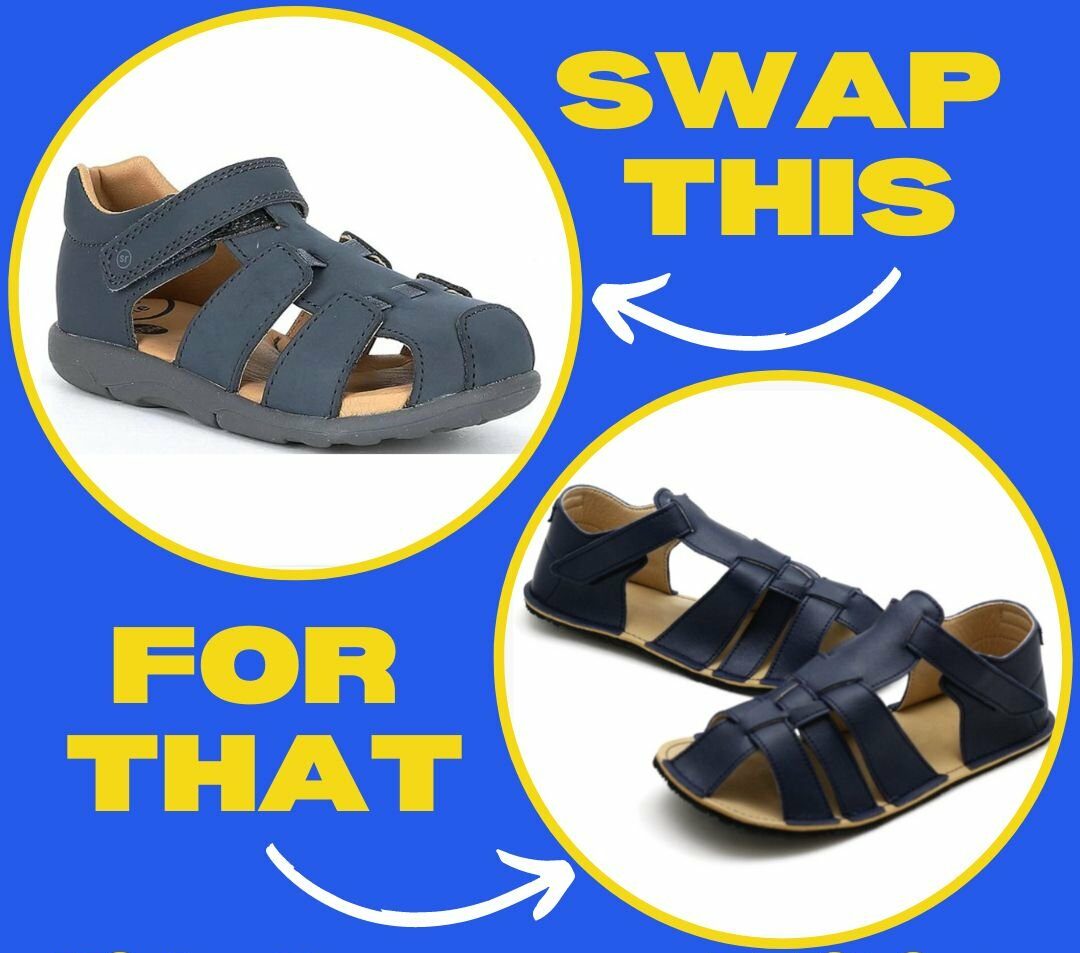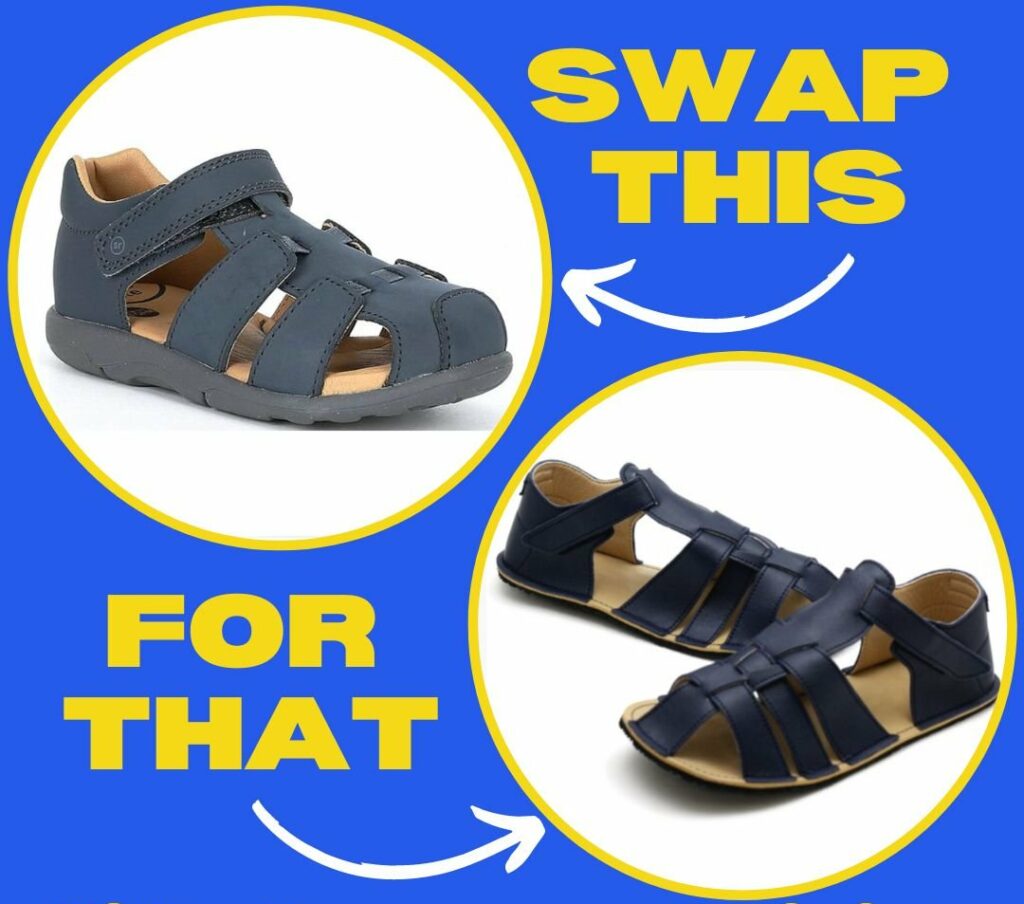 45€ | Leather or Vegan | Sizes EU 18-34 | Ships from Bulgaria
Use code ANYASREVIEWS for 5% off
Even when we dress up I keep my kiddos in flat, flexible footwear. But most dressy kids sandals have a slight heel. The Fisherman sandals from Zeazoo Kids check all my kids' shoe boxes, and can be dressed up just like regular fisherman sandals. They are also delightfully soft, making your child a lot less likely to protest! I love Zeazoo sandals for adults too.
---
Conclusion
For the best kids summer shoes look for barefoot sandals that are are wide, flat, and flexible. We've spent the last 5 years researching the best healthy shoes for kids (and all people 🙂 ) – These are just a few of the options available! If you'd like to explore more, check out these resources below:
Once you know what to look for, you can find options that work with your budget and lifestyle.