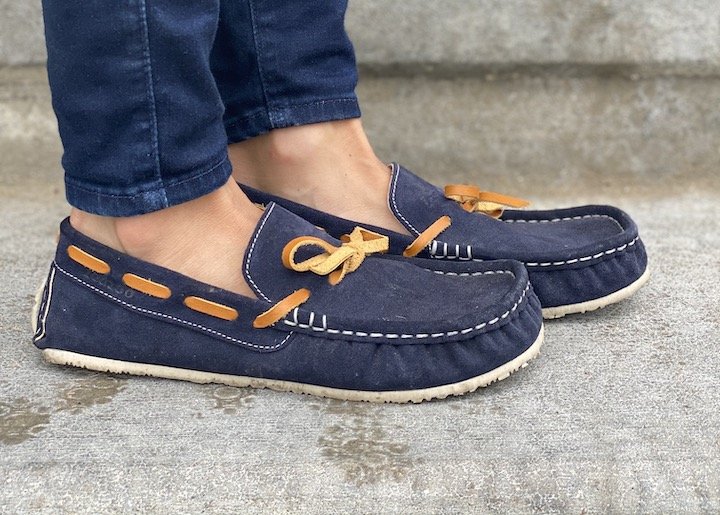 Zeazoo Kids is a barefoot shoe brand that hand makes shoes for kids and adults (don't be fooled by the name Zeazoo Kids). I am already a big fan of their boots and sandals, and am now trying out the Zeazoo Cheetah – a barefoot loafer with a Sperry's vibe. Check out my review of them below!
Zeazoo Cheetah Review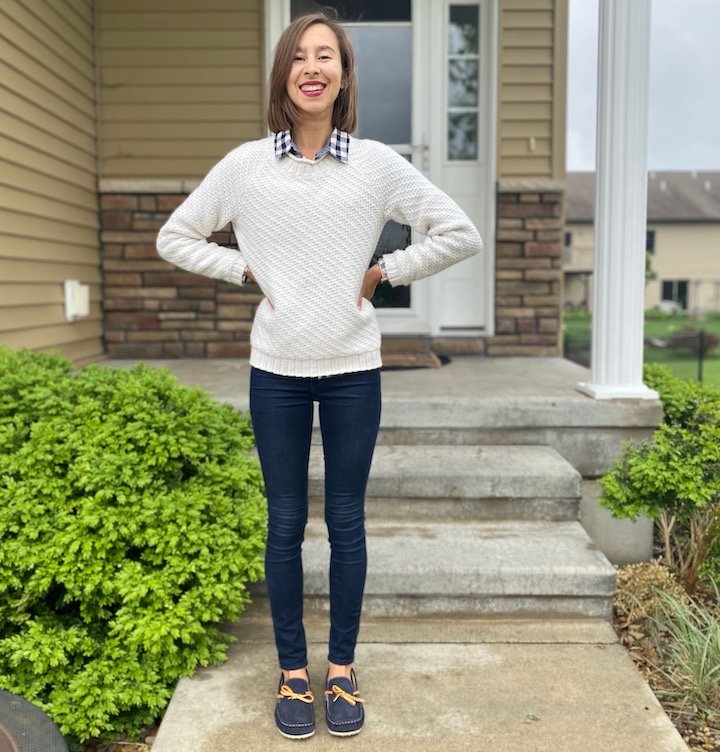 Zeazoo Cheetah | $150 after code ANYASREVIEWS | Leather | Sizes EU 35-42 | Ships from Bulgaria
I do a lot of coming and going and don't bother with laces if I can help it, so slip-on shoes like the Zeazoo Cheetah get a lot of use around here. The Zeazoo Cheetah is the shoe I keep by the door for morning walks, dropping the kids off to school, grabbing the mail, and just about anything.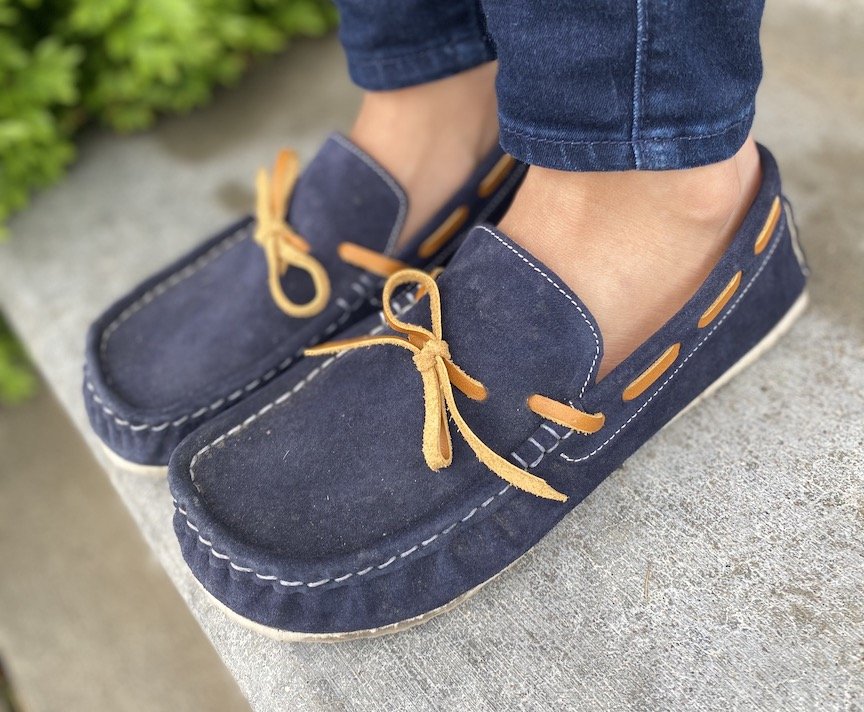 They come in lots of different colors (mine are blue suede), some have lacing and others don't for a more traditional loafer look. Ready made sizes come in EU 35-42, but Zeazoo Kids also does custom orders. So you can get a custom size if you need it. The soles are 6mm thick and made of Vibram SuperFlex, which is extremely lightweight and flexible. The shoe is lined inside and out with leather.
One cool feature about the Cheetah is that it has a wrap around sole, so these work great as driving shoes.
Sizing & Fit
To learn more about foot volume, shape, and width make sure you check out my post on Foot Types!
Sizing: Zeazoo Kids models for adults run long. I wear a size EU 36 (or US Women's 6) in Zeazoo, even though I normally wear a size 37 in most other brands. I got the Cheetah in a 36 and it is plenty long on me, I have about 2cm length in front of my toes (I usually recommend shooting for about 1.2-1.5cm extra length, but as long as the shoe is not floppy a little longer is fine). They do have size charts detailing the length of each size on the product page, so definitely refer to that.
Volume: This loafer can accommodate high arches, but sits low over the ball of the foot. You can see below that I have some space underneath the shoe tongue, but it's snug right across my toe joints. I have very low volume feet, and I use a barefoot insole or a tongue pad in most of my close toed shoes. But the Cheetah is one shoe that I don't need to use anything with! It's one of the very few shoes that fits a low volume foot without accommodation. I do think it'll work fine for a medium volume foot also, but it will feel snug at first. Fortunately it's entirely made of leather, so is capable of stretching.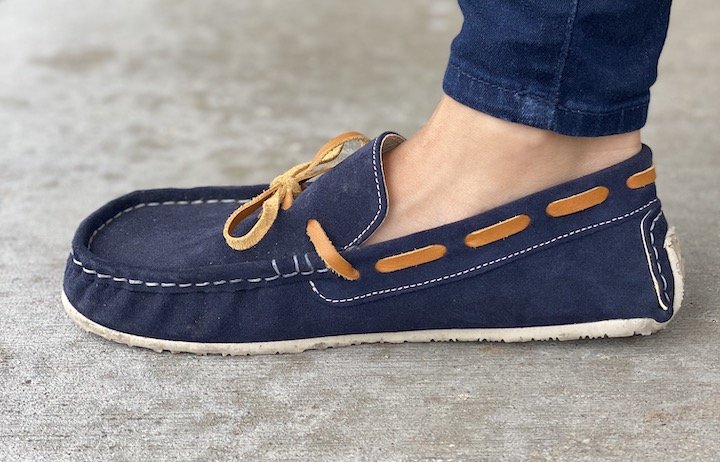 Width: The Zeazoo Cheetah fits an average width foot best, but my wide toes feel great in them because of the way the material on the sides can expand. While I could fit into a size 35 for length, that would be too narrow for my foot.
Shape: These barefoot loafers have a square toe box that works great for Plateau shaped foot (read this boot on Foot Types for an explanation).
Same Shoe, Different Foot
This shoe is a good fit for my wide shallow feet. Samantha, on the other hand, is going to need to look elsewhere for a barefoot loafer. She (on the right) has extra wide, high volume feet and these shoes were way too tight in all directions for her.
Zeazoo Cheetah VS Other Barefoot Loafers
See below for some comparisons of the Zeazoo Cheetah to other barefoot loafers: the Lisbeth Joe London, the FeetSutra Khussa, and the Vivobarefoot Opanka. You can learn more about all these and more in my barefoot loafers post!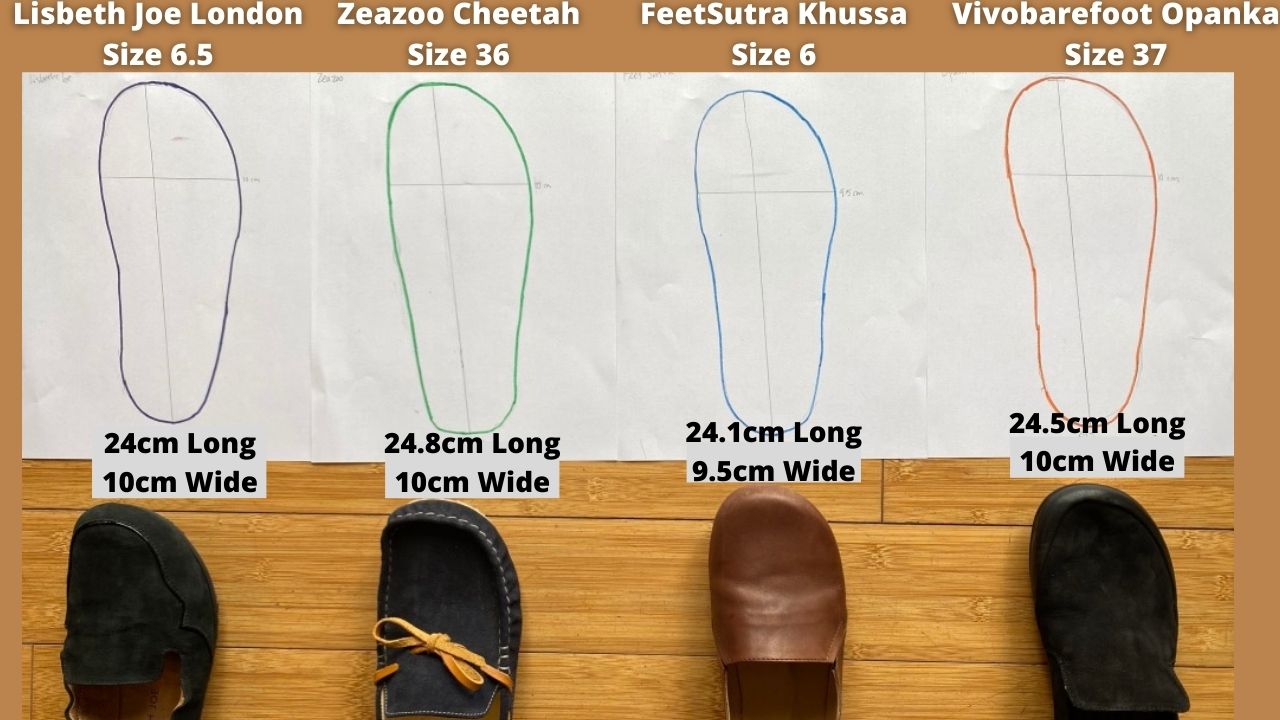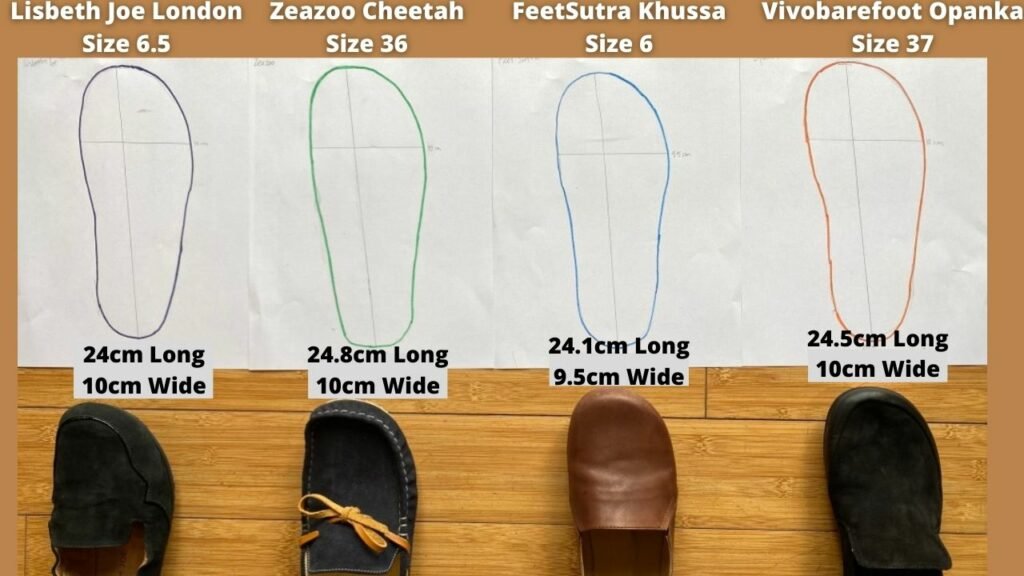 Ordering Zeazoo Kids
All Zeazoo Kids shoes are made to order, with customizations available upon request. That means that orders can take a little longer to fulfill. If you're in the US, Express shipping is your only option and it arrives really quickly. Within Europe you can use Economy shipping, which is cheaper but takes longer to arrive. Returns are accepted on new shoes within 30 days, and customer pays return shipping (this doesn't apply to custom orders, which can't be returned). Don't forget, the code ANYASREVIEWS gets you 5% off any Zeazoo purchase from ZeazooKids.com
I also have decided to carry a few Zeazoo Kids models at Anya's Shop! We don't have the Cheetah yet, but may in the future.
Conclusion
If you're looking for a barefoot alternative to boat shoes, the Zeazoo Kids Cheetah is a fabulous option. In fact, all Zeazoo Kids shoes are light as air and comfortable on the foot (if you haven't caught wind of the Dingo craze, you need to read this post on the perfect Uggs Dupe!). I value their dedication to chrome-free leather, and the fact that all orders are handmade by them on-site. The Zeazoo Kids Cheetah is an excellent barefoot loafer!