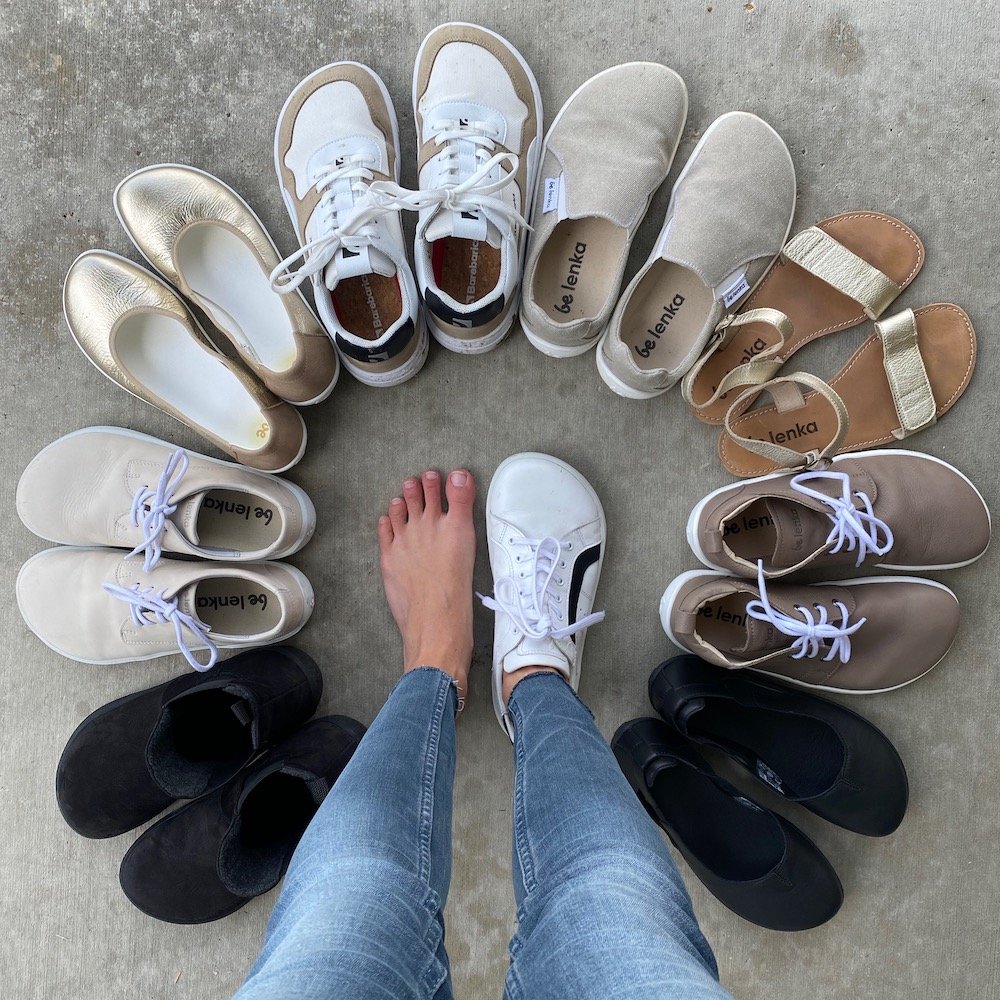 Be Lenka Barefoot is one of the most diverse barefoot shoe brands. They carry hundreds of different style and color combinations starting at toddler sizes and going all the way to adult men's. They've been extra busy this year with over 10 completely new styles and some key updates.
Get the low down on the new models and changes for 2022 in this Be Lenka Barefoot shoes review!
Be Lenka Barefoot Review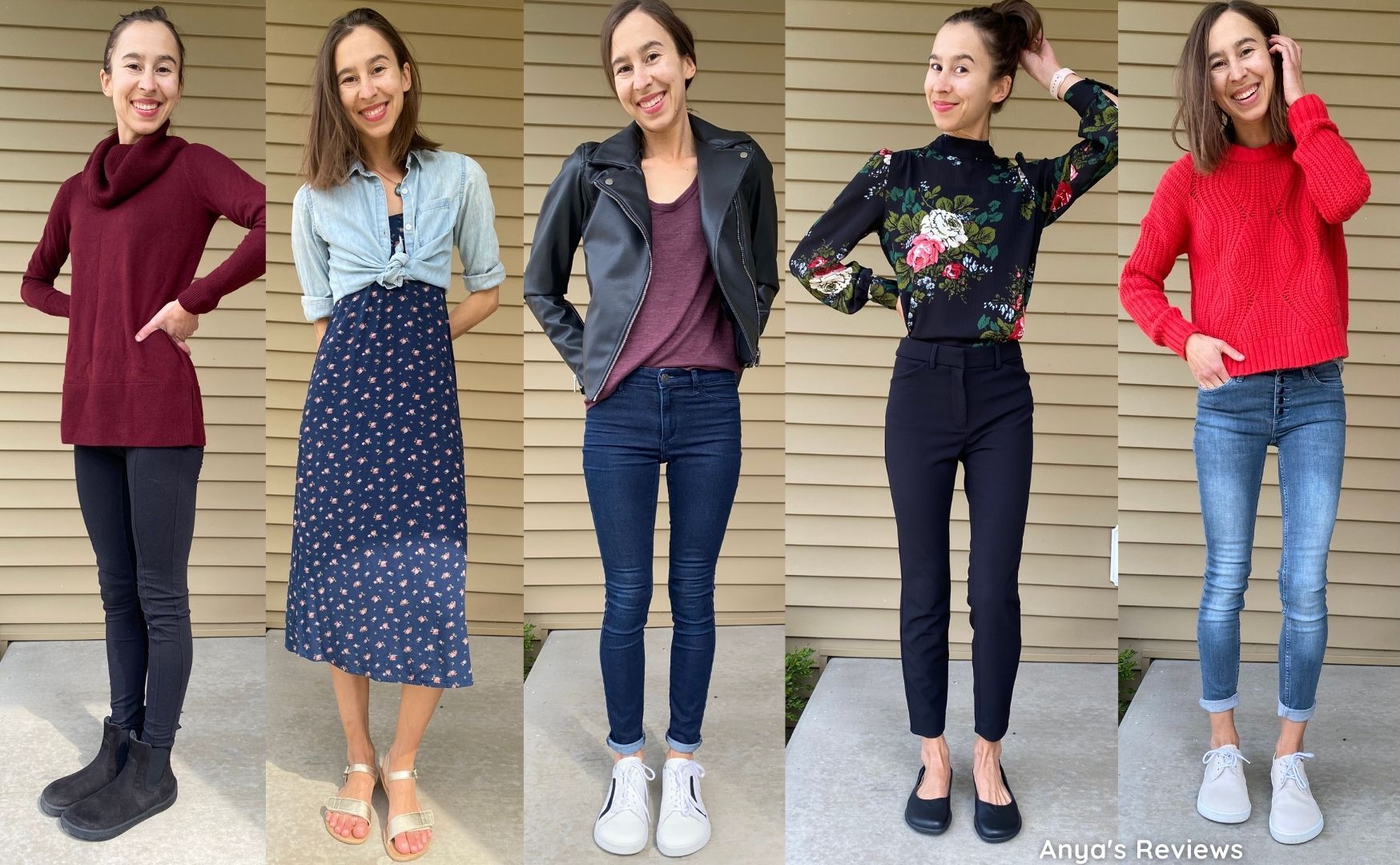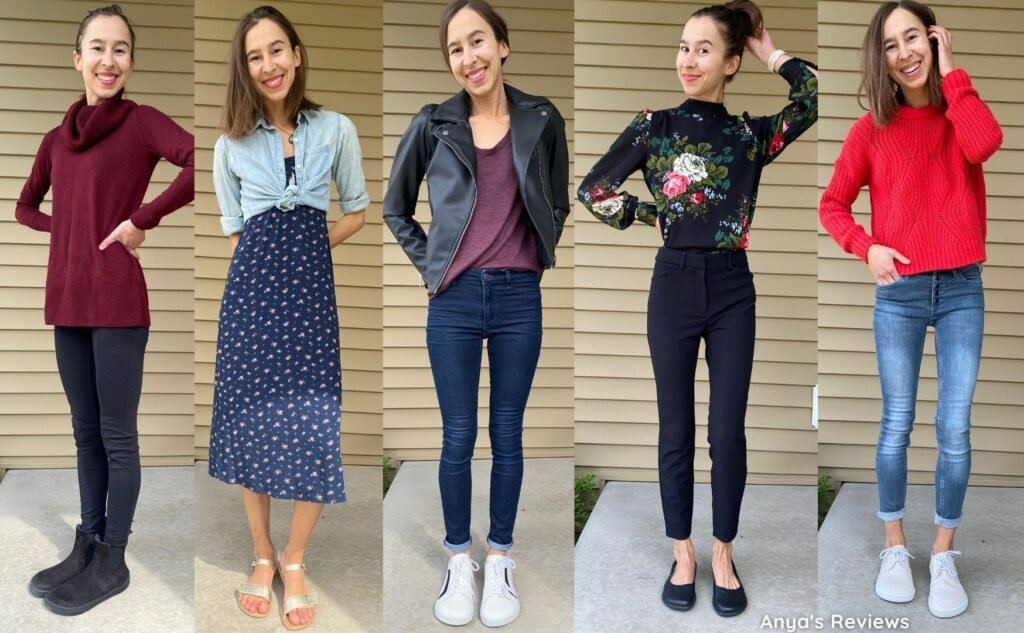 Be Lenka is a Slovakian brand that focuses on lifestyle barefoot shoes for the whole family. They've really shaken up the game when it comes to wide toe box shoes that are stylish, and they have no plans to stop here. Their efforts are making natural footwear a more accepted option in the world!
Previously, Be Lenka did not accept returns outside the EU, but this week Be Lenka has announced that returns are now possible on US orders, woot woot! That means that if you place an order with BeLenka.com and have it shipped to the US, you can easily return it to a US address – and that just so happens to be my shop!
We've always been about improving access to barefoot shoes, we hope this makes it just a tad easier for my US readers. Note that these orders will still be arriving from Europe, AND anyone can use my code ANYASREVIEWS for 5% off your Be Lenka order.
Unfortunately, Be Lenka still doesn't accept returns from other countries outside the EU (and shipping can be expensive), so you might want to check out the following Be Lenka retailers around the world. Many ship worldwide and accept returns.
On to the Be Lenka Barefoot shoes review!
Be Lenka Sole Types
As of now, Be Lenka has 4 different sole types available for adult shoes (Kids Be Lenka review to come soon!). All are zero drop and flexible, but have different thicknesses and feels. They are as follows:
Bean Shape – Be Lenka's original styles are made on a thin 4mm sole that skews toward the big toe. These have a leaf design on the bottom and can be found on the Icon, City, Prime, Eazy, Champ, Ace, Stellar, Sierra & Nord. They're uber wide.
Square Shape – This is a new shape for 2022 that distributes the width more evenly across the toe box, and is a few millimeters narrower at the ball of the foot. This is good for people who need more pinkie toe space! This sole is also 4mm not counting the tread, but with tread and insoles these are a fair bit thicker and a little heavier than the bean shaped soles. They have better grip and durability, and you can remove the insole to get closer to the ground.
You can find this sole on the Brooklyn, Flair, Glide, and Entice 2.0. The Trailwalker has a similar shape, but the sole material is different and thinner (they're amazing trail shoes!).
*Last fall Be Lenka released several winter boots on a different (wider) square shaped sole with even deeper tread. Those boots are still available currently, but they will be replaced by this newer square shape in time.*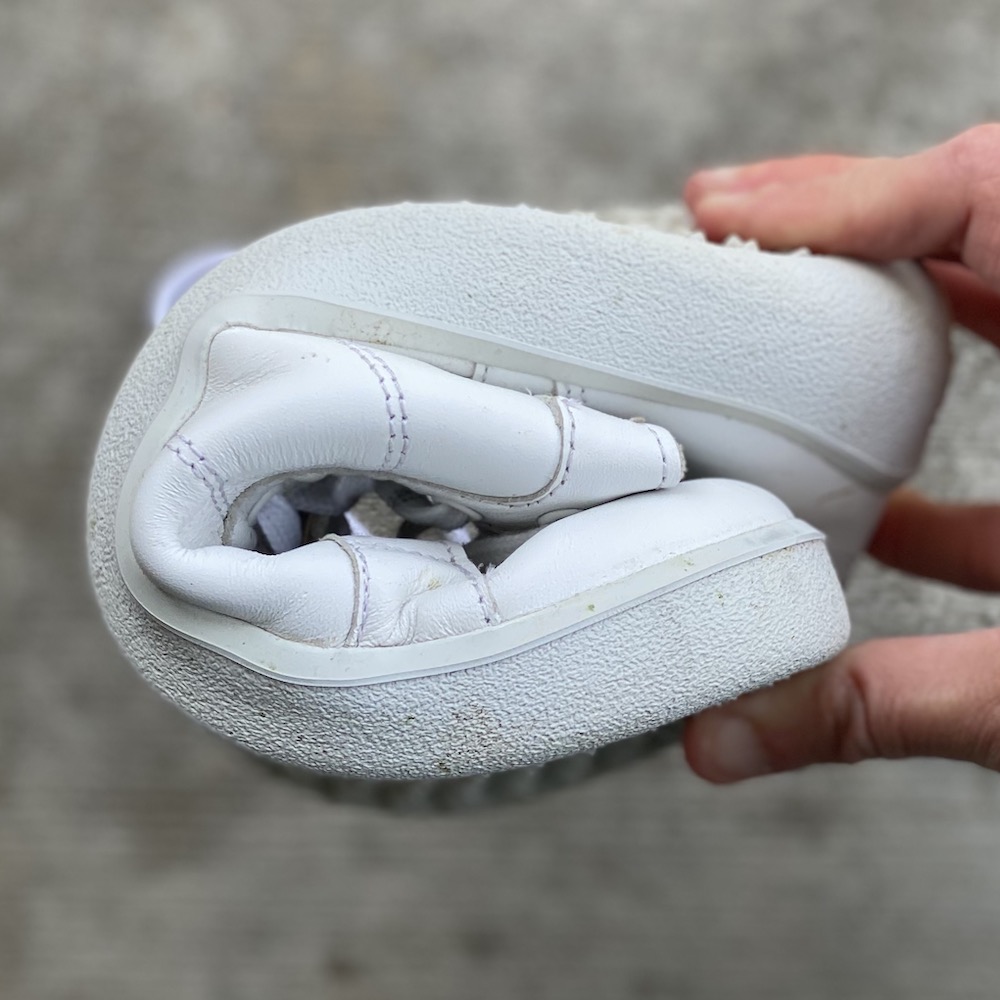 Ballet Flat Sole – Be Lenka has added 3 flat styles this spring, all of which are made on a sole similar to the square shape above, but quite a bit narrower. Even still, it is a moderately wide fitting mold. They all come with an insole that adds a good amount of cushion, and makes for a better fit if you have low volume feet. Otherwise, you can remove it. They are on the heavier side for a barefoot ballet flat.
Sandal Sole – And finally, the sandal sole. These are the narrowest soles Be Lenka offers, but with open sandals you don't need as much width. They are flexible but slightly heavy compared to other barefoot sandals like Zeazoo or Tikki. The material holds up to wear well, and they look dressy. The shape is sloped, similar to the bean shape.
Want to dig deeper into foot shapes and the shoes that work best for them? Check out this guide to the best barefoot shoes for your foot type!
Now that we've covered the different soles available from Be Lenka let's discuss the new spring 2022 models. And if you have questions about an older style, check out my previous Be Lenka reviews.
---
Brooklyn
Leather | $129 | Sizes EU 36-46
The Brooklyn, made on the square shaped sole, is the perfect Adidas dupe for wide toes. They're a simple white leather sneaker with black detailing – classic, casual, versatile. I've been wearing mine in yucky spring weather and they wipe down very easily (a must for a white shoe IMO). I've also been pleased at how soft the sole has become, they're a lot more flexible now that I've worn them several miles!
The sole has performed well for me on slick floors and is definitely grippier than the bean shaped sole. I think they're a great sneaker for lots of city walking, but I miss my ultra thin options after a while.
Sizing & Fit: I am wearing a size 37 in my Brooklyns, my usual Be Lenka sneaker size. They fit perfectly, no need to size up or down. I am using the insole that comes with them, and they fit my low volume feet well with no adjustments (high volume feet will need to remove the insole). Compared to a Be Lenka sneaker like the Prime, which is high volume and wide through the heel and ankle, the Brooklyn is significantly better for thin feet and narrow heels. And of course, they have an extra wide toe box.
---
Flair
Leather | $129 | Sizes EU 36-43
The Flair is a simple sneaker, similar to the City, but made on the square shaped sole. The upper is the softest nubuck (seriously, so soft!), and they have a feminine flair to them. They also come in a peach and rose color. I scuffed mine the first time I wore them and was worried they were stained, but it brushed out well and then I treated them with Carbon Pro before wearing them again. I would definitely recommend doing so to keep the leather nice.
Sizing & Fit: The Flair is true to size and extra wide, but they fit a teensy bit higher volume than the Brooklyn. With the insole in and the laces tightened they work fine for my shallow feet, but have a little more space above the toes. Medium and high volume feet (without insole) should do alright in them too.
---
Entice 2.0
Leather | $179 | Sizes EU 36-43
The Entice is a beautiful, wide fitting chelsea boot that made some waves when it was first released last fall. It was re-released this spring on the updated square sole and in my opinion it's an improvement. The current sole is a better match for the style, and they still fit really wide. I love the suede, and of course the ease of a pull on chelsea boot. They're a great versatile shoe that can be dressed up or down – the kind of thing that a lot of people with extra wide feet are hankering for!
They are lined with fleece, so don't work well for warm weather. But for spring, fall, and winter they will be a great staple. I did need to break them in a tad – at first they felt stiff around my heel. If you want them to be your closet workhorse, I would treat the suede to keep it looking nice!
Sizing & Fit: The Entice fits slightly smaller than the other square shaped Be Lenka shoes because of the fleece lining. I sized up to a 38 in them and they are perfect for wearing with medium weight socks. The original Entice fit even shorter than the current 2.0, but I am still happiest in one size up.
The Entice is also available at Anya's Shop in the US!
---
Bellissima
Leather | $139 | Sizes EU 36-43
I love these simple Be Lenka flats!! They remind me of a slingback, but have a little more security with the heel piece. It's just enough detail to keep them from being basic. They are a fabulous work or fancy occasion shoe. I prefer them in black, the peachy "nude" color isn't my favorite because you'd have to have just the right skin tone for them to look good. I think taupe is far more versatile for different skin colors while still being neutral (hint hint, nudge nudge), but if the peach color is right for you, then great!
Otherwise, quality is top notch and I'm really happy with them.
Sizing & Fit: I chose a size 37, even though I often wear a size 36 in flats. The heel is a little loose on me, but I'm glad I didn't choose the smaller size because they would be too short and too narrow. I don't think they'll be a good choice for extra wide feet, but should be great for average to slightly wide. I am using the insole in them, but if you have high volume toes and/or thick feet you could remove it.
---
Sophie
Leather | $129 | Sizes EU 36-43
The Sophie is a more classic ballet flat style with no straps or embellishments. They're simple and elegant, but still feel durable. I like them as a transition shoe, or for people who are on their feet a lot and want some cushion. One thing I don't love is that the logo on the insole is rubbing off on my foot…
Sizing & Fit: The Sophie fits like the Bellissima, but I found the gold leather to be a little bit stiffer. This helps keep them on my heel better than the Bellissima, but they felt tight on my toes the first couple hours of wear. They don't seem like they'll loosen up a ton, but if they do they might end up being too big. Flats are so hard when you have narrow heels! Don't forget to check out these fit hacks if you also get heel slippage.
---
Eazy Sand '22
Canvas or Leather | $119-$139 | EU Sizes 36-47
Restock coming soon!
The Be Lenka Eazy has been a favorite barefoot sneaker of mine for a few years now, I often take them traveling because they're easy (ha!) and cute. There have been subtle changes to them over the years, but for the most part they have stayed the same. The color is a sandy beige, and they have a padded heel cup to keep them from slipping. I find that the color disguises dirt well, but after a while I need to clean the front of the shoe. With this canvas material I use soap and water and either scrub with my fingers or a toothbrush (gently). The Eazy also comes in leather which can be wiped down.
Sizing & Fit: The Eazy's are the only slip on barefoot shoe I've tried that fits a low volume foot. I wear them with the insole that is included and don't have to do anything extra to get a good fit. This is so rare for me, having really shallow feet, and I love it. But they are not likely to work for people with high arches. You can remove the insole to get a little more space though. They are otherwise true to size and have the extra wide bean shaped sole.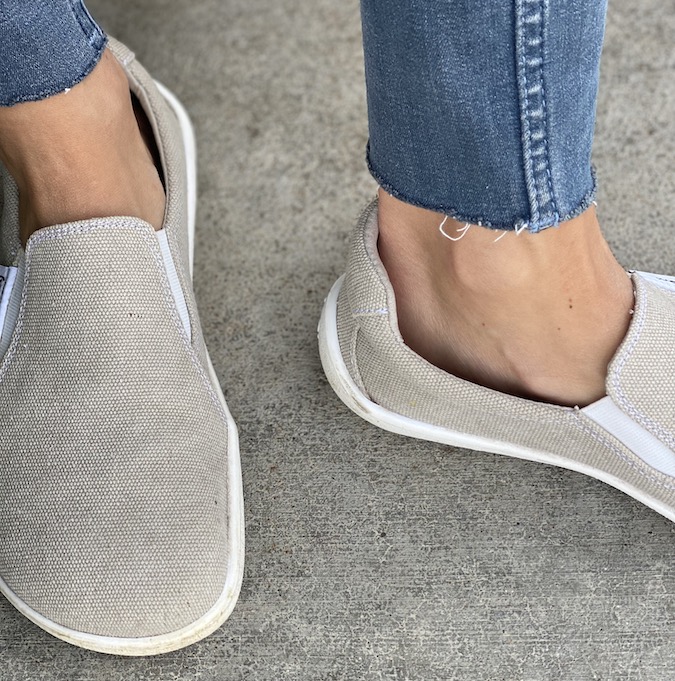 ---
Icon Cappuccino
Leather | $129 | EU Sizes 36-47
The Icon is a high top shoe that crosses between a sneaker and a dress shoe. This is Be Lenka's oldest style, and for good reason! They're basic, but in a good way. They come in a handful of neutral colors, and Cappuccino is new for spring. I love taupe, it's such a great neutral that looks good on most people. Another nice thing about the Icon is it can really go both ways – dressy or casual, feminine or masculine. I have 3 pairs of Icons, and all of them needed a little breaking in – the leather rubbed my ankle bone and heel the first few wears. After that, they fit like a dream and seem to be really durable.
Sizing & Fit: The Icons fit medium to high volume, but I'm able to tighten the laces enough for my feet. I prefer wearing them with an insole (this model doesn't come with one) or a tongue pad. True to size, made on the bean shaped sole.
---
Be Lenka Sandals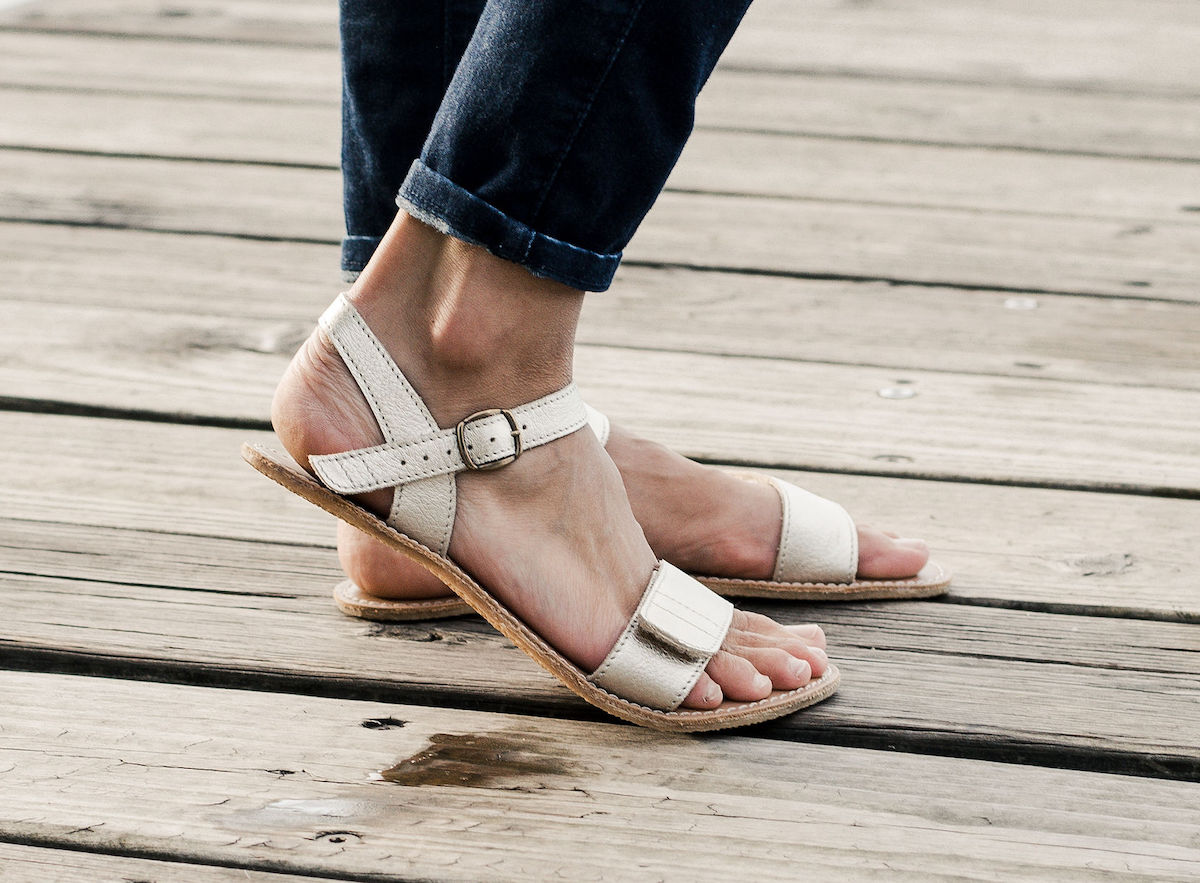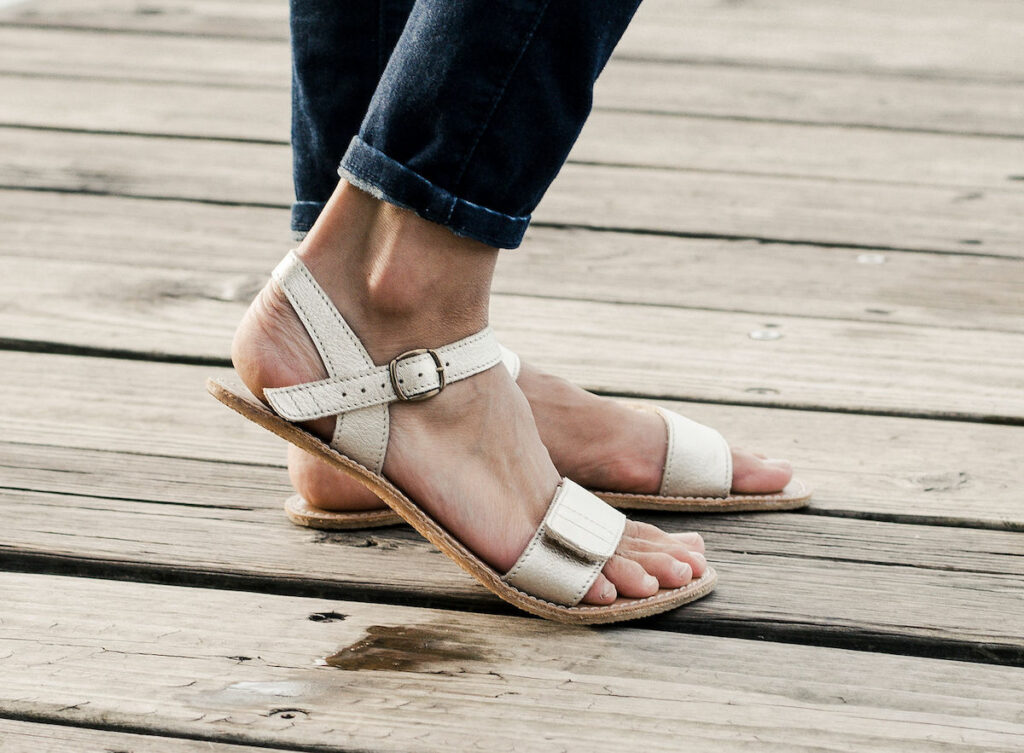 Leather or Textile | $99 | EU Sizes 36-43
While there are no new sandal models from Be Lenka (so far) this year, they are adding some new fun colors. I love my Be Lenka sandals because they look really nice, even after lots of wear. If you want to hear more about how they fit, check out my Stylish Summer Sandals review!
---
Barebarics
Vegan | $149-$179 | EU Sizes 36-47
Barebarics is actually a separate brand, but it is owned by Be Lenka and you can order Barebarics from the Be Lenka website if you're already getting some other stuff. They are designed for urban dwellers with a highly abrasion-resistant outsole, a little more cushion than Be Lenka shoes, and an entirely vegan lineup. They really level up the style game AND the quality game. Because they have a thicker outsole and a more cushioned insole I consider these to be a good transition barefoot shoe.
Sizing & Fit: I first tried a size 38 because that is what they had in stock, but I really need a 37 (my usual Be Lenka size). They fit similar to the Be Lenka square shaped models, but are built on a unique mold so have a slightly different shape. They are true to size and wide in the toe box. I wear mine with the insole because I have low volume feet, but you could remove it if you need more vertical space.
Read my in-depth Barebarics review here.
---
Be Lenka Barefoot Review In Summary
Be Lenka Barefoot is a standout barefoot shoe brand with high quality shoes in a huge range of styles and sizes. The newer models (square shaped sneakers and ballet flats) are catering toward people who spend a lot of time on hard surfaces and don't have the same barefoot feel you get in brands like Mukishoes and Wildling. This makes them great if you're new to barefoot shoes or want a little more cush. It also makes them great for durability!
While it's slightly confusing to have such a variety of shapes and soles, once you get familiar with them it's nice to have the options!