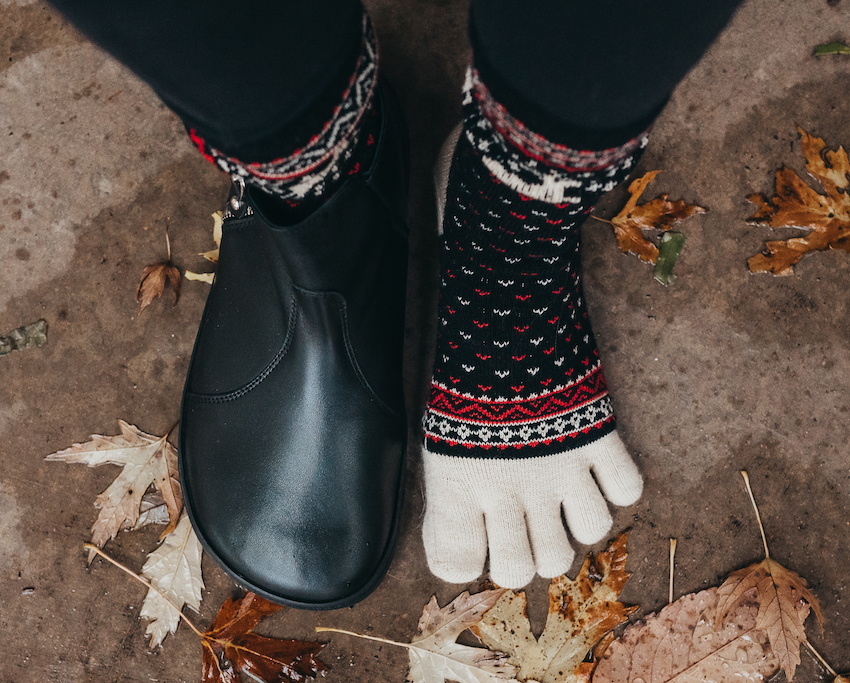 Looking for socks you can comfortably wear with barefoot shoes? Here is a list of all the sock brands I love that support a natural toe splay, including regular socks, toe socks, and leg warmers.
Why Do Socks Matter?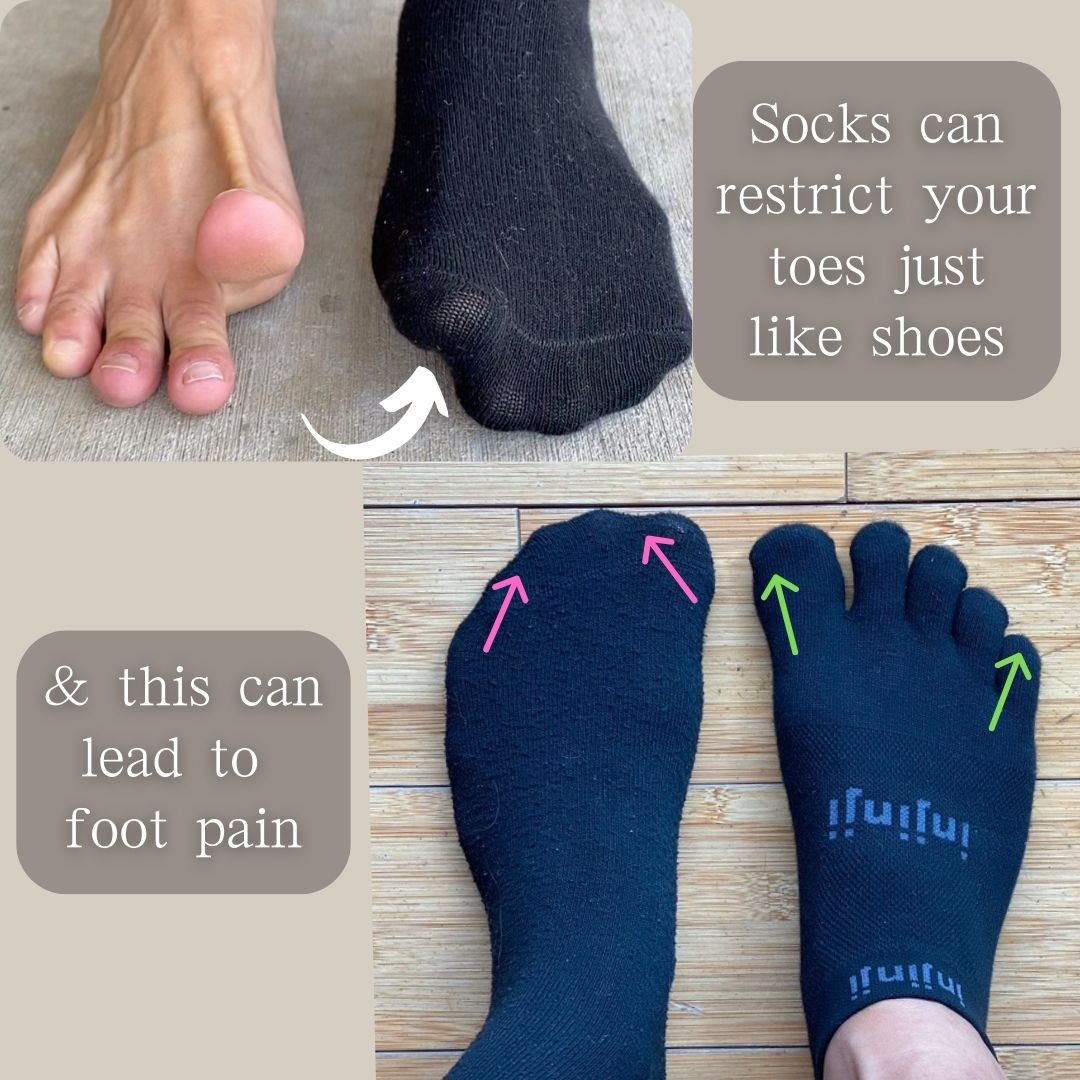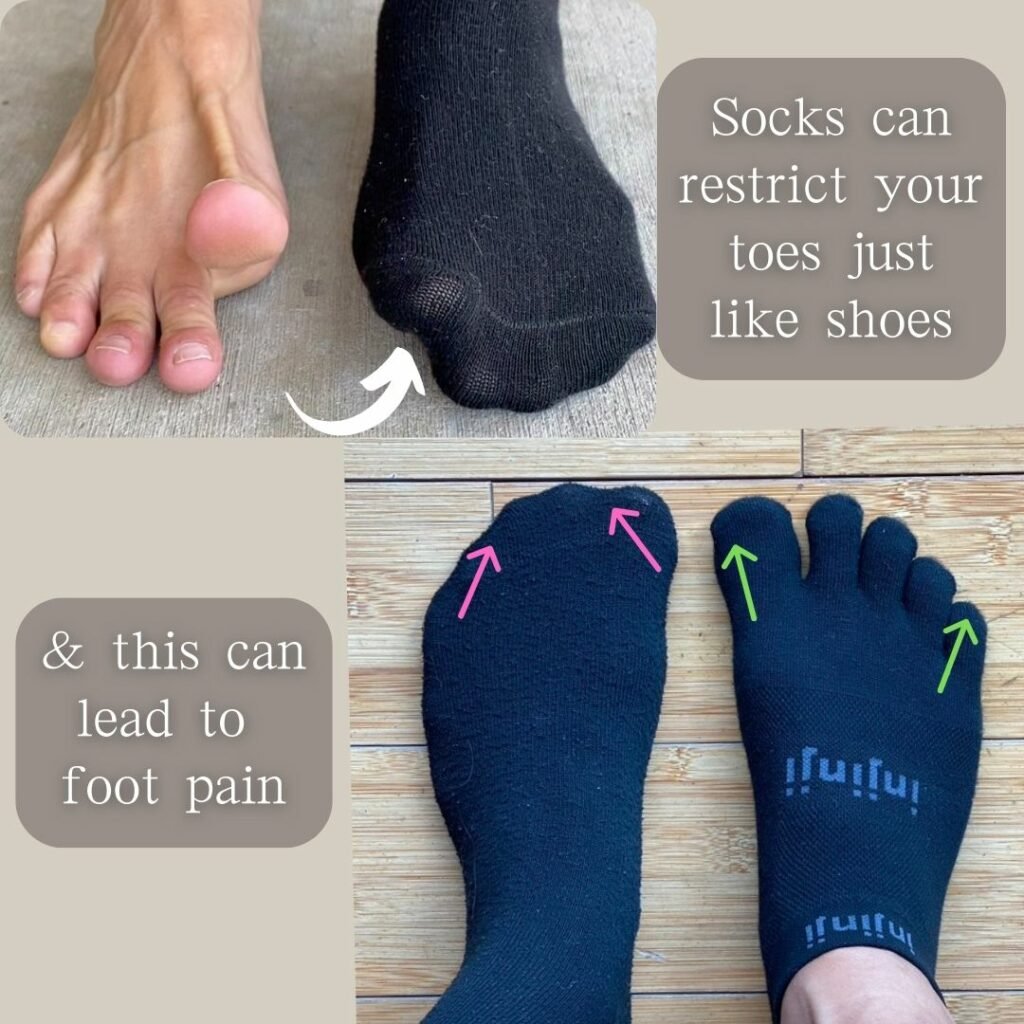 Socks can restrict your toes just like shoes can! Many people who have experienced the freedom of barefoot shoes start to question their socks. And many find themselves more comfortable once they transition to either toe socks or anatomical socks. I myself prefer to be fully barefoot in my shoes (I wash them if they get stinky), but sometimes I need socks for either comfort or warmth. The following are the socks I recommend for optimal comfort and long term foot health.
Want to hear more about barefoot shoes? Get started here.
Toe Socks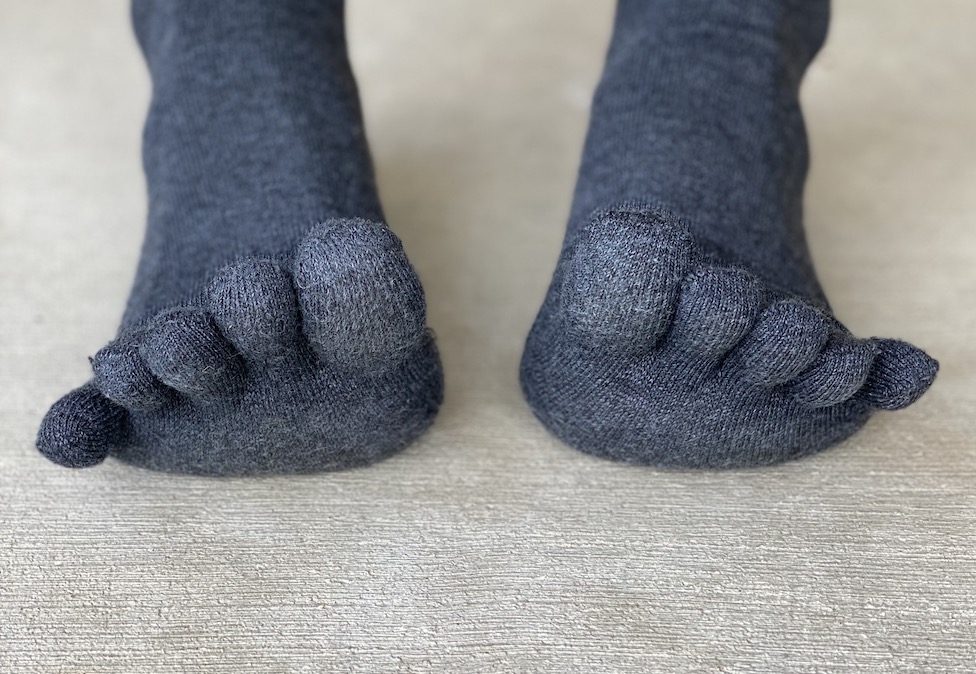 Over the years I have completely transitioned to toe socks – I just need that toe mobility! And nothing else gives it to you like a toe sock (except being barefoot of course).
No Show Toe Socks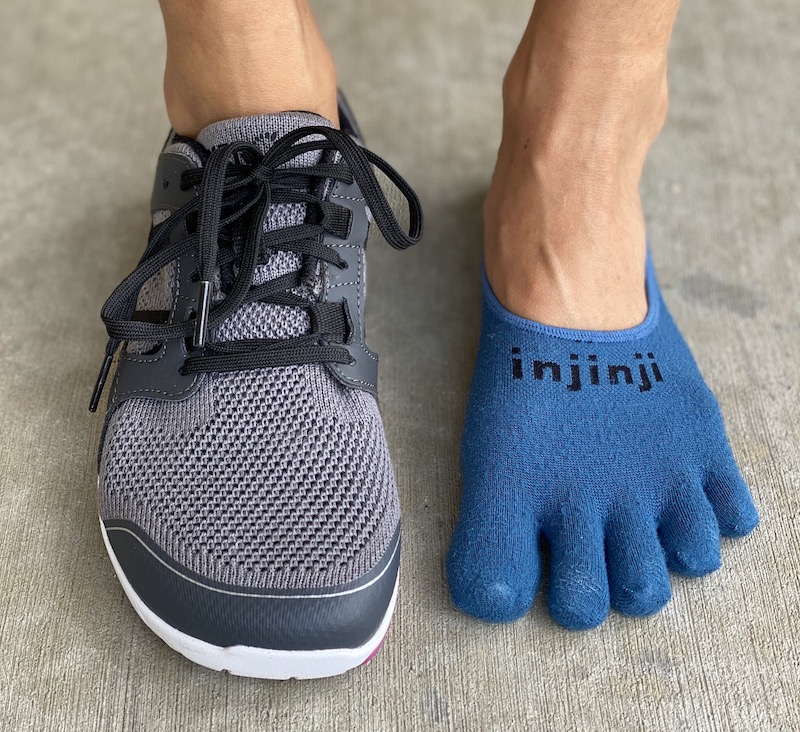 Want toe socks that won't show when wearing low cut shoes? Here are some invisible toe sock options. If you have a stinky feet problem, these can help keep your shoes fresher.
5 Toe Tights
Need to wear nylons? There are tights with 5 toes! Find them at ToeToe.
Tall Boot Socks
Tabi Socks
Tabi socks have a separate spot for the big toe only, and are often used by people who just don't want to give up their sandals when the weather turns cold.
Anatomical Socks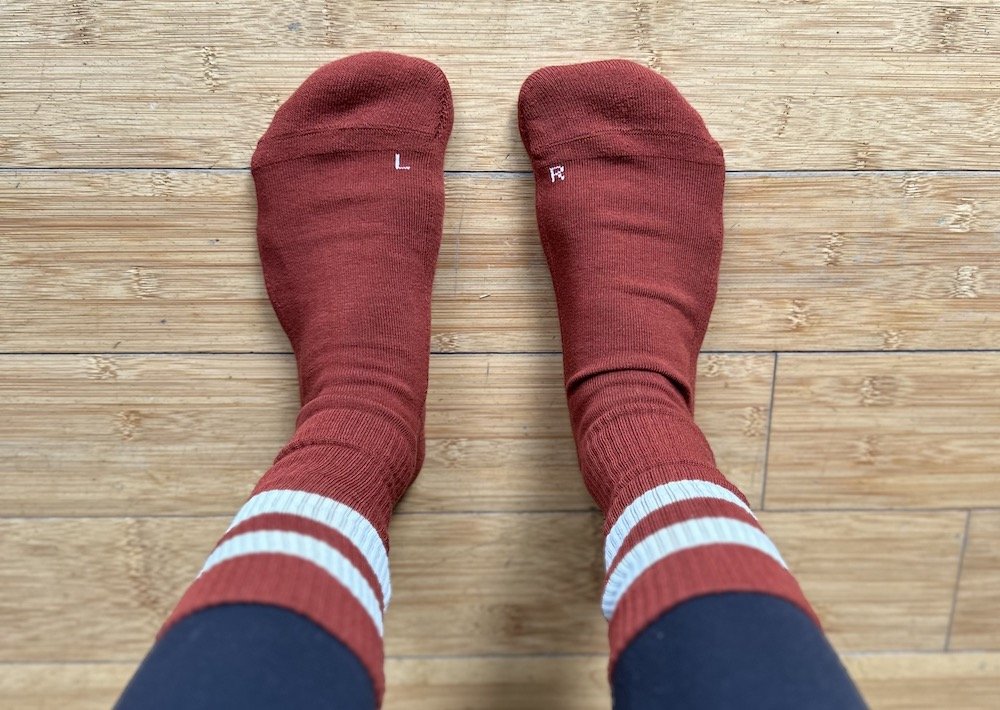 These socks have a natural foot shape to them with a left and right but they aren't toe socks. This just makes sense, since feet aren't symmetrical! So they allow your big toes to splay out more than traditional socks.
While these are far more comfortable than your typical socks, I still prefer toe socks – sometimes these socks get bunched up in shoes and I still feel slightly restricted. But if you can't stand the thought of toe socks, these are the next best thing!
Be Lenka – Anatomical socks in several different heights! Get 5% off with code ANYASREVIEWS (returns only accepted from EU & USA)
Barebarics – Use code ANYASREVIEWS for 5% off (returns only accepted from EU & USA)
Mukishoes – These are unisex intended for sizes 37-43. I am a 37 and they are quite roomy, but I love them for around the house.
Injinji – The Runner and Hiker are the only two that aren't toe socks
Plus12 – These have plenty of toe space. The big toe corner is very prominent at first, but it softens with wear and washing.
Babaruda Knits – These are custom made socks to match your foot shape!
Another option is non-constricting socks, such as these Loose Fit socks, or these Extra Wide socks.
Leg Warmers
Leg warmers (or stirrup socks) are another great option for preserving toe space. I love that they keep me warm, fill in space around the arch and heel, but still let my toes be free.
You can find leg warmers lots of places, and they're really easy to knit yourself (or so I've been told), but here are a few that I have experience with and can vouch for!
Extra Warm Foot Friendly Socks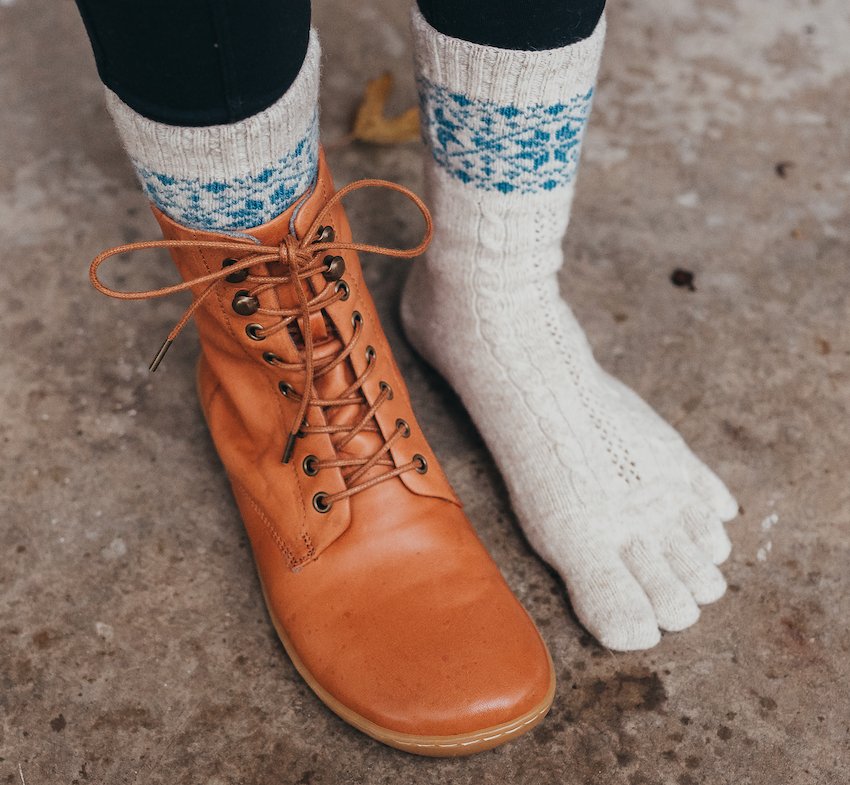 Did you know that wool can take the shape of your body like leather can? Quality socks with a high wool content will become softer and conform to your foot over time. Sizing up is also a great option if you are having trouble finding cozy socks that don't squish your toes.
I live in a cold climate and have put a lot of energy into finding the best warm gear that doesn't restrict your feet. Check out my All Time Warmest Barefoot Winter boots article for more details!
Compression Socks
I often get asked about foot friendly compression socks – here are 3 toe sock options that will let your feet spread out.
There are also many compression sleeves that have no toes.
Kids Foot Friendly Socks
It's not easy to find foot friendly socks for kids, but here are a few options that have worked well for us. Once your child's feet are big enough you can get them adult sized socks too!
Amazon – This is one of the only places I've found toe socks for kids
Plus12 – My boys don't like toe socks, but they love these anatomical socks! You can also order Plus12 from Wildling Shoes
Magical Shoes – 99% Merino wool socks with a wide toe box and non-skid bottom. Use code ANYA for 10% off
Foot Buddy – Tube socks with no heel cup and relaxed toe box. Use code ANYAS15 for 20% off
Joe Nimble International – A couple toe socks options for kids. Use code AFFANY10 for 10% off your first purchase
Conclusion
Anything you put your feet into will affect how they function – that means it's worthwhile to look at both your socks and your shoes. Fortunately there are tons of healthy sock options in a full range of prices and materials. Find what works for you and experience the foot freedom!