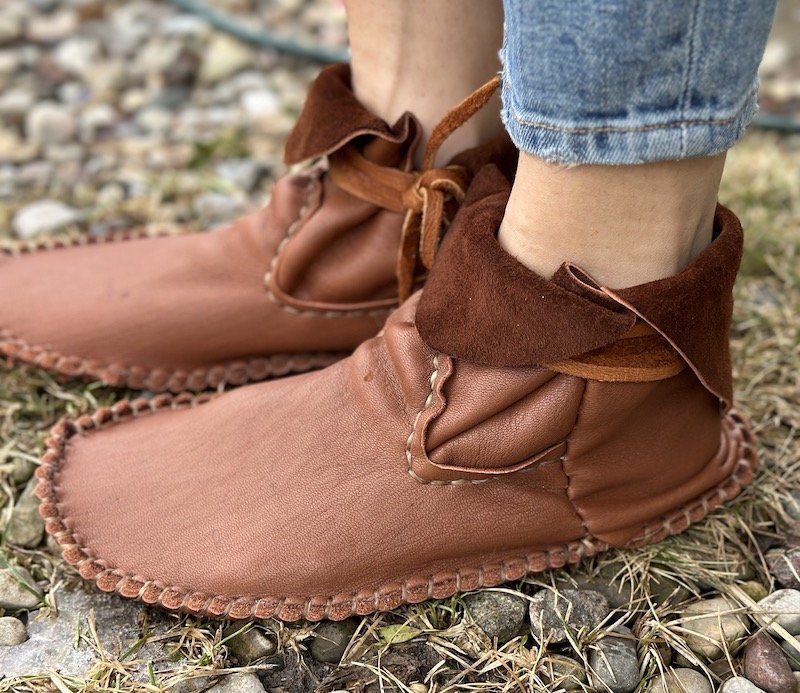 When it comes to shoes, I believe less is more. Rather than rely on artificial support from thick, cushy shoes, I've had my life transformed from learning to rely on my own two feet!
That's why I consider these custom FaeMoon Wolf Moccasins to be an all around excellent shoe – they are little more than foot coverings! Moccasins similar to this have been more than adequate for populations around the world for thousands of years. These particular ones are made by Lakota artist Douglas Crowwolf in Colorado, USA.
The Specs
FaeMoon Wolf custom moccasins range from $80-$140, which is quite reasonable for a custom, fully handmade shoe of high quality materials. I chose the Ankle Boot Moccasin style in Tobacco color.
A soft deer hide upper, a durable buffalo hide sole, and a tie to secure them to my feet are all that's needed to make a comfortable, functional shoe. These moccasins protect me from cold and sharp things without hindering my foot function. I can wear them as house shoes, or for walking, running, and hiking. If you concerned about the durability you can add an additional buffalo sole, but Crowwolf will also repair and replace the soles if you ever put holes in them.
Of course I prefer to wear them barefoot, the leather feels wonderful on my skin and bare feet are better at sensing the world. But they are roomy enough that I can wear socks as well.
Can You Wear Soft Soled Shoes Outside?
Buffalo hide is extremely durable, so I have no qualms about taking them outside. In fact, I really prefer to hike and move in shoes like this because they keep me grounded and allow me to sense all the rocks and crevices under my feet. Plus the leather can easily be restitched and repaired if needed. And if you'd like a little extra protection under foot, consider adding an additional buffalo hide sole to your order.
Yes, water will soak in if conditions are wet, so when it's cold, rainy or snowy I will be wearing other barefoot boots. You can also make your leather moccasins waterproof by using these waterproofing techniques.
Sizing & Fit Type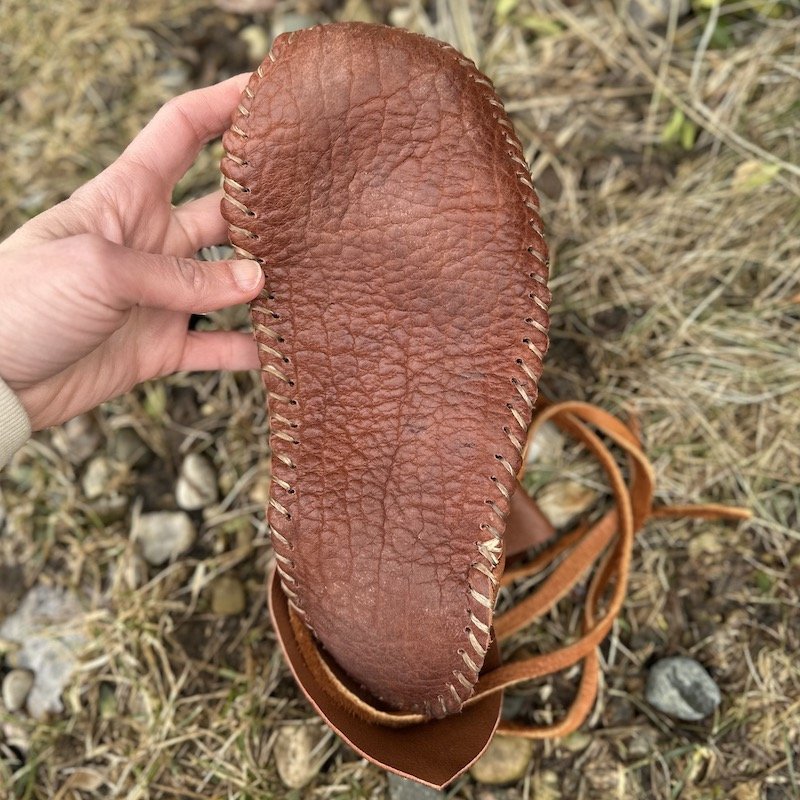 These moccasins are custom made to my foot measurements, so they fit my length and width well. I made sure to specify in the notes that I wanted plenty of toe space, just to be safe.
The upper portion also fits me well because of the tie, but I can tell that they would be a little better on a higher volume foot (I have low arches and thin ankles & heels). The only fit issue I experienced was that the leather wanted to slide down my heel a little bit and bunch at the back. I've found myself reaching back to pull it up occasionally when I wear my moccasins barefoot.
The leather is stretchy, so slightly snug shoes will adapt to your foot with wear.
Learn more about your foot type here!
Ordering Custom Moccasins
Ordering was simple, I selected my usual shoe size and color choice and then included my length and width measurements in the checkout notes. You can learn how to measure your feet here.
I did have to wait a few weeks before I received my pair, but I ordered right around the holiday shopping season so I expected some delays. Custom orders are not returnable, keep that in mind before you hit purchase.
Conclusion
If you also are looking for minimalist grounding shoes consider purchasing from native makers. FaeMoon Wolf Designs is an excellent option for custom moccasins so you get plenty of toe space.
If you are someone who is not yet able to go without foot support but want to get started, check out these barefoot shoe options for beginners!