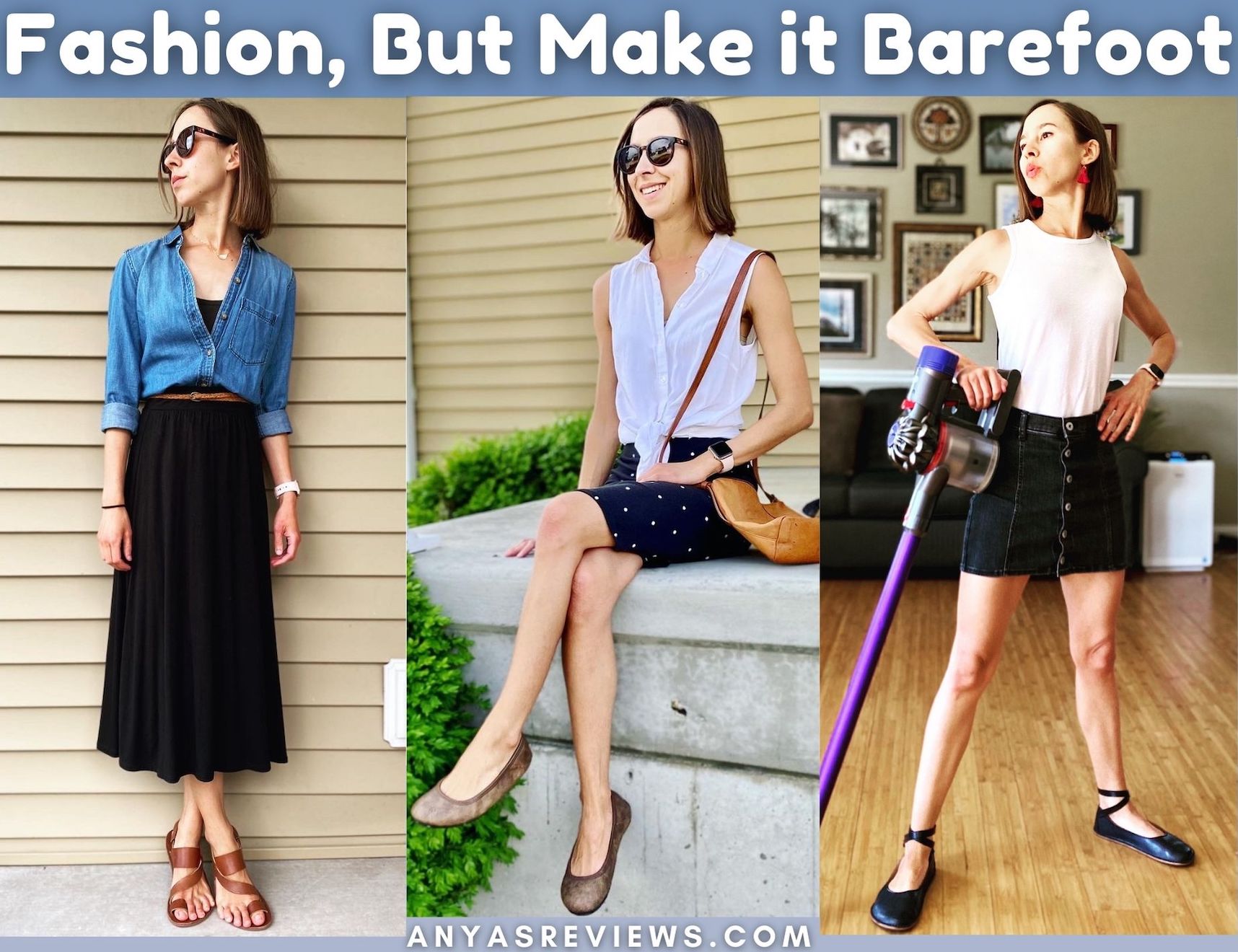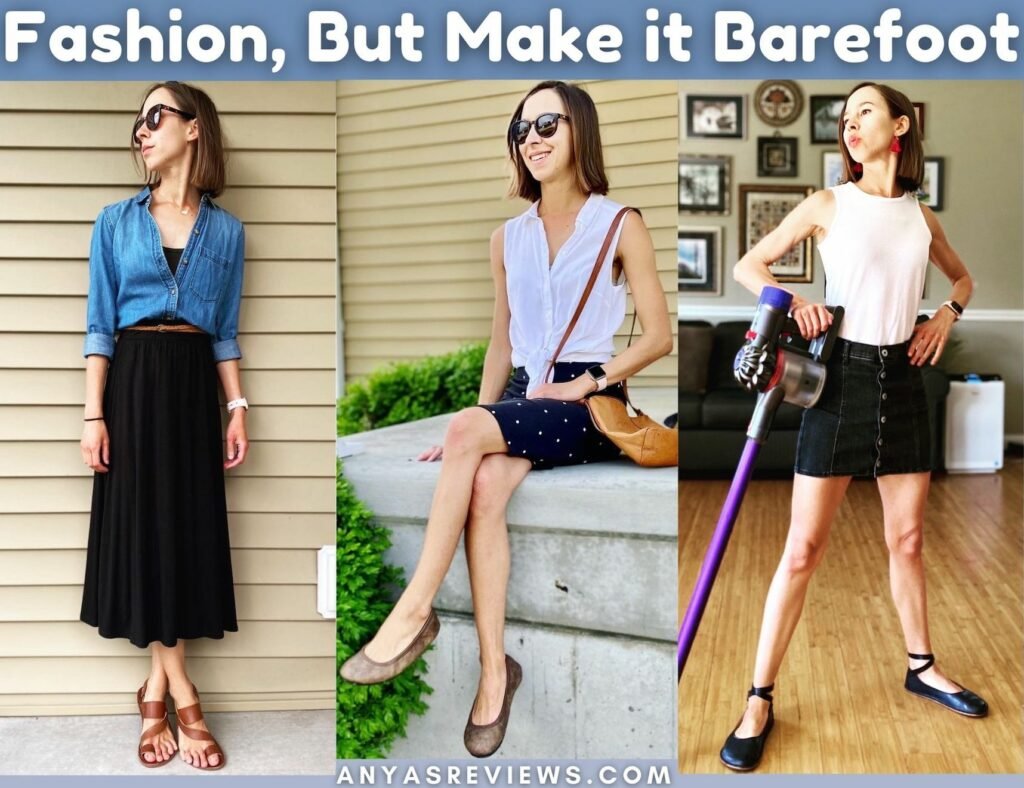 Fashion, But Make it Barefoot is my way of combining style with the important features of natural footwear. It's your one-stop shop for great style without sacrificing your foot health and overall mobility. I call it Barefoot Style!
I share a new "Fashion, But Make it Barefoot" photo every Friday on Instagram and Facebook. Here is a round up of June's posts, which covers barefoot ballet flats, high tops, and chunky sandals!
Click here to see all the previous Fashion, But Make it Barefoot posts.
June 4, 2021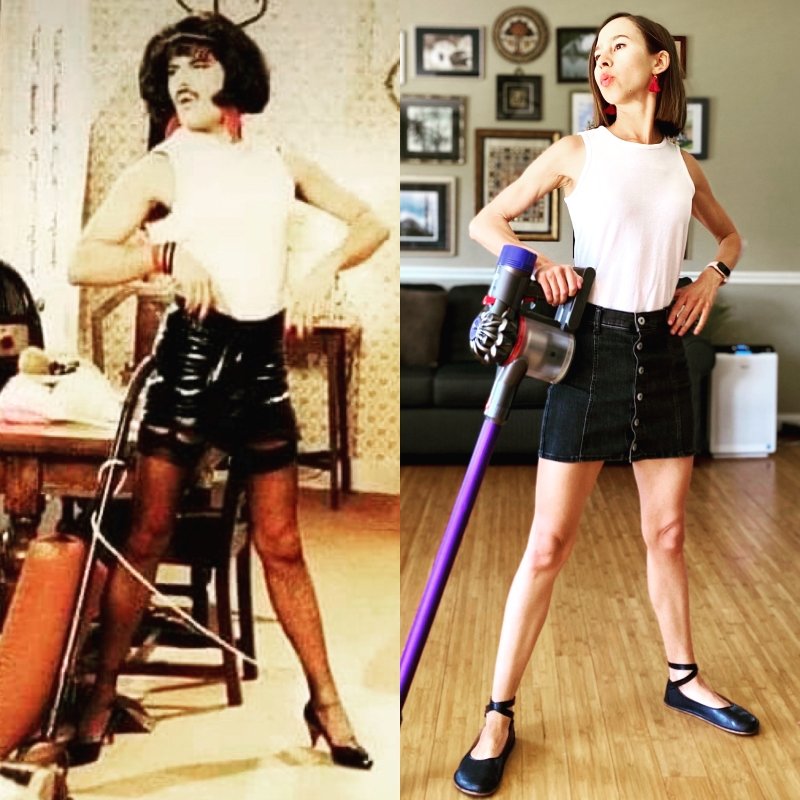 Ela Faustus Ballet Flats | $115 | Leather | Custom Sizes | Handmade in the Czech Republic
*This shop is now closed*
A lot has changed since you were here, Freddie. Vacuums are cordless, HIV isn't a death sentence, and you don't have to wear heels to be a QUEEN. 👑

And since it's Pride month 🏳️‍🌈, here's a reminder that all are welcome here! Whether you're in barefoot shoes or not, gay, straight, black, white, or anything in between. Hell, I'll even take you if you wear high heels – but we'll see how long you can hang around me before you trash them. 😆😋

We're here to challenge the cultural norms of beauty, pain, shoes, and movement. No dogma here. ❤️

For more options, check out my Barefoot Ballet Flats post!

Wishing you a weekend filled with
Peace ✌🏼, Love ❤️, and Lots of Barefoot Time 🦶🏼
Click here to see the original post on Instagram
---
June 11, 2021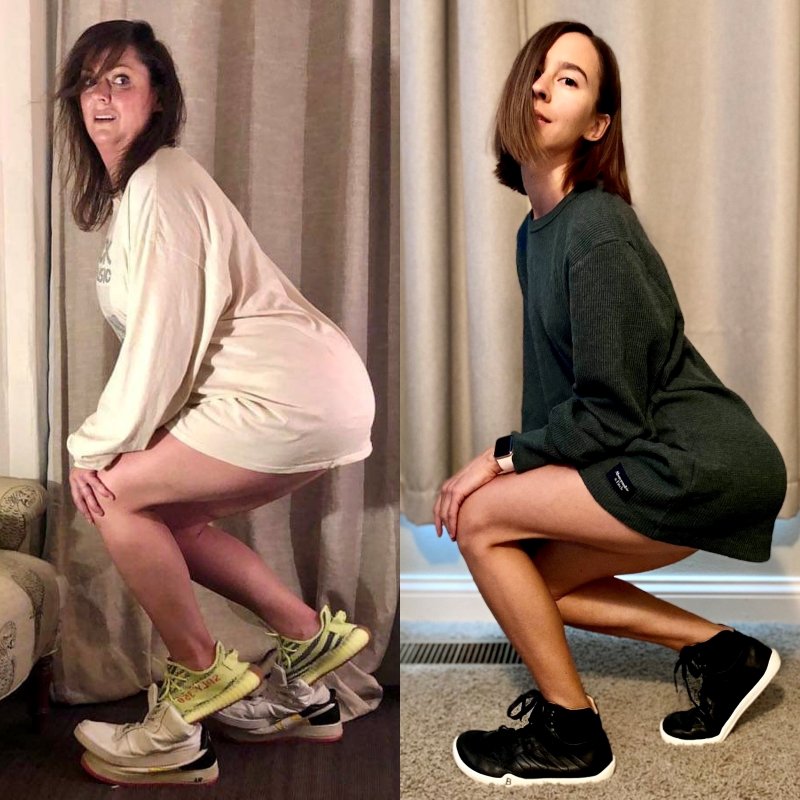 bLifestyle Urban Sneakers | $170 | Leather | EU Sizes 36-46 | Ships from Germany
What modern sneakers feel like VS what they should be!

Oh Celeste, you're my hero. See below her Fashion, #ButMakeItCeleste take on those ridiculous sneakers Cardi B is wearing. I can't even with them.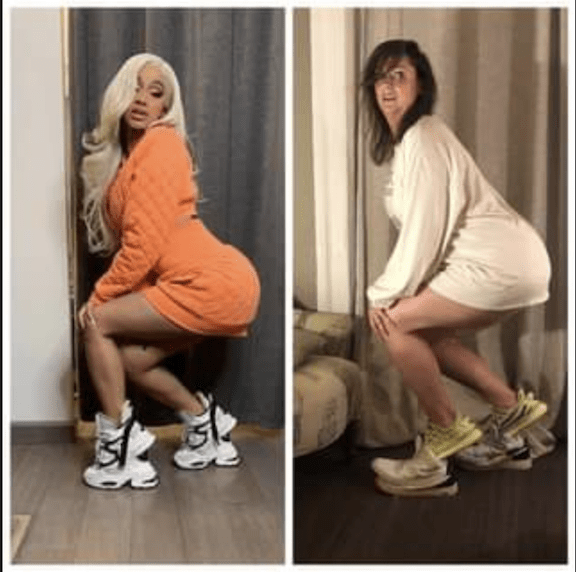 Besides seriously crunched toes, you are also getting only a tiny bit of ankle range of motion when you're in raised shoes (whether that's stilettos, or bizarre sneakers). So let's take a note out of Celeste Barber's book and recognize high fashion for what it is: ridiculous.

And since I know you're dying for the deets on my COMPLETELY FLAT high top sneaks! They are the Urban sneakers from bLifestyle. I've got my usual size 37 in them, they are a good width for wide feet, great shape to them, flexible sole. All thumbs up from me. Look cool, feel great, that's what I love about barefoot shoes.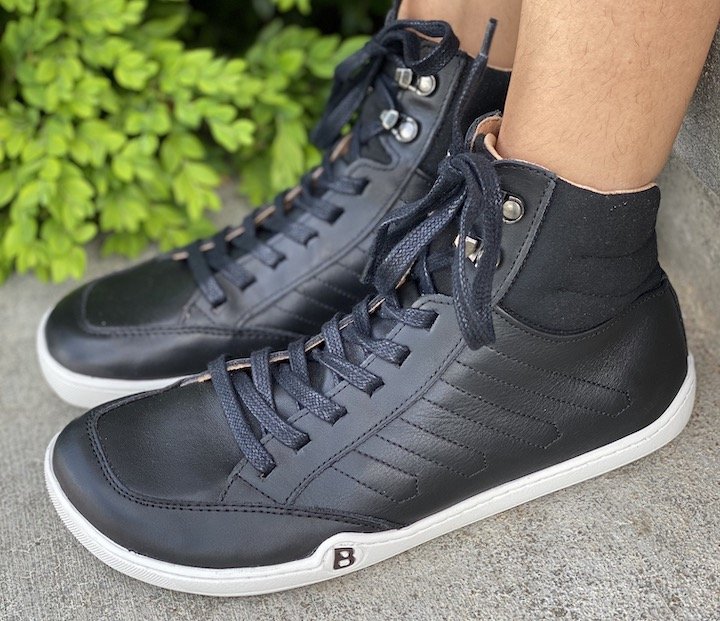 See below a few more barefoot high top sneakers I have and love: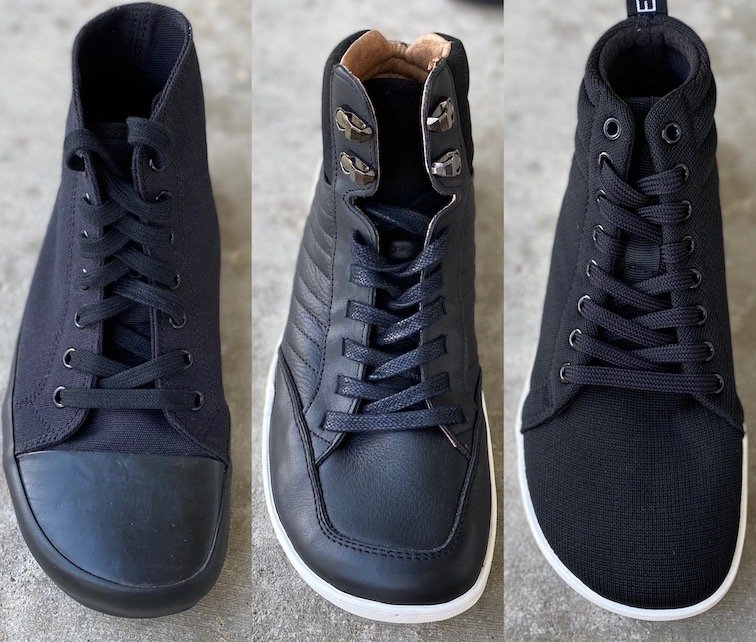 For a full list of high top sneakers that are zero drop and foot-friendly, check out my Casual Barefoot Sneakers post. It also includes an all-white, all-black, and slip-on barefoot sneakers section!
Click here to see the original post on Instagram
---
June 18, 2021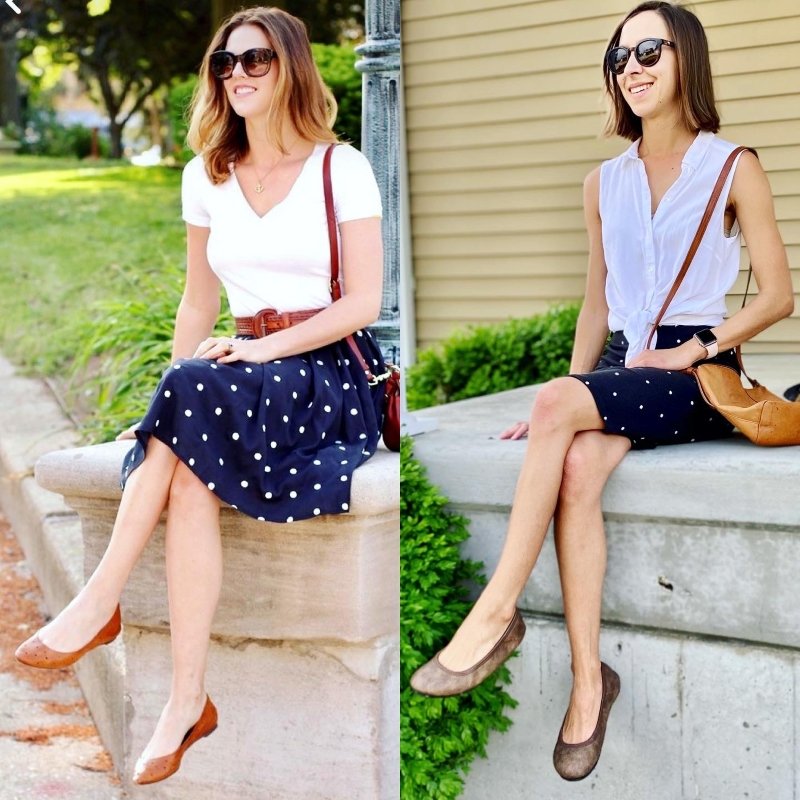 Softstar Shoes Ballerines | $155 | Leather | Sizes 5U-12U | Handmade in Oregon, USA
I bought and returned Tieks twice thinking maaaaaybe I could cram my precious toes into them. After all, everyone raved about how comfortable they were!
But I'm pretty sure those Tiek's lovers either don't have feeling in their feet (not uncommon!) or their idea of "comfortable" is squished and pinched. 🤔 Because Tieks were not at ALL right for my strong and mobile toes.
But Softstar Shoes Ballerines on the other hand, those are ballet flats that respect the anatomy of the foot and don't hurt me!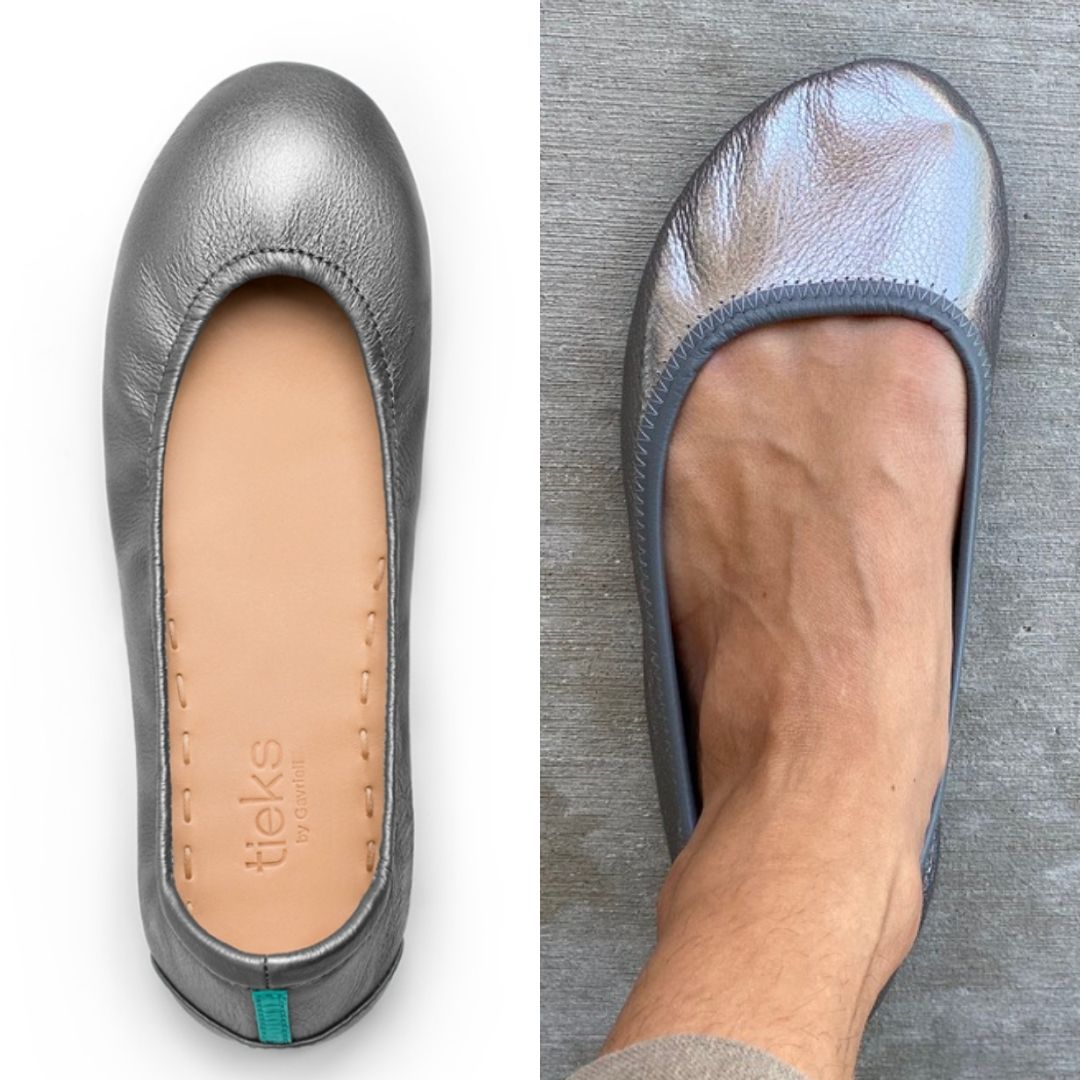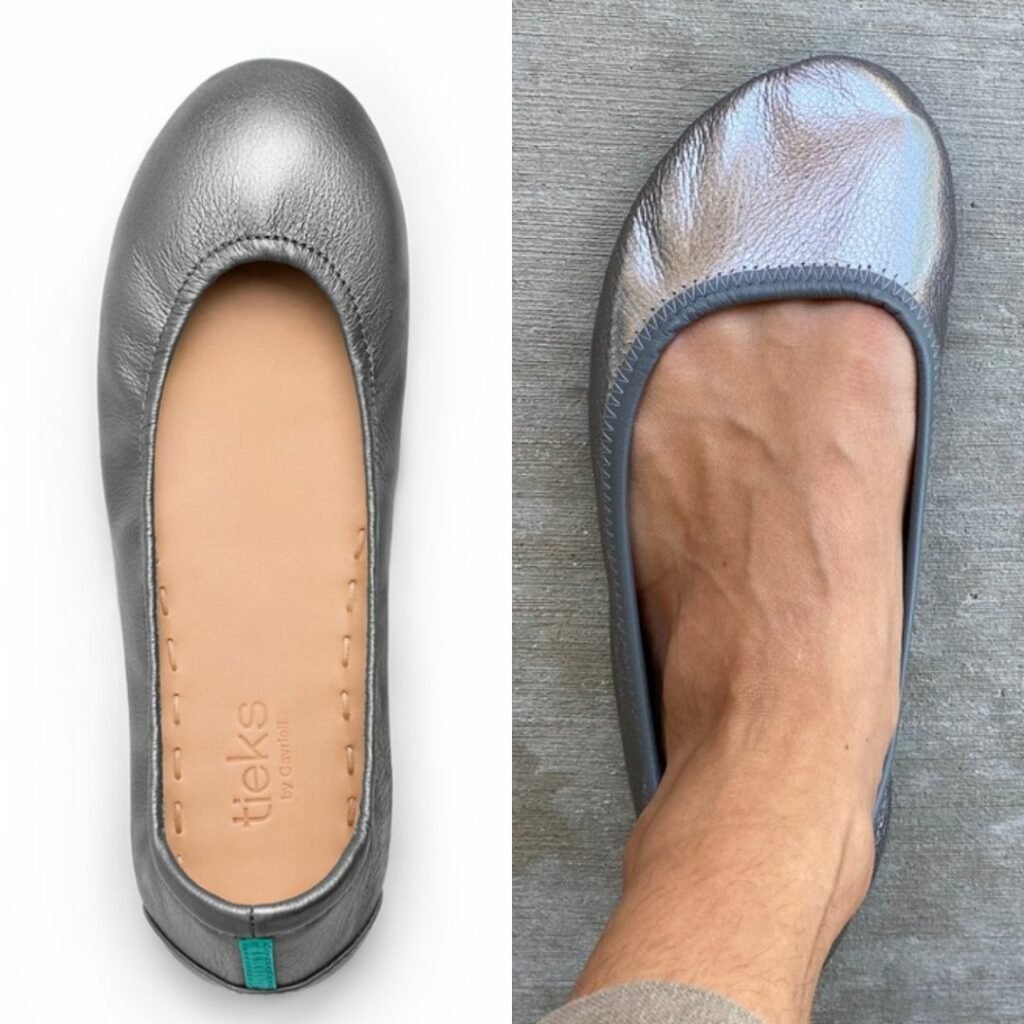 I have just published an in-depth review here with all the info you need!
Fun fact about my skirt, I sewed it myself! I even added the dots with white fabric paint and a pencil eraser. 😁
Happy Fashion Friday! Or maybe it should be Free Your Toes Friday… 🤔
Have a good weekend friends.
✌🏼❤️🦶🏼
Left photo source: Jessica Quirk – I've had it on my Pinterest board for a decade (no joke) and absolutely love this outfit!
Click here to see the original post on Instagram
---
June 25, 2021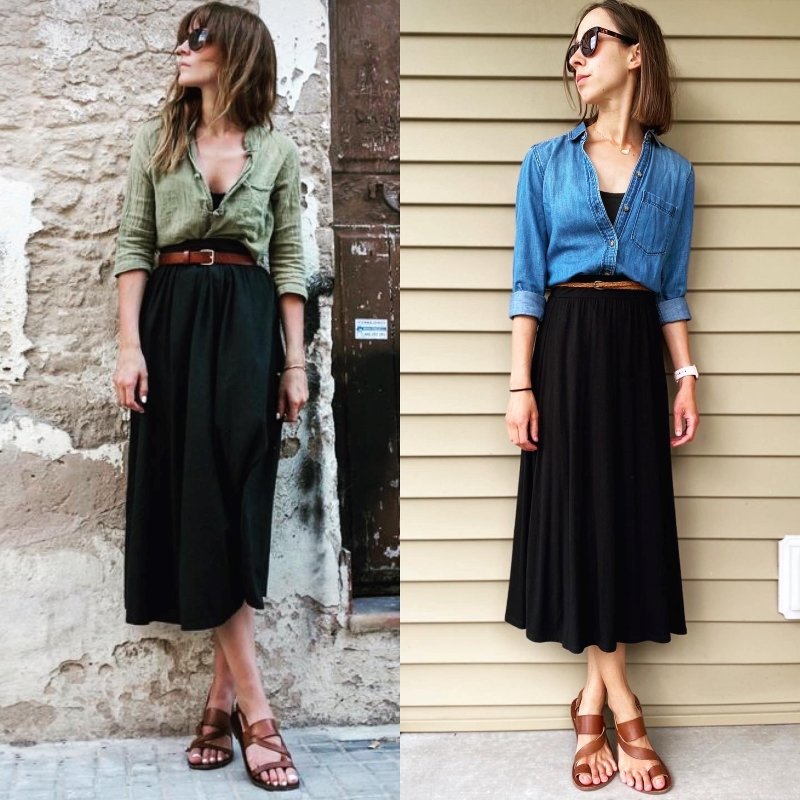 Vivobarefoot Kuru II | $120 | Leather | Sizes US 5.5-11.5
**Very limited stock left of the Kuru II for the season, but check Revivo!**
Use code VBANYA20 for 10% any Vivobarefoot purchase!
Zoom in on our feet.

Amazing look brought to you by Danielle Noce. Amazing look with FREE TOES brought to you by 🦶🏼👟👑 yours truly.

But seriously, I am loving on this timeless outfit and the amazing aesthetic of the Vivobarefoot Kuru II. I sized down in them, which is what I usually do in sandals because I have shallow feet and skinny ankles. A sandal that flops is worse than a sandal that your toes hang off of, IMO.

So no sizing surprises with the Kuru. They're not extra wide in the toe box (unlike the Tikki Sandals we just got in at Anya's Shop which are superb for extra wide feet), but the Kuru is wide enough for most average and slightly wide feet. For reference, I consider myself to have wide toes and so Vivobarefoot is a brand that sometimes feels too narrow for me.

They pull on, which is great, and the leather is a gorgeous rich brown. You can see in the close up photos that they fit my shallow feet fairly well, which means that if you have high arches you will likely feel veeeery snug in the Kuru.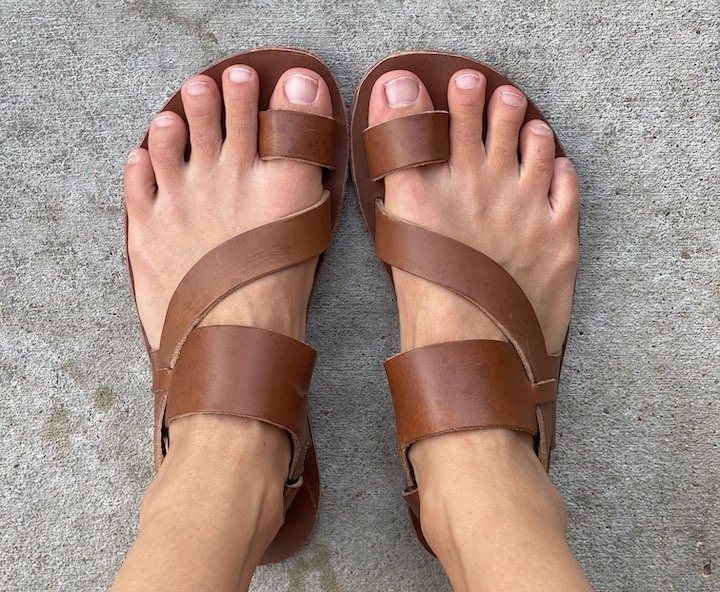 Oh, and that thick toe ring absolutely killed me the first time I wore them. It softened after a good walk (maybe a mile or so) and now isn't a problem except if I'm walking downhill for a while or on uneven terrain, then I start to feel it digging in. So, no hiking in these for me. Don't forget, VBANYA20 gets you 10% off any Vivo purchase.

In other fun news, I'm taking all next week off! I'll pop in to announce the Earth runners giveaway winner and share some scheduled posts, but otherwise I will be CHILLAXING it up.