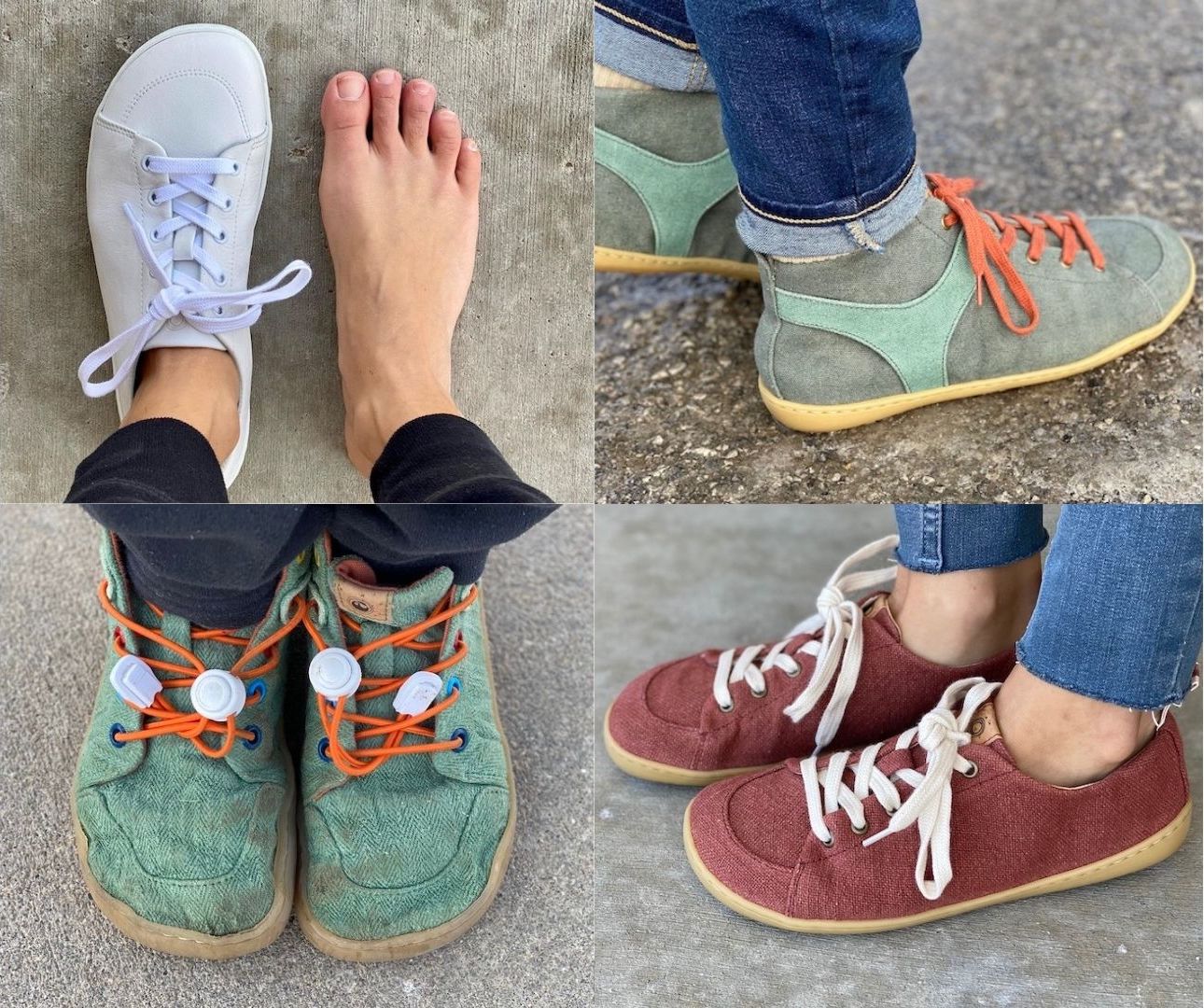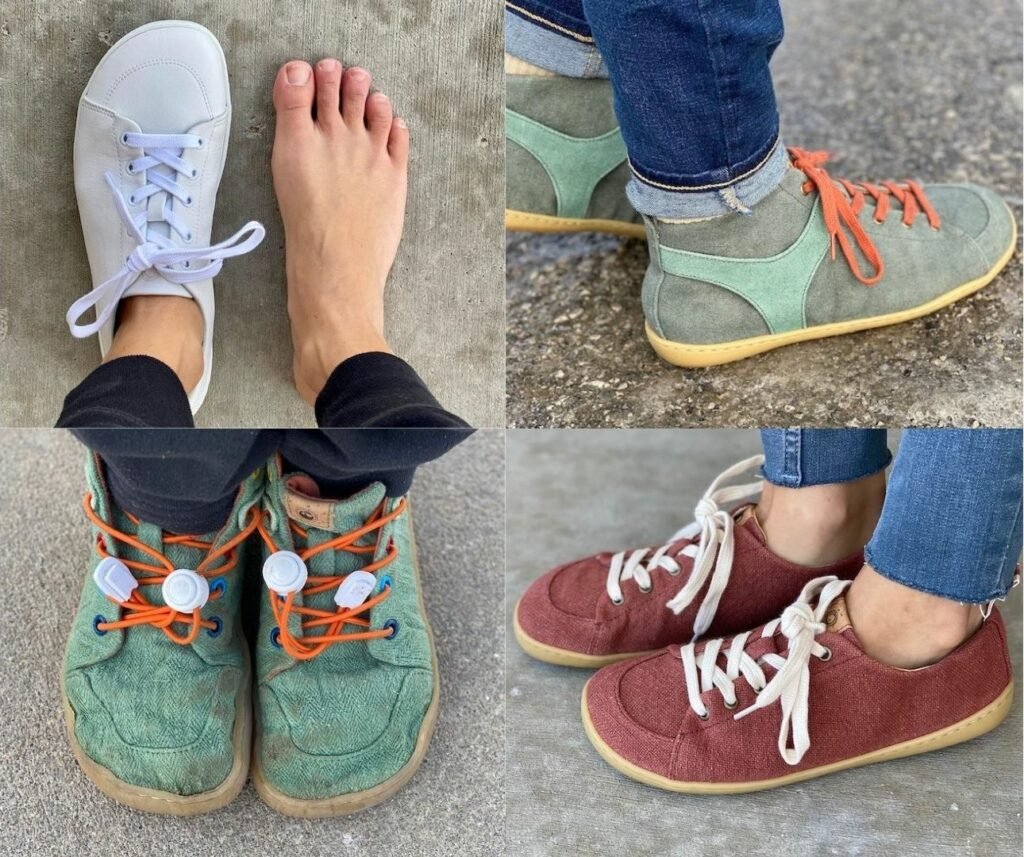 Mukishoes is a barefoot shoe brand that is committed to sustainability – they are relentless in their quest to provide quality shoes without leaving an environmental footprint. Each season they bring back a few favorites and introduce something new. I had the opportunity to test out 4 models from the spring 2022 collection and am reviewing them here!
Code ANYAMUKI gets you 10% off anytime!
Getting to Know Mukishoes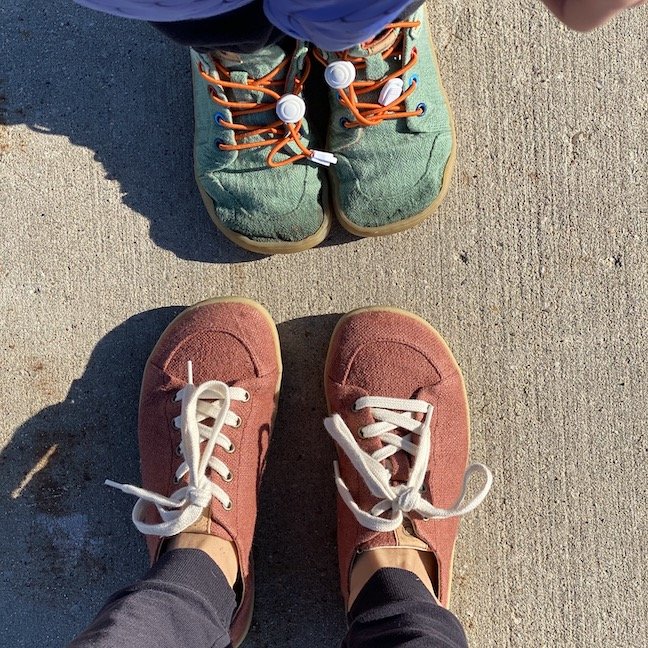 Mukishoes focuses on casual barefoot shoes for adults and kids. All models have a very thin sole, are unisex, and made on a pure rubber outsole. The adult models have a medium-wide toe box, rounded shape (good for Mountain or Plateau feet), and are wide through the instep and heel. They also usually fit high volume, so I recommend adding an insole to your order if you have low volume feet.
Kids shoes are similar in fit, but they have an extra wide toe box shape. Mukishoes is one of the lightest, most flexible barefoot shoe brands out there.
If you'd like to learn more about foot type and how to pick a size, check out this article!
They will be releasing another round of spring and summer releases in a couple weeks that includes more neutrals and light springy colors. This shop is located in Portugal and shoes ship with DHL express, so they arrive very quickly! Unworn shoes can be returned at customer's expense within 30 days.
Another cool thing about Mukishoes is they offer a resoling program for residents of the EU. Alright, let's get into the 4 Mukishoes models from the Spring '22 collection I'm reviewing!
Raw Leather Cloud
Leather | €120 | 4.5mm Stack Height | Sizes EU 36-48
The Raw Leather Cloud has been a favorite among Mukishoes fans from the beginning. It's a soft leather sneaker (chrome free and vegetable tanned) that has a simple, but trendy look. I consider a white leather sneaker to be a one and done type of shoe – it can pretty much be worn with everything in my wardrobe! The Mukishoes is the lightest one I've tried, and a favorite for barefoot purists who want a very minimal shoe in a stylish design. This year it is lined with a turquoise fabric, a fun little surprise for when you take your shoes off but that's not visible when on your feet. I really love everything about them!
Sizing & Fit: This year's version of the cloud runs slightly smaller than year's past. I have a wide forefoot and sized up to a 38 – this was the right choice for me. But others are getting their regular size and doing fine. So it seems like you don't need to size up unless you have high volume and/or extra wide feet. It also seems to run smaller in the low end of the size range, and doesn't run as big on the other larger end of the size spectrum. I am wearing an insole in them because I have low volume feet.
Ivy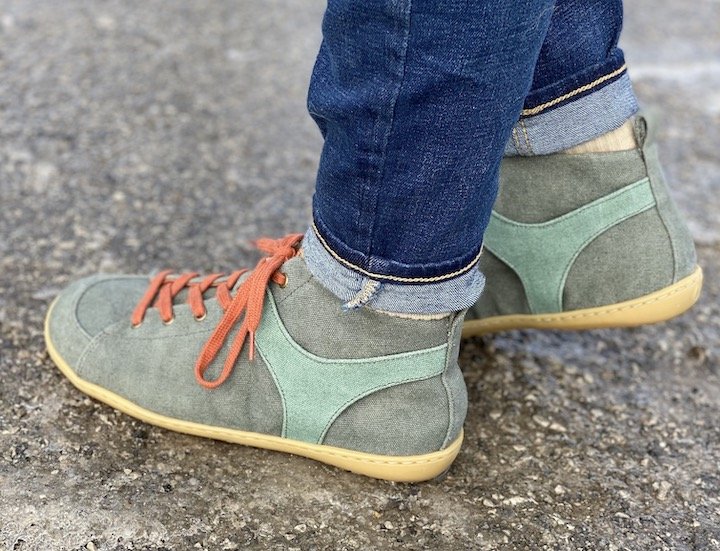 Vegan | €109 | 4.5mm Stack Height | Sizes EU 36-48
The Ivy is a high top sneaker made of recycled cotton. It's got an elusive green/blue/grey color with rust laces – a very vintage old school feel. Shay, my friend and helper at Anya's Shop, tested these out for me and she's really happy with them! These were her first pair of Mukishoes, but she already knew she loved Wildlings so I was confident these would be a good for her (Wildling and Mukishoes have similar fit types).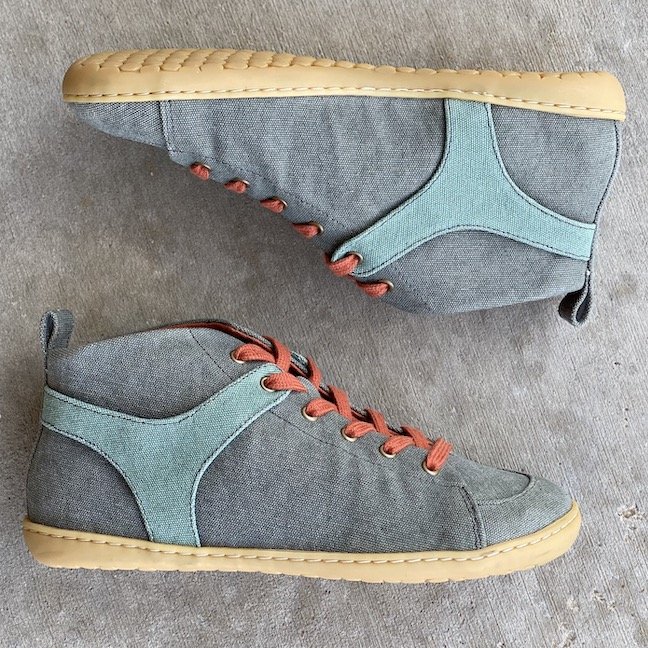 Sizing & Fit: These fit medium wide. Shay's feet are on the narrower side, and she has plenty of space in these even with socks (whereas I wear my Mukishoes barefoot for toe space). They also fit medium to high volume best.
Saffron
Vegan | €99 | 4.5mm Stack Height | Sizes EU 36-48
The Saffron is a rust colored sneaker made of a recycled linen upper and organic cotton lining. They add a little splash of color while still being neutral and muted. This model has a slightly more curved heel cup than usual and a little tag at the back. I found that it scratched the back of my heel and was uncomfortable the first couple times I wore them, but adding a layer of moleskin was an easy fix. My heels are sensitive, so I keep moleskin handy for these types of things. Besides that small issue, they're really light and comfortable – just like I've come to expect from all my Mukishoes!
The Salvia is just like the Saffron, but in a blue/green color.
Sizing & Fit: These fit just like expected for Mukishoes. They are true to size, medium wide at the forefoot, wide at the heel, and high volume throughout. I have a size 37 in them and am using a wool insole in them at the moment (when it gets warm I'll switch to a cork insole). The Saffrons fit me a little looser, especially around the ankle, than the Clouds.
Mini Moss – Kids
Vegan | €80 | 3.5mm Stack Height | Sizes EU 24-35
We have been a fan of the Mini Moss sneakers since they were first released a couple years ago, but they come with a few updates this time around. Like all kid's shoes from Mukishoes, the Mini Moss has a very generous toe box shape that should fit extra wide and extra chunky feet. The upper is made of hemp and lined with cotton. It is very soft right out of the box, and even my particular 5 year old was immediately happy with them. They're really delightful little shoes.
My only complaint about them is that the toggles don't want to stay tightened. My son has been wearing these daily since he received them a couple weeks ago, and whenever he comes inside the toggle has slid down (see above pictures). He doesn't seem to mind, but as a parent I want his shoes fitting securely. For that reason I am replacing the toggles with some that I bought over the winter for his winter boots. Another option would be to tie the elastic like you would regular laces, or even swap them for regular laces. Orders come with an instructional card that has some ideas on it as well.
Sizing & Fit: These run true to size for length and have an extra wide and square toe box shape. My youngest son has high volume ankles and arches, so high tops are often a problem for him. For that reason I decided to size up one in the Mini Moss and they ended up being perfect. He has room to grow, and he doesn't have any trouble getting them on and off.
How to Style Mukishoes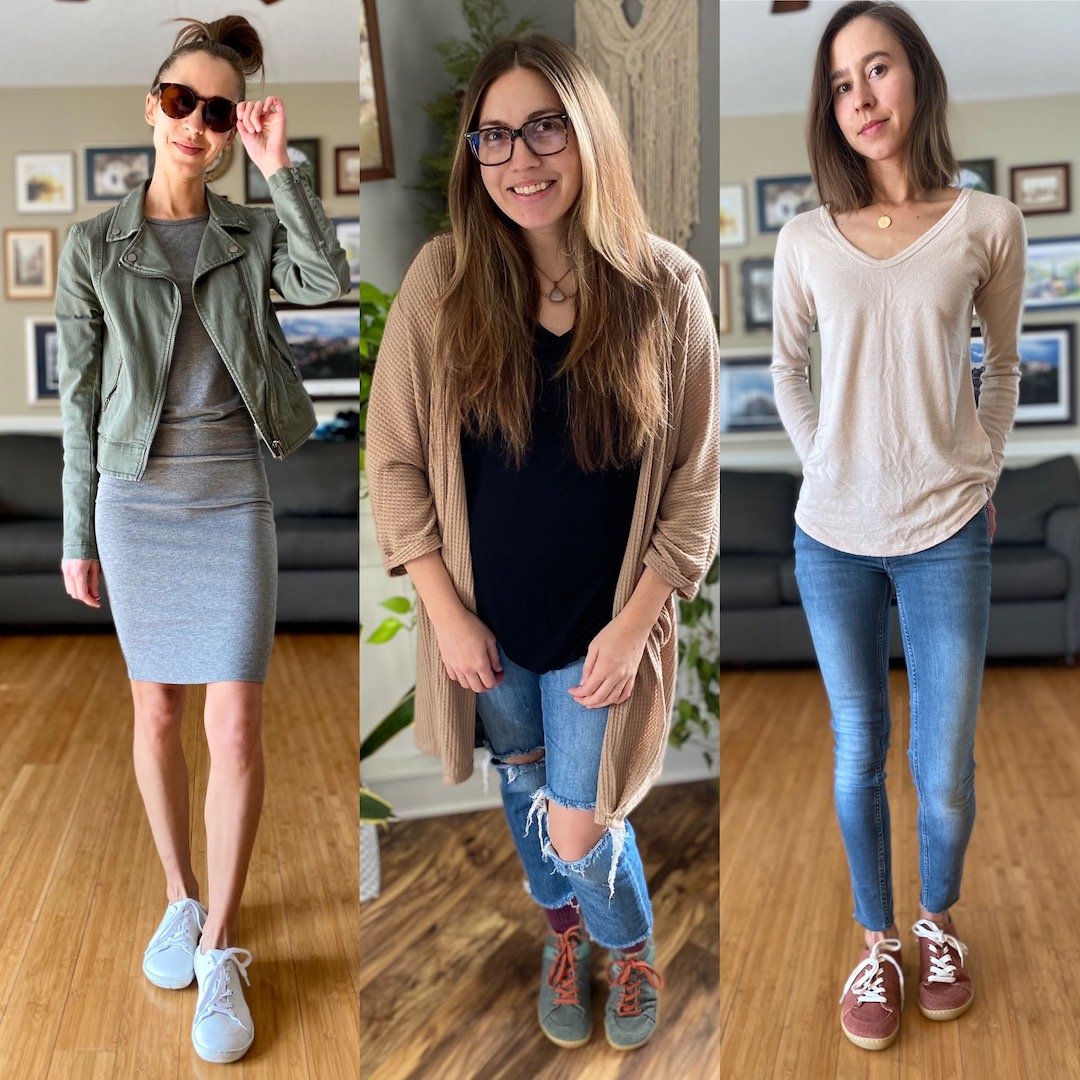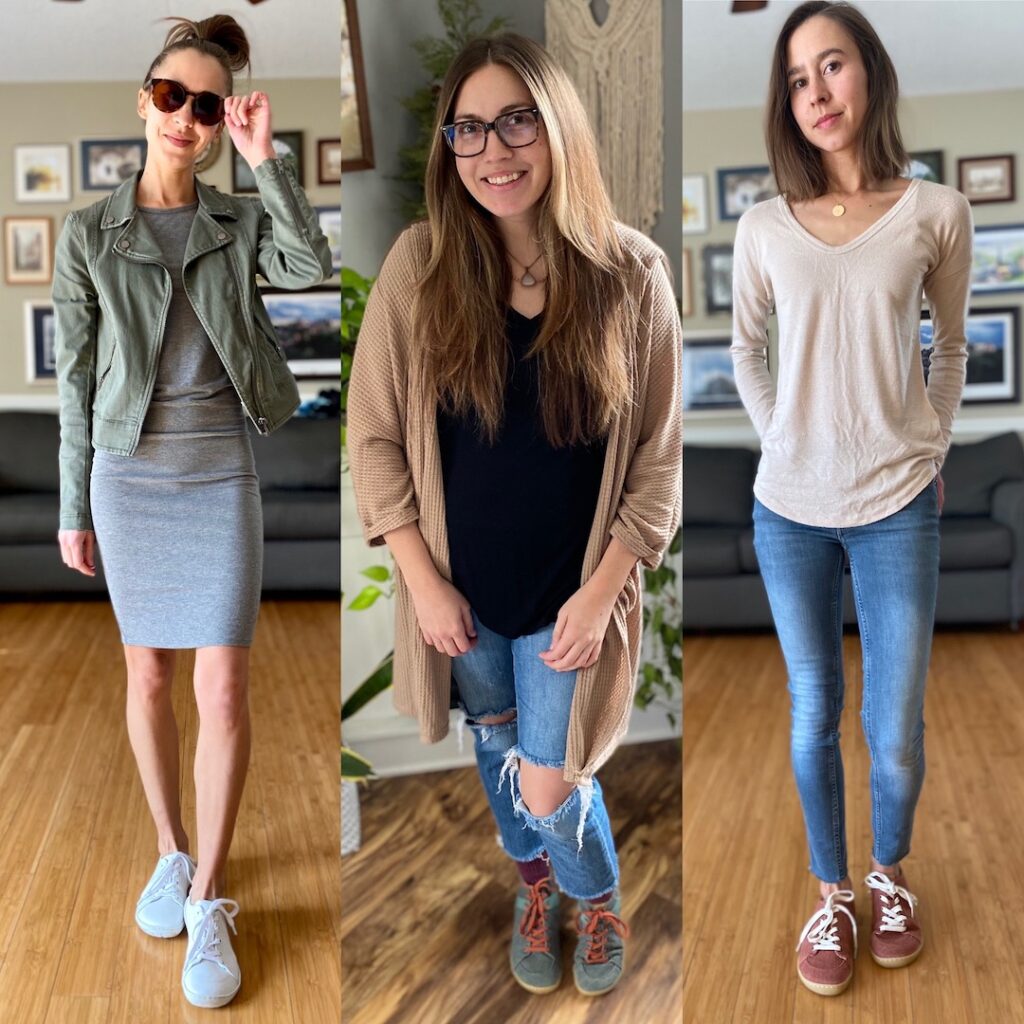 Mukishoes are casual, and they style just like your classic sneaker. I often get compliments on mine (not always the case when I wear barefoot shoes 😅) and have lots of fun with them! They also work well with simple dresses and skirts.
Mukishoes Review Conclusion
Besides the tiny little curve ball with the Cloud sizing, the spring line from Mukishoes is as expected and consistent with their ethos of barefoot qualities and sustainability. Thank you Mukishoes!
If you'd like to read more of my thoughts on the this brand, check out my other Mukishoes Review.