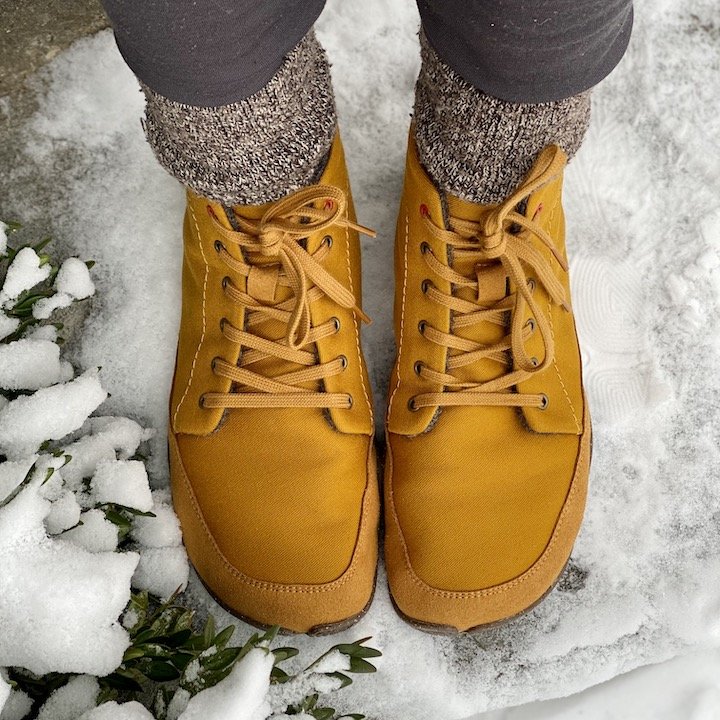 Wildling Shoes makes the most flexible barefoot shoes in the world, for every day AND winter. They are lightweight, soft, and somehow also warm and water resistant. My boys and I tested out the Honeybear and Nessie styles of Wildling winter shoes this year to see how they hold up to the elements. Read on for the full review of these incredible shoes.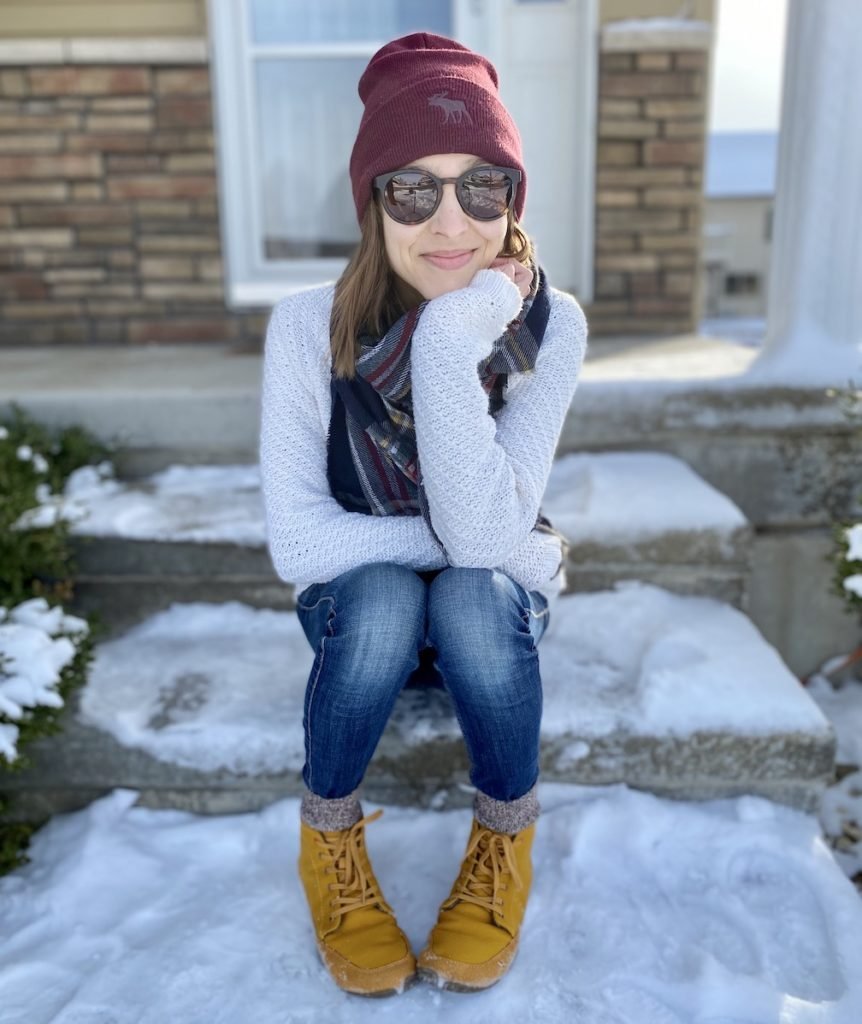 Wildling Barefoot Shoes
Wildling Shoes makes a range of barefoot shoe styles for babies all the way up to adults. You can get zero drop sandals, lightweight sneakers, and warm fuzzy boots, all made from soft fabric and wool.
Because it's cold and/or wet much of the time where I live in the Midwest, I really hesitate to get fabric shoes. They just seem so impractical! But many Wildling models are made with an integrated membrane making them very water resistant. You can read my first experience with Wildling shoes in my Original Wildlings Review.
How to Winterproof Your Wildlings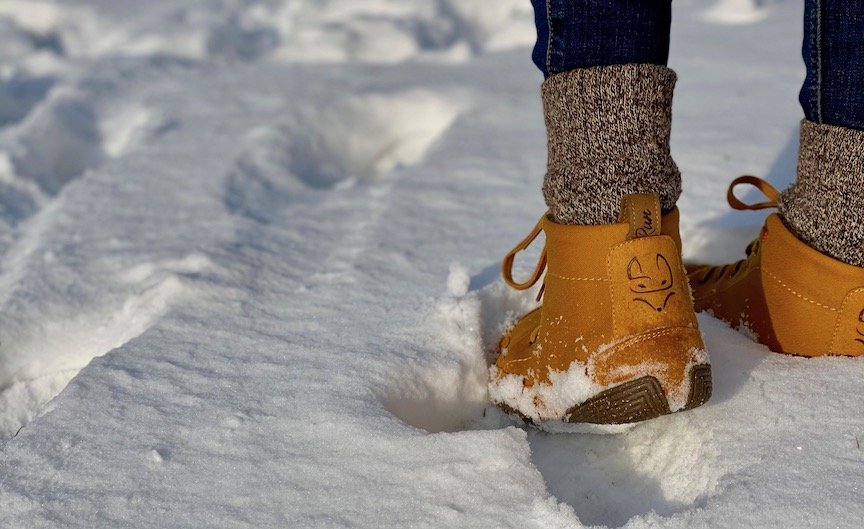 Lightweight flexibility is the hallmark characteristic of Wildling shoes. They are as close to being barefoot as it gets in a closed toe shoe. But for winter? I live in a really cold climate and was not sure if these would be practical. While they will not suffice for the coldest winter days, I am comfortable in my Wildling shoes down to 15 degree F / -9.5 C with some accommodations. Check out how I winterproofed my Wildlings below.
As long as you choose a size according to how you plan to wear them, Wildlings can work quite well in winter! They have proven to be much more practical than I anticipated (read up on more of my favorite warm accessories here).
The Honeybear Review
$145 | Cotton & Wool | Water Resistant | Rated to 20 F / -7 C (with insole)
The model I picked for myself is the Honeybear. I wanted something a little extra, but not too extra. The deep mustard of the Honeybear fits the bill perfectly: it is muted enough to be a neutral, but unique enough to add some flair. They were comfortable immediately out of the box, no breaking in required
Fit Type
Wildling Shoes are Roman shaped, so are great for people whose feet are more square. They can fit a low to high volume foot because of the laces, and are medium width (not extra wide).
Click here for more context on how Wildling compares to other barefoot shoe brands
Sizing
Wildling has very helpful size guides on their website you can print off to select your size. I was able to fit into the size 37 lengthwise, but decided to go up to a 38 because I knew I wanted to use thick socks and an insole. I also have wide feet and my foot was hanging off the edge of the printable template in a size 37 (my first Wilding Shoes are a size 37 and I have to wear them barefoot to fit). I normally wear a size 37 in barefoot shoes, so if you are wide at the toes like I am you may need to size up also.
Materials
The Honeybear is lined with an integrated membrane and wool to keep water out and heat in. I also got a felt insole to use on top (an additional layer on top of the wool that the shoe is already lined with), which I consider to be essential for warmth in a cold climate. To protect the color of my Honeybears I use Nikwax spray, otherwise I brush dry dirt off my shoes or use a wet rag to get stains out.
Adult models from Wilding have a more subtle fox design on the heel than the kids do, have Rewild written on the shoe tongue, and use traditional cotton laces (instead of elastic). Besides those differences, the kids version of the Honeybear is identical.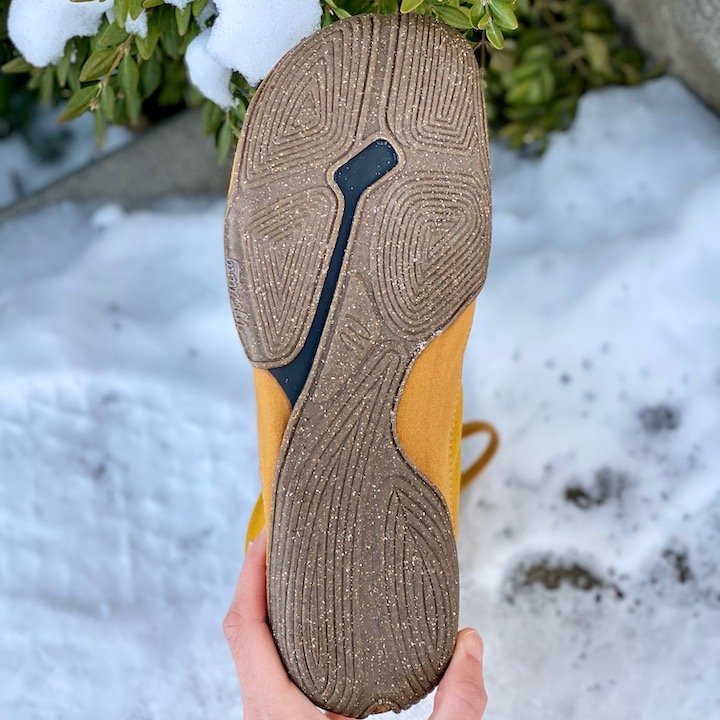 All Wildling shoes are made with this signature outsole that is specially engineered to flex and bend in all directions. The gap in the center is key to that motion, and has been reinforced to keep water out and prevent tearing through. You can learn more about this special design in my Original Wildlings Review.
The Nessie Review
$137 | Wool | Water Resistant | Rated to 15 F/ -9.5 C
My boys both chose the Nessie model and they are seriously the cutest little booties I've ever seen. The Nessie is even warmer than the Honeybear because the exterior is also wool (wool lining + wool upper = WARM). I recommend the extra insole for these as well if you live in a cold climate, but my boys didn't get them and have been playing out in below freezing temps without complaining (kids!). I'd also note that even though my boys are wearing theirs in the snow, they aren't really ideal as a snow shoe because they are only ankle height. They are coming inside with snow in the collar. But for a warm winter play shoe, they are perfect!
Fit Type
Wildling Kids Shoes are shaped the same as the adult version. They are Roman shaped, fit a low to high volume foot, and are average width (not extra wide). After comparing Wildling Shoes to several major kids barefoot shoe brands, they run narrower than the majority of them.
Sizing
Shoe sizing for kids is notoriously tricky, and difficult to compare across brands. But Wildling shoes run long, so sizing up is not necessary for growth. I used their printable templates and ordered the exact size recommended and they are quite spacious. My boys both have primal, unadulterated feet that don't fit into "regular" shoes, but they are not ultra wide.
Read This Post For More on Barefoot Shoes for Kids, including a comparison of major brands
Materials
The Nessie is double lined with wool and an integrated membrane. They also have this adorable knitted collar around the heel and a subtle houndstooth pattern. The kids models have a colored fox logo on the heel and elastic laces, but the Nessie also comes in adults with regular laces. My boys are 4 & 7 and are wearing theirs often because they're easy to put on themselves and so comfy cozy.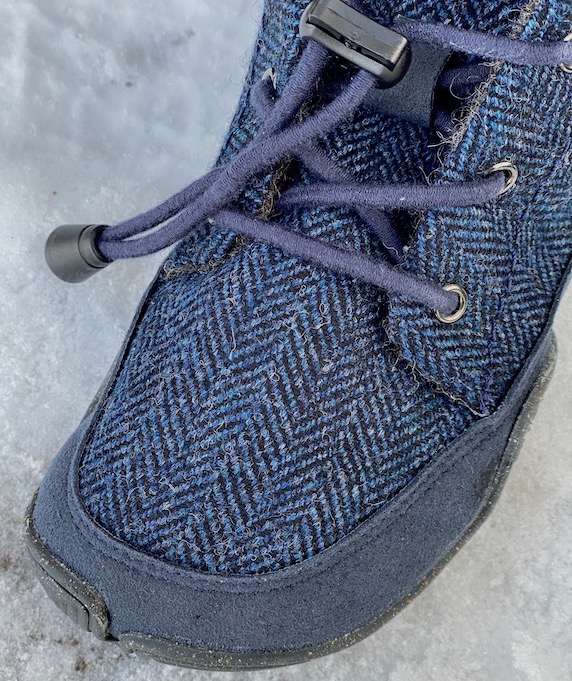 Conclusion
Wildling shoes have garnered themselves a cult following for their uncompromisingly barefoot features, sustainable/ethical manufacturing, and high standards for quality (not to mention a truly magical aesthetic). It is my privilege to share them with you as an excellent barefoot winter shoe option.
Like barefoot shoes? Make sure you subscribe to get e-mail updates on all things barefoot!