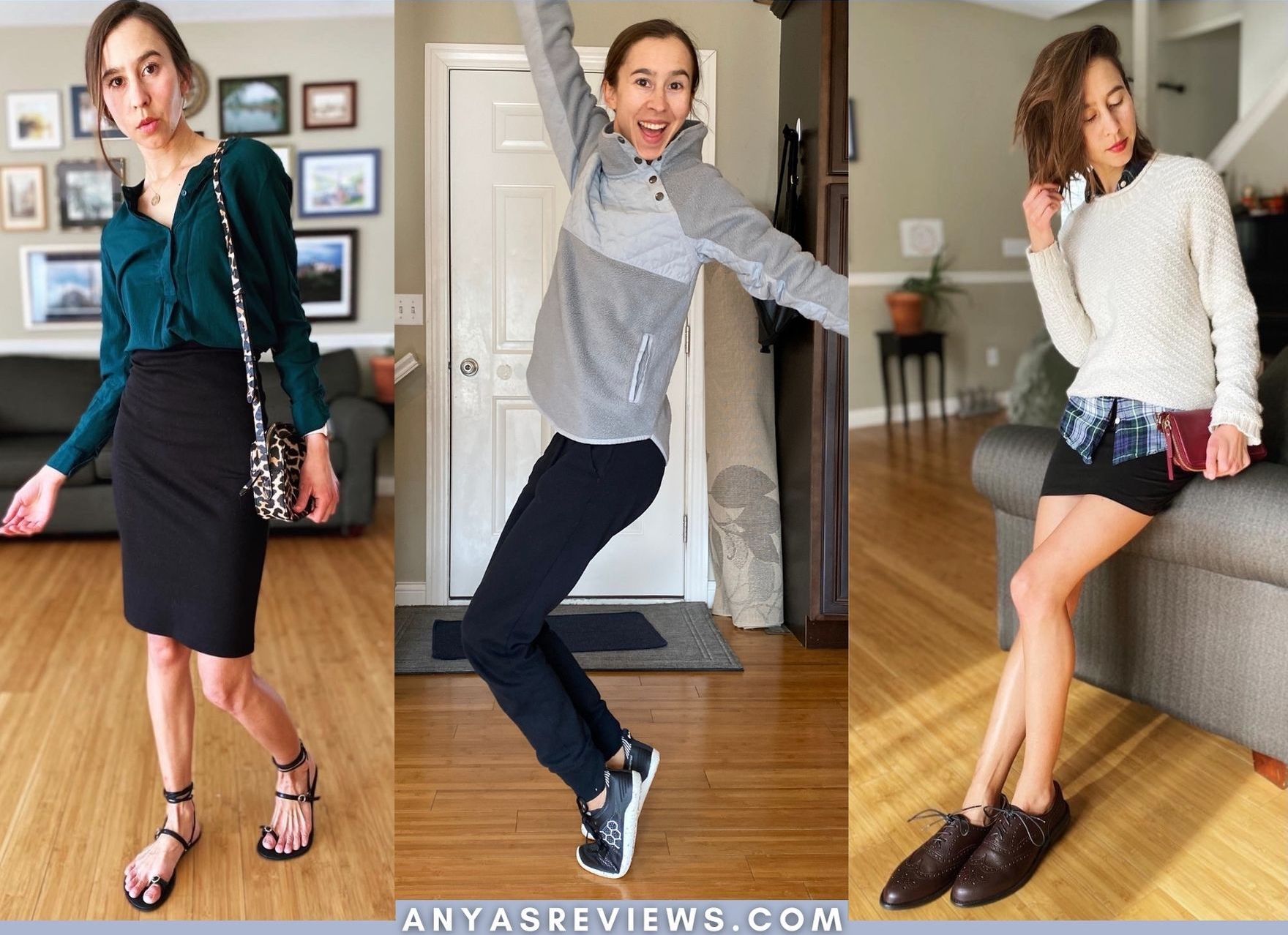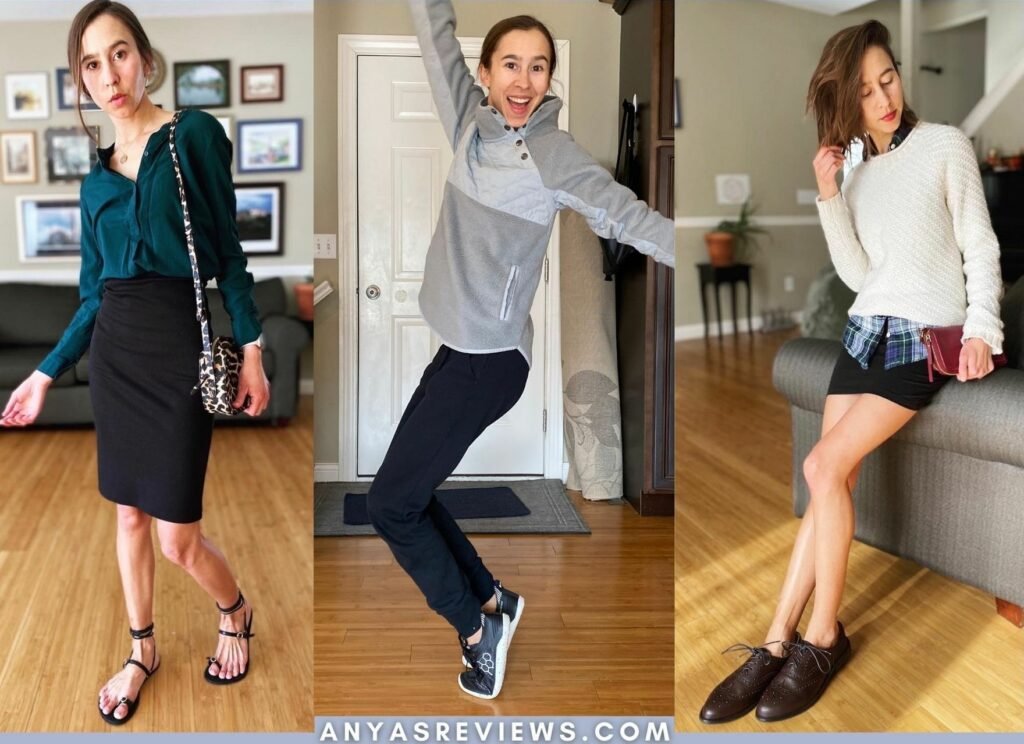 It's that time again! Here is my April roundup of 3 shoe styles you can replace with a healthier alternative. This month we have a wingtip brogue that looks very much like a traditional luxury dress shoe, the perfect sexy high heels replacement, and an athletic sneaker you'll feel grounded in. Let's take a look!
Click here to see all the previous Fashion, But Make it Barefoot posts.
Stylish Barefoot Alternatives to Popular Shoe Trends
1. Carets Shoes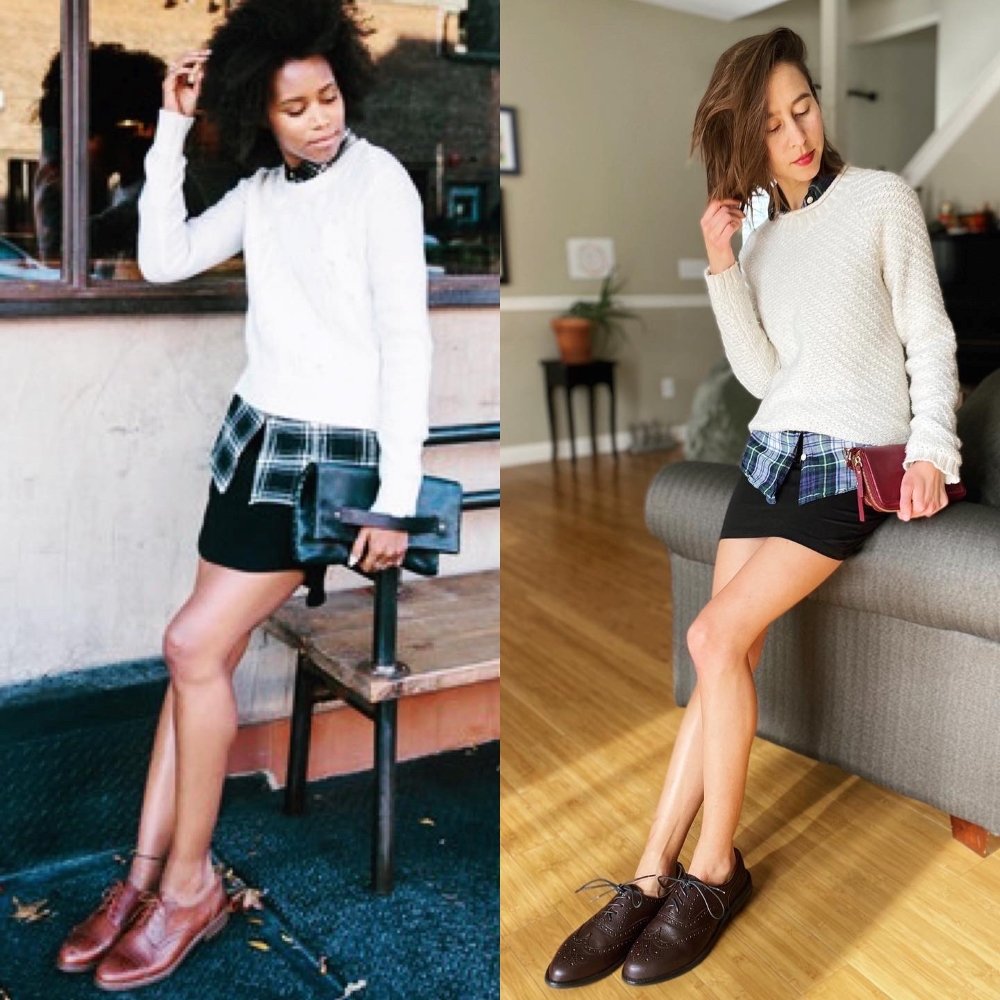 Leather | $250 | Sizes US Womens 5-11 | Ships from USA
Oxfords, But Make it Barefoot
It's Fashion Friday, featuring Carets Shoes. Carets is an unusual barefoot shoe brand, – they create luxury dress shoes that are completely zero drop with a wide forefoot hidden inside an elongated toe box. They fill a very particular niche within barefoot shoes – if you want a high end shoe that is comfortable but looks nothing like a typical barefoot shoe, Carets is where it's at.
Previously, they only made shoes in men's sizes, but they have just released the Victoria Wingtip in a women's size range for preorder and I got to test an advanced pair! I have written up my review of them with more photos here.
I embrace a natural foot shape and love my floppy, wide barefoot shoes. But I also appreciate that there are jobs/events where really dressy shoes are needed. And some people are just shoe junkies and want stylish options that are better for their feet! Carets has put so much effort into these designs, head to their website for more info on what goes into these shoes.
At this link you can find even more men's, women's, and kids barefoot dress shoe options in a full range of sizes, styles, shapes, and prices. Everything listed here is zero drop and foot friendly.
My outfit inspiration for this look comes from Lookastic.
Click here to see the original post on Instagram
---
2. High Feels Sandals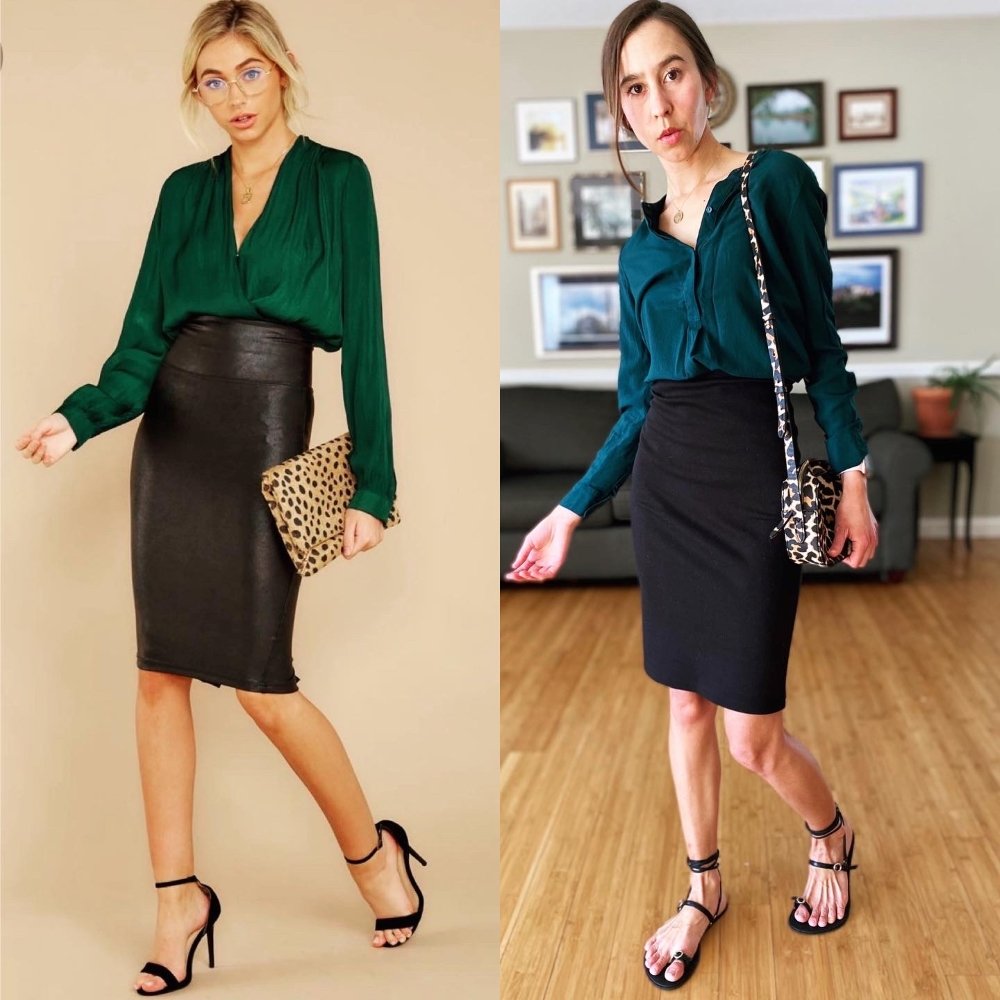 Vegan | $140 | Sizes EU 35-43 | Ships from Germany
I saw this clothing ad and thought I'd make a small tweak. 😉🚫👡
The message that women need to wear painful, damaging shoes to be considered successful, attractive, and worthy of attention stops here. Cuz Anya's coming through in flat, wide shoes, and she don't give a 💩 about your beauty standards! 😃
As always, this isn't about shaming people for what they wear. It's about opening up the space and giving people the freedom to choose. Wear heels if you want to. Wear barefoot shoes if you want to. You're worthy either way. ❤️
I'm wearing High Feels dressy vegan barefoot sandals. They've been featured in two articles on the blog, my favorite barefoot dress shoes for women AND my favorite stylish sandals. Check 'em out at the links above for the deets on fit/sizing + additional recommendations.
Like this faux leather skirt? Head to COL 1972.
Click here to see the original post on Instagram.
---
3. Vivobarefoot Geo Racer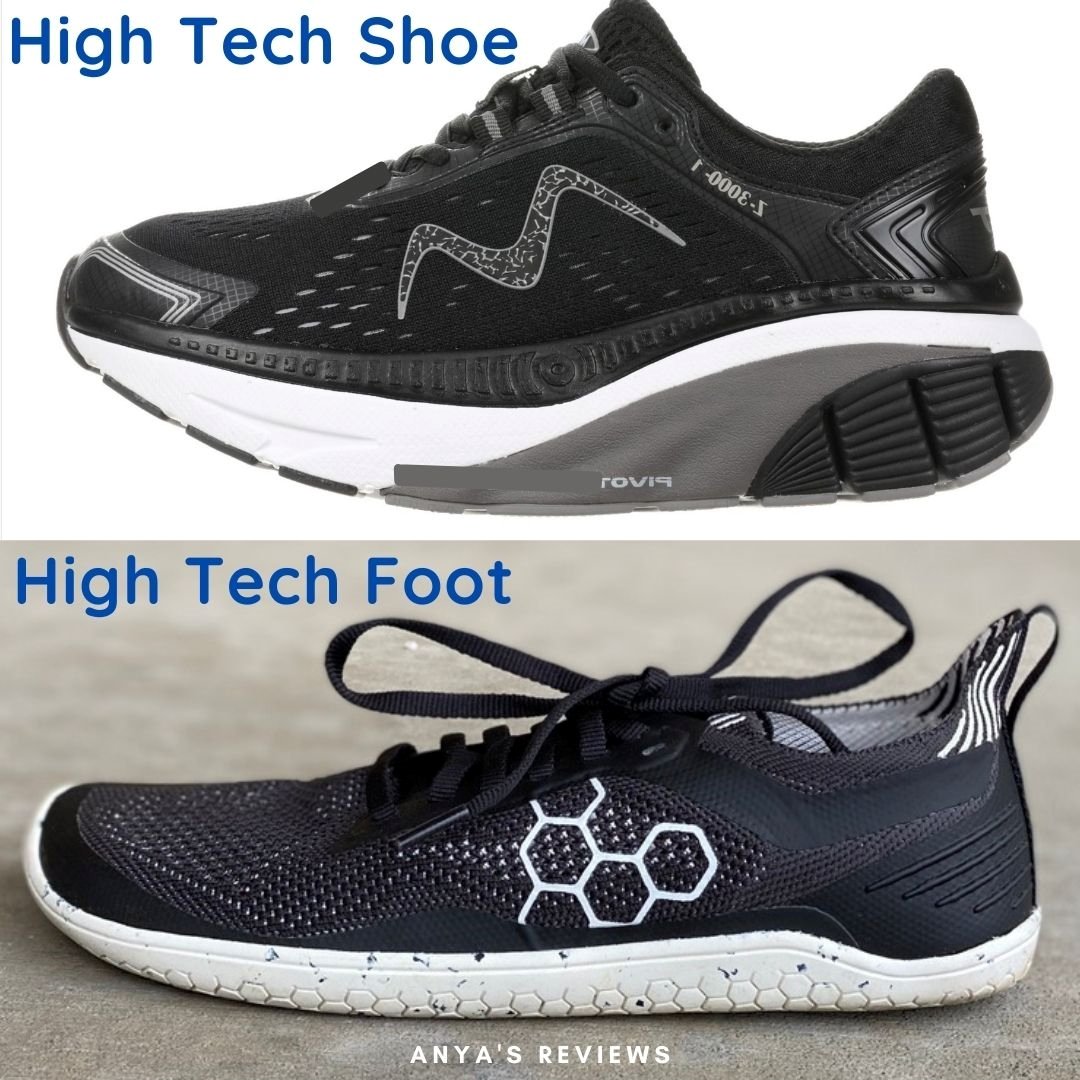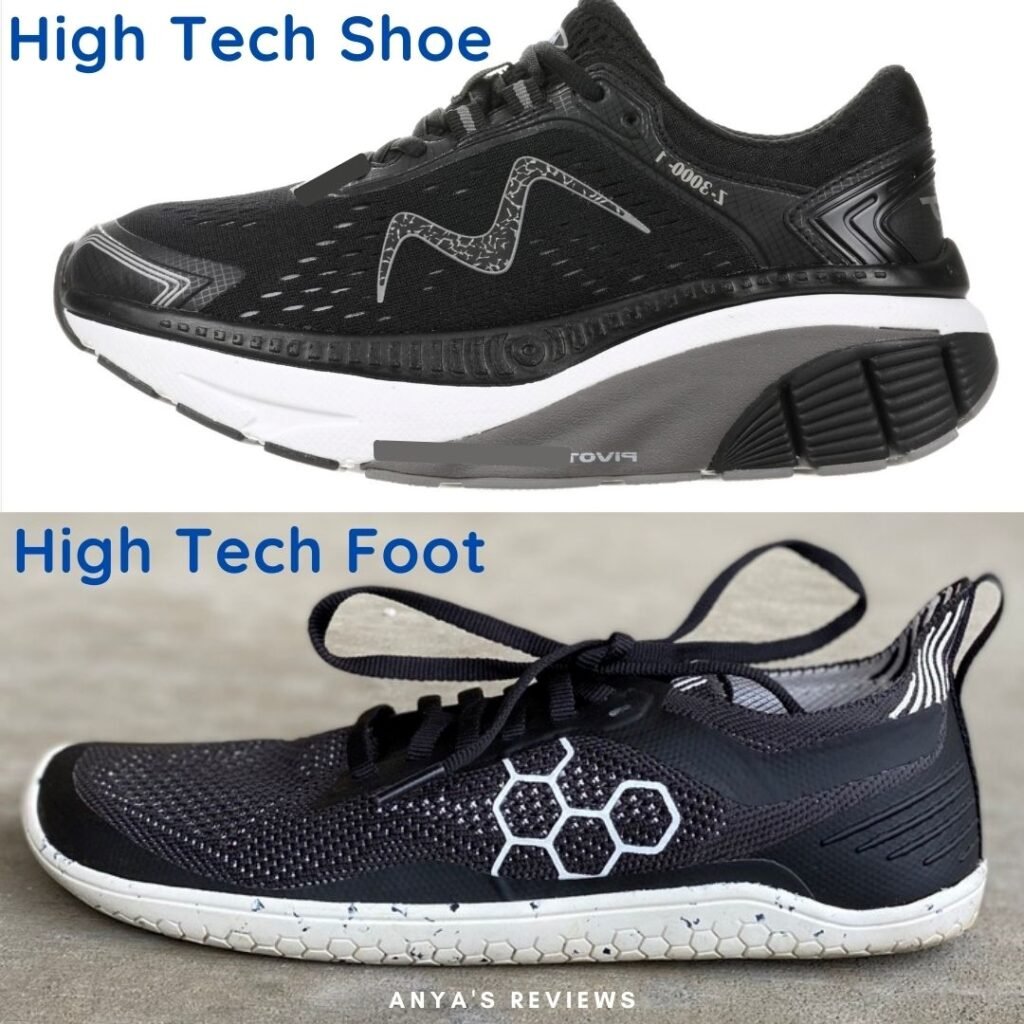 Vegan | $165 | Code VBANYA20 for 10% off | Sizes EU 35-49 | Ships Worldwide
Click here to find a Vivobarefoot retailer near you
Overcompensating much? 🤨
If you watch an infant taking their first steps, it's apparent that thick, clunky shoes get in the way of their movement. Reminding adults they also move more confidently when barefoot (or in shoes that mimic being barefoot, like the bottom example) is like calling up an old memory that's been stored away and forgotten.
Yes, people in pain or with specific pathologies can find much needed relief from shoe technologies exemplified in the "high tech" shoe – I have myself. But for most of of us it's a quick fix, a band aid that doesn't get at the root of the problem. Most feet aren't flawed, just weak. And because we're HUMAN, we can make weak things strong by USING them. You wouldn't wrap a bum shoulder in a brace forever without trying to strengthen/mobilize it, would you? Why do we forget that feet can also be rehabilitated, just like the rest of the body? #FeetHaveMusclesToo
And I'm not just talking to the young and able-bodied here. Being able to sense the ground with your feet increases stability, which is vitally important to the elderly and disabled – the exact population that gets marketed orthopedic footwear most heavily. It might not be right for all bodies all the time, but it's worth considering minimalist shoes as a better long term solution!
Want to learn more about barefoot shoe options, and if they might be right for you? Head to this article on the Benefits of Barefoot Shoes to get you started.