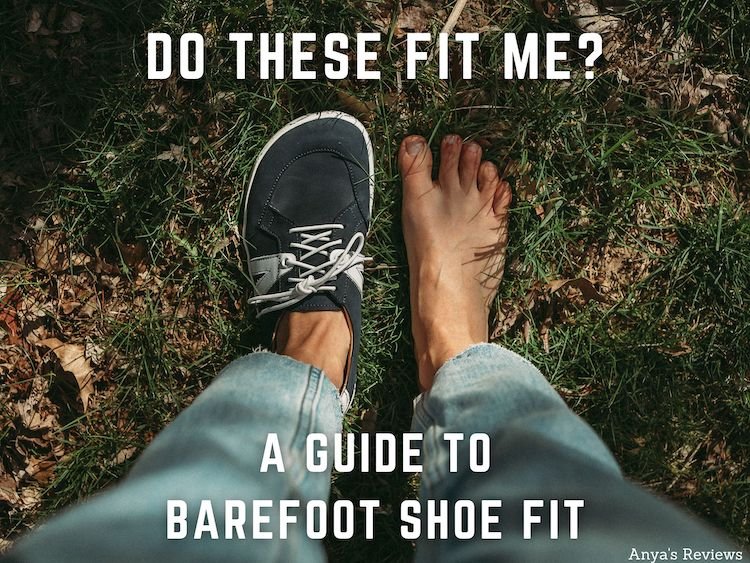 I review barefoot shoes for a living. So how do I determine if they fit well? Especially if you're new to naturally shaped shoes, you might be unsure about this. Here are my 3 checkpoints.
Length
First is length. Shoes should be long enough that your toes don't run into the front, but not so long that the shoe is flopping and tripping you up. The sweet spot is often 1-1.5cm of extra length, but there's no hard rule here. It comes down to how you feel in them.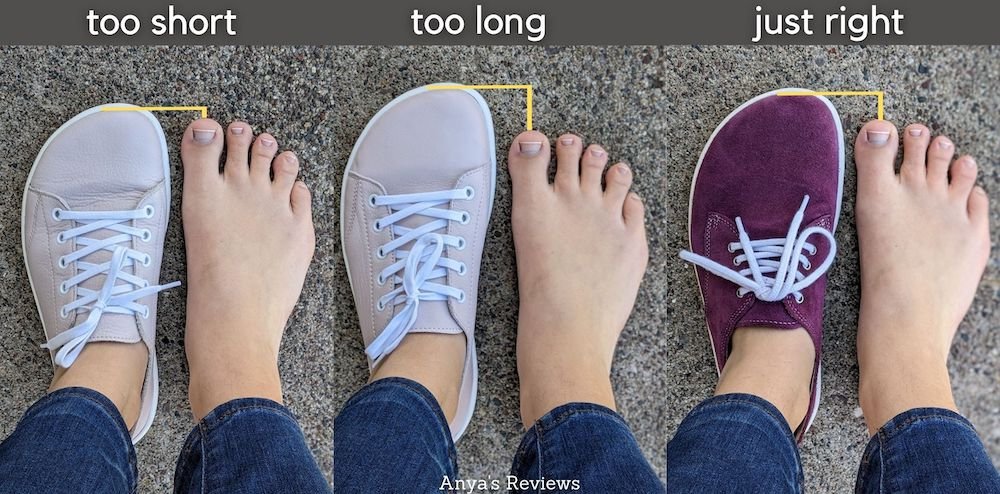 Above Samantha is modeling 3 different sizes of sneakers.
She knows the first is too small because when she steps her toes run into the front and sides.
The second shoe is so long that she has to grip her toes or risk dragging the shoe on the ground.
The third shoe has just enough space in front to allow for natural foot motion while walking.
Visuals helps, but remember that this comes down to how your foot feels inside the shoe. And it can sometimes vary by the type of shoe. For example:
In sandals you don't need as much extra length because the front and back are open. And sometimes the extra length here can trip you up. I am often a half or whole size smaller in sandals for this reason.
In flats, loafers, & slip ons I like them to fit a little bit shorter than lace up shoes so they are secure, similar to sandals.
In boots I usually factor in more extra length than usual so I can wear warm socks. My boots are often one size bigger than my usual shoe size.
Measuring Your Feet
If ordering online, you can try to minimize sizing errors by measuring your feet and factoring in the length you need. You can find detailed instructions for how to do that here!
Width & Shape
Second, I check width & shape. Does my foot have enough space to lay flat, the way it would if I were barefoot?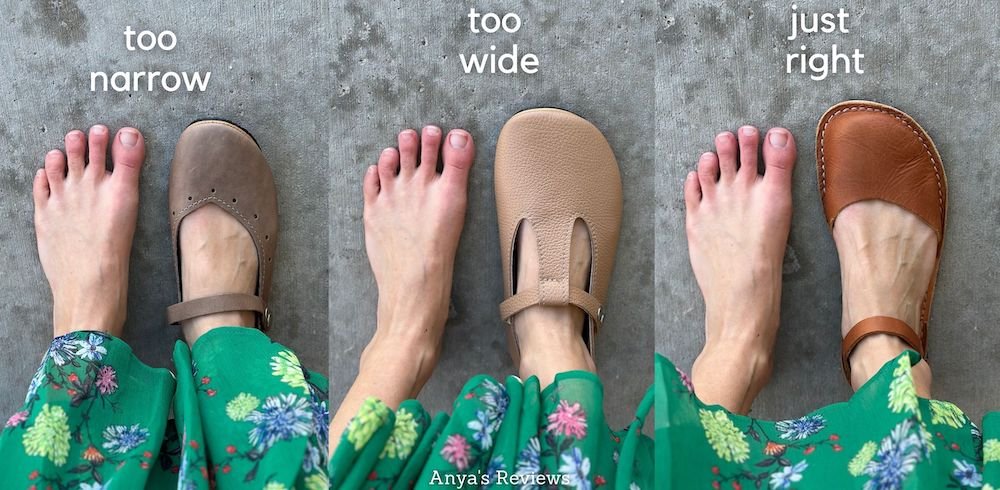 Above you can see three different shoes on me.
I can tell the first shoe is too narrow and tapered for me by comparing it with my bare foot (and because my toes feel cramped!).
The second shoe is too wide and feels floppy.
The 3rd fits just right! No squished toes, but not too much extra width.
Like with length, there are no hard and fast rules. If your shoes seems to have a lot of extra space, but you feel great in them and can move without any issue then there's no problem.
This fit rule is why barefoot shoes are my jam! Most "regular" shoes unfortunately don't have a natural shape to them so don't fit well – but here we take shaped & width seriously. Find a variety of options in different shapes and widths below:
Security
Finally I check the security of the shoe. It should be securely attached to my foot so that when I move, the shoe comes with me. If I have to grip the shoe with my toes so I don't walk out of it, that's a sign it's not a good fit.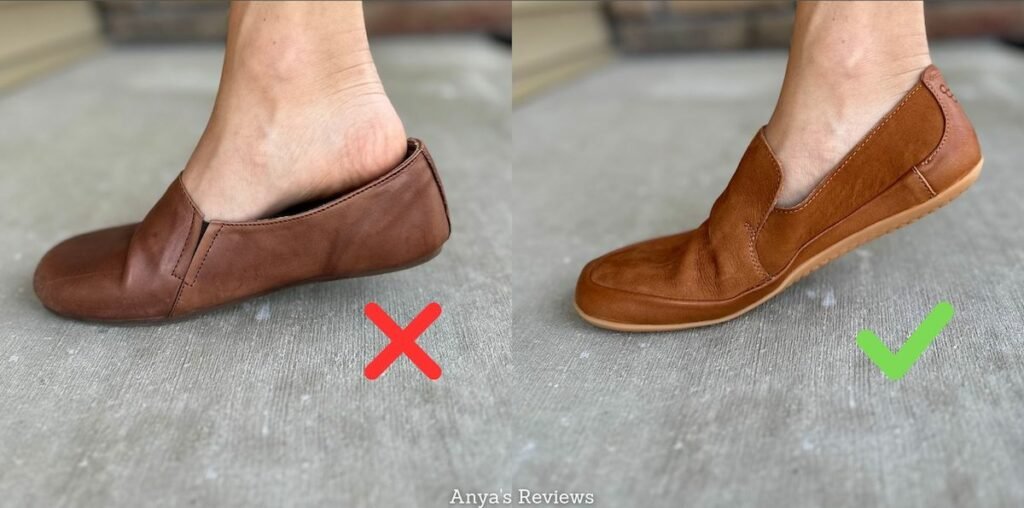 This often comes down to the volume of your foot, so different people will fit best into different shoes. But it also varies by style – lace up shoes are much more adjustable and can be laced to fit securely. That's why a sneaker is often a safe first barefoot shoe choice!
You can browse for options in different volumes here:
Fit Hacks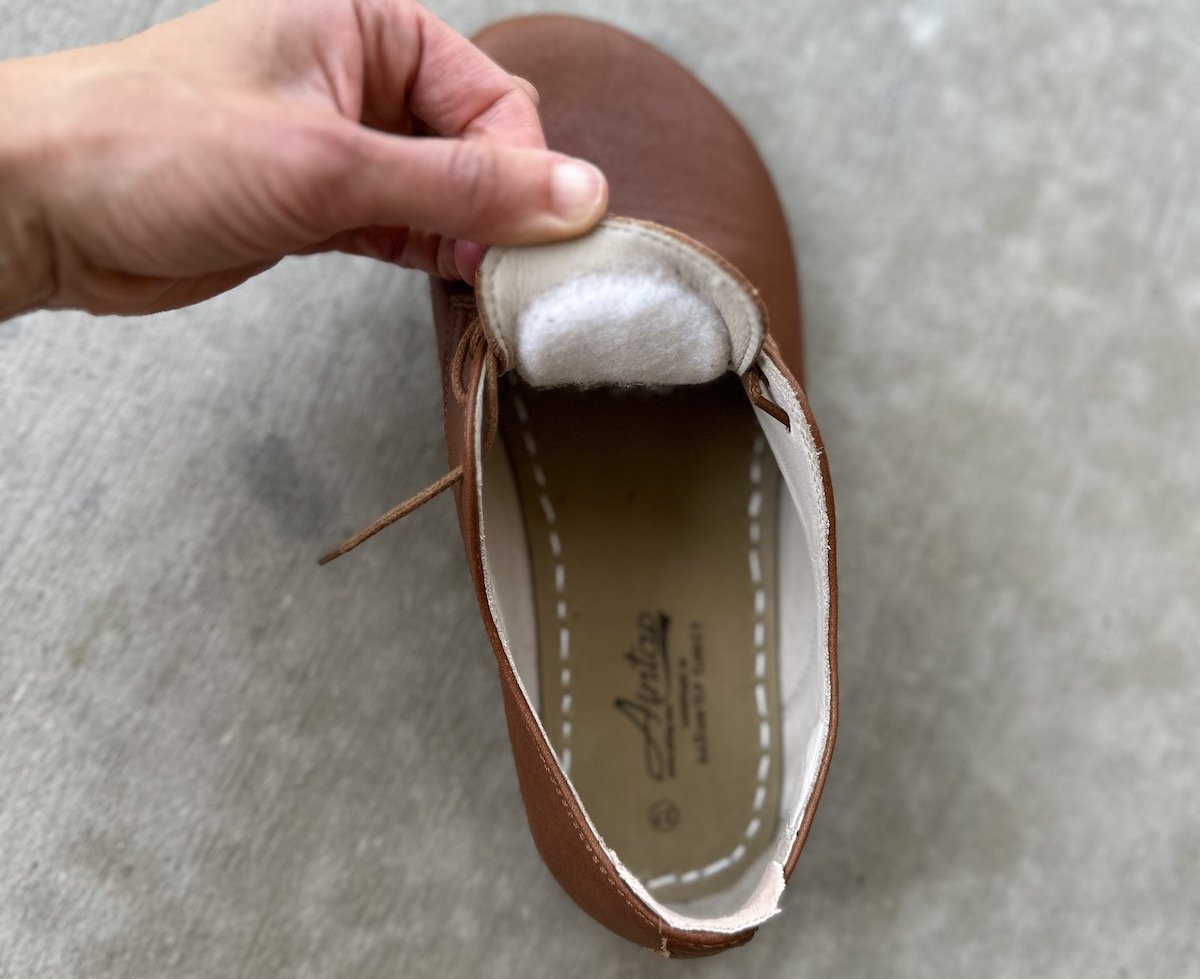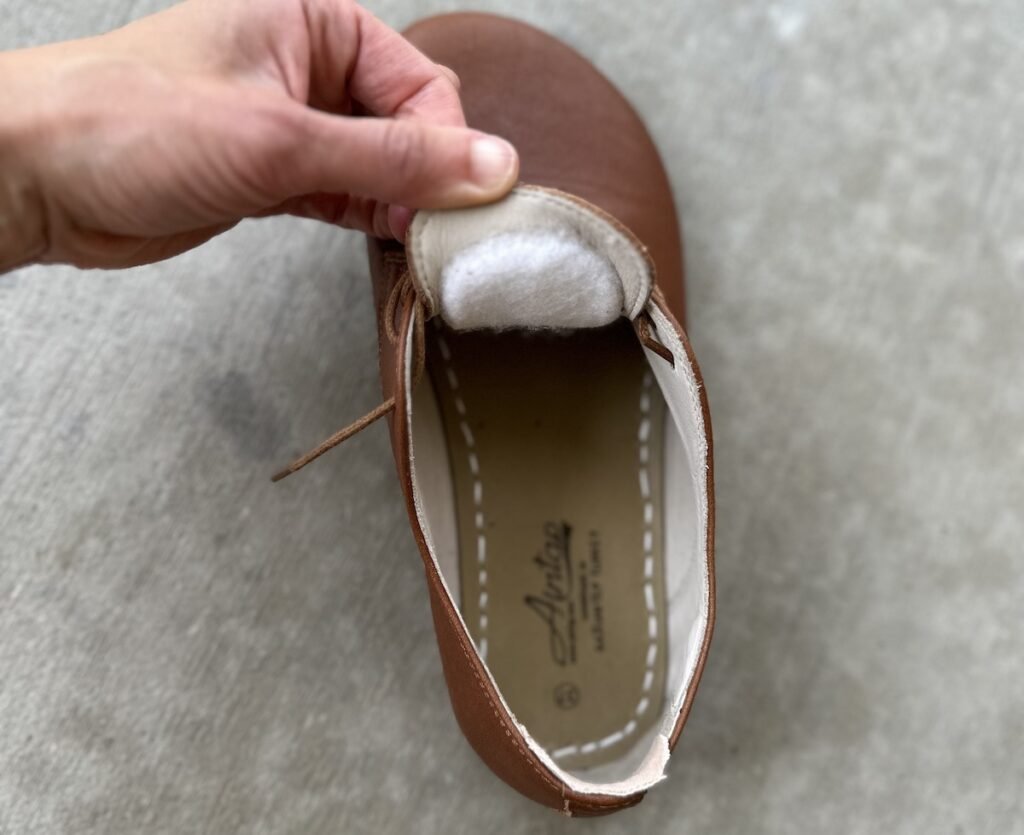 Sometimes I can solve fit issues with a few hacks. Here are a few of my favorites.
Tongue Pads – These little gems have saved many a shoe for me. You stick them on the underside of the shoe upper to fill in extra space above your foot, which can keep you from sloshing around in your shoes.
Heel Grips – If the back if your shoe is irritating you, or it doesn't quite stay on your heel enough these can go a long way to increase your comfort.
Socks – This might seem obvious, but socks can make too loose shoes fit better! And if you want to preserve your toe space, choose stirrup (toe & heel-less) socks.
Spot Stretching – If you've got specific areas in your shoe that are just a little tight, you can strategically stretch only that area. I like to do this by pushing a small ball right in the spot that needs to loosen and then filling the rest up with tissue/papertowels to hold it in place.
My rule of thumb is that if things are just a little off, then fit hacks can make a world of difference. But if the shoes are really uncomfortable and ill-fitting, it might not be worth it and they should go back. If you want to explore more ways to improve the fit of your shoes, check these out.
My Fit Hacks For:
In Summary
I wear shoes that fit securely, without flopping or sliding around, but that still leave enough space for my feet to move naturally. Oftentimes, this leads me to barefoot shoes – it's hard to find options that respect my natural foot shape elsewhere. But there are also cushioned options with a wide toe box!
If you want to explore shoes that actually fit you're in the right place. Simply head to my homepage to get started!