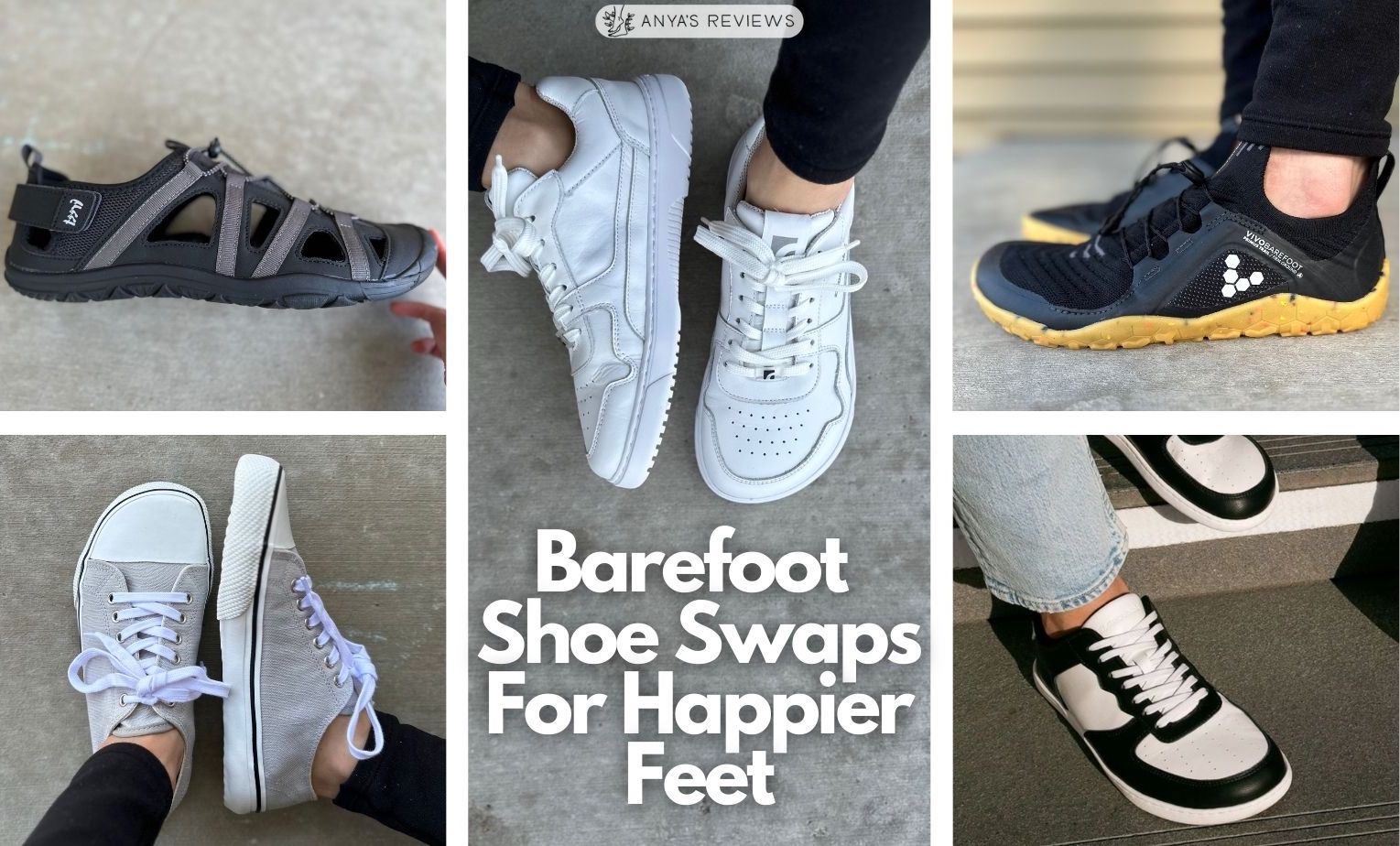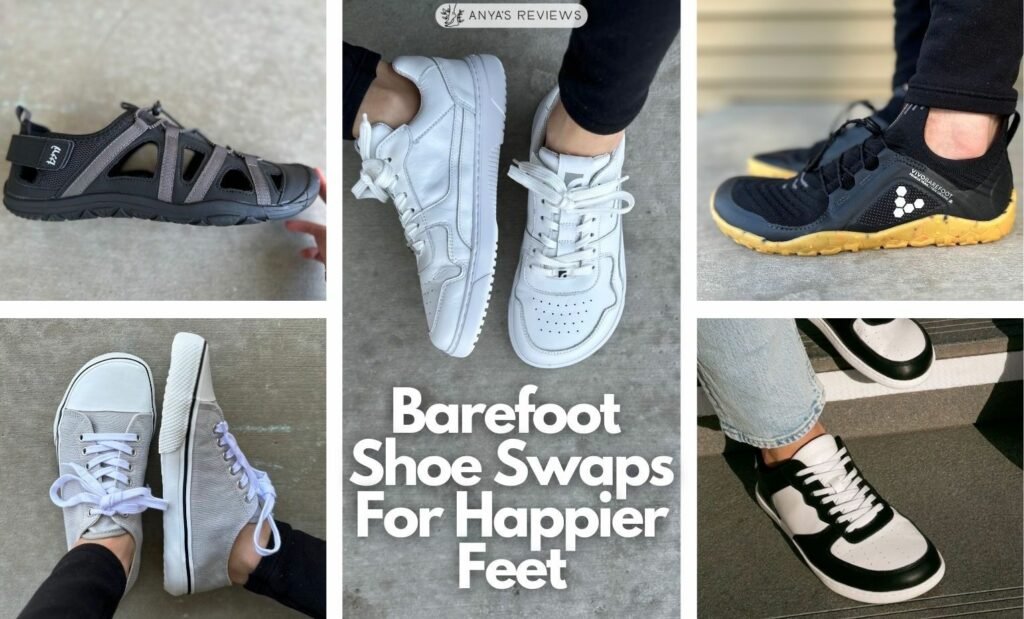 I know this one is going to make some people angry, but hear me out. A shoe brand can be iconic, well-made, and functional for a specific purpose WHILE STILL BEING BAD FOR YOUR LONG TERM FOOT HEALTH. In this post we're looking at some of the most popular brands in the biz, and replacing them with what I like to wear instead – both for immediate comfort today and to protect my foot function for the long haul.
You can read why I consider minimalist shoes to be better for my body here.
For more barefoot shoe swaps, head to my Wear This, Not That section of the website! I've been recording our family's swaps for years – you can find barefoot shoe alternatives to so many popular shoe styles. May you have happy feet the rest of your days. ✌️
Swap Nikes for Barebarics Zing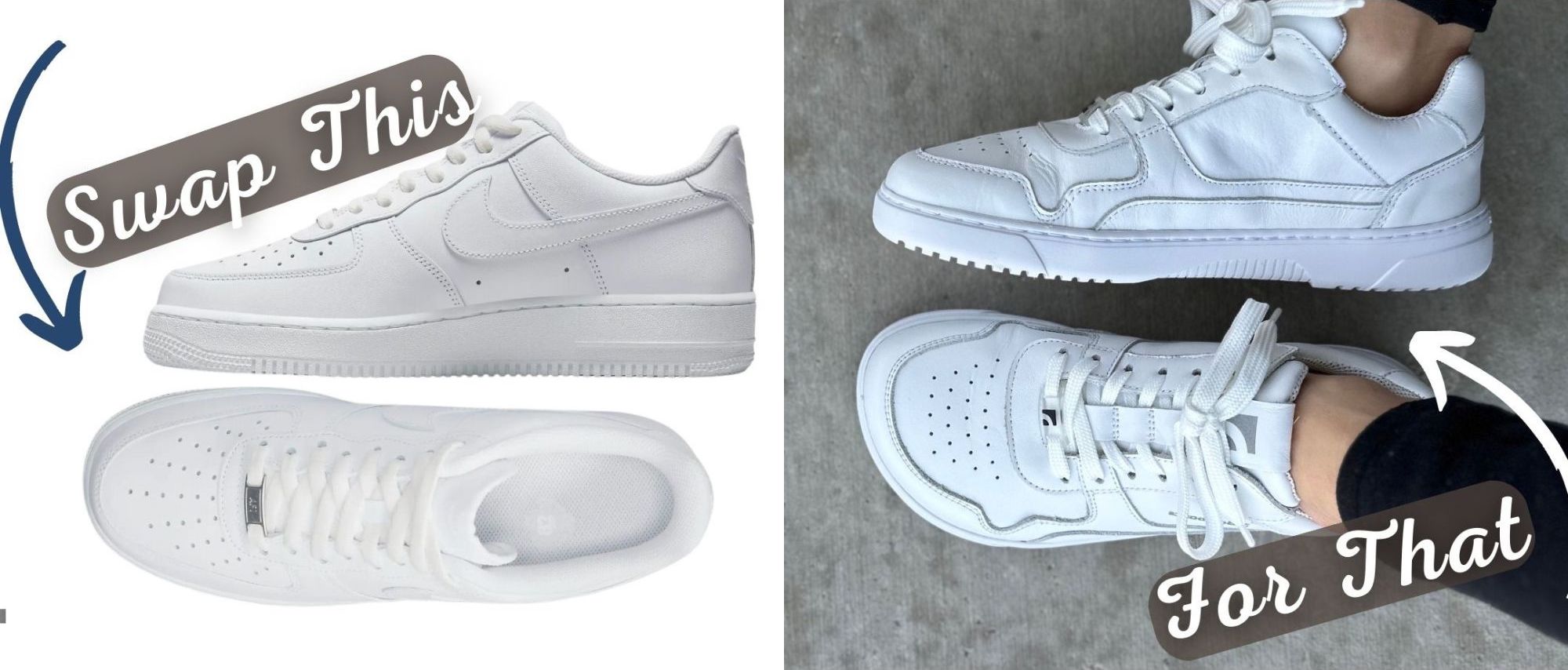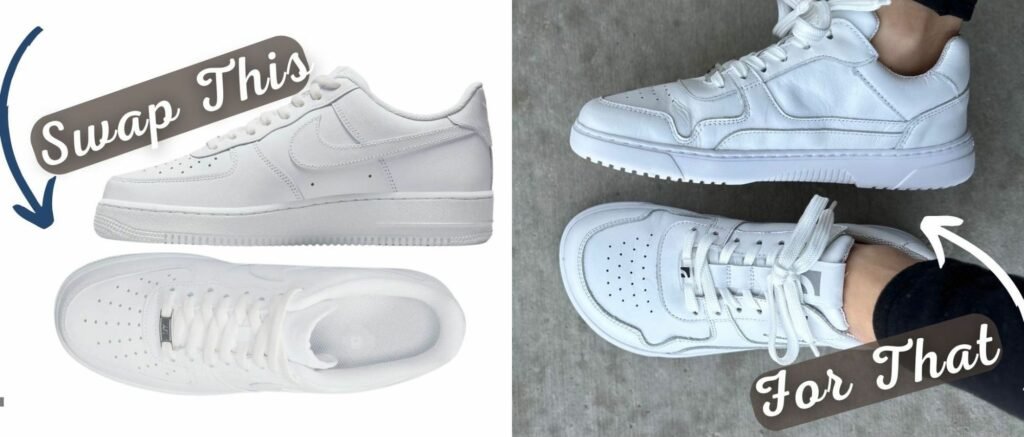 If shopping from the EU website, use code ANYASREVIEWS to get a 5% discount.
Don't come after me 🙈 But there is one primary reason I would rather wear the Barebarics sneakers shown on the right than Air Force 1's, and that is TOE SPACE.
The Barebarics Zing is also highly durable, functional, and zero drop. Most people will be looking at your shoes from the side anyways, so don't worry about the wide look!
If you are a barefoot shoe fan, note that Barebarics shoes have the feel of a transitional shoe because the sole is a bit thicker and less flexible than other barefoot shoes. They work well for people who spend a lot of time on concrete. Learn the details on the fit and sizing in my detailed Barebarics Review.
I also have listed here several more stylish barefoot sneaker options that I love!
Vegan Air Force 1 Swap: the Feelgrounds Courtside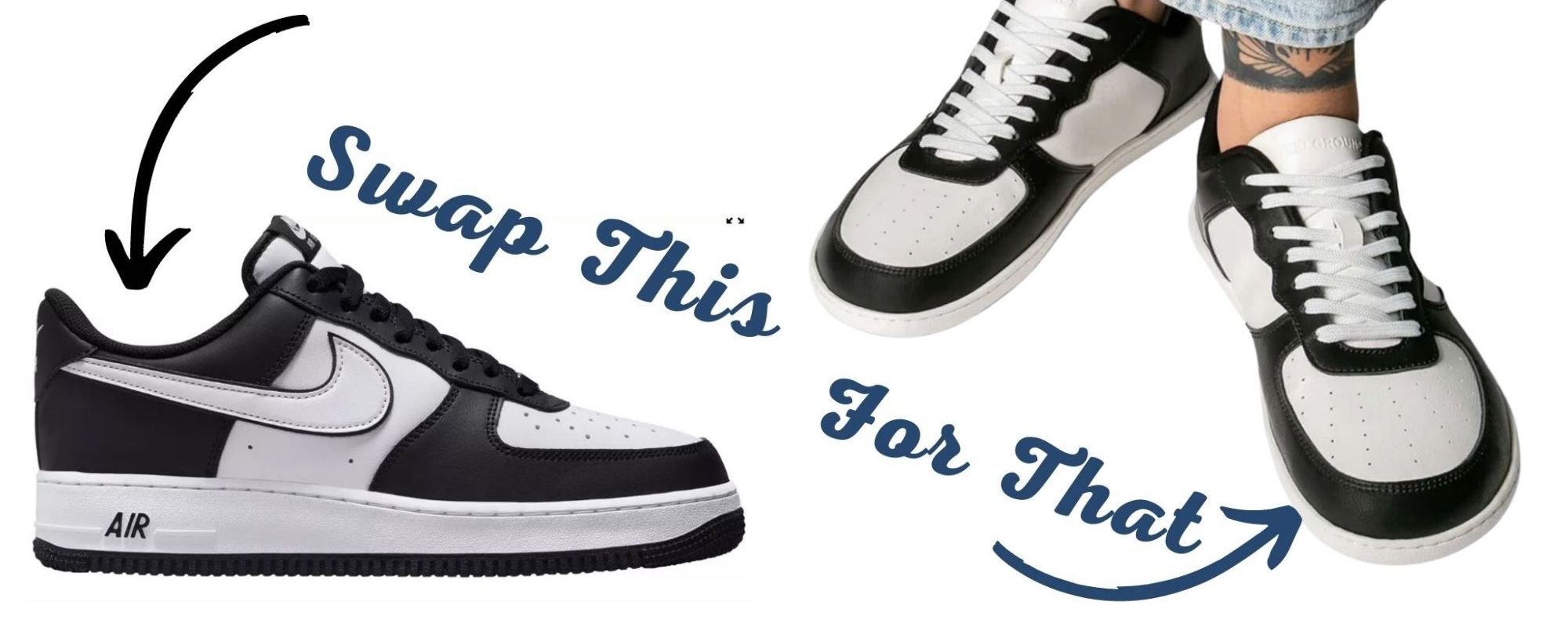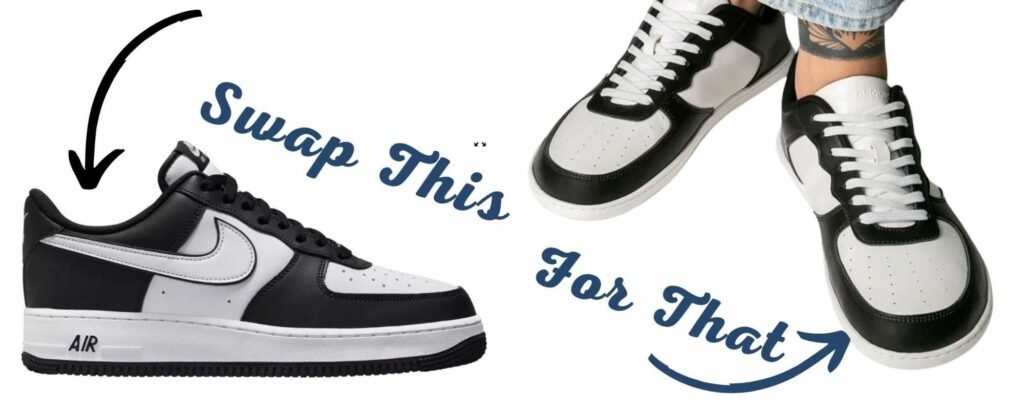 This non-leather shoe is very soft, wide, and flat. We have several Feelgrounds shoes in our house made of this vegan leather – it has held up great but I find that it is not as breathable as textile or genuine leather. So I prefer my Feelgrounds in mesh and knit over the vegan leather (I wear those all the time!)
But the Courtside is a very cool looking shoe and if you love this style but want vegan they are a great choice! Read my full Feelgrounds review for the details on sizing & fit.
Oh, and there are other colorways of the Barebarics Zing shown above that are also vegan!
*If you're looking for something to actually play basketball in, I recommend any Xero Shoes sneakers as one of the best options. You can also find a new basketball sneaker from Ben Patrick, founder of Knees Over Toes (but I do not have any firsthand knowledge of these shoes yet).*
---
Swap Keens for Freet Zennor


Use code AR-10 for a discount with Freet.
Keen's are another phenomenal shoe brand – they are durable, functional, and even have a wider than usual toe box. But look at the sole on those sandals!
Justin and I wore Keen sandals traveling for several years and they are very heavy. Sure, they'll last forever but I'd rather have my feet last forever. I am much more stable in a light sole that flexes with my foot, like the Freet Zennor.
This sandal is new this year, and Justin has just begun wearing them. He loves those dad sandals! Sizing is true, but they do fit high volume so he cinches the elastic top to fit. So far so good!
---
Swap Converse for Bohempia Herlik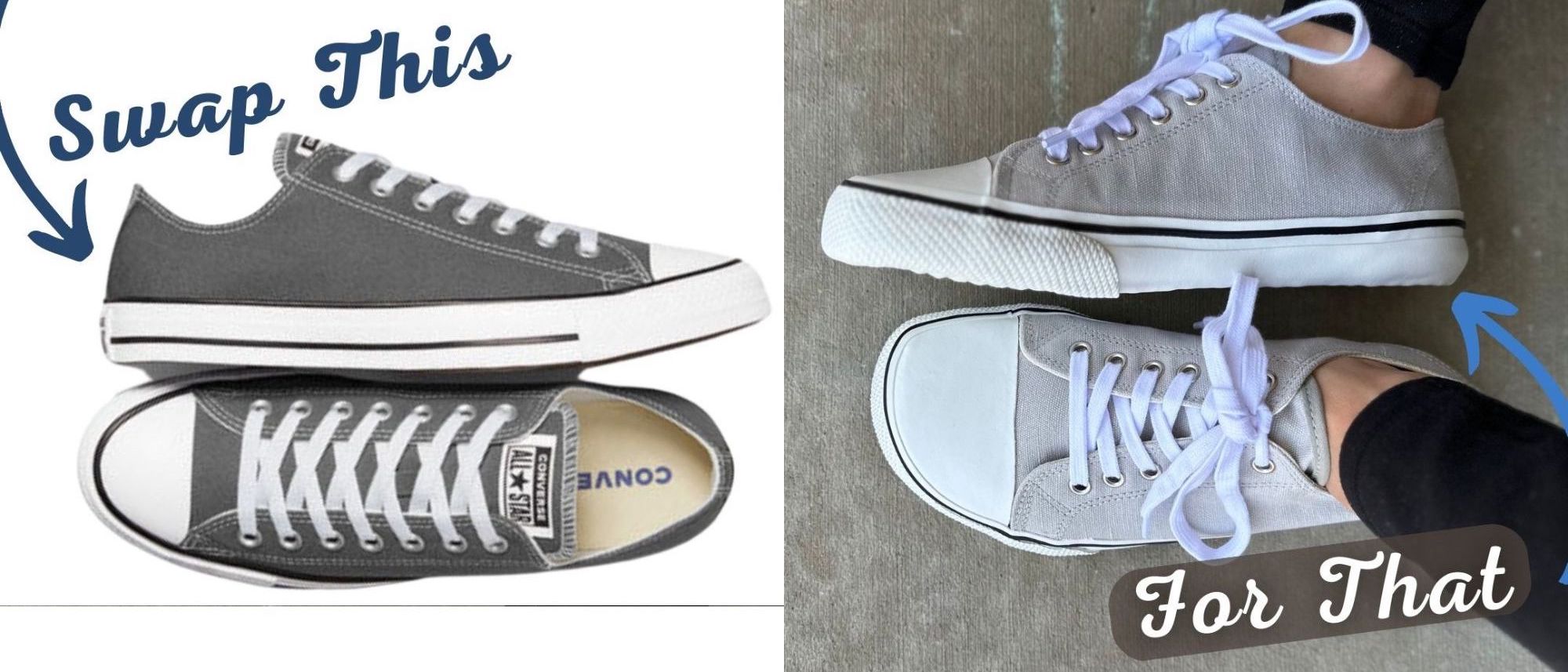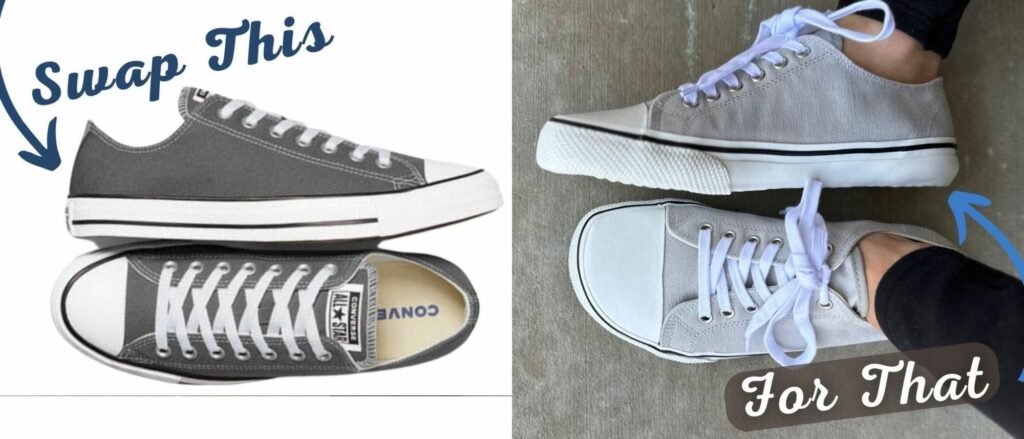 Use code ANYASREVIEWS for 10% off from Bohempia EU
Converse are already somewhat minimalist, but damn they have a narrow toe box. The Herlik sneaker on the other hand fits all my toes without squishing and otherwise looks the same. Skateboarding, lifting, and looking cool is a lot easier when you can spread your toes out to stabilize you.
We just restocked these at Anya's Shop in the US! They come in two widths – Regular width is shown here and and Wide you can see below. Wide works for even extra wide feet!
Check out my full Bohempia review for more details.
---
Swap Hikers for Primus Trail Knit


Use code VBANYA20 for a 10% discount at Vivobarefoot.
Hiking shoes are notoriously heavy. And again, they are durable and protect you from sharp rocks on the trail. But I have found that a minimalist alternative like the Primus Trail Knit still provides enough protection and grip but also allows me to have more stability because I can sense the ground better.
And the Primus Trail is IMO one of the most functional barefoot shoes out there. Our family loves them for everything from sports, to hiking, to everyday. They are so much lighter than a typical hiking shoe AND can function for a variety of purposes besides hiking!
The Trail Knit (pictured here) is new this spring and we love it just as much as the regular Trail! The knitted collar makes for a soft feel, but it can make them a little harder to pull on if you have thick feet because it is a tube opening with no shoe tongue.
I also love Vivobarefoot's Tracker hiking boots. In general Vivobarefoot shoes fit true to size and medium width. They are not ideal for people with thick, high volume feet.
Check out my full article on hiking boots and shoes for more options!