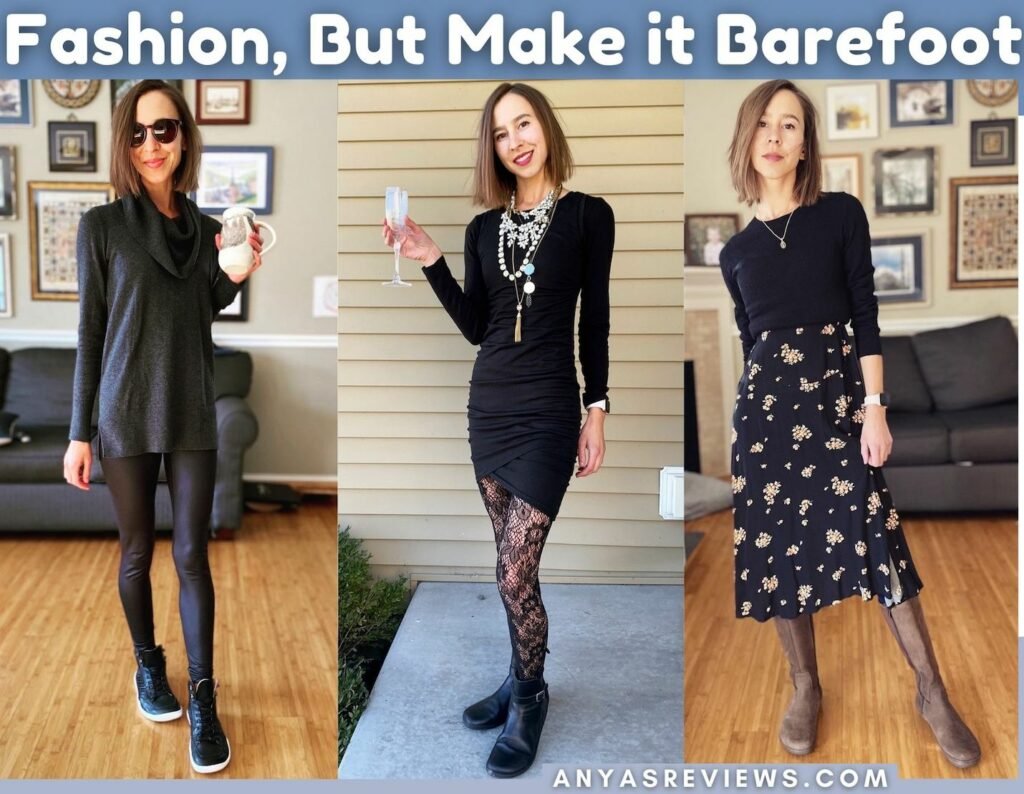 Helping you find healthy alternatives to stylish (but hurty) shoe trends is what I do best – If you're thinking shoes that don't hurt your feet can't be stylish, check out these looks I've recreated with barefoot shoes! In this edition of Fashion, But Make It Barefoot, we're covering high top sneakers, dressy boots, riding boots, AND barefoot snow boots.
Click here to see all the previous Fashion, But Make it Barefoot posts.
Stylish Barefoot Alternatives to Popular Shoe Trends
---
1. bLifestyle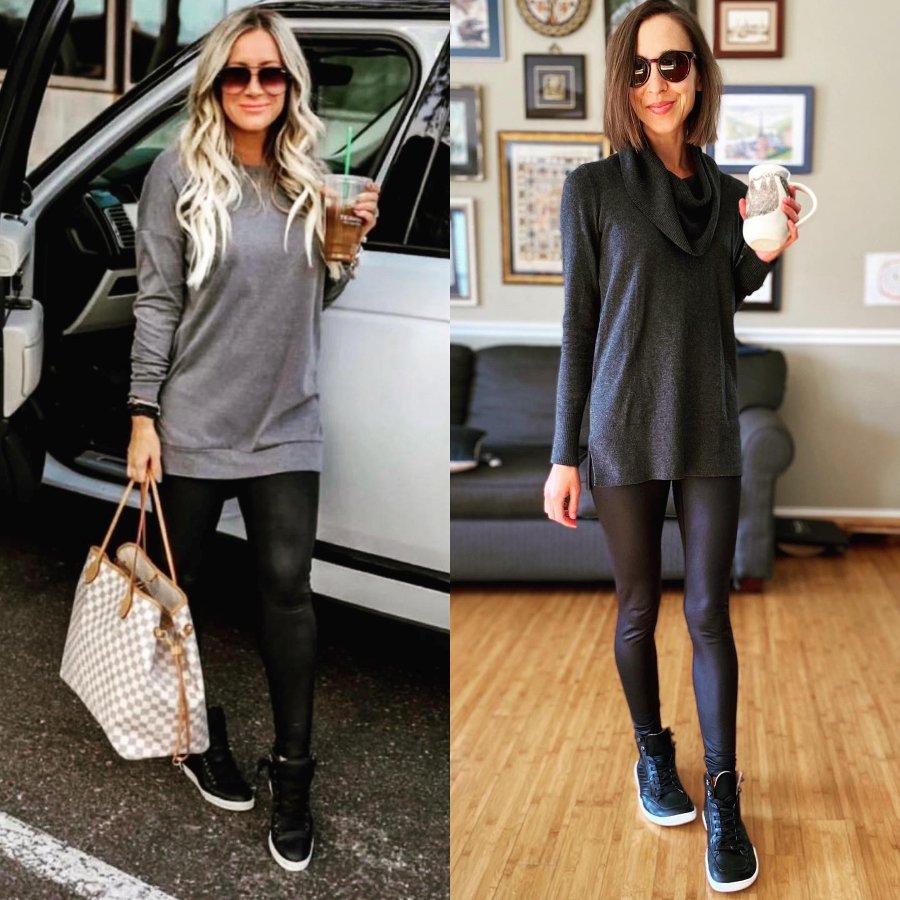 bLifestyle urbanSTYLE | $160 | Leather | EU Sizes 36-46
I had a DMV appointment this morning and went to Pinterest for an outfit idea. Saw this one from Live Love Blank and was like hell yeah, I can recreate that look with barefoot shoes! So I did, and I rocked it. 🤘
My Fashion, But Make it Barefoot series is just outfits, no big deal really. But it's also permission to take what the world presents to you and make it your own. I'm not here to make you feel bad about your footwear choices, just to tell you that YOU HAVE A CHOICE.
So tell me, what healthy shoes are you rocking today?? I'm wearing the bLifestyle Urban sneakers, you can read more about them and other stylish barefoot sneaker options in my post titled 15 Barefoot Sneakers That Are Better Than Vans. You can have your style and foot health too!
*update: bLifestyle now ships worldwide. Watch Anya's Shop where we will be carrying them soon!
Click here to see the original post on Instagram
---
2. Zaqq Riquet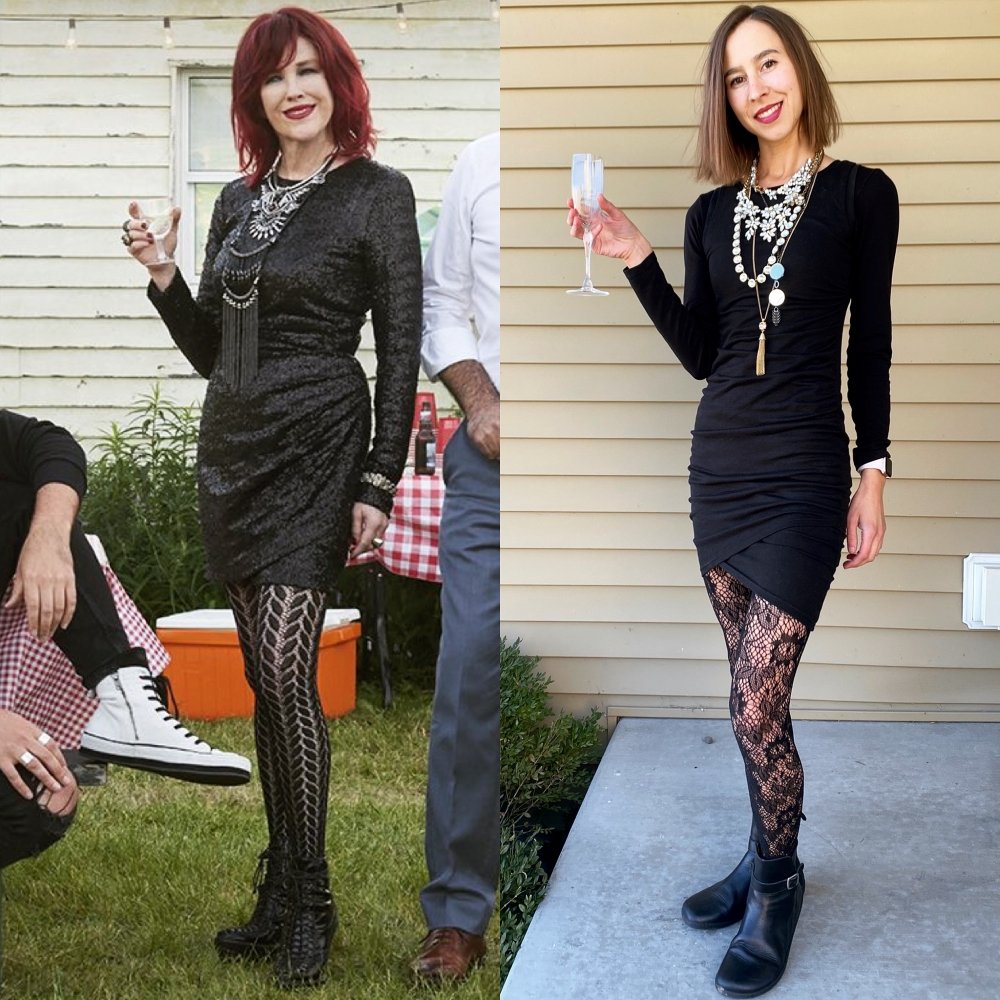 Zaqq Riquet | $210 | Leather | Sizes EU 37-48
"Be careful, lest you suffer vertigo from the dizzying heights of your heeled shoes! If you've ever wondered why fashionable shoes must be so constantly irksome, you clearly have yet to try barefoot shoes. Barefoot shoes say 'Far be it from me to get between you and your comfort!' You can be as happy as a bébé in stylish flat shoes with a foot-shaped toe box."
And that's a direct quote from the goddess herself! Moira Rose, but make it barefoot. 😀
Barefoot shoes = Footwear for classy people who'd rather be barefoot.
I'm wearing the Riquet boots from Zaqq Barefoot, one of my long time favorite stylish but still foot-friendly boots. We are FINALLY getting them restocked at Anya's Shop (🎉 they are in transit to us as we speak!). Otherwise you can order directly from Zaqq. Check out my Zaqq Barefoot review for details on how to order, plus info on tons of other cute & comfy shoes for people who'd rather be barefoot!
Click here to see the original post on Instagram
---
3. Vivobarefoot Ryder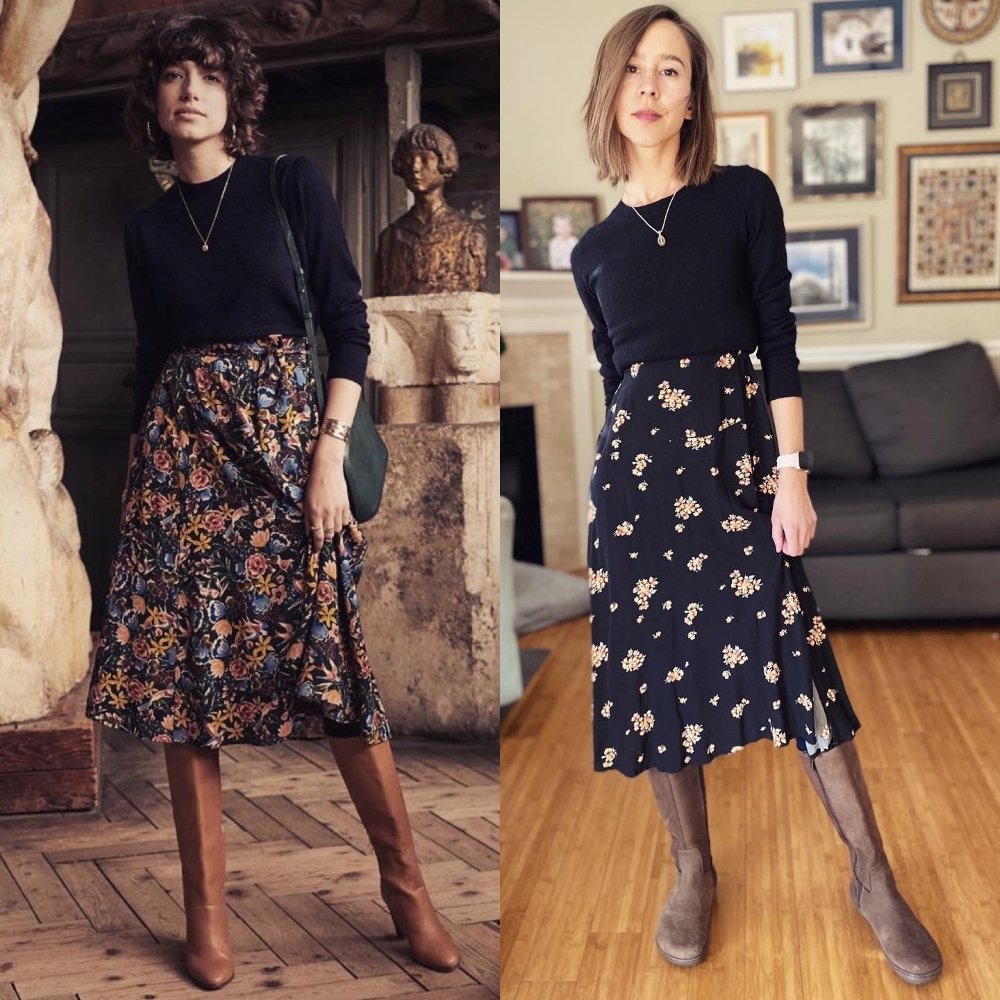 Vivobarefoot Ryder | $235 | Leather | Sizes US W5.5-11.5
Use code VBANYA10 for 10% off any Vivobarefoot purchase!
Oh just slaying all the looks I love but in shoes that don't cause me pain.
Lots of people start with just one pair of barefoot shoes and hang on to their favorite stylish shoes for special occasions, but I wasn't really able to do that. My big toe was so painful I couldn't tolerate any kind of pinching. It was foot-shaped shoes or no shoes for me. That's how my research started – I wasn't keen on wearing sneakers all day every day but there weren't many cute options in a foot shape. Well your girl's got options now! 👏
These are the Vivobarefoot Ryder. Your classic riding boot style but with Vivobarefoot's flat, flexible and foot shaped sole! This year's version fits slightly wider than last year's, but still not as wide as the Fulham. They fit my wide feet comfortably with a medium weight pair of socks, and I got my usual size 37. You can use code VBANYA10 for 10% off any Vivo purchase!
I love the riding boot style, they open up tons of styling possibilities. Check out my complete list of barefoot boots for all the riding boot options on the market!
Oh, and these fit a medium width calf. I just added to my Barefoot Shoe FAQ fit hacks and boot options for both narrow and wide calves. Boot Band continues to be the best option for making these boots fit wide calves.
You can also read my in-depth review of the Ryder here for even more deets.
Outfit inspiration comes from Sezane (that skirt tho!!!!)
Click here to see the original post on Instagram
---
4. Xero Alpine
Xero Alpine | $160 | Vegan | US Sizes W5-11/M6.5-15
Can I get a HOLLA for snow boots that bend?? 📣
Think there's nothing practical for winter that isn't a massive brick wedge? I try to get outside every day no matter the weather, but I don't fancy the back, hip, and knee pain that comes with clunky snow boots. So boy am I glad that natural footwear brands have started offering barefoot snow boots so we don't have to choose between warm toes and comfortable toes!
My Xero Shoes Alpine boots weigh a fraction of the amount that traditional snow boots do, and they actually bend. My old snow boots were like having tanks strapped to my feet. See below a photo of the barefoot winter boots I wear daily in snow and freezing temps. And if you want more details like width/fit/temperature ratings, read my All Time Warmest Winter Boots article on the best options on the market.