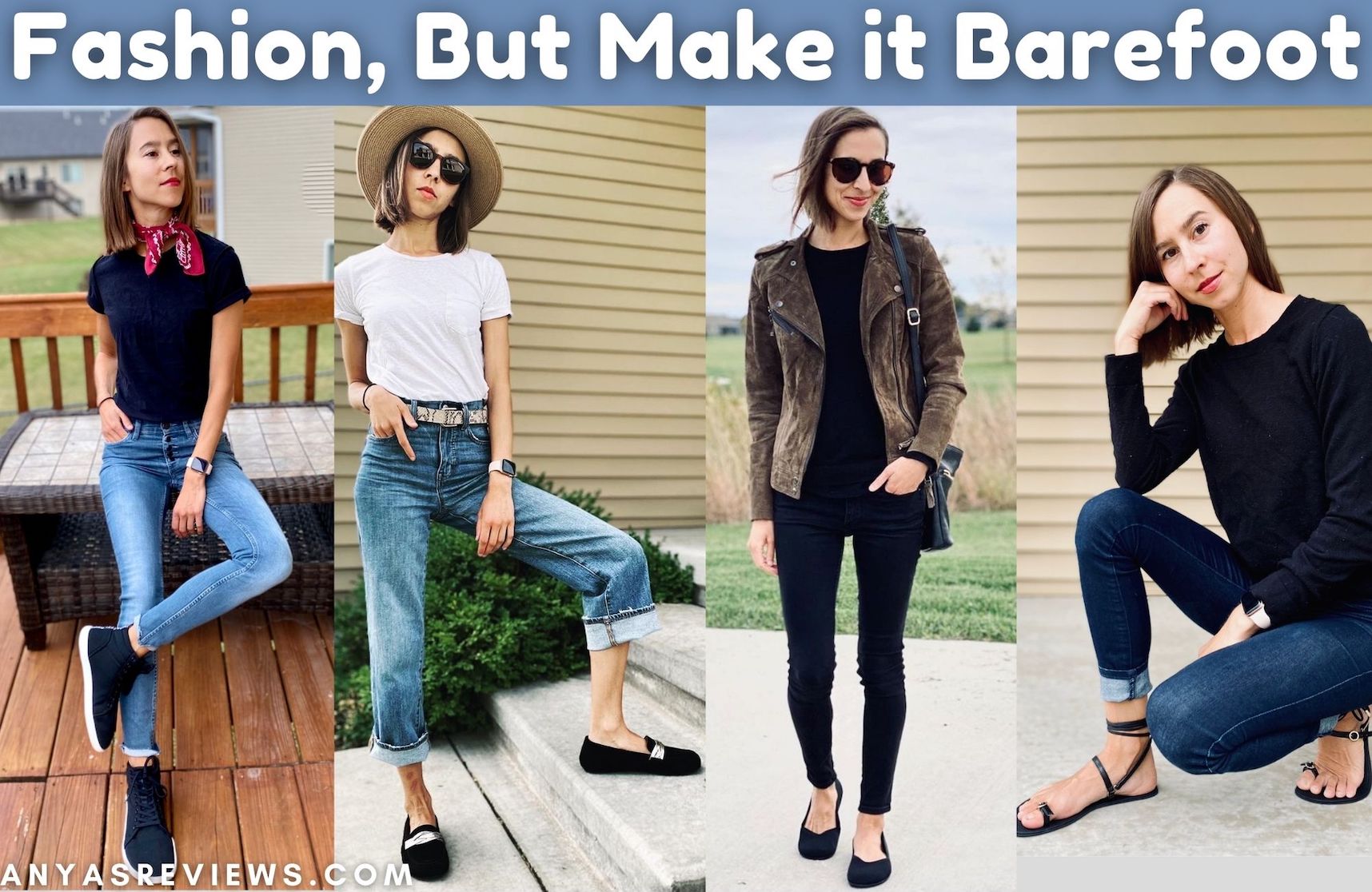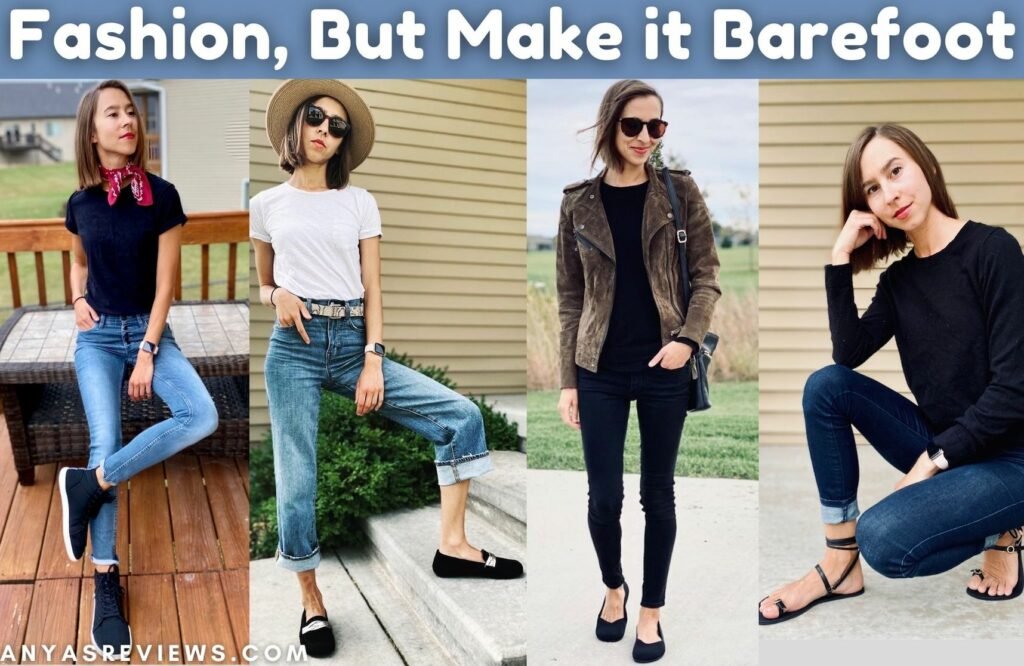 If you feel like fashion and function are incompatible, you need to spend some time hanging out here! In this edition of Fashion, But Make it Barefoot we take some high heel looks and style them with dressy flat shoes (your low back says thank you!) AND show how the ever popular Converse look can be improved on with a foot shaped alternative.
I share a new "Fashion, But Make it Barefoot" photo every Friday on Instagram and Facebook.
Click here to see all the previous Fashion, But Make it Barefoot posts.
July 9, 2021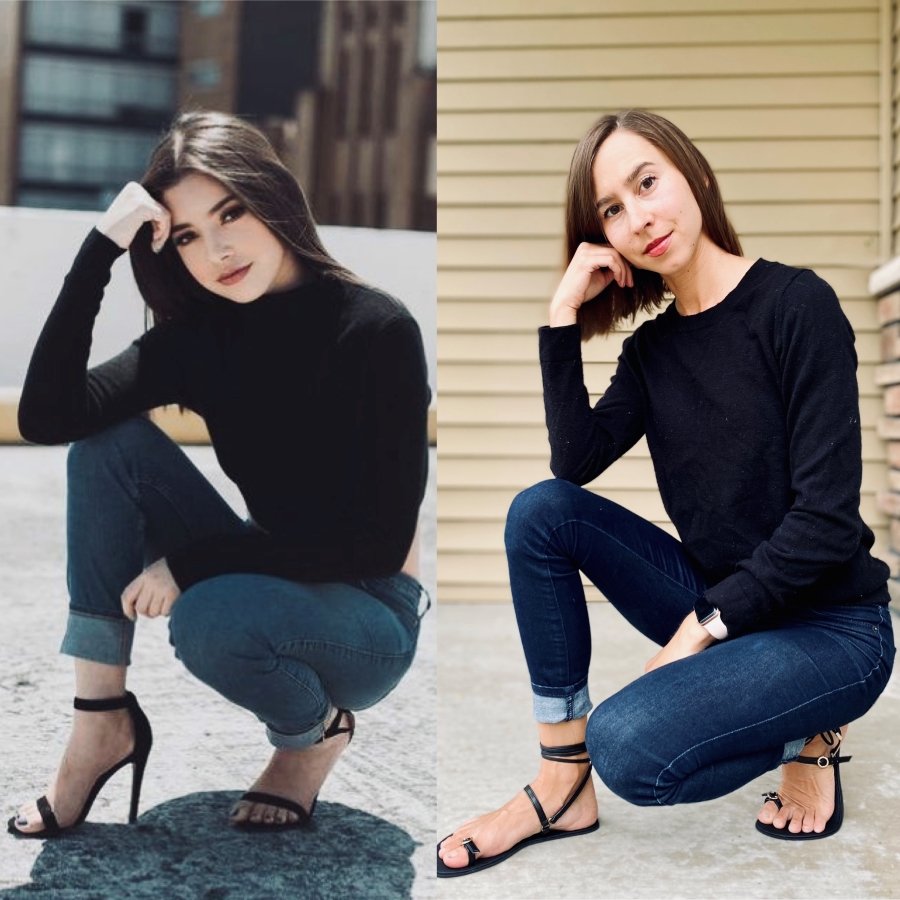 High Feels Sandals Nº5
I love a classic look, and model Mirka Gallegos stuns in this basic strappy sandal and jeans outfit. But that stiletto heel? In the words of Miranda from Healthy Feet Alliance, "Oh HEEL no!" So whadayasay? Shall we make it barefoot?

Thanks to brands like High Feels, dressy occasions no longer require impractical and damaging heels. If you don't want to wear heels, you don't have to!

I have High Feels sandals in two colors and sizes. I first got them in a size 36, which is my usual sandal size, but they ended up being slightly small. I since got these black ones in a size 37 and they are the perfect fit. You can order them with a Y-Strap buckle or a tie. I prefer the Y Strap, it's super easy to put on and off – there is a clasp not visible so you don't need to undo the buckle each time – and I think it looks cleaner. But both are pretty damn cute.

Based on my experience with them, I don't think High Feels would be a great sandal for high volume feet, the strap doesn't have a lot of adjustability, just 4 buckle holes. I am wearing mine on the smallest buckle hole and I have low volume feet. Oh, and they're vegan too!

Don't forget, if you are looking for fancy shoes that are good for your feet, I have tons of barefoot dress shoe options listed here! You can find wedding shoes, work shoes, and everyday stylish shoes for women, men, and kids ALL of which are completely flat and spacious in the toes. If you're looking to ditch your heels (and yes, men's shoes have heels too), go perusing! And give me a holler if you're looking for something specific and don't find it.

Happy Friyay! Time to unplug and unwind.
Click here to see the original post on Instagram
---
July 16, 2021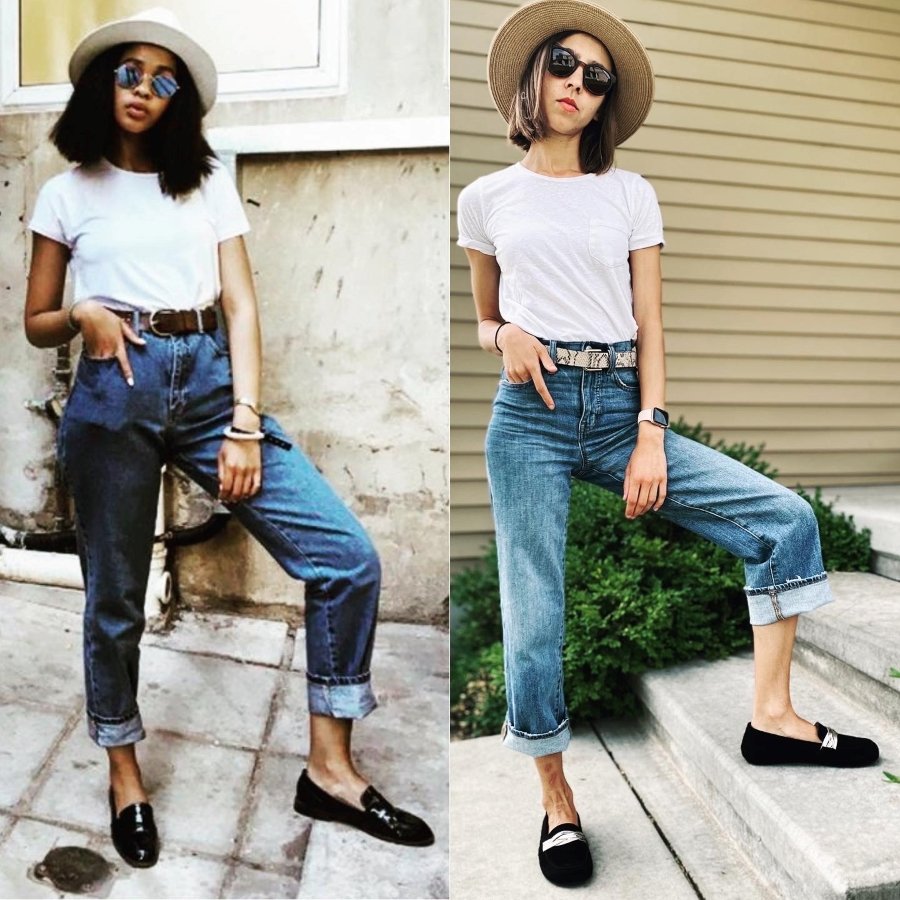 Zaqq Qerp Loafers | $180 | Leather | Sizes UK 4.5-12.5/EU 37-48 | Ships from Germany
Here at Anya's Reviews we're all about the AND. Rock your style AND have healthy feet. Wear clothes you love AND can move in. Be happy AND healthy. There's no reason a lifestyle that honors your need for a strong mobile body can't coexist with your killer sense of style!!

I'm also all about the loafers. A couple months ago I rounded up 14 barefoot loafer alternatives that have all the style but none of the foot deforming features you usually find in shoes – like a pointy toe box and raised heel. One of my faves is these Qerp loafers from Zaqq Barefoot. But check out the Barefoot Loafers article for more options, including some that come in large sizes!

Fashion doesn't have to hurt! Spend some time around here for tons more stylish barefoot shoes that respect the anatomy of the foot. Have your cake and eat it too!

Style inspiration on the left comes from the blog Comer Blogar Amar.
Click here to see the original post on Instagram
---
July 23, 2021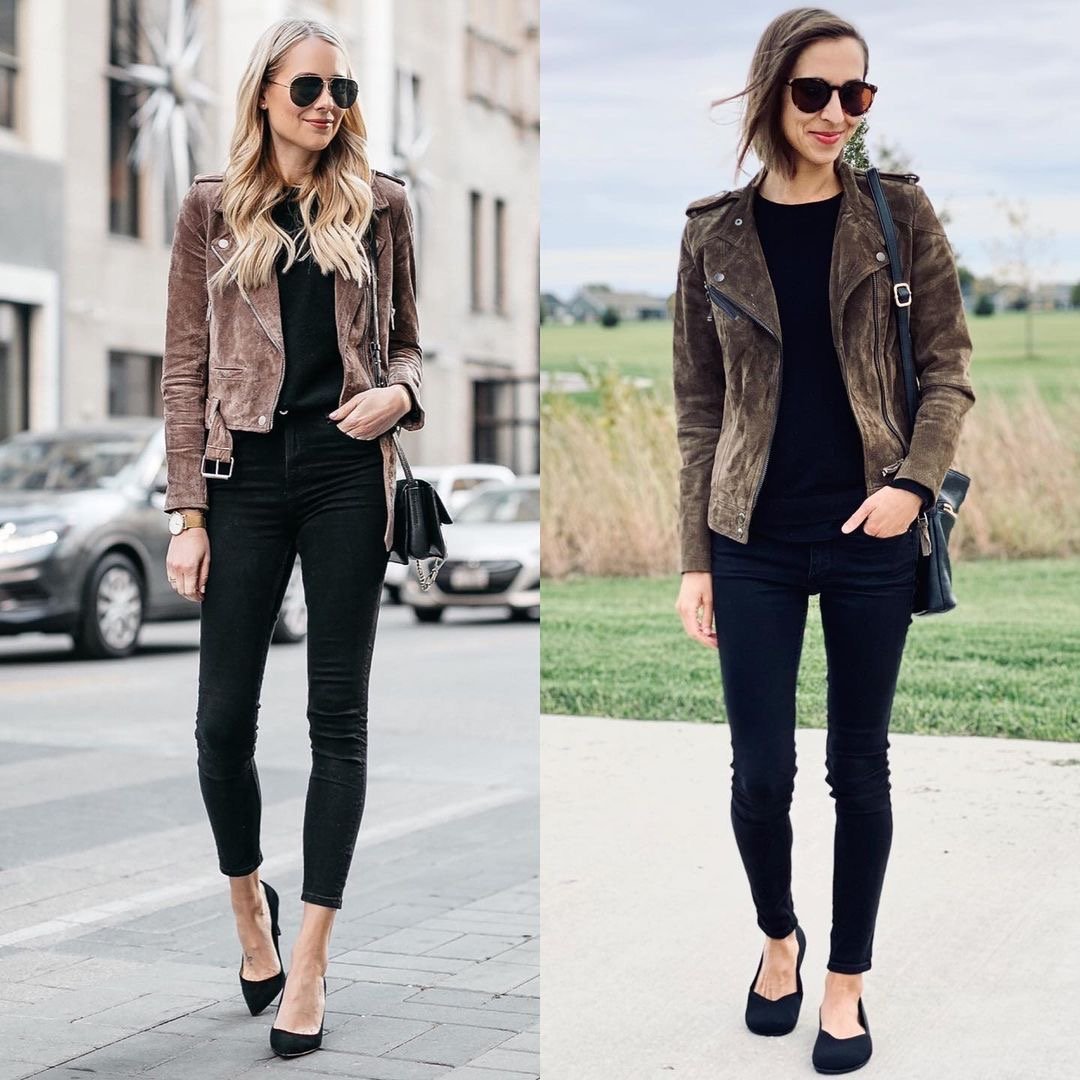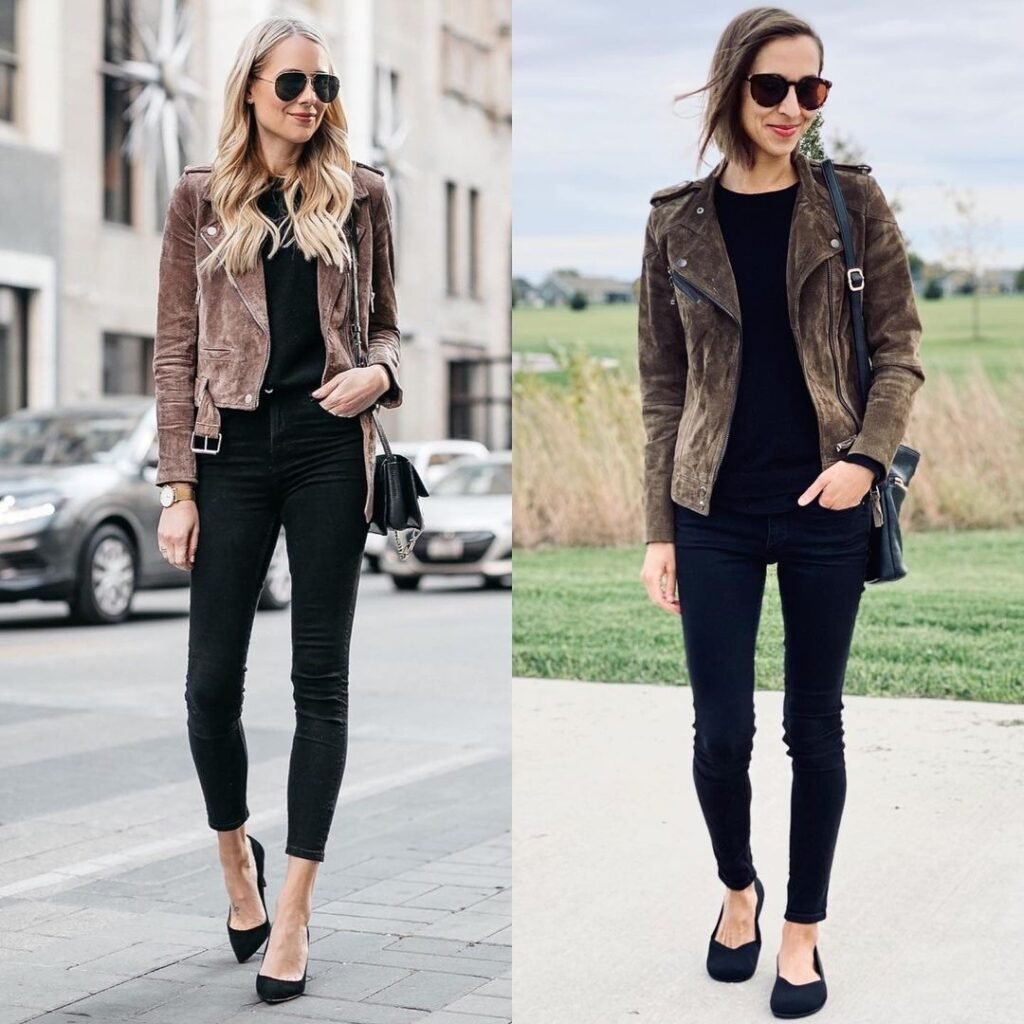 Xero Phoenix Knit | $70 | Vegan | Sizes US 5-11
Say it with me. "Flat shoes are sexy." See, not so bad right?

In this installment of Fashion Friday we have the famous Fashion Jackson styling a casual chic look with shoes I literally could not accomplish a single thing in. I love her sophisticated style, but gonna need something a little less pointy on my feet.

Swap them out for some simple minimalist flats and I can rock it!

I got sh*t to do. Ain't got time for foot pain. Anyone else? 🙋🏻

Shoes are the Xero Shoes knit Phoenix (vegan) that I reviewed on the blog a few months ago. They are my favorite little black flat right now, and come in several other colors too! But you can find a full list of barefoot ballet flats here. Go check it out if you're looking for dress shoe options!

Also, while I have you, can I plug sustainable fashion? My outfit here is all used. Cheaper for me, better for the earth, and puts money back into real people's hands.

Walk like a human!
Click here to see the original post on Instagram
---
July 30, 2021
Feelgrounds Highrise | $130 | Vegan | EU Sizes 35-49 | Ships from Germany
Feelgrounds sneakers are the answer to people who still think barefoot shoes look "weird." They're legitimately cool but unlike Converse and Vans, won't smash your toes into that telltale "bunion shape" you see on people who wear tight footwear.

If you're searching for a sneaker that feels like a dream and looks like a regular ole sneaker, go check out my Feelgrounds review here! With the help of you dear readers I was able to give a more thorough explanation of sizing, fit, and durability so you can avoid the hassle of returns/exchanges. Thanks for the help friends!

P.S. I send out a weekly e-mail to blog subscribers with shoe updates and movement tidbits. It's a great way to stay up to date without having to be on social media all the time, and you'll be given the opportunity to participate in future reviews if you'd like to!

Happy Friday!

Left image found on Harbour Blog's Pinterest Board.