In this space we are challenging the cultural norm that beauty is pain. I've never been one to settle, so why not look amazing in barefoot shoes? Healthy feet are widest at the toes and still beautiful. Let's celebrate what's natural and turn the shoe market on it's head!
I share a new "Fashion, But Make it Barefoot" photo every Friday on Instagram and Facebook, and here is a round up of posts from March 2021! Scroll to see the inspo and shop the shoes.
Click here to see all the Fashion, But Make it Barefoot posts
March 5, 2021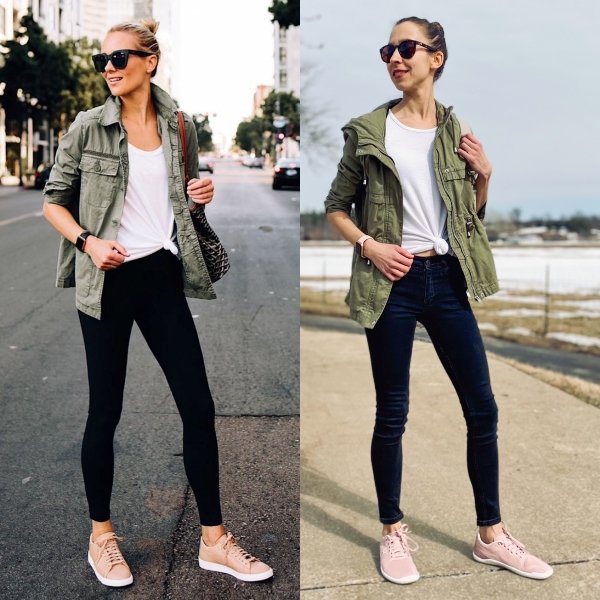 The Vivobarefoot Geo Racer II in blush | $135 after code VBANYA20 | Vegan
The Blush Geo Racer is mostly sold out, but you can get the same color in the :
*Primus Knit,
*the Geo Court
*or the Be Lenka Prime
I am very particular about my pink. Bubble gum and hot pink can kiss my 🍑, but blush ? That I can get behind.
I was inspired by this look from Fashion Jackson to style my new blush Geo Racers from Vivobarefoot (gifted)! I've included a few more photos of my favorite spring shoes from Vivo. The Opanka slip on is one of my favorites, my son is testing out the Primus Trail, and of course the Geo Court which I have in both black and white. You can always use the code VBANYA20 to get 10% off your Vivo purchase (affiliated, thanks for your support! ❤️)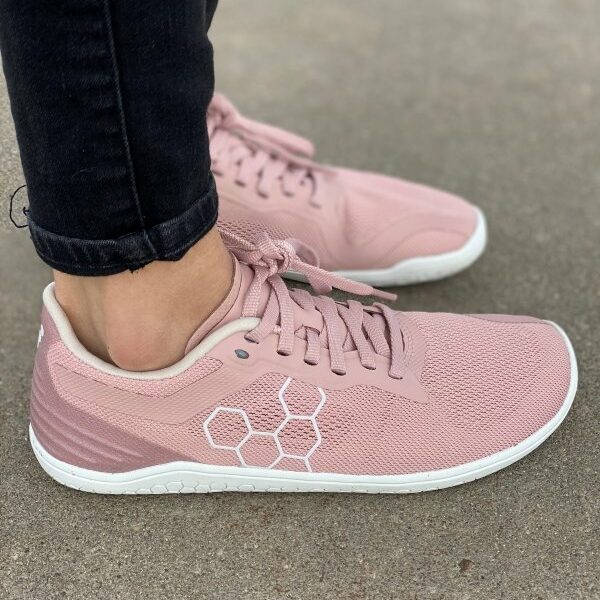 Click here to see the original post on Instagram
---
March 12, 2021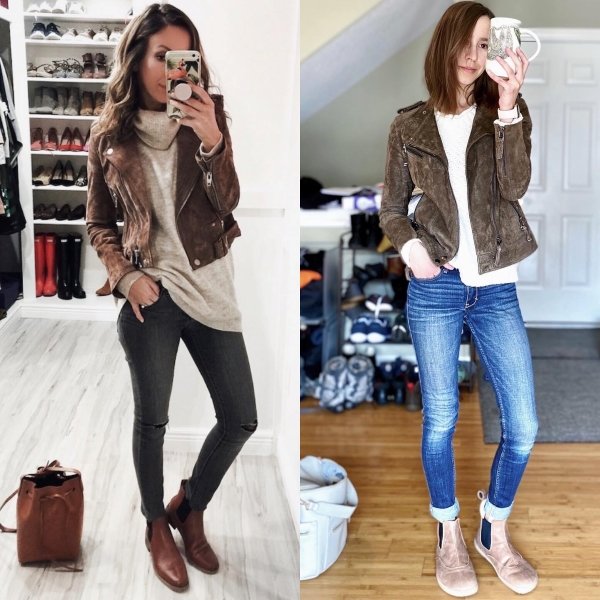 The Angles Fashion Artemis Boots | $175 | Leather
Chelsea booooots! #butmakeitbarefoot
I call BS on anyone claiming their pointy toe boots are "so comfy!" You need to try some barefoot chelsea boots and then tell me what you think of those torture devices.
Fortunately chelsea boots are relatively easy to switch over to a healthier option. The ones I'm wearing here are from Angles Fashion, a European brand that is new to me. I got the wool lined ones in a size up from my usual and I absolutely love them. They are so good we had to stock them at Anya's Shop!
I also am head over heels for these barefoot chelsea boots:
Vegan Chelsea boots from Mukishoes – ANYAMUKI gives you 10% off
The Shapen Ivy – ANYA5 gives you 5% off directly from Shapen. You can also find them at Anya's Shop!
The Vivobarefoot Geo Chelsea – VBANYA20 gets you 10% off any Vivo purchase
See all of them on me below!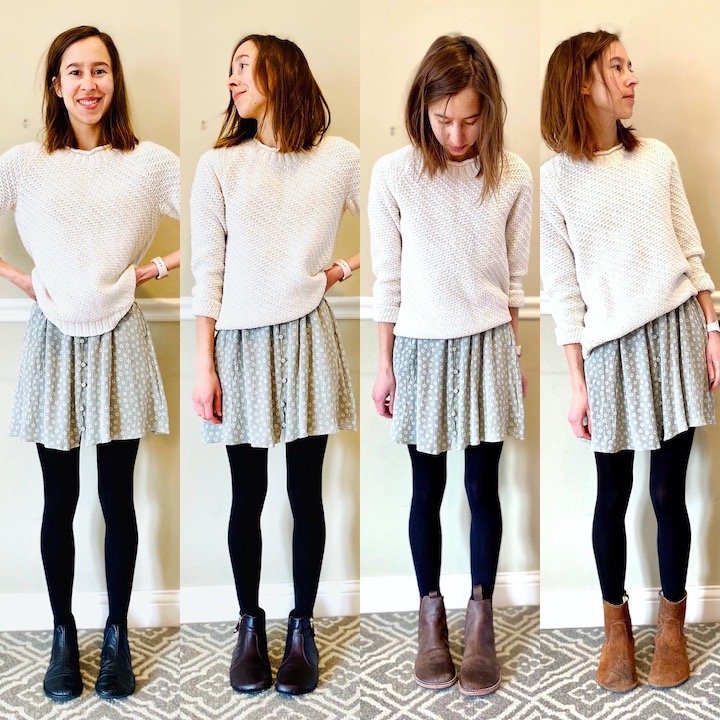 Fashion inspiration comes from Lilly Style, who has gorgeous taste and a disturbingly clean closet.
Click here to see the original post on Instagram
---
March 26, 2021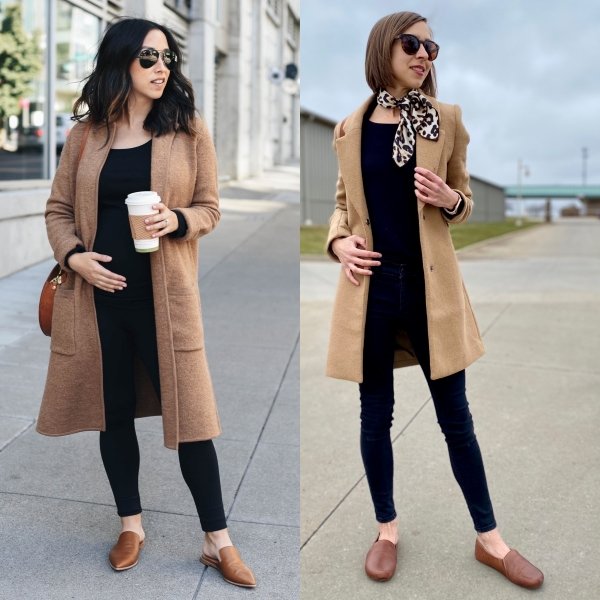 The FeetSutra Khussa Loafer | $129 | Leather
Use code ANYASREVIEWS for 10% off your purchase
I've had this outfit from Crystalin Marie pinned to my Pinterest account for YEARS as I've waited for loafers to be made in a foot friendly shape. Word to the wise, if you can stab your brother with your shoe it's too pointy. 😉 So I'll just take this adorable look and #makeitbarefoot, thank you! The necktie was also screaming to be worn, so this look was upgraded more ways than one. 🥳

I recently was gifted these loafers on the right from FeetSutra, a brand new barefoot shoe brand, and they are the first barefoot smooth leather loafers I have tried! I have them in a women's US size 6/EU 36, which is my usual flats size because I have such shallow feet and narrow ankles (I normally wear a 6.5-7/EU 37 in sneakers and boots). They are reeeaallly high volume and only fit my feet with an insole and an extra thick shoe tongue pad (two essential items in my low volume foot kit).
With those in they are still open around my ankles and threaten to slip, but I was comfortable walking a mile or so in them without any rubbing or other issues. I just wouldn't be able to run or bust a move.
They are medium width, not narrow but also not real wide. You can get them in men's sizes too, which are wider in width (but no other difference, so why not just offer the shoe in two widths instead of gendering them?… just sayin').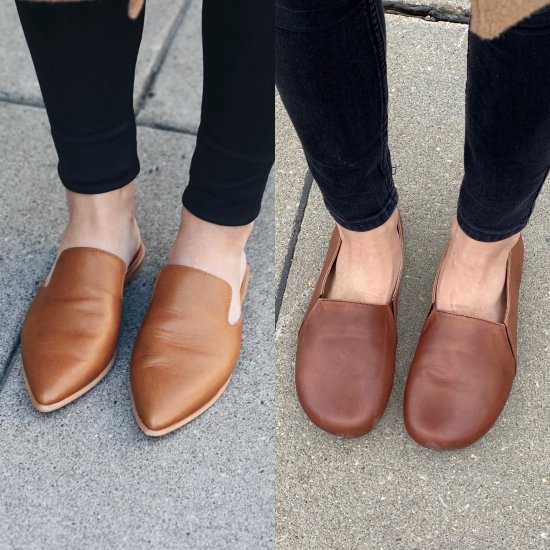 See some other barefoot loafers I own below. Pictured are the Vivobarefoot Opanka, which has a shallower fit. Use code VBANYA20 for 10% off your Vivo purchase. And the Lisbeth Joe London, which fits high volume like the FeetSutra loafers. And they run short so size up (I sized up one whole size). ANYASREVIEWS gets you 10% off.

You can also find moccasin style loafers (with stitching around the top) from Zeazoo Kids (ANYASREVIEWS for 5% off there) and Gaucho Ninja (ANYASREVIEWS for 10% off).

Thank you for the lovely outfit inspiration Crystalin!

Peace out homies.