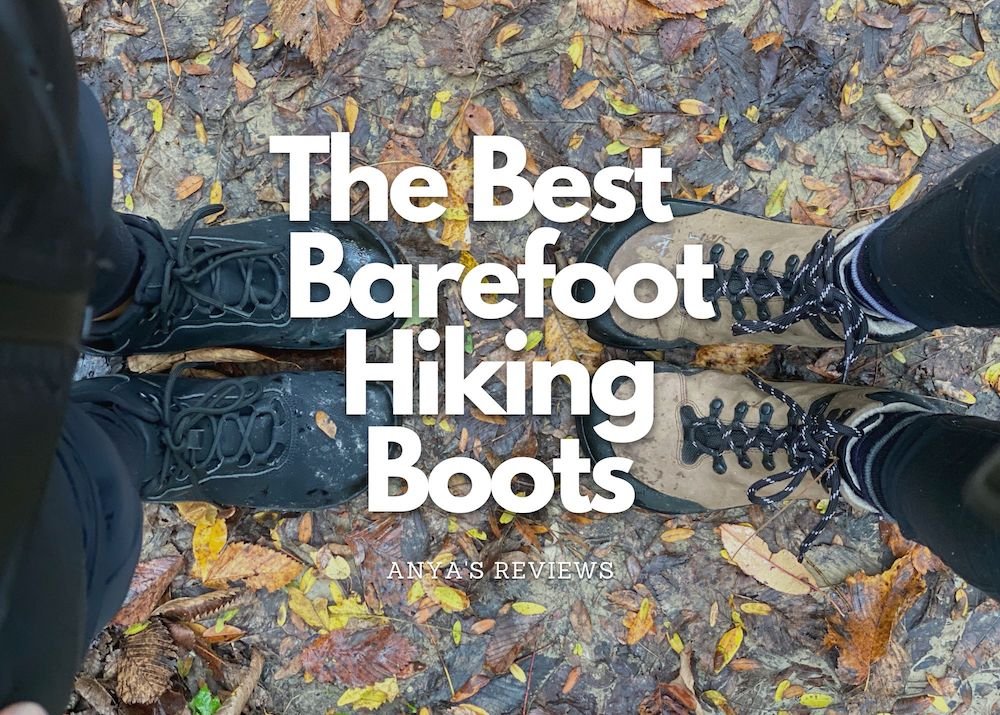 Serious hiking calls for serious shoes. But if you are committed to healthy feet you might want barefoot hiking boots that let your toes and ankles move more freely than your typical stiff, narrow hiking shoe.
In this article I review 10 of the best barefoot hiking boot & shoe brands, all of which I personally own and hike in.
Read on for the lowdown on barefoot hiking shoes that are zero drop, flexible, and wide.
The Best Barefoot Hiking Boots Available
This isn't just a collection of links – I own and hike in all of the barefoot hiking boots and shoes here. After years of testing and hundreds of barefoot shoes in my closet, I am confident these are the absolute best barefoot hiking boots on the market, no matter where you are in the world. Hiking just feels so much better when I'm in barefoot hiking boots!
Psst, if you're looking for barefoot boots for every day, check this review out!
Here is what I look for in my barefoot hiking shoes:
Zero drop sole (totally flat from heel to toe)
An anatomical toe box shape (space for all my toes!)
A thin flexible sole (though sometimes I go for a thick sole for weather protection/durability)
These features are inherently different from your typical hiking shoe that weighs a ton and barely bends. Let blisters be a thing of the past! Barefoot hiking boots let your feet move naturally while still protecting you from the elements. Now let's dig into the all time best options.
Or take a segue to learn why I only wear "barefoot" shoes
Ok, on to the best barefoot hiking shoes on the market!
---
Vivobarefoot Tracker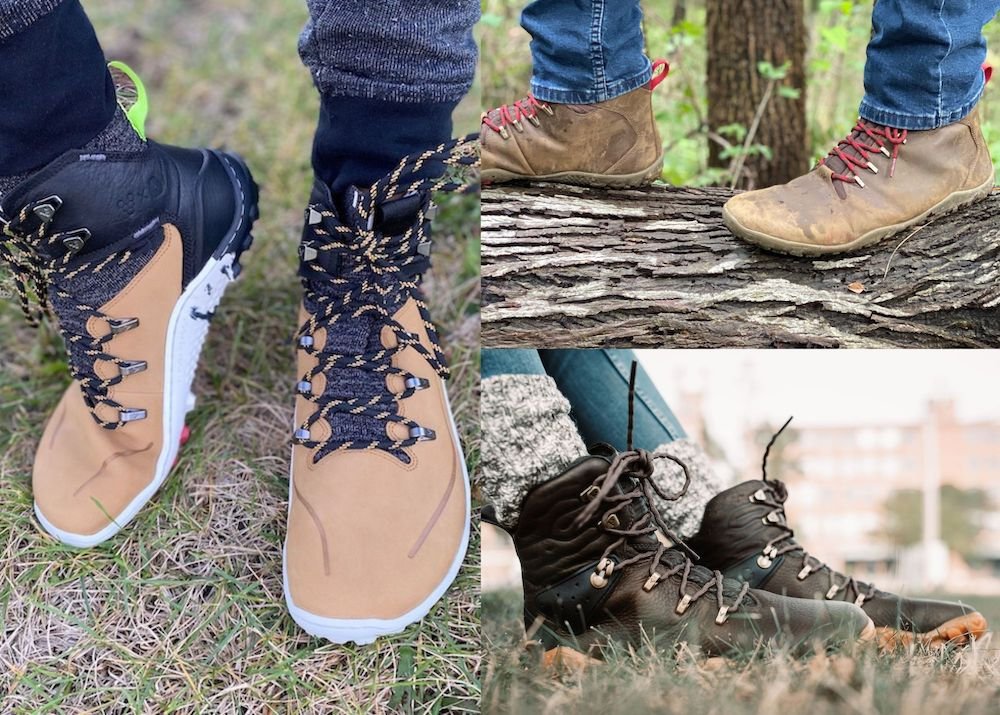 Lugs | Waterproof | Speed Hooks | Leather | $240 | Sizes US W5.5 – M15
Use code VBANYA20 for 20% off until Dec. 31, 2023
No one does outdoor shoes like Vivobarefoot. The Vivobarefoot Tracker is an excellent durable barefoot hiking boot with a waterproofed exterior (in some models), lugs for traction, and a removable thermal insole. They're the best combination of barefoot feel with function.
While the Trackers boots are extremely functional and durable, they feel a little stiff at first for a barefoot hiking boot and take breaking in. We have multiple pairs in our house that are several years old and I can confidently attest to them becoming soft and flexible.
The Vivobarefoot Tracker comes with three different outsole types.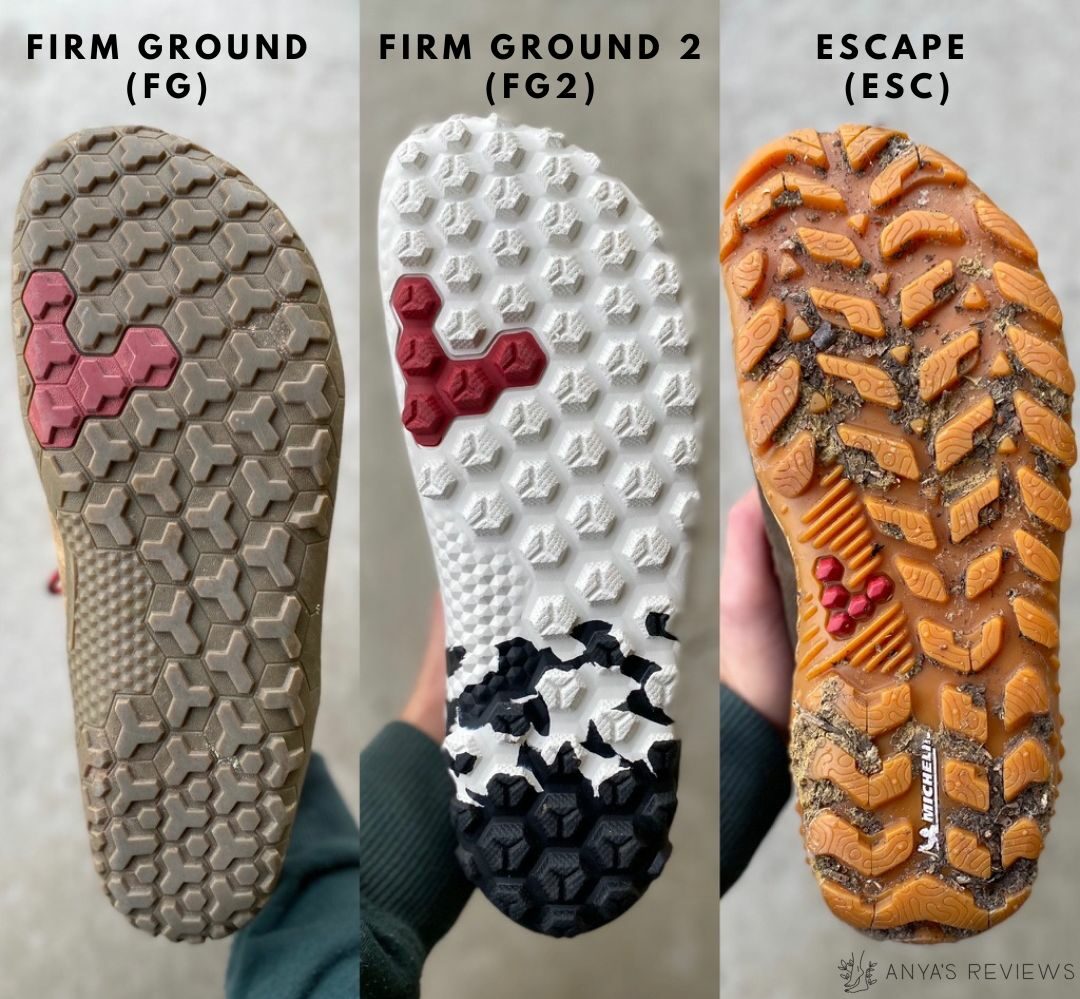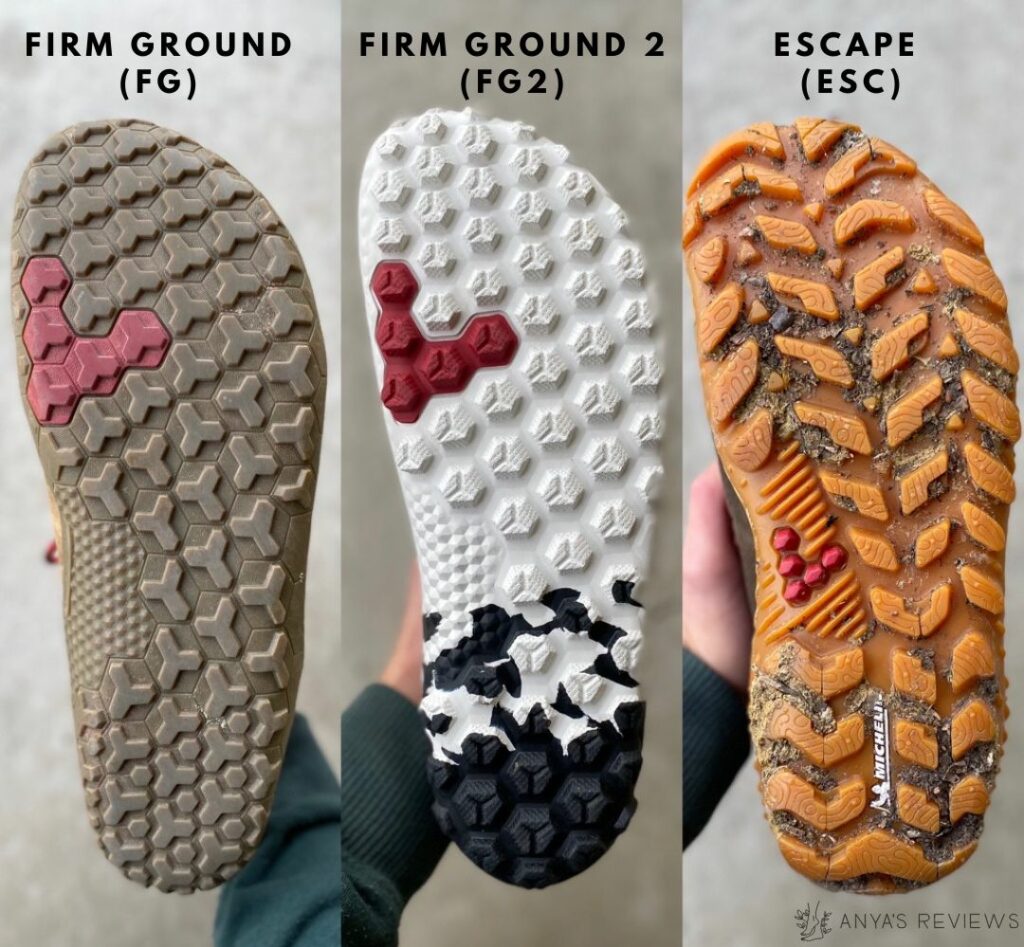 Here you can see the different outdoor soles in order of their grip and durability. The FG and FG 2 outsoles work perfectly for the hiking and playing we do, while the Esc sole is extra rugged and durable (a little beefier than I really need). They are a great choice if you do high mileage and/or extreme terrain.
My husband wears his Tracker FG hiking boots for snow (swap out the insole for a sheepskin one if you plan to do this) and even to work with business casual pants. I wear my FG's for hiking whenever it's cold and wet and my Decons with the FG2 sole the rest of the time. They have held up very well and are extremely functional! You can read my full Vivobarefoot Tracker FG review here.
Sizing & Fit
Read this post to learn all about foot type and how to measure your feet!
Runs true to size
Fits average to narrow width feet best
Medium volume over the arch (try the Tracker Esc if you have high volume feet)
My husband and I have our normal size in all our Vivobarefoot hiking shoes & boots except for the Tracker FG, that one we both sized up in.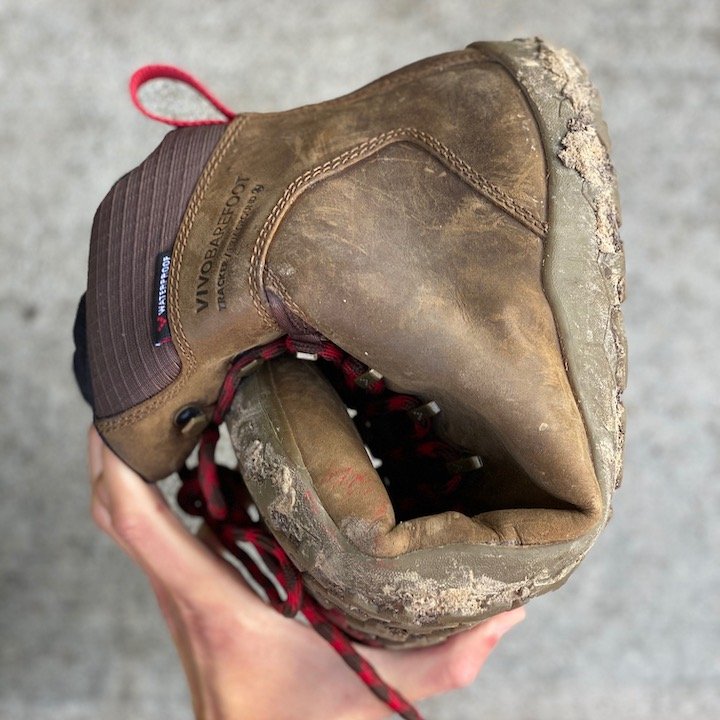 ---
Be Lenka Barefoot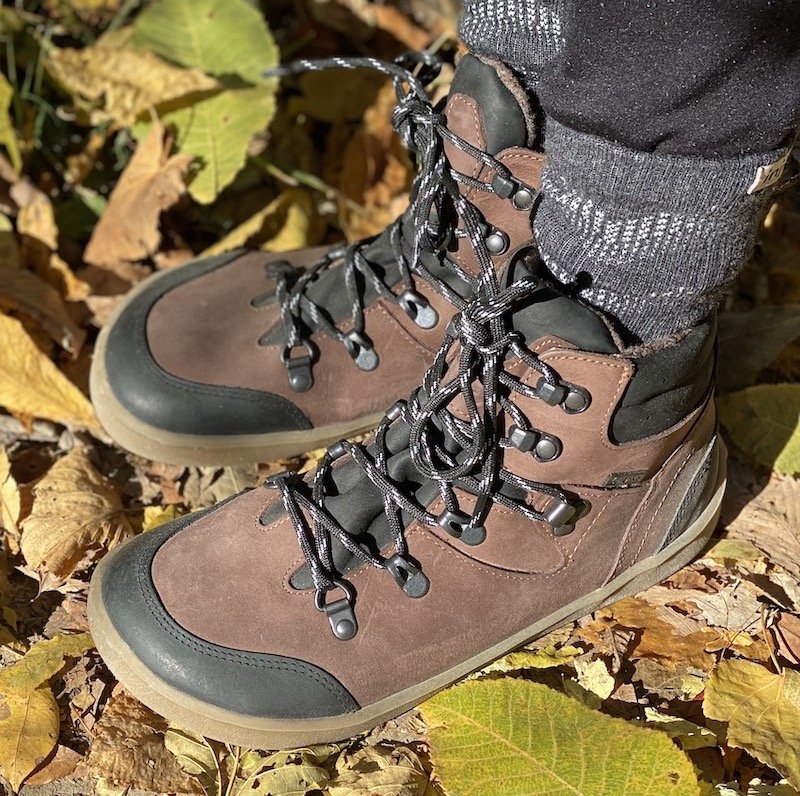 Leather | Waterproof Option | $179 | Sizes EU 33-47
Use code ANYASREVIEWS for 5% off your Be Lenka purchase. They only accept returns from the EU and USA.
Also available at Anya's Shop in the US!
Be Lenka barefoot has two excellent hiking shoes. The first is the Be Lenka Ranger. This is a fleece lined, waterproof boot with a durable upper and rugged non-slip sole. I am loving everything about these, from their high quality materials, to the extra spacious toe box, to the warm fleece lining (I do a lot of cold weather hiking). These are easily my #1 choice for a cold weather hiking boot, but aren't as practical year round – which is where the Vivobarefoot Tracker takes the cake. The Ranger can double as a snow boot too!
If you need a barefoot trail shoe for warmer weather, the Be Lenka Trailwalkers are wonderful. These barefoot hikers are extremely comfortable and have great grip. Not to mention the incredible amount of toe space and excellent quality. I've banged up my ankle bones a few times in them on rocky hikes (the perils of not covering your ankles!), but I still prefer them when the weather is warm because of how light and and comfortable they are.
The tread is not deep, which actually helps keep mud from collecting in the grooves, and they've kept me steady even on loose rock and gravel. They come with an optional insole for some cushion or a better fit if you have low volume feet. Without the insole they are only 4mm thick! Overall, these are exactly what I'm looking for in a barefoot hiking shoe: practical, but my feet still feel free.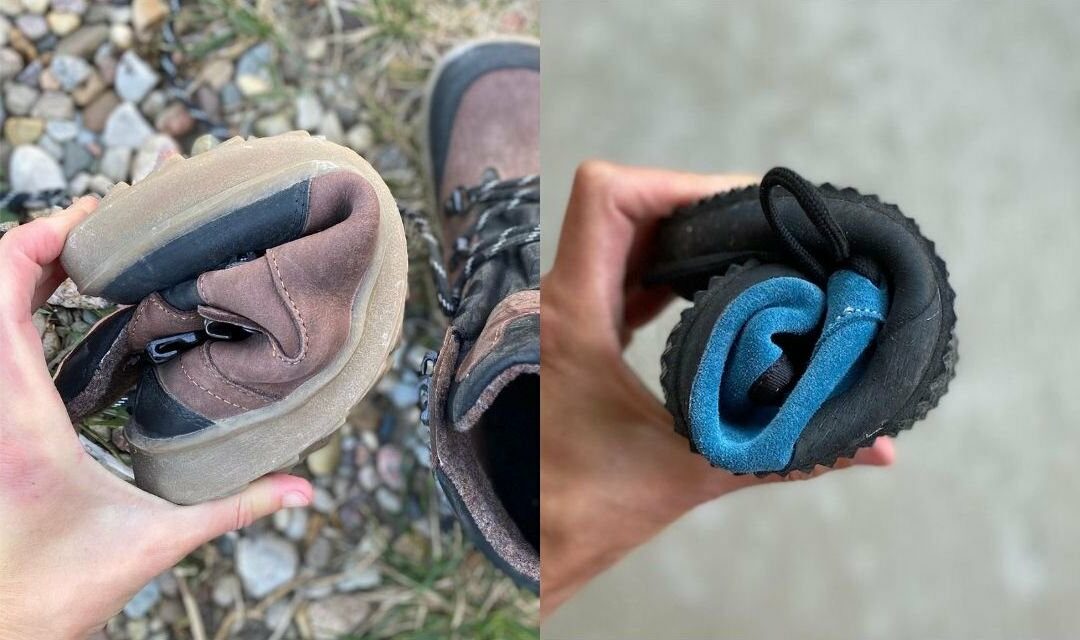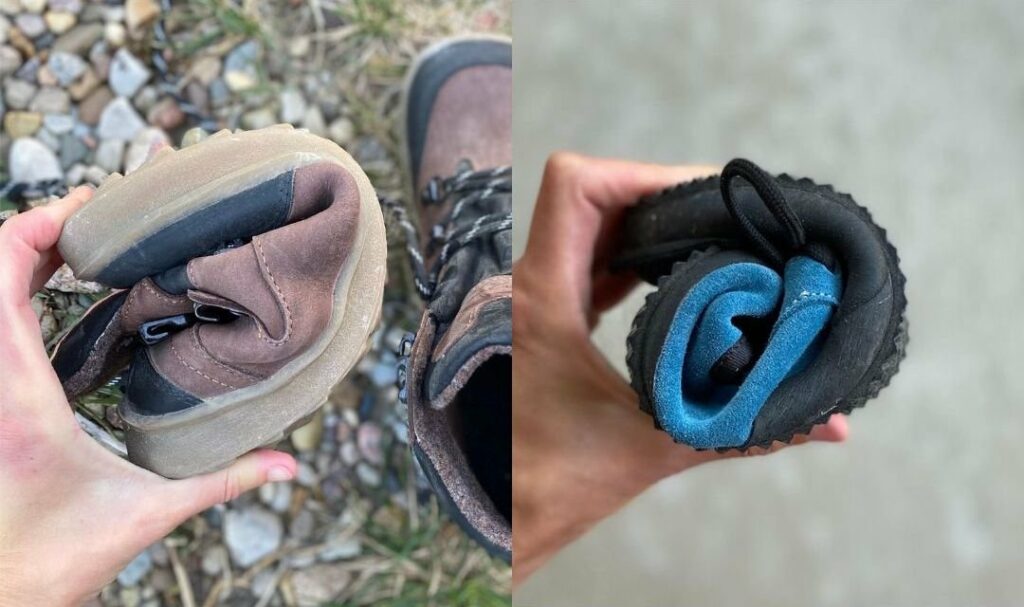 Sizing & Fit
Runs slightly small.
Fits wide to extra wide feet.
The Trailwalkers are high volume.
The Rangers are medium volume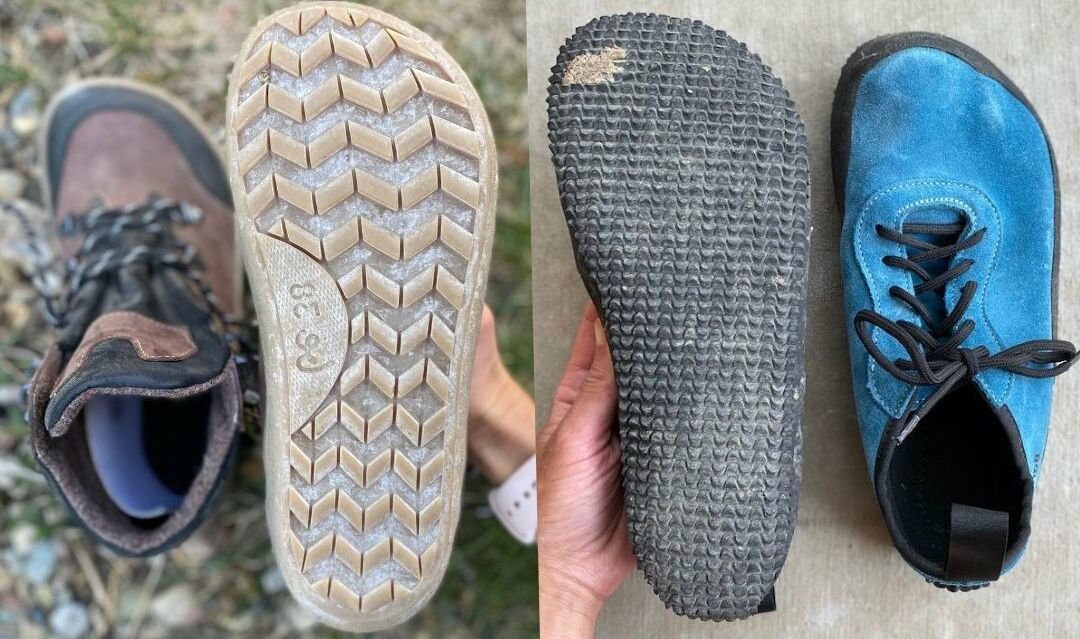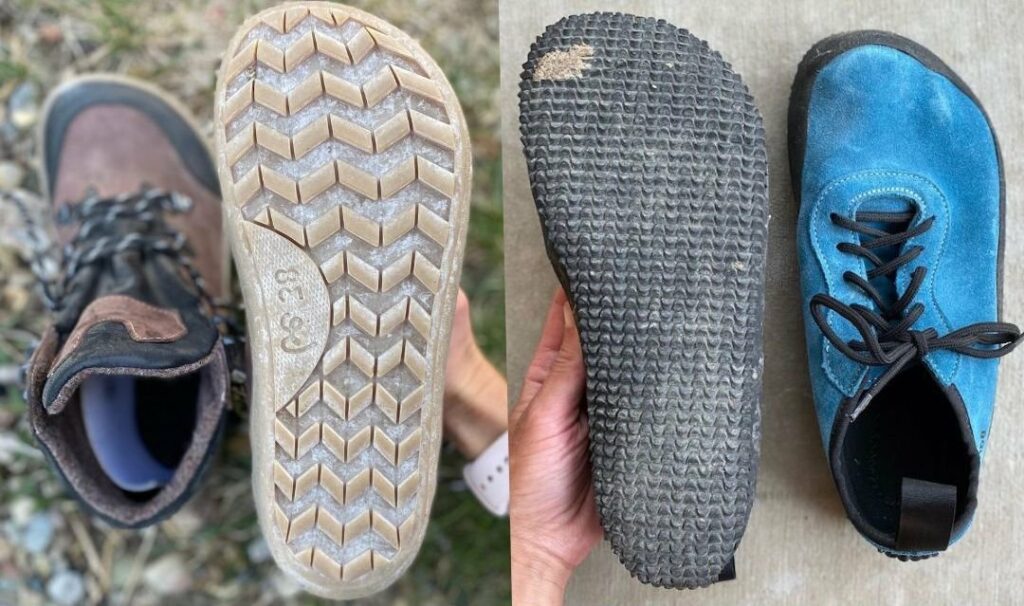 ---
Xero Shoes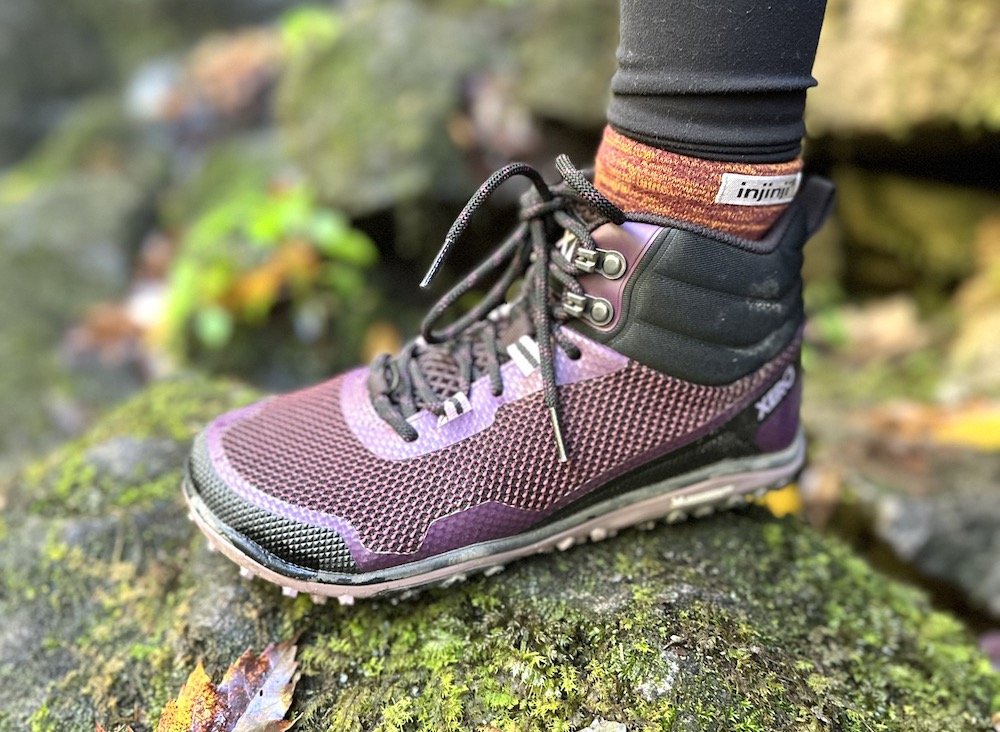 Lugs | Water Resistant | Speed Hooks | Vegan | $169 | Sizes US W5-M15
The Xero Scrambler Mid is my FAVORITE hiking shoe from Xero to date. It's soft, comfortable, and yet extremely functional. I love them for spring and fall hiking because the upper is breathable and light.
The lugs on the Scrambler Mid were effective at keeping me stable while hiking, and the sole is a great balance of being flexible while still having effective traction.
Xero's hiking boots can be on the stiffer side, and I've had some trouble with certain models irritating my heel in the past (if you have wide feet and sensitive heels then avoid the Xcursion boot!). But the Scrambler Mid is really comfortable for me and I highly recommend them. If you are looking instead for a fully waterproof option, I would check out the Ridgeway.
Read my full review of the Xero Scrambler Mid for all the deets.
And if you're looking for a barefoot hiking shoe instead of a boot, I recommend either the Scrambler Low or the Mesa Trail from Xero! They are similarly soft and breathable.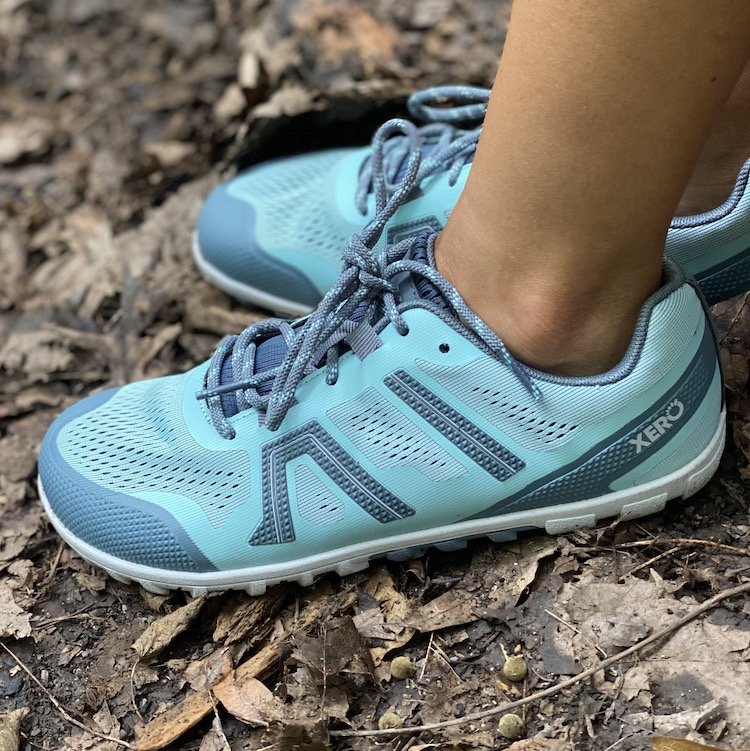 Sizing & Fit
Runs true to size
Runs medium to wide width.
Works for most foot volumes from low to high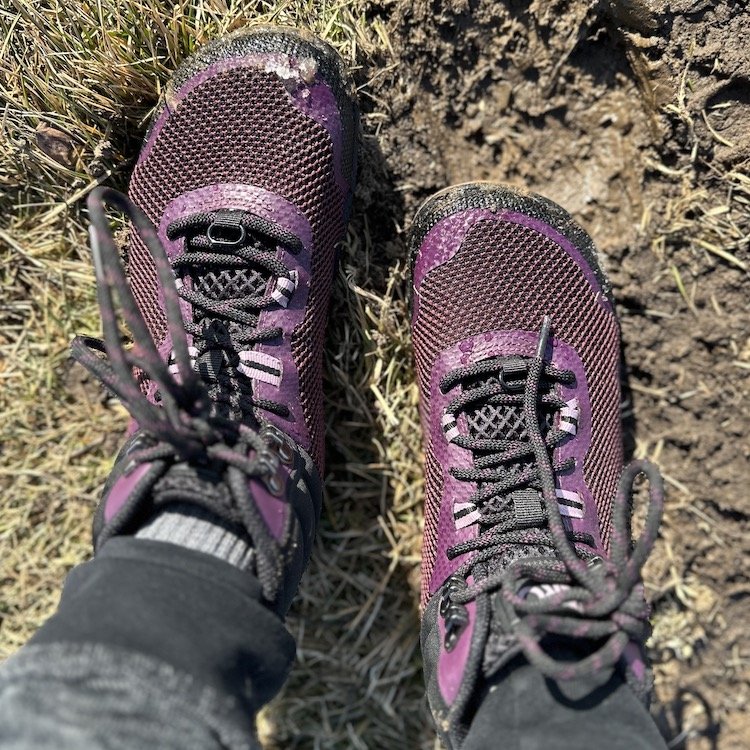 ---
Lems Boulder Boot Grip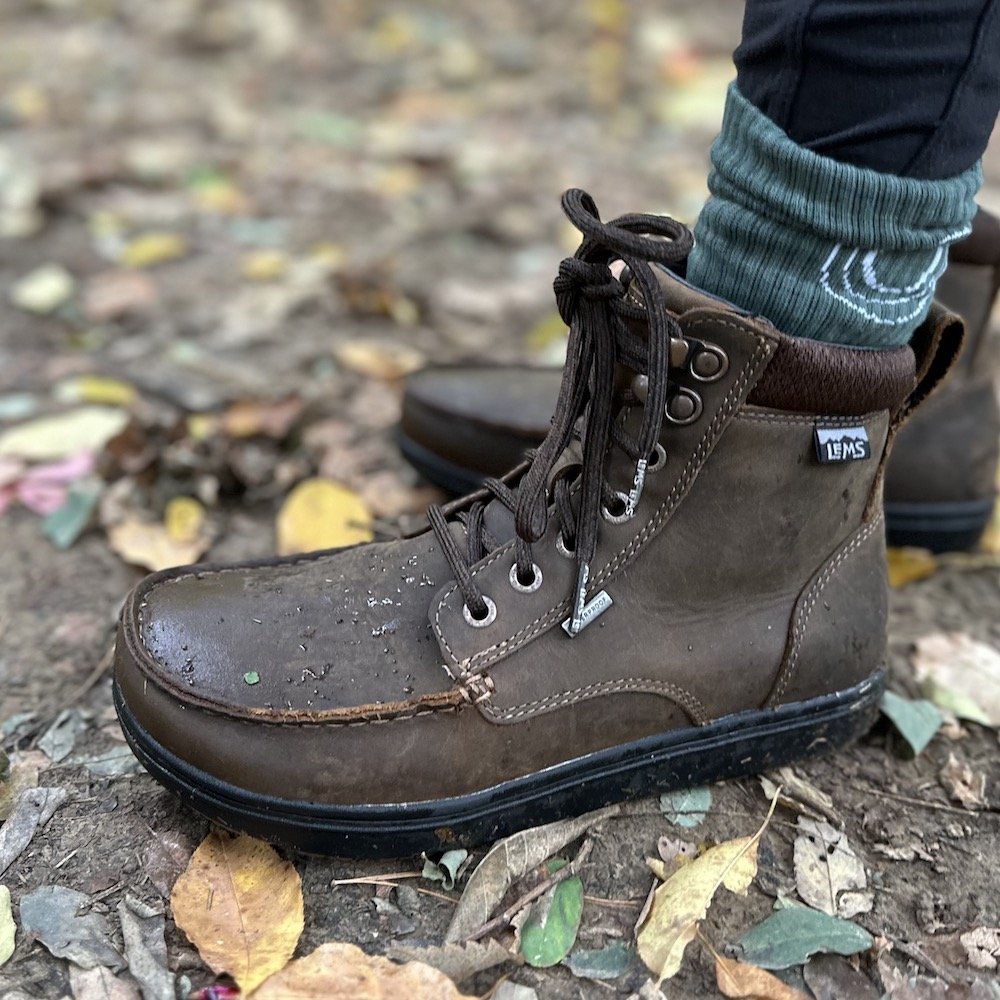 Waterproof | Leather | Sizes US W6-M15
European readers can purchase some Lems models at Mugavik Barefoot and use code ANYASREVIEWS for 5% off
The waterproof Lems Boulder Boot Grip is a new variation on their original Boulder, and they are everything I wished for! Classic styling, a soft leather upper, and a grippy outsole that has better traction on and off the trails.
The tongue is gusseted to keep water and debris out, and the sole is thicker than a lot of other barefoot hiking boots (13 mm without insole) so you have some protection from the ground. This also makes the Boulder Boot Grip functional as a light work boot! There is a removable insole if you need more space, and you can swap it out for a sheepskin one to stay extra cozy.
Sizing & Fit
Runs small – They have a reliable sizing guide, so follow that.
Fits wide feet.
Square shaped toe box.
One thing I love about Lems shoes is that they have a lot of space above the toes, which makes them feel very roomy without being too big on the rest of the foot.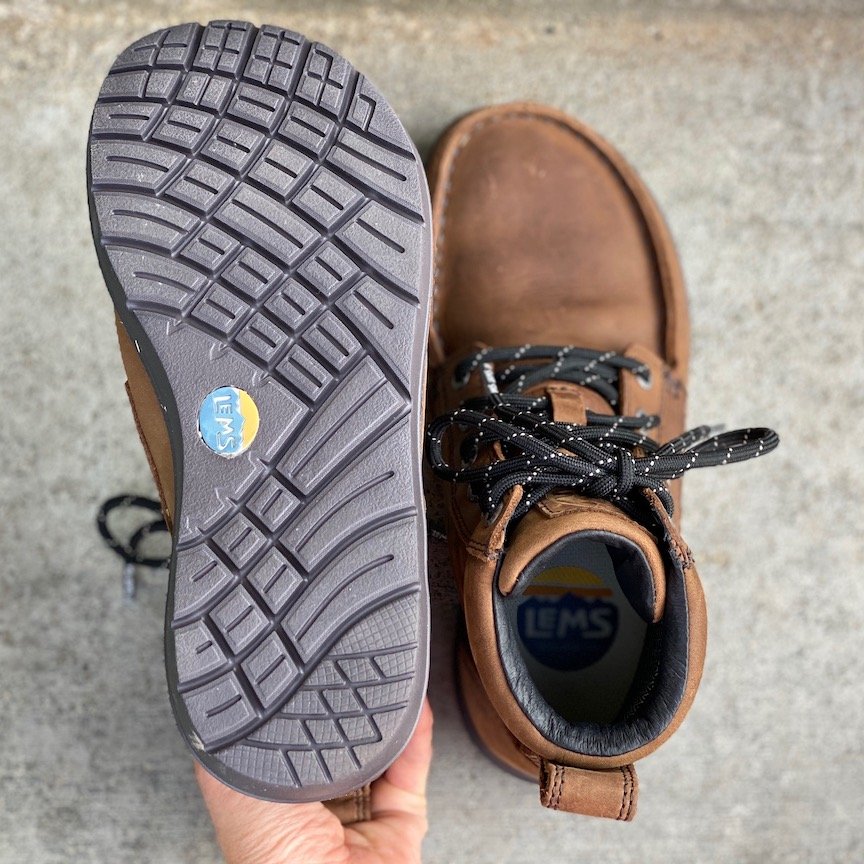 ---
Freet Barefoot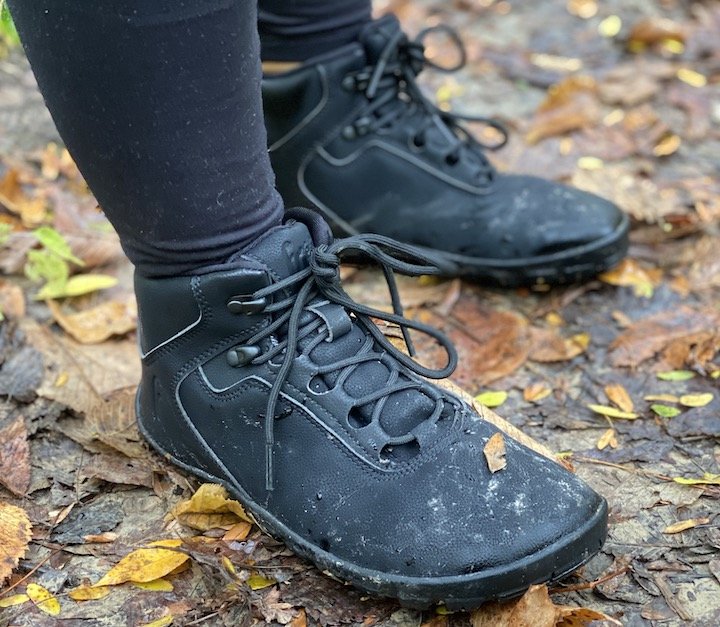 Water Resistant | Speed Hooks | Vegan & Leather Options | $130-$230 | Sizes EU 37-48
Get 10% off any Freet Barefoot shoes with code AR-10.
Freet Barefoot has several barefoot hiking boots and shoes that function excellently, including vegan options! The hallmark feature of Freet Barefoot boots is that they are soft immediately without needing much break in time. They are the lightest option I've tried, and the soles can be as thin as 4mm without the insole.
Another big plus about Freet Barefoot is it their shoes have an excellent foot shape with plenty of space for all toes. I also appreciate that they go to great lengths to produce barefoot shoes that are ethically made using sustainable materials. And finally, after my code AR-10 for 10% off they have far and away the cheapest options out there. For the durability and comfort you get, these are a great find in the world of barefoot hiking shoes.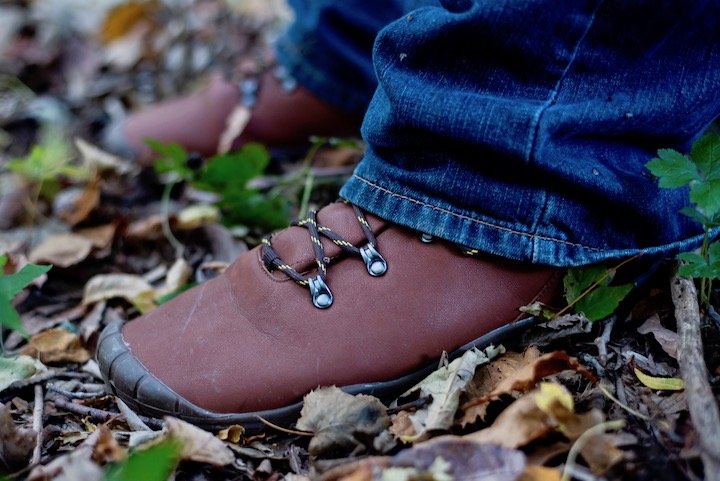 One complaint about Freet shoes is that the interior is heavily padded and it can be kind of bulky around the ankle. They don't rub or cause blisters though! The vegan waterproof options can also get hot and sweaty in warmer weather because they don't breathe. They feel great in cooler temps and definitely with socks (or you'll be in sweat city), but f you're looking for something to hike in that is more breathable, I would check out the Botee M, the Feldom or the Ibex.
Sizing & Fit
The boots run a bit small, but it varies between models so consult the sizing & fit description for each model before ordering.
Fits wide feet.
Square shaped toe box.
Works for all foot volumes.
For more details on Freet's sizing & fit, read my in-depth Freet Review.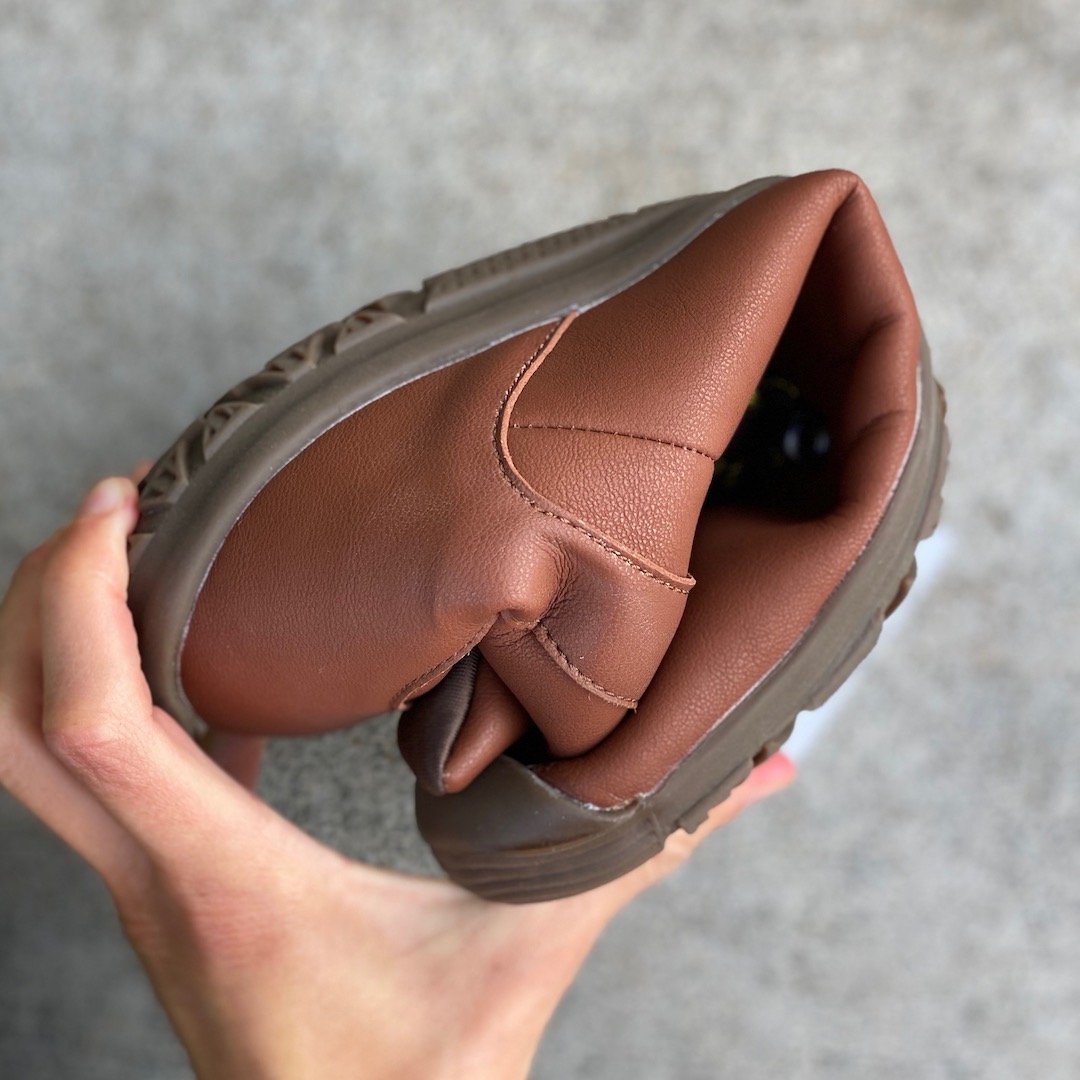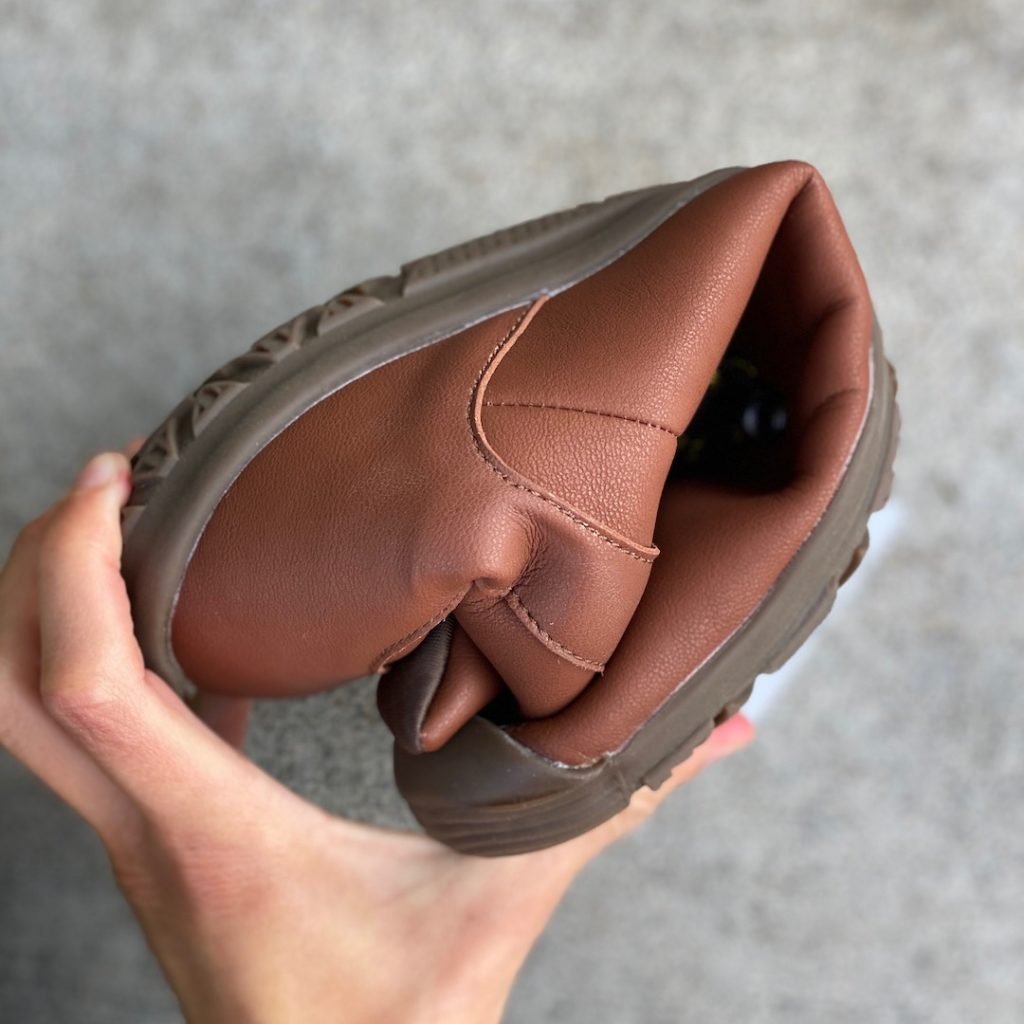 ---
Softstar Switchback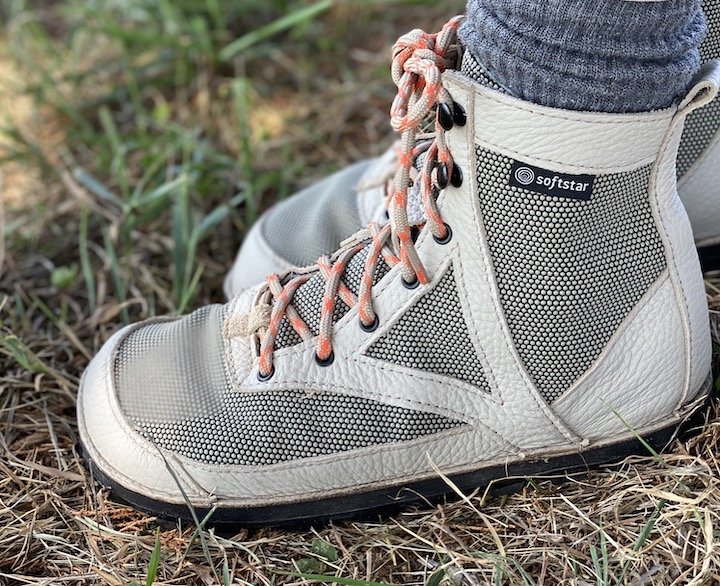 Lugs| Waterproof | Speed Hooks | Fabric, Leather & Wool | $240 | Sizes US 5U-13U
The Softstar Switchback is a barefoot hiking boot with some amazing specs. It comes in two widths and two different material options. Mine are Wide, and they are SUPER wide! They are by far the widest hiking boot I've tried. The Regular Switchback's are narrower and have a more tapered shape to them (see photo below).
These boots are made with Vibram's Megagrip sole and have serious traction and durability – it should last for many, many miles. And if it does wear out, you can have it resoled by a professional cobbler. The interior is lined with a thin wool. The exterior on mine is Super Fabric, an extremely durable, waterproof, and yet breathable material. There also is an all leather version, which will mold more to your foot than Super Fabric.
I am finding them comfortable and practical, and I hiked miles in them the first wear without any discomfort! But be advised, these boots fit low to medium volume over the arch. That means if you need a lot of vertical space above your foot/have high arches you might feel cramped! Fortunately they've added more toe room, so it's really just over the arch that can feel tight.
The sole is thick, so you don't really feel the ground in them, but they are flexible and I still feel connected to the earth.
Sizing & Fit
Runs true to size.
Fits extra wide.
Square shaped toe box.
Low volume fit.
If you choose regular width these will be more average width.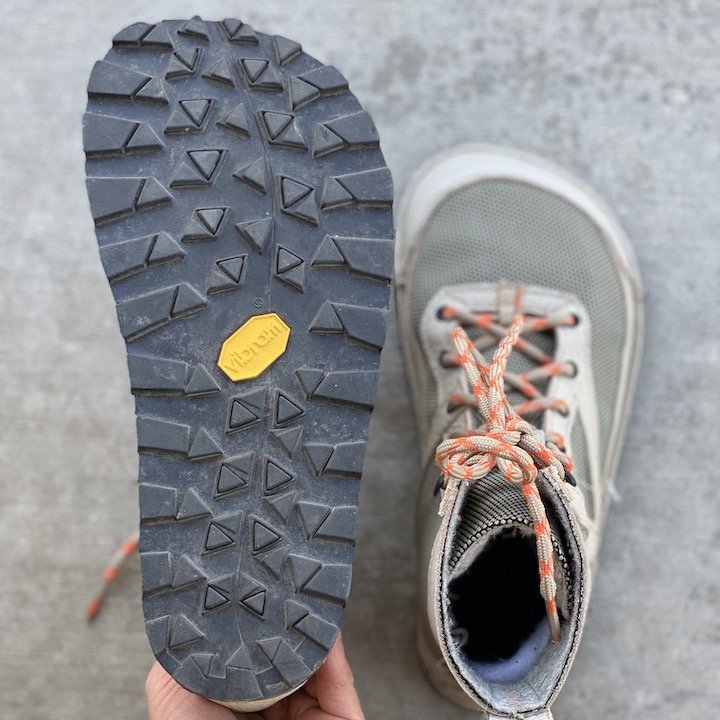 ---
Joe Nimble WanderToes 2.0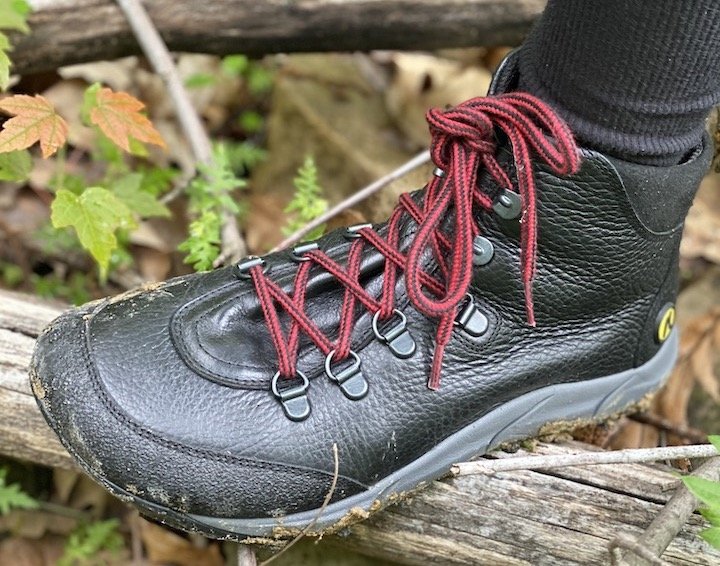 Lugs | Water Resistant | Speed Hooks | Leather |$199 | Sizes EU 35-48
The Joe Nimble WanderToes 2.0 is a rugged, water resistant minimalist hiking boot with a super grippy sole. This boot has excellent traction!
The tongue is fully gusseted to keep water and dirt out, and it can be cinched or expanded depending on the volume of your feet (major bonus). There is a tough microfiber toe guard to protect your toes and the material of the shoe from scuffs, and the rest of the upper is a soft, water resistant leather.
The truth is, I love everything about this shoe except for one thing. The sole is quite stiff. It bends, but it takes effort, and the reinforced heel cup rubs my heel. It also comes with an insole that is not zero drop (it adds a 3mm heel rise) so you need to remove it and replace it with a barefoot insole to be a true barefoot hiking boot.
If you are someone who needs traction over flexibility for intense terrain, this is your shoe. But if you're looking for a real barefoot feel, I would go with something else in this list..
A vegan option, the WanderToes Lite, is now available at Joe Nimble International.
Sizing & Fit
True to size.
Fit wide feet.
Works for all foot volumes.
Fits sloped or plateau-shaped feet best.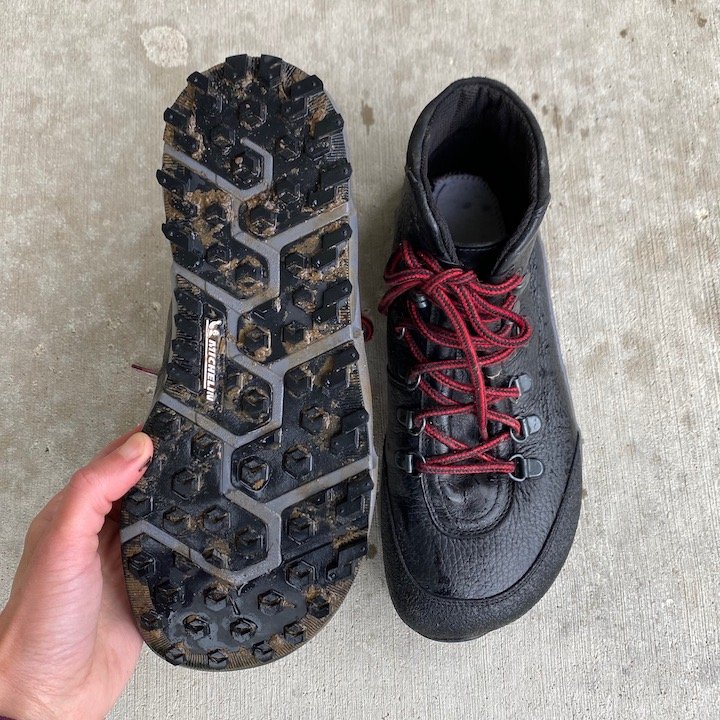 ---
Altra Lone Peak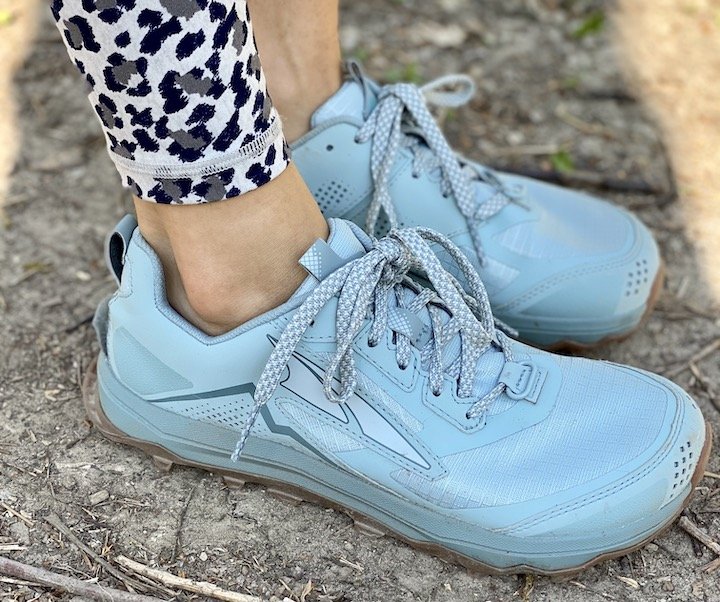 Water Resistant Options | Vegan | Sizes Kids 13 – US Men's 16
The Lone Peak from Altra is a well loved zero drop trail and hiking shoe line that features a thicker sole than you usually find on barefoot shoes. I tend to prefer my thinner and more minimal barefoot hiking boots, but I can appreciate the quality of Altra Lone Peak shoes. They have several different toe box widths depending on which you get, and a full range of sizes from youth to the biggest of men's sizes. They also have some over the ankle options that would be more boot-like than the Lone Peak 5 that I have.
Many ultra runners and hikers use Altras and swear by them, the thick sole can be a life saver at those distances. Lots of barefoot newbies also really appreciate the extra bit of cushion, and the variety of sizes and toe box widths make Altra easy for people to access. So even though you can't really feel the ground in Lone Peaks, they have a valuable place in the barefoot hiking shoes scene.
Sizing & Fit
Runs true to size, but if in between go up.
Fits wide toes, and even comes in a wider width.
Square shaped toe box.
Fan-shaped (they narrow at the arch and heel).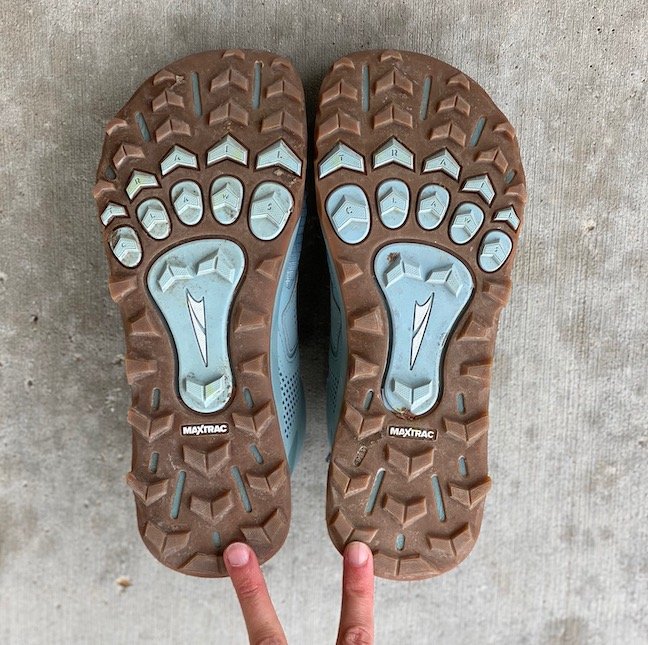 ---
Feelmax Kuva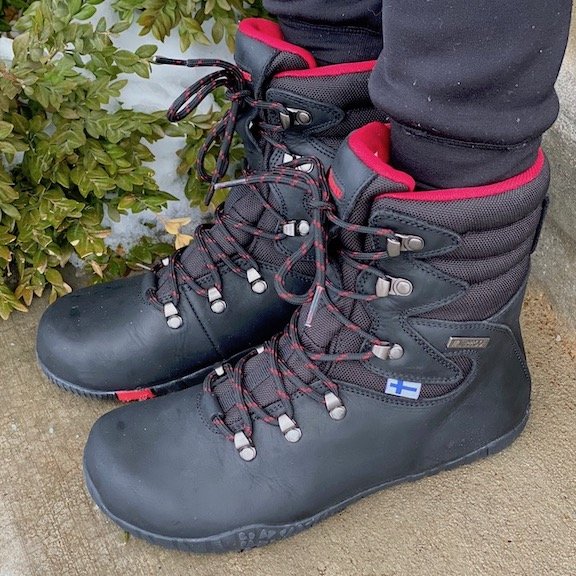 Lugs | Waterproof | Speed Hooks | Leather | €190 | Sizes EU 36-48
Feelmax is a Finnish brand and the Kuuva is their flagship product. They are a fabulous barefoot hiking boot. The sole is durable and slightly stiff, but thin and the quality is undeniable. They are waterproof and come up high on the ankle to keep water out. They have a tall toe box and work well for high volume feet, but I was also able to cinch them close around my shallow arches. My only complaint is that the high collar restricts my ankle motion when hiking. I sized up one so I could wear thick socks, and I am glad I did because of the stiffness of the material.
But the Kuuva gets 5 stars for quality and they meet all the barefoot requirements.
---
Zaqq Expeq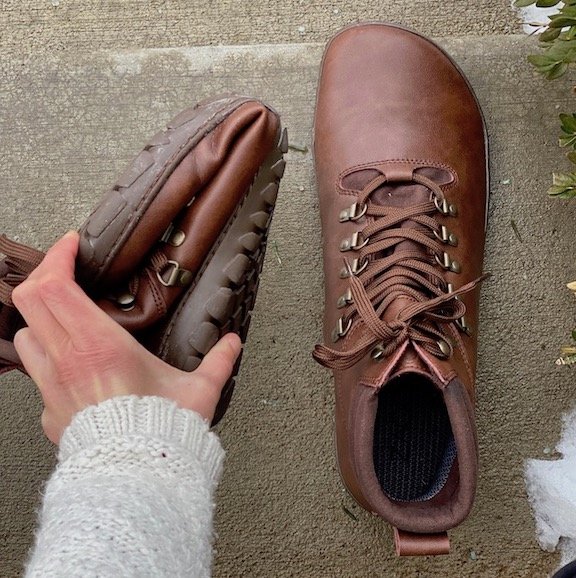 Waterproof | Speed Hooks | Vegan Options | $170 | Sizes EU 36-49
The Zaqq Expeq is the most flexible barefoot hiking boot on the market. The sole is slip resistant, and the upper is leather (though there are vegan options!) with a lightweight lining. These aren't the most durable barefoot boots by any means, but they are extremely comfortable and get the job done. Zaqq shoes fit medium width and are true to size.
I am the type of hiker who would rather have a soft, flexible shoe that might wear out a little quicker than use a shoe that rubs my heel or feels uncomfortable. For that reason the Expeq still ranks highly for me! Just be aware that more serious hikers might want to look at another option on this list.
---
Barefoot Hiking Boots Comparison Table
Here is a quick look at the specs of the barefoot hiking boots & shoes in this review.
Vivobarefoot Tracker
Freet Mudee
Joe Nimble WanderToes
Xero Xcursion
Lem's Boulder
Lugs
✅
❌
✅
✅
❌
Waterproof
✅
~Resistant
~Resistant
✅
✅
Speed Hooks
✅
✅
✅
✅
❌
Vegan
❌
✅
❌
✅
❌
Removable Insole
✅
✅
✅
✅
✅
Stack Height
11.5mm
-8mm w/o insole
7mm
-4mm w/o insole
10mm w/o insole
*insole adds 3mm + another 3mm heel rise*
14mm
-12mm w/o insole
13mm
-10mm w/o insole
Price
$2401
$1492
$2393
$160
$165
Scroll right on mobile
Continue reading for lots of coupon codes to save some money!
---
Which Barefoot Hiking Boots Are The Widest?
Curious which barefoot hiking shoes are the most wide? See below 10 barefoot hiking shoes in order from narrowest to widest, starting with the Xero Shoes Xcursion and ending with the Softstar Switchback in wide.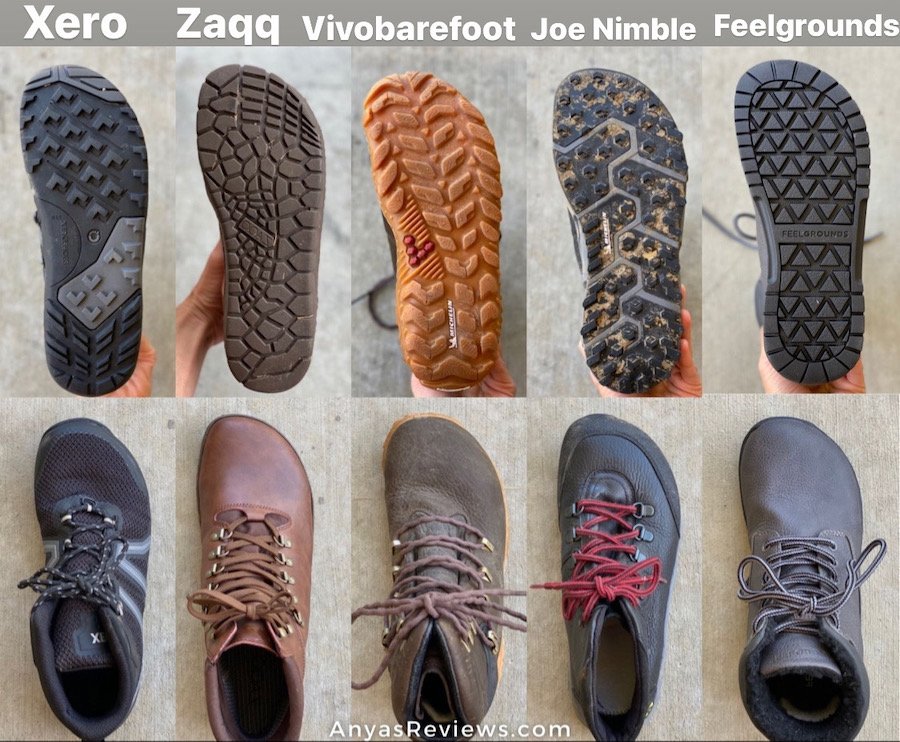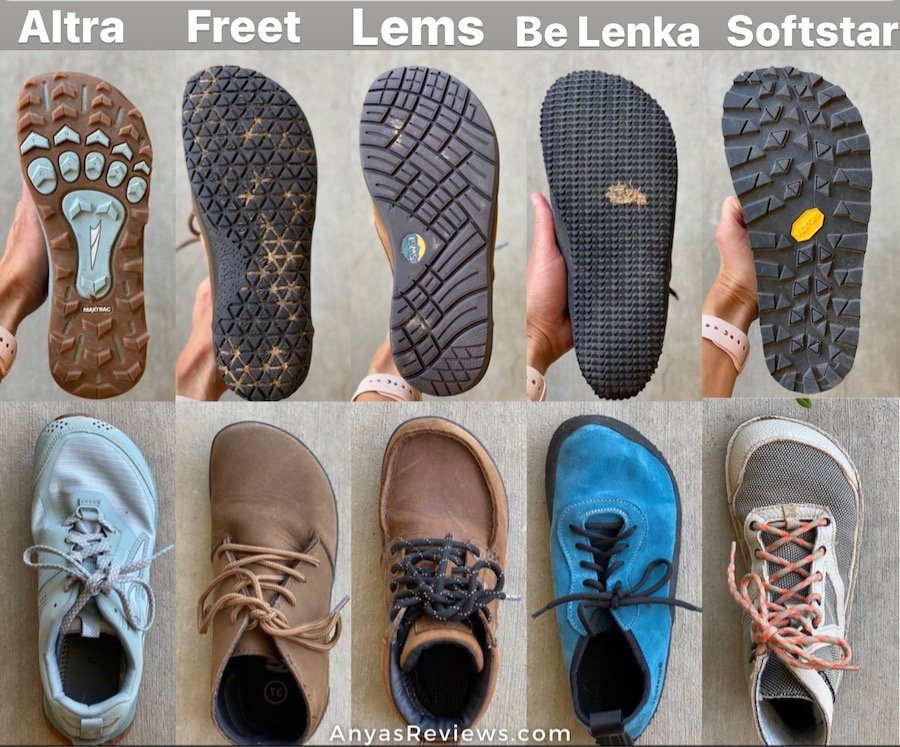 Everyone will experience width differently, but I did my best to generalize it here. Keep in mind that this is organized by width in the toe box.
More Barefoot Hiking Boots
If you want to check out a few more options, here are more barefoot hiking boots!
More Barefoot Hiking Shoes
If you'd prefer to hike in a barefoot shoe, instead of a full on boot, check out some of these trail shoes.
Kids Barefoot Hiking Boots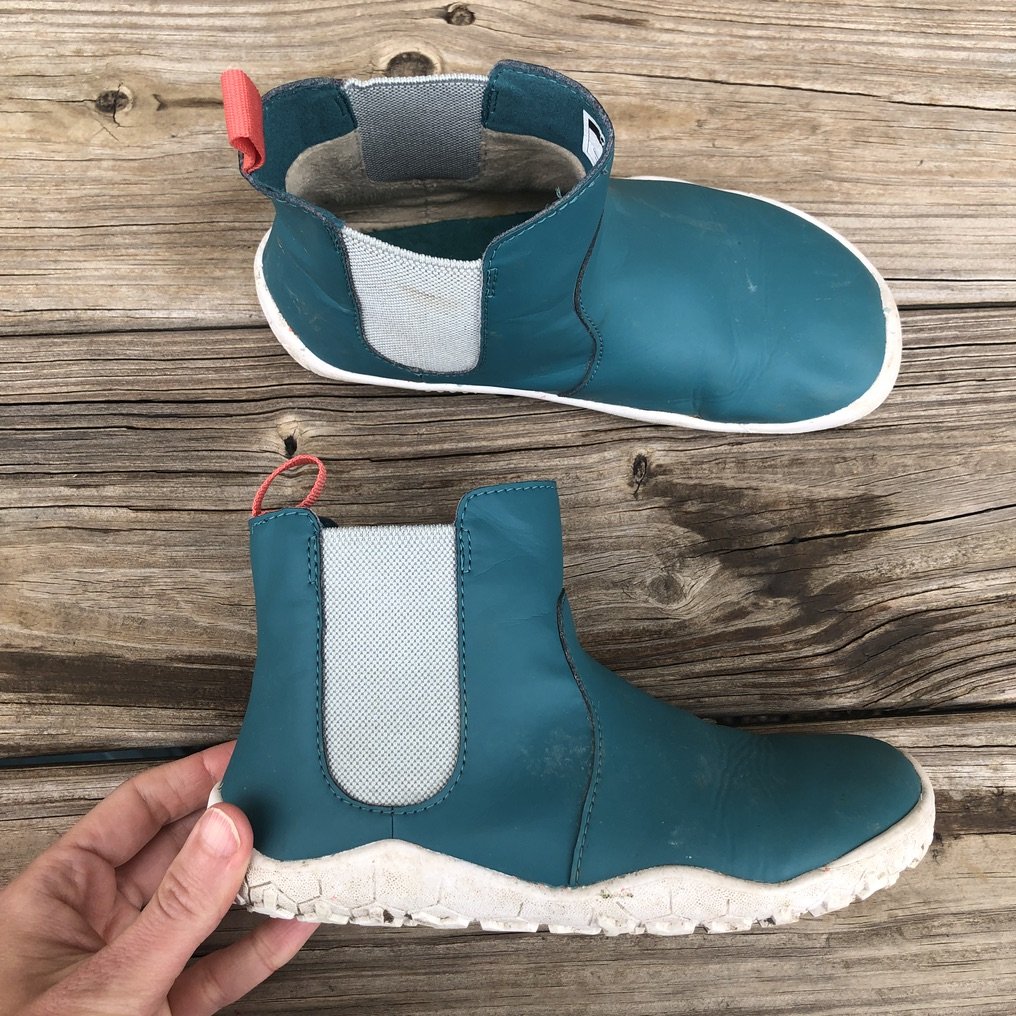 In my experience, barefoot hiking boots for kids is often not necessary unless they are serious little mountain goats. With their center of gravity so close to the ground, additional tread often doesn't add more stability. So we focus more on durability and water resistance when choosing practical hiking shoes for my kids.
But if your kids do more serious hiking, here are a few barefoot hiking shoe options for kids.
Vivobarefoot Fulham, Lumi, & Primus Trail – 10% off with code VBANYA20
Freet Mudee 10% off with code AR-10) . This one comes in and out of stock.
Be Lenka Xplorer – Use code ANYASREVIEWS for 5% off
Barefoot Hiking Boots Review Conclusion
Whether you're a casual weekend hiker or are doing serious ultras distances, there are barefoot friendly hiking boots that still getting the job done. Because even the most durable options in this list still have a zero drop sole and wide toe box.
I hike weekly in barefoot shoes, so you can expect this review of the 10 best barefoot hiking boots to continue to be updated with any new options that come to the market (or if over time my thoughts change). I am always testing and reviewing barefoot shoes to help you find what best option for your feet and your lifestyle!