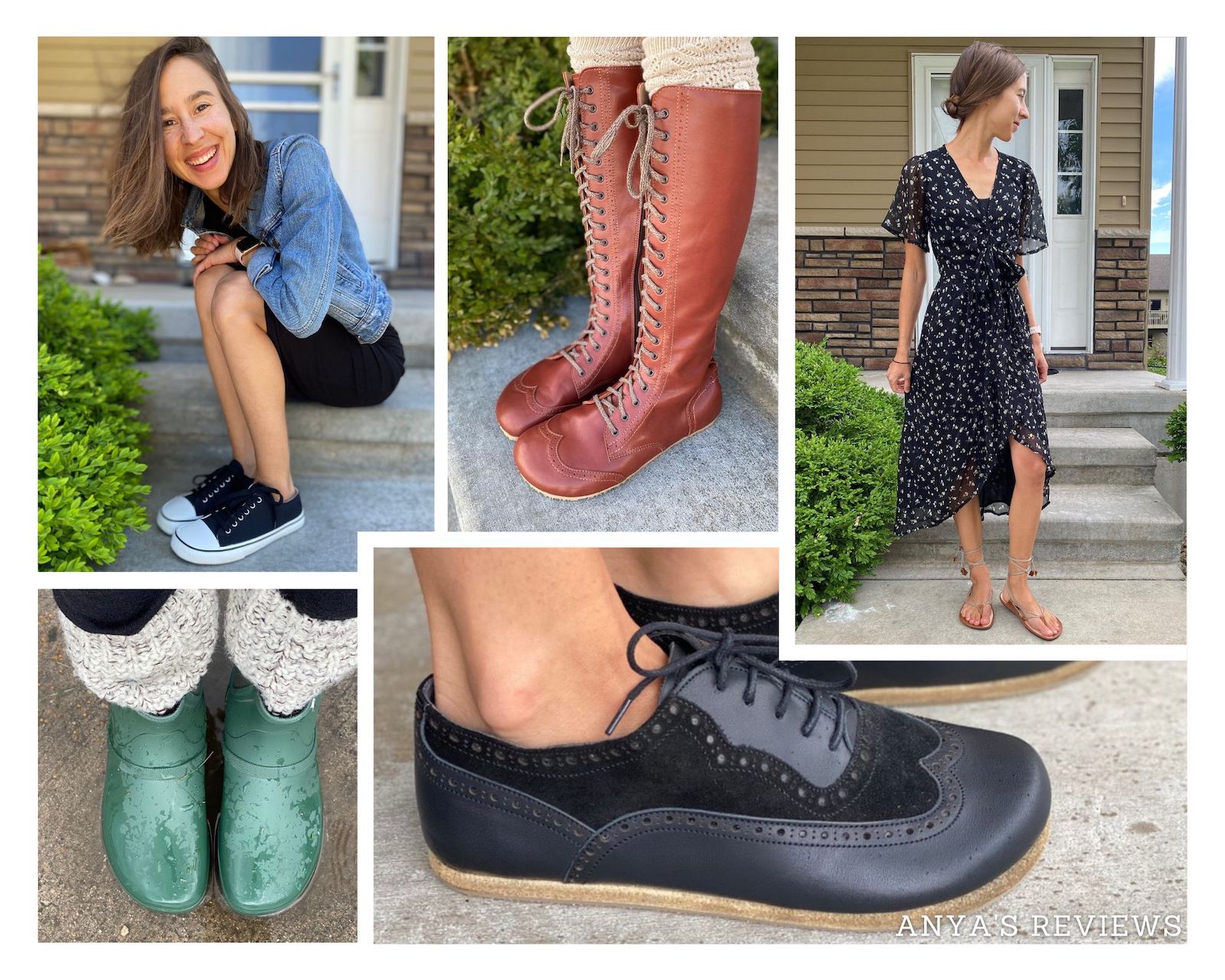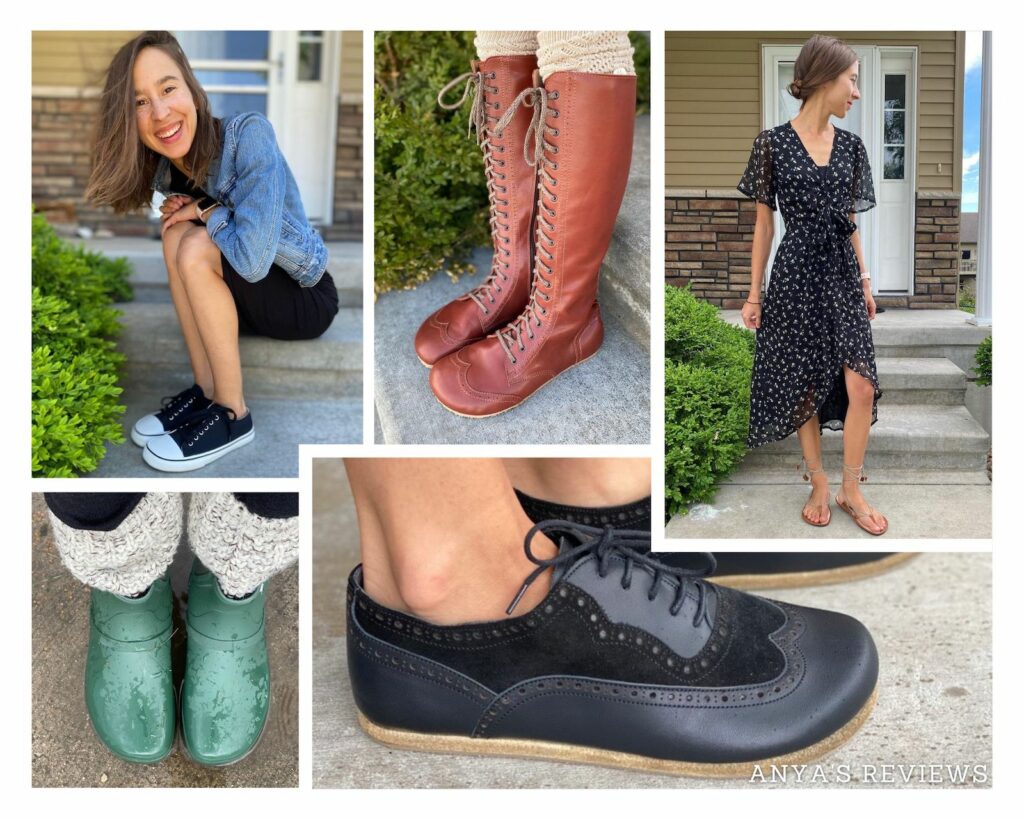 I care a lot about my foot health. But I also want to love what I wear, so I get a lot of joy when I find good shoes that are stylish at the same time! Here is a roundup of five trendy shoes I've swapped out for barefoot alternatives that feel a million times better but still look cool. This one features rubber rain boots, brogues, a Converse dupe, and pretty sandals.
Click here to see all the previous Fashion, But Make it Barefoot posts.
Stylish Barefoot Alternatives to Popular Shoe Trends
---
Xero Shoes Gracie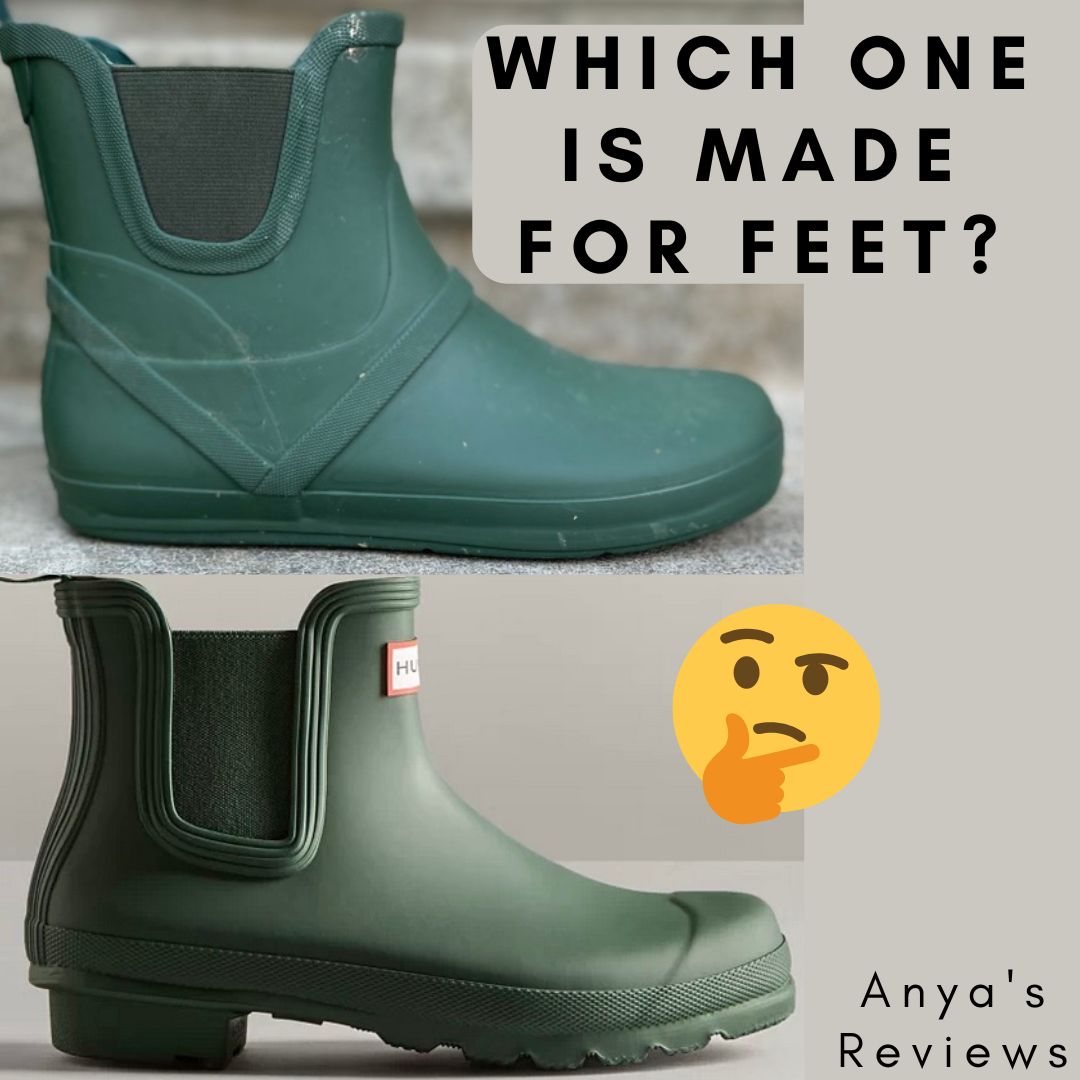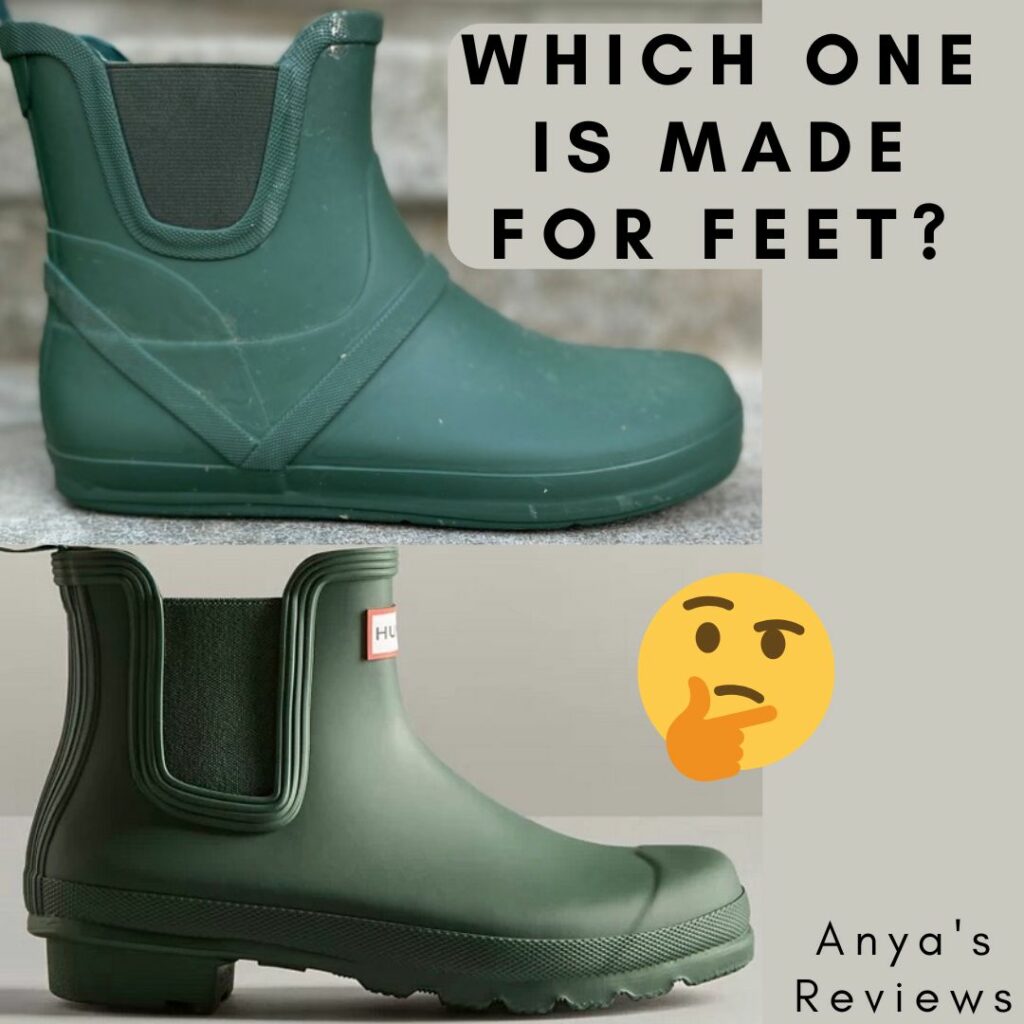 Rubber | $70 | Sizes US women's 5-12 | Ships from US or EU
Once you see it, you can't unsee it. Most "mainstream" shoes simply aren't made with anatomy in mind!
I look at the shoe on the bottom and I see a foot forced into plantar flexion (foot pointed down) with the toes forced up. That's not how my foot wants to be when I'm standing on it!
The minimalist shoe market has some catching up to do, but every year we have more and more natural footwear options. So excited for these rain boots from (top shoe in the photo), I hope it is the first of multiple iterations! See more about these in this Instagram Reel.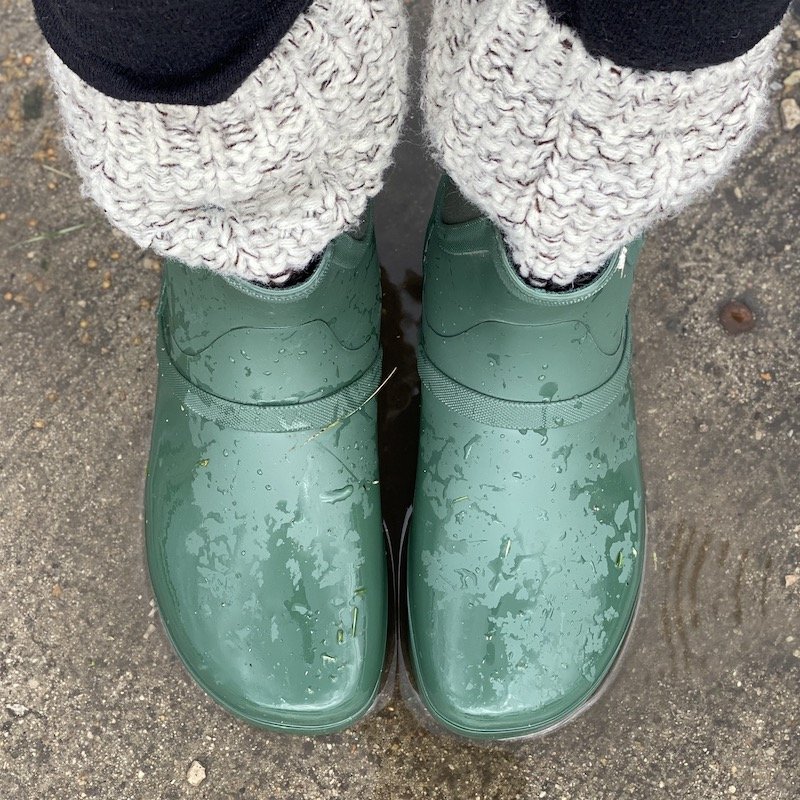 Click here to see the original post on Instagram
---
Bohempia Shoes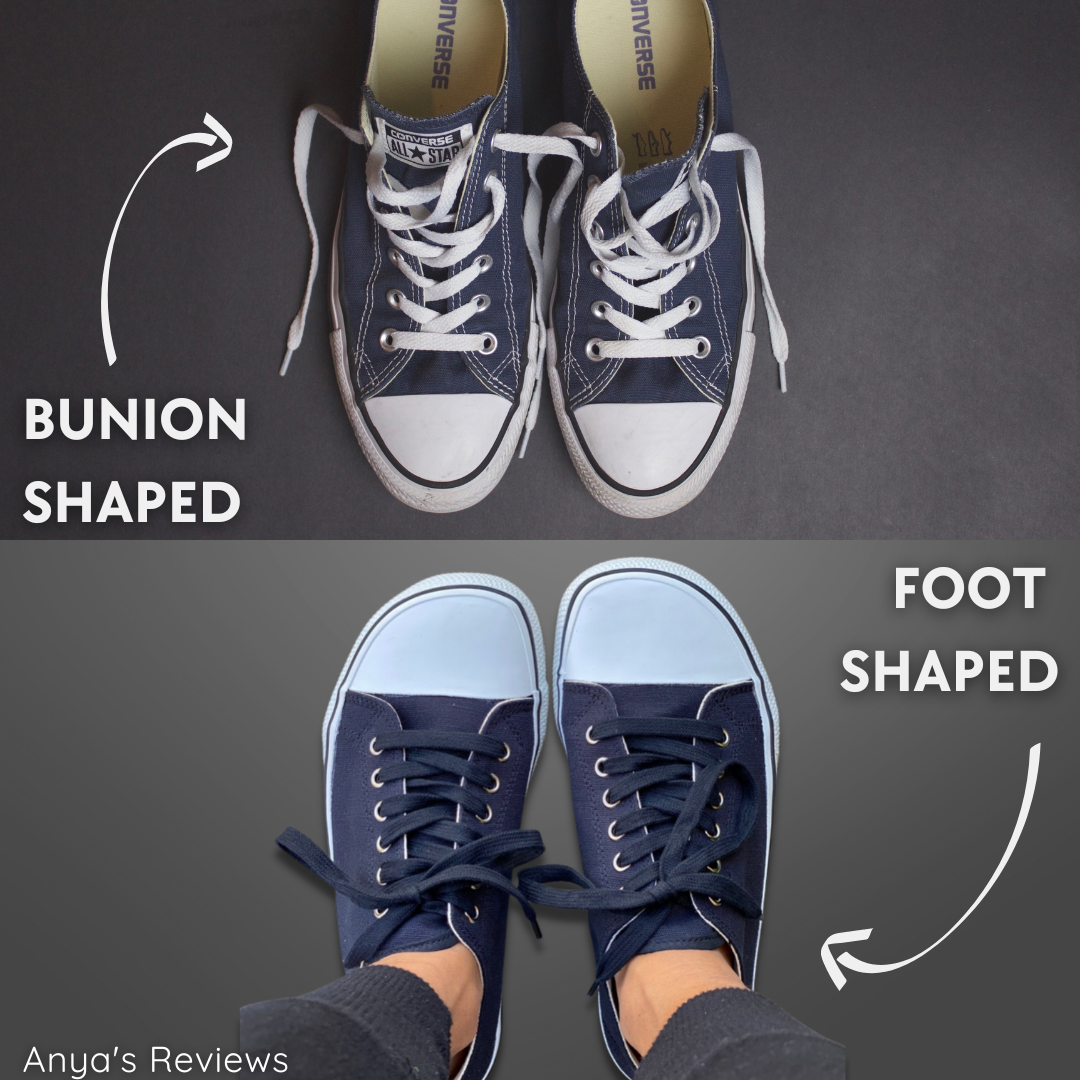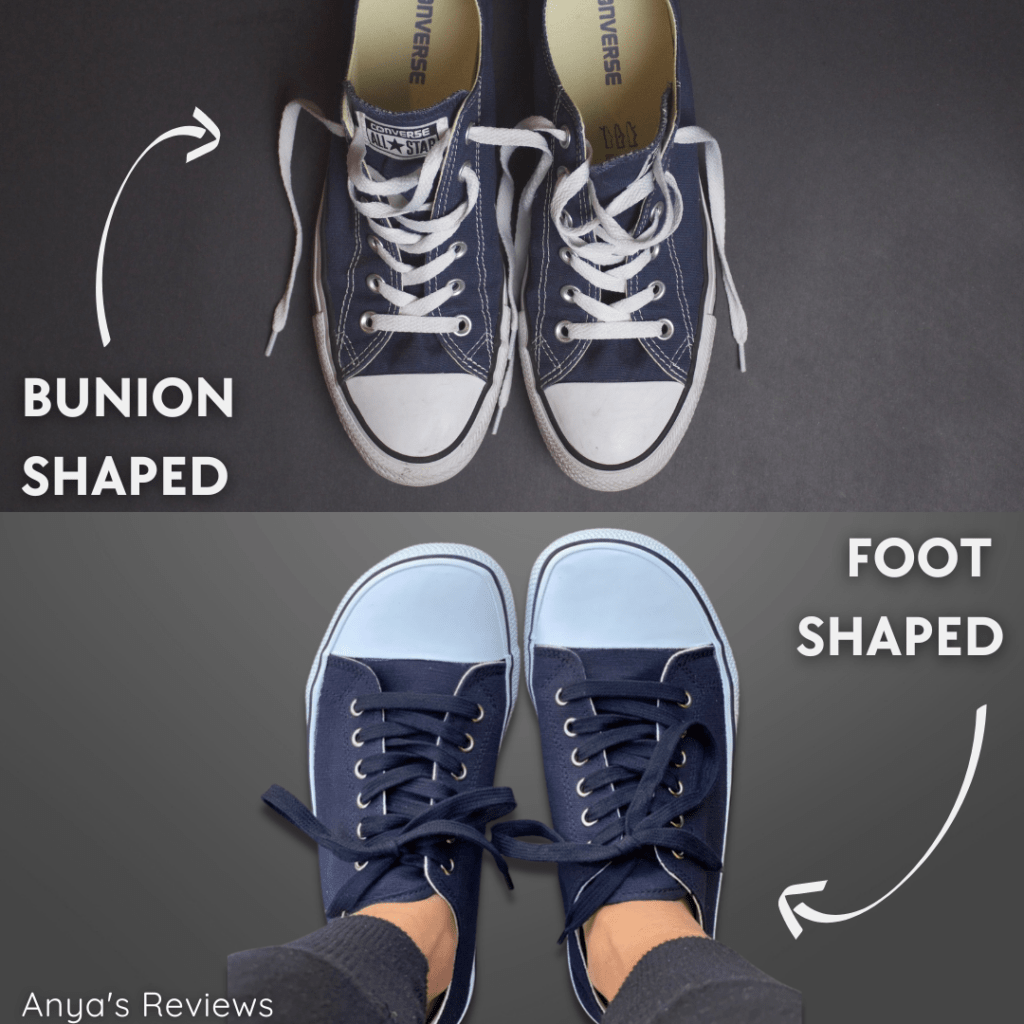 Hemp (vegan) | $120 | Sizes EU 36-44 regular and wide | Ships from US, EU, CZ, SK, or JP
Use code ANYASREVIEWS for 10% off Bohempia Official
If you put your feet in pointy shoes long enough, they'll become pointy too.
The biggest no brainer when it comes to shoes? They should match the shape of human feet. 🤯
I'll never forget the first time I put on a truly foot shaped shoe (they were Altra Running shoes), I was like whaaaaaaaa shoes don't have to hurt?!?!? And I've never looked back.
Got painful feet? The absolute first thing I recommend doing is stop wearing pointy toed shoes. Check out my Barefoot Shoe Lists for a world of foot-shaped shoes you didn't know existed.
The shoes on the bottom are from Bohempia and now available in select colors and sizes at Anya's Shop!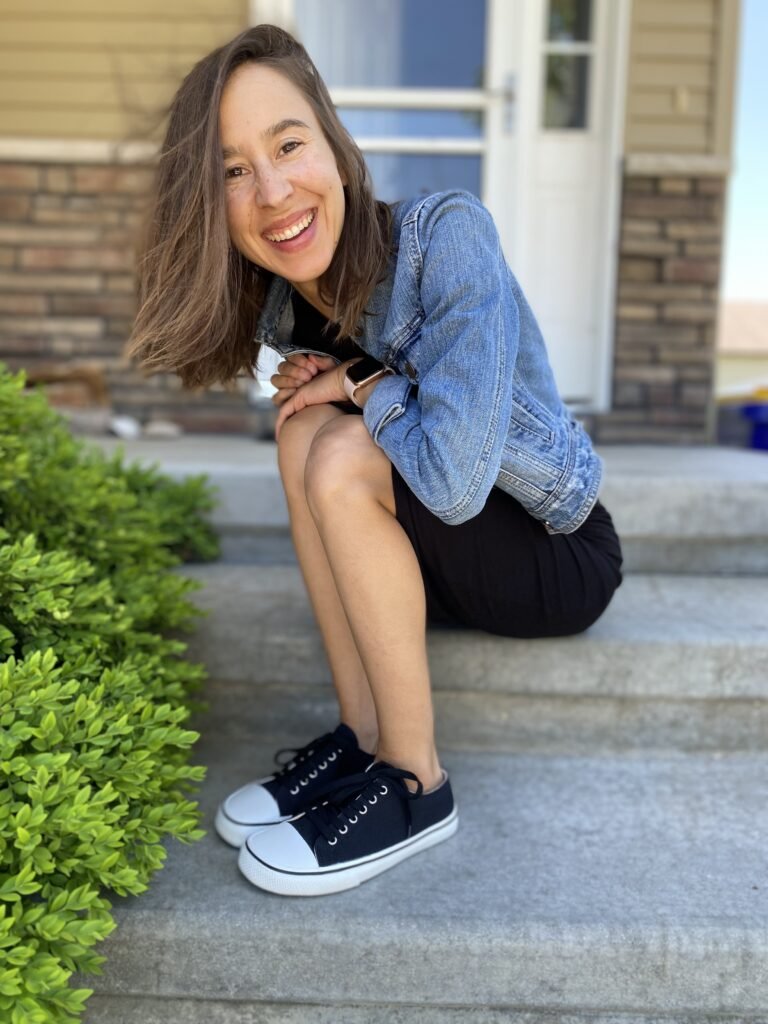 Click here to see the original post on Instagram
---
FeelBarefoot Brogues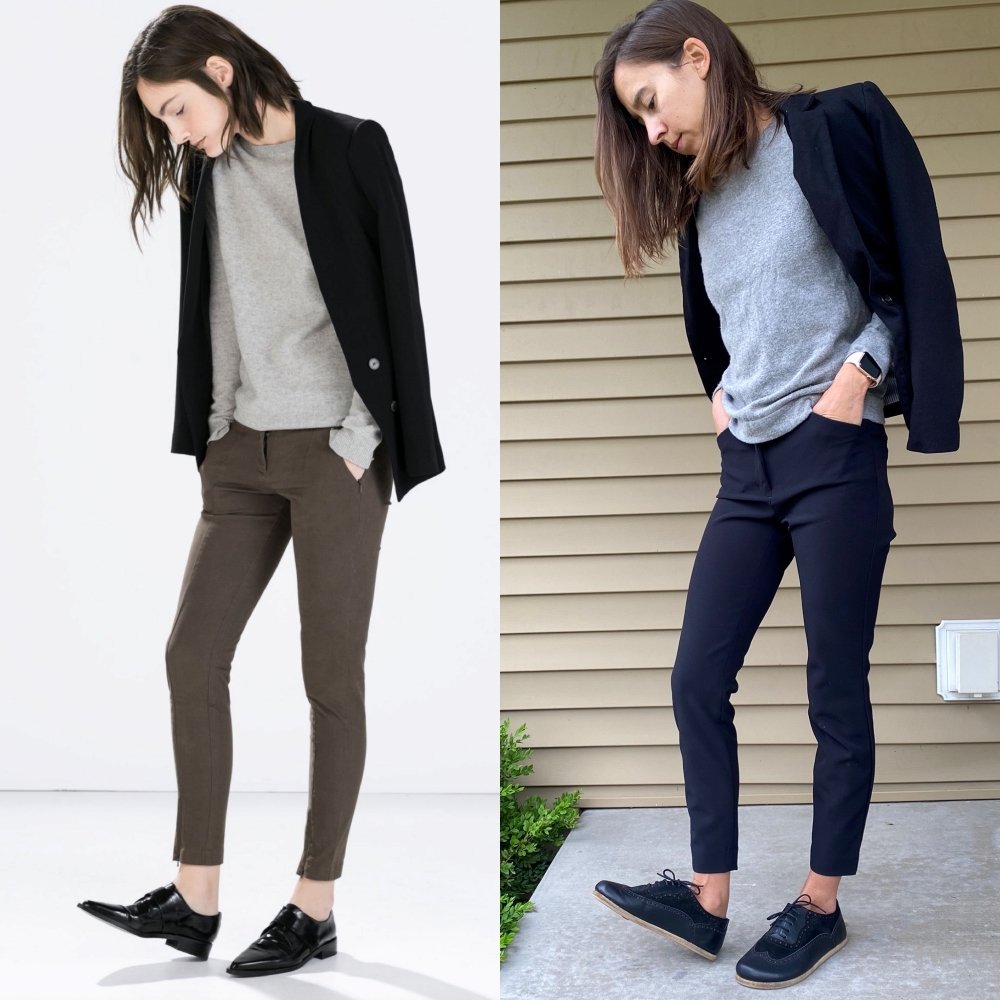 Leather | Sizes US Women's 3.5 – Men's 15 | $80-$120 | Ships from Turkey
Use code ANYASREVIEWS35 for an extra 5-10% off
Ready to have comfortable feet even when dressing up??
Most dress shoes are notoriously bad for our feet (raised heel, pinchy toe box, you know what I'm talking about).
If you're tired of ending your day with an achy low back and painful feet, then it might be time to consider your footwear. Zero drop dress shoes with an anatomical toe box shape can go a long way toward your comfort, and they can still be fancy.
FeelBarefoot recently developed these barefoot brogues, and they are everything. You can get them for $110 with free shipping from the FeelBarefoot Etsy shop with code ANYASREVIEWS35 . 🥳
I recreated an ad for oxfords with the FeelBarefoot version and they look just as nice! But waaaay more comfortable.
A couple notes: They fit high volume – if you have skinny ankles/low arches they might gape. You can use a tongue pad or heel grip. I am wearing a size 37, but read my FeelBarefoot review for details on the sizing. There are different listings for men's and women's sizes and you should definitely use the size chart (it's a photo in the product listing) to ensure you're ordering the size you intend.
And lastly, the sole is made of buffalo hide and starts out feeling stiff for a barefoot shoe. I highly recommend bending and flexing the sole a bit to loosen them up before wearing, or you can just start wearing them and they will loosen up on their own with wear.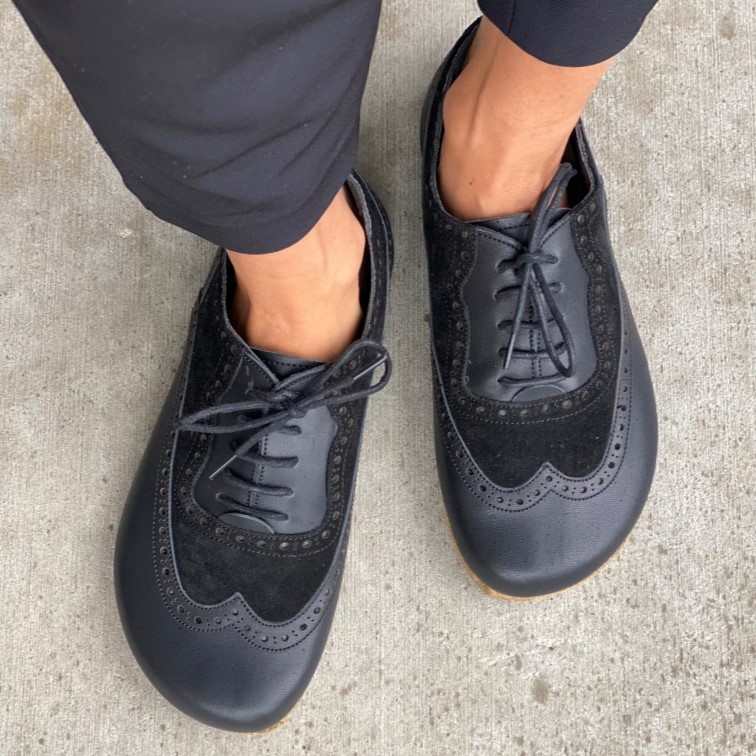 Click here to see the original post on Instagram
---
Magical Shoes Sandals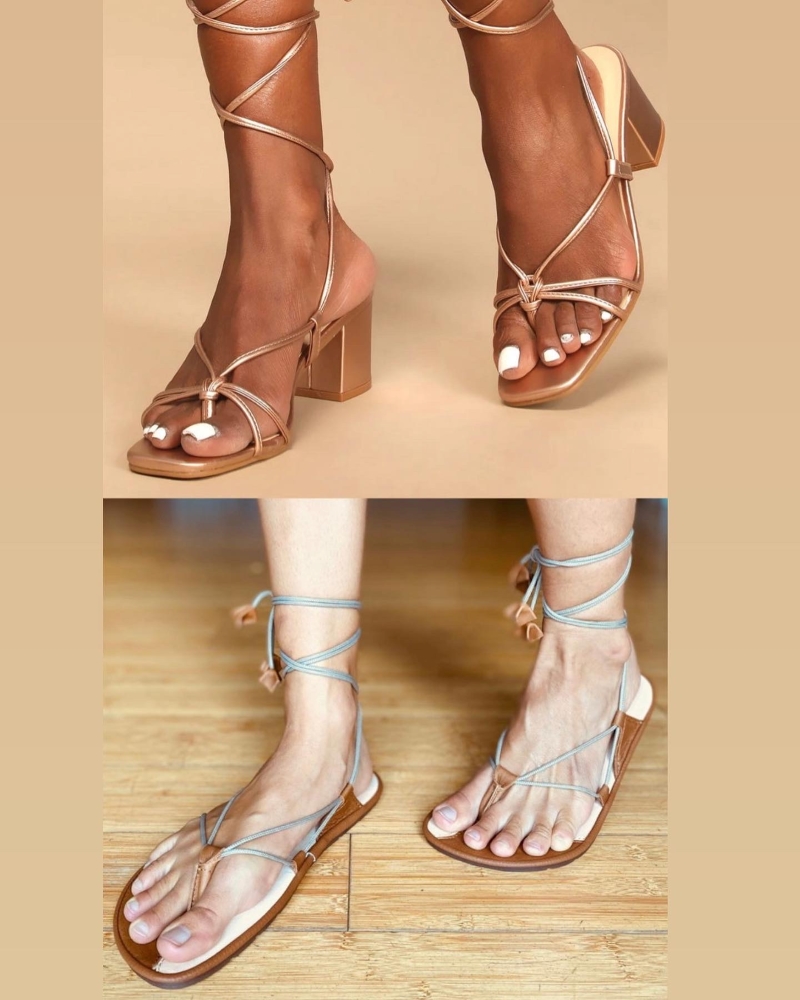 Leather | $99 | Sizes EU 36-43 | Ships from Poland
Use code ANYA for 10% off
Maybe, just maybe, you can wear flat shoes to that event coming up and nobody will think twice.
Maybe the confidence boost you get from feeling comfortable and free will match or exceed the confidence boost from being taller in heels.
Maybe we can all start seeing the beauty in feet that are healthy and strong and stop idolizing foot binding.
If you want to keep some high heels for special occasions, that's ok. But maybe we can also start exploring the alternatives and question why we're attached to them. You might be surprised at how easy it is to leave them behind.
And BTW, it's not just women's shoes that have heels. Men like the extra height their shoes give them as well! We all have a lot of unpacking to do.
The strappy sandals I'm wearing on the bottom photo are one example of a high heel swap. They're the Moana model from Magical Shoes and you can use code Use code ANYA for 10% off anything you order.
These sandals run big! I sized down, but always best to measure your feet and consult their size chart (I have detailed instructions for how to do this here).
Look below to see one way to style them for dressy occasions. If you'd like more feminine dress shoes to replace your heels I have all my favorites listed out – linked above. I've attended cocktail parties, weddings, and events in minimalist shoes and to be honest with you I looked smoking every time (heels not required).
Heeled shoes are from an ad for Lulus.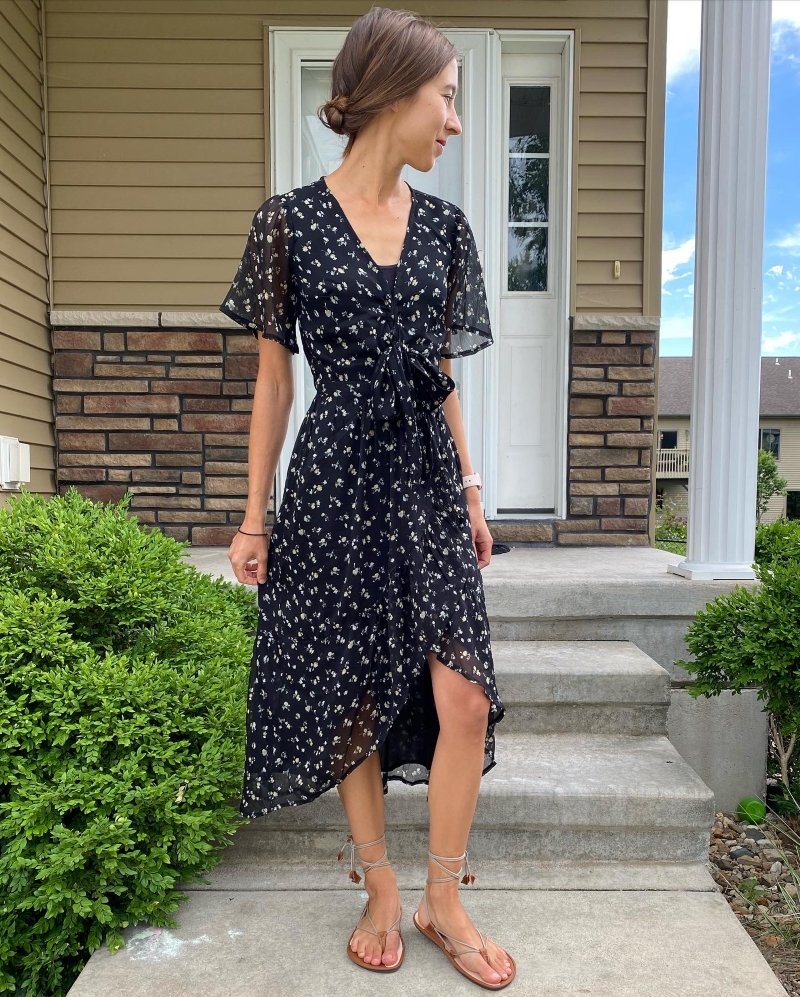 Click here to see the original post on Instagram
---
No(N)s Boots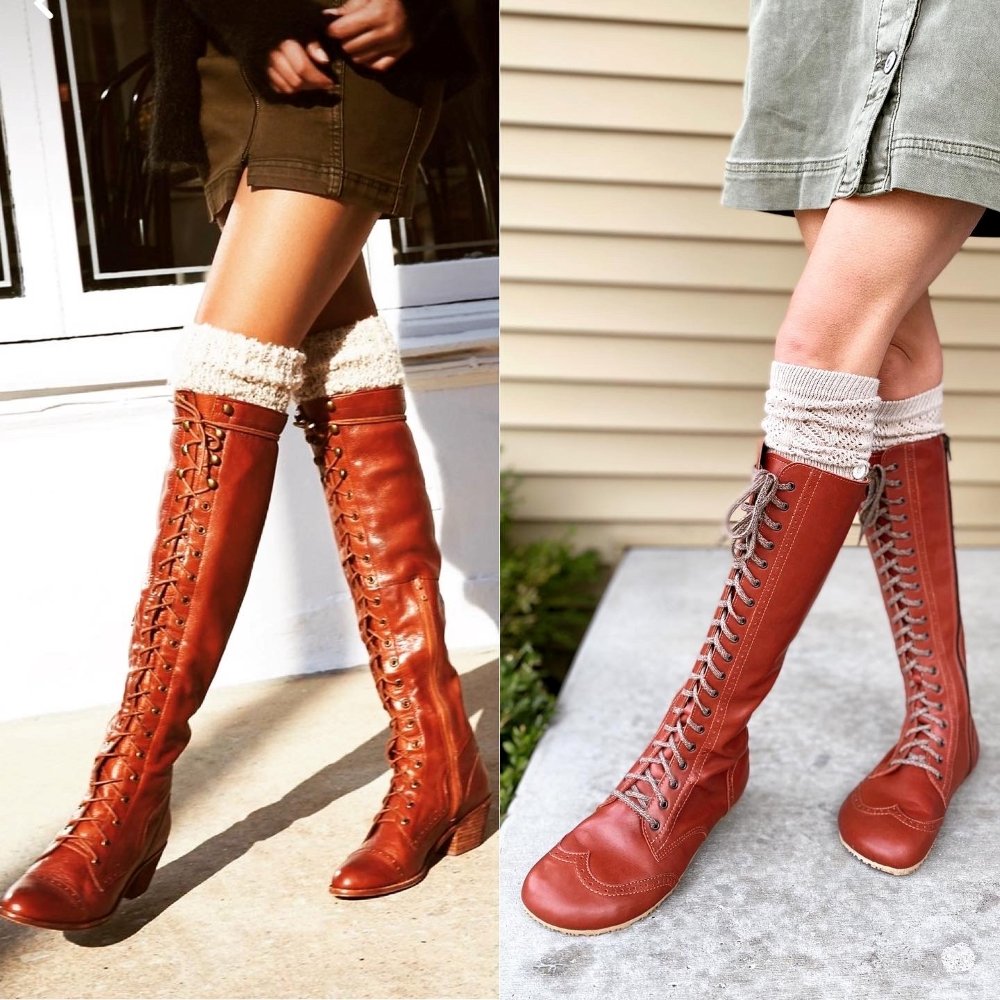 Leather | $200 | EU Sizes 37-44 | Ships from Estonia
Love me some boots that are actually made for walking!
Me, I'm not one to compromise. So when I see a style I love but that I KNOW will be painful for my body, I search for something better. Tall lace up boots with a pointy toe and block heel? Let's keep the first bit and ditch the rest. 💁🏻‍♀️
No(N)s is a newer barefoot shoe brand, and ever since I saw BarefootSaga's pair I've had my eye on these delicious tall ones. So I finally ordered some in a custom color and with custom calf measurements – I have skinny calves and most tall boots gape. The process took a while but they're here, oh so buttery soft and a bold style statement.
If you were to not customize them, they'd ship lots faster. But I'm happy I got the custom calf. Thank you Katrin! 👏
You can also find tall lace up boots from Peerko Barefoot (we have some still in stock at Anya's Shop as well). If you'd like to explore barefoot boot options even further, check out my Complete List of Barefoot Boots! Because you don't need to suffer for your style.