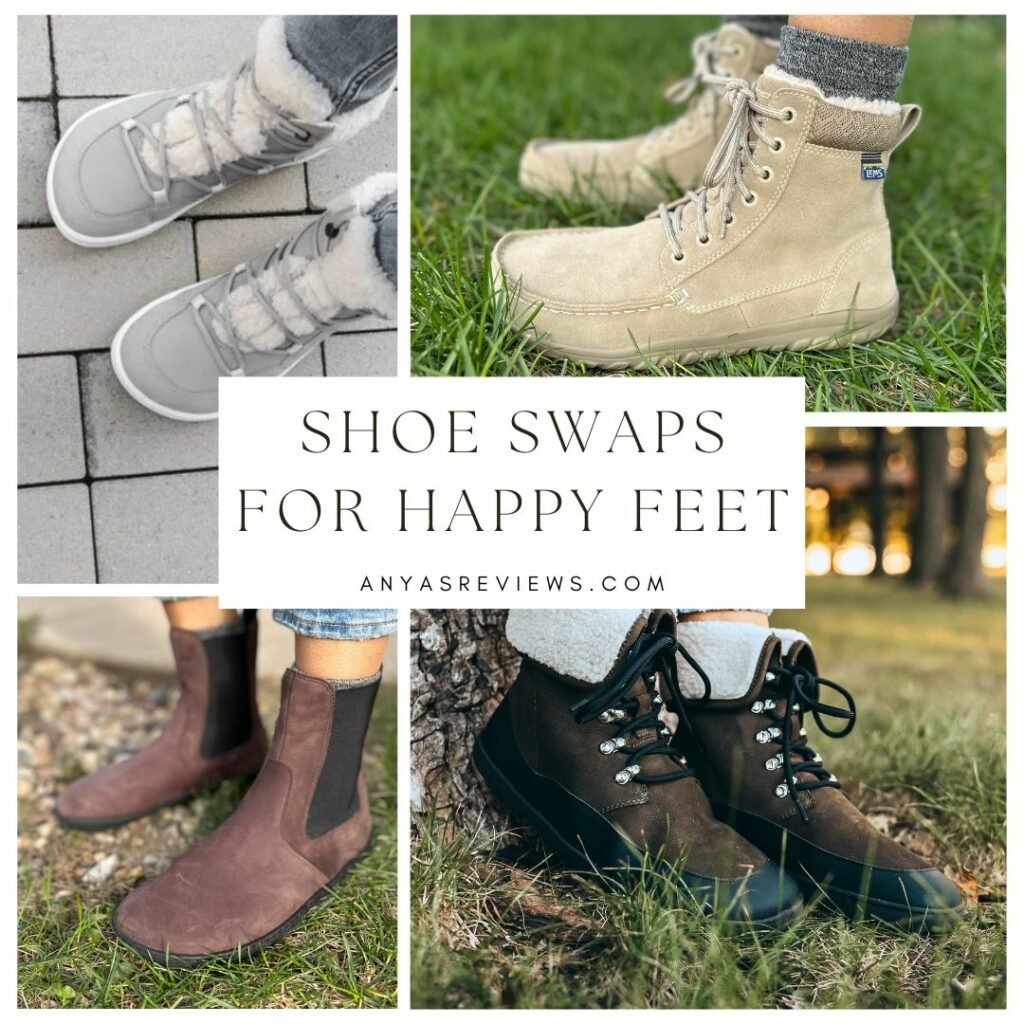 It's not easy out there if you don't want your toes squished. And frankly most people completely miss the mark when it comes to the best shoes for wide feet. Fortunately there are a number of brands making shoes that actually fit wide where you need it, and they are pretty stylish to boot.
Check out the newest stylish & WIDE barefoot boots for fall 2023!
And you can find here all my previous shoe swaps for happier feet (this has been my favorite thing to do since 2018).
Swap Your Stylish Winter Boots for These Wide Toe Box Options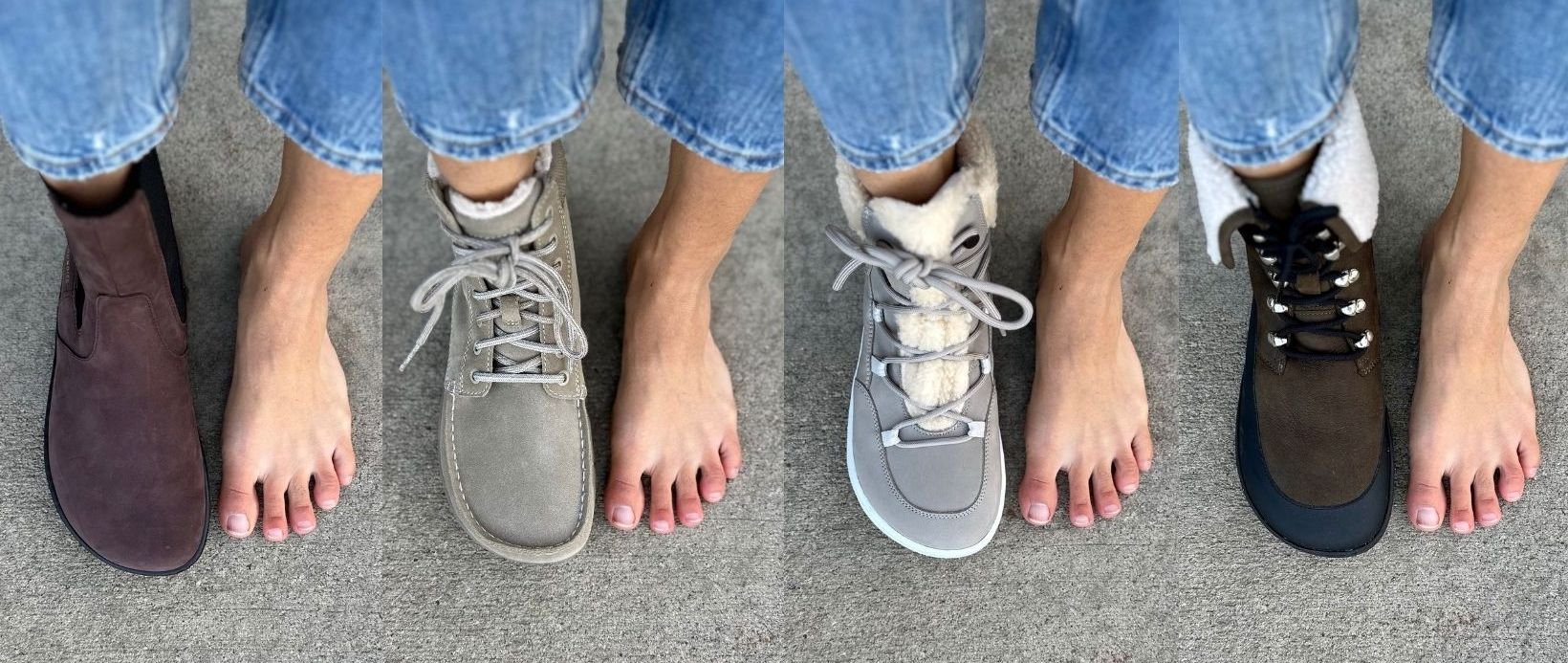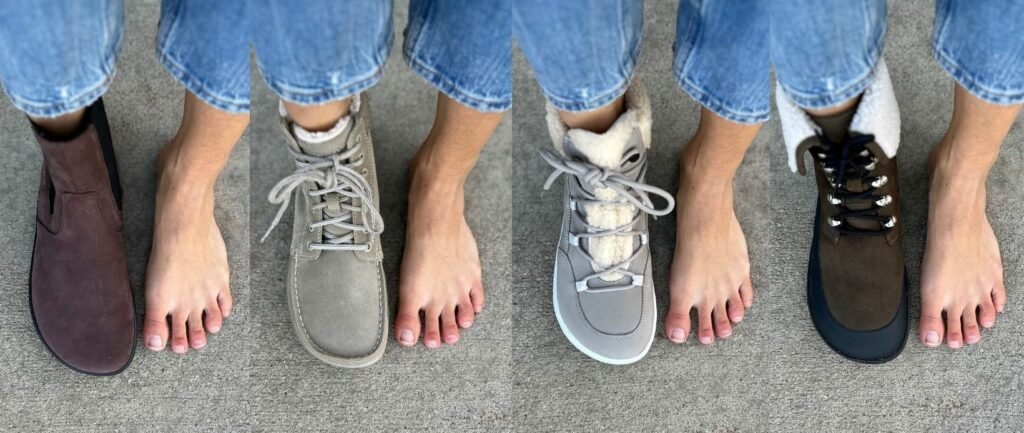 Today we're covering 4 new barefoot boots for wide feet that I am loving for this fall/winter season. But if you nothing catches your eye here, don't worry – I've got more for you!
See below a few of my complete barefoot boot resources to guide you through the season.
But do they all have to be barefoot shoes?
Have wide feet but don't want the full barefoot experience? While there are some good reasons why the best boots for wide feet often also have minimal soles, you don't have to go full barefoot to enjoy them.
You can try the following: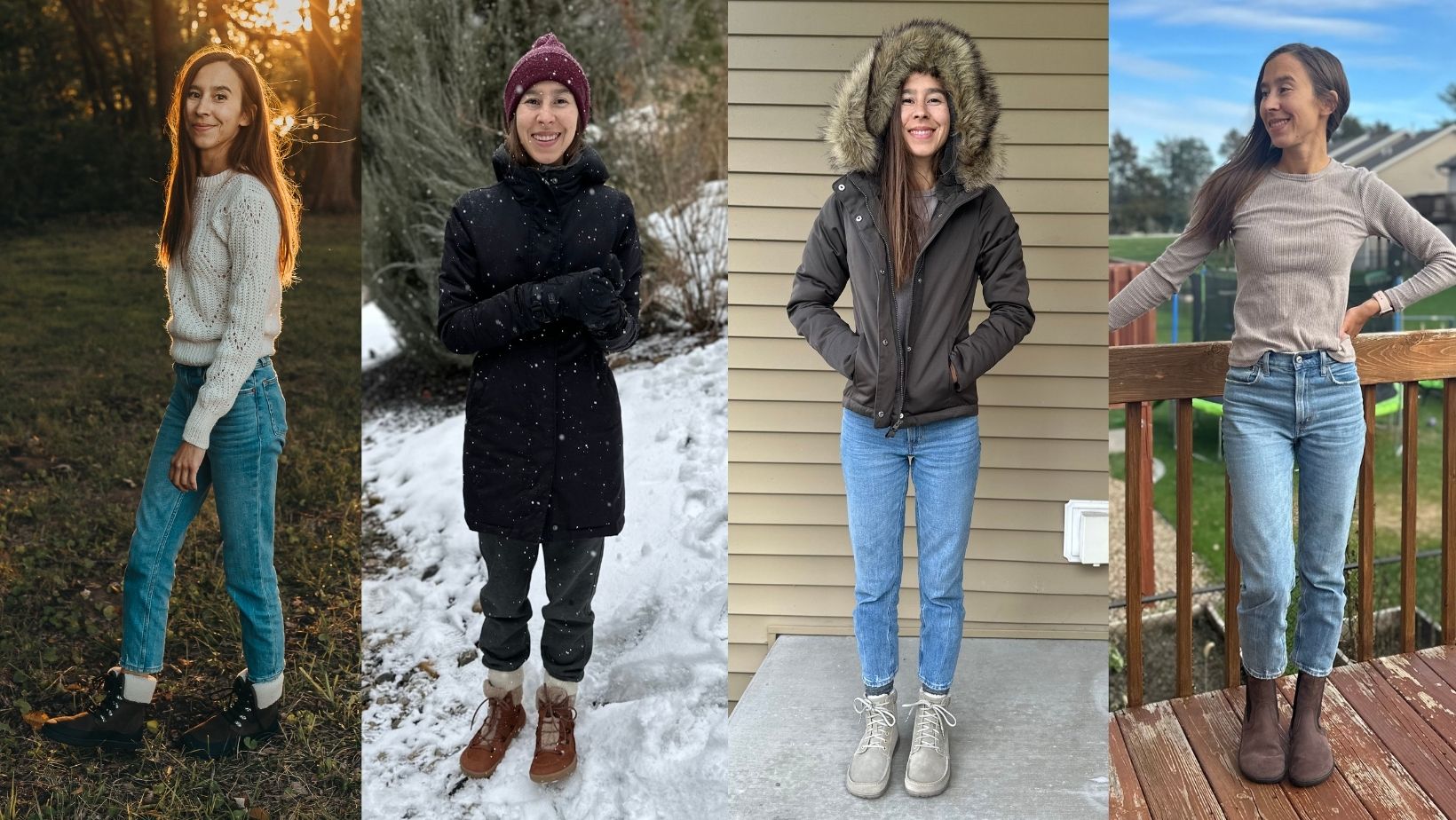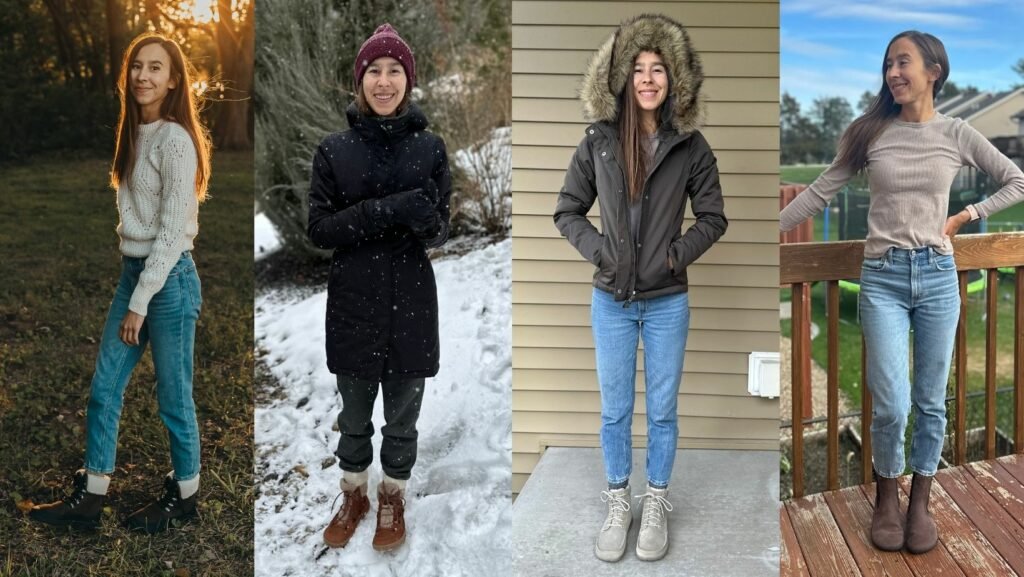 Alright, let's check out these stellar winter boots that won't squish your toes!
---
Be Lenka Bliss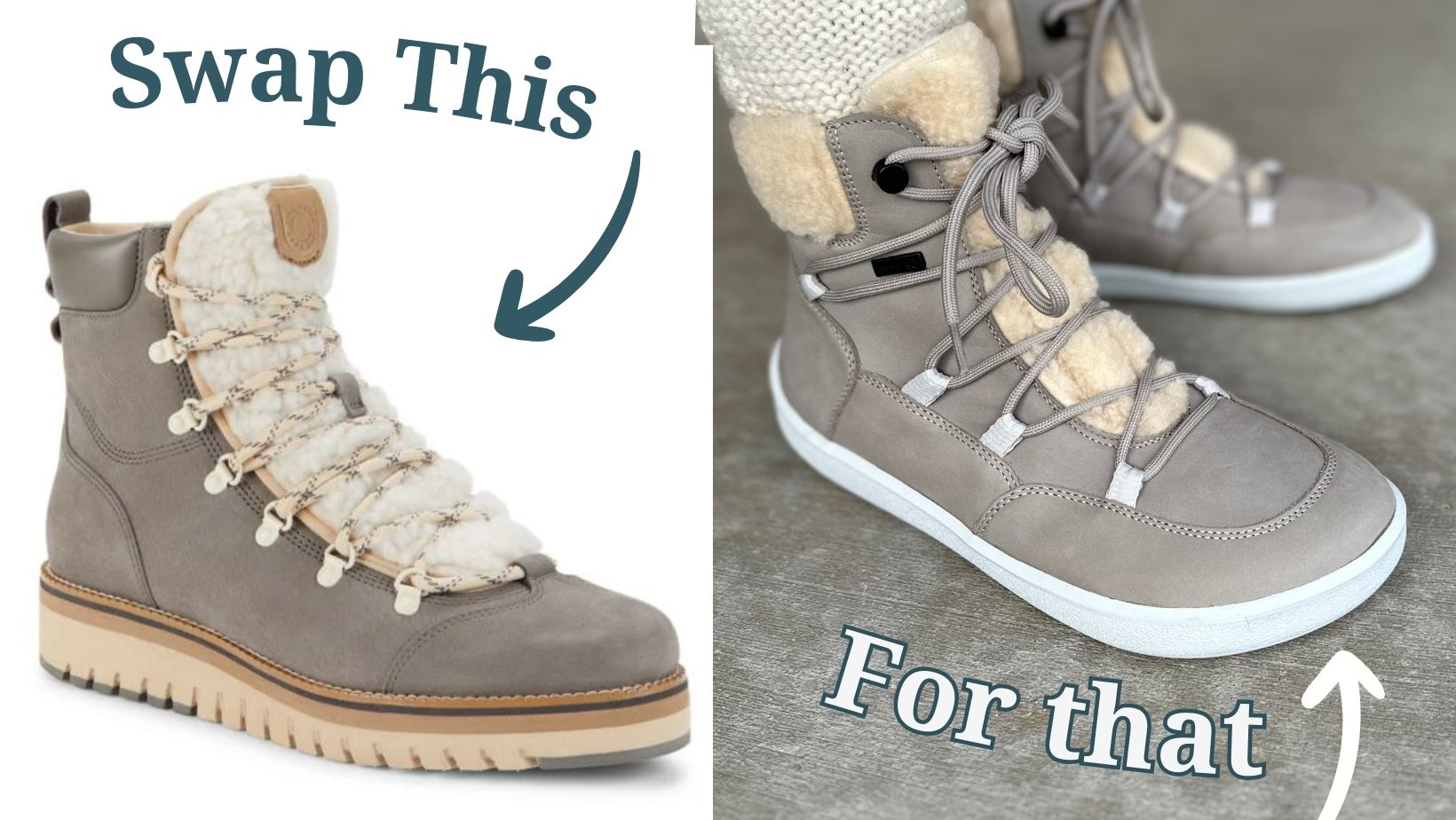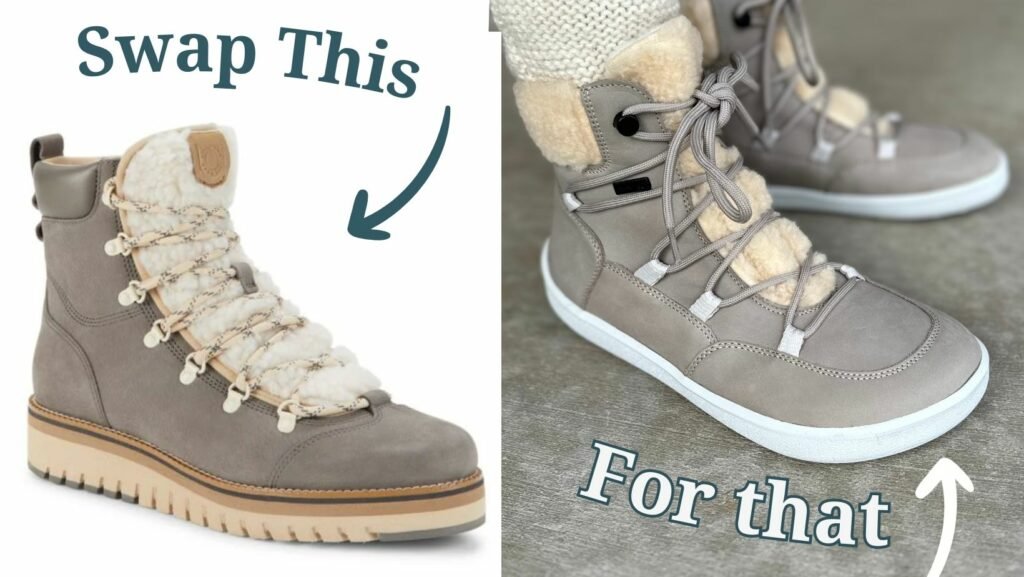 Leather & Fleece | Water-Resistant Membrane | Sizes EU 36-43
Use code ANYASREVIEWS for 5% off with Be Lenka. Or you can find these boots in the US at Anya's Shop.
The Be Lenka Bliss is one of my personal favorite boots, they're cute and easy to wear because the laces slide easily and the tongue opens up wide – which also means they can fit all foot volumes whether you have flat, low feet or high arches. And this new grey/taupe color is the perfect light neutral (but I also love the brown and black).
They are lined with fleece and not wool, so not as warm as some other options – discover all the warmest barefoot winter boots here – but they have a very generous, wide toe box and grippy outsole.
If you are familiar with the Be Lenka Bliss from last year, the 2023 version doesn't have speed hooks at the top. Instead it is an actual eyelet for the lace to go through (so that the lace doesn't fall off the hook).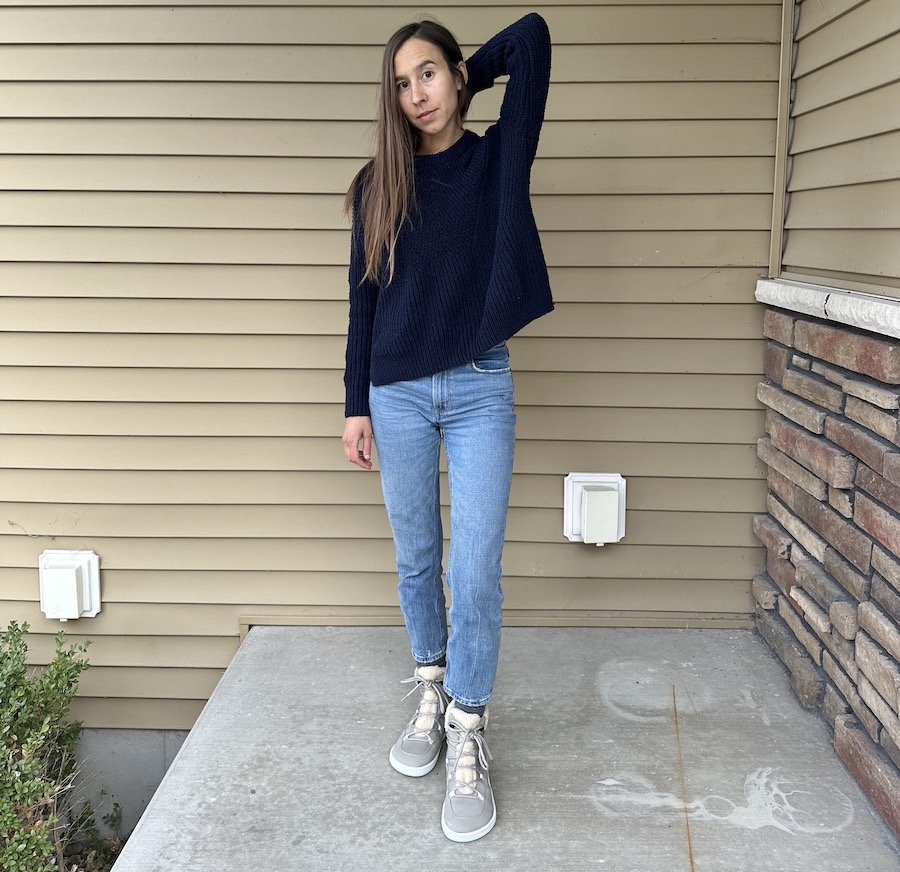 Read all my Be Lenka Reviews here for more in-depth brand info.
---
Lems Telluride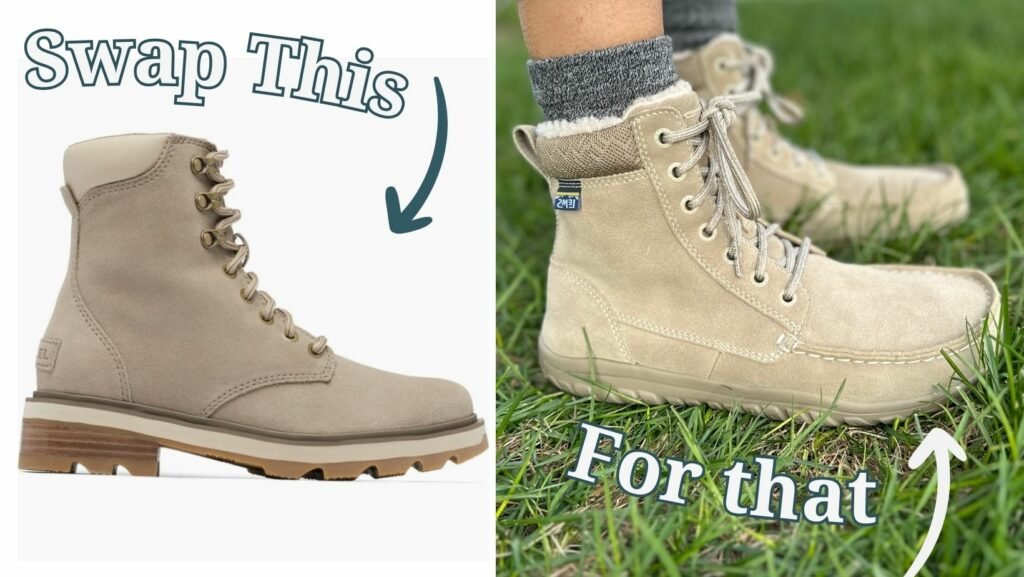 Suede & Thermal Lining | Sizes US W6-M15
This new Lems boot is made on their widest sole shape and has a very generous toe box thanks to the moccasin-style top stitching (no squished toes from the sides or from above!). They have a pretty universal fit and I am always comfortable in them. But they will get dirty if you don't protect the suede, so I recommend doing that before wearing them outside.
Lems is known for having minimalist shoes but with more cushion, so the Telluride is thicker than the other boots shown here. They have a removable insole and a thermal lining (faux fur is only around collar) and I recommend sizing up a half size.
I also love the Lems Chelsea boot, which comes in a waterproof option and is an excellent Blundstone replacement! They're really great if you are new to barefoot shoes and just want to be comfortable this winter season.
---
Groundies Camden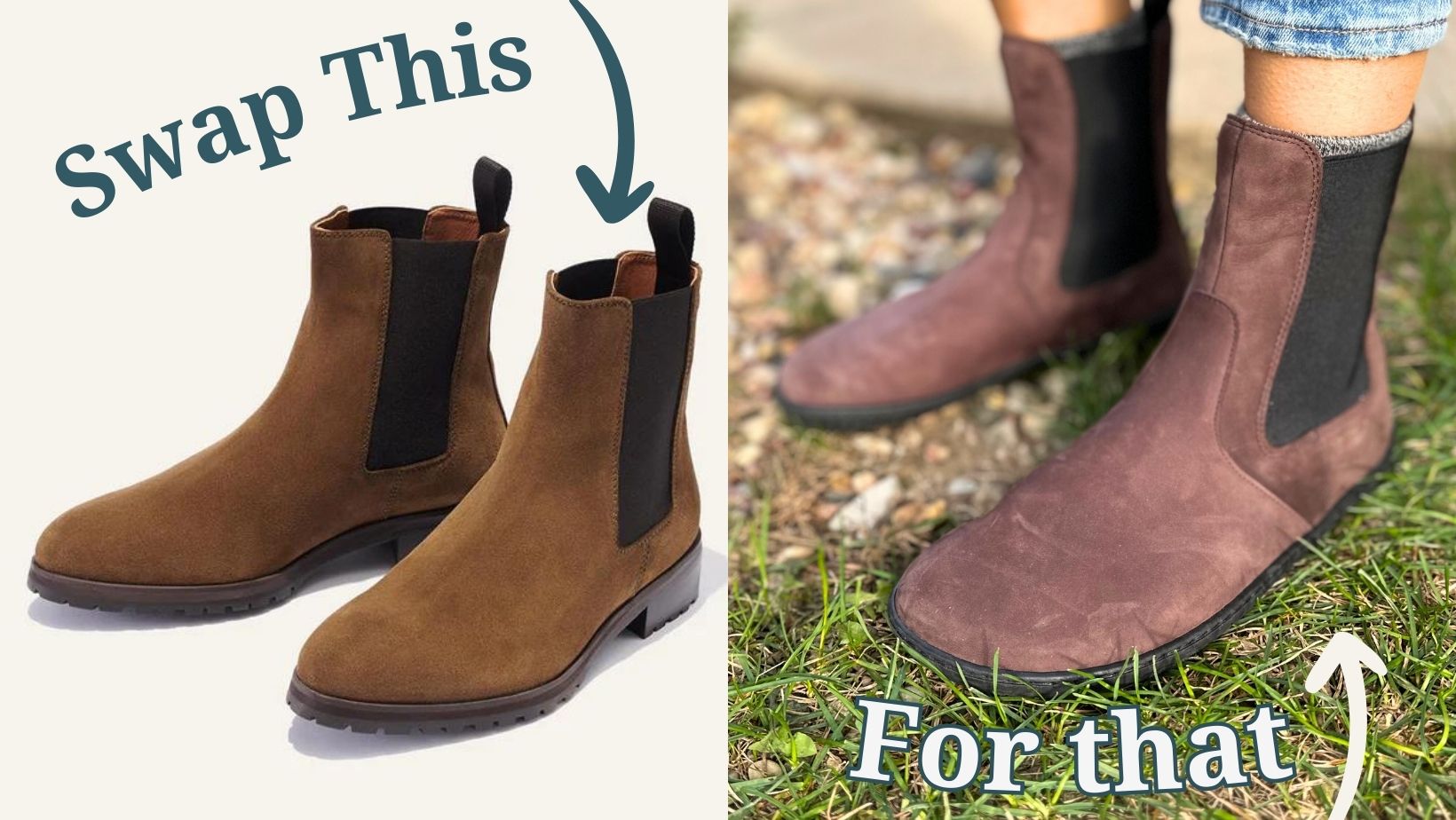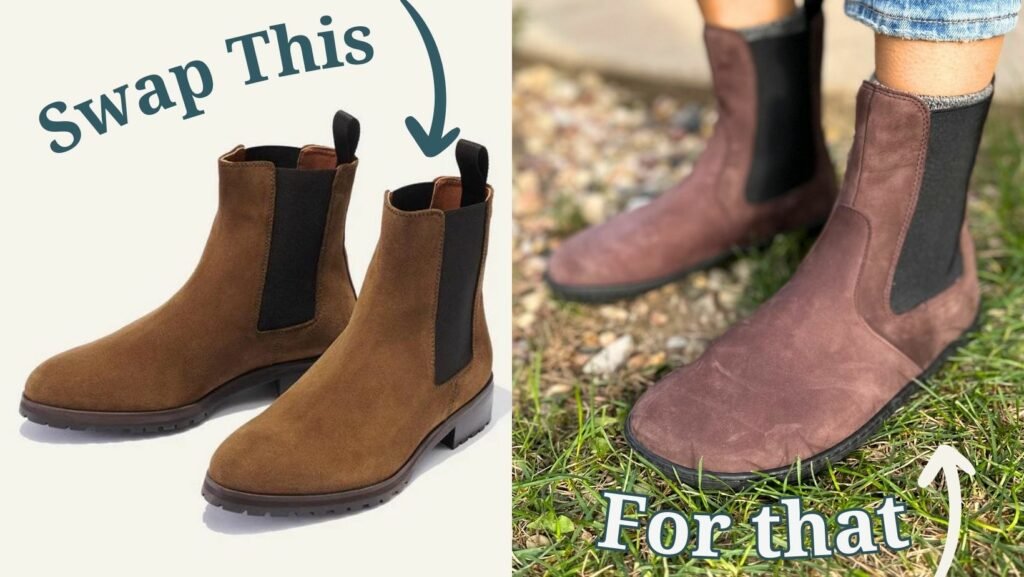 Leather & Fleece | 2 Widths | Sizes EU 36-43
The Groundies Camden is a fashion forward chelsea boot with a tall shaft – very londonesque. And this year they come in Barefoot+ width, for extra wide feet. They are light, soft, and easy to pull on.
For how wide the toe box is, they are one of the best looking options out there. And they have a real barefoot feel with a very flexible sole. But note that the ankle opening is on the slim side – which is great for a sleek look but they might be too low volume for some people with thick feet and ankles.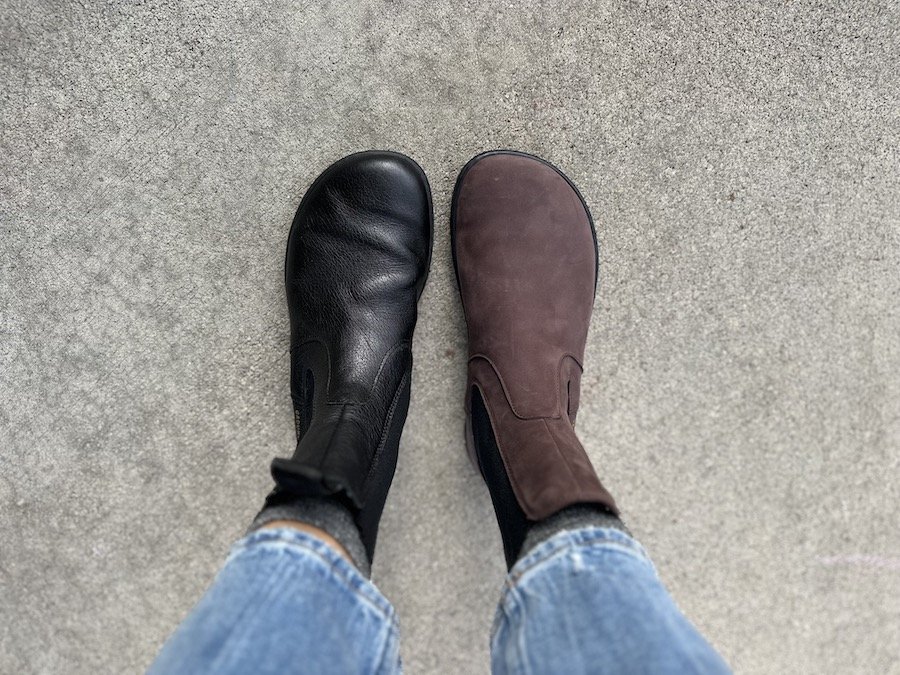 My wide toes only just fit into their Barefoot fit, which already has a wider toe box than most "regular" pointy shoes. But I am also appreciating the extra space in the Barefoot+, which is several centimeters wider and a smidge longer than Barefoot fit.
Read all my Groundies Reviews here for more details!
---
Shapen Lynx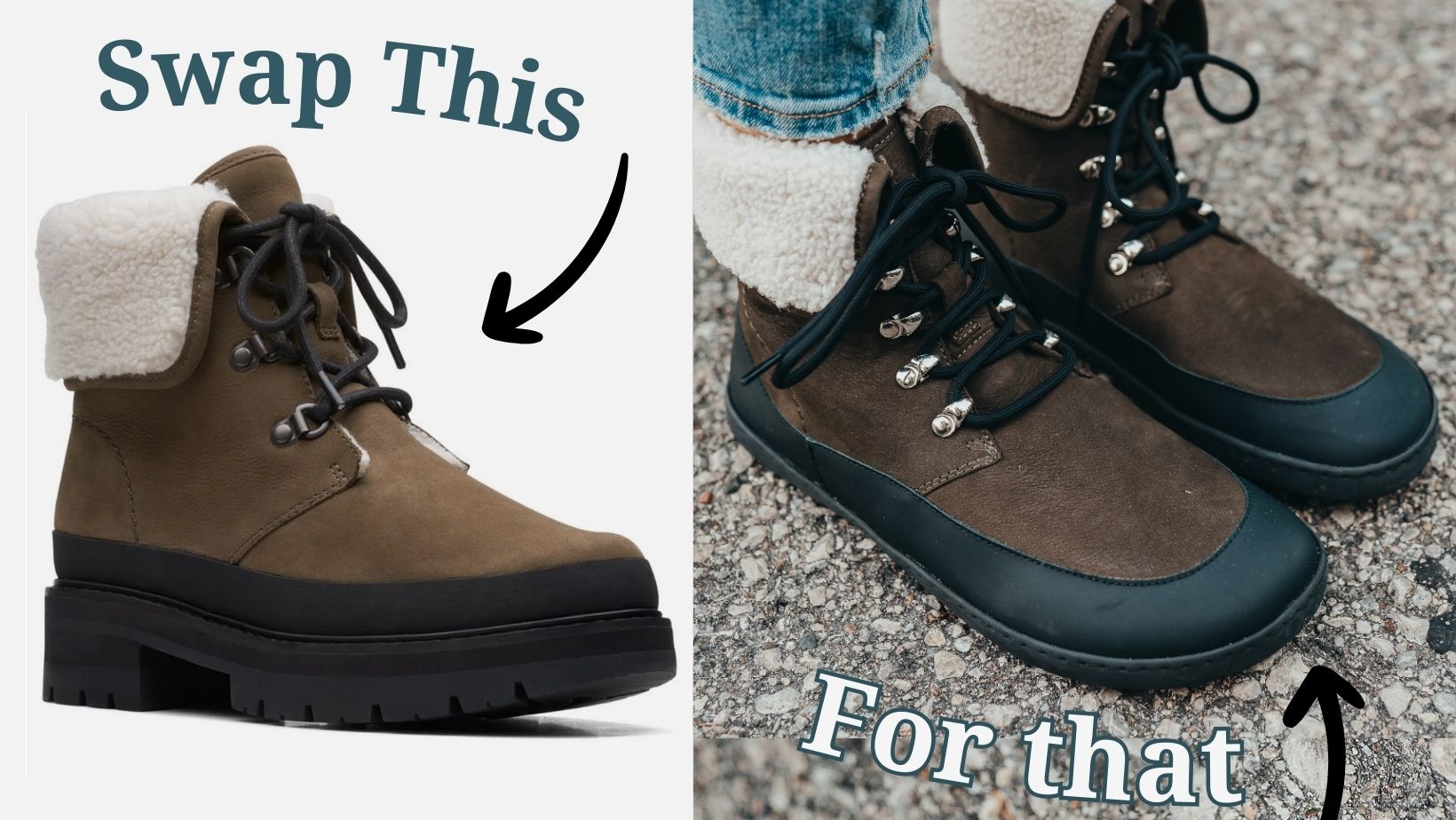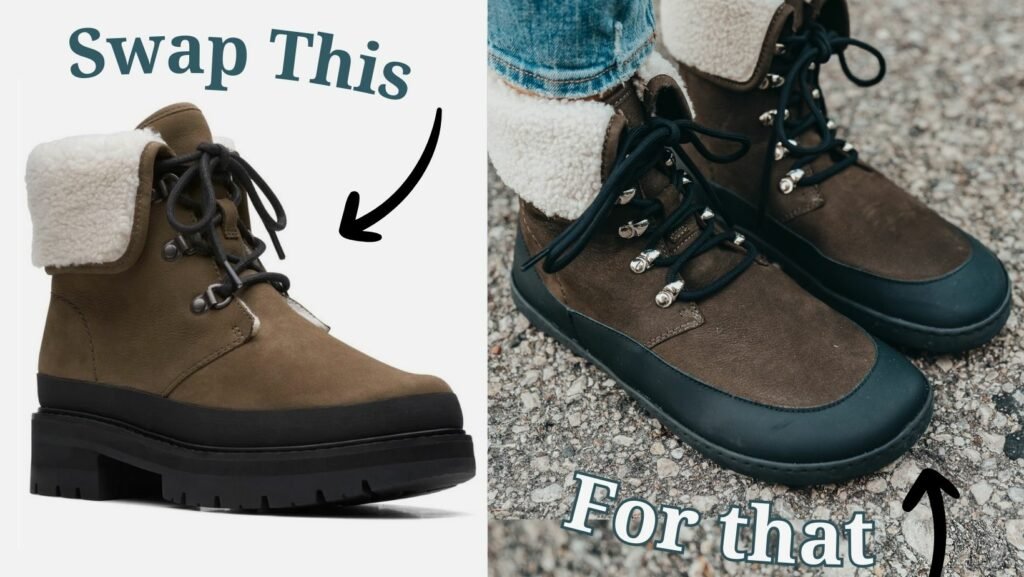 Water Resistant Leather & Wool | Sizes EU 35-47
Use code ANYA5 for 5% off Shapen, but please note they don't accept returns outside the EU. Alternatively, you can find Shapen at Anya's Shop in the US.
Shapen has a bunch of awesome wide boots this year, but the Lynx is one of my favorites. The turn down collar looks equally chic on men and women. Somehow they manage to be both neutral and interesting at the same time!
These boots fit quite roomy and even with the thick wool lining I still wear my usual boot size. But they are so comfortable and easy to wear! The rubber toe guard will protect from scuffs, and the water resistant leather will keep you dry. They're a great every day option.
Read my full Shapen Barefoot Fall Review here for all the details.